Associated TeleVision
"ATV has grown from those early days: a fighting noisy company, they had the showmanship, the sweeping successes, the quick fire answers, and the gloss... After four years there's a tradition of quality, a feeling of bright dignity. But the gloss of ATV has been turned down to a shine."
A little background information on the infant ATV.
Midlands Opening 1956
Val Parnell on ATV's first year.
ATV Annual Report dated- April 30th 1960.

London schedules: October 1955, April 1956, December 1956, April 1957, December 1957, May 1958, November 1958, May 1959, July 1959, August 1959, July 1960, September 1960, March 1961, October 1961, March 1962, August 1962, February 1963, October 1963, November 1963, August 1964, November 1964, July 1965, January 1966, July 1966, July 1967, October 1967, July 1968.
Midlands schedules: April 1956, March 1957, March 1958, March 1959, July 1960, June 1961, March 1962, April 1963, March 1964, May 1965, April 1968, September 1968, October 1968.
TAM ratings
A touch of the reality- an early casualty, a schedule that overran (slightly)

Some Early ATV Production Staff
Bill Ward, Reg Watson, Bill Lyon-Shaw, Brian Tesler, Francis Essex, Dicky Leeman, Albert Locke, Peter Glover, John Irwin, Colin Clews, Dinah Thetford, Anna Lett , Antony Keary, Jack Barton, Alan Tarrant, Cecil Petty, Fred Wilby, Michael Redington, Shaun O'Riordan, James Bredin
Note: the absence of production staff in this section is only due to my lack of data/ a photo, not to any reflection of their ability. If you can add any people, please email me. Main Menu

.

.

.

.

Saturday September 15th 1956 7.01pm: Val Parnell, greeted the new season of shows on ATV London with this unadvertised speech before The Buccaneers commenced:
"Well, it's just about one year ago that commercial television knocked on the door of your home. You kindly invited us in. I do hope we have been welcome guests. As you probably know, I am no stranger to show business. It has been my life's work and my hobby ever since I can remember- but in all my career I have never spent as tough and exciting a time as I have during the past 50-odd weeks with the commercial television boys.
Commercial television provided you, for the first time, with an alternative television programme. It gave you a chance to be choosey- and you certainly were. We thought we had some idea of the kind of entertainment you would enjoy. Well, we soon found out that we did and we didn't- because you told us- and you told us in no uncertain terms. You wrote to us by the thousand, praising, complaining, and most important of all, advising. And it is this last point that I want to dwell on.
Although commercial television comes to you entirely free of charge and we don't receive a single penny of any licence fee you pay, you still choose our programmes, and in these new autumn schedules you have had all the say. Acting on your advice we have brought back the top shows that you wanted, and we have all worked very hard designing and producing 11 brand new ones.
Now please don't think we are getting over confident,, that we are saying 'now we know what you want- this is going to be the best' and so on. Far from that, we need and appreciate your views on the programmes and I cannot stress this point enough. So do let us hear from you- say what you like- criticise us or praise us, but please, please write. We will try very hard to answer all of your letters personally- but I can promise, answered or not, we will not ignore them. They will help us to do what we set out to do in September last year, provide a weekend of television entertainment you will enjoy. Thank you all for the wonderful support you have given us over the past year. It has been most encouraging."
ATV Main Menu

.

.

.

.

Opening of ITV in the Midlands

Programmes commenced on Friday February 17th 1956, Leslie Mitchell the first face to be seen. About one and a half million viewers were watching.
On the stage of Birmingham Town Hall, Sir Kenneth Clark gave the opening speech before local dignitaries. In reply, the Mayor of Birmingham quipped about the fact that one of the guests was a Sheriff of Nottingham, referring to a programme shortly to be screened.
Among the guests were Prince Littler, Sir Philip Warner (ABC chairman), Val Parnell, Norman Collins, Howard Thomas, Philip Dorte, Roy Thomson, and, of course, Lew Grade.
First ever commercial on ATV Midlands was for Cadbury's chocolates. A variety show staged at the former Astoria Cinema produced by Bill Ward starred Richard Hearne (in of course The Lancers), with Bob Monkhouse, and Tyrone Power among other guests.

ATV Main Menu

.

.

.

.

.

.

.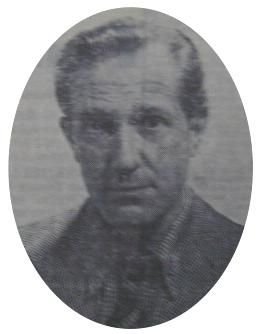 Antony Keary (1920-1997)
A dapper man of "wit, verve, gaiety and distinction as an actor-turned-producer."
He started in tv with ATV working on their ill fated High Definition Films, producing two of the Theatre Royal Series, Death Trap and Open Wind. He also produced other plays and two children's series, including The Facts of Life, The Open Window, and I Passed By Your Window. Probably his biggest contribution was as first producer of Emergency- Ward 10.
He later produced other series such as Ghost Squad and Probation Officer, before joining Associated Rediffusion as Head of Plays, and then LWT.
He was married to writer and actress Ilona Ference (1917-1996).
.
.
.
.
.
.
.
.
.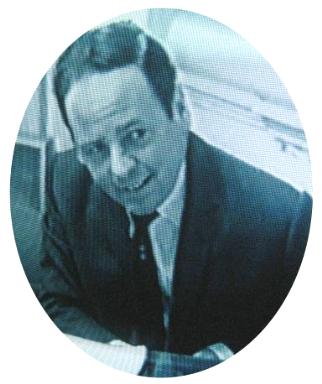 Francis Essex (1929-2009)


Perhaps the crown of his career was receiving the Laurence Olivier Theatre Award in 1996 for Best Musical - 'Jolson'. He is rightly considered a "pioneer" in the development of the art of television.
He started his career studying music under Frieda Khuna. He then joined Eclipse Film Productions as musical director in 1948 before joining BBC TV in 1954 where he made his name as their "wonder boy", before being lured to the independent network, where he spent, off and on over 10 years at ATV. His first achievement for this company was to rejuvenate their Saturday Spectacular, one edition of which which featured Anthony Newley and Shirley Bassey and was described in these glowing terms-
"this is how variety shows should be produced. ... Essex, with some clever camera tricks, produced what I can only describe as a surrealist juggling act with medium and long shots superimposed on one another and then obtaining a black and white effect by turning one picture into negative."

.

.

.

.

.

.

.

.

.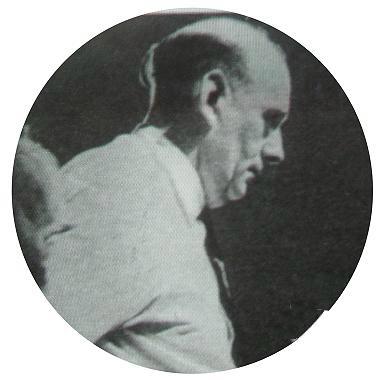 Bill Ward (1916-1999)


was once described by Lew Grade as "the only man in the country capable of directing this greatest company of actors and actresses." He was referring to Bill Ward's directing The Golden Drama in 1965 for ATV, but he also produced and directed many other shows, from The Royal Variety Performance to the first studio variety performance attended by the Queen, in 1953.
He had started working for the BBC in his native Plymouth as a trainee engineer. His break into telly came when the director of Terry-Thomas' How Do You View? was called to jury service, and Bill took over. One of his legacies, which was much maligned was his introduction of miming into live shows.
Bill worked for ATV from 1955 to 1976, directing their opening night variety show, then shows like Sunday Night at the London Palladium, eventually rising to the post of ATV executive programme controller. Comedy, he always said, was the most difficult tv to make, "it's the timing, the timing of a camera shot, a piece of business, a pause... the slightest mis-timing can turn a huge laugh into nothing."
Maybe his finest achievement was his pioneering satellite transmissions on ITV, starting with the 1964 Olympic Games coverage.

.

.

.

.

.

.

.

.

.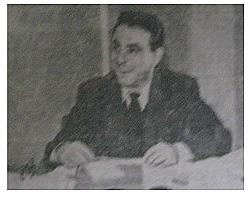 Brian Tesler (born 1929)
One of the finest tv producers, much sought after, his show biz career started in Trieste working on a forces radio show which he produced and also appeared in. He won a scholarship to Oxford where he gained a first in English Literature, and also found time to take part in cabaret, revues and plays. He came to the notice of the BBC where Ronnie Waldman gave him his first big chance at the end of 1952. He produced numerous shows with Wilfred Pickles, Bob Monkhouse, Bernard Braden, Peter Sellers, Billy Cotton and a much acclaimed play featuring Pat Kirkwood as Vesta Tilley. In January 1957 he left for ATV where he became an outstanding producer of shows such as Saturday Spectacular. It was at this time The Stage wrote an article on him, quoting his assistant Alison Graesser of him, "Brian is a stickler for detail." The difficulties relating to one of these shows are outlined, the writer Wilfred Altman revealing, "Tesler remained outwardly calm, despite the fact that the show's script had only been completed a day earlier; despite Dickie Henderson's enforced departure... and Alma Cogan's mere fifteen minutes time for rehearsals; despite the sunstroke which struck down one of the King Brothers." He added, "I doff my new bowler to one who, unlike certain of our gifted contemporaries who create a great hullaballoo over their often mediocre achievements, produces a show which is anything but mediocre, and very little hullaballoo as a result."
Later he worked for A-R, and had executive roles with Thames and LWT.

.

.

.

.

.

.

.

.

.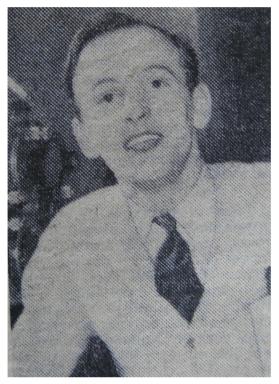 Michael Redington (born 1927 in Leicester)
Michael started acting professionally at the age of 14, graduating to the Old Vic Company, touring America and Australia. In the early 1950's he appeared in some BBC television plays.
He joined the newly formed ATV as a producer, his first assignment the 1955 Saturday afternoon ad mag At Home with Joy Shelton. This lead to his involvement mostly with serious religious programmes in the long running About Religion.
Among his successful efforts were an interview between a nun and Anthony Greenwood, John Betjeman and Monica Dickens. Another showed Teddy boys discussing their philosophy with a padre from Peckham.
In May 1959 he directed a few episodes of Emergency- Ward 10, then that September he was the first British director to attend Westinghouse Broadcasting Company's conference in San Francisco, where he addressed the 200+ delegates on his work on About Religion. In the 1960's he produced a number of networked documentaries, again for ATV and in June 1960 was the first winner of ATV's Leonard Brett Award, given to an ATV producer with "initiative, imagination and consistency of output."
In 1964 he left ATV for a job as programme controller with pay TV company Tolvision
.
.
.
.
.
.
.
.
.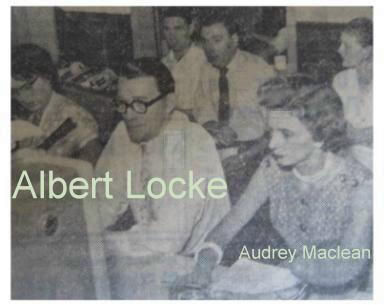 Albert Locke


He was born in London and started his career with Italia Conti. When he became too big for boy parts, he filled in until being appointed stage manager the The Palace in Shaftesbury Avenue. Then he was Director of Production at the London Coliseum, before he moved to Australia to work for JC Williamson.
During the war he ran an RAF Entertainment Unit. After the war, he worked for Emile Litler and then studied television techniques at ATV under Bill Ward. The first show he produced was a Startime with Gracie Fields. Success lead to his becoming one of ATV's top producers, working with stars such as Guy Mitchell, Johnnie Ray, Cliff Richard, Benny Hill, Arthur Haynes, Des O'Connor and Lena Horne.
In 1960 he received the Leonard Brett award for "consistently high work in tv production."
He is pictured here in 1957 with his assistant Audrey Maclean working on a Startime show.

.

.

.

.

.

.

.

.

.

Bill Lyon Shaw (1913-2010)
Born in the Potteries of Scottish parents, Bill started as an amateur actor before running and acting in his own repertory companies at Southend and Margate. He took a chance with a revue purchased for the princely sum of £80, and said this gave him an experience of professional life he never forgot. The show did OK, and he was able to organise a second revue, with Nor Kiddie as principal comedian, and this proved something of a success.
After war service in the RAF he worked for George and Alfred Black, then for Jack Payne, producing For the Fun of It with Nosmo King, Max Bygraves and Frankie Howerd. The BBC asked him to produce two summer shows productions and this led to him being appointed a member of the BBC staff, for whom he produced various shows with the likes of Frankie Howerd. This post he relinquished when he joined ATV at the start of its operations in 1955.
In this role he produced variety, drama, orchestral concerts, ballet in the South of France, opera in Naples and a floor show at the Pigalle.
He joined Tyne Tees Television as Programme Controller in 1959, later returning to his tv roots at the BBC.

.

.

.

.

.

.

.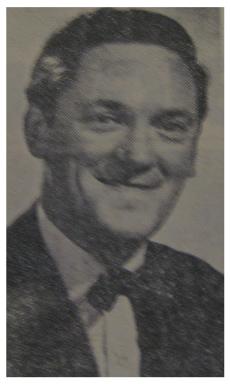 James Bredin (1924-1998)
James J Bredin was born in Ennis in Ireland and after distinguished war service as a navigator with the Fleet Air Arm, in 1946 joined the Rank Organisation's This Modern Age Unit as a scriptwriter and director. His work included films on West Africa, Malaya, Hong Kong as well as Whaling in the Antarctic.
In 1950 he was appointed to the the BBC as TV Talks producer, being involved in series such as Asian Club, Press Conference, and Viewfinder.
Then in 1955 he joined ITN as Senior Producer and was one of their first newscasters.
In late 1959 he left for ATV, his brief to produce current affairs programmes. These included South America - An Impression (1962). He was also loaned to Granada for a documentary on the new President Kennedy in a programme titled The New Americans, in April 1961.
He left ATV in Nov 1963.
From August 1st 1964 he was managing director of Border TV, and remained there for about 18 years.
.
.
.
.
.
.
.
.
.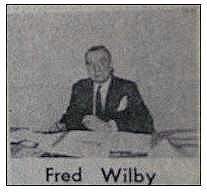 Fred Wilby
Born in Belfast, he joined his father who ran a variety act with comic animals called Les Zondas. Fred's first job was to dress up a donkey to make it look like an elephant, "the only kicking elephant in the world." His father graduated to more dramatic roles, and Fred appeared carrying a spear for his dad in The Fatal Crown. But they were no great success when they were appearing in Brighton, so Fred's father started an advertising poster business there. Fred helped and also worked as an electrician at The Grand. That lead to the job of chief electrician and he progressed via a stage manager's post at Shoreham, a stage director's job at Worthing to stage manager at the Hippodrome Birmingham in 1928 working for George Black. Following a spell at the Chiswick Empire, he worked for Sir Walter Gibbons in non stop variety at Leicester Square.
After serving with ENSA in the war, he was employed by CH Cochran, then becoming freelance, working in radio and films. He produced 36 Donald Peers Shows on Radio Luxembourg and then joined ATV in 1955, where he was known as the Old Trouper. Among the programmes he produced were those as varied as Face the Mike, Carrol Levis Show, Carrol Levis Junior Discoveries, Lunch Box, Midland Farming, Rainbow Room, Cover Girl, Police Five, Password, and About Religion

.

.

.

.

.

.

.

.

.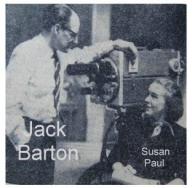 Jack Barton (1916-2002)


(born 1918 at Leigh-on-Sea, acc to a 1958 report.)
Jack was one of the first producers of the Beat the Clock segment on Sunday Night at the London Palladium. He also produced other ATV material such as David Flame Secret Agent.
He had started out as a general factotum at Bertram Mills circus. He sang and danced in travelling revues and said he learned a great deal from Robert and Sonnie Hale- "I owe all my experience and whatever success I may have achieved to them." After serving in the RAF for six years, Jack acted in plays such as A Woman of Forty with Phyllis Neilson Terry. A different role followed when he took over a company in Ayr, being the producer at the theatre there for seven years. But when he took the company to Paris he found Scottish kilts a complete flop there, and he had to return to Britain, to Bournemouth joining Nat Mills. This gave him his break and he joined ATV in 1956, later best known for his involvement with ATV's legendary Crossroads. In 1963 he was living on The Island at Thames Ditton.

.

.

.

.

.

.

.

.

.

Shaun O'Riordan (born 1927)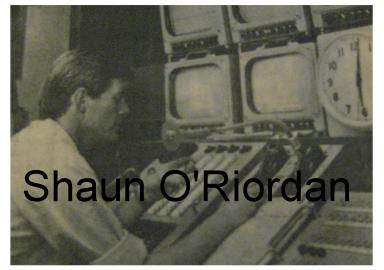 Of course, he was best known in front of the screen as the dim, put upon son in The Larkins. But though Shaun had been acting for fourteen years before he found acting success, he had already determined on a career behind the cameras.
So even while appearing in The Larkins he had begun training in January 1959 as an Assistant Transmission Controller at ATV.
From directing small spots, he began directing in series like Emergency- Ward 10 in 1964, his biggest success was in the Sid James/ Peggy Mount 1966 comedy series George and the Dragon.

He was in charge of ATV's comedy department in the 1970s.

.

.

.

.

.

.

.

.

.

John Irwin (1912-1976)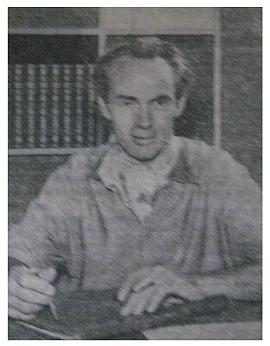 Born in Dublin, and educated at Trinity College, John was acting Shylock at the tender age of 17 under direction of Frank Fay. He was in at TV from the beginning producing film magazines Picture Page and after the war Kaleidoscope. He also directed six films including Badger's Green (1949) for Rank, "a minor classic." His work on six thousand programmes, he claimed, with BBC radio and television ended not on exactly the best of terms, for he described the BBC as a "deliberately inefficient set-up in order to maintain a smooth running organisation." He spoke out against their "pettifogging supervision." He worked freelance before joining ATV in 1956, producing various light shows such as The 64,000 Question, Bury The Hatchet, Dotto, Pencil and Paper, and Tell The Truth. He was long associated with Free Speech with Edgar Lustgarten (with whom he had earlier worked at the BBC on In the News) and in 1960-2 produced the Alan Taylor Lectures. Surprisingly, he rejoined the BBC in July 1961 and later worked for NBC.
In the 1950's he described one fascinating hobby. He would play back on a tape recorder all the shows he worked on- now that would be an interesting find! A man of many parts, he wrote two books Sweet Themmes and My Time is My Own. His voyage as a deckhand in an Australian windjammer, and his training as a civilian by the RAF to fly, formed the subject of a radio series.
Perhaps the notice above his door in his ATV days sums up this individual man, "If you are sensitive, talented or kindly, relax because you are welcome. If you are none of these, go away"

.

.

.

.

.

.

.

.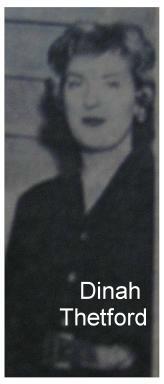 Dinah Thetford
directed a number of prestigious ATV dramas such as Emergency Ward 10 in the early 1960s.
She had joined ATV as a production assistant to John Irwin, and was soon given opportunity to direct some short programmes, Late Date and "countless advertising magazines" including Send for Saunders.
She also directed a few editions of the quizzes Tell The Truth, and most of the second series of Dotto.
Her real opportunity came in 1960 when she took over for a while from Jack Barton on the popular Lunch Box series, later that year also directing some of the Edmundo Ros Show.
.
.
.
.
.
.
.
.
Peter was one of ATV's top producers in their early days, working on many of the successful Jack Jackson shows.
He described the hectic time on the day of the show, which went out live at 10pm on Sunday. The studio itself was tiny, and the scenery only arrived at 2pm on the day of transmission. With about 15 changes of scenery in a show, it meant that each prop had to be carefully positioned, right on the mark.
Others shows he worked on included The Arthur Haynes Show, Startime, and Singing for You. later he moved to Tyne Tees Television from its inception.
He had started work in TV in 1947 working in numerous different roles, including choreography and dancing. When he joined ATV in 1955, he was living in Croydon.
.
.
.
.
.
.
Colin Clews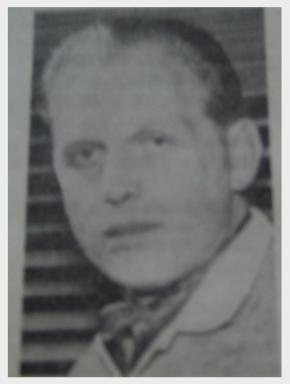 His tv career began in 1946 at BBC's Alexandra Palace studios.

When he joined ATV, he directed some of their finest variety programmes, including the early Morecambe and Wise series. He also worked on some Sunday Night at the Palladium shows, and directed many successful quizzes, such as The 64,000 Question, Yakity Yak, and Dotto. But he also directed other programmes from documentaries to discussion programmes.
In the 1960s, he was living in Sudbury Hill, Middlesex.

With the demise of ATV, he worked for its successor Central TV.

.

.

.

.

.

.

.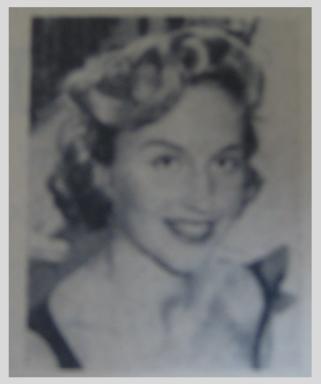 Anna Lett
Perhaps best known as the first wife of Christopher Chataway, whom she married in 1959, giving up her television career.
In 1950 she was a junior clerk at the BBC working for Sir George Barnes. Then for three years she was secretary to Bill Lyon-Shaw.
Realising commercial tv training might be useful, with another BBC secretary she went to Canada and worked for CBC in Toronto. She was a production assistant on news programmes, and went on to talks and public affairs features.
After ten months there, she returned to Britain as Leslie Mitchell's secretary. "He works hard, and would spend hours on research for a tv interview that might last two minutes." When he joined A-R she worked for him for three weeks before moving to ATV.
She produced the long continuity sections of ATV's Junior Television programmes and graduated to other programmes, for example in summer 1956 she produced a half hour afternoon programme called Treasure Chest, a miscellany with Dilys Laye and Clive Stock. Another afternoon series in September 1956 was Fancy Free, a talent show for newcomers to tv, introduced by Glen Mason. In December that year she was producing Pets Parade.
She joined the new Southern TV in 1958.
.
.
.
.
.
.
.
.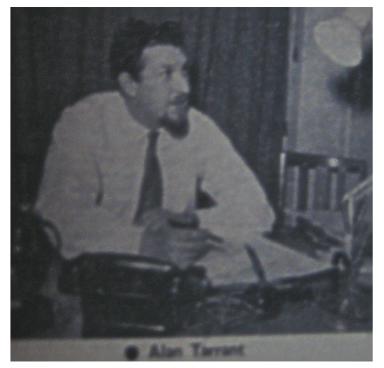 Alan Tarrant

Born in London, he started in tv in 1947. Like many, his first experience of the medium was as an actor, then he tried writing, this included several scripts for ATV's Theatre Royal (The Gloves, Forecast Unsettled, and The Stockings). After working in the ATV Advertising department, he produced several unacclaimed comedy series, Gurney Slade (1960), If the Crown Fits (1961), and Hancock (1963). More successful were The Larkins, Fire Crackers, George and the Dragon, and the later series of The Arthur Haynes Show. He also produced numerous excellent ATV variety shows, such as The Tommy Steele Christmas Show, as well as directing The Harry Secombe Show and some London Palladium Shows in 1962. He also directed a documentary The Well Dressed Man. He continued working until the late 1980s. In the 1960s he lived in Hastingleigh, near Ashford, Kent.

.

.

.

.

.

.

.

.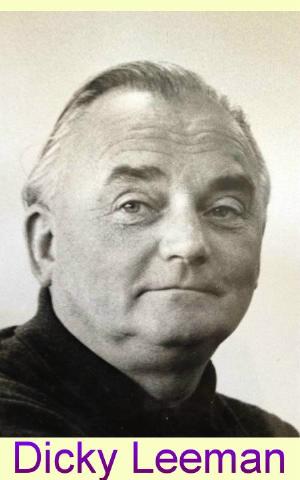 Dicky Leeman (1911-2011)

His son Gary has kindly supplied the following:


"Dad started at ATV July 1955 and retired January 1976.
He was based in Boreham Wood ATV studios and offices for most of that time, but later he worked from Birmingham where he produced/directed 'The Golden Shot.'
He was at ATV in the beginning and joined at a time when no one knew if commercial television would last two weeks. I believe he was recruited by Bill Ward whom he worked with at the BBC.

During dad's time he produced/directed many light entertainment shows, including The Arthur Haynes Show, All That Jazz, Music Shop, Saturday Spectacular, Sunday Night at the London Palladium, Sunday Night at the Prince of Wales, The Cliff Richard Show, Alma Cogan, Mantovani, The Des O'Connor Show, The Winifred Atwell Show, The Dickie Valentine Show, Eric Sykes presents Peter Sellers, and The Golden Shot."

Thank you to Gary Leeman, for this data and photo

.

.

.

.

.

.

.

.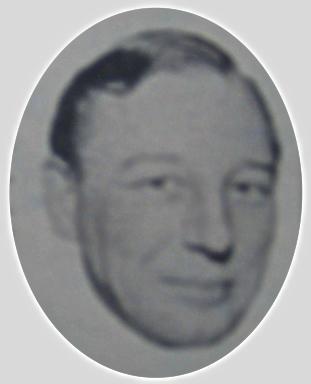 Cecil (Bancroft) Petty (January 23rd 1921-May 27th 1999)

Best known as one of the producers of Emergency- Ward 10 (for two years 1963-5), he had previously directed many episodes, starting in 1958. He worked for ATV until the franchise changes of 1968. He also directed many ATV's children's serials.
His career had begun as an assistant stage manager in rep, then after serving in the army in the war, he was a tv cameraman from 1946-1950. In the latter year he decided to freelance, obtaining work as an actor, stage manager and director.
In 1955 he joined the new ATV. His early work for ATV included: We The Guilty, a play he adapted and directed, The Killing Stones series (director), Three Tough Guys a comedy series, and Fantasies of the Night a documentary series. He also directed some Sunday Night at the Prince of Wales.
He was married to Anna de Haas

.

.

.

.

.

.

.

.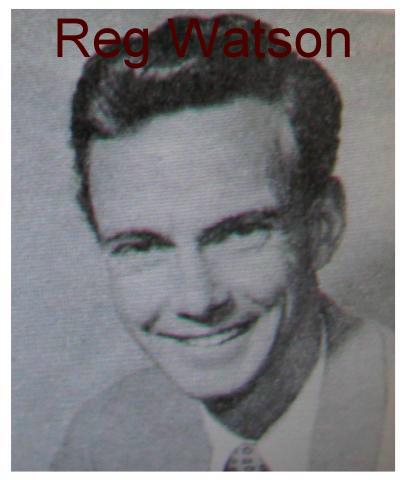 Reg Watson (born 1926)

First Head of Light Entertainment in ATV Midlands, 1956. In his first three and a quarter years in the job, he produced an incredible thousand shows for ATV!
He was most associated with producing Noele Gordon's Lunch Box, he went on with her to make a huge success of Crossroads from 1964.
Other early ATV series he produced were: Fancy That, Hit the Limit, Tea with Noele Gordon, Musical Cheers, Noele Gordon Takes the Air (o/bs), Bachelor Flats, Chatterbox, Cover Girl, Come into the Garden..., Seeing Stars, A Pet for Christmas, Godfrey Winn Tells a Story, plus some editions of Midland Profile, Midland Farming, Saturday Spectacular, Tingha and Tucker Club and Rainbow Room.
He returned to his native Australia in the 1970s, enjoying immense success with Neighbours, to name but one worldwide hit.

His official website has much fuller details on his amazing career.

.

.

.

.

.

.

.

.

One of ATV's earliest senior producers was
Desmond Davies (1907-1959)
He left the company as early as January 1956.
He had joined the BBC in 1938 but left to become Head of ATV Drama in 1955. For this company he directed Quay South with Roger Livesey, The Mossbach Collection with Marius Goring, The Man of Destiny with James Donald and Elizabeth Sellars, Bardell v Pickwick with Donald Wolfit, and The Little Black Book with Flora Robson.
An impressive start, but he resigned, he claimed, because ATV had axed these productions as they cost too much to make. Hugh Beaumont, his replacement, with his theatre connections, was to make ATV serious drama for the next few years mostly from theatrical productions.
You can see ATV's problem in 1956, in that making the above films which received but one screening on television was expensive, and ATV had early on not opted for creating its own television studios that would have been equipped for large scale drama with its concomitant workshops and storage space.

.

.

.

.

.

.

.

.

ATV areas Top Ten TAM Regional Ratings
Week ending July 31st 1960:
Midlands Region
Here, ATV took all the Top Ten, except for one ABC transmission, which happened to be ATV's Bernard Delfont Show!
1 Rawhide (58%)
2 Bonanza (53%)
3 Ward 10 - July 26th (46%) ATV Production
4= The Barber of Stamford Hill (45%) ATV play
4= No Hiding Place (45%) A-R
4= Startime (45%) ATV show
7 Search Party (44%) A-R play
8 Ward 10 - July 29th (43%) ATV Production
9= Mess Mates (42%) Granada
9= Deadline Midnight (42%) ATV series
London area
Here ATV had one programme in the Top Ten, but they were only on air for two days. A-R took most of the rest, though the BBC actually grabbed one spot. However ATV's Ward 10, shown during the week via A-R did make the London Top Ten. The only ATV weekend show in this top ten was 9= Cliff Richard Show (41%)

More TAM ratings for the ATV Midlands area

w/e June 10th 1962
1 Coronation Street (June 4th) 65%
2 Labour Party Political (ATV share 35%) 63%
3 Coronation Street (June 6th) 60%
4 Bonanza 56%
5 Play: You In Your Small Corner (Granada) 53%
6 Dickie Henderson Show 46%
7 The Roaring Twenties 45%
8 The Cheaters 43%
9= Dan Farson Meets Danny Williams 42%
9= Dial 999
Top BBC show: The Rag Trade 39%

Midlands TV area TAM ratings w/e 15 Dec 1963
1 Coronation St (Dec 11) 73%
2 Take Your Pick 70%
3 Coronation St (Dec 9) 69%
4 Stars and Garters 64%
5 The Swindler (ABC) 62%
6 Dickie Henderson Show 61%
7 Double Your Money 60%
8 The Travelling Man (A-R) 59%
9= No Hiding Place 57%
9= The Beverly Hillbillies
9= The Plane Makers
9= The Saint
Top BBC: Cup Winners Cup (52%)

TAM ratings for Midlands area w/e Feb 9th 1964

1 Steptoe and Son (BBC) 81%
2= Coronation Street (Feb 5th) 74%
2= Liberal Party Political Broadcast
4= Coronation Street (Feb 3rd) 70%
4= Dick Powell Theatre (BBC)
6 Take Your Pick 64%
7 The Avengers (ABC Weekend) 62%
8= Crane 59%
8= Double Your Money
10 Emergency Ward 10 (Feb 7th) 56%

TAM ratings for Midlands area w/e June 28th 1964

1 Coronation Street (June 22) 69%
2 No Hiding Place 68%
3 Dickie Henderson Show 62%
4 Coronation Street (June 24) 55%
5 The Detectives 54%
6 Stars and Garters Summer 52%
7 Love Story 51%
8= Emergency Ward 10 (June 23) 47%
8= The Beatles On Tour
10= Holiday Bandbox (ABC) 46%
10= Morecambe and Wise Show
10= GS5
Top BBC: Cricket June 22, 6.15pm 38%

TAM ratings for Midlands area w/e Apr 25th 1965

1 Coronation Street (Apr 21st) 65%
2 Gideon's Way 61%
3 This Week 60%
4 Take Your Pick 55%
5 Goldwyn Greats (ATV) 53%
6 Crossroads (Apr 23rd) 52%
7= Ready Steady Goes Live! 51%
7= Crossroads (Apr 21st)
9 University Challenge 50%
10= Crossroads (Apr 20th) 49%
10= Crossroads (Apr 22nd)
10= Bonanza
10= Cinema
10= Candid Camera (ABC)
Top BBC: Sportsview 40%

TAM ratings for Midlands area w/e June 27th 1965

1 Coronation Street (June 24) 59%
2 Coronation Street (June 22) 57%
3 Our Man at St Marks 54%
4= The Fugitive 50%
4= The Kid (ATV play)
6 No Hiding Place 49%
7 Des O'Connor Show 47%
8= Crossroads (two editions) 46%
10= Crossroads (one) 45%
10= Ward Ten (June 26)

TAM ratings for ATV Midlands area w/e 26th May 1968
1 Des O'Connor Show 60%
2 Opportunity Knocks! 55%
3= Coronation Street (May 20th) 47%
3= Just Jimmy
5= Harlech Opening Night 45%
6= Star Movie (Brothers Rico) 44%
6= Take Your Pick
6= The Saint
9= The Rifleman 43%
9= International Football (BBC)
9= The Big Show
To ATV main menu

.

.

.

.

.

.

.

.

Associated TeleVision First Chairman- Prince Littler. Deputy Chairman- Norman Collins.
Originally the company started broadcasting as ABC (Associated Broadcating Company), but were early forced to change this for obvious reasons.
From the start the company espoused film series as the mainstay of their output. After all, argued Collins, "nobody has ever come out of a cinema saying 'what a pity that film was filmed.'" In Charge of Production was Val Parnell. Oh, and in 1955 "Associates" were Lew and Leslie Grade, who were to really become ATV, and were to be inextricably 'ATV.' In April 1966 ATV Network was formed, following criticism that ATV had become too widely diversified in areas outside of television. This ATV Limited became a non-trading holding company, in 1967 renamed Associated Television Corporation Limited. In September 1978 it was renamed the Associated Communications Corporation. ATV Network sadly ceased its operations at the start of 1982 when it was replaced by Central Television, which was 51% owned by ACC.

ITC (Incorporated Television Company)- ATV's most successful subsidiary!
This tribute appeared in 1995 in publicity from Bravo TV: "When they come to write the history of television, a special place is assured for ITC, the entertainment group founded by Lord Grade. Just a glance through the back-catalogue of 10,000 hours is enough to realise why the company is regarded with such respect."
ATV's original subsidiary was ITP (Incorporated Television Programmes) which they bought out in September 1958. ITC actually began in 1958 in America, half-owned by Jack Wrather and half by ATV. TPA (Television Programmes of America) whose logo appears on series like Charlie Chan, an American producing and distributing company, was bought out by ITC in September 1958 for a reputed eleven million dollars. Then in early 1960 Wrather was bought out by ATV, and the British legend was really born, "the first international tv producing and distributing company."
I am indebted to a contemporary article by Margaret Cowan for some ITC details, as well as to Alan Collins

ATV Studios
At the end of 1957, ATV had five studios of their own:
Hackney- made here were Free Speech, Cross Talk, Tell the Truth, and the Arthur Haynes Show
Wood Green- Val Parnell's Spectacular, Joan and Leslie, and the majority of plays
Highbury- Emergency- Ward 10
Foley Street, ATV headquarters, was where the Jack Jackson Show was made
Midlands Studios- Lunch Box, Carroll Levis

.

.

.

.

.

.

.

.

Associated TeleVision Annual Report 1960 Chairman Prince Littler called for the introduction of more TV stations, each working like ATV on a seven days a week basis, in order to provide genuine competition with existing contractors. An interesting proposal, in view of ATV's and the other Big Four Companies' denying the regional companies anything more than very occasional network time. His comments however suggest that he was unhappy with ATV only providing London with two days a week programming.
Special praise is lavished on Val Parnell and Lew Grade, "they have continued not only to shoulder the heavy responsibilities of the manifold interests of the company but have added to their other duties by arduous missions abroad." Might be some reference here to a power struggle!
The facts however were highly encouraging to shareholders. Profits of £5,388,330, an increase of £71,387 over the previous year.
The eleven directors received a total pay of £189,022, with an individual weekly increase that amounted to £18 per week each. Staff however also benefitted to the tune of £264,171 in the Staff Profit Sharing Scheme.
ITC gave ATV's its biggest money spinner, with a turnover of close to $10,000,000. "The Board remains of the opinion that it is vital for the group to have a direct outlet to the American market." A case could be made that it was this perfectly accurate assessment that was to cause ATV's eventual downfall, with its emphasis on global sales sometimes rather at the expense of regional programming.


.

.

.

.

.

.

.

.