. . . . . . . . Horning Bowls Club Norfolk
. . . . . . . . . . . . . Location: behind the village hall NR12 8LQ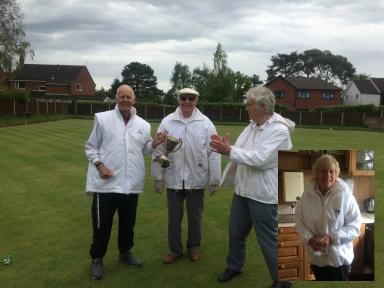 Please email me (David, Horning Bowls)
New members warmly welcome in 2018!
Practice sessions are held each Tuesday at 6.15pm (6.45 from May) and Wednesday 2pm, weather permitting.
Come along and have a go! Bowls of all sizes can be borrowed free. All you need to wear are suitable shoes- flat soled in order to protect the bowling green.
The photo is from our Open Day on Easter Saturday 2018.
Results of our Midwinter Shield 2018
.
.
.
.
.
.
.
.
.
Our annual event was blessed with lovely sunny weather, and eleven members competed and enjoyed the mulled wine and minced pies.
John S, Sonny and Christine thrashed Ralph and David, while John B, Trish and Craig won their final end to narrowly beat Laurie, Graham and Angus. The final was over six ends and was decided by one end. John B's block were 4-1 up but fatally conceded a maximum six.
The three winners then played a two end playoff, in which John S and Christine scored one apiece.
A deciding end saw Christine emerge as this year's Midwinter Champion