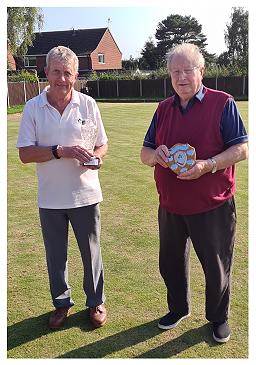 . . . . . . . . Horning Bowls Club Norfolk
. . . . . . . . . . . . . . . . . . . . Location: behind the village hall NR12 8LQ
. . . . . . . . . . . . . . . . . . . Please email me (David, Horning Bowls) Singles Championship Final
John Saunders is this years champion. On October 6th the final eventually got under way against his opponent Christine, and John won convincingly, though it was a tight game, with his winning most of the 14 ends by one shot for a final score of 11-5. Congratulations to John!
John Corden Cup Sept 15th
Our final event of the 2018 season was a roving cot tournament, in which ten members participated in randomly drawn pairs. An all play all competition saw Christine and David emerge as winners with a shot score of 26, four ahead of runners up John B and Sonny, who achieved the highest match score of the day, by getting 10 in one match. Third, one point further behind, were Derek and Craig, who had a chance in their final match against the eventual winners to clinch victory themselves. They went 5-0 up after three ends, and at that point were on for the trophy, but then faded to lose the game 5-7. Everyone won at least one game, with Ralph and Trish, Laurie and Jim the other participants.
Duffield League Finals Sept 13th
Horning were represented by three blocks. John S, John B and Christine remained undefeated after their three games, winning two and drawing one. Ralph, Craig and David won two of their three games. Sonny, Trish and Maureen were our third block. Winners were from somewhere called Rollesby

The President's Cup Sept 9th
A sparkling new glass trophy for this season, kindly donated by the new president himself, seen here presenting it to the winner, Mike.
Twelve members competed, over five rounds, amid the customary confusion about who was playing against who on what rink with how many bowls? The draw was made randomly, and inevitably some players played the same person on at least three occasions. Anyway, everyone had an enjoyable time and happily partook of the refreshments.
Mike amassed a score of 39 shots, narrowly beating Derek on 37. After that there was some confusion over the remaining scores, but the main thing was it was a happy inaugural run for the new President's Cup.

Club Events 2018 .. Singles Championship
Main Site Menu

.

.

.

.

.

The Winspear Shield September 2nd
It was a pleasantly warm afternoon, as ten members competed for the Winspear Shield. The winners, seen here being presented with the shield by Kath Winspear, were John S and Jack who managed to score 29 points.
Second were Sonny and David with 26, and third Terry and Laurie with 22. Everyone won at least one game, the other pairs being Ralph and Maureen, Craig and Angus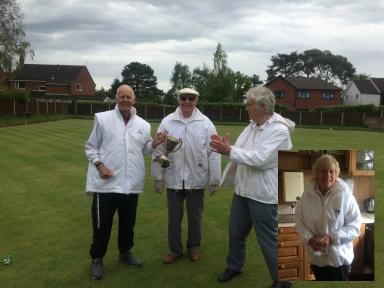 April 21st: Swan Cup
A good turn out for our first event of the new season. Sixteen members competed in random pairs in beautiful spring sunshine. Five enjoyable rounds later, clear winners had emerged: Derek and Christine who scored 35, four ahead of Richard and David on 31. Third with 29 were John B and Maureen, while John S and Trish scored 28. Of the other pairs, let's single out Craig who was a rookie, with Jack, who won two of their five games.
This pleasant afternoon included some delicious cakes, along with a happy reunion with old members after the long winter lay-off
January 1st 2018 Midwinter Shield
Our annual event was blessed with lovely sunny weather, and eleven members competed and enjoyed the mulled wine and minced pies.
John S, Sonny and Christine thrashed Ralph and David, while John B, Trish and Craig won their final end to narrowly beat Laurie, Graham and Angus. The final was over six ends and was decided by one end. John B's block were 4-1 up but fatally conceded a maximum six.
The three winners then played a two end playoff, in which John S and Christine scored one apiece.
A deciding end saw Christine emerge as this year's Midwinter Champion
.
.
.
.
.
Horning Singles Championship 2018
PRELIMINARY ROUND
After a slow start, matches finally began in July. The outgoing champion traditionally fares poorly, thus Sir Laurie found himself in a dramatic tussle (not literally) with Trish Wishart. Going in to the final end, scores were tied, with the 2017 champion just scraping over the line. Jack Wright overcame Sonny Probett: this was 6 all going into the final end, so was very tight. Ralph Morris overcame John Bond in a final end thriller. John Saunders also beat Mike Newlove on the last end.

FIRST ROUND
Maureen beat Craig, Christine 8-5 Jack, David 7-6 Sir Laurie, John S 9-1 Ralph
Last season's champion Sir Laurie bowed out after a close struggle with David which went the distance, tied at 6 apiece. Last season in the final Sir Laurie had won the extra end to clinch the title, but this year David got his revenge. Maureen's match was one-sided, as was John's.

SEMI FINAL (15 ends)
Chrstine 14-9 Maureen
John S 12-8 David
Christine's game against Maureen was tighter than the score suggests, with the players tied at 9 all with two ends to go, but in light drizzle, Christine pulled away to gain her place in the final. The other semi final was close also, with the lead see-sawing, David holding a slight lead after nine ends. Then John surged ahead, a good firing shot sealed his win

FINAL John 11-5 Christine