. . . . . . . . . . . Horning Bowls Club Norfolk
. . . . . . . . . NR12 8LQ . . . . . . Please email me (David, Horning Bowls)
Aug 3rd Sixes League Friendly:
Horning...6 Plantation...2
The away team was a player short, so Christine of our side generously stood out, to enable rink 7 to be played as a straight singles. Alas, our kindness was not rewarded with a win here. But our other two pairs both won, Craig and Maureen from 4-5 down, finished on a high, while David and John B forged ahead from being tied at 6 all.
Rink 5: David M (skip) and John B 16-10, Rink 7: John S 9-15, Rink 8 Craig (skip) and Maureen 20-6

Midwinter Shield details

The Swan Cup will be on Sat August 15th 1.45pm. Winspear Shield Sun August 23rd. The Presidents' Cup: Sun 6th Sept. The Roving Cot Cup: Sat 26th Sept.

The second round of our singles competition here. Play matches asap.
Members' Roll ups are on Tuesdays 6.30pm and Wednesday 2pm. But also Roll ups can be arranged at any time.

Club Members may play on our green without charge. It is essential that social distancing is observed, as well as complying with the full special rules of play, which are posted on the outside noticeboard and on the clubhouse door.


These additional rules are: 2 Players only handle their own bowls. 3 Use two cots, two mats, cots to be kicked into position by skips, mats to remain on green throughout. 4 Score should be kept with scorecard, or if a scoreboard, only one nominated player to use. 5 Wash hands thoroughly before coming and after playing..Sanitizers are available. 6 The clubhouse not to be used except in case of emergency, please do not change in the clubhouse. 7 Players at a roll up will have their names recorded on a temporary list,
Rules subject to revision as national guidelines dictate.
Dinosaurs menu

.

.

.

.

.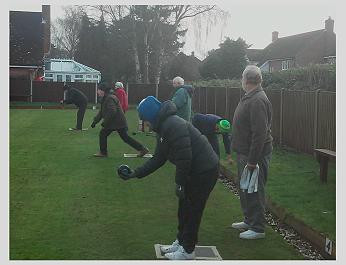 January 1st: Midwinter Shield
Nine members took part in our annual new year's romp. Played as three singles matches, Laurie with five shots beat Sonny and Christine on rink 2, while David scored seven in overcoming Derek and Craig on rink 4. The closest game was on rink 3, and after the eight ends, John B and John S were tied on four shots apiece, while Ralph, last year's winner, was only one behind. In a play off John Bond triumphed, going on to the final against the other two winners. In an exciting game, John B scored four shots, Laurie was one behind on three, thus John Bond deservedly won Horning's first (hopefully not the last) trophy of 2020.
.
.
.
.
.
.
.
.
.
Singles Competition 2020

Matches in the early rounds are of nine ends each. Semi final and final rounds are of fifteen ends.

First named player to arrange a time convenient to both players. Decide rink to play on. If you can't agree, toss a coin.

Round 1
Derek beat Trish
David C beat Christine
Craig beat David M
John B beat John S
Round 2 (complete by Aug 12th)
Craig w/o Sonny
Ralph v Derek
Jack v John B
David C v Laurie
All losers in rounds 1 and 2 will be entered into the
Horning Mini Cup, the draw for which will be made August 12th
Taking part: Trish, Christine, David M, John S, Maureen, + 3 more losers
.
.
.
.
.
.
.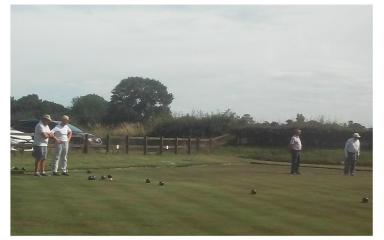 Club Matches in 2020
July 30th. Friendly: Horning...62 Neatishead....39
Our return friendly was closer than the score suggests. At half time we were 8-6 up on rink 7, but 9-10 down on rink 8 and 7-9 down on rink 5. A surge on rink 8 with a six and a four effectively clinched the win, while rink 5 pulled back from a nadir of 3-9 to win.
Rink 5: David M (skip) with John B 20-14, Rink 7: John S (skip) with Christine 19-11, Rink 8: David C (skip) with Gilly 23-14.
(Gilly has now played 7 matches for our club, and remains undefeated!)
July 23rd. Friendly: Neatishead....43 Horning....45
While some clubs have abandoned this season, it was good to play a game against our neighbours. I would say the result was unimportant in comparison with the enjoyment of playing some competitive bowls again! The format was 3 pairs over 18 ends, with subs allowed. With the last end to play, the match was tied! Yes, we won that last end.
Rink 1: Jack (skip) and Craig 13-16. Rink 3: Derek (skip) and Gilly 18-12. Rink 5: David C (skip) and Trish/John B: 13-14