Match Reports (most recent first)

Duffield League: June 11th
Horning...2 Aylsham...7
Rink 6: Craig 6-16, Rink 7: skip John S 18-8, Rink 8: skip Ralph 11-16.
The Duffield League for Duffers, so goes the saying, and today the Duffers were definitely us. At least John S with Gilly and David C salvaged two points, in a speedy win in which Horning were always ahead. They finished while our other blocks toiled with three more ends to play each. Craig's lot had been tied at 4 all, but collapsed to 4-16 down, while Ralph's block started poorly and never really recovered, Ralph's final shot to win the last end summed it up: too little too late

Triples League: June 10th
Mundesley...7 Horning...2
Rink 3: Ralph 9-28, Rink 4: skip John S 8-23, Rink 5: skip Craig 14-13.
Comment is superfluous. John S's block did hold a healthy lead early on. Craig Denver and Bernie had a very close game, scores were 10 all, before Horning surged to a 14-11 lead, and though losing the final end, scored our only points.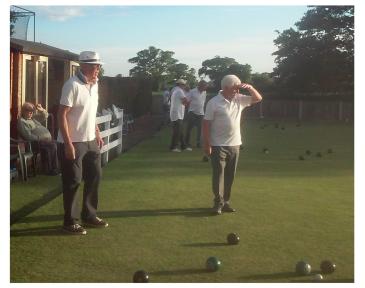 Triples League: June 7th
Barton Turf...2 Horning...7
Rink 1: Craig 8-21, Rink 3: skip John S 27-11, Rink 5: skip Denver 18-13.
The midges were swarming as our match ended in a tight victory, with John S, David C and John B easy victors on the middle rink. Craig's block struggled, but Denver, Bernie and David M enjoyed a close tussle, with us always in the lead, but never that comfortably. Always nice to beat one of our local rivals!
Sixes League: June 4th
Rollesby...2 Horning...6
Rink 2: skip John S 13-15, Rink 4: skip Craig 14-13, Rink 6: skip David C 12-6.
Rain was beginning to fall as Craig completed his hard fought eighteen end singles: the lead had been swapped several times, then the opposition scored a two on the penultimate end to lead by one. Craig however returned the compliment and scored two on the final end to win by one. John S's pair began badly, going 0-9 down but staged an amazing comeback to lead 13-10, alas we lost the last three ends. Thus the match all hinged on the triples on rink 6 with David C, David M and Christine. They were much behind in time and had only completed 7 ends before the rains came, with the score tied at 6 apiece. Nearly everyone had gone home by the time the sodden trio completed a triumphant win for Horning
North Norfolk League: June 3rd
Buxton...2 Horning...6
Rink 1: skip Craig 25-9, Rink 2: skip Ralph 10-25, Rink 3: skip John S 17-14.
Craig, David M, amd Richard achieved a convincing victory on rink1, while on rink 3 John S, Gilly and David C had a tough fight, the lead seesawing, but we were finally assured of success with a four on the penultimate end. The most notable part of the match was the sticky hot weather, and our thanks to our hosts for providing refreshing cold drinks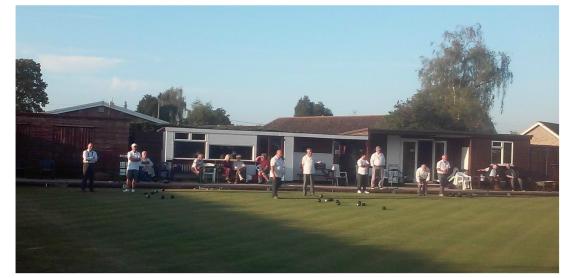 Triples League: June 2nd
Horning...9 Ludham B...0
Rink 2: skip Ralph 22-17, Rink 3: skip John S 32-8, Rink 4: skip Denver 19-8.
Summer suns are glowing, drawing up a large crowd- in double figures even- for tonight's first home evening match. Ralph, Craig and Jack fought back heroically from a low of 5-13 down to win, while John S John B and David C were twenty up before the opposition broke their duck. On rink 5 Denver Bernie and David M lost the first three ends, but a five on end four started their winning run
Triples League: May 28th
Coltishall...2 Horning...7
Rink 1: skip Ralph 25-10 Rink 5: skip Sonny 17-18 Rink 3: skip John S 21-12.
After rain cancellations, this was our first match in this league, and very pleasant and friendly it was too! Ralph with John B and Mark recovered after a shaky start to impress with two fours on the final two ends for an emphatic win. John S with Gilly and David C likewise recovered from 2-6 down to triumph. Sonny's block were never in the lead, won more ends than Coltishall, but had a few poor ends which ultimately cost. Overall we scored 63 to their 40
North Norfolk League: May 24th
Horning...2 Neatishead...6
Rink 6: skip Craig 12-18 Rink 7: skip Sonny 17-10 Rink 8: skip John S 12-14.
The scoreline above doesn't really suggest a close match, yet it was close, very close. In between the showers, rink 6 were last to finish, after John S's block had narrowly lost after a fightback scoring five on the final three ends, and rink 7 with Sonny David M and Christine securing a tough win for us. So both teams had won a game each, though on rink 6 Craig's men, having been 11-5 up at one stage were now 11-17 down. That meant in the overall match we were one shot down on the visitors. However we won the penultimate end, so going in to the final end, shot scores were tied, and the match was potentially a draw. But they won that end and so we were left losers, but gallant losers!
North Norfolk League: May 17th
Southrepps...2 Horning...6
Rink 1: skip Derek 19-11 Rink 3: skip Craig 30-7 Rink 4: skip John S 5-28.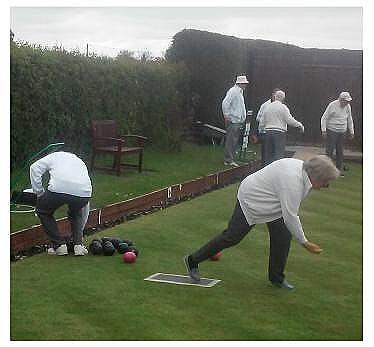 Out came the sun, and we were blessed with our first warm afternoon for bowls this season. Craig, Christine and Ralph enjoyed an emphatic win, their opponents only winning three of the eighteen ends. Poor John S's block however had the reverse experience against strong opposition. Rink 1 was the tightest game, with Southrepps at one stage leading by 8-7. However, as you can see, Derek, David M and C rallied to seal overall victory for Horning
North Norfolk League: May 14th
Horning... 6 Mundesley... 2
Rink 5: skip Derek 14-22 Rink 7: skip John S 19-13 Rink 9: skip Craig 38-8.
Our triple on rink 5 played well, but were never quite able to catch up, but they did win the last three ends. Tightest match was on rink 7 with John S, Christine and Ralph, though the visitors couldn't recover after conceding a four. On the awfully unpredictable rink 9, Craig, Sonny and David M romped to victory, with the highspot an eight on the penultimate end. If only the weather had been warmer, this would have been a thoroughly enjoyable opening match of the season.