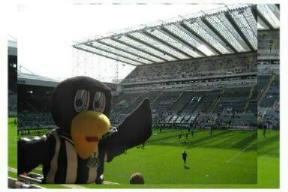 Dinosaur Monty Magpie on Newcastle United
Toon- the biggest soccer team not to have won a trophy for half a century. email.
Dinosaurs Main Menu

A year ago, when we won promotion, expectations were high. As we now know Rafa's plans were lost somewhere in Ash***'s wash, and the top man's pocket was amazingly shallow, leaving us with a Championship team in the Premiership. Given that, all credit to Rafa and his team, for moulding them into a mid table Premier League squad: Most players have improved! I might single out journeyman Wor Dummy, but Diame, whom I always liked has proved to be gold in the heart of defence. Perez, whom I did not rate, has also been turned into a proper player. Shelvey and Ritchie were always our key players, and so it proved. Perhaps a word for the fringe players: Merino has class and has been unlucky to have been eclipsed by the rest of midfield, and Clark ditto.
As for the future, it's is all in Ash***'s fat hands. Sadly. After three successive transfer windows of shame, will he support Rafa and provide a decent funding for the team? We can but hope, though the omens aren't good. Noone will blame Rafa if he walks away if this proves the case. Noone wants him to, but why should he be messed about any more? Why should fans be, come to think of it. But we may have to suffer more, until Ash*** makes his big fat profit and sells out. Trouble is, we got tenth place this season, and Ash*** will be happy for the cash that brings- why should he want to improve the squad, if we can do this well without cash injection? The answer is that Rafa won't be here, Mr Ash***, unless you cough up. Anyway, the bottom line is, who in their right mind would stump up his bloated valuation of our club?
June 2018 - Ash*** is being true to his own dishonourable self- "every penny" to date has meant "zilch," his promises worthless, does the guy even comprehend the suffering he has caused to Toon fans, and how breathtakingly a poor employer he is of his best asset, Rafa?