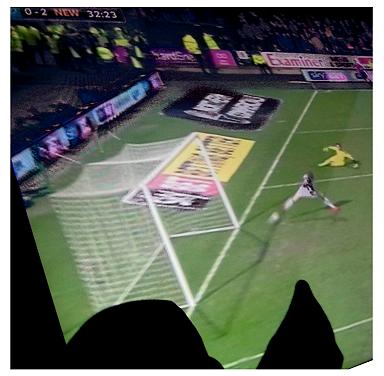 Dinosaur Monty Magpie on Newcastle United
Toon- the biggest soccer team not to have won a trophy for half a century.... and not likely to for the foreseeable, sadly. No trophies at all for 50 years.
Nov 27th: Palace...0 Toon...2
After an unprecedented flow of attacking football and we had subsided to our normal passivity, I was idly musing on the coincidence of the two teams' logos, which both have 88. Did it portend 88 attempts on goal?! More like 88 passes in the match! But in the end, after a woeful display, 88 proved highly significant, as Wilson scored in the 88th minute, from a nicely weighted pass from Joe. Then Joe himself scuffed another shot, which neatly deflected off their player and into the net! But the one who really won the match for us was Roy of the Rovers, sorry of Palace: their manager bravely tried an ultra attacking formation, and thankfully for us, our forwards had much more space. Still, we took our chances. How we won two nil is welcome but nothing short of smash and grab. Maybe if an enterprising team of villains is looking for a mastermind?... Oh no, what did I write last time... Wor Steve for England manager- that's my cry!
Glad I decided to miss the Chelsea defeat. But it does strike me that as England have failed to win their Nations League group, is it time for a new manager to take the helm? A man with new ideas, vision, experience? Yes, I am talking up Wor Steve for manager of the national team (And I mean the English team). Who better to bring fresh impetus, a lively attacking style, a great new era will be dawning: Wor Steve Bruce for manager!
I appreciate this will be a great sacrifice for Toon, but we must stand aside in the national interest. Yes, a huge void will need filling, and I suggest Rafa is contacted immediately
Nov 6th: Southampton...2 Toon...0
Though we started aggressively, that changed when Miggy lost possession uncharacteristically, and we went one down. We rode our luck, our post hit, a cast iron penalty against us refused (thankfully) - you sensed we might even snatch a late equaliser as at Spurs and Wolves, but no, we were poor today and Wor Sean gifted them a second. Once the oppo keep Maxi under wraps, we struggle, and that's what happened tonight. Murphy vainly attempted to take on the Maxi role, but we lacked a real leader on the pitch like Jon Jo or Isaac Hayden
Nov 1st: Toon..2 Everton...1
A turgid first half can only be remembered for our good defending. But the second half proved more entertaining, with Wilson winning what I thought was a soft penalty- but who's complaining?- and neatly slotting in from the spot. Our best move came immediately after, with Longstaff (S) nearly scoring: he looked more up to speed today. Then the ex-Bournemouth duo gave us a two goal cushion, and it looked plain sailing. However what ought to have been a formality was nothing short of near disaster when they scored at the started of six minutes added on time. Frankly it gave us six minutes of anxiety, unnecessary because D***er Bruce had taken off our two most creative players (Maxi and Miggy) inviting the Toffees to come on to us. Thankfully we held out for the three points
Oct 25th: Wolves...1 Toon...1
Maybe the best moment was the D***er Bruce pre-match interview, in which he was asked about team selection: "what was your thinking?" Now there's a novel concept! In fact the answer was that injuries meant the line up sort of chose itself. We certainly offered an attacking eleven. However, this 'plan' didn't come to any fruition because we were forced to play defensively, and Maxi was not having one of his better games. Thankfully the defence was solid, I pick out Lewis who had his best game for us, and we clung on well. A goalless draw looked inevitable, until Darlow failed to save a powerful shot. Luckily for us, their goalkeeper didn't line up his wall too well after Wilson won a very soft free kick. All credit to Murphy who neatly curled the ball into the bottom corner of the net
Our mauling on Oct 17rh against ManU was screened on Sky Box office. Tough on those Newcastle fans who forked out the exorbitant £14.95! The greed of the Premier League did not entice me, so I missed our capitulation, conceding three goals in the dying minutes. Bring back Rafa, bring back Wor Kev, bring back even Wor Bobbie!
Oct 3rd: Toon...3 Burnley...1
One name the non-existent crowd would have shouted: Maxi!! He weaved and bamboozled the oppo for a brilliant first goal. Then, even better, with the scores level and Burnley seemingly in the ascendancy, he produced a lightning run, a brilliant cross, and Wilson slotted in the winner. The match had been threatening to become one of two halves, with us, after an aggressive first half, apparently capitulating, until Maxi changed the game
Sept 30th: how we beat second div Newport in the League Cup is nothing short of miraculous luck! Our play was at their level (or worse), they got an early goal, and our response was lethargic. I doubt if Wor Andy could have scored even from the spot. Murphy was the only one who showed much energy, but his finishing was woeful. An injection of something, or possibly they were tiring, yes that's it, and we finished the stronger, thankfully a Shelvey special got us an equaliser. We were down again in the penalty shoot-out, with our £40 million man missing. How on earth did we scrape home?
Sept 27th: Spurs...1 Toon...1
According to the Special One, Our Bruce is "intelligent," but more appropriately, he is a lucky manager. We said it last season, and this match it was nothing short of a miracle to come away with a point. We were outplayed, as expected, we had no shots in 90 minutes on target to nobody's surprise, yet we won a disputed penalty. For me, it was a penalty according to the rules, though surely the rules need changing. But well played to Wilson who calmly slotted in our last gasp equaliser
Sept 23rd: Morecambe...0 Toon...7
The best line was that Joelinton is now a transfer target for Division 2 sides. But at least we showed ourselves superior to the lower division minions. Beware however, lest euphoria overtake us again: the next match away against Spurs will prove a tougher job.
Sept 20th: Home defeat against Brighton, no shots on target. The Seagulls finished below us last season, but on this showing, it's us who will be fighting relegation. The absurd euphoria after the win against West Ham was partly tempered by an appalling home display in midweek against Blackburn, anf for those with eyes to see, the writing was on the wall even then. Today Wor Andy was ineffective, and was rightly subbed. Things did improve in the second half but this was a performance to forget, worrying times ahead
Sept 12th: West Ham...0 Toon...2
An excellent start, though let's be frank, we beat a side that is going to be fighting against relegation, so this was not the toughest of tests! At least two new signings came up with the goods, ie goals, and Maximin was as usual Man of the Match, and Almiron deserved better than a ten minutes sub's slot as he provided the incisive pass for the second goal. Well done to Wor Andy also, who may not be a forward any more, but did sterling work with his headers
email me ... Dinosaurs Main Menu