Jazz
Talking Machine News clearly had an antipathy towards the new style music in February 1923, whatever they might or might not have understood by the term Jazz. A brief anonymous article clearly indicated that this publication was in the hands of the old guard:

"Jazz is still rampant amongst us, notwithstanding the severe things that have been said about it by those who do not like it. It refuses to retire or to die because musical people say that it ought to do so, and it exhibits an irritating grip on life, and a tenacity which indicates that if it recognises that if die it must, its dissolution shall be as lingering as possible... It is but an ephemeral formation, an eruption or an excrescence so to speak upon the outer edge of music... but if it is bucolic, it is at the same time rather jolly, jolly that is to say to dance to, especially when a gliding waltz or two is sandwiched in by way of relief. But when it is admitted that it is exhilarating to a certain extent in a dancing room, that is as far as we, personally can consider it tolerable... It is undesirable to spread an impure form of music among people who do not know it. It is like spreading a bad habit. It is no use for individuals and corporations to strive for the improvement of the public in musical taste if at the same time the poorest fare is served up to them.
Colonel Sir J Mackenzie Rogan does not like jazz. Speaking at the dinner of the Federation of British Music Industries a few nights ago, upon his long and varied associations as a British bandmaster, he said that there was one form of music (we think he said music) which bands should never be permitted to play, and that was jazz. Although, as we have said, jazz is jolly to dance to, we quite agree with Colonel Rogan that it should not be served up outside its proper place, which is the dancing room. With regard to some of the instruments included in jazz orchestras though they appear to introduce new and distinct tones and effects which may very probably be availed of by composers and conductors of real music."

Here's a jazz recording for you to identify, a Levy's private recording. Play part of it here. If you can pick up a clue as to what it is, who it is, do email!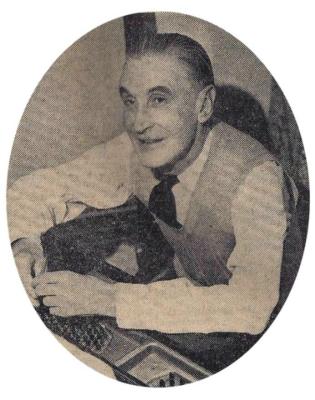 Extra Articles
Jack Stracey
He is best remembered as the co-author of the 1936 smash hit The Foolish Things. It had been offered to many publishers before Hutch's recording of the song, and it earned Stracey over £20,000 over the years, during his lifetime netting him around £500 a year in royalties.
Another Stracey success was the Housewives' Choice signature tune. One of his last compositions in 1957 was Royal Pavilion, inspired by his home town of Brighton.
Jack had begun composing in 1922.
He did make a few recordings of his own compositions n the late 1920s on the Duophone label: Cosmopolis, and Pirouette on Duophone D536 and D537.
He is pictured here, composing at his piano in 1957.
Radiolympia
This regular gathering, in August 1935 featured some glittering names of British variety.
Vocalists who were newcomers to the fortnight-long show were Elsie Carlisle and Sam Browne. Also singing were the Radio Three, the girl trio from Lew Stone's band.
That ever popular duo Leslie Holmes and Leslie Sarony provided some of the comedy. More laughs were from The Waters Sisters, Elsie and Doris, as well as radio favourites Stainless Stephen, Tommy Handley and Leonard Henry. Stainless normally performed monologues, but here he even rendered one song in his act. Also present was Rupert Hazell, who made a few records, appearing here in the double act Hazell and Day.
During the fortnight three bands were featured: Charlie Kunz, Geraldo, and returning "to repeat his former triumphs," Henry Hall. In his autobiography, he described his first stunning appearance there with the BBC Dance Orchestra two years previously- "I stood with my back to the audience on a raised platform. All that could be seen was my silhouette and the outline of my baton. There was a continuous storm of clapping as the tune went on, but not until the last note was played did the limelights blaze forth to reveal the full orchestra. Simultaneously I turned. Only when the band stopped playing could we hear the full extent of the incredible ovation. It was overwhelming."