This month, my annual quiz.
Here are some titles of well known records, can you unjumble the anagrams?

Airy London
Over minor
Hunt totting prize
Lose on the dreaming
Chortled host
Voting on heading
Silly under ease bunch
Lover lover been hot
Anger bares loudly
His master witch
For answers

Special article:
Earlier this year, I showed pictures of a few old junk shops that used to sell 78s. Junque in Dorking was one. Now, here are some more historic locations, which I used to visit in the 1960s, 1970s, and 1980s. Probably all long since disappeared.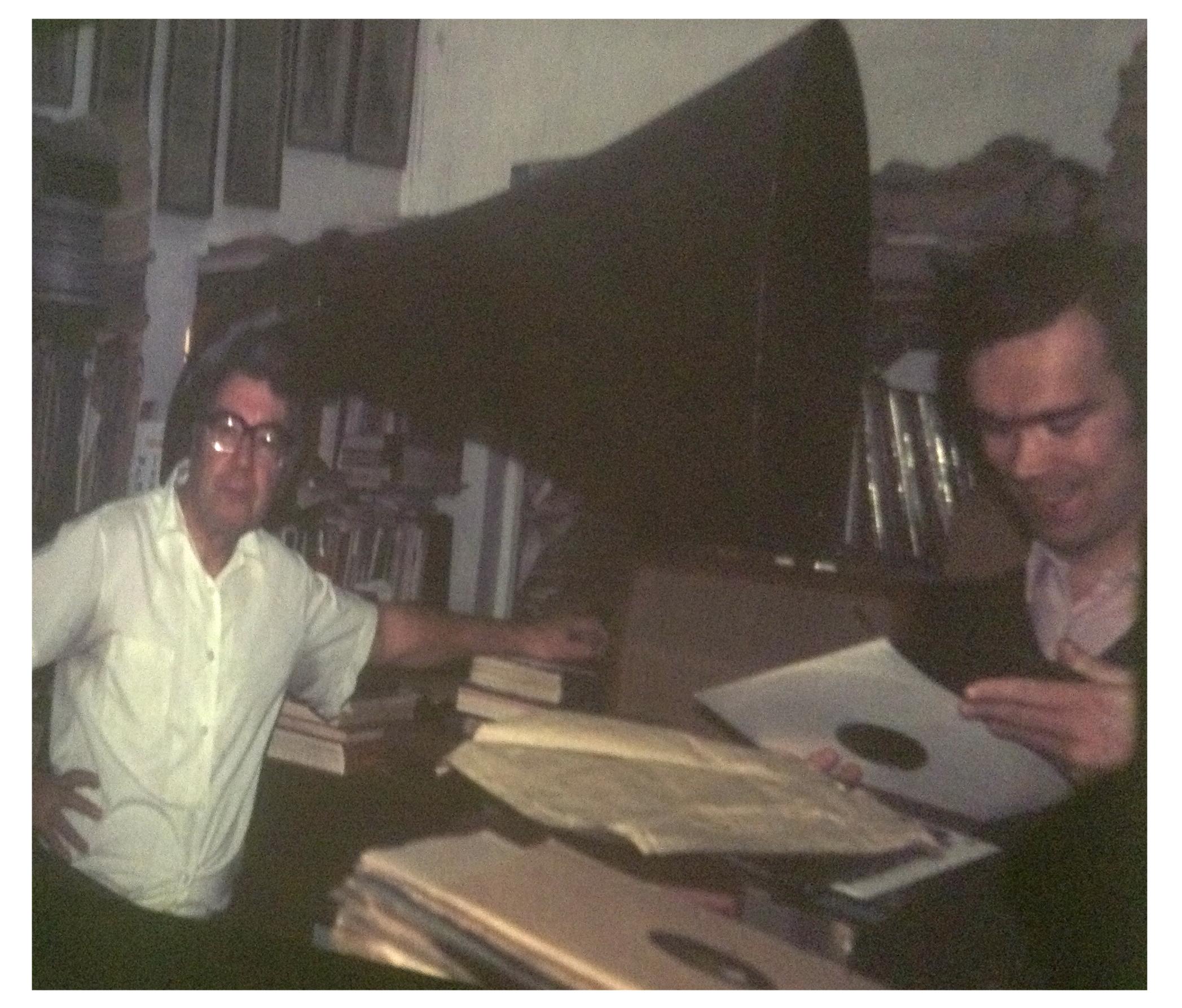 Jumble sales were a main source of purchases. But also specialist shops, chief of which was The Gramophone Exchange in Wardour Street London, the shellac section of two rooms stacked with 78s on shelving, presided by an old boy whom I always assumed was even older than the records. But he was always very helpful. In my photo you can see Len Court who ran The Old Record in Twickenham,posing behind his pride an EMG: I am too busy sorting his rare discs! Another shop was in Stockport which we did visit once, though most of their best stock was reserved for postal sales lists.
So to the antique and junk shops. Nearest to home was Sutton Surrey, and one old man ran a shop near the bus garage, a typical junk shop mess of goods, plenty of 78s. However one, he had hanging on a hook, and it intrigued me, It was a beautiful label, Britannic, and after several visits, I persuaded him to sell it to me. I think he charged two shillings, which was four times the usual cost of records in the late 1960's.
In nearby Wallington, my mother found, tucked off the main road to Croydon, the Missionary Mart. I am not covering charity shops in this article, but this was much more than anything charitable. My mother enjoyed a love/hate relationship with one helper called Brenda, whom she reckoned syphoned off the best goods. The place sported at least half a dozen sheds, a couple piled with furniture, another with books, and one that always included 78s. They were usually well raked through, unless you were lucky to get in early.
I never had much success in Croydon, though there were some shops, the best were on the road southwards to Purley, several around South Croydon and Purley Oaks, usually with plenty of dance records. The other side of Purley, on the A23 south of Coulsdon, collector Roger Thorne once had his own shop- you'd be lucky if you got there to find it actually open.
West of Sutton, one splendid shop in Ewell was near Glyn House down a backstreet. It always had plenty of records. Epsom however, I never did that well. Periodically I used to take a green bus rover, which for around six or seven shillings enabled one to travel the London Transport green bus network. First stop was usually Leatherhead, charity shops, then Guildford, a mix of outlets. Woking had one place near the station, which I once found crammed with acoustic discs, though nothing very rare- obviously wasn't an early bird here. Then on to Dorking, as mentioned, and Reigate, where one shop gave me my first John Bull, a Charles Penrose. Finally Redhill, with a couple of splendid shops on the road going south.
I also cycled around South London, as far as Garret Lane Tooting, which always had a good choice of shops with 78s. In one shop near the pond at Mitcham I was thrilled to buy another Britannic, this a less attractive purple label, but with Peter Dawson, an ex-Nicole recording. Main trouble with a bike, is that you can only carry so many discs.
Further afield, in Staines I purchased a really splendid heap of acoustic discs, some great artists like Harry Champion, and a few very rare labels, one a Phoebus.
We often visited Brighton, once with my parents on January 1st 1973, before this day became a holiday. We visited one shop in Preston Circus, whose owner had a 'branch' in Portslade, where were located several junk shops along the shopping street down towards the sea. Shoreham had one place with shelves of 78s, run by brothers (I think) who had to consult thair mother over the prices. She later ran another establishment by the railway arch. In Lancing was a mechanical music shop, which always had old records, and our travel would extend as far as Worthing, with several shops especially near the level crossing. Here was Warner's Corner, a vast establishment of furniture, with records hidden away if you search diligently. On the way back home, there was a fine shop with records on the Horsham to Crawley road at Faygate. My mother got too excited when the owner promised to produce some more records from 'the back.' These were single sided and I think our eagerness made him wonder if he wasn't sitting on a small fortune. Anyway, he stopped bringing out any more of his treasures.
East of Brighton, Lewes had several shops, but I never did well there. In Newhaven, the old church on the ring road was converted into an antiques centre, several dealers offering 78s. My sister lived in Seaford, and we always did well there. The Old House aspired to antiques, but if you climbed the rickety stairs, there was a small room crammed with records. Nearby was Phoenix, one of those ubiquitous house clearance businesses, who had a shop near the ancient toilets, as well as a splendid store opposite, which would yield occasional treasures. Eastbourne had an excellent musical box shop near Devonshire Park, and this place usually had some good records, I recall once finding a Louisiana Five. The main group of junk shops were along Seaside, although often the stuff was well raked through.
Hastings was a mecca. St Leonards always had a few shops as you climb the steep hill, and one fine shop on the main road from Eastbourne. In the centre of Hastings was The Magic Lantern which specialised in things musical, and we always found some choice records here. Other shops along this road included Pumphrey's, a removals business, where you could find 78s hidden away in odd corners. The Old Town was the main goal in a visit to Hastings: one road, early pedestrianised yielded several shops. More when you entered the high street leading up from the sea. In one, we found the ultimate dream, about 25,000 78's. The owner sold us the lot, it included some rare classical items as well as major rarities that research showed had been the collection of a well known musician. I hired a van to transport the lot, about four journeys!
Rye was always a joy to visit, and we usually found something of interest, especially in the area by the river. Further east, we only ventured occasionally, though Canterbury gave us a few goodies, and Deal, by the front had a fine shop with a heap of 78s, maybe a thousand, which the owner wanted to sell as a lot. Alas, we hadn't room in the car, and I had to say goodbye to a batch of Vocalion Long Play discs. You can't win 'em all.
In the west country, my sister stumbled on a shop bristling with old records in Shepton Mallet. Numberless 78s in a huge wooden trunk! On holiday, we found one shop in Lynton where for 20p, I bought a Wilbur Sweatman on Pathe. Barnstaple offered several shops, though nothing much for me.
East Anglia had one record shop in Norwich which always had a 78 section, run by Ron Shaw, who later moved to the outer ring road, and even later to Beccles. Sudbury had one magnificent junk shop in the south east corner of the large square. I visited here several times, the first of which yielded some nice Grammavox records. Yarmouth had a few shops, but I preferred Lowestoft, with several junk shops on the street north out of town, one run by a gent who had very few teeth. Funny what you remember!
We lived in Ferryhill County Durham in the early 1970s. It was here at the top of the hill facing north, where I found my Bing recording on Ariel of Susianna. This shop was run by a man whom I already knew from Durham Market, where he had a stall. I got specially excited once when he sold me some Gilbert and Sullivan albums, the HMV acoustic ones, I used to get excited by such finds! Several other corners of this market sold 78s, one run by a man who sold me my first George Formby records, I overpaid him half a crown each. However he also ran a shop in Sunderland, with shelves of old records, here I bought one Sarasate G&T. Newcastle was partly rebuilt before I latched on to the right area, the road to Blaydon, I recall walking along here amid pulled down terraces of houses, the junk shops full of the scattered occupants' possessions. But I never found much of note. Tynemouth was possibly too posh to have junk, but a short hop north brought you to Cullercoats, and a nice spot for junk near the beach, Whitley had several shops, though the records always seemed well raked through.
Finally to Edinburgh, where the Gramophone Emporium was another specialist shop with plenty of records. But again, you were lucky to find the place open! Mention must also be made of the gramophone shop in Hendon, and Fagin's Phonograph Emporium in Hornsey- the owner organised one of the best record fairs ever, at Ally Pally, for the 1977 centenary of the phonograph. So many great outlets to buy 78s! Would that there were so many today!
.
.

Any Old Iron
Moon River
Putting on the Ritz
Moonlight Serenade
The Lost Chord
Goodnight Vienna
Chinese Laundry Blues
Roll over Beethoven
Royal Garden Blues
White Christmas
back