.
. . . . . . . . . . . . . . . . * * * * * * * * * * SPECIAL 150TH EDITION! * * * * * * * * * *
Sixty Years Collecting 78s!
Reflections on the changing record scene.
When I began collecting 78rpm records in 1961, they were only just obsolete. In fact Wooolworths were still selling breakable 78s, though most people were in the process of ditching their collections. Classical 78s in particular became two a penny, and my main source of 78s was the local jumble sales of which there were usually about twenty each week within a five mile radius of our home in South London. My main method of transport was a humble bicycle, records sometimes perched precariously on the handlebars.
I also advertised for secondhand records, and rarely had to pay much, if anything for them: junk shops (those were the days!) always had a goodly supply of 78s, priced at 6d (about two new pence) or occasionally a shilling (5 pence). Junking as it was called, was an easy way to boost your collection at reasonable cost. I also visited a couple of specialist shops in London, including The Gramophone Exchange in Wardour Street, where the kind old boy in the record department, who must have been born before 78s were a twinkle in Berliner's eye, presided over his decaying empire of thousands of records stacked on shelves.
The main attraction of collecting in those days was that nobody knew much about them, except for the erudite researches of a previous generation into classical recordings. Since the war, jazz had been researched, but little was known about who the mysterious pseudonyms were on many labels. We were only just beginning to list all the uncredited Al Bowlly vocals.
The first big change in my collecting habits came with the arrival of record fairs. John Carter, an entrepreneur ran a steam rally at White Waltham, which I first attended in 1974, Carter soon saw the potential expanding into London and holding record fairs at such exotic places as Islington and Tooting.
Imitations followed, the best of which perhaps were the fairs at Fairfield Halls Croydon, a superior venue with toilets that didn't stink. Also all credit to 'Fagin' who ran a record emporium down Hornsey way, who organised a splendid Centenary Fair in 1977 at Ally Pally. The place wasn't quite full of dealers, but there were enough to whet any true collector's appetite.
Growth of knowledge about 78s came with the expansion of Record Magazines, of which this magazine you are reading, is maybe the last of the line. The City of London Phonograph Society, an elite body of exclusive collectors, had published Hillandale News from the Sixties, but there followed other examples, of which my favourite was The Gunn Report, from genial John Gunn in Southend. Other magazines were more sales lists. such as VJM, which did introduce the now familiar way of grading records according to condition. My own purchases were mainly from North London dealer James Crawley, whose sales lists were eccentric, but always contained some pleasing rarities.
So to today. Fairs still exist in a few places, perhaps the best way to meet fellow collectors, though the rarities found there are a pale shadow of their glory days. Junk shops and jumble sales are of little use now, probably the best source of 78s these days is, apart from specialist dealers like yours truly, the auction houses, some of which are happy to 'dispose' of 78s. But surely the best source today is the internet, which has resulted in a plethora of American discs, previously gold dust, coming into the country. The only snag is that buying through the post has obvious disadvantages, and that is even before you have to deal with people who don't package fragile 78s properly! Not being able to view a record before buying is problematic. Yet the internet has opened up collecting to a new generation, and while most 78s are as cheap now as they were when I began, ebay has introduced a whole new group of people who will sometimes, if only sometimes, pay silly prices for even the most common of records. The main trouble with ebay is that it is little more than an admittedly enormous variation of the old junk shop, where most of the records remain unsold and it is frankly irritating to have to sift through 90% of recycled items.
I wonder what collecting will be like in another 60 years? Who knows if interest will have waned completely? Will 78s have developed a scarcity value, or will they be left to rot in the ever enlarging waste dumps? One thing for sure, I won't be around to find out. I shall be up searching for treasures in that great collectors' fair in the sky. Oh, by the way, the photo is of myself taken last year.... or was it the year before?
Extra Articles
Top Ten - week ending February 21st 1959.
I Got Stung by Elvis (RCA1100) was number 1 beating other rock greats such as Jerry Lee Lewis with his High School Confidential. The best British seller was As I Love You by Shirley Bassey (Philips). Other records in the Top Ten included the ubiquitous A Pub with No Beer, and the wonderful To Know Him is to Love Him, while the Top Twenty included the likes of the Beverley Sisters.
The individual Top Ten lists of various retailers included these records on their lists that were not in the National Top Twenty that week, the name of the individual shop is credited at the end of the record details.
David Whitfield: Willingly (Decca)... No2 Brown, Birmingham.
Eddie Cochran: C'mon Everybody (London)... No4 Melody Maker, Edinburgh.
Eddie Cochran: C'mon Everybody (London)... No4 Somers, NW4.
Eddie Cochran: C'mon Everybody (London)... No10 Newton's, Solihull.
Eddie Cochran: C'mon Everybody (London)... No10= Al's Records, N1.
Harry Simeone Chorale: Little Drummer Boy (Top Rank)... No9= Baker's, Gillingham Kent. (The Beverly Sisters' and Michael Flanders' versions of this title also appeared in this shop's Top Ten)
Harry Simeone Chorale: Little Drummer Boy (Top Rank)... No7 Paish, Torquay.
Harry Simeone Chorale: Little Drummer Boy (Top Rank)... No8 Saville Bros, South Shields.
Harry Simeone Chorale: Little Drummer Boy (Top Rank)... No9 Cooke, Peterborough.
Harry Simeone Chorale: Little Drummer Boy (Top Rank)... No10= Al's Records, N1.
Edmund Hockridge: Tonight (Pye)... No8 Levy's, NW1.
Vera Lynn: Today's Top Hits (Decca)... amazingly No1 Engineering Service Co, Bolton.
Reg Owen: Manhattan Spiritual (Pye)... No10 Engineering Service Co, Bolton.
Reg Owen: Manhattan Spiritual (Pye)... No10 Somers, NW4.
Four Aces: The World Outside (Brunswick)... No5 Hickies, Slough.
Playmates: Beep Beep (Columbia)... No10 The Music Shop, Northampton.
Max Bygraves: My Ukelele (Decca)... No7 Taylor's, E11.
TALKING MACHINE SOCIETIES
Before the first war there sprang up societies devoted to the playing of gramophone and phonograph recordings. Here are accounts of some of those early meetings.
Chiswick, West London
This society was one of the earliest to be formed. Here's an account of their wartime gathering on October 15th 1914 at the Chiswick College of Music.
CH Howell esq was in the chair, he was manager of the Scala Record Company. He provided "a splendid batch of their records," including their rare to find today Scala Ideal 12 inch classical discs which retailed at 3s 6d. Even more interesting, some artistes who appeared in person, Miss Bessie Gates contralto, Miss Clare Holdaway elocutionist, and Mr Edward Tilson pianist. Miss Holdaway's presence is perhaps explained by the fact that Mr A Holdaway was Secretary and Treasurer. "The society expressed a wish to hear Miss Gates' voice on the gramophone, for members thought she would be a worthy addition to the ranks of gramophone artistes." But I cannot find any evidence that any of these three did actually record.
A collection was made for the Prince of Wales' Fund "with substantial results." It was added that "membership is open to ladies as well as gentlemen."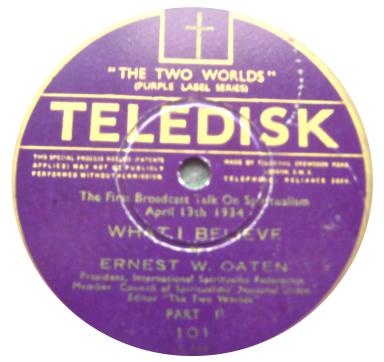 Rare Labels:
Teledisk
Dating from the mid 1930s, this is an interesting label, which gives the address of the company as Crewdson Road London SW9. Visually it is in the style of Columbia Records, though that is far as the connection goes.
The ten inch records come in a variety of colours. Red is the most interesting series, consisting of provincial British dance bands.
The one illustrated here is from a rarer purple label series, of which I doubt that whether any more than the three discs in this set were ever issued.
The speaker is a spiritualist and is dated April 13th 1934- Ernest W Oaten speaking on six sides: The two Worlds-What I Believe.
LOU ABELARDO
Lou Abelardo was active in the UK recording studios from July 1929 until October 1930. During that time he made only two records with his "band" - which appears to be in effect the Decca Studio Band. These were issued as "Lou Abelardo and His Band" in the Decca F series and were recorded in October 1930:
With my Guitar and You / I don't mind walking in the Rain - Decca F1996
Living a Life of Dreams / Nobody cares if I'm blue - Decca F2032
However he also appears as a vocalist on some earlier Decca issues:
Gotta feeling for you (piano acc.)/ Love is a Dreamer (with orch.) - Decca F1592 (recorded Sept/Nov 1929)
Singing a Vagabond Song / Good for Nothing but Love - Decca F1778 (recorded April 1930) with piano acc. by Claude Ivy
Blue Melody / Should I? - Decca F1827 (May 1930) with orchestral acc.
When it's Springtime in the Rockies / It happened in Monterey - Decca F1855 (June 1930) orchestral acc.
He was also a vocalist with these bands:
July/Aug 1929: Jay Wilbur: Mean to Me / My Sin - Dominion A 174
Honey / Precious little Thing called Love - Dominon A 175
When Tomorrow comes / I'm thirsty for Kisses - Dominion A176
Used to you / Little Pal - Dominon A 178
January 1930 : With Ambrose: Decca M96, 101, 109, 110 (Tiptoe through the Tulips/Painting the Clouds), 111, 112 ,113 115, and 117. Apart from the item noted, none are common being issued in the expensive Decca Magenta series.
Dec 1929 to April 1930, also August 1930: with Harry Bidgood's studio band on Broadcast
Dec 29 to June 1930 : with Ray Starita Band on Columbia
February 1930 to October 1930: with various groups lead by Van Phillips on Columbia - (Four Bright Sparks, The Buckingham Players).
May 1930: With Debroy Somers Band Columbia CB83
Lou had a very pleasant voice and his records are well worth obtaining. Most are not worth a lot, which makes it even more pleasant! The two records where he is nominal bandleader are typical of the hot dance music that appeared on Decca at this period