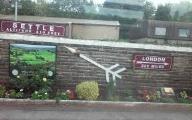 My Rail Rover 2018
A recent week across the British Rail Network.

Saturday
Hoveton & Wroxham depart 0702.
Promptly to the second we departed, ensuring Norwich connection easily made. The conductor gave a long speech on the merits of the Fine City and data on alternative routes to London because of engineering works.
Norwich dep 0740 Ely 0840 two mins late. Train ex Ipswich cancelled so got the Liverpool service dep 0851.
Peterborough dep 0949 one min late.
sig stop outside York 1058 / 1103 (27 mins 22secs to Darlington) arr Newcastle 1200. This was the first train on which I did not show my ticket.
The train terminated here although supposed to run to Edinburgh via Carlisle. So I caught the dep for Carlisle Northern trains, which were operating a restricted service due to industrial action. Newcastle dep 1216 arr Carlisle 1345 four mins late.
MAJOR DISRUPTION at Carlisle read an internet warning. Power lines were down with numerous cancellations. However my Northern train was running but not to Leeds, only as far as Skipton.
Carlisle dep 1404 arr Skipton 1606. Skipton dep 1617 the revised scheduled time. Leeds 1704 five mins late. First rush of the day to the Cross Country departure which arrived on time, dep 1711. This was also the first overcrowded train with second class passengers standing in first class... penalty fare!
Derby 1843 / 1908 Squeezed in a bite of fish and chips to supplement the tea and cakes on the train. Beeston 1926.
Considering all the possible banana skins, the day proceeded surprisngly smoothly. Only two trains on which I was not asked for my ticket, were the two which gave free drinks etc... must be a lesson there!
----------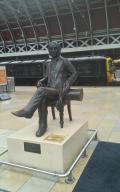 Sunday
Sunday the least ambitious day for rail travel. Beeston 0828 on time. Could have got a complimentary drink this morning AFTER my ticket had been shown! However East Midlands, like Greater Anglia, offer only that you beg at the bar for your free grub, so I didn't bother. Drizzling rain made for a dull morning.
St Pancras 1040 a Sunday schedule if ever there was one: 55 minutes from Bedford.
At Baker Street my underground conked out and as no S Holmes came to our rescue, I changed to plan B.
Time at Paddington to photo the great IKB before taking some time to locate the miniscule first class section. Calling yourself First GWR is confusing for I sat in First's second class for some minutes before realising it was far too crowded.
Paddington dep 1130. The hoy polloy scramble thru First's first class en route to the buffet. I lowered myself enough to join the throng to claim my free drink and cake, locally resourced allegedly.


Westbury arrive three mins early at 1258. Now the choice of Plan B2 or stick to B1. B2 involved a on-paper nought minute change to the Southampton train and continuing to Waterloo. It proved an easy connection, however, with a sting in the tail since in fact it was 15 minutes late, and rising. Would a 20 minute time change at Southampton be too much? I decided to stick to B1, which involved a simple return on the 1359 to Paddington. This however was running ten minutes in arrears and then twelve, then the announcer apologised it was delayed by 16 minutes, another check stated 17. I had 37 minutes to get from Paddington to King's Cross.
I whiled the time with a sabbath stroll, touring the building site round the station, as well as the more attractive sailing lake. Time also to photo the station sign. So who is George Frobey? The station announcer, a disembodied recorded voice, kept uttering this name... it began to become irritating. In fact so was the whole of poor
Westbury dep 1421. Black marks not the first time I have so written of GWR whose wi-fi proved as useless as the company. Worst Great Western- IKB: turn in your grave.
Paddington arr 1544 only ten mins behind time, so slight redemption for Worst GW though the generous recovery time was a major factor.
King's Cross dep 1611 - with three additional stops, the driver made a spirited start with Finsbury Park, passed in under four mins and Welwyn Garden City at 1625. Realtime Trains showed us one and three quarter mins early passing Hitchin. One minor complaint: I must be getting too snobby, but Great Northern's First Class seating is far inferior to Worst GW's second! The train was so overcrowded that any seat even their second rate first class was hard to find. In fact I grabbed a rare vacant spot and only realised later it was supposed to be First.
Ely arr 1723 one min late. This time very overcrowded and seats second class only at a premium: dep 1737 one min late. Norwich 1831 / 1836 on time. Hoveton 1853. In the end this went almost as planned.
---------
Monday
A beautiful sunny autumn morning. Hoveton dep 0712 on time.
Fifty years or so ago I did several Eastern Region Rovers. Cost £18 for a week. First class. Today considerably more pricey, but could I recreate those halycon days?
Norwich 0727 / 0740
Anglia wi-fi poorer than GWR!
Ipswich dep quarter min early. Usual delays at Stratford. Liverpool St 0926.
Kings Cross 1001 crowded. Full English breakfast today plus a wi-fi that works!
"Anything else you need sir?" The train is swaying rather so while I eat my sausage, I wonder if you'd ask the driver to slow down a bit. Good to report the quality of the breakfast was as chalk and cheese compared with the offerings of bygone years. A bit arty farty for luncheons but good for brekker. Pity no kippers, oh I am being too picky myself...
We were running over five mins early at Colton Jct before the inevitable sigs check making arrival at York only on time. York - Darlington 31mins 26 sec, max speed 125.41mph before sigs at Otterington.
Newcastle 1255. Too late to catch the 1256! Instead I was lured by promises relating to a delayed Transpennine service which was advertised as not stopping at Durham or Darlington. Should be interesting! Depart 1348 ha1f an hour late. However the info regarding the stops proved duff information! Eventually the train was to terminate at York, "don't ask me what to do there," the ticket collector joked.
Darlington 1418 / 1422 Cross Country
Newcastle 1453 / 1508 LNER fourteen mins late.
Edinburgh 1634 then on to the old Waverley route dep 1656 standing room only.
Galashiels 1752. Possibly steam trains puffed faster in the first sections but thereafter we gained the max speed of 85mph.
Despite disappointing moments missing two connections by under a min each, it was a novel finish along Scotland's newest railway. The drama wasn't quite over for I had to get in to the flat I was to stay, but the key code failed to work. Panic. Homeless for the night? Fortunately fifteen minutes later I solved the riddle. I never was very practical.
------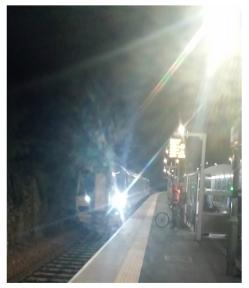 Tuesday
Galashiels 0602 not late- see photo. Man with broad Borders accent on mobile- who on earth else could be awake at this unearthly hour? Slight delay due to single line. Running an intensive half hourly service even with passing loops is inviting problems.
Edinburgh 0659 / 0730 LNER (43305)
There can be fewer more lovely experiences in God's creation, than gazing on the sun drench rolling North Sea waves as you savour LNER's delicious Full British brekker.
Darlington to York 29 min 58 sec, max speed 125.74mph. Sig stop outside York.
On the high speed stretch after Stoke, I am ashamed to report that we did not quite match Mallard's record speed. All in all a lethargic run but almost to time.
Kings Cross 1152 / 1200
Funnily enough, this was the Inverness train I'd caught only yesterday north of Newcastle. We departed from platform 8- number ten in the old days- the most important platform, though I have to say that the good old iconic analogue platform clock was a little slow!
More drinks (cold orange juice) and a luxury sausage roll. Speeds: 125.18 after Hitchin, 125.79 before Biggleswade, 126.57 between Tallington and Essendine- Mallard eat your heart out. Alas! At the bottleneck after Stoke, delays from late running trains. It had all being going too smoothly! Another check at Barkston. In the old days you had no idea the cause of the problrm, these days a helpful announcement or an internet check suffices, though in this instance I was none the wiser.
York 1353 / 1358.
This was the return train ex-Inverness. Time for another complimentary drink though no room left for another sausage. It nearly all went swimmingly today. Then a stop to admire a freight train just before Doncaster. This got the driver all worked up and he took us to 127.32mph after Tuxford. The max speed I spotted was before Corby Glen where we peaked at 129.10mph.
Kings Cross 1551 (43296).
Had I been fifty years younger, no doubt another round trip to York would have been attractive, but arriving home with the nightlifers of Norwich made York not such a draw.
Liverpool Street 1701 a minute and three quarters late. Delay caused by empty coaching stock running late. I suppose it had priority. But why? Connection at Norwich hardly well kept except for those like me who ran. At my age too! Two proofs that railways are not run primarily for the benefit of passengers.
Norwich 1854 / 1856 Extra stop at Salhouse. Hoveton 1911.
Covered nearly 900 miles today, the longest day.
---------
Wednesday
Hoveton 0712 (170271)
Norwich 0727 / 0740
When I got my green tea and banana from the 'cafe bar,' I was informed that was "Very Norwich City." Liverpool Street 0927.
Kings Cross 1000. The diesel did max at 125.70 before Biggleswade but struggled to get near 125mph on the uphill section before Stoke. York arr four minutes in arrears. Time to Darlington 28m 22s. It took a while to work up 123mph at Thirsk, and never quite attained 125. Sigs after Northallerton. Novel first class features included one baby and one (unconnected) dog.
Darlington 1227 / 1238 (43367) nine mins late. Time to York (trailing behind a Transpennine snail)= 33m 34s. Even a Deltic could beat this effort- on a very good day. This was the ex-Aberdeen service "due to arrive KX 1451," announced the conductor at York. As we were seventeen mins late at this point, he chickened out of his duties in my view. This was not the same spirited effort of yesterday afternoon, max speeds: Dukeries Jct 125.15mph, Little Bytham 125.56- Mallard can breathe again. After yesterday, perhaps I'd pushed my luck too far expecting another smooth day. I knew on catching this battered old 125 that we would be too late for the next fast train out of KX. The conductor told us we were ten minutes late but I made it more like sixteen.
Kings Cross 1507 / 1530
I didn't quite have the nerve to sit in my last train, for this was supposed to form the 1530 to Glasgow. Mind you, it's a good job I didn't, since plans changed and I would have been left behind.
This was a stopping service. Speeds: Arlesley 126.79mph, before Sandy 126.40, Tempsford 126.49, after St Neots 126.11. Peterborough to time. Claypole 126.62mph. York arr 1731.
I got off here either because the loo wasn't working and the ones in use were in full time occupancy, or because I wanted to do the remainder of the journey non stop.
The ticket collector said she'd never seen a ticket like mine before. The conductor related a long saga of how the trolley was stranded at the back of the train. This was a Cross Country service. York dep 1748 on time. Darlington 1817 (29 mins 32 secs).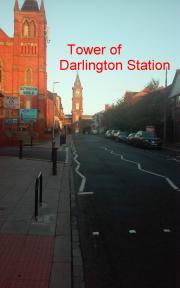 Evening outing: Transpennine- Darlington 1849 I was even offered a free drink but had to decline having had more than my fill. But he tempted me to a lemon drizzle. York 34m 35s- overtaken by a snail perhaps. I was the sole passenger!
York LNER dep 1932 Max speed Tollerton 124.45, Alne 124.56, Pilmoor 124.60, Otterington 124.20. Northallerton (pass) 17m 44s. Time to Darlington however, not so hot= 27min 25sec arr 1959.
Back in the late Sixties, a 30 minute Darlington to York was the Holy Grail of achievement, even if doing this stop to stop was impossible. These days schedules include some of 25 minutes, though for me these have proved elusive.
-----
Thursday
Darlington 0709. As I had awoken early (!) I decided that I had stuck to ny plans too long. So off today in search of adventure... North to er Edinburgh. This was the early morning departure ex Doncaster. My fourth LNER breakfast.
Berwick 0829 / 0836
Yes Berwick. The late running Cross Country service overtook poor LNER at Dunbar. Au revoir LNER.
Glasgow Central 1024. I had been tempted at Edinburgh when our Cross Country drew up alongside the fast Kings Cross express, but carried on for the West Coast main line, not my favourite- but having travelled on numerous near obsolete trains, let's get up to date!
Glasgow 1041 mmm, one min late. Worse news- they are two staff members short. The on board announcements suffered from an audio fault. No green tea either. Their ads entice you with being Treated Like a Rock Star. Perhaps such persons don't stretch to green tea. It was five days ago that I'd witnessed the major disruption at Carlisle. Only yesterday apparently more disruption, so today we were relatively unscathed with Carlisle a mere four minutes behind time. So this is the railway of the future? Hard to distinguish from the past. A better variety of meals is offered, for on the East Coast the menu is rigid for a whole week. On the West, different meals according to the time of day. However by the time they reached the second coach, no hot heals left, so I had to do with sandwiches at 1.55pm. I suppose rock stars don't keep regular meal times. But they probably do have maids and butlers to supply hot nosh. LNER easy winners on the catering front.
Euston 1514. We ended up as we began, one minute late.
St Pancras 1537 on time. One of South Easterns flash fast trains.
Ashford 1616 (two mins late) / 1635
Enough of the new! I left on the SE&CR line that was once Kent's main thoroughfare, the straight 20 mile stretch to Tonbridge- only we stopped at each station. In keeping with good old fashioned standards, we left three minutes late. A spot of mild excitement to finish, with the run from Sevenoaks non stop. London Bridge 1843. You would hardly describe it as a very Fast Non Stop, but no, it did not ever quite stop.
London Bridge 1758 Gipsy Hill 1828. Amazingly, first class on this one.
------
Friday
Final day and although I had a plan, I abandoned it. The thought of more running after tight connections was too much, accordingly I opted to drift, but with some scheme, of getting back home before I was too exhausted. Already my legs were sore, and my back, lasting the pace is good in theory...
I decided to sample the extensive London Overground, for a service that was not in existence, when as a young lad I went with my friends on Saturday rovers on Southern.
Gipsy Hill 0757 Crystal Palace 0800 / 0803 Canonbury 0847 Route via the East London line thru Whitechapel and the once busy Dalston Jct line into defunct Broad Street. Canonbury dep 0853 Stratford 0907 / 0908 Back on familiar territory. Liverpool St 0915.
Kings Cross 1000 same old train, extra busy this Friday. We juddered to a start half a minute before the hour.
Max speed: Arlesley 125.57mph, Sandy 125.55, Tempsford 126.17. Grantham pass in fractionally under one hour. Diverted to slow line at Carlton. I enjoyed my final LNER breakfast plus of course some green tea. Before Bawtry 126.24mph. After Hambleton Jct 126.18. York arrived two minutes late. Pilmoor 126.04mph. After Thirsk 126.56. York-Darlington 27min 34 sec.
Darlington 1224 / 1238 nine minutes late (photo).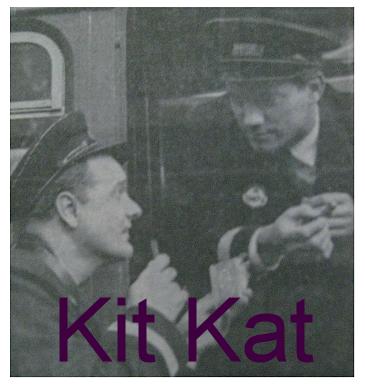 Sigs at Northallerton due to Transpennine ahead. The mystery here is that with four tracks why this train was kept on the fast track. The train announcer fancied himself as a comedian and tried to minimise the delay with a travelogue all his own on the wonders of the city of York. Darlington to York 30 min 38 secs- bring back the Deltics! Hambleton Jct 125.41mph. Before Templehirst 126.73. Moss 126.62. Shaftholme Jct 126.42. Corby Glen 126.64. Little Bytham 127.94. Essendine 126.31. Tallington 128.19. Helpston 127.97. Then signals behind Leeds train. All that good work gone to waste. Tempsford 126.77. Sandy 126.57. Biggleswade 127.02. Arlesley 127.97.
Kings Cross 1500 a good run from York in one and three quarter hours. Our comic signed off with a flourish, not merely pointing out connecting services to all points Kent to St Albans, but also showing us the Emirates stadium as we passsd, offering comic sympathy to poor Arsenal supporters.
I had a notion of finishing with a flourish on the old East Anglian 5pm non stop to Ipswich, but after my experience on Tuesday dashing for the connection home, I opted for a less exhausting finish. I was pretty exhausted myself.
On the next train the cafe bar attendant said he didn't see many Rover tickets covering all Britain. Go abroad, he advised, it's cheaper! He's right there. Liverpool Street 1530 Norwich 1736- over fifty years ago the Britannia steam locos achieved this feat in slightly less time!
Norwich 1745 Hoveton 1800.
I was mildly amazed that I hadn't collapsed earlier but with 4500 miles covered this was a tiring week.
The railways are today better in some ways, information is more easily available, sometimes tediously over elaborate, but it is good that a place is still available for individualists, like on my first Greater Anglia train, and my final LNER trip, but these are few and far between and most staff are pleasant and efficient without ever having great personal warmth. More credit then to that jovial trolley attendant on the Transpennine, and the ticket collector at Gipsy Hill who offered me to Have a Good Day. He was the only one to do so all week! As for the trains, safety issues mean that speed limiters don't offer chances to make up time as in the past, and I still found several crass decisons made by signalling staff. 'Twas ever thus.
Was it worth it? Compared with fifty years back, an All Line Rover is poorer value. I wonder how the income is distributed to companies. Certainly for first class, LNER and Virgin deserve a lion's share - for providing refreshments, Cross Country and GWR could do more for long distance travellers. In the end, of the companies I used, I found Greater Anglia and Northern the poorest, while despite its ever present problems with timekeeping, LNER were best. But maybe I am biased.
------