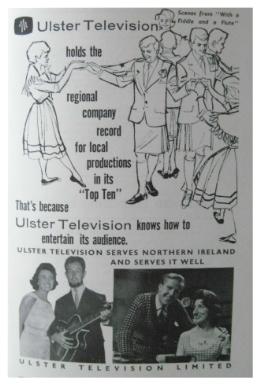 Ulster TV - Channel 9
Some early local UTV programmes
UTV first Outside Broadcast - May 1960
TAM ratings for Ulster TV from 1960
An Ulster TV schedule from 1961
An Ulster TV mystery

Chairman- Lord Antrim. Production Manager- Hubert R Wilmot. Managing Director- William MacQuitty. General Manager- RB Henderson. Programme controller- SE Reynolds, an experienced TV producer and impresario. He left after a year. His last contribution was the panel game Out of the Hat, not exactly groundbreaking, as he had previously, when with BBC Radio, devised the format in 1939!

Rival bidders for the franchise had been Northern Ireland Television Ltd, headed by the Duke of Abercorn who joined the UTV Board in 1960.
Initially temporary headquarters were in Donegall Street Belfast. Their permanent headquarters in Havelock House Ormeau Road were ready in July 1959.
Broadcasts were on Channel 9 from UTV's Black Mountain site, with an aerial 1,687 above sea level.

Test transmission began on August 24th 1959, with the first message heard being recorded by Group Theatre actor Maurice O'Callaghan. Opening Night was on 31st October 1959. Originally ABC was to have been the main programme supplier.
Finnacial results exceeded expectations in the first year. A trading profit of £50,903 was announced after six months on air, after depreciation etc the taxable profit was £36,306.


Main Menu

.

.

.

.

.

.

.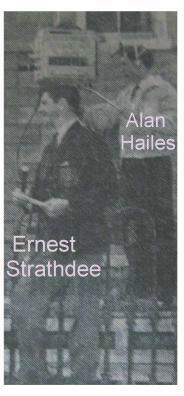 Ulster Television Outside Broadcast

UTV's first ever outside broadcast was something of an impromptu novelty affair.
On Saturday May 21st 1960, even though the company then had no OB unit, a snap decision was taken to film the Lord Mayor's Show as it passed by UTV headquarters. The idea was simple. Cameraman Alan Hailes was ordered to wheel out a studio camera on to the pavement, where it was erected on a temporary platform.
UTV's sportscaster Ernest Strathdee commentated on the 45 minute procession of eighty decorated floats for the Let's Go broadcast.
The crowds apparently "hindered Strathdee in his descriptions," not surprising as the programme was planned at the last minute, so not everyone was aware of the "opportunist experimental nature of the venture."

.

.

.

.

.

.

.

Roundabout.
It contained interviews and features on local and visiting personalities including
starting on January 28th 1960 with a weekly visit to prominent towns. "We hope to mirror the life of each town we visit," explained Spencer Reynolds, UTV Programme Controller. "We believe that such programmes in such a tightly knit community as Ulster will be of interest to a large number of viewers." The first programme went to Portadown, with mayor WH Wolsey.
Among personalities making special appearances on Roundabout were:
December 7th 1959: Wilfred McNeilly, whose comments were in verse.
December 15th 1959: Russ Conway, "far too brief," said critic Trevor Hanna.
January 1960: Ottilie Patterson, some viewers complained of her mimed performance.
Feb 25th 1960 Sally McNally, sister of Eileen Donaghy.
One anonymous critic, no fan of Roundabout, declared of its early offerings, "it frequently creaks and groans, a lot of its interviewing is amateurish and sometimes protracted out of all proportion to its value or interest, some of the musical items should not have got past the audition room, too much is being asked of the hosts, Ivor Mills and Anne Gregg."

Lessons for Father (December 22nd 1959)


was UTV's first major programme they made, after Roundabout. Ivor Mills was shown how to carve a turkey by chef Samuel James Young, after Miss Dorothy Lytle demonstrated how to cook it.

A Bit O' Crack (Thursday March 17th 1960)


The title was an Ulster colloquialism for A Cosy Chat.
This was UTV's first celebration for St Patrick's Day. Introduced by Belfast actor and author Charles Witherspoon, this was described as "a fireside stew of music, dancing and storytelling."

Out of the Hat (Friday August 5th 1960)


Chairman: James Boyce. Two teams of four speakers each speak on subjects drawn out of the hat. The chairman decided which group talked "with the keenest humour and the best sense," inviting them to return to compete in the following week's programme
To UTV start

.

.

.

.

.

.

.

.

.

.

.

.

Ulster TV Programmes for Monday August 14th 1961


5 Seeing Sport
5.25 Fury
5.55 News
6.06 Adventures of Aggie
6.35 Roundabout
7.00 Criss Cross Quiz
7.30 Coronation St
8.00 Preview (magazine)
8.30 Wagon Train
9.25 News
9.35 Harpers W1
10.30 Look Here (discussion)
11 Lawman
Epilogue

.

.

.

.

.

.

.

TAM ratings w/e 26 June 1960 (Ulster TV area)
1 Delfont's Sunday Show ATV 67
1= Flag Fall (Armchair Mystery Theatre) ABC 67
3 Cheyenne UTV presentation * 64
4 I Love Lucy UTV presentation * 62 #
5 Ward 10 (June 21) ATV 61
6 Double Your Money A-R * 60 #
6= 21 Days (Movietime) UTV presentation * 60 #
6= Maverick UTV presentation * 60
6= Dial 999 UTV presentation * 60 #
10= Wagon Train UTV presentation * 59
10= Ward 10 (June 24) ATV 59

TAM ratings w/e 10 July 1960 (Ulster TV area)
1 Ward 10 (July 5) ATV 70
2 Pencil and Paper ATV * 66
3 Maverick UTV presentation * 63
4 Tess A-R * 62
5= Robin Hood (July 5) * 61 #
5= Putting on the Donegan ATV * 61
5= Robin Hood (July 7) * 61 #
5= Cheyenne * 61 #
9 Popeye UTV presentation * 60
10= Flying Doctor UTV presentation * 59 #
10= Ward 10 (Jul 8) ATV 59


Notes -Ulster were at this time the youngest of the ITV companies, so shows like I Love Lucy were being screened retrospectively. I find the inclusion of Dial 999 the most fascinating. Incredible that this series did better than that otherwise all-conquering No Hiding Place, which fails to appear in Ulster's Top programmes (was it shown?)
(*=NOT in National Top Ten that week) (# not in any other regional top ten)
To UTV start

.

.

.

.

.

.

.

.

All Souls' Night
The classic Irish play by Joseph Tomelty was announced by UTV as scheduled for transmission in late August 1959 in ABC's Armchair Theatre series. It was to have been a kind of Welcome to the Network, for UTV.
However I can find no reference to this play ever having been shown in this series.

Perhaps rather ambitious, ahead of their opening, UTV also announced in August 1959 that they had bought the rights to two others local plays, anyone know if the first was ever actually produced for UTV?...
A Lock of the General's Hair, by Jack Loudan, and
Danger Men Working, by John D Stewart. (This latter was shown in Armchair Theatre in May 1961, and still exists.)

To UTV start