.

.

.

.

.

.

.

My Favourite Aunt
This begins with DF showing us a gun.
Harry and Jim are two gangsters on the run. Their car suffers a puncture, so they have to grab another, and crash through a road block, Harry stops a bullet.
He had told Jim about his Aunt Mary, "the sweetest little old lady you ever saw," whom he has never met. But she has lots of stocks and bonds. Jim leaves his mate dying, and decides to go to Aunt Mary posing as Harry.
She tucks him in bed after a nice supper. But during the night he finds himself gasping for breath, in agony. He collapses, but aunt soothes him, and by morning he's better. She offers him a glass of milk, but this he throws away. He enjoys a big breakfast, perusing the paper which contains headlines relating to Harry's death.
Aunt prescribes fresh air for him, and settles him on the verandah, while he pumps her about the securities she holds.
The peace is shattered when a rifle shot narrowly misses 'Harry,' "might have killed you." Then he falls down a well that makes him "wise" to her, specially when he spots that the milk he had thrown away has made a plant wither, "I better get out of here." He locks himself in his bedroom.
The sheriff turns up and 'Harry' throws himself at his mercy. However the police are here for a quite different reason, in a good final twist.
It proves, claims DF, that "crime doesn't pay." This is a story that with a better script might have worked. Marjorie Fielding as Aunt Mary isn't offered any scope, and Phil Brown as the second Harry is hardly a comedy actor

To Douglas Fairbanks Presents Menu

.

.

.

.

.

.

The setting is a lonely Canadian mountain shack.
Harriet is the main character, she is longing to get away with Steve who has come between her and Jeb.
She is waiting, waiting for Steve to return through the snow to take her away. As the storm grows wilder, she sits there alone. A tap drips. A door creaks. At midnight she despairs of his coming and retires to bed.
The story has all the hallmarks of an early Armchair Theatre as she listens for Steve's return, "Steve is coming, relax." She talks to hersef, and next morning listens to the news on the radio. It's bad news, as the announcer tells of Steve's death in a road accident. It takes Harriet over the Armchair top, especially as she realises that "nobody knows I'm here."
"You're trapped," her inner voice explains to her other self. At the kitchen sink- where else?- the dripping tap drives her wild. "Keep calm," she attempts to compose herself, and she gathers positive thoughts, yes she could even survive here until next spring. But that thought of being so long incarcerated here serves to remind her that it was just that very loneliness that she had been seeking to escape from.
And so her introspection goes on. Jeb is soon to return. She smartens herself up for him, "my great big beautiful doll." But she knows she's kidding herself and by the time Jeb does rescue her she's delirious.

Though author Derry Quinn must have been hoping for some great acting triumph, his script never encourages it, and Ingeborg Wells as Harriet gives an adequate performance, quite moving at times, but never, one feels, quite the gut wrenching angst for which the author had been striving

To Douglas Fairbanks Presents Menu

.

.

.

.

.

.

.

.

King High

The date is c1900. Queen Nora and King Nicholas of Sabina (Douglas Fairbanks Jr) are fleeing into exile, dodging enemy bullets. From Zurich they phone their embassy in Paris. The ambassador arranges for them to stay in a posh hotel even though they are "financially embarassed." The ambassador is clearly siding with the new regime that should soon take over.
However in Paris, the ex-king and his wife receive kindnesses. One from Valda, a loyal embassy minion who advances a small loan. A "fast deal" with a newspaper photographer enables them to obtain some night attire.
The pompous ambassador informs them that the king is now deposed, the country has been declared a republic. Nicky must sign an abdication form. "Get out, you vulture." It's comedy, just about comedy.
The press are clamouring for the ex-king's life story. They should make good money out of it. But the Sabinian people are demanding their ex-king return, as king. Attitudes dramatically change, the ambassador offers his resignation. But the king tears it up. With his queen, together they re-enter Sabina in triumph, not to bullets but to cheers

Douglas Fairbanks Presents Menu

.

.

.

.

.

.

.

.

Gramma Brenn

Fairbanks starts by talking about the circus. He introduces 105 year old Gramma Brenn (Louise Hampton) who dreams of when she was young. From her bed, she is carried downstairs by her carer Bess Schaeffer, daughter Bertha (Carol Shelly) helping. She is sat outside their little shack. A couple of visitors meet her, Norris and his young lad Jet. She mentions the circus, then rambles on. She was a bride back in 1863, and she can remember Lincoln. As Jet inquires, "dad, will you ever be that old?" She recalls travelling out west, attacked as a new settler.
A newspaper man phones Max Schaeffer to tell him that a lady named Jessica has just died, aged 106. Thus Gramma Brenn is now the oldest women in America. Max perceives that they have something unique, "the jackpot!" They'll be famous, and rich.
The press arrive to photo her, but at the last minute she tells Max that her age is only 103. Max attempts to persuade her to say 105. But she refuses to be put "on exhibit," baring her soul to Max. But he discovers the family bible which proves she really is 105. The "old freak" agrees to meet the press, but Max informs them that actually she is only 103.
A really sluggish tale, trying to offer something original, but never really coming any more to life than the old woman.

Uncredited speaking parts: 1 Max. 2 Tyson, 3 Newspaper man (Richard Shaw). 4 Another newspaper man

Douglas Fairbanks Presents Menu

.

.

.

.

.

.

.

.

The Wedding Veil (1954)

Introduced by Fairbanks smoking and posing the question, what if the intangible become tangible?

Mary (Nanette Newman) is kissing Harry (Vincent Ball) under an old dead tree. They are by a house where Mary's dying aunt lives. She is worried about the visit since she has always been scared of the spooky house.
In the drawing room, a man a woman and a young lady materialise. The latter (Lana Morris) sees Harry's photo that Mary is carrying, "he's very attractive." So much so, that this ghostly girl decides she must have Harry. Instead therefore of the aunt dying, she needs Harry to join her in the other world.
"I'm not afraid," declares Mary, though she clearly is. She phones Harry begging him to come to her.
In Act 2, the girl is trying on a wedding veil. Mary is starting to crack up. She rips up her fiance's photo. Harry reaches the house just as the dead tree keels over. It narrowly misses him.
He hugs Mary. Aunt dies. But Mary is happy

.

.

.

.

.

.

.

.

.


A topical reference by Fairbanks to The Four Minute Mile starts this film off.
George (Michael Shepley) learns he's to be a grandad. His wife Alice (Nora Swinburne) decides it's time for him to stop working so hard and "start growing sweet peas." Trouble is, Alice realises, "noone likes to admit he's getting on in years," so she tries dropping a few hints about George's health - "he doesn't look "waxen" does he? And has he thought about making his will? George gracefully gives in and admits "he's not the man he was." He starts his counter campaign - "old girl," he tells Alice, "time has passed you by." So whilst George hands over the reins of the family firm to his children, Alice sells the house and arranges a holiday in St Tropez.
Then Alice receives a shock. She's going to have a baby! How will George take it? She finds it hard to break the news. Whilst he goes on about "the quiet years are the best years, we've still got those to look forward to," she tries to readjust and feel younger again. Finally George is told. He takes a long swig. On goes his bowler, and out he goes. .... He returns at last, rejuvenated- "never felt better - wonderful!"

A pleasant light comedy, the sort of role that Michael Shepley excelled in. Also appearing is Tim (Invisible Man) Turner as the son, and as son-in-law another future TV star, Conrad Phillips, who's not in the on screen credits. Also uncredited is Sam Kydd, who plays Albert, fiance of the family's maid.

.

.

.

.

.

Leave to Die
DF holds a small Far Eastern statue for a story set on the edge of the Malayan jungle.
Daya Ram prays to his god for revenge,
Martha has been in the country for only six weeks, here to marry David. She calls on the police, very frightened. She relates how she had been travelling with two friends of her fiance, Andrew and Robin, when their car suddenly hit a pedestrian. She witnessed a man carrying away a dead bride. Now Andrew has drowned mysteriously.
The police officer dismisses her fears and suggests Martha stay with an acquaintance, Mrs Jean Sanderson, who will "cheer her up."
But Daya Ram is casting his spell, in an overlong sequence.
Jean is off to a party, Martha doesn't want to go. Here's the classic vulnerable woman alone, a part made for Yvonne Mitchell as Martha. The lights will not switch on. Enter a stranger with a gun.
What follows isn't the credible drama the producer wants. It's too stilted. Daya Ram shows Martha his bride's photo. She insists it had been an accident. He places one bullet in his gun- it will be for her or for him. "Why are you afraid to live?" she questions. She shows him David's photo, and attempts to persuade him that love is more important than revenge. But he shoots.
Police arrive, late as ever. Martha had not taken the bullet. Daya Ram is no more, "that's what he wanted."

Andrew's car: SA1241. Uncredited speaking parts: 1 Martha's servant. 2 Soldier. 3 Robin

.

.

.

.

.

International Settlement (1954)
Fairbanks starts this off by spinning a globe and reflecting on the many differing peoples in the world.

The year is 1942 and US pilot Roy Winton (Douglas Fairbanks Jr) crashes during a tornado in a lagoon on an isolated Pacific island.
He is rescued by a German, whose daughter Elizabeth (Mary Parker) nurses him back to health. He thinks he must be a prisoner but is surprised to find two Japanese, a Scotsman, an Italian married to a fat Spaniard and a French priest also on the island and living in apparent harmony.
He learns that for 3 years they have been out of touch with the outside world, but have now built a boat and intend to get help.
The nub of the story is whether Roy should reveal the truth about the war? He agonises over what to do, perceiving that the harmony on this lonely isle might well be destroyed.
"We are very happy here," Father Marcel admits. He seems to have got wind of the war, but has not told anyone of what he knows. Roy seeks the priest's advice, "do what is right," is what he is told. Of course, Roy has fallen in love with his nurse.
Quietly he leaves the island in the boat. Elizabeth is distraught.

The coda to the tale is set in August 1945 when Roy returns to the settlement

.

.

.

.

.

Refugee
Douglas shows us a rifle, He sets the scene: the British zone of an occupied country.
Major Talon (Denis O'Dea) has a problem, for just arrived from over the border of the Eastern Zone are some refugees. They say they have got away from a labour camp. However a phone call warns the major that among them is one foreign agent.
Talon scrutinises their papers and questions each in turn. Carl Foster (Christopher Lee) is their self appointed leader, he had been an engineer. Welland is a farmer wanting to join his brother in the States. Josef Klein claims he can provide useful information. Jakob Weinstein is old, tired and nervous, an engraver, his family had died in the gas chambers. Vicki is a teacher, who had worked for the resistance, angry because her brother had been shot.
Each of them knows the others well, and all deny the charge Talon brings that one is an agent, "how can you believe one of us is a spy?" But Talon has to find out the truth.
Since noone admits the fact, he tells them they will all have to be sent back to the Eastern Zone, hoping this will flush out the agent. Lt Richards protests at Talon's harsh method, but Talon has to do what a man must etc, "what I am doing is necessary."
Vicki tries to convince Talon to no avail, and the group are driven to near the border in a truck. A rifle is pointed at them as they are forced to make for the land from where they have escaped, "if any of you try to turn back, you will be shot."
They follow the direction ordered and after pottering around the studio for a kilometre, soldiers pounce upon them. Actually these are British, "the trick didn't work."
All the refugees protest, but Talon believes he now knows the identity of the agent. "Tie him up!" A rifle is pointed at Carl. The major forces Vicki to point the rifle at Carl and shoot him, in revenge for her brother's death. Bang!
But it is a dummy bullet. Now Talon exposes the agent

.

.

.

.

.

A Lesson in Love
DF shows us a wedding ring.
The character John Banks (Robert Coote) introduces himself. He lives quietly, but living in a busy city, one can feel lonely. How to meet the right girl?
Mrs Bannock's agency is his solution. Private secretary Margaret Brown (Dulcie Gray) is "hard to please," but could be the one. In a hotel, they meet and share a meal, conversation distinctly awkward.
Back home, Banks imagines her doing the chores, playing modern jazz and making him jive. So he needs to find someone more suitable. Miss Brent is the choice, rather forward and he quickly sneaks away from her.
Meanwhile Miss Brown is telling the agency that she is in love with Banks. "Make the most of yourself," she's advised.
In the hotel the couple bump into each other, both on separate dates. But both dates let them down, so they have a meal together at John's home- with champagne. They play the piano and dance. When a former girl friend shows up, it's a very embarrassing situation. Both women leave. But John runs after Margaret, "I'm not going to let you go!" They kiss.
Might have been better executed, but this offers a certain charm.

Uncredited speaking roles: 1 Hotel receptionist. 2 Second receptionist. 3 Old man. 4 Old woman

.

.

.

.

.

The Heirloom
DF introduces with a brocade.
Lately moved in to a pretty village is Miss Jessie (Judy Cornwell), invited to tea by neighbour Mrs Stratton (Nora Swinburne). But the girl's behaviour is decidedly unconventional, dancing to Mrs Stratton's tuneful music box. "I can't figure her out." The music box disappears, along with the guest.
Miss Jessie has taken it to her home, where her older sister Miss Cecily (Sybil Thorndike) cares for her. Cecily dangles their late mother's beautiful dress before Miss Jessie, as something she can wear "when you are worthy of it."
Mrs Stratton informs Cecily of the theft. The latter pretends to know nothing, but knows the truth. Indeed, she discovers Miss Jessie dancing while the box plays, making the girl distraught, knowing she is not worthy of the dress. She resolves to do better, dreaming of being admired while she wears it: "if you are worthy of it."
Cecily apologises to Mrs Stratton for her earlier abruptness, surreptitously returning the stolen box. Next day, the sisters are invited to take tea with Mrs Stratton, but Cecily dare not take her, "she's not well." Jessie overhears this comment, and fears the worst, and so decides that while she yet lives, she must wear that dress. A scene between the two sisters is witnessed by Mrs Stratton, who eventually discreetly walks away. The argument ends melodramatically as Jessie swoons away. It appears that she is dead.
Mrs Stratton later talks with Cecily, "her death was your fault." But Cecily explains the whole truth, such as it is, the dress was "the one thing that kept her sane." But as Mrs Stratton is shown, it is decayed, could never be worn. This conclusion tidies up the story, but perhaps doesn't answer all the questions

.

.

.

.

.

Johnny Blue
DF starts this waving a trumpet. He says he is offering us an allegory, though it's more an attempt to emulate the Kirk Douglas film Man With a Trumpet, but with a twist of its own.

In the big city, a windy city, a nice evocation of a high rise skyline, appears by magic one Sam (Sam Levene). He heads to the dingy room of Johnny (Lee Patterson) and offers him a job playing at the Limbo Club. But Johnny's trumpet is in hoc, "I'll earn the dough."
All the expected cliches are here, like his wife Milly (Eunice Gayson) uttering, "his play shivers me up here." He gives an impromptu performance at the pawnshop, but though he draws an admiring crowd, the owner won't hand over the instrument withour cash.
Sam urges Johnny to approach his old pal Harry (Robert Ayres), but that friend offers no money. How to retrieve his trumpet? A snatch leads the cops on his trail. In tears, Milly leaves him. He is down with a capital D, yet raises himself to visit the Limbo Club to beg a trumpet. But the musicians are too busy making their own music.
On an old bridge, Sam joins the despondent Johnny. He produces a trumpet, as if by magic, "I'm your pal." This allegedly belonged to the world's first hornblower. As Johnny plays it, from afar, Milly hears his high C, and comes a-running. She thoughtfully brings his trumpet, and Sam vanishes with his model.
"You figure them out," Sam concludes. I'll try: it's something about the old selling your soul to the devil motif, though not well defined. Let's just say that it's not entirely a success because Lee Patterson is so obviously not playing the trumpet!
Uncredited speaking parts: 1 Black man in crowd. 2 Harry's maid

.

.

.

.

.

The Happy McBains
Putting his feet up, DF sets the scene with "two of London's finest stage stars."
Don (Michael Denison) returns to his suburban home where doting wife Alice (Dulcie Gray) pours him a drink. They settle in to their happy routine. Even the arrival of Alice's mother does not disturb Don, for she likes him, although privately to Alice she says she has noticed Alice's little tiffs with Don. "It's not criticism," Alice explains.
With neighbours Ed and Grace, they watch boxing on tv, and Ed tells Grace later that he has noticed how Don and Alice treat each other tactlessly, "I give them six months."
Don is slightly ruffled when Ed passes on his observation. But Don resolves to try to be more understanding. So when he comes home, he acts a trifle formally as she pours a Martini, "I don't want to interrupt your routine," he tells her. He is "over polite."
Next day at work, he has to entertain rich client Mrs Claire Harrison, but Grace happens to see him dining with her. When Don comes home for the evening, he finds his wife's note saying that she has left him. Don wants to go to her, but Ed suggests he goes out with another woman, and Don rashly decides to invite Claire. When she perceives why he has done so, she offers him better advice. "Are all women like that?!"
That night Alice pops home to collect her things, Don is in and a minor shouting match ends in tears and a happy kiss. And Don tells Ed what he thinks of his advice, then the McBains return to their cosy domestic existence

.

.

.

.

.

Rain Forest
Fairbanks introduces this holding a cockatoo.
On the HMS Tamarisk, Lt Cdr Davis (Clifford Evans) punishes able seaman Donovan (James Hayter) for bringing on board a cockatoo. He has to release it out over the sea.
When they reach harbour on an Equatorial island, Davis takes 'Heavy' Donovan with him, in search of rare butterflies, his hobby. A rare specimen eludes them, then they fall into a deep seven foot pit. Davis hurts his ankle, they cannot get out. It's an unpleasant place, with only a skeleton for company.
The two share a cigarette as they rest, Donovan flashes his torch to attract attention. A fishing rod is used to try to signal to their ship.
The crew are scanning the area, and a search party sets out. "Ahoy there!" is shouted around the isle, but to no avail,
"Reminds me of an air raid shelter in the war." The two men share their experiences. Donovan proposes a "cockeyed" scheme to attract attention. With the rod, he catches a cockatoo, which is tied loosely to the fishing rod. It hovers over the pit. Seaman Phillips spots it. Rescue is on its way.
Donovan notices that amazingly, this bird was his own cockatoo

.

.

.

.

.

Provincial Lady
DF shows us a samovar.
In Old Russia, Daria (Margaretta Scott) and Alexei (Miles Malleson) are arguing over what had once been his beautiful coat. She receives a request from a secretary, for her to go and visit Count Lubin (DF "in surprise disguise"). But Daria retorts that he must come to see her.
Knocking loudly at the door, Count Lubin does come, angrily accosting Alexei, who blusters until the entrance of his wife, "delighted." The count fails to remember her, so Daria instructs her nephew Misha to occupy Alexei while she makes him recall their relationship of twenty years back. Memories start to flood back, and he dashes to his hotel to fetch the score of the music he used to sing while she accompanied him on the piano.
Happily, he comes back and sings, none too musically. Alexei listens on bemused, as the count invites her to the opera in St Petersberg. With my husband, she adds. She takes the count into the garden, while Alexei is increasingly mystified. Once the count had given Daria his "solemn word," so can he be believed now? On his knees, he begs her to come to the opera. But age means he cannot get upon his feet again, without aid. The count has learned his lesson, the one of old age. But he adds, "we will meet together in St Petersberg."

Uncredited speaking roles: 1 Alexei's mad servant. 2 Count's private secretary

.

.

.

.

.

The Awakening

"What happens when a man forgets the true meaning of freedom and sacrifices himself on the altar of regimentation?" asks an excited Fairbanks, who is holding handcuffs and a card index file. He is excited because Buster Keaton is the star of this adaptation of Gogol's short story The Cloak.
He stars as A Man in a nameless state where every human want is numbered. The man works for the State and can remember 400,000 serial numbers. It's his job to file things correctly - for example, he spots a case of a 34 year old woman with two children, ill with typhoid and who needs a new serum has been misfiled under 7935-M. When challenged as to whether the woman was helped, he doesn't know, that's not his job.
Why even "The Chief" (James Hayter) in this wonderful State has a number. It's a wonderful place he benevolently tells his people, where "our little tots will grow as fat and pink as sausages!"
The Man needs a new coat. Although he cannot afford one, he economises and eventually has a superb new coat, the envy of everyone. His supervisor hardly recognises him in his fine new coat. But robbers relieve him of it! Police assiduously compile a report on the loss,report 6297-T. But will this get his coat returned? The Man wonders. The Man gets agitated over his lovely missing coat. His boss (Geoffrey Keen) gets cross with him when reports start getting wrongly numbered. But the Man is too distressed to work properly. Seeing the poster announcing that "The Chief Cares," he goes to see him. The response? The Chief broadcasts what today is called Spin, a long speech all about his caring attitude. All those officials who dealt with the report of the theft of the coat are dismissed. But no sign of the overcoat of course. Disllusioned, the Man tells The Chief 'what for'. The Man has to be silenced. But the Man gets the final word, or at least a final vision.

Interesting, though I found the ending, as so often with this series, rather a puzzle, if also a surprise.

Uncredited speaking parts: Landlady. Tailor's wife. Investigator

.

.

.

.

.

.

.

.

.

.

The Apples

DF holds out an apple, introducing a story of "life and death."
That's an exaggeration. Billy (Ron Randell) is on the run, hiding in an attic, a house where young Jenny lives. He spies her eating apples, and because he is so hungry, he starts to fantasise. He recalls how he got here. He'd been hungry even when with Mickey (Eunice Gayson), and hungry too when at home with his wife, "I gotta eat." At a club with Nick the talk is also of food, or the lack of it. Billy must get work. "That guy's off his rocker." A slightly surreal scene with Robert Ayres, "I'm hungry." He has nothing to show for eight years of marriage. But Nick offers a chance to "make a lot of dough," don't take it urges Billy's wife. He knows that also, but Nick tempts him. Target a bank roll, a good take after much shooting.
Jenny hears Billy raving in the attic. He is talking to his wife and accomplices, who have deserted him. But he has the cash. Jenny sees him and he offers her a glass of water for an apple. She sees his suitcase, full of stolen money. He gives her a wad, but she refuses to part with her apples. She wants the lot. Police sirens in the background. She takes the case, he eats the apples.
Vague parallels with Adam and Eve, but this is not the avant garde it hopes to be

.

.

.

.

.

.

.

.

.

.

PATTERN FOR GLORY
Douglas explains this is a story of a movie star "too often seen in real life."
It's been 8 years since Clint (Ron Randell) has written a hit script. He tells his disbelieving agent who's rejected his latest offering "if a star came in with this script, you'd do it then." Laura Barry,"the forgotten woman" (Anne Crawford) likes the story but has never acted in plays, only second rate films. Anyway her career is over, but Clint tries to encourage her "you've never had a chance to show what you can really do, and it's eating you up alive." Laura is finally persuaded to take on the star part and with Clint's encouragement they soon get emotionally involved. But is Clint's 'love' real, or is he trying to coax a performance from her?
Clint's girl friend Anne attends the dress rehearsal of Wife of the Governor. She tries to boost Clint who is trying to boost Laura, even though he can see she's a complete flop.
In the audience is actress Mary Holliday, and she just loves the star part."If Mary Holland wanted to do a part, it wouldn't be too late the night before opening," Clint's agent advises him. But what about Laura? Contracts are made to be broken. Clint has the unenviable task of informing her.
He tells her "the whole truth." After a while. "I did what I had to do" is Clint's corniest line in amongst a load of cliches. But hidden there also is a genuine tale with a well acted final scene. So we take our leave of Laura, unhappy. Clint has a bad conscience and Anne says he doesn't need her any more. I suppose that's show biz.

.

.

.

.

.

.

.

.

.

Five years, two months and eleven days, Canadian Mountie Warren (Robert Beatty) has been after the man who killed Gena his sister (Carol Marsh, in a non speaking role). The murder is shown rather pointlessly in a flashback. At long last, Warren has captured the killer Brackett (Christoper Lee), "if it had taken a lifetime, I'd have found him."
But in a driving blizzard, with his inexperienced helper Frank (Patrick Holt), their car overturns and they are forced to seek shelter in a log cabin. As the snowstorm intensifies, Brackett demands food, a ruse to trick Frank, and as he has snatched a gun, he has to be released, crashing through a window into the frozen waste. Frank can only apologise, "I don't know what to say." But in true Mountie style, Warren retorts philosophically, "we'll have to start all over again."
Next day, with the fierce storm still keeping them from leaving, gunshots and cries for help are heard. "I know it's him. he's lost"

The 'line' of the story is a fishing line which Warren intends to use to find his way back to the cabin, once he has recaptured his Man. Ignoring Frank's idea of letting him "die like a dog," Warren wants his Man alive and ventures into the storm, Frank holding the other end, the rod. "He'll never find him."
The storm swirls ferociously. The murderer is lying injured in the snow, frozen. The evil Brackett snaps the lifeline before collapsing into death. It's up to Frank to follow the line to find his partner and help guide him back to safety.
Time is up, and a full realisation of the plot is not achieved - a pity. Well, the stories were made at breakneck speed!
from a 16mm film print
Menu

.

.

.

.

.

.


Alice and husband Dunc (Lee Patterson) are a "very ordinary young couple." So what are they doing in the city jail? This is their story.
They live at a boarding house. Whilst Dunc studies, Alice looks after her two friends who live it up - there's Candy (Kay Callard) whom Alice waits on hand and foot and Doris: "Johnny says that besides me orchids are like dandelions." Alice has what in modern jargon is called low self esteem, which sinks still further when Joan says she has a crush on Dunc. She thinks, as Dunc has told her so, that Alice is Dunc's sister.
Harris Watson is a gentleman caller who is dramatically shot. Alice phones the cops then picks up the murder weapon. "I did it," she shouts. She tells the police the same thing, adding that Watson had a crush on her, that they met secretly - lies similar to the stories she's heard her friends tell. The police seem unconvinced. She's asked if she can demonstrate how she fired the gun. She does. "I can cook too," she boasts. They call in a dismayed Dunc. "You're talking crazy," he tells Alice. She says she's looking forward to the electric chair. But when she meets Joan again, the one with a crush on Dunc, and Joan admits she's never actually met Dunc, Alice realises she's been a "jerk."
Betty McDowall does her best as Alice but one couldn't pretend this is any masterpiece.
Menu

.

.

.

.

.

.

The Last Knife
Fairbanks starts by handling "an unusual knife," as used in circus acts.
He plays Karoff who works in Slade's travelling circus. In the empty ring, he practises his knife throwing, using a picture as his target. He has no friends in the group, some dark accident has made him a pariah.
A girl offers her services, "but at what price?"
"You must want a job badly if you come to me," he says bitterly. But Katie is blind, having fallen from the high wire. "It's too dangerous," he warns, but asks boss Lilly for her approval.
They practise, she holding a fag in her mouth. It goes well. But when alone, she is pestested by Tolsen (Christopher Lee).
"Don't get too fond of her," Lilly advises Karoff, who falls out with Tolsen over her.
"I love you," Katie tells Karoff, but he cannot accept that, she can't see him. But she shows him her scrapbook, with pictures of him, collected in happier days.
Her declaration makes him even more worried, for might he not injure her unintentionally in his act? A brief scrap with Tolsen is broken up by Lilly.
The dress rehearsal introduces the last and most dangerous part of his act, for Karoff is blindfolded, throwing his knife at an apple perched on Katie's head. "A fine act!"

Uncredited speaking parts: 1 Clown. 2 Reporter (Tony Quinn). Also: Patrick Holt links the two acts
Menu

.

.

.

.

.

THE THOROUGHBRED with Douglas Fairbanks

Fairbanks plays Fitzhugh an Irish horseman, for whom "everything he touches turns to dust." His luck's out and this once celebrated trainer of horses is living on handouts.
An old friend offers him a cut, if he'll tell an interested an American that Mistral, a sire of one of his ex horses, is well worth the £1,000 asking price. They're a little thrown when the American proves to be Nora (Eunice Gayson), but they continue their Irish blarney and persuade her to buy. She soon discovers the horse is a "bust" with no competitive spirit. But she's determined, even though she's nearly broke, and persuades Fitzhugh to train the horse, even though he admits the horse is no good.
Fitzhugh meantime, has found his past catching up with him. Kell (Cyril Cusack) wants Fitzhugh to throw the race. When Mistral improves under training, Kell gets wind of the success and threatens to expose Fitzhugh's shady past dealings. But Mistral is looking increasingly good - the one and a half miles is run in two minutes 55, then 2mins 48 and finally 2mins 35.
Race Day. The Irish Champion Stakes. The winner's time, an amazing 2mins 32. Nora collects her winnings whilst her trainer gets his packet. But at least he's proved he's still a good trainer. Inocuous stuff!

.

.

.

.

.

The Rehearsal

Starts with Fairbanks holding up some old ballet shoes.
"Perfectionist" Nicol Pascal (Marius Goring) runs his own ballet school. His star pupil is Marguerite (Maureen Swanson). His wife Nanette, once a dancer also, is now resigned to the role of nookkeeper.
The impresario Vanderhof is coming to see Marguerite dance. Nicol treats her as his "daughter." She, ever since a girl, had always dreamed of him as her dance partner. But he is too old, he has walked off the stage for the last time. He rejects her kiss. But Nanette catches sight of her husband with the girl in his arms, kissing. I was waiting for the line, No no Nanette, but thankfully it never came. Instead, he tells his wife that he believes it is his "destiny to dance again." Vanderhof has come only to witness husband and wife arguing, and he leaves in a huff.
He returns to see Marguerite dance with young Jeffrey. But maybe through jealousy, Nicol despairs of him, declaring, "you jump about like an old woman." He will show the impresario how it is done. Vanderhold protests that Nicol is too old now. But Nanette sensibly lets him have his head. "it's time she grew up," Nanette tells Vanderhof, knowing the outcome.
Nicol limbers up, ready for the dance, but has a fall. That makes him understand.
Husband and wife make up.

Uncredited speaking part: ballet dancer

.

.

.

.

.

.

.

The Face of the Law
DF starts this off by looking at various hats worn by officers of the law. He promises us some "nonsensical excitement." He is almost right, for this is a quirky episode, starting as a semi-documentary.

In his large American car, a tourist (Ron Randell) drives down a one way street. He talks to camera, asking how police in different countries would react to this felony. Then we see what happens in England: he has to produce his driving licence. The tourist decides he wants to see what makes police "tick," so he photographs one, and watches a constable at work breaking up a street fight, and stopping two lads from swimming in a lake. Our tourist goes inside a police station to see PC Bill Curtis (Patric Doonan) being torn off a strip for failing to observe a mail robbery.
We get a brief history of Scotland Yard, and see the canteen, where Curtis is being offered good advice by a senior. Curtis decides to get a better cup of coffee at a local cafe, which just happens to be the hideout of the gang he is after! The four villains attack Curtis, as our tourist merely watches impassively, but finally phones for help. Curtis is commended. He is posted to traffic duty.
He cannot fail to notice this crime: a smash and grab at a jewellers. He fells a fleeing man, who unfortunately is an entirely innocent bystander. The thieves have escaped. But he keeps surveillance on the shop, reckoning that the thief hid the jewels before running off. His patience is rewarded, as the thief returns and reveals the hiding place of the loot.

Uncredited speaking roles: 1 and 2 Policemen. 3 Inspector. 4 PC Welsh (Kenneth Cope). 5 Waitress. 6 Crook (Harold Lang). 7 Crook. 8 Crook (Michael Balfour)

.

.

.

.

.

.

.

.

The Relative Truth
A piece of light Irish whimsy, though it's not very Irish and offers only a heaviness of touch.

There's a smell o' gas from room number 4 in an Dublin boarding house. Archetypal busybody Miss McCardle informs the neighbours. Tell the landlady, except that she's "out courting." So call the police, and a local constable arrives to size up the situation, and finally break down the door. The room is rented by newlyweds Mr and Mrs Brown. The four residents watch with excitement for a body to be revealed.
But there isn't any sign of one. "Someone must have removed the body." Miss McCardle decides to tip-off Inspector Chris O'Mara (Patrick Holt), who happens to be the fiance of Sheila the landlady. The busybody saw a man named Eric call on Steve Brown (Nicholas Parsons). Steve was out, but when he returned, she heard the two of them arguing, and Mrs Brown saying, "our chance to be rid of him for good." She declares for a fact that she saw Steve carry the corpse down the stairs. She must be right since we see it happen.
According to one person, Eric is a Polish agent out to kill him. He saw the body being transported away also, "I would recognise his feet anywhere!" But this Polwatski (Martin Miller) is "a foreign crackpot."
Then O'Mara tries to get Maggie O'Rorke (Barbara Mullen) to throw some "light" on the matter. As an enthusiastic reader of crime fiction, she has her own theory: Mrs Brown is Mary Smith, an escaped murderess, "it all fits like a jigsaw."
There's a fairly simple explanation when O'Mara finds the Browns. They have won £50,000 in the Irish Sweepstake, Eric had been begging for a slice. O'Mara decides that's "cock and bull," but has to change his opinion when "the corpse himself," Eric, materialises. The murder story has collapsed.
Uncredited speaking parts: 1 Policeman. 2 Eric, 3 Mrs Brown

.

.

.

.

.

.

.

.

.

.

.

.

.

THE LOVELY PLACE
Bob, a truck driver (Ron Randell) dreams of paradise in South America. A blonde and her child Roberta hide in his truck to hitch a ride to "some nice place." It transpires the two were once married. Lots of dull dialogue ensues. Act 2 sees the conversation rumble on like the truck. We learn he is concerned about his kid even though it was she who walked out on him.
Something's needed to rouse viewers from their torpor. What happens is a brake failure, and the truck is now hurtling downhill.
A lesson for all potential filmmakers - you can't make a story only built round a few close ups of Diana Dors, however nice she might look. Fairbanks concludes a disappointing half hour: "Well I guess that proves that most lovely places are either here (pointing to head) or here (pointing to heart)." Mmm
Menu

.

.

.

.

.

.

.

.

.

.

Silent Night
Fairbanks is in Bavaria to introduce the well known tale of how the famous carol came about. This version makes a drama out of it, but is very piecemeal.

Oberndorf 1818. "Why are you singing like a pig?" the poor priest (Gerard Heinz) asks a choirboy during choir practice. Everyone's singing is lacklustre, ans the organ sounds awful, there's a mouse in the bellows. Organist Franz Gruber says it is unplayable, so why not have a tune on his zither, easy to play, "we'll write it ourselves."
He writes a tune which has the effect of sending his young son to sleep. The priest writes the words, with a little help from Franz and his wife, and the carol service goes off well. However the monseigneur is unimpressed, "shocked" in fact, and as the church is in such a poor state of repair recommends its closure.
However the archbishop is impressed by Franz's enterprise, and the specially composed carol, and agrees to provide a new organ for the village church.
Franz and his family have determined to start a new life in Pennsylvania. In America, we see him decorating their Christmas tree (as tradition that hadn't been invented!), but conditions are terrible, freezing weather, immigrants facing starvation. But they sing Silent Night, and are cheered by news from the old country that their church has been saved. Indeed everyone there is enjoying their carol.
To the present- American soldiers in Oberndorf enjoy Silent Night once more

.

.

.

.

.

.

.

.

Forever Is A Long Time

DF holds up "a cheap little toy." This is to start the story of young David (Richard O'Sullivan), who hasn't seen his mother since he was two years old. His mother is film star Constance Trevor, who is to make a personal appearance in a local cinema. Now David is living under the care of Martha and Frank, but he longs to see his real mother.
So very early next morn, unnoticed, he sets out to visit her, "I'm going to see my real mother." It is a long walk and en route he gets rather muddy, "she won't mind." At last he reaches the Bayshore Hotel, where he picks flowers. Entering the hotel, he is summarily ejected by the porter, so all he can do is wander the grounds, where the gardener tells him that his mother has gone out anyway..
It so happens that Constance is sending a taxi to collect David. His foster parents are getting anxious as to his whereabouts.
David chats with the nurse of his mother's new baby, before he finds his mum, surrounded by adoring young fans. In silence David presents his flowers, but this "urchin" does not dare reveal who he is. "She'll come to see me again," he tells himself as he sadly walks away. Very tired, he returns home. "Did you speak to her?" "No." He gives Martha flowers.
"Wasn't he a wonderful little feller?" DF asks in conclusion. A touching little story, a minor gem.

Cars: Morris Minor LOW103. WCG 256: Constance's Daimler. A tank locomotive, number 28, is also seen. Uncredited speaking parts: 1 and 2 women outside cinema. 3 Car driver. 4 Porter (Denis Shaw). 5 Nurse. 6 Girl fan

.

.

.

.

.

.

.

.

A tense melodrama, suggests Fairbanks in his intro.
A fairer description might be dull. Jefferson (William Sylvester) has to replace his lost passport for 10 dollars. Jefferson 2 (Paul Carpenter) pays 1,000 dollars for a forged passport. Both have booked in to the Hotel d'Univers. Restless and lonesome Jefferson 1 spots the passport that he had lost and meets up with a girl (Balbina) whom he walks up a mountain. She's trying to retrieve this passport for her friend J2 who's so "desperate" he produces a gun. "It's his life or mine," decides J2, so he plans to push J1 down the mountainside. Whilst he prepares for this, the girl guards J1 - "why should anyone trust anyone?" J1 quizzes her. Profoundly she comments to him "the whole world is full of men and women hiding from one another." J1 is impressed by the girl's loyalty and he lets J2 have the passport. But she's had enough of J2's fugitive life and leaves him.
There's a final scene at the border ending with the corny "there's nothing you can do for him now." 2 out of 10 for the effort of those B film stalwarts, Sylvester and Carpenter.

.

.

.

.

.

The Hideaway
DF is standing behind a doll's house.

Old Mr Collins has a week to settle up his rent, or he's out! Young Anna Parker has come to visit him again, she takes him to the park, where he reads a story to her and her friends. He tells Anna before they part, of his daughter in far away Canada. Anna tells him of a shelter on a bomb site where he could stay if he is evicted. She dreams of a happy home life, with her as his child, "you wouldn't be alone then."
Anna's parents are rowing again, over why Anna is late home. Father Ben goes in search of her. But Anna reaches home safely, scolded by her mother.
Anna misses school on the day Mr Collins is turned out. She takes him to her makeshift home, "there's a bed you can lie down on." She buys some provisions, even tries to purchase some tobacco. She walks past Tower Bridge and the Tower of London to the shelter where Mr Collins lies silently. "I don't feel very well," he tells her. Anna enthuses about her plans to make the room nicer.
Police are searching for the truant. Mrs Parker waits anxiously at home, arguing again with her husband over why she doesn't love Anna. As darkness descends they follow a lead and go to the bomb site.
Anna is becoming frightened, as Mr Collins is so ill,"Mr Collins, wake up." Police find her hideaway, "you can't come in."
"You dont' want me," she tells her dad, but his appeal wins her over.

Playing the young girl and old man, Mandy Miller and Harcourt Williams enjoy a pleasing rapport.

Uncredited speaking parts: 1 Milk lady. 2 Man in street. 3 Grocer. 4 Newsagent (Cyril Smith). 5 Policeman. 6 Man on bombsite

.

.

.

.

Counterfeit

Bill (Fairbanks Jr) saved the life of Paul (Robert Beatty) in the war.
Now, in post-war Germany, they are Military Policemen. Bill wants to take Lili back to America, and persuades her, when he discovers the source of some counterfeit US dollars. He is demobbed, but Paul is still serving, and catches up with Bill's blackmailing. Will he remember Bill's kindness, or will he do his duty?
A good story idea, but the conflict isn't properly explored.
Menu

.

.

.

.

.

>

.

.

The Long White Line
DF admires a beautiful bouquet of flowers, introducing tonight's theme, "the will to live." It's set in the Royal Wilson Hospital in Canada.
Three patients idly chatter as Nurse Grace Stevens (Nora Swinburne) dispenses medicines. But young Nurse Randall has been ordered to distribute one lot, for something seems wrong with Nurse Stevens. She secretly looks in the doctor's office for her own record. Her co-ordination is deteriorating, and she knows it. Her superior, Mary Hardy (Joyce Heron) suggests that if Grace so wishes, she can be relieved of her duties. But Grace doesn't want to give up. She comforts several patients who have not received visitors, including the obstreperous Mrs Lorega: however she does phone this patient's husband, to boldly reprimand him for not paying a visit.
Mary Hardy discovers six pills are missing from the medicine cupboard. We know that Grace has taken them, "give me those tablets."
Grace has to welcome new patient, Mrs Andrews, who is very nervous about her forthcoming operation, and wants to go home. Grace tries to convince her that it's safe, then faces up to Mary, returning the missing pills, and then returns to work on her ward, knowing that her work is appreciated.
The theme is obliquely touched upon, without ever coming to grips with Grace's apparent serious illness
Menu

.

.

.

.

.

>

.

.

Four Farewells in Venice
Introduced by Fairbanks, holding a mask. This "whimsical" story is set in 1760, and four noblemen, then their four beautiful wives are introduced to us.
Visiting Venice, is Johann Francis (Douglas Fairbanks) whose encounter with the four men results in a protracted swordfight, Johann of course an easy match for the lot of them, all very tongue in cheek. But though Francis wins, the four masked men manage to kidnap him, their plan to reek justice on His Royal highness, for such is Johann in disguise. They will execute him, and offer him the traditional last wish. "People don't do things like this any more," protests the prisoner.
His dying wish is to inform the lady he loves, "I bid farewell," he writes dramatically. To whom must his letter be delivered? The four men fear that it is one of their wives, but which one?
The letter must be delivered at midnight, at a secret tryst planned by Francis. To discover the lady's identity, each nobleman takes a copy of the letter to his own wife, to gauge their reaction. None respond, so honour satisfied, Johann is freed. except that he has already escaped.
But to where has he fled, or more importantly, to whom? Another jolly swordfight before, after much tension, his sweetheart is revealed. Maybe if we had got to know the characters better, the finish might have been more effective. Let me just say, it was a brave actress to take on this part.

Uncredited speaking roles: 1 Warder (George Murcell). 2 Francis' ladylove
Menu

.

.

.

.

.

The Leprechaun

Fairbanks shows a toadstool, under which the little people gather.
Two young poachers, Timothy Mulligan and young Finney, are picked up in a cart by a stranger on his way to Ballymeeny in Tipperary. He's Elmer J Ellis (Charles Lloyd Pack), searching for leprechauns.
Which hotel will he stay at? He has a choice of Finney's or Mulligan's. The two clans are sworn enemies, and don their fighting belts at slightest provocation. This doesn't help poor Liam Finney, who desperately wants to wed Maureen Mulligan.
Elmer surprises everyone by weirdly imitating the sound of a banshee. He gets young Timothy to help catch a leprechaun. Though Michael Finney (Eddie Byrne) doesn't believe in them, stories soon circulate, eerie music floats in the air, the two men start fighting again. It's High Noon on the street, unfortunately it is PC Kernahem who stops one in his eye. Both men are locked up. This offers the chance for the marriage to take place.
The rift is healed, "the feud over because you're related now!" Mind you, the peace does not last too many minutes. To end, Timothy bids goodbye to Elmer, and begorrah, maybe he sees that Elmer is one leprechaun himself!

Uncredited speaking parts: 1 Young Finney. 2 PC Tom Kernahem. 3 Dave Finney. 4 Man at Finney's bar. 5 Yokel. 6 Woman gossip. 7 Another man in pub

.

.

.

.

.

.

.

.

.

.

.

.

Public Enemy No 1, Candy Nolan, is resting with his shoes on in bed, in the home of The Queen of Broadway, making her a prisoner in her own apartment. Her husband, Judge Livingstone, is the only judge who has ever sent Candy 'away.' Her 'jailer' is Florida, girl friend of Mitch Martin, Candy's lawyer. The main focus is on the two women who have two lengthy conversations - just who is really the prisoner?
These discussions are sensibly broken up with one between the Judge and Mitch, who is also a sort of prisoner - "you know the way he (Candy) operates - he's a killer. He doesn't let anything get in his way."
Florida is persuaded to phone the cops, but the line's dead. The police do come however, and the big shot has already run away. Shooting off camera.

Rather stagey, not only in the set, but in the dialogue and general lack of action.

.

.

.

.

.

Goodbye Tomorrow

Fairbanks is writing. His story is about events following the death in Paris of famous American author Boswell Fletcher. His last secretary had been Sam Harper (Phil Brown), who decides he wants to emulate the great man. However the muse fails, though luck befriends him, when he stumbles across an unpublished complete novel by his boss.
He approaches publisher Clarence Pilkington (Lionel Murton) who is impressed, and the novel sells very well. But can he write another success? He appoints his own secretary, Madeleine, who turns out to be Fletcher's former secretary. She actually typed out that novel Goodbye Tomorrow, "he said it would never be published." The pair agree on a business relationship, 50-50 deal, Sam will provide ideas, she will write up the plots- and keep the accounts.
One fan, called Ann, gets Sam to sign a copy of his book, she invites him to a party at the Plaza. Ann tells him, ironically, that he has "an extraordinary insight into women." He chats her up, maybe the fact that she is rich has a lot to do with it.
He informs Madeleine that their relationship is over. He is going to marry Ann. But things get complicated when Ann's motive is that she wants to become a writer, and offers Sam to form a writing partnership. Hastily, Sam returns to Madeleine. He admits the truth to Pilkington, but all ends well, when it transpires that Fletcher had left that novel to Madeleine in his will

.

.

.

.

.

Enchanted Doll
A London backwater in 1903. "When I first saw this in the window, I thought it was an illusion," says newly qualified Dr Stephen Amony (Fairbanks), when he purchases an expensive £2 doll from a local shop as a present for his niece. So lifelike is she that he decides he must keep the doll for himself. His colleague Dr Symonds (James Hayter) is fascinated by the doll also, "she seems to be alive."
Amony's first patient, Angela has a grazed knee. In silent admiration she too gazes at the lovely doll. On a home visit Amony happens to treat Mary, a cripple, who is cared for by Rose. Mary's parents had been killed in a train crash and she herself aged 14 had been badly injured. It's she who actually creates these dolls, but unlike her creations, she's pining away, jealously protected by Rose, who only sees her as a source of income. "Quite the Prince Charming," Rose remarks of the doctor to Mary. "But you're no Cinderella."
Dr Amony wants to help Mary walk again, since "her life's just ebbing away." He can't persuade her, or the suffocating Rose, to see a specialist. She has already been told she will never walk again. But gradually she comes out of her shell, as he brings her to talk about her happy childhood.
Rose drops a bombshell, forbidding the doctor to continue his 'treatment.' "There's nothing you can do."
However Amony manages to creep in again having ensured Rose is kept out of the house. He patiently explains to Mary that it's Rose who has drained away the life from her. "People can die from lack of love." Then he declares his own love. "Get up Mary and walk!" he shouts. This she does, very dramatically, and walks into a kiss.
The return of Rose is thankfully too late. There's a happy conclusion to this enchanting Paul Gallico tale. What the medical board would make of the doctor's behaviour I'm not so sure.
Uncredited speaking roles: 1 young Freddy (2 scenes). 2 Angela his sister
Fairbanks Menu

.

.

.

.

.

.

.

Tony
DF introduces the programme, holding a long chain.
Margaret (Muriel Pavlow) has just received a letter about her husband Tony who had died in a plane crash three years ago. Their marriage had lasted a mere four and a half hours. This letter claims that he is living in the country with his mother, whom Margaret had never met. Mother had never approved of the marriage.
All this is bad news for Margaret's new fiance Michael (Derek Bond). He drives her down to where Tony lives with his mother Mrs Saunders (Fay Compton). "My son's an invalid," she explains, adding that he can have no visitors. Michael waits in the library, while Mrs Saunders explains that though Tony looks "as he had always looked." the accident had changed him. In fact "he doesn't want people to know" about him. Adds Emily the maid mysteriously, "he's not just an invalid."
Mrs Saunders explains why she had opposed the marriage, "I did what I believed was right." She asserts, "he doesn't need you now," while conceding, "I believe you were in love with Tony a long time ago."
Margaret insists she see her husband, but according to mother "he refuses to see you." But finally Margaret enters Tony's bedroom alone. She exits immediately, "I'm going back to London." Of course we had guessed the obvious punchline.

Michael's car: MYM861
Fairbanks Menu

.

.

.

.

.

.

.

Only Son
Fairbanks introduces this by saying that for once he can find "no suitable object" to illustrate this story. In the small American town of Bayville, Freda and Bob (Cyril Cusack) are talking about their only son Jimmy (Richard Lyon) with local police sergeant George (Gordon Tanner). A young man is spying on them. It's the wayward Jimmy, who waits until George has left before entering. "Aren't you glad to see me?"
He's run away. Ma hugs him. We learn that he had stolen a car, which he blames on his mates. Dad's advice is to give himself up. But that he cannot do. He wants to make a new start, some place new. Trouble is, for that he needs money.
You realise his problem is that he has always been "spoiled rotten." Bob is unsure whether he should inform the cops, he discusses it with his wife, and they remember happier times. Bob offers to get Jimmy the money.
George has been waiting at the police station, hoping that Jimmy will voluntarily show up, or that Bob will persuade him to do so. But as time is passing, he phones. George has gone to his office to fetch the cash. George finds him there, and the two men discuss the moral issue rather too somberly, "we're all to blame for everything that happens."
Jimmy reckons his dad has betrayed him and turns on his mother, who has to slap his face. She tells him it straight. Ought to have done so years ago!
Exit Jimmy, ma in tears. "What you did was right," Bob consoles her later.
Police search for the lad, but having thought it over, Jimmy gives himself up. He thanks his mother and they hug
Fairbanks Menu

.

.

.

.

.

.

.

Blue Murder
DF shows some curling tongs and a comb, for this story set in a Mayfair beauty salon.
It is run by Raphael (DF himself) who treats all his ladies with courtesy, "all my clients are 37," he tells them, "unless of course they are 21."
Lady Cherwell (Joyce Carey) is one client, chatting idly with journalist Jenny (Eleanor Summerfield, oddly given star status here, though she is a minor character). Gossip centres on a newspaper story about Lady Lucy Frost who had been strangled while being robbed of jewellery. "How did the burglar know where to look?" they puzzle.
A new client for Raphael, Kay says she may have seen the killer driving away from the scene of the crime in a Rolls Bentley, numberplate she recalls it only partly. Now EML622 fits the bill, and it is parked round the back of the salon!
Kay wonders if she should phone the police, though Raphael thinks her description is too vague. While she waits with her hair in curlers, she chats with a stranger through the window, he has lost his cat.
"It's nice to know there's one man in London we can trust," smiles Lady Cherwell, as she leaves. Kay is the last client left on the premises, "noone knows I'm here," she informs Raphael. Is he going to kill her, as he did Lady Frost? A policeman looks in, asking him to move his car, EML622. That's when Kay realises for sure her danger, "I must go now," she says feebly. Why do you rob people, she asks. This is momentarily tense, her scream draws the attention of the man looking for his cat. So she is rescued. But she'll need to have her hair done properly.
Uncredited speaking parts: 1 Robert Arden, who signs off part one. 2 A policeman
Fairbanks Menu

.

.

.

.

.

.

.

The Milkman (1955)

Fairbanks starts the story off, standing by a sundial.
"Utter devotion to time," is the motto of the milkman in this tale. He's William Potter (Leslie Dwyer). "Set your clock by our milkman," is the legend displayed on his float, woe betide his assistant (Harold Goodwin) if they encounter any delay. 7am he always departs the depot, 1pm he always returns, in ten years he has never been even a minute late, yet his schedule always includes spare time for some human niceties along the way, helping customers, chatting to them.
Mr Berns, boss of Summer Farm Dairy, congratulates him on his punctuality. Potter will receive a presentation, never since Merriweather in 1903 has anyone been so punctual, "you've earned it," his boss informs him.
William dreams this might lead to his promotion, and prepares his speech of thanks for the big day. This must last exactly two minutes thirty seconds. However there's a nice touch of irony, for his wife Vera (Mary Mackenzie) has somehow been neglected in all this thoughtfulness towards customers. Not that William notices, "a man gets a certain satisfaction knowing he does something better than anyone else."
That the one thing he has failed to do, he has neglected his own wife. She buys him a new alarm clock on the very day of the presentation. The only snag is that it doesn't ring at the right time, thus William leaves for work 27 minutes behind time. Did Vera do it on purpose? "I'll never forgive you." After angy words, he leaves for work, late. She leaves also.
The whole morning is a "jet propelled" rush to make up for lost time. Niceties must be forgotten, like seeing the new baby of Eulenspiegel (Eric Pohlmann). But when you're late, certain delays cause further delays, and on top of it all, there's a serious fire in one road, and how can Potter make the 22 deliveries there? He can't, so actually it does save him time and thus at 1pm William draws into the depot, on schedule as usual.
To cheers, the presentation is made, what else but a clock, but instead of his own speech of thanks, William remembers he has had no time to phone Vera, so no time for his speech, he dashes home to find her gone.
She does return however and a melancholy William brightens at the sight of her. He apologises for neglecting her and they can now laugh over that clock. William admits he had been acting like a machine, remembering customers, but never his own wife. "I don't care any more if I don't see another clock again!"
Here's a fine little story, but never quite hitting the right mark, unable to decide if it's a comedy or sentimental, so it misses the mark even if it is so well acted.

Milk float: JXL816. Some filmed scenes around Battersea Bridge. Uncredited speaking parts: 1 elderly lady customer. 2 Foreman. 3 Lady sweeping.
To Douglas Fairbanks Presents Menu

.

.

.

.

.


Because of all the ice, his ship heaves to. We meet various of the crew. The Titanic, we learn, is speeding rapidly towards them, though cap'n isn't convinced even such a great new vessel could keep up such a pace across the ocean. A wireless warning is sent about the ice.
But on board the "floating palace", the warning is never received- too busy sending passengers' wireless messages to shore.
From five miles distance the Caledonian notice the ship has stopped. There's still speculation whether it is the Titanic. But she wouldn't have stopped would she? Finally Titanic sends out an SOS, but Fred, the Caledonian's wireless man is having a rest. Then at last! The engineer sees a distress flare. Cap'n is awoken from his dreams- "call her up and see what she wants," is his answer, as he turns over to his slumbers.
On deck the Caledonian crew watch the big ship list, then "the stern light fading".... and lastly "she's disappeared!"
Next morning it's too late of course, when news of the sinking is received.
Menu

.

.

.

.

.

The Hero
Introduced by DF standing in front of a window with a view of Rome, where the story was filmed.

Joe Fellowes (Frank Latimore) had crowned Miss War Bonds 1941, Clara (Constance Smith) in his home town of Janus Ohio. He had gone off to war, and his future wife had drawn the wrong conclusions about his enforced silence by letter.
He never told her the truth. His war record was pretty ordinary in fact, he had elaborated on it. Now that she has won a trip to Italy, the opportunity presents itself to visit the scene of his triumphs. She has to drag him there. His reluctance to go makes her worried he might have something to hide. They reach one village that he had told her about, though in fact it is not. But though he had allegedly been a major general, someonr here recalls Private Fellowes "a lazy bum."
They go on to a farm. "The American has returned!" proclaim the locals. "His wife is here," a priest informs a shocked Clara. Seeing the Italian beauty, she smartly drives off.
Later Joe returns to Clara. He confesses it was not the farm where he had stayed, and admits that he is no war hero, "I was a clerk... I never was a hero."
The couple make up and he has time for one more confession. However the film is less a comedy than Fairbanks would like us to believe

Uncredited speaking roles: 1 Clara's mother. 2 Tourist guide on bus. 3 Porter. 4 Peasant woman. 5 Owner of the cellar. 6 Joe's first 'wife'
Menu

.

.

.

The Fast Buck
Faibanks starts with a diamond wrist watch in his hand.
Since he is on screen nearly all the time, Alexander Gauge is the real star of this film, although not credited as such. He plays Slotterly, a dubious dealer who frequents the Cathay Hotel, somewhere in the Far East. Cynthia (Lois Maxwell) approaches him, desperate for money to pay for a ticket for the boat. She needs £50 and he offers her that plus a little more for the watch that she pawns to him. His lawyer makes out an official receipt for the loan.
Engineer Chris (John McCallum) also needs help. He meets Slotterly at the hotel. He says he has met this beautiful girl, "a winner," and wants to impress her. Slotterly has just what he needs! Playing the reluctant seller, the dealer offers to sell the watch for $5,000. Chris offers $6.000 and writes out a cheque.
Next day is Saturday, and Chris wants to sell back his watch. He'll take $3,000 and offers it to barman Harry. Harry phones Slotterly to warn him and suspecting Chris' cheque is worthless, Slotterly goes to the police. But since the bank is closed today, he cannot prove the cheque is a dud, in fact, later the bank accepts the cheque, "no hard feelings."
Cynthia asks for her watch back and it is clear that she and Chris were in together with their own fiddle. Me, I got a trifle confused too

.

.

.

.

.

.

Jason's House
Introduced by DF behind a toy castle.

An East African valley is to be flooded to create hydro electric power. One house owner, the original settler, Jason (Finlay Currie) refuses to be evicted. The high handed methods of Fletcher the demolition engineer (Robert Raglan) don't help.
Engineer Jeff Engels (Patrick Holt) is all for the soft approach, he is sweet on Jason's daughter Laura (Gene Anderson), and even she cannot persuade Jason he ought to move. He is attached to his home, and threatens to shoot anyone who attempts to shift him. It has all been done better before, but the interest is in whether Jason will ever budge. "What's he going to do?"
The Police Commissioner (Arnold Bell) tries to reason with the old man. "You can't stop this." The eviction order will take effect tomorrow.
The impatient Fletcher threatens Jason, chucking a petrol bomb into his garden. Jason's response is to lock himself in his bedroom.
Next morning the bulldozers hover. The boss himself (Charles Lloyd Pack) decides to hold a face to face with Jason. They are both old timers. Gunfire however greets him as he walks up the garden path. But all bullets miss. The two men chat. "You're holding me up." Answer, "I'm not budging."
As they mull over the old days, Jason comes to see everything has changed. The house could be shifted to another location. Instead Jason sets fire to his beloved home, rather a sad finish

.

.

.

.

.

Dimitrios
Fairbanks shows us cigarettes, chocolates, and an identity disc, revealing that this story is set in the mountains of Greece during the war. A group is hiding in a cave, hoping the war will soon be at an end. Having made various female conquests, Dimitrios (Dermot Walsh) is out on patrol. We see little of him, the others in the cave establish his character: their leader is Petros (Karel Stepanek), irritated that Dimitrios is a loner, carrying out what plans he wants. Dimitrios boasts of killing many of the enemy, though Nicolis (Alan Wheatley) wonders if the man has ever killed anyone.
His current girl Margo (Ingeborg Wells) watches as Dimitrios descends the mountain in broad daylight, the action of "a madman." For an enemy patrol is right there!
Margo prays for his safety, and he is soon back, in her arms, and they kiss.
But Georgios has also been keeping watch on Dimitrios, and warns his comrades that he believes Dimitrios is a traitor, having seen him with an enemy officer. Margo however claims she witnessed Dimitrios destroy an enemy truck. But Zanos (Robert Brown) confirms Georgios' testimony, and produces evidence to back it up, a letter written in the traitor's own hand explaining how their group can be destroyed. "He doesn't deserve anything except a bullet." Yet Margo still will not accept the facts.
Dimitrios returns with cigarettes, chocolates etc, claiming that he got them from an abandoned truck. Are they gifts from the enemy?
Margo is the one selected to shoot the traitor. She goes out to do the deed. Off camera we hear two shots. She returns, "he was a traitor wasn't he?" His corpse lies on the mountainside.
Uncredited speaking part: Enemy officer

.

.

.

.

.

WELCOME MY WIFE

Fairbanks shows us a lover's knot, telling us that this play about "warm people" is "played to the hilt" by the cast. He's not far out either, this is a good piece of blarney set in the Emerald Isle, County of Cork.
Barney (James Hayter) is a relative newcomer to Ticklemaclorragh, but he's appreciated as a wise man, always able to act as peacemaker. As for example between Martin (Barry Keegan) and his wife Katie. Though Barney's not married himself, his wisdom works the oracle, as he advises them to throw away their dearest possessions (for Katie it's her grandfather clock), and lo the couple are soon back in each other's arms.
But then "the blow fell." It transpires that Barney had once been married, to a regular harridan named Maggie, and she is on her way to the village to rejoin him tonight at six o'clock, if only for reasons of her own respectability. Barney confides in Martin that he'd only married her because "she could darn socks," and when she inherited a fortune, £700 actually, she took off, "well rid of me." Though this is only revealed in confidence, soon of course it's the talk of the village. Folk generally agree that poor Barney is a "goner."
But villagers rally round, so that when She shows up in the village, She discovers a lot about the life her husband is leading. As for Barney, "I can't face her," he admits. Just as well, for in his home what does she find? Ladies' underwear, planted there by Katie! Maggie leaves in utter disgust. As he watches her leave, is that a smile on Barney's face?

Uncredited speaking parts: 1 Lad. 2 Gossip. 3 Female Villager. 4 Mrs Brannigan. 5 Her friend. 6 Carter
Menu

.

.

.

.

.

.

.

.

.

.

A FLIGHT OF BIRDS (1955)

Made in Germany, nearly a fairy tale of gipsy children Mark and Tamara who live in a refugee camp. They find it more a prison and long to be "free" as the birds they see flying in the air.
They 'escape' to the forest and live like the animals sleeping wild. Their innocence is hard to imagine these days, and dialogue such as when she proposes in all sincerity is hard to take. Their wedding ceremony by a stream is mercifully short, yet at the time it was probably merely twee.
To earn a living of sorts, Marks 'borrows' a violin, but the villagers catch them and take them to the baron's castle for sternest judgement.
He proves a kindly old soul, patiently explaining that stealing is wrong. Mark plays the violin and she dances and he is so enchanted that in his loneliness he invites them to stay with him.
"He's in his second childhood," and though he is contented enough the baron's kitchen staff are not. Nor surprisingly are the children, for they miss the open road. even though they like the old man. He promises them that they will inherit his castle when he dies, for his wife and son are sadly dead.
Mark and Tamara fear that the kitchen staff will get them sent back to their camp, so they decide to run away. But what they don't know is that the baron has passed away in his sleep, so this doesn't end quite as you expect, or hope

.

.

.

.

.

A New Life

Dr Braden (Renee Asherson) is the new assistant doctor at a Malayan hospital, run by Dr Lambert (Ron Randell) of the old school.
She has to speak up about his treatment of a pregnant girl Hasina, too many locals, she tells Lambert, are not coming back for treatment because of his harsh diagnoses. He dismisses the "sentimental reassurance" that she is wanting to offer.
Trouble is, he looks down on the native population, and expects unquestioning obedience from his staff. Maybe unwisely, Dr Braden treats Hasina privately, "we're going to be friends."
Lambert thaws ever so slightly when he takes Dr Braden to a lecture in Kuala Lumpar, though it ends up a sightseeing tour and a pleasant meal. But he is less pleased when Hasina is admitted to hospital. This is on the order of an interfering nurse.
He does agree to let Dr Braden continue her treatment. But "if the girl dies...."
Hasina is given renewed confidence to have her baby. It's a difficult labour, and when Hasina's pulse drops, Dr Braden has no choice but to turn to Lambert for advice.
Together, they ensure a successful birth. Of course it had to be
Menu

.

.

.

.

.

THE DUNCE
Made in Germany, and it makes for slightly awkward viewing since some of the cast are not apparently 100% fluent in English. For instance, at one point a character utters the word "kindship."

A bitter seaman named Paul has returned to his native Rotenkirch to clear his name, for he had been suspected of killing his friend Martin, before the war.
Everyone nicknamed him The Dunce. His only friend now is Anna. He wants to find out who killed Martin, and when he does so, "I'll kill him."
Two of his enemies attack him in the street, "someone doesn't seem to like you." Leave Rotenkirch, the police warn Paul, a little unfairly.
Paul must find the killer. He "plays detective" and questions the local chemist, the stationmaster, and the innkeeper's flirty wife. "I've got to find out," he repeats to Anna, but his quest has become far too tedious. Motive for the killing unknown.
But in the best detective tradition, Paul plays a hunch and forces the murderer to confess. At least he doesn't go through with his threat, and so leaves the town happily in Anna's arm

to Menu

.

.

.

.

.

SHIP DAY

The story is introduced by Fairbanks, pointing us to a ship's compass.
Captain Dickson (Clifford Evans) is stopping off his vessel on a small tropical isle to deliver goods and collect their cargo of copra. He's in a hurry to get away because there's a typhoon in the offing- as a side note, it would seem while most of us would want to stay IN harbour, he wants to enjoy his battle with the elements in his ship!
Also in a hurry on board is the irascible owner Hubert Marks (Alexander Gauge), who is taking the rogue of a company doctor to attend to an epidemic. This Dr Macey (Cyril Cusack) is asked, while the ship is in port, to check the condition of the wife of the manager Wayne, who is expecting another baby. Macey is not competent and partial to a drop or two, but Hippocratic enough to promise to help the mother-to-be. It will take a while, he explains to the captain, for the baby's position is upside down.
"I order you aboard," commands Captain Dickson, but Macey must refuse, for he cannot desert his patient. Marks, frustrated at the delay, orders Dickson to leave. The conflict of duties, captain's and doctor's is highlighted briefly in their exchange, the captain perceiving the doctor has priority. When the owner insists they go, slight engine trouble is the excuse for remaining. But a deadline is set and the ship has to depart minus Macey. A baby girl is born and at the very last moment, Macey is taken on board the departing vessel, "nicely judged."
Good idea for a conflict, though for me there wasn't enough made of contrast between sympathy for the doctor and his patient, and those on the ship

.

.

.

.

.

The Murderer
DF promises us a story with "several sudden and surprising twists."
Set in South Germany, hired killer Karl Peters approaches another of his ilk, with a view to business. Karl wants this hired assassin Art Sullivan to kill the husband of the woman he loves. A price of $5,000 is agreed, Karl doesn't know the victim's name, but will tell Art when and where he can be got.
Art thinks that his wife Jenny is unaware of his profession. He takes her to the mountains for a rest and they book into a hotel, room 18. Surprisingly Karl shows up. The victim is in, yes, we can guess, Room 18.
We hear that Jenny's brother Kurt had been murdered by an unknown killer She wants revenge. Karl has informed her that Art did the job. So she 'fixes' Art's car. He sees her drive away with Karl and pursues them. "It's all worked out."
80km/h. 100 km/h. "He's got to hit 100 for ... the bomb to work." But maybe Art is not that stupid. They slow down, the action slows badly too. Karl stops the car. Art does so too, calmly.
"What are you waiting for?" Jenny demandes of Karl. But Art gets in the first shot and shoots Karl. The truth of who really killed Kurt emerges. With the traditional dying breath, now that Jenny is the wiser, Karl shoots her.
Art rushes her to the nearest hospital. She's too ill to warn him of the bomb. Boom.
Concludes DF, "evil brings its own reward"

.

.

.

.

.

Point Of View
DF shows us a rural painting, its value he says, depends on your viewpoint.

In Paris in the spring, Henry Oscar as a salesman, tells us about a painting he has purchased from the old Berthold Gallery.
It had been on exhibiton in the room where attendant Paul (Bobby Howes) was in charge. He loves the unsigned huge painting of a rural scene with a stile and a cottage nestled behind a hill. A visitor to the gallery, Marthe (Barbara Mullen) admires Paul's favourite picture, "I can almost smell the hay and the flowers." They share their pleasure, before she has to dash off. Paul finds he can step into the picture! He is missed, but doesn't dare explain where he has got to.
Next day Marthe comes back, having lost her job, "nobody seems to want me any more." He gets her to admire the picture and cheers her up, and offers to take her inside the painting. She is too scared.
However on the morrow, she accepts Paul's invitation, "more beautiful than you've imagined." She appreciates that she is no longer alone, nor is he. "Let me stay," she begs, when it's time for the gallery to close. So he leaves her there.
On the morrow Paul receives a shock, the gallery has been sold, the paintings packed up. He begs the owner to unpack His Painting, for inside is Marthe trapped. He has to unpack it himself and disappears into the picture to join Marthe, "we can stay"

.

.

.

.

.


Adapted from Hugh Walpole's short story, this is claims Fairbanks about "an average household of an average London suburb." His visual aid is a pipe, symbol of a man's "peace and contentment."

Average means a pretty impressive detached residence where the master Tom Godley (Ian Hunter) is brought his morning cuppa in bed by Gerta the maid, whose conversation centres around the usage of the word beautiful.
Tom is rather peeved as he's spending the nights in the spare room, since Mary his wife (Nora Swinburne) is looking after their grandson in "my own bedroom once." In fact, the whole family are staying here.
Getting up, Tom takes some exercise in their gym (!) where his son-in-law insults him by implying he's a little on the plump side. Then it's breakfast, also a nightmare, in company with the noisy guests of his adolescent children.
Off to work and maybe some peace! He reminisces about happier days when he actually had time to talk to his wife. Plimpton on Sea in 1930 that was- on their honeymoon. There he'd promised her "noone must keep us apart." He realises "it didn't work out that way." He decides "she's got to stop being everyone's mother." So he dashes home to tell his wife, only of course her response is "not now darling, there isn't time."
Finally "the downtrodden husband rebels" and he forces her to relive that honeymoon... now! So it's off to catch the 1045pm to Eastbourne (amazingly a steam train) and they detrain at Plimpton.
In October this resort isn't quite the paradise he remembered from the summer of 1930. "What a time to come," exclaims the hotel porter. Cold is the honeymoon suite. "What a pathetic fool" he calls himself. But their memories at least warm them and they remember beyond the howling wind and peeling wallpaper to the good times. They kiss and get warmed.

Quite a pleasant little parable, quite "average" in fact.

Uncredited speaking parts: Tom's secretary. Young Godley and his bride (though their voices are provided by the stars). Hotel receptionist. Porter. Guest at party. Night hotel porter

.

.

.

.

.

.

.

.

Play A Blue Note
Fairbanks plays once great pianist Rock Rickard, King of the Eighty Eight, on the comeback trail. At the airport young fan Sue recognises the middle aged man, "I used to buy all your records."
Rick has been invited to play at The Paradise Club, thanks to Delta (Gene Anderson), who holds a torch for him.
Sue comes to listen, sitting alone at a table. He joins her and introduces Delta, "is she your girl?" Sue asks naively. Frankly, Rick is too old for either of 'em. "You crazy little dope," Rick tells Sue, as he sees her home, and kisses her. That's the level of the dialogue, "dig that."
Next evening, she shows up, and admits that her mother does not approve. But Rick is her man, and they kiss. "I love you, kid," Rick utters, they plan to run off together.
Such distractions mean that Paradise boss Vito sacks Rick. Delta opens Rick's eyes of how his affair is bound to end, "when there is no money left for rent and food."
That persuades him to wisely play an act and give her the push.
"Haven't you got any heart?" the disappointed Sue cries. But later Rick admits to Delta, "I did her the biggest favour of her whole life, and it broke her heart."

Uncredited speaking part: Jeannie

.

.

.

.

.

.

.

.

.

The Way Home

Returning to England following three years languishing in a Chinese gaol, Rachel Carver (Mary Kerridge), is debriefed by her kindly doctor (John le Mesurier), encouraged to "reset the balance." The story centres on her difficulties in readjusting to her new life.
She is discharged from hospital in the care of her sister Kathy (Honor Blackman) and Kathy's husband Stanley (William Franklyn). They try to assist her in meeting people but she finds it very hard making any decisions. It's like "living in a world of strangers," and after meeting Kathy's friend in a cafe, she panics. During a party, she finds herself friendless, and runs away. Kathy and Stanley search for her, "we've done everything we could."
She is found in a park happily reading a story to two children. She ends up back in hospital. The doctor persuades her that she's actually made the first step towards rehabilitation, for she made a decision, to run away.
"The worst thing about being shut away, is the absence of love," she tells him.
This she finds, finally.
The time confines means a lot of the action is too conflated and the end appears too suddenly.

Uncredited speaking roles: Matron. Two women at the party. A girl in the park

To Menu

.

.

.

.

.

Mister Purley's Confession (1955)
with Roland Culver in the title role.

Actually, as he's always telling people, Mr Purley's job is a bank robber.
We see him leaving the scene of one of his crimes, calmly helping a blind man across the road, before he returns to his suburban home.
After one last job, he promises the wife, he'll have enough to retire. The second act, promises Douglas Fairbanks, has a surprise.

In his retirement Purley joins the golf club, letting members know that he's a bank robber. Noone believes him of course. When he's nominated as treasurer, we can guess what the 'surprise' will be. But Purley has definitely retired.
Then his local bank is robbed, the day after he's made a deposit of his stolen banknotes, and even his wife wonders. The police (a typecast Robert Raglan) hear that a man saying he's a bank robber was in the bank. They prick up their ears and visit Mr P.
But when the crime is finally solved it's clear Purley really has retired. Only his fingerprints happen to have been at the bank, and they match those left at the scene of some other robberies.....

One of the best of the series.

To Menu

.

.

.

.

.

Treasure In Store
DF handles a string of pearls.
Mrs Mintern (Kathleen Harrison) has found a birthday present for her spoiled 17 year old daughter Rene, "she's not ungrateful, not really." The problem is that Mrs Mintern had found this string of pearls in the rubbish bin at the department store where she works as a cleaner. A fellow worker had persuaded her to keep it.
Fred Mintern, who is grumpy with lumbago, notices that his wife is looking worried. No wonder, since the papers are full of a story about Lady Markham, who had lost her string of pearls worth £3,000 in a London store.
Mrs Mintern tells Rene about her "mistake." The next trouble is that Rene has somehow lost the pearls already, well not exactly lost, the string had broken and the pearls had scattered all over the Palace dance floor. A jeweller is restringing them, but has sold them on to a Mrs Truckle. Mrs Mintern dashes to beg her to give them back, but the lady is unwilling to sell. The two women fight and in the struggle the pearls are dropped.
Mrs Mintern picks them up, and returns them to Lady Markham. She offers a reward, but Mrs Mintern declines to accept it. But a surprise is in store, for Sir Charles, husband of Lady Markham, reveals that the stones are only fakes, for he knows his wife had sold the real pearls a time ago, for imitations. He had bought back the original pearls which he hands to his wife, and Mrs Mintern is given the imitations. These are given to Rene so everyone is happy.
Uncredited speaking part: sales assistant

.

.

.

.

.

Beloved Stranger Based on 'Pas de Quatre', this story is set in Switzerland where Claire (Ella Raines) has been dying for the last year. In a sense she died when she learnt of her rare terminal illness. She tells Digby, her husband (Hugh Sinclair) that she hopes he will marry again, perhaps to Laura (Betty McDowall). She bluntly asks Laura if she loves Digby. Laura admits it. Now Claire feels she can fall in love with her doctor (Douglas Fairbanks Jr).
An experimental serum is Claire's last hope. She recovers. But what about all those home truths, uttered whilst everyone thought she was breathing her last?

.

.

.

.

.

Karl Brandt, theatre agent, offers ex-Hollywood star Julia Stahl (Charlotte Thiele) a road tour. She is definitely not impressed. "A few years ago I could have.... " etc etc is her complaint. But her film contract hasn't been renewed, and maybe now, Karl tells her "it's time to join the human race." Finally, she does sign up for the tour, where at least she has star billing.
Peter her estranged ex-husband is getting remarried to Sarah, daughter Maria's university teacher. He's now one of the most successful lawyers in Munich. Julia meets up with them and learns a few home truths. But Maria gets caught up in her mother's career - can she go with mum? Might Peter rejoin her?
Sarah adds a touch of reality to Julia. "This time you'll ruin him - they're dazzled because the great Julia Stahl has finally acknowledged they exist."
In fact noone knows the truth about Julia, except herself. She's no longer a great star. Karl phones to say she's through. Words such as incompetence are used. Her histrionics have finally come home to roost.
Maria however admires her- "I want to be just like you, " she tells Julia naively. This prompts the ageing star to have the courage to act one last role, as she walks out on them all.

An interesting study of the veneer of showbiz. Charlotte Thiele is excellent, though was this the only reason why this ageless parable was filmed in Germany?

.

.

.

.

.

.

.

.

.

One Can't Help Feeling Sorry

DF begins by talking about fingerprints, that play a vital part in this tale. He tells us it was filmed in Bavaria.

Kurt Remo, Public Enemy No 1, is living in an idyllic mountain setting. Miss Carmichael (Lois Maxwell) is the fourteenth American reporter to come to interview him. Locals tell her that "he's not in his right mind."
Remo is virtually a recluse, yet an attraction for tourists, who flock to the village where this legend grew up. "He is extremely unhappy."
When she is introduced to him he offers the incredible statement that, "I am not Kurt Remo." End of interview, unless she wishes to follow this up tomorrow.
He is pleased that she does see him again, at which time he explains that Remo's gangsters had persuaded him to impersonate Remo for a fortnight, for a consideration of $20,000. He is Remo's double. That was five years ago. Now "jailers" guard him, even Lt Shroder of the police is in Remo's pay.
Like all the other reporters before her, Miss Carmichael finds it hard to believe the man, more proof is needed. He offers his fingerprint. However all the other journalists had done this and that had been the last he'd seen of them.
But this journalist finds out that zealous locals are replacing a glass with the man's fingerprint with that of a genuine Remo print. She is wise enough to obtain a second copy of the stand-in's fingerprints, to take to the authorities...

Note: curiously Ron Randell comes on screen to close part one, in the role usually taken by DF

.

.

.

.

.

.

.

.

.

The Ludlow Affair

Typifying "the spirit of bravery," Fairbanks announces while fingering a toy bulldog, is Bulldog Drummond the archetypal British hero, "played in the best tradition" by brylcreamed Robert Beatty.

So the opening scene has to be Bulldog speeding through Town in his flash sports car. A sniper shoots. Missed! Bulldog has answered a call from Harriet Ludlow (Greta Gynt) but is warned "steer out of affairs that are none of your business." Well, he is never going to yield to that, even when he is informed that Felix, Harriet's husband, has been kidnapped. His ransom- the secret antibiotic formula that he had been working on with colleague Richard Benning (William Franklyn). "You mustn't let them have the formula." Of course not!
This valuable formula is kept locked in the safe and only Felix has the key. At dead of night, someone cracks it. Actually the 'thief' is Bulldog himself, and he intends to move the formula to a safer location.
In an Irish accent, he phones Mrs Ludlow demanding a £100 reward. Kelly (Michael Ripper), Drummond's batman, hands Harriet an empty envelope, after which she is tailed to Kinsella's Club.
She reports to Drummond that the formula has now been returned, even though it's still in Drummond's possession. Puzzled eh?
Douglas Fairbanks promises us his usual "surprise in the second act."
This starts as we see Drummond travelling to Kinsella's home where he is jolly lucky to overhear Kinsella complaining, "I ought to have my head examined doing business with a woman." He has been promised the formula by the scheming wife, in return for bumping her husband off. No wonder the Great Gynt was cast in the wife's role! Bulldog breaks in. He discovers Felix all trussed up. After he is released, Bulldog comes face to face with the boss of the whole outfit. Exposed at last! But Bulldog is facing the barrel of a gun, about to be shot. Of course he turns the tables and finally the police inspector (John le Mesurier) strolls in, "hello inspector, took you long enough to get here!"

This story has a certain style, and a dashing pace, without ever quite rising about the average.
Uncredited speaking extra: Estate agent

.

.

.

.

.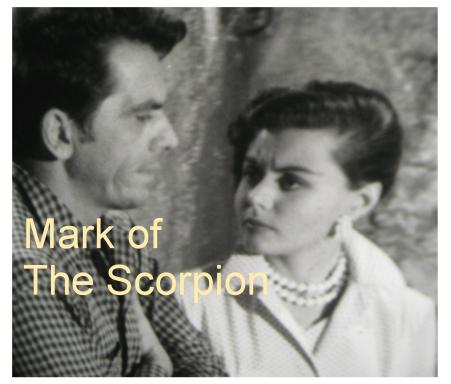 Mark of the Scorpion
A tired story that starts with an assassin shooting Demetrios in Tangiers. The gunman is seen to be wearing a scorpion tattooed on his wrist, so to provide a fall guy, the baddies find a dupe and give him an identical tattoo.
The guy they choose is an American sailor Joey (Ron Randell) who is enjoying himself in a bar, chatting up a girl Louisa (Eunice Gayson). He is given a doped drink and as soon as he passes out, two men carry him away, advising Louisa, "better not to have seen things."
Kessamer is a tattoo artist who he makes the mark of the scorpion on to the unconscious Joey's wrist. When Joey comes round, he finds a wad of notes in his wallet, and the tattoo. That frightens everyone off when they see it, noone will talk, even when he returns to the bar where it had all started. Smashing up the place solves nothing, Louisa, with a little bribery, hurries him away.
Petros (John Bailey) is on Joey's track now. Joey tries to get the scorpion removed by Madame Blanchard, a tattoist and clairvoyant, but like the others she refuses to help or say anything.
But Joey does find the man who did the tattoo, Kessamer, and there's a fierce fight, ending with Joey the victor. Petros who has been tailing Joey shoots a fleeing Kessamer and thus the story mysteriously concludes.
(from a 16mm film print)

.

.

.

.

.

Together
An exceptionally slight storyline. Filmed in Rome.
Saturday midday, the weekend begins. A seventeen year old girl sees her family off at Central Station, leaving her alone. Her loneliness is heightened by the clever use of film of her standing in a vast emptiness, but in the distant background crowds are hurrying about their business.
To the Spanish Steps she walks, "a meeting place for lovers." Tommy Naylor, a twenty year old student happens to be there too, out of cash. They brush past each other before he returns to his lonely room. He tries to date a girl by phone, without any luck. In her home, the girl answers the phone, hopefully. Wrong number.
He goes to a cafe and chats up the cashier, unsuccessfully. They bump into each other again here, but that's all.
A tourist guide provides him with some conversation, "you want to meet some nice girls?" Her conversation is with a elderly English speaking tourist, they hit it off briefly.
He sees his student acquaintances, but they are busy right now. He wanders round the city enabling us to see the sights. So does she, and it is among some ruins that he sees her a third time, crying. She runs off.
But he tells her he's lonely and that strikes a chord. They agree to "go some place together." that's cue for more Rome pictures. It's half a study of romance, half a wistful portrait of isolation, mostly beautifully shot but also mostly a mere time filler.
At the end, DF reminds us there'll be another story next week, even though this was the last ever tale.
(from a 16mm film print)