Note: Des Martins' site also lists 38 Pinto's Pancake Heaven which is the same as #24
Reviews of the only stories I have seen:
17 Romance of Bullwinkle
24 Operation Hot Cakes

.

.

.

.

.

Romance of Bullwinkle

"Knock-kneed baboon" Bullwinkle rams Annie's boat, but, unusually, apologises, "it doesn't sound like him."
With a tie, a clean shirt, and a bouquet of flowers, not to mention the cologne he's wearing, it must be love. "Historical," laughs Annie.
Lydia (Charmion King) is "just the greatest." But Annie spots she's a phoney, she's a smuggler working in cahoots with her 'brother' George. Bullwinkle proudly gives her a tour of his vessel, "putty in her hands." He makes several attempts at proposing, but is interrupted on each occasion.
George and Lydia are using Bullwinkle's Salamander to transport stolen goods. Annie decides to help Bullwinkle and "excavate him from trouble," by cutting the towline the Salamander is using to pull a raft containuing the stolen property. But as they are rumbled, Annie and Bullwinkle face "a load of cement round their necks," before Annie's neat trick exploits their Achilles heel. The punchline is Annie's to the ex-lover, "next time you start out with a flame, be sure you don't end up with a hot cargo!"
Things are back to normal. Annie and Bullwinkle are again the best of enemies. He rams her boat, and this time there is no apology

.

.

.

.

.

.

Pinto's Pancake Heaven
The balance sheets are being inspected, cue stalling tactics by the cook. This results in his being fired. So Annie finds him a new job, "something's bound to turn up."
Fogerty runs a beanery, and is in financial trouble, so offers Annie & co a 'gold mine' for a mere $175. "It's a deal."
Pinto's Hotcake Heaven is set up to trade, but the expected rush fails to materialise. The only caller is a man who is owed cash, payment for the ice box, as well as pretty well every other piece of equipment. Next visitor is a sceptical Bullwinkle, though Annie tries to convince him that they are on to a winner, only the lack of customers is offputting. Annie sneaks to the soup kitchen to create a surge in demand- free meals. That persuades Bullwinkle to buy a part share in the business. But he quickly realises he has been done.
At last one real customer, who is made very welcome. But the food he wants, where is it? It is fetched from the boat, but the customer gets tired of the long wait.
Another payment is due, Bullwinkle gets duffed up, "this restaurant business isn't for me." They give Fogerty a piece of their mind. Annie attempts to make him believe that business is booming. She does the same trick and fills the cafe, a selling price of $190 is agreed.
The cook gets his job back, and even gets a raise

.

.

.

.

.

.




To Drama

.

.

.

.

.

.

.

The Adventures of the Seahawk (1958)


The star was John Howard, commander of a floating electronics lab, that sailed the Caribbean. Also starring was John Lee. One of the main directors was Pennington Richards who directed stories about his first love, sailing. The series was an independent production by Eugene Solow and Brewster Morgan and was only shown in Britain in a few ITV regions.
Thanks to Classic TV archive's informative site for a lot of this information.
In view of the personnel involved I think that this is deemed to be a UK production, though filming was done at Film Studios, Bermuda.
26 stories were made and were still being advertised in the 1990's for tv syndication. Perhaps they still are?

Review of #15 Fiery Opal
"The hottest show on the island" delays the sailing of the Seahawk, or more specifically it's the dance and singing act of Fiery Opal (Jeanne Bal) that distracts our captain. She asks Pliny Hawk to give her young son Jamie a lift to see his estranged dad. "She spells trouble," Pliny is warned, and so it proves as Pliny is left with "hot potato" Jamie, before Opal oddly snatches him back. They flee to San Leandro island, under quarantine from yellow fever. Pliny braves all in a chase across the interior, where he discovers mother and father bickering over the boy. Dad collapses with the fever, and maybe this brings about a happy ending- as if you really wanted to know

.

.

.

.

.

.

.

.

.

.

.

.

.

Exclusive! Overseas Press Club
"I'm the President of the Overseas Press Club of America, and this building is our headquarters, the gathering place of the top foreign correspondents of our time, who cover every corner of the globe in their search to bring the truth to you. From their personal files, we tell the stories behind the headlines. What you are about to see really happened and the people portrayed really lived." According to TV Times, the series of 13 did so well in USA that 26 further films were planned. The 13 films were completed by March 1957, at which time the trade press confirmed, "thirteen completed- twenty six to go." So what happened? The 13 were first screened in Britain in from June to September 1957. They have been released on dvd:

1 The Man Who Changed Faces
2 The General's War with Scotland
3 The Monk of Chimay
4 Father Tiger
5 My Favourite Kidnapper
6 The Billion Franc Mystery
7 Santa in a Jeep
8 The Millionth Frenchman
9 The George Polk Story
10 The Littlest Sergeant
11 The Unknown Man
12 Tatiana
13 Two Against the Kremlin
Anthology Menu

.

.

.

.

.

.

.

.

.

The Man Who Changed Faces

Bob Considine revisits a town by a Norwegian fjord, which had been terrorised by the evil Major Otto Hoffmann during ze war. His methods had been medieval. The underground had captured him.
Lars (Kieron Moore) happened to be be a close double of the major. To make the likeness passable, he has to undergo plastic surgery, to learn the inflections of Hoffmann's language, copy his handwriting, and of course his personal details.
Considine is here now to learn from the locals how Lars had got on. Inevitably there had been a few blips. At Cafe Svenson, he had to lay down ze law to the locals, "some of you vill vish you had never been born." The line is a bit over ze top. He has to arrest his ex girl friend Gerta (Martine Alexis) and Sven the cafe owner (Andre Morell), he's the only person who knows Lars identity. The arrest is so the Nazi plans can be passed to him. Lars, to keep up the pretence, has to show no mercy in return.
A scheme to kill the major is nearly successful. "Murderer," screams Gerta at the supposed enemy who has been caught again. He must get away, he tells Sven, and the pair hold an interesting frank to frank talk.
Released, the major could destroy a Nazi U boat. With Sven's connivance, Lars is allowed to knock Sven out. But his following action is at a high price

.

.

.

.

.

.

.

.

.

.

.

.

The General's War With Scotland
The title must be put down to journalistic licence, and the theme is something of a variation on the Gladys Aylward story.
Journalist Maurice Dekobra relates the true story of missionary Miss MacPherson (Dorothy Alison) who works with Rev Ingram (John Laurie) and Fraser (Ewan Roberts) in the mission at Sangchow.
Evil Chinese warlord General Yin Chang (Eric Pohlman), "The Ruthless One" attacks the town and demands surrender, as well as money. The mayor, a cross between Alec Guiness and Kenneth Williams, acts as go-between, and surrenders. The town is looted and the riches of the mission attracts Chang's attention. But Miss MacPherson, who has already refused to leave, stands up to the bully, which throws him into a savage rage.
He summons "the foreign she devil" into his presence. We are not shown this interview, but it is effectively done, watching Ingram speculating on her fate. Amazingly she returns, "I'm all right." She fills in the gaps.
A second meeting we do see. Yin appears to have become quite an admirer, "her audacity interests me." But he is angry when she brings no money with her. "Are you married?" is his question.
Under her calming influence, he agrees not to destroy her mission, and again she departs unharmed. But to save face, Chang kidnaps ten mission children.
That hastens a third confrontation. Miss MacPherson does what a woman has to do, though she doesn't put it like that.
The tale moves on five years. Now governor of a model province, Yin Chang has discovered "brotherly love." Of course it's down to the influence of the missionary
Overseas Press Club Menu

.

.

.

.

.

.

.

.

.

The Monk of Chimay

Frank Riley relates his search for Captain Rene Fonck, once an ace air fighter in WW1, who, holding a high rank in the air ministry in WW2 had disappeared in 1944.
In a village inn, Frank meets James Cross, a British pilot who had been shot down. He tells Riley how he had parachuted straight into a monastery and had been hidden by the monks when the Nazis searched for him. All the monks had been lined up and interrogated, the enemy failing to spot that the injured James had been disguised as a monk too.
To return him to allied lines, Brother Joachim bravely takes James by motorcycle back to his base. But the bike conks out and the pair shelter in an inn where Nazis are revelling. Brother Joachim is recognised and the two have to flee with help from the innkeeper who is killed. "Let us pray." They finally reach their destination.
Back to the present. Riley learns who Fonck is. He persuades him that his country needs him....

.

.

.

.

.

.

.

.

.

Father Tiger
Naples hides some of the worst slums in Europe where sad abandoned kids are a social menace. This is a true story though you cannot but feel the influence of those American Dead End Kids, and some of those scenes, such as them shivering in the cold, are unconvincing. The gang are led by the bullying Mario, surely in his twenties, and include Thomaso, played by Richard O'Sullivan complete with Italian accent and a grubby face.
Father Pietro Maggiore (Peter Arne) explains how he rescued "the little rascals" to reporter Frederic Sondern Jr. He'd infiltrated the gang and was nicknamed Tiger, as he fights so fiercely.
He persuades tiny Tony to help him in his staged racket. The young lad smashes a dress shop window (it belongs to the priest's uncle) and then Tiger is paid to repair the broken glass. A put up job, but it wins Tony's friendship.
Father Tiger finds the derelict church of Santa Maria for them to live in. His first inmate would have been Tony, but he had contracted pneumonia and dies. However the gang help him clean the place up, but only after they have nearly lynched him when they learn "I am a priest." Mario refuses, but the others follow Thomaso's example and make the building habitable.
No school will educate them. But a girl, Gina, whom Father Tiger had saved from Mario's clutches, turns out to be the daughter of a teacher. He cannot but help and Thomaso becomes the first pupil. Though he is teased at first, he paves the route for many to become "useful citizens."
Even Mario is assisting now, he's a priest! Highly improbable, only it's all true! "Children will always warm to open arms and open hearts," he remarks. "High pulpits are not the only ones. There is another pulpit, the sidewalk."
Note- At an advance showing of the film Father Mario Borelli himself was guest of honour
Overseas Press Club Menu

.

.

.

.

.

.

.

.

.

My Favourite Kidnapper

In April 1945 American POW officer David Hamilton (Ron Randell) escapes and hides in a Munich house that is actually Eva Braun's. Journalist and soldier Pierre Huss (Bill Nagy) finds him sleeping in Hitler's bed! Hamilton explains how he got here.

It proves to be a peculiarly exciting story, yet somehow very dull, with limited action. Hamilton had been hiding in the cellar of Alex Richter (Robert Brown) and his sister Anna (Iris Russell), both anti-Hitler. Hamilton agrees to help try and end the war, at least in Bavaria. But it's at some cost, for Gestapo officers come to the house, and Anna is shot dead.
The German underground plan to seize control of the broadcasting station. Hamilton's job is to persuade the elderly German General von Epp, that resistance, as they say, is futile and that it is wisest to "stop unnecessary killing." Not easily convinced, the General does consent to make a statement on radio. "Turn the Nazis out," is to be the gist of his message.
However, the wily general uses his opportunity of denouncing any such idea of surrender, putting Hamilton in a very difficult position. "We almost had the old goat."
Hamilton only gets away safely thanks to the sacrifice of Alex

.

.

.

.

.

.

.

.

.

.

.

.

.

.

.

.

.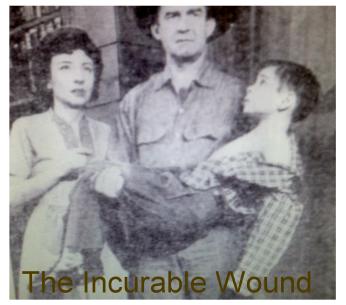 Rendezvous
0 Fast Buck (US made)
9 The Funmaster (US)
10 Alone (US)
37 Markheim (UK made)

Executive producer Edwin Knopf, a veteran movie man, was in charge of his first tv series, made by the Rapallo Pictures company. The series was jointly financed and distributed by CBS in America and A-R in Britain.
The host of the series, Charles Drake, also made the commercials for the American sponsor Rheingold- these were made at MGM Studios, the set consisting of a study, leading out on to a sunny patio.
In a report published on the first day of 1959, it was stated that 12 of the series had already been completed in USA, and it does appear that 13 were eventually made in America. The remaining 27, the report states, were to be filmed at Elstree, though it was claimed a few had been made in Germany.
Altogether, it appears 41 stories were made, this possibly includes two pilots to explain why the usual total of 39 was exceeded, though possibly a few of the American made stories were not made originally for this series. Today Rendezvous is an extraodinarily elusive series, though a few stories have thankfully surfaced.

Shooting in Britain commenced on Dec 1st 1958 and by the end of that year, 4 British stories had already been completed including Blind Landing, and Murder in Berkeley Square (this last shot during Christmas week). In production at this period was Markheim, a reporter noting the shooting of an elaborate Mardi Gras scene. Stray Cat starring Gladys Cooper was one story shot in January 1959, she shared top billing with a leopard! This was hired from the Farrar Zoo in Southport. At the start of February that year, the shooting of Two Per Cent Inspiration was completed, this starred Ian Bannen. Then followed Next Time We'll See Venice.

To the Anthology Menu

.

.

.

.

.

.

.

.

.

Fast Buck (unsold pilot)
Script: Jack Finny.
It seems the price of houses was an issue even back then in the 1950s, for Sam (Cliff Robertson) and his wife Nelly have been unable to find a house for the money they have saved, $2,500.
After an exhausting but fruitless day's quest for a house in their price bracket, Sam suggests they leave their young son Billy with her mother and take a trip to the mountains. "How's that sound?" A little fun for a change. However it's clear that Sam has his eyes set on Reno, and overlooking beautiful mountain scenery, he urges her to try their luck gambling at craps to win enough to purchase their home. "One throw."
Beguiled by the bright lights, they enter the Riverside Casino, "we could lose." But they agree to risk their $2,500, "it's so easy to lose... easy to win too."
Firstly, Sam places a mere $1 bet, a win spurs him to try again. He plays a hunch, and loses. His turn to shoot, she however loses her nerve and grabs back some of the dollars placed before he throws. They win, so could have won more.
They have a thousand winnings, "one more win and the house is ours." But he loses, and the winnings have taken themselves wings and gone. "Let's quit now," urges Nell. At least their savings are intact.
But the fever has gripped him, though he looks very calm. "If we win this time...." The evils of betting are well conveyed. "Nothing else to do," as another 500 dollar bill is frittered away. They are spent. All except his last five dollars. He backs eleven, and he's on a streak.
Sorry, this story is actually a lesson on the wonders of winning. They have won their stake back. See you again, the cashier says. But the couple have learned their lesson
Rendezvous Menu

.

.

.

.

Alone
(US made. Script: Loring Mandell. Director: Robert Stevens)

A curious opening, a man emerges from his car to romantic sounding music and holds up a garage, shoots the owner and drives off.
Scene 2 is equally odd, Jack and his flighty wife Cynthia (Laraine Day) are drinking heavily in a bar, it's not immediately apparent of the relationship between this and the foregoing. She makes for their country home on "the island," news of the ex-con killing two cops not on her radar. But the plot is now clear, even though she thinks, "no criminal's going to waste his time bothering me."
Police warn her to lock herself in her home. It's a familiar storyline, the vulnerable female in an isolated villa, yet the tension is well built up. The old door handle turns, panic sets in, phone someone, oh no, the line's dead!
She pretends she is not alone by talking to imaginary family members. She talks to herself too, imagining all sorts of fearsome things. Then the phone rings, it's Jack. She sighs with relief.
Then after the reprieve, she realises that the killer is in her house. But it's not what you might expect. He merely wants coffee, and his wound dressed, "I'm no butcher," he tells her as she quivers in fear.
She panics, runs away, he chases, crashing through a glass door. When Jack shows up, she is actually helping him, though it's too late to do anything

.

.

.

.

.

.

.

.

.

.

The Funmaster
(US made)
Now the fairground is silent, closed for the season, only Bob and Jenny on this snowy day chasing each other, perhaps for a kiss or two. into the Funhouse they run, The Tilted Room, all free fun, but then a trapdoor falls open and into a basement they topple, there to be greeted by Charlie The Funmaster (Keenan Wynn).
He's a bitter old man, because he's been sacked after getting injured.A clown for the past eighteen years, now out of work, "let us out of here mister." Bob and Jenny back away but where to? They are his prisoners, wrapped up in his self despair, "you're not getting out." He lunges his fireworks at them and they attempt escape via a magic tunnel, futile, for in the props room they are cornered, locked in.
While Charlie relives his past glories full of applause, they scream to be let out. Hope gone, they settle down in the cold to discuss things like what life is all about. All rather sombre, reflecting the pair's different views of the old man, and all on the slightly wooden acting level.
"You can go now," the clown bursts in. Why is hardly apparent. But as the two gratefully quit the park, the owner catches them trespassing, and they warn him about the mad clown inside. The clown is chased round the park, use being made of the props to create potentially frightening moments. But the motivation for all this energy on the part of the owner isn't really clear, while Charlie goes beserk, Bob and Jenny trying to calm him. Bob's honesty wins the clown round as the old chap accepts the post of nightwatchman here. "Everything's all right," except for the script, and some of the acting, in this very artificial story that isn't quite pathetic nor quite frightening

.

.

.

.

.

.

.

.

Markheim
John Burden has a nightmare, reliving Robert Louis Stevenson's Markheim story- the plot follows this short story except for the setting, and the day.
At the Mardi Gras, Markheim is dining with Carla (Kay Callard) and Larry (Ferdy Mayne). He's obsessed with her, but as he's at "the bitter end" of his fortune, wants Larry to lend him some money. Larry refuses but agrees to bet 1,000 on whether a man or woman is next to enter the premises. Markheim wins. Double stakes... and another win. Carla eggs him on to bet it all. He loses.
He makes for the pawnshop of Jacques Duclos. "I need some money," is his simple request. He needs 10,000 for is forthcoming wedding. He can offer no collateral.
"Ridiculous," replies Duclos, who is stabbed to death. Somewhere in the shop is his extensive fortune, but where? Vainly, Markheim conducts an extensive search. He is interrupted by a stranger.
"Who are you?" The stranger states a more appropriate question would be "what?" The stranger indicates a wall safe. Markheim opens it. "Help yourself."
Markheim needs to know why he is being helped. This stranger knows all about Markheim. Now the pair of them are "partners." But Markheim refuses. Perhaps he realises this is the old story of the compact with the devil, done very simply yet effectively.
Markheim is trapped in the shop. Duclos' niece will be returning. She'll call the police! But the stranger will show Markheim how to escape.
All he has to do is silence the girl. "Do what you must."
Markheim cannot kill a second time. He awaits his arrest.
He awakes. Carla is next for the stranger's attentions. A nice finishing twist reveals the identity of this stranger
Rendezvous Menu

.

.

.

.

.

.

.

.

.

.

.

.

.

.

.

.

One Step Beyond
Introduced by John Newland. The independent American producing group also included Collier Young (producer), Larry Marcus (executive writer), and Merwin Gerard (creator).
The British made stories were filmed at Elstree commencing July 1960:
To Anthology Menu

These below in this series, all hosted by John Newland, were American made-
1- "The Bride Possessed"- Newlyweds Matt and Sally are on honeymoon when at Eagle Point she suddenly takes off, apparently taken over by Karen, who had committed suicide at the spot. She however claims she has been murdered and when the murder weapon turns up where she says it is, it's time to call the police and a confession of murder. Sally returns to normal and there'll be a happy honeymoon after all
2 "Night of April 14th" - The Titanic story, starring Patrick MacNee as Eric engaged to Grace, who has an "old fashioned" nightmare, feeling she is drowning. Others share her premonition, and we know they are right, though we can't be sure of Grace and Eric's fate as we watch the Titanic crash into that iceberg. John Newland ends by showing us an 1898 novel called Futility that uncannily foreshadowed the event
3 "Emergency Only" - At Jim and Betty's cocktail party, Ellen predicts that Arthur Douglas will travel on train compartment B102 with a woman who has a knife.... Though Arthur is sceptical, despite his best efforts, maybe because of them, he finds himself on that train, in that compartment, with that woman. In fear he pulls the emergency communication cord. "If you hadn't pulled that cord..." It is revealed how that vision amazingly actually saved lives
4 "The Dark Room" - Rita rents a French house and for her assignment photogrpahs a typical Frenchman in this home. But where is he? This very slight story reveals his image is somehow not captured on her pictures, "it can't be." For that man had killed his wife years before in that very house
5 "Twelve Hours to Live" - After a row, Will storms out of the house and crashes his car, to be trapped underneath it in a bog. His wife Carol is telepathic and knows "he's had an accident." But the police ain't convinced, until she guides a cop to the spot on Route 55
6 "Epilogue"- "That cannot be," but yet it is! Carl, an alcoholic, returns cured to his family as in Days of Wine. His wife really can't take it, as in Days of Wine and Roses. But when their son Stevie gets trapped in an old mine with her, her voice seems to call him there to rescue Stevie. Not obviously Any Step Beyond
7 "The Dream" - 1940, "bottom of the barrel" Home Guard men keep watch with lots of 'bloomins' and 'ruddys' as this is the American conception of British speech. Old Herbert (Reginald Owen) is awoken from a dream to stop of boat load of 5 Germans and their officer. The dream was about a bomb landing on his house, and Ethel his wife. Back home later, he finds his bombed out home, no sign of Ethel, but she had been warned by Herbert in a dream and escaped death
8 "Premonition" - In 1901 eleven year old Lisa imagines a chandelier will crash down on her. This reluctant ballerina is scared of the object ever after. In 1911 her father gets Ed (Percy Helton) to check it's really safe. "It would take an earthquake to move it." Though her vision is still "so vivid" her fiance George persuades her to bravely dance under the beastly thing... and all is well! On to 1947, Lisa is celebrating with her granddaughter also named Lisa...
9 "The Dead Part of The House" - With her father Paul, Anne comes to stay with her Aunt Minna, after her mother is killed in a car crash. Anne can't understand her dad: "sometimes I wish daddy and I could get divorced." In the nursery Anne hears the voices of her three dolls Jennifer, Rose and Mary, but also three girls who used to live in the mansion and who died there after a gas leak
10 "The Vision" - In 1915, four French soldiers are accused of cowardice after running away from a dazzling light. Their lawyer learns Germans had seen the same sight
11 "The Devil's Laughter" - Convicted murderer John (Alfred Ryder) is being hanged, but the rope snaps. "It's never happened before." When a second attempt fails, John believes himself invincible, The Man Who Could Not be Hanged. He has a vision that he will meet his "remarkable" death by a lion
12 "The Return of Mitchell Campion" - Intriguing account of Mitchell Campion on his first visit to a Mediterranean island. However locals recognise him claiming he has been there before. It's nonsense, he is sure, until he encounters someone he vaguely recalls, Francesca. But he couldn't have been there before, his passport would have indicated that much. Besides, he was lying in an American hospital after a car crash. Yet, here's a photo of him on his previous trip. There's "no logical answer," except maybe that Mitchell had been officially dead for four minutes
13 "The Navigator" - "Everybody knows about the captain, he's old." Never quite The Caine Mutiny, it's a mystery who changed the ship's course? The irascible captain, at loggerheads with company investigator Blake, roots out a mysterious stowaway who leads the ship thru Titanic-like icy studio waters to castaways
14 "The Secret" - Not Who is Sylvia?- but Where is Sylvia? On her birthday, Sylvia uses her ouija board to contact Jeremy, and she senses his presence even though noone else can see him. He becomes so real to her that her husband is sure she's ill. But she blames him for "stopping her living." Mad, she is taken away by a doctor, but is the doctor really Jeremy? And where is Sylvia now? Vanished from the earth, claims John Newland
15 "The Aerialist" - Trapeze act The Flying Patruzzios' death defying act ends in disaster for Papa Gino, paralysed, "better if he'd died, he's like a mummy or something." Did Mario (Michael Connors) drop him because they'd argued? We see Mario crack up, all quite understandable, until he revisits the scene of the accident, jumps off the trapeze, but an invisible hand saves him
16 "The Burning Girl" - "A fire doesn't start from nothing" though in 1921 Alice, with the reputation of a firebrand is attacked and dragged to a lonely barn, only escaping when the place catches fire. A dark sense of evil is well portrayed in her relationship with Aunt Mildred, who demands she be put away. In front of her shrink, her fear seems to bring on a spontaneous combustion, "it just started by itself." John Newland adds a coda, that Alice's strange power disappeared after she got happily married
17 The Haunted U Boat -In Spring 1945 U boat 147 carries a special passenger (Werner Klemperer), "the last hope of the German Reich." But this weird knocking noise unnerves him and he crumbles like the fictitious Queeg in the Caine Mutiny, "will zis pounding never ce-eease? However when he's knocked out, that pounding stops also. After the war, in the scrapped U boat, John Newland supplies a clear explanation
18 "Image of Death" - A rich marquis (Max Adrian) marries Charlotte, four month's after his first wife Janette's mysterious death. What is that stain on the wall where her picture used to hang? An evil conscience troubles the marquis, so Charlotte makes him a nightcap, as he'd once made for Janette, make it quick, he pleads with her. A surprise finish
19 "The Captain's Guest" - For rent: "unfriendly" New England house, "this is what we've been dreaming about," Andy tells his wife Ellen. "I wouldn't fool with it," advises the agent, "don't go to house, not a happy place," advises a local. But they do move in, and Andy starts to take on the character of the previous occupant, a sea captain who'd lost one leg, until fire ravages the mansion destroying the captain's body, or is it Andy's? "Not entirely satisfactory," admits John Newland at the end, and for once I agreed
20 "The Echo"- Did Paul (Ross Martin) murder his wife Julie? A jury acquits him, maybe thanks to his clever lawyer Perry- sorry- Dan. But Paul thinks he sees a gunman shooting him, then this man follows him. He is Julie's brother, "you're here to kill me." In his fear, Paul admits he did kill Julie then shoots her brother. Guilty conscience of course
21 "Front Runner"- Jockey Ronnie Watson, in intensive care, relates how he had nobbled his friend and rival jockey Sam Berry who had bet a fortune on winning his last race. Then Ronnie has his final race, and Sam, aged over sixty, is in the race too and causes Ronnie to swerve and miss his final moment of triumph. But cine film shows that Sam was never in that race
22 "The Riddle"- it's a good title, what IS this about? On an Indian train, an American tourist is annoyed by an old man staring at him. When the old man alights, the American has to chase after him, and collapses. Recovered, he is obsessed with a woman's bust with a slashed face. He gets shot. There's a long explanation which, I admit, lost me, something to do with identical death and birthdays
23 "Delusion" - Harold (Norman Lloyd) has a very rare blood group, but refuses to donate his blood to save a dying girl. "What kind of crumb are you?" He explains that on several occasions when he has donated blood, he has affected the recipients' lives. But finally he is persuaded to help 19 year old Martha (Suzanne Pleshette), who does recover. But then Harold has this premonition she will die a violent death. He saves her from being gassed, but then a handsome young man rescues her from more danger, and Harold's over protecive influence on her life can lead to only one thing, violent death
24 "Ordeal on Locust Street" - Jason is afflicted with a rare ailment of unknown origin. In desperation Margaret his mother turns to Dr Edward Brown, who first helps Jason's sister Anna (Suzanne Lloyd) who has been jilted by Danny after he has met the unseen Jason. After several month's treating Jason, Dr Brown's method is proved a success. The first use of hypnosis
25 "Brainwave" - In 1944 Commander Bill Fielding is injured on his ship, only man who can operate is a busted drunken rating, Harris, who has to remove the shrapnel from Fielding's neck. Harris has to follow detailed radio instructions from the doctor on another ship, Your Life in Their Hands, but when radio contact is lost, is the commander's life also lost?
26 "Doomsday" - In a medieval Seville castle, Jamie is bewitched by a maid and wastes away when his father forbids the liaison, When she is condemned to be burned as a witch, she curses them and each succeeding generation. The modern day earl lies a-dying, so his 28 year old son Will waits for his end within the hour. What could have been dramatic is only frustrating, for you can see the ending coming, just like Will can, only different. However apparently the castle can now be a grand tourist attraction!
27 "Night of The Kill" - Seven year old Davy has been missing in the woods for three days before he's found by his weary parents. But just who is the "giant" friend who had looked after him? It seems to be some sort of creature, "tall as a tree. It's got to be killed." Setting fire to the brushwood should flush it out, though once done, no charred remains are discovered. A truly tall story literally, "we fear what we do not understand," John Newland rounds it off
28 "The Inheritance" - A self centred contessa mysteriously dies when she puts on her valuable diamond necklace. Is it punishment for her treatment of her maid Grace, or her taunting of her lover Michael Barry? The maid inherits everything, and then rather rashly makes up to Michael, but donning the valuable necklace dies the same death. Michael grabs the jewelry to give to a grateful young Nina, "never saw anything so beautiful," or so awful as it chokes her too
29 "The Open Window" - In the Greenwich Village apartment of March, there's a good view of the room opposite, here March overhears a woman on the phone on the verge of a breakdown. He watches as she switches on the gas to kill herself. He dashes to her room, but no sign of her at all. Back in his own apartment a shocked March sees her again! "It couldn't have been a dream twice." A third time, but this time someone else also sees the woman, and she is really there committing suicide, "how did he know?"
30 "Message from Clara" - An English teacher is given a brooch by a grateful adult pupil. Does this cause her to start writing gibberish on the blackboard? Yet it is comprehensible to this foreign student, it's the writing of his wife who died five years back. Later she writes another message, which is translated, "watch out or he'll kill you, just like he did me." There follows an impressive way out scene as he attempts murder. JN tells us this is psychic writing
31 "Forked Lighning" - Alex is in a trance, positive he will die today. The other side of the city, Ellen has a strong premonition of her husband George's death at his bank. Add a crippled child and here's a recipe for sentiment, as Alex tries to buy a last minute life insurance to provide for his daughter. Not possible, so he resorts to bank robbery, and chooses the very bank where George works, it's destiny
32 "The Reunion" - It's 1939. Germans are informed why Hitler has to invade Poland. Five youngsters promise to meet again in a month as soon as the fighting is over. Peter however is jealous of his rival Hans' attention to Helge and stabs him just as his glider is to take off. So how can he still fly so "beautifully"? But his plane disappears. After ze war, Helge insists on going to the reunion, Peter doubtfully joins her. They see a glider in the sky. It descends, in the cockpit a skeleton. "But how?" JN inquires
33 "Dead Ringer" - What's the connection between lady firebug Emily and her twin sister Esther's unaccountable fevers at the time of the arson attacks? JN explains it is Bilocation, "Emily is evil," Esther explains to her husband Bill, since she's started another conflagration at St Anne's School. Esther wills her sister to come to her, with tragic consequences
34 "The Stone Cutter" - Simon Lockhart died Sept 7 1957, this is carved on his headstone, but that's today's date, and he's not dead- yet! Peter Menzies, the "old crank" who cut the stone, insists "you can't stop death with a phone call," and his grim action offers the chance of reconciliation twixt father and his selfish son Stanley. It's gripping, inexorable fate, "how can we stop it?"
35 "Father Image" - Daniel Gardner (Jack Lord) inherits a boarded up old burlesque house from his estranged father, a successful businessman. Outside here, Dan is knocked down by a lorry, but then finds variety is alive and well. He meets dancer Valerie as it seems he is reliving his dad's life. She had been blackmailing him with inevitable results. Later Dan can tell the cops where her body is hidden. JN tells us it's "genetic memory"
36 "Make Me Not A Witch" - A fascinating miracle concerning fourteen year old Emmy who seems able to read her ma's mind, "I'm not making it up." Might Emmy be superstitiously branded as a witch? She tells her secret to a priest who bravely enlists her aid when old fisherman Juan lies paral;ysed, the secret of the whereabouts of two children lost at sea hid in his mind. Simply and well told, with striking camerawork, Emmy attempts to read Juan's mind. But there's one snag, he is thinking in Spanish! "Gracias a Dios"
37 "The Hand" - Lady Macbeth's disease strikes when hot jazz pianist Tommy (Robert Loggia) is jilted . "Dead without" Alma, he stabs her, but then washing his hands, they'll never be clean. A doc tells him "there's nothing wrong with your hand," though Tommy knows there sure is, everything he touches has blood on. So he comes to court, where he just can't place that hand on the Bible...
38 "The Justice Tree"- An escaped condemned prisoner is given refuge in a lonely house. But young Joey is perceptive enough to dislike this man. Very oddly, a dead oak tree where Joey has a tree house, starts sprouting leaves, and with the crook's evil past esposed, this tree becomes an executioner
39 "Earthquake"- The story of Gerald Perkins, lift boy in a San Francisco hotel. The year is 1906, and he foresees the disaster at 5.13, but who will believe him? The story's too slow and indeed predictable
40 "The Forest of the Night"- "A magic game of some sort," Chinese, fascinates Ted, sending him into a trance, making him believe he is a leopard in the jungle. His companions are baffled by his change of behaviour, is it "second childhood?" When he disappears, reports come in of a leopard on the prowl. John Newland reveals that a leopard was later found shot, though Ted is never seen again. "I will undergo change," he quotes, but surely this is One Step Too Far....
41 "Call from Tomorrow" - A promising beginning never quite comes to fruition. Actress Elena Stacey is coming home, "just as though nothing had ever happened." Something did, but what? That's what intrigues us. Some "tragedy," and finally we learn it's the death of her daughter, run over by a truck. "I- I thought I heard a cry," as she imagines her child's choice. As she attempts her stage comeback, that voice saves her life
42 "Who Are You?" - For three weeks Helen has been "more dead than alive," after her twelve year old daughter Alice had drowned. Ten miles away twelve year old Laurie is dying of scarlet fever, but suddenly miraculously recovers, or does she? Now she no longer recognises her mother or father. Instead she runs away to her real daddy, though he's really Alice's dad. "I don't understand," Laurie-Alice cries in a story a soap opera writer couldn't dream up. But she cheers Helen up who then finds she is expecting. That takes Laurie out of her new identity and returns her to her own family. "Purposeful possession," John Newland informs us. Intriguing also
43 "The Day The World Wept" - Abraham Lincoln (Barry Attwater) dreams of his death and his wife Mary has forebodings too. Newland shows us others who had premonitions, an old newspaper editor, a soldier who hears weeping, and church bells ringing even before the assassination
44 "The Lovers" - A "nice story" (says Newland) of a retired Viennese postman who falls for a young maid. But whenever they try to kiss a poltergeist seems to interrupt them
45 "Vanishing Point" - "Where are you?" After another argument a wife disappears "into thin air" inside their Connecticut home. Suspected of Ruth's murder, the husband sees a vision of Agatha trapped in their home a century earlier. She also was never seen again. "The screwiest alibi I ever heard!" admits Lt Barnes. When the husband also disappears Newland asks us "how can that be?"
46 "The Mask" - How come a wounded American flyer in WW2 can suddenly write and speak ancient Egyptian? And how come, after his bandages are removed, does he look like a different man? Out of his African hospital bed he leads an archaeologist to the tomb of an Egyptian prince. Or is it his own tomb?
47 "The Haunting" - In the Alps, Colin (Ronald Howard) fails to help his best man Peter Duncan who has broken his leg in a skiing accident. He leaves him to die in the cold, believing Peter was too "devoted" to Nancy, his bride-to-be. Now it's just before Colin's marriage. Are his old withdrawal symptoms which started when he crashed his Spitfire returning? No, but things start freezing, the wedding bouquet, even the bridesmaid at the wedding. A rather thin storyline, with Peter's poltergeist coming literally between bride and groom. "There will be no honeymoon," announces Newland blandly
48 "The Explorer" - Three men stranded in the Sahara. After ten days, exhausted, a fourth man joins them, Eric, who leads them to an old fort, then a well- but it's dried up. They struggle on like in any good movie. Eric collapses first. As this is OSB, it turns out he was an invalid who never left his US bed
49 "The Clown" - echoes of silent movies and goodness knows what else. A husband punishes his immature young wife (Yvette Mimieux) by cutting off a lock of her hair. Pippo, a mute clown, comforts her but that only makes her enraged husband stab her to death. The murderer is then haunted by the clown and drowns. When Pippo is arrested he is soaking wet, but how come? He'd been inside his caravan pathetically cradling the dead girl. Well, JN did promise us this would be "bizarre"
50 "I Saw You Tomorrow" - Good characterisation in this "accident of time," as house guest Donald witnesses Claire's murder at the hand of her husband Carter Seymour. But he's never met either of them until he's shortly afterwards introduced to the very much alive Claire and her boorish husband
51 "Encounter" - Pilot Bob Rand photos something "like a big cigar" before he crashes his plane. A famous possible UFO sighting, but this story gets sidetracked into the search for the missing plane and even Rand's love life, before he is found a thousand miles away. Yet his plane could never have travelled that far. The UFO theme is explored though the eyes of a sceptic, and I must say neither did I find the evidence offered here convincing
52 "The Peter Hurkos Story" (part 1) - It's Amsterdam in 1944. Nazis pursue a young man who falls 50 feet, but somehow survives. As he recovers, he warns his doctor he is going to be killed, "it just came to me." Soon he's a success on stage as a mind reader. though he worries his powers might fail any moment. The Man with the Radar Eyes uncomfortably exposes a wartime traitor
53 "The Peter Hurkos Story" (part 2) - The Dutchman is "a psychic marvel," submitting to scientific tests to prove his esp powers. Then he agrees to solve a murder case. A sick man has strangled a woman, Peter incredibly able to point the police to Vogel, "is he crazy?" Newland chats to the real Hurkos to conclude this programme
54 "Delia" - Newland informs us this is an "unforgettable" story of instant romance between er ... and ... er
55 "The Visitor" - In driving snow Harry (Warren Beatty) crashes his car. He had just had another row with his wife Ellen (Joan Fontaine). A stranger enters her home, he looks so like her husband, to all intents he is Harry, same life history, their still born baby etc. "Delusion" or not, asks JN, "an accident in time?"
56 "Gypsy" - Four prisoners make the simplest of jailbreaks you're ever likely to see. But one, Gypsy has been shot in the back, and one of his mates hides with him. This brings on morbid philosophy more than psychic, except it seems Gypsy had never made it over the wall, shot dead, "that's quite a story"- it certainly isn't
57 "Contact" - Bill (Ron Randell) is given an old watch for his birthday by his loving wife Mary. But does it make him hear voices, "somebody else thinking inside your head"? A man called Walter is planning to kill a person named Beth by pushing her downstairs. A patient search locates the prevous owner of the watch, too late. There's a fine ending to this story, that seems too good to be true. It was psychometry, JN tells us
58 "The Lonely Room" - Therese I adore you, that's what Henri ought to tell this pretty girl, yet he's shy and gauche, lonely too, so what does he do when he sees someone else date her, especially when that someone looks just like him? He's "a special matchmaker," Newland informs us
59 "House of the Dead" - Lt Harry Frasier, allegedly English but sounding as American as they come, has fallen for a native Hong Kong girl (Laya Raki), but after proposing to her, she disappears. A desperate Harry consults a blind man who tells him to search in the House of the Dead, not a bad guess for there he finds her. Not necessarily much in the way of Steps Beyond, but it's a pleasant romantic tale
60 "Goodbye, Grandpa" - Grandpa adds his homespun philosophy to his two grandchildren, wholly annoying. Departure of said old timer with a stroke, but he never said farewell as he'd promised, but then he does, driving his old train, "they won't believe." No. Very unconvincing, very stagey, very dull.
61 "The Storm" - A brand new painting titled La Tornata is by Pedro, but he died three years back. His old friend Adele and her husband question the painter's aged mother who clearly is hiding something. Juanito, a little child shall lead them to the truth, "a miracle"
62 "Tidalwave" - So many dead in the Chilean earthquakes of 1960. Volcanoes and tidal waves follow. Over in Honolulu evacuation warnings can't be heard by dead retired Commander Powers, and wheelchair bound Margaret North can't get anyone to come and rescue her. Hopelessly lost, Powers asks his way at her house, "come on, let's get out of here." A miracle, the real Mrs North tells John Newland, for two lives were saved
63 "Anniversary of a Murder" - Businessman Gerald Simms has a guilty conscience, not just because he's cheating on his wife. "I can't see," cries his dictaphone at him. A year previously, on a stormy night, he had been driving his car carelessly alongside his lover Fran, when he had knocked a cyclist down. They had concocted alibis and nothing had happened until this anniversary. Simms replaces the dictaphone record, but the new one produces the same playback, "it's all black. I want to go home," the very words of the dying cyclist. Fran hears it too, and is scared. She goes to the police, but Simms has now crashed his car at the very scene of the accident. "Conscience is a potent enemy," John Newland concludes grimly
64 "The Death Waltz" - Lt Eustace Fairchild is in love with "a vain cruel girl," Lillie (Elizabeth Montgomery). This is like David and Bathsheba of old, for she gets her dad to send Eustace on a dangerous mission. He dies. Then she hears his voice, perhaps she is Bewitched? At a dance on March 30th 1869 in New Nexico, several witnesses see her dancing with Eustace before she dramatically collapses and dies
65 "The Return" - A patrol of six advance under incessant gunfire in Korea in 1951. One is stranded, blinded, but how is he able to crawl a mile to rejoin his mates? Their voices guide him, even though they are far too far away to be heard normally
66 "If You See Sally" - All very straightforward to start. Sally Ellis is blamed by her father for the death of her twelve year old brother Paul and in sorrow leaves home. Her mother arranges a reconciliation but on the way home Sally is killed in a road accident. But seven years on, salesman Ray sees her badly injured by the side of the road, but her parents later reveal to him she was dead, but every year returns to the place and is seen by a passing motorist like him. Such an annual occurence authenticates itself, making this one of the most convincing One Step Beyond
67 "Moment of Hate"- Depressing story of a woman who is depressed because she wished her hated business rival dead, and it was so. Hypnotism reveals a childhood trauma in an even more depressing ending
68 "To Know the End" - In wartorn France Emily sees a wounded man (Alex Davion) whose dying words are "Emily, I love you." But the war hasn't started as yet, when she next meets Harry, as though for the first time. As romance blossoms she warns him, "it doesn't turn out all right," for she knows the date and the place he is to die. To prevent the tragedy, she tries crashing their car, but Fate cannot be foiled, and the only question is, how could she know about it all beforehand? John Newland ponders the answer
69 "The Trap" - Florence and Dom are happily married in Chicago, but as he awakes he screams out Edna, whoever she is. He becomes claustrophobic, dehydrated but medically "completely well." But surely "flipping his lid." The last rites are pronounced in this fascinating story, which is amazingly connected with the fact that Dom had, unknowns, a twin brother named Fred, and away in Nevada he is trapped in a mineshaft
70 "The Voice" - In 1902, locals burn down a New England barn, because of the demon there, Roger, a raccoon who speaks seven languages. Echoes of the Salem witch trials, "it's utterly impossible." Says Newland, "the most incredible case of possession"
71 "The Promise" - Karl (William Shatner) is a German POW who agrees to try and defuse a Nazi bomb in war torn Coventry, "if I didn't have to, I wouldn't." Hereby he saves Lois from death and later marries her. After the war ends he continues defusing old bombs, and this pans out into the usual bomb drama, but quite poetic, religious even
72 "Tonight at 12.17" - a pregnant woman believes a plane will crash into her home
73 "Where Are They?" - Two unexplained mysteries. First, in 1922 in Chico, Sacramento Valley, it rains rocks every day, "they are falling from an empty sky!" No attempt at explanation rather spoils it for me. Then in 1917 Charles Elton had demonstrated that old chesnut, a miracle pill that turns water into petrol. However he vanishes without trace
74 "The Legacy of Love"- A woman takes the wrong train and finds herself stranded at Seaside. She keeps on staring at this married man, Norman, she knows him, he her, though they've never met. Ingrid Bergman might have made this a memorable role, as it is Norma Crane makes do. Is this a romance? "This is something else," Norman explains to his naturally sceptical wife, for he is also John, in the eyes of the girl's mother. Deja vu or something is the only explanation. Asks John Newland, "is there a deeper memory in every cell?"
75 "Rendezvous"- Kate keeps receiving proposals, but she can't accept her husband Jim has been "presumed dead" by the navy. Upset, she inadvisedly wanders a park at night where a man scares her, though he's warned off by another man who it transpires must be Jim. The prowler kills another woman and the facts come out about this strange happening
76 "The Executioner" - In the Civil War, Jess is taken prisoner by a Union general, who frames him as a spy. After the usual platitudes, "this is war, people get killed," orders are orders and Jess must be shot. But at his execution Tom, Jess' faithful dead dog, appears to him and gets his revenge. "Loyalty can sometimes be a lot stronger than death"
77 "The Last Round" - Yank Dawson (Charles Bronson) is haunted by an ex-boxer, the Ghost of East End Arena, Paddy. Sanderson, manager of his next opponent, admits to trickery, but then during the actual fight Yank really sees the apparition. Legend has it that all who see it will die. It's September 17th 1944, night of another air raid...
78 "Dead Man's Tale" - Jan and Phil book into a hotel, broke, end of the line, "we'll make out." Maybe a book left behind in their room will help, The Gold Miners' Handbook. That night, Phil writes a "fascinating" tale of prospector Larry Barton who falls out with his brother Robert over a gold strike. But how on earth does Phil know that what he was writing was actually true? He traces the feuding brothers and finds it is so
79 "The Sacred Mushroom" - Unusual, a documentary about an expedition JN joins to a remote Mexican village in search of a mushroom with alleged esp properties. Then an expert administers the drug to JN to test it scientifically, "despite three years on our show, I have very little esp." That's what JN says before taking the drug, what about after?
80 "The Gift" - Set in England but spot two left hand drive American cars, and the accents are true Hollywood British. Gypsy "Ma" tells rich Maud's fortune, but recoils when she has a vision of her son Mario bending over the girl's corpse. "Do you think that's funny?" Maud laughs about it, but not for long after Ma's interference, struggling against fate, causes the storm that ends in death. Newland claimed production of the series moved to England because here was a rich vein of stories, but maybe the defects of this episode convinced him it was a wise choice.
81 "Persons Unknown" - John Newland is in Mexico City to talk to a doctor who back in 1920 had been on the run and had hidden one night in a convent. A policeman who came to arrest him was overcome by some supernatural force. The doctor was charged with murder but was acquitted. Newland wants to know more of this death "by someone or something not seen by the eye"
82 "Night of Decision" - "When will spring ever come?" a crisis in the American War of Independence, General Washington's dispirited troops are short of provisions in the freezing cold, morale is at zero. When an allegedly dead Red Indian renews "the stubbornness to continue against the most impossible obstacles," he furnishes Washington (Robert Douglas) with a vision of a "nation victorious," and also in the future, "a major force for good." But has this prediction come true?
91 "Blood Flower" - Pacifist Professor Gavin Carroll (Larry Gates) is lecturing on political science in a South American dictatorship, when he falls under the spell of a "psychic parasite" transmitted by a plant growing on the university campus. It turns him into dead revolutionary Luis Arturo Fuentes, a man determined to kill the evil Presidente. The prof completes the task before being shot himself. "I don't understand," are his dying words, and John Newland attempts to help him out
94 "Midnight" - Aspiring writer Ralph Terrence encounters a "very beautiful" lady in the London night fog, and falls in love. She meets him every subsequent night at midnight, and persuades him to make money to buy her new dresses. However his conscience revolts at killing and to prevent her seeing him yet again, he prevents Big Ben from ever striking another midnight. A familiar enough theme, but well done, ending as you would expect, except that this is only his novel. No JN to explain this one


Next Step Beyond
Now looking more intellectual in his glasses, an older John Newland returned in 1978 for this colour series, mostly reworkings of earlier stories. 25 stories were made and as quickly forgotten.
2 The Return of Cary Dewitt (A reworking of One Step Beyond #12 The Return of Mitchell Campion) - Cary dies on the operating table, but then revives to "a living death." But miraculously recovered, he is drawn to Tahiti, never been there before, though several people recognise him. Police fingerprints prove he was there, at the very time he was in the operating theater! His girl friend Tiare is dying of a broken heart too. It's teleportation, according to JN. Only average acting spoils the story though the photography is impressive
3 Possessed (reworking of #1 "The Bride Possessed")- Workaholic Paul and his wife Caroline are trying to patch up their marriage on vacation. Suddenly she starts speaking in Spanish and, though she can't drive, drives off in their auto. When the police catch up with her she doesn't recognise Paul saying her name is Maria. This woman had recently been murdered, her husband is awaiting trial for her killing. "It's incredible" but she eludes the cops, finds her husband's cell then proves he did not kill her at all, she shows where she had slipped and fallen to her death. How could Caroline know any of that?
4 The Love Connection (A reworking of #42 Who are You?)- Harriet sits in a dazed state on the verge of death after the drowning of her own daughter Karen in the family swimming pool. Jill is a young gymnast and Olympic hopeful who collapses possibly a blood clot on her brain. So how can she possibly turn for a while into Karen? This becomes too over the top in angst, but "there is no end" to love of course. John Newland explains this "case of reincarnation... a psychic form of such extraordinary power"
6 Dream of Disaster (Reworking of #72 Tonight at 12.17) - At exactly half past one in the afternoon, pregnant Helen keeps dreaming a plane will crash into her home. "You don't believe it's possible to see into the future?" Now she sees it's a Cessner 1720, then the actual number 2670. Her husband Harry works in Air Traffic Control, and when he sees this plane really is in trouble, pilot heart attack, Harry dashes to save his dear wife. This is tense stuff, though there's an unusually stodgy epilogue from JN
14 Cry Baby - Sue is alone in an isolated house as husband Larry is in rehab. He hears a baby crying while back home his wife is being pursued by a weirdo. Surrounded by unpleasant rats and snakes she wanders injured, and the baby's crying guides Larry to her rescue. It's all OTT, but, "you're not going to believe this," it's her unborn child that does the crying
16 Out of Body - DJ Randall Priest is charged with murdering Susan Lambert. His friend claims at his trial that she had told Priest she could not go ahead and marry him. Convicted and awaiting sentence in San Quentin, Priest apparently haunts David and his wife. The ending is excessively dire, unintentionally hilarious it's so bad
21 Sin of Omission (A reworking of #86 The Room Upstairs)- In her new home, Diane can hear a child crying, "it hurts mummy." She even sees the girl, but there's a history of insanity in her family, she's childless, can anything else go wrong? Things improve when her husband Larry (Mark Goddard) meets the child's parents, who tell Larry and Diane about their daughter Judy who had an incurable disease. Much more overdramatic than the earlier version
25 To Fight a Ghost (A reworking of #75 Rendezvous)- Cathy is rather stupidly walking in the park after dark. An ex-student of hers, a dropout, confronts her, taunts her, attacks her. But Cathy's missing husband, presumed dead, defends her, the attacker later identifies him, but if he were dead, how come?
To Anthology Menu

.

.

.

.

.

The Stranger
An earthquake reduces a city to "a graveyard without limit." A city of 50,000 one minute - the next "wallop!" In the rubble, twelve days on, two workmen (Peter Dyneley, Graham Stark) break into an underground vault where they find a man and three children barely alive. Against the odds, they had always believed they were going to be rescued. For an American (Bill Nagy), now dead, had promised them that rescue would come. This dead man cannot be moved, but one workman takes his fingerprints to help identify him later.
The prints belong to Jerome S Cole, a man who had been sentenced to be executed for murder twenty years previously.
The warden at his prison (Patrick McAlliney) relates how Cole had several times successfully appealed for a reprieve, one time agreeing to donate his body to the less fortunate. One potential beneficiary, Emily a 17 year old blind girl, had written to Cole, via her mother, thanking him for his generosity, for, until Cole's reprieve, she had been due to receive his cornea. The letter tears at Cole's elastic conscience for his offer had only been a publicity stunt to save his life, not an act of philanthropy. This letter bugs him so much he even asks the warden if he can give his eye to Emily anyway.
Then we learn that this was not the first time Cole had appeared "as a stranger" to aid those in peril. But how could it be he? For in January 1938, in attempting to break prison, he had fallen from a height and been electrocuted. "Explain it?" concludes Newland, "we couldn't possibly even try.

.

.

.

.

.


One of the most intriguing of this series.
English law is, John Newland tells us, "the essence of all that is solid and substantial and practical." It may have been true in those days.

His story starts in a Welsh coal mining village on a sabbath morn. Libanus Chapel is full, echoing to the sound of Bread of Heaven- what else?- sung of course in Welsh. The preacher's theme is judgement, hellfire and damnation-kind, and as he drones on, the chimes of noon ring out. At least one member of the congregation, Wyndham Roberts (Meredith Edwards) dozes off.
Yet a mile and a half away in a derelict warehouse, he's showing a policeman PC Josh Jones (Clifford Evans) the body of Rosie. "I killed her," the reason blackmail, he'd been having an affair with her. Before Jones can take him in custody, he's vanished.
But Jones sees him emerging from the service, and promptly takes the bewildered Roberts down to the police station. "I was in chapel all the time," Roberts protests. His alibi is confirmed by the congregation that he was in the chapel for the whole meeting. The minister adds that he noticed Roberts even fell asleep during his sermon.
Jones is suspended from duty, and his wife (Barbara Mullen) tries to comfort him, for he is full of self pity. But one thing he won't be shaken from, is his account of the events of that Sunday. But he has to concede that Roberts cannot have left that chapel. Gossip, rather encouraged by Mrs Roberts, hints that Jones might have thrown suspicion on Roberts to deflect it from himself.
Certainly no other suspects to Rosie's murder suggest themselves to the police. Stubbornly Jones states to his superior officer, "I am saying what I heard and saw is the truth." It seems to be an impasse. Officially, Jones has suffered an "unfortunate hallucination."
But there is a development to the case. Roberts announces himself at the police station and leads Jones and his colleagues to the warehouse. Some digging uncovers the murder weapon. Now Roberts is under real suspicion, but he disappears at once.
Police are banging on his door. He's asleep, says Mrs Roberts. He has not been out of the house all day. But, she continues, he had been having "a most frightful dream," then he fell into a deep sleep, "as though a weight had been lifted from his very soul."
John Newland ponders on the role of conscience and suggests this is a case of teleportation (as also in #12). He adds the result of Roberts' trial and concludes with the solemn words of the preacher. Indeed to goodness yes

.

.

.

.

.

The Face
The story starts in Liverpool in 1873, when a little boy has a nightmare. While his mother is full of compassion, Isaiah his father wants to make a Man of the lad. Maybe it's such harsh treatment that leads to what follows.
The dream recurs to this child, Stephen, as he works in his father's shop. He's not his father's favourite, that honour goes to his elder brother Mark.
Now Stephen (Sean Kelly) has reached 20 years of age, and he's a kind of Victorian Angry Young Man, one who knows his fate is writ in the stars, he is positive he is going to be killed one day by the face in his recurring nightmare, with a knife. Mark, by contrast, is running his father's shop and is to marry a girl Stephen had been attracted to himself (Paula Byrne).
Stephen is obsessed with this Face. He persuades a tattoo artist to draw its likeness to Stephen's description, "the mouth cruel...." The finished portrait Stephen takes to the police, but they have bad news, no such person is in their files. "On your way, lad." That leaves Stephen to scour Liverpool for himself. In one rough pub, a gang mock and deface his picture, and down and out, he is press ganged on a ship bound for Montevideo.
On board he comes face to face with that Face, it's that of the captain (Roger Delgado). "Why do you want to kill me?" he blurts out to the bemused captain.
Stephen has no choice, he decides he must kill the captain first. However he blunders just a bit, he kills the wrong man. He is adjudged guilty of murder and sentenced to death. "It wasn't a bit like my dream," he writes, in his dying letter to Mark. But it is going to be, for there's the knife, it is being used to cut the rope from which his body hangs
To One Step Beyond

.

.

.

.

.

86 The Room Upstairs
Will (David Knight) returns to his lovely Georgian house to find a strange man with his new wife Esther (Lois Maxwell).
"I'm a doctor!" is his explanation and apparently it's true. For she is ranting, terrified his first baby will turn out to be insane. Yet the screaming child she can hear and see is real enough. It's in the sewing room upstairs: "don't scream," she cries as the voice is driving her mad.
"Mama help," the voice continues to cry out, but Will's only comfort is to tell Esther, "it's all nonsense," for he hears nothing.
Again the voice calls, "do something please mama." Now Esther sees this girl as well as hears her wailing. Will sees nothing and can only attempt to calm her.
In the light of day, things look better, at least for the moment. "I can't bear this," as the voice sounds again, this time Esther sees a husband and wife arguing. "Who are they?" asks Will, for even he can see them. He believes now.
They question the agent from whom they are renting the property. He can't shed any light, yet the names of the owners are soon discovered, the Morrisons.
"How did you know about Judy?" they ask. The Morrisons are in the house again, this time in the flesh. Again the voice cries out. "It was her voice." Mrs Morrison (Jane Hylton) can explain it all. She recounts the sad story of their daughter who was wasting away. In modern parlance, this was a kind of assisted suicide.
So the Morrisons are put on trial. John Newland sums up their "crime of omission," and more improbably speculates how Esther and Will could have seen and heard the dead girl


To One Step Beyond

.

.

.

.

.

During the war, three soldiers on shore leave from HMS Hood each experience something "utterly beyond the normal."
Or rather two seem to. Johnny Watson (Mark Eden) is going to get married soon to Sheila. But he hears on the radio news the startling story that his ship has been sunk, fifteen hundred men drowned. "That's impossible," cries Sheila when John tells her. They puzzle over the news story, and to allay John's worries, they consult her uncle who happens to work at the BBC. He does check the recording tape ready by Jeremy Smith of the news bulletin Johnny had listened to. He plays it back to them, but there's no mention of HMS Hood. "It was there," is all Johnny can insist.
George (Terry Palmer) has returned to his family, and his anxious mother. His father is busy on night duty. She warns her son not to go to Scapa Flow, she's dreamt of some danger. She dreams she has received a telegram, "your son missing, believed killed. May 24th." George attempts to comfort her.
The third sailor, Robin, is more carefree. He is enjoying a reading of the cards with his friends. Those cards seem to predict a very easy war for him, so that makes everyone happy.
A newspaper on the train back to the ship is seen by Johnny. Headlines read HMS Hood Sunk. When they meet up at the station, he shows it to George, but the headlines now say nothing of the kind!
"Something's going to happen," to his sure knowledge, but when Robin is warned, he's convinced he'll be OK, after that reading of the cards.
But the three sailors do try a fortune teller. Yes, Robin is predicted a life of happiness. Then George reluctantly shows his hand, but before his fortune can be told, the boys have to dash to catch their train.
Robin is suddenly posted to Portsmouth, so only the two of them, with heavy hearts, make for Scapa Flow.
There is a sense of inevitability, as John Newland relates the sinking of their ship in the Denmark Strait on May 24th. Only three survivors. He introduces another who kind of survived, played by actor Robin Hughes, a signalman, "the lucky young man who was ordered away from death"

.

.

.

.

.


In the crowd is no less than our host John Newland himself. A bystander (Robert Raglan) tells Newland that this pathetic figure was once a great legal mind. "He just went to pieces overnight."
In a flashback, we meet barrister Harvey Lawrence, "a rising star" in the legal world, who obtained the conviction of Frank Malone who had murdered his wife, despite her body never having been discovered. On Harvey's brilliant closing speech, Malone had been convicted.
But Harvey knew that a woman claiming to be his wife Sarah (Adrienne Corri) had announced herself in his office before this sensational speech. Her story is that she had disappeared to teach her husband a good lesson. So Harvey had to face a dilemma, should he sacrifice his speech? "If you want to save him, you'll have to testify," he tells Sarah. But that she will not do, so he convinces himself she is a fraud. Even though the woman shows him a sample of her handwriting, which looks very similar to Sarah's. What's more, she says, she knows his pet name for her, it's Ginger.
Harvey's glittering career culminates in his appointment as a judge. He's to be sworn in today, but on this of all days he is painfully reminded of Sarah Malone's appearance to him, and doubts start to haunt him. He mulls over the old case, beside the Thames, the Tower of London in the moody background. Her handwriting seems to follow him round. He recalls that brilliant closing speech in a fine scene as he paces the empty courtroom, "justice must never be thwarted by mere legal cleverness." He attempts to introduce that handwriting evidence into the nightmare trial, but all his ranting cannot alter Frank Malone's fate and we see Harvey keep on repeating those final fateful words, altered to fit his own case, "may the Lord have mercy on my soul." Yes, Pleasence does his usual fine study of a descent into degeneration.
John Newland enters this courtroom, to reflect on this strange story. Evidence of Sarah's handwriting that haunted Harvey seems well documented. As a final coup, Newland quotes from a 1924 newspaper report on Malone's hanging. His final words had been "Goodbye Ginger"

.

.

.

.

.

89 The Avengers
The date is 1943. In a French chateau, once the glory of the French aristocracy, a German general (Andre Morell) is to throw a party in the manner of the last Marquis just prior to the French Revolution. This general the first inhabitant of the place since that date, for it's reputed to be haunted.
The general has orders to send 50 workers to a factory in Silesia, and his idea is to ply his guests with drink at his party, and while they are under the influence, transport them away.
All is ready for the big night. The general and his floosie (Lisa Gastoni) dress in the style of the old aristos.
But like the guests in the parable, the invited fail to appear. Only the local priest. Despite his floosie's protests, the general makes the priest sit down to the feast. She is haunted by the voice of Fleur, the marquis' young daughter. Assuming someone is playing "games" with them the General flies into a rage, and promises that he will shoot the priest if any more "miracles" take place.
A window is smashed. Marianne, to protect the priest, takes the blames for it herself. The general shoots her in cold blood.
The mob masses outside the chateau, echoing the alarming events of the Revolution when the marquis was trampled to death, in protest at his tyranny. And in similar fashion, the general is attacked. He shoots and shoots, but none of the mob are killed, for they are invisible.
It is officially a heart attack. But John Newland adds in his understated way, "every bone in his body was broken."

.

.

.

.

.

90 The Prisoner
1945 Warsaw, a city in ruins. The remains of a palace is being used to house refugees. One is 19 year old Ruth (Catherine Feller), a survivor of the concentration camps, and she will hate for ever. She's not made that welcome by Daniel, a partisan who is proud to have killed 14 Nazis. More sympathetic is the reception nurse, "you break my heart."
In the darkest days of interment, Ruth had only kept herself going with dreams of winning the lottery. She promised herself that she would use the cash to have all those that stood by watching her suffering, shot dead. "You can't hate for ever," the nurse tells her.
So her encounter with a wounded German Wilhelm Essler (the archetypal Anton Diffring) is bound to end in her shooting him. He begs her to send a message to his wife Frieda. "I want to kill him," Ruth tells Daniel, as she steals his gun. She toys with Essler, and then agrees to write the letter to Frieda. The note he dictates reads simply, "I am hidden under the ruins in the Radinsky Palace."
Surprisingly, she does post the letter, But then she returns and produces her gun. He doesn't seem to be aware of it, as he talks on about his family, about his role in the war. Then she fires, but all she shoots is his reflection in a mirror.
A doctor arranges for her to be sent to a hospital, for noone believes she ever saw this Nazi. That is, until Frau Essler turns up, in response to the letter. According to her, her husband had been reported missing at the start of the war.
Was he a figment of her tortured mind? There's no corpse in evidence, but how come he dictated a letter to her? The contents of this letter leads to the discovery by Daniel of the body, which had died six years previously. John Newland concludes by giving the credentials to these events
To One Step Beyond

.

.

.

.

.

The Sorceror

On February 3rd 1915 officer Wilhelm Reitlinger of the 23rd Signals Unit (Christopher Lee) demands Farmer Klaus (Martin Benson) give permission for telegraph poles to be erected across his land. The farmer says he wants to consult his animals before agreeing!
Reitlinger becomes fascinated by the pacifist Klaus and his alleged ability to see the future. "Have nothing to do with that man, he is dangerous," warns the landlord of the local pub.
But Reitlinger wants to ask Klaus more about Klaus' supernatural powers. What Reitlinger wants most of all, is to know his girlfriend really cares for him.
Go to her address, advises Klaus, but how can he go to Berlin 800km away when he is an officer on duty? "You can go," insists Klaus as he seems to push the sceptic through a wall.
In his "dream" Reitlinger sees his girl (Gabrielle Licudi) kissing young soldier Johann. Reitlinger stares at her in silence. It seems she had written to him, giving him the push anyway. She now sees him as comical. His only answer is to shoot her.
Then "like a dream" he finds himself back at the farm. Replies Klaus, "I only helped you."
When in the cold light of day he learns she has indeed been shot, and he then discovers a bullet missing from his gun, he confesses to the crime. But how could he be guilty, as he was 800km from the scene of the crime? A trial finds him not guilty, even though he says he is the killer.
Reitlinger resolves to prove he is not insane. He returns to the farmhouse and shoots Klaus, "this they will believe."
John Newland sums it up, as best he possibly can

.

.

.

.

.

93 The Villa
Their marriage on the rocks, Jim Lowe (Ronald Lewis) and his wife Mary (Elizabeth Sellars) attend the cocktail party of industrialist Richard Hudson (David Horne). His son student doctor Tony (Michael Crawford) has developed a strobe light that affects the brain so you "go off into another world." Says his brother Lionel (Kenneth Cope), "it's unbelievable - it's not like seeing things at all!" Mary Lowe has a go on it to get some "peace of mind."
But what she sees is a terrifying vision of a house with a man trapped in a lift, "knowing they were going to die." Her husband tries to convince her not to believe it. "It was real, it was happening," she insists.
Jim takes her on a buying trip to Milan, but while there, carries on his affair with Stella, a fashion buyer at his work. "We ought to start thinking about a divorce." Mary is aware of the affair.
The remembrance of that prisoner beating on the lift door haunts her, "it's you that's caught in that lift," Jim warns her. He advises she consult a doctor.
Instead, when she spots an advert for the Villa Orlando on the Via Garibaldi for sale, she takes a taxi to that villa. 'Tis just like her nightmare. She has, of course, to enter the empty place, and of course enter the impressive giant lift. Up and up she travels. But nothing untoward happens and she departs.
Her husband follows on, and upstairs he goes.... by the stairs. Then down he comes, using that lift. And you've guessed it, the lift gets stuck. No-one to hear his cries for help.
Mary is still haunted by those cries as John Newland adds his epilogue. She has a breakdown. Jim disappears
To One Step Beyond

.

.

.

.

.

The Tiger
Little Pamela Weldon (Pauline Challenor) has just been to the circus with kind old Miss Murphy the housekeeper (Elspeth March). It had been an exciting visit, with a fierce tiger specially memorable. But now she's back home, a solicitor is introducing Pamela to her new governess, Miss Cartwright (Pamela Brown), who is strict and forbidding. "We don't want to disappoint your father," she warns sternly. He's an important person and not home very often, his wife had died four years ago.
"She's got very scary eyes," Pamela confides to Miss Murphy of Miss Cartwright. And she is definitely very controlling, dismissing Miss Murphy despite protests from Pamela.The punishment room will cure Pamela of such insubordination, "I've dealt with nasty girls before," she says firmly but quietly.
What are those scratch marks on the door, asks Ethel (Patsy Smart) the cleaner next day. No explanation, though Pamela warns Miss Cartwright to stop being so mean.
Next morning the police have to be called in. The house is in a mess, and the cause? Pamela claims she had heard the growl of a tiger. Then Ethel finds a chair that has had the stuffing ripped out of it. It's a monster, she declares, and resigns her job.
Pamela tells Miss Cartwright that this tiger will only stop, if she starts being kind. Apparently she had wished the animal here. Miss Cartwright's response is to lock Pamela in the punishment room again, a dark cellar. But while she is locked in, Miss Cartwright's wardrobe and her room are ransacked, so in a fury the governess attacks the child, who is defended by her tiger.
John Newland announces that the governess' autopsy gave a verdict of heart failure. Pamela's story was not believed, no surprise in that, but Newland cites some other examples of Wish Fulfilment. However this story is very hard to swallow, at least in the way it's presented, though the cast give it their best and almost make it a kind of bargain basement Hammer
To One Step Beyond

.

.

.

.

.

.

.

.

.

'Nightmare'

Temperamental artist Paul Stapleton (Peter Wyngarde) has painted many famous people, but now he keeps painting a girl he's never met. He is supposed to be doing a portrait of his fiancee Jill Barrington (Mary Peach), before their wedding next week. Though she is sitting patiently as his model, he never looks at her, never utters a word as she talks on and on. When she does stop, all he can utter is the single name "Claire." "Who is she?" she asks him at last. But he doesn't know himself who she is. Nor is Paul any more forthcoming with his patron (Ferdy Mayne).
Jill is naturally rather suspicious and calls in Horace, a shrink, to help this tortured soul. But all Paul does is slash his portrait. "He's disturbed," is the very obvious diagnosis. That gargoyle in the background seems a definite sign of evil.
Paul needs a holiday! He drives down to Cornwall with Jill and stops at a picturesque cove in the village of Cadgwith. He knocks on a cottage door, an old lady (Jean Cadell) greets him with "John."
The local doctor (Patrick Holt) explains that this lady is a recluse, having lived alone for 40 years ever since her fiance had died in the first war. She hugs him farewell, then Paul returns to Jill, a changed man. The spell is lifted, and they can happily get married.
"Hard to explain," John Newland concludes. This was a journey for Paul into a life he'd lived before, a case of Reincarnation. Newland cites the famous example of Gabriel Rosetti

.

.

.

.

.


The last story in the series is about Henry Soames (John Meillon) night editor of the Boston Star, who reports on the 1883 Krakatoa eruption, but how did he get this scoop?
In his office, alone, he's felled to the ground by a series of explosions. In a dazed state he writes down a story, and then wires his report to the main editor.
An amazed colleague, Mark (Anton Rodgers) congratulates him, "nobody else got the story... every newspaper in the country'll be carrying it."
"I wrote it?" queries Soames, but his boss (John Phillips) is too busy praising him. But praise soon turns to condemnation as no other paper does carry the story, and questions are asked about Soames' source. Doubters force the story to be killed.
Soames is sacked. Back at his digs, he tells young Danny that he must have made the whole tale up.
Then news comes of the explosions on the other side of the world. Soames is vindicated, for "from a scientific point of view, your report seems absolutely accurate." Now Soames is a hero, "the miracle man of journalism." People start requesting his predictions for the future, but all Soames can see clearly is the parlous state of humanity and its greed and its fear of the future. "The carnival freak" quits his reinstated job. In a bar he receives a more practical demand for his gift, for young Danny has gone missing. Where has he gone? "I don't know," is all the honest Soames can reply, but then Danny returns home anyway.
Many years later, Soames does go back to his old job. "Welcome back," Mark greets him. President McKinley has been assassinated in Buffalo. For a second time, it seems Soames has foreseen the event. To conclude, John Newland asks was he a prophet, freak or ordinary man?
To One Step Beyond

.

.

.

.

.

Errol Flynn Theatre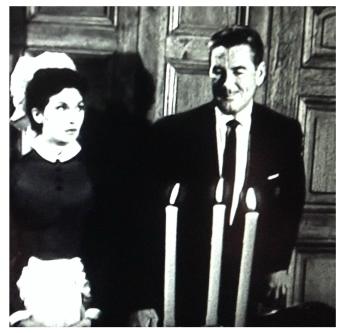 26 films were made in 1956 at Bray Studios. According to a 1956 report, Flynn and his partners invested $1,200,000 in this project. "We aim to make a film in six days," he told reporters. "Sometimes I've taken a little longer, but this is the first series and we're getting better as we go along."
Errol Flynn himself stars in some of the stories (eg Strange Auction, Fortunes of War, The Duel etc) and his wife also stars in several tales (eg Strange Auction, The Model, The Ordeals of Carol Kennedy).
Other minor Hollywood stars also have starring roles, eg June Havoc, Phyllis Kirk, though the behind-the-scenes personnel on the series were British. Some British stars also appear, Christopher Lee notably, but others in more than one story include Peter Reynolds, Glynis Johns and Philip Friend.
The series was launched at a Mayfair party on March 9th 1956 hosted by president of Inter TV Films Ltd Marcel Leduc, along with Norman Williams, managing director of Motley Films.
Anthology Menu . . . To Main TV Menu

.

.

.

.

.

.

.

.

.

The Fortunes of War

Toying with a guillotine, Errol Flynn introduces a story about the Royalists v Republicans struggle in France. He plays Count Henri Dairval, a carefree soldier battling the odds. He is holed out in a farmhouse which is under siege by Republican soldiers. But innumerable guns are firing from inside the farmhouse, thanks to his ingenuity, and it takes an age for the attackers to storm his makeshift citadel. They find him slouched inside the house, eating and drinking nonchalantly, much as you'd expect of Errol Flynn himself. It is hard for the soldiers to grasp that it has been but one man against their might.
He is taken prisoner and kept locked in a small but comfortable room in the chateau of Citizen Hamelin (Christopher Lee). "The inevitable," his execution, is fixed for 8am the next day, but not tonight for Hamelin is getting married.
The Count has friends inside the castle, and Marie the maid (June Rodney) gets the servant Albert to bring clothing so that Henri can join the wedding ball that Hamelin is holding. In gatecrashes Dairval, to Hamelin's consternation, announcing himself. Hamelin's future bride is an old friend of The Count, Helene (Lisa Daniely) and she looks less than enamoured about this arranged marriage, arranged so that her aristocratic parents can avoid the guillotine.
Hamelin is angry that Dairval has turned up at all, and more so because he's wearing Hamelin's clothes. Even more angry does Hamelin become when the Count dances with her, "I never thought I should see you again," she sighs as she kisses him. Yes, they were in love.
Only one thing to do, with Hamelin's deepest ire aroused, a duel. The room is cleared of guests, except Helene, and choose your sword. "You dog, I'm going to kill you." You know who wins, yet Hamelin is "the finest swordsman in France, " and it's only after a desperate fight of 90 seconds, as two giants Errol Flynn and Chris Lee lock swords.

Errol concludes, "they lived happily ever after," even though he adds his note of cynical doubt

.

.

.

.

.

.

.

Strange Auction
Lazing happily outside the studios, Errol introduces this piece of Irish blarney. He seems in very jovial mood. It's very much a family affair for co-starring with Errol is his wife Patrice Wymore, and his son Sean also figures prominently, though he's not too convincing an actor.
Sean is a restless orphan whose mother Laura Bateman one day attends a strange auction. It's "the bargain of the day," announces a hobo, who is auctioning "meself." She "buys this scarecrow and is willing to turn him into a man" by his working for three months on her farm.
Sean does not welcome him at first, but hobo 'Trace' soon teaches him lessons in manners. Together they also chop logs, mend fences and repair the van. "It's nice to have a man about the home," sings Bridget the maid.
"He's done wonders for her too-" Laura that is, and at the end of the contract she asks him to stay on. But the wanderer needs be on his way, but Laura, disappointed as she is, is even more upset when she finds out Sean wants to "hit the road" with Trace. The problem is the script and acting are not convincing enough to reflect the sadness of the situation.
Laura waits and waits, hoping Sean wlll come home. Trace doesn't force the lad to return, though maybe he knows that sleeping under the stars will soon pall for the lad. But Trace does come to realise that Sean has a responsibility for his lonely mother, and at last the pair come back. Sean is reunited with his mother. Trace kisses her too in a happy ending.

.

.

.

.

.

.

.

The Girl in the Blue Jeans
Errol, grinning, tells us that love is a disease- "I'd never have guessed!"
This trite story begins with a girl breaking in to an old house. Upstairs the master stirs. Hearing a suspicious noise, he dons his dressing gown to go downstairs. There he prevents the intruder from escaping with one hefty swipe. "You hit me!"
Realising it's a girl, he fetches something for her bruise. She's called Doris (Glynis Johns), and she's running away from home. She bursts into tears. She recognises him as Steve Ferrier (Herbert Lom), a cinema star and writer.
He forces her to admit that she came to steal the manuscript of his latest play. Now she confesses that she did it for fun, and that her real name is Janet.
"Forgive me, I'm just a little slow," admits Steve, and he's not the only one. Her lies are a trifle overwhelming.
She claims she's one of Steve's fans, and had had a bet with her friend that she could find out the plot of his latest play. He kindly enlightens her- it's about a girl who falls in love with a film star. But Steve has yet to cast the female lead, auditions are being held tomorrow.
His Academy Award, his "most prized possession," is admired before they retire for the night.
Next morning she's gone, and so has his Oscar. Steve gets a call from the police saying the girl has been picked up trying to sell it. She has been handing out another pack of lies, now admitting she is really an actress, Susan Tracey, and all this has been a trick to get the part in Steve's play. "You win," he concedes, "I've found the girl we want"

.

.

.

.

.

.

.

All In The Family
In the introduction, Errol is enjoying a candlelit meal, served by an attractive maid.

The first scene of the story is in a posh high rise flat, very untidy. In fact, the whole of the action is set here. Husband Herbert (Derek Farr) returns home, to find loud music playing on the radiogram. "I'm home darling."
No answer. He dons an apron, starts on dinner, then finally discovers his wife Ilsa (Mai Zetterling), painting her toenails. For her, work means making herself pretty. It is Herbert who serves the meal.
She has news, bad news for Herbert. Anna, her mother in Vienna is coming here to visit them.
Salmon is served for every repast during her stay, Herbert hoping the sameness of the fare will soon send her packing.
With success not in sight, he consults Uncle Edward (Garry Marsh). "Kick the old bag out," is the sound blunt advice. But Herbert daren't, and persuades Edward to make up a foursome to the theatre.
Anna thaws and tells Herbert bluntly that he is "stupid" for allowing Ilsa to walk all over him. "Act like a man, and treat her like a woman."
Herbert promises Anna not to do any more of the housework. The result is amazing- he returns home next evening to find the place spic and span. Ilsa is sulking, since her mother has forced her to do all this.
Since Ilsa cannot cook it is Anna who has cooked their delicious meal, making confirmed bachelor Edward even declare, "I'm going to marry her!"
Ilsa reforms and looking decidedly frowsy, does the cleaning. Anna has attempted to teach Ilsa to cook, and her first effort is dished up. It tastes absolutely awful! Herbert quickly decides he preferred the first edition of his wife. To see the back of Anna, he persuades Ilsa to feign a pregnancy. However that doesn't exactly succeed, for Edward and Anna invite the couple to come and live with them in Edward's country home.
"It all ended happily," Errol concludes as he finishes his meal, though quite how is a mystery. The story zips along with a few entertaining moments on the way, yet this is mostly only of interest for the strong cast

Filmed in mid June 1956

.

.

.

.

.

10 The 1000th Night of Don Juan

Frou Frou is what Errol is reading as the camera lights on him. Hastily discarding it, he discusses the various notions of who the real Don Juan was. In this story, he's at a seventeenth century inn on the Venice to Padua road.
The landlord (Alexander Gauge) welcomes the ageing Don Juan to his inn, with his manservant Leporello (Reginald Beckwith). They're looking for his latest conquest, which will be his thousandth.
Here's one lady he has never yet conquered Countess Henrietta (Jean Kent), but she is more concerned at just having been overthrown by Marquesi Luigi in favour of the younger Maddelena. This couple are both enjoying themseves at this inn also.
Don Juan toys with the Contessa, and she with him. She challenges him "to send on their way" both Luigi and the "stupid" young Maddelena. "I want to punish him," she tells Don Juan, and there's a reward for him if he succeeds.
So having tricked Luigi off the scene, Don Juan tries his usual charms on the girl, "a lover should be devoted, selfless," he tells her, "your lips your eyes... " and so on. But she only laughs, for she thinks him too old. Rather a facer for the ageing Romeo! But the old roue persists, yet she resists.
"I'm not defeated yet, "Don Juan claims to Henrietta, while Maddelena gazes lovingly into the eyes of Luigi. In marches a highwayman to rob the guests. However Luigi is no fop and snatches the villain's gun, and the whole devious plot is exposed, the robber is Leporello, resulting in Luigi challenging Don Juan to a duel.
This however never takes place, for as they gather at the crack of dawn, news comes that Maddelena has run off with another. Thus Don Juan is ready now to claim Henrietta's reward. Come to my balcony at midnight, she whispers. He smiles.
At the appointed hour, he climbs the ivy to her balcony. The door won't open. She pushes it open for him, but it opens outwards and he tumbles over the edge.
His "humiliating" bruises are attended to by Leporello. Surely now he'll admit he's "too old to be Don Juan."

A role up Errol Flynn's street, but he looks tired and lacklustre, rather, indeed, like the character he is portraying, so let's credit him with some perceptive acting

.

.

.

.

.

The Duel
"He's dead!" Thus ends a duel. "Of course, my dear fellow," yawns Lord Brandt (Errol Flynn), "return matches are such a bore!" And off he gallops to the Star and Garter. Yes, you could say Flynn was playing a role he knew well.
19 year old Ann (Ann Stephens) and Lt John Wynham (Tim Turner) are in love, but can they wait to marry until she is of age? Her irascible guardian, Lord Brandt, comes up with a counter proposal- "why, I've always wanted to marry you." As he sips over a morning drink, and comes over a little faint, he explains that if he marries her, his financial worries will be over. For he's been gambling heavily- "frittered away my fortune." There's a veiled threat too- "unless you agree to marry me, I may be compelled to remove Master Wynham." How? A duel, for Brandt is a master swordsman.
Ann learns from a servant that Brandt had killed her father is such a duel. That does it!
"You murderer!" she screams at her guardian. "I'm leaving."
"All I want is your money," he tells her. To which she can only observe
"I didn't know there was such evil in the world." To which he only laughs.
One stormy night, another wild gambling party, John Wynham is watching and accuses Brandt of cheating. "Why, you insolent....!" Wynham is given choice of weapons and wisely selects pistols. It's a showdown in the very room Ann's father died! "This is madness!" The room is cleared, as the men face each other, thunder rolling and lightning flashing.
Brandt is ready to use his hidden pistol, but the cheat is overcome by another of his dizzy spells.
Dr Charles Darnley pronounces his verdict: Apoplexy. "Thank God you're safe," cries Ann

.

.

.

.

.

.

.

.

.


In a smart suit, Errol introduces a true story of deju vu.

Just married are Americans Walter and Lou (Patrick Allen and Glynis Johns). They're enjoying their honeymoon on a Rhine cruise when Lou gets this "strange feeling, as though something cold touched me." She says she knows the whole landscape, even though she's never been to Europe before, never seen pictures of the Rhine before. "Round the next bend, there are two churches." She's right.
"This isn't funny." She becomes hysterical until an expert in hypertension, who happens to be on board, Professor Harman (Herbert Lom) calms her. "There's no need to be afraid," it's rather a gift, he reassures her.
At a hotel a doctor prescribes complete rest. However Harman says inactivity will be bad for her, so she embarks on a short walk, which takes her, like a magnet, to a castle. "Nobody lives there now," except the caretaker Johann. "It has a bad name," as the old owners had a bad reputation. "I wouldn't be up there after dark."
Johann reluctantly gives the trio a tour. The "gnadige Frau" demands to be shown the Knight's Hall. "She's changed so completely," observes her husband. 'Tis like a bad dream.
In this hall the late Count had accused his wife of heresy and adultery and she was to be hanged as a witch. Now Lou demands to go into a sealed room. Even Johann has never been in there, as the key to the heavy door is lost. Lou knows it's in the recesses of a cupboard, and the door is opened. Skeletons are in here, she tells them.
But there is only one. The count's wife had escaped via a window.
Next day, on the steamer, Lou is "completely normal again." Walter wants to know "what's all this got to do with you, darling?" Prof Harman provides some kind of explanation before Errol winds it up with a line from Hamlet. If he had but known it, this could have made the pilot for One Step Beyond

.

.

.

.

.

.

.

.

19 Rescued
A young lad refuses to be brownbeaten by Lord Tremaine (Hugh Moxey) into revealing the hiding place of his father, Lord Alton. Tremaine is one of Cromwell's men tracking down a fleeing King Charles, and Alton knows his whereabouts. The boy is silent, but still the hiding place is discovered behind a panel in Alton's castle. But Alton's leg has been amputated, and he cannot be taken to Cromwell until his health improves. So ironically Cromwell's soldiers have to nurse him in his bedroom. Twenty local women are seized as hostages, to discourage any attempt at rescue.
At the local inn there's thus a sombre atmosphere to greet Major Hugh Morton (Errol Flynn). As a Royalist, he offers help. He dons the armour of one of Cromwell's Roundheads to take some broth to Alton's house. By a secret passage he gains access to the bedroom, where Alton is laid on a stretcher and carried secretly away, Morton being heavily wrapped in bandages to take the sick man's place.
Next day the women hostages are released as the patient is taken by Tremaine on his journey to Lord Cromwell. However the soldiers taking him have been replaced with Cavaliers!
Cromwell (Cameron Hall) is at first pleased, for he will persuade Alton to reveal where the King is in hiding. But when the prisoner's face is revealed, it is one of Tremaine's own soldiers!
Major Hugh gives a toast: "Gentlemen- the King!"

.

.

.

.

.

.

.

Take The High Road
Errol introduces the story as he is relaxing by the river. He poses the question, can a woman be left alone?

Loraine Gay (June Havoc) has spent three weeks in an isolated Scottish cottage, her divorce pending, "it's just something that happened." She has come with her younger friend Sally, and are looked after by Mrs Bridie (Renee Houston).
Loraine walks along the windswept loch. She bumps into landscape painter Alexander, who is painting "the loneliness of the land." He asks if he can paint her into his picture. She takes him back to the cottage.
He is penniless. "You'll never be able to afford a wife," observes Mrs Bridie. Sally is quite forward with him, so he offers to show her the local attractions. She becomes smitten with him. Next day, it is she who is his model. She calls Alexander Sasha, and when he realises, he tells her they must never meet again.
Sally is distressed, and Loraine gives her some sound advice. Alex finishes his painting, with Loraine as model, he is very pleased with it. If he can earn enough money from his painting...
It takes Mrs Bridie to 'see' what is really in his landscape. Not so much loneliness, what she can see is Readiness. Whether she is making all this up, it convinces Loraine to see that she must compromise with her husband, and as for Sasha and Sally, they are ready for marriage. Cue romantic music

.

.

.

.

.

.

.

Out Of The Blue

Errol chats about air travel, though confessing he prefers "the smell of canvas." His story today is about a lovely air hostess.

A short strike has grounded a plane in Rome. Passengers and crew are boarded overnight in a hotel. Hostess Fay (Rossana Rory) has to care for little baby Kurt, travelling alone. She gets a housekeeper at the hotel to look after the child while she goes out on the town with a pilot, Harry Adams (Robert Arden).
But while they are out, intruders break in, tying up the housekeeper, and snatching the child.
Fay phones the police when they return. They await a ransom note, but nothing comes. She works out that a female passenger must be the kidnapper. From police records, they identify her, Maria. We see this woman and her partner Dino hide the child with its teddy.
Police track down Maria and she is questioned along with Dino, but no sign of Kurt. Eventually news comes that the baby has been found, and the couple, to their surprise, are released. It's a police trick- the couple are followed and go straight to Kurt.
Police surround them, but Kurt grabs a knife and the child, and uses the baby as a shield to try to escape, "out of my way, inspector."
Quick thinking by Harry stops him. The reason for the 'kidnap' now becomes apparent, for in the teddy bear are discovered smuggled diamonds

.

.

.

.

.

.

.


"A Venus, born of the sea, light as foam, for ever changing, mortal yet eternal... a woman can turn a man into a poet," as a jovial Errol Flynn pronounces in his introduction.
Beauty is the theme of this tale set in 1670 Moscow, "the capital of Russia," Errol informs us, in case we didn't know!
Alexis has now been on the throne for 25 years, enjoying a carefree life pursuing young beauties. His mother warns him to be careful. "Who's talking about marriage?" replies Alexis, though his mother knows it is high time for him to settle down. Tradition has it he must choose from a selection of eligible females chosen by the boyars.
"They say the czar is looking for a wife!" the gossip flies around the country, with families with unmarried daughters preparing them to parade before the czar.
Whilst Alexis is out one day, orphan Natalie (Patrice Wymore) and her "nightingale" voice attracts Alexis, but she is wilful, not knowing who Alexis is. He wants to marry her like a commoner, but her guardian (Francis de Wolff) insists on a proper state wedding, knowing it will bring himself much power in the land.
Yet Natalie, though attracted to Alexis, refuses anything arranged by her guardian. He however promises Alexis he will bring Natalie to the Parade, so Alexis can officially choose her. Headstrong Natalie however refuses to parade "like a head of cattle." "I won't marry the czar," she cries," still not realising who he is.
"From all over the empire, pretty and plain girls" are introduced to the czar.
The czar listens to flattery, all the while awaiting Natalie. But she will not attend. So it's he who goes to her: "you fool," is his greeting. She faints and he picks her in his arms and carries her to his palace.
"They lived happily ever after," concludes Errol, adding that their son became the famous Peter the Great.
Flynn Menu

.

.

.

.

.

The Kinsman (aka Royal Flush)
In a smart suit, Errol explains the theory that Love is a Disease. "How about that?" is his comment, "I'd never have guessed!"
Uncle Marcel (Roland Culver) is short of money, but as he's the only living relative of young Francois (Peter Reynolds) maybe the reports that Francois is going mad will be to uncle's advantage. The rich nephew has fallen in love with a young lady, but he cannot bring himself to ask her father's permission as he's so shy. At last he plucks up the courage and requests the caretaker for permission to marry Claire. Responds the father: his daughter is already married.
Next Francois asks his uncle for his consent to marry Claire- but Marcel isn't even married. Clearly Francois is becoming deranged.
He's dragged to the doctor: "it's all a terrible mistake!" Francois wonders if it's "a deep plot" on Marcel's behalf to take control of his money. This doctor (Peter Illing) is a leading expert on Monomania, a partial insanity, domination by a single passion. By a clever ruse Francois persuades this physician that it's his uncle who's the patient. He's got monomania, explains the nephew, he's poor and nurses a resentment against his rich nephew. The doctor laps up Francois' explanation, despite Marcel's protests: "people might take me for the crazy one!"
"We will look after you," coos the doctor. "Don't excite yourself."
Then Marcel plays his trump card, and gets Francois to seek the doctor's agreement to his marriage to Claire. But by a stroke of fortune, the doctor is agreeable, as he is the one who is Claire's father. The happy couple kiss as poor Marcel is carted away
Flynn Menu

.

.

.

.

At the start, Errol is sighing for the good old Edwardian days of optimism. A rigid code of honour, he tells us smilingly, and "those who broke it were cast into the outer darkness." Perhaps he would know.

Hugh (Philip Friend) is a prominent MP who's "going to be Prime Minister one of these days." But for the moment, he's more concerned about "notorious American widower" Marian, as he proposes to her, in the best manner, on one knee.
The "very enchanting" Marian (Phyllis Kirk) has however secrets to hide. And old admirer Stewart Rawlings (Ivan Craig) knows them! He is one guest at the party where Hugh is to announce their engagement, and Marian is "not very happy" to see Stewart. He will tell about her ex-husband's bankruptcy and her resultant conviction for fraud, even though he happens to know she was innocent. Stewart will tell, unless she agrees to marry him.
So when Hugh prepares to make the big announcement, she faints. Privately she explains her dilemma to her fiance, adding that it's all off. "In the eyes of all your friends, you would become.... declasse."
However Hugh rallies, declaring their love is more than his career, and together they resolve to have it out with Stewart. She meets the blackmailer privately. He confesses that it was he who ruined her first husband. In return she says she is going to sign away her own fortune to Hugh, so she can marry Stewart: "we can be poor together." Of course, this is not what the villain wants and he agrees to be paid off, in return for signing a confession that he has blackmailed them. That will be sufficient to stop him from ever bothering them again.
Thus it's a very unsatisfactory conclusion, blackmail rewarded, but at least Hugh and Marian are so happy now they can announce their engagement

.

.

.

.

.

.

.

.

.

.

.

.

.

.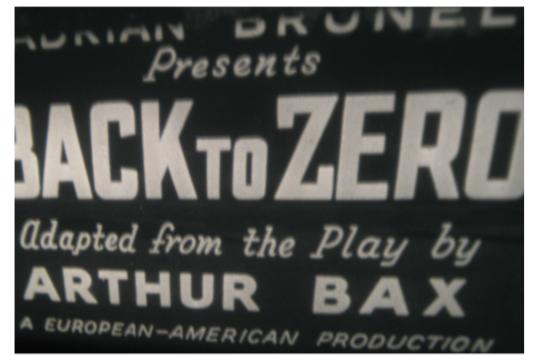 Back to Zero (1951)
This story was screened in USA in the series Fireside Theater.
The star was Bernard Miles.
Director: John Haggarty.
Producers: Anthony Bartley and Herman J Blaser. Executive: Adrian Brunel.
In Film Review for 1953/4 there is a reference to Herman Blaser who "with Brunel and Bartley, is making a series of Jungle films in their well-known series The White Hunter." But this has no relation to that later series.
A one set filmed playlet, very wooden, uninspiring, that never grips at all. Only of interest for its star.

Goldie, very unattractive, is somehow still attractive to Chas Bergman aka The Boss (Bernard Miles). Perhaps this is partly because she's the only white woman in this God forsaken spot in the middle of the African jungle, though really it's only the middle of the very tiny studio. Goldie is on the run, having killed a sailor, albeit accidentally, years back. He had married her to protect her. Both are stuck in this dump. Chas is addicted to the bottle, and also now has half an eye on the beautiful native girl Manuela.
The Boss trades in ivory, latest consignment now due, but following screams, it seems one of the native bearers must have fallen into the swamp. Bergman makes no effort to come to the rescue. But Goldie shows some humanity, and gets Manuela to get the locals to help the distressed man in the swamp.
Covered in mud, he staggers into The Boss' hut. "You're a white man," somehow that's evident underneath all the grime.
He is an American named Johnny who is grateful to Bergman for saving him- not that he had. Goldie pretties herself up to meet him, Johnny needs a wash and brush up also.
He says he is a policeman, come to bring Goldie in. Surprisingly The Boss pleads for her not to be taken away. But she wants to go, lured by the idea he is taking her away for himself. But when Johnny finds out it wasn't The Boss who had caused him to be rescued from the swamp, but this was down to Goldie, he has pity on "that poor kid," and leaves without her.
That doesn't suit Goldie, she runs after him. Straight into the swamp.
So The Boss is left alone. He is not very happy. But he's not alone, for Manuela has set up home in the house and she is very happy indeed
To Anthology Menu

.

.

.

.

.

.

.

.

.

The Man Who Walks By Night
The 1949 pilot film below, directed by Eric Fawcett, was the first ever filmed British television drama. Introduced by 'Mr BBC' himself, Roy Plomley, complete with large hat, darkly shading his face. Shooting began at Marylebone Studios on July 11th that year.
James Carter was executive producer for the series.
The Man Who Kept a Dinner Date with Death (premiere: Thurs Sept 28th 1950 3.30pm, rpt Feb 1st 1951 3.30, rpt March 19th 1952 3.30)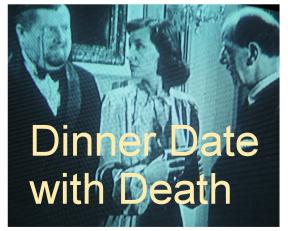 Rich Baron Lakenoff (Sir Campbell Cotts) "enjoys the thrill of being hated" so much that he's invited his worst enemies to dinner. Bill Rian (Robert Ayres) has been hired for the baron's protection, "I think you're nuts," Bill tells him.
But he's a good bodyguard: "I trust nobody." Even butler Smith (Fletcher Lightfoot) and Janet the maid (Alicia Marlowe) come under Bill's scrutiny.
The invitees are 1 Frieda, the baron's ex-wife (Patricia Jessel), now wanting to remarry: "you never loved me."
2 James Harding (Denis Cowles) the baron's old business partner, just out of prison- "I came here for my money." Bill finds a gun in his coat pocket.
3 Dr Cameron (James Cairncross) a young scientist, whose father committed suicide, because of the baron.
As they sip cocktails the baron deliberately shows off his diamond necklace worth nearly £100,000. Looking straight at Frieda he exclaims "I'd like to put it round your little throat."
As she hands the baron his drink, Bill interrupts- that smells suspicious!
Dinner is served, after which we learn why Cameron is so bitter, for the baron is alleged to have stolen his father's research and sold it to the Nazis.
But the baron, he doesn't care. Now rather the worse for drink, he nearly trips down the lift shaft. "You've all played your cards," he shrieks. Unsuccessfully, he's positive, for all the guests depart. "None of them tried to kill you," observes Bill blandly. But the baron has started gasping. Slowly he utters his death speech.
"There ain't no such thing as the perfect crime," Bill tells the audience. This nearly was, but as Bill explains all, we learn the accomplice Janet the maid has given the killer away to the police
A series of 26 films were planned in this series by Vizio Films. Scripts were drawn up and American support agreed, but according to Roy Plomley, "the FCC 'freeze' on the opening of new TV stations in the United States caused our project to be abandoned."
However these further films were definitely made:
Scotland Yard Reporter, directed by Malcolm Baker-Smith, and produced by Edgar Blatt.
Box for One, directed by Eric Fawcett. Two separate contemporary Radio Times list Richard Attenborough as the star, one screening was on June 11th 1954 at 9pm. However though I believe it was originally planned to be in this series, it is listed as 'A Hyde Park Film Production.'
Footnote: The effective opening sequence with Plomley was reused in the US series Into the Night.
To menu for other pilot programmes . . . . . . . Anthology Menu

.

.

.

.

.

.

.

Tales from Dickens