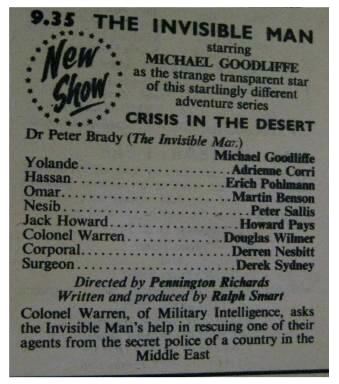 Dating from 1958/9, a fascinating series with lots of scope for trick photography. There's good support from Lisa Daniely as Peter Brady's sister Diane ('Dee') and young Deborah Watling as Sally the Invisible Man's niece.
The identity of the actor playing The Invisible Man was shrouded in mystery,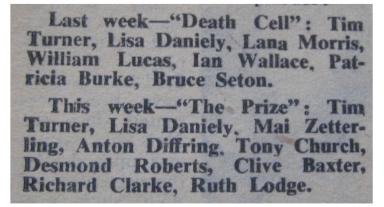 though the trade cast list (right) from 1959, proves that his identity was known inside the business. Some attempt seems to have been made to obfuscate the issue (see TV Times 1958, left), but click here to see the Invisible Man unmasked. In the pilot, Robert Beatty provided Brady's voice, Lee Patterson took it over at the start of the series, Paul Carpenter then voiced Brady, before Tim Turner was the voice for the majority of the stories.
The whole series was released in 2007 on dvd, with cleaned up copies. It was also the only complete series of this era to have been repeated on ITV in the early 1990s, albeit in the middle of the night. Bravo also screened all the stories, as has more recently Talking Pictures TV, so The Invisible Man has proved one of the most enduring 1950's British tv series. The fact that it has continued to be in demand is testimony to the excellent job that the producers did.
Each episode is a variation on the theme of how Peter Brady responsibly uses his invisibility to good use.
My favourite episode: Strange Partners. That vicious dog gave me nightmares when I was a child.
Best moment: Hazel Court in The Mink Coat performing with a string puppet of Brady.
Dud episode: Shadow Bomb: Sorry 'Tony O'Grady,' but this is the original quickie that failed.
To Dinosaur Crime and Adventure TV Page

.

.

.

.

.

Pilot Story
This untransmitted story followed the trend during the late 50's for making a pilot, particularly for showing to America, in order to sell the idea for a series. Extensive footage from this pilot was later used partly in #1 Secret Experiment - where printed green, partly in #5 Picnic With Death - where printed blue, and mostly in #11 Bank Raid - where printed red.
The part of Peter Brady was voiced by Robert Beatty. From the features of Peter Brady we see here, it is clearly not Beatty playing the physical role. Lisa Daniely plays Jane Wilson (not Diane), whilst Deborah Watling was Sally, as in the actual series.

The story begins

with a white mouse disappearing, followed by a disappearing scientist. However this opening sequence lasts only about five minutes, whereas in the transmitted version there is much more explanation from Peter Brady about what he is doing. (As he disappears in this later version he wipes the sweat off his face. Then the characters of Lloyd Lamble and Ernest Clark are introduced, though they later fade from the series.) The only motif in the pilot in this sequence that disappears in the later version is the lab assistant fainting. Then in the pilot Brady drives swiftly home and phones his sister from the call box outside his house. (In the transmitted story he phones from "the crossroads.") He removes his glove and an invisible hand dials the number. Sally answers the phone (Diane, Lisa Daniely, does so in the later story). She passes the phone to Jane (Lisa Daniely!) who is told to send Sally up to bed "I don't want to scare the kid." After brother and sister meet, the anxious Jane asks him "how long do you stay that way?" Sally greets her uncle: "what's happened to your face?" Uncle Peter reminds her of the disappearing guinea pig trick he'd shown her. (In the transmitted story, he reminds Sally of the story of the King and the Magic Hat.) Then Uncle Peter removes his bandages and Sally is able to feel his invisible face "ooh, you need a shave!" In this sequence of the pilot Brady wears the same clothing as in the later version, though Lisa Daniely and Deborah Watling are dressed differently.
Outside their house reporters and an ATV van gather "it's a siege!" Brady gives them a statement, then slams the window.
He returns to his vain task of discovering the formula to become visible again. That afternoon Sally does not return from school as usual. Her friend Linda says she went away in a taxi. But where? A man phones saying he'll give Sally back if he can meet The Invisible Man. Jane drives Peter to an isolated detached house where she meets the crook, but Brady "takes care" of him and gets driven to the boss of the gang, who is waiting actually outside the studios! "Well, well, the things you scientists do," Crowther (Willoughby Goddard) observes. He says he won't return Sally until Brady robs £50,000 from a bank. So the invisible man creeps into the house of the bank manager (Kenneth Edwards, uncredited) and then walks into the bank to "take what you want." To elude the police he strips off and calmly walks out (in the later version he adopts a more moral note by apologising "it's only a loan, they'll get it back." Comparing the backgrounds, it's obvious this brief scene has been inserted later.)
On marshland near Rochester, Brady is reunited with Sally. He nicks their left hand drive car and the crooks chase after them in another car WPD866. Police spot Sally waving from an apparently driverless car, the scene hinting at the comic possibilities, before the crooks are wedged into a corner (a nice skit on the rather rotund Willoughby Goddard). Police look puzzled as Sally explains, then walks off down the road holding Uncle Peter's invisible hand. He sneezes. In the actual series, the storyline was introduced that Brady wears invisible lab clothes, so doesn't catch cold. This point is rather lost in #11 Bank Raid, but in this pilot, it makes sense that poor Uncle Peter gets rather a chill.
Grope your way back to the Invisible Menu

.

.

.

.

.


"One of the most fantastic experiences in our modern day," begins Peter Brady, telling us of his experiments at Castle Hill Laboratories. (The physical actor clearly is not Tim Turner.) Then an explosion. An invisible Dr Brady is put under lock and key, but when government minister Sir Charles (Ernest Clark) comes to visit him, he's gone! "How do you find an invisible man?" queries Sir Charles, with all the wisdom of a champion politician.
Brady goes home to his widowed sister Diane, or Dee as he calls her. She takes her brother in "disguise" to get help from Professor Crompton (Michael Goodliffe), a fellow scientist also working on refraction. Crompton realises the possibilities that Brady's situation offers- he now has limitless powers: "all you have to do is take, Mr Brady. Money. Power." "You're joking," is all Brady can feebly respond. He's not to be corrupted. He only wants to get back to normal.
"That man's dangerous!" Corruptible Crompton steals Brady's experimental notes to learn how to do it himself, but Brady soon uses his powers of invisibility to good effect, and catches up with Crompton, "you can't get away from an invisible man." There's the first of those fights where the actor has to simulate a fight with thin air. So Crompton is caught.
Sir Charles is ticked off by Sally for trying to lock uncle up, and Brady is invited back to the lab to continue the good work. "See you at work in the morning," says his boss. "No!" is the reply. A long pause before Brady explains: "I'll be there, but you won't see me!"
A well done opening story even if the scene setting means that the plot with Crompton isn't developed more fully. A pity too the series couldn't have ended with Brady discovering how to get back his visibility.

.

.

.

.

.

.

.

.

.

.


Peter Brady's 'family' (ie Lisa Daniely/ Debbie Watling) are not in this only intermittently exciting story.

Col. Warren (Douglas Wilmer) of Military Intelligence approaches Brady to go to the Middle East to rescue agent Jack Howard, lying in a military hospital, before he can reveal any vital state secrets.
After parachuting in, Brady is met by top agent Yolanda (Adrienne Corri), who is incredibly composed in the face of Brady's invisibility. "Your country has made remarkable progress in espionage, my friend."
Omar (Martin Benson) of the Military Police is watching the plane as makes its drop, but naturally he cannot find any parachutist! Though he searches the house of Yolanda and her Uncle Hassan, only a suspicious rifle can be found.
Having smashed through a road block, Yolanda and Brady plan their rescue attempt, with a little aid from ambulance driver Nesib (Peter Sallis). Yolanda poses as a nurse and with Brady boldly enters Elstree Studios, ie the hospital.
To break his resistance, Omar is planning a brain operation for his prisoner, Brady obtains some ether and disposes of the guard protecting Howard, who seems to mime his lines. Away the surprised Howard is wheeled on a stretcher, pushed by 'Nurse' Yolanda, right into the path of Omar. This obstacle is removed with a hefty punch from Brady. With the help of a baffled Nesib the escape is seemlessly completed.

Note- Uncredited as the head nurse is Patsy Smart

.

.

.

.

.

Sally is watching The Invisible One shaving and wants to know why he's bothering. She questions him about his efforts to return to normality, volunteering to help Uncle Peter in his experiments. "I'd love to be invisible."
Off to work, Brady gives a lift to a victim of a car accident, Miss Constantine. Taking her home, Brady recognises it as the mansion of "fabulous Mr Constantine". The sinister looking Mr C (Dennis Price), complete with sinister mask greets Brady. He removes his mask with the remark, "nothing quite as horrible as this." Fortunately we only see his back view at this point. The sad Mr C is so ugly he wants to become invisible. Like Sally he volunteers to help Brady's experimentation.
Brady eventually agrees. At Castle Hill Laboratories, he proceeds with caution, and Mr C becomes impatient. Brady becomes suspicious and wearing his invisible suit, he overhears Constantine's plot to get near enough to 'Domecq the Liberator' to assassinate this popular President.
There won't be any killing," the invisible Brady declares. But though they try to shoot the invisible one, an inspiration is to chuck flour, and his outline can be seen. Thus Mr C imprisons the Invisible Man and charges off with scientist Max (Edwin Richfield), posing as Peter Brady, to hasten the completion of the invisibility project. Success! Invisible Man Mark II is created.
The finale. A gun suspended in mid air creeps up on Domecq at a shipyard. Nearer comes the gun. But it's only the real Invisible Man who had easily eluded his captors. Apparently that hasty experiment had worked, though sad Mr C had in fact only turned into The Invisible Corpse

.

.

.

.

.


A dissenting Iron Curtain scientist (Zena Walker) speaks out against her government when she's visiting London. She's quickly bundled off to the embassy! Following is Peter Brady. "Who are you?" queries the puzzled scientist, Professor Tania Porfieu. Even though she's experimenting in invisibility herself, she doesn't seem to have much appreciation of the subject. For some reason, Brady persuades her not to escape via the window, though he spends the rest of the story rescuing her.
Brady contacts Mr Phillips at British Security. He won't help. Diane suggests Peter phones the embassy as a private citizen, which he does. The Third Secretary Dushkin (Rupert Davies) at least knows who Peter Brady is! But he says Comrade Porfieu is indisposed. So Brady has no option but to break in again to the embassy.
"I'm so glad to see you again!" declares Tania. He helps her escape from the strangely deserted embassy and they make for Brady's lab. Together, they succeed in getting the Invisible Guinea Pig to reappear. Well, for a couple of seconds at least. Then it's unseen again.
Part Two - and in an unexplained change of plan, the prof is leaving for America and freedom. Sally gives her a dancing doll musical box. Brady falls for "the oldest trick in the world" and waves farewell as Tania departs in a Rolls. Of course it's a ruse by Third Secretary, hoping no doubt to become Second.
Brady repeats his breaking and entering the embassy trick to find Tania drugged. She is led tottering out of the embassy, but it's not third time lucky. No3 has his gun at the ready and a hearse waiting to transport Tania to a Russian plane. But Brady of course can't be kept prisoner and he grabs a motor cycle and sidecar and in some entertaining shots of a riderless bike, gives chase to the hearse. At some lights Brady hijacks it and with irreverent haste he speeds the hearse away to London Airport, where a plane, American this time, awaits Tania. Romance? She has a final hug on the tarmac for an invisible person. She must have felt daft doing that!
Menu

.

.

.

.

.


Undoubtedly the most curious of the series. I am not 100% convinced Tim Turner is the voice of the hero throughout this story. If he is, he certainly speaks slightly differently. Perhaps it's because a little footage from the pilot story is used. Then there's the interesting end credits in the print that was around in the 1990's, which has the copyright date 1957 "International Creative Exchange." ICE were the Distributors of the series but the date (which is before the series was made) is either an error being added later by some fathead at ICE, or is indicative of the fact that some of the material did indeed emanate from the pilot.

The story opens with Peter Brady being driven to an appointment. As he's still "an official secret," he's not allowed to drive himself. Being late, his driver speeds him onwards until a crash! Fourteen people, those involved in the smash and eyewitnesses, are all detained in case they tell out the "government secret." Finally the PM no less has to issue a statement, with the result that reporters beseige Peter Brady's home. His home appears to be in town! (Mainly because this is the portion that is lifted straight from the pilot. In that episode Brady lives in a house in town.) "Worse than being in a zoo!" declares the Invisible Attraction, who is working on how to regain his visibility.

The story proper now begins. Sally is still able to enjoy her riding at the local stables run by John Norton (Derek Bond). Sally introduces Linda Norton to the Invisible Peepshow and she confides to him that "they" are out to kill her invalided mother Janet. 'They,' being her stepfather and his sister Carol. "He only wants her money."
He has asked for more to keep up their expensive mansion Fox Grange but she has refused. "Thank you for helping me see what I have to do," Norton darkly tells his wife.
As Uncle Peter won't help, Sally offers to come and eavesdrop. She overhears brother and sister plan a picnic at Pine Ridge, "this time leave it to me," promises Carol. Sally phones up Uncle Peter for assistance at 5am, the morning of the picnic. "Stop all this nonsense!" is Uncle Peter's curt response.
Off they drive for the picnic. It's certainly near some very steep cliffs. Fortunately Uncle has second thoughts and decides to check out Sally's story. Diane takes him to Fox Grange where he saddles a horse and The Invisible Rider gallops up just as mummy, comfortable in her car, suddenly finds herself careering helplessly towards the cliff edge.
Peter Brady jumps in, just in the nick of time of course. Complete with unlikely gun, Diane arrives to prevent the escape of the wicked stepfather

.

.

.

.

.

Play to Kill -
At night, a woman motorist knocks down a tramp on a lonely road. She's famous actress "the best there is," Barbara Crane (Helen Cherry). A passing driver (Colin Gordon) suggests tipping this old failure over the cliff, and does so.
Simon (Garry Thorne), an old friend of Peter Brady, invites him to come and see his latest play A Time to Remember at the Royalty Theatre Haymarket. But he's really worried about his star Barbara. We know she's been getting phone calls on the lines of "is your conscience troubling you?" Plus the suggestion that a thousand pounds will help. Brady, invisible, follows her as she withdraws the money and takes it to Paddington Station where she deposits it in a phone booth. A bearded man collects it, Brady follows. But for once Brady's invisibility is no use- a British Railways porter refuses to allow him to board the train the crook is on.
That passing driver pays a personal call on Barbara. He claims to be being blackmailed too! She cottons on. He does admit he is a small cog in a big machine. He tells her his boss ain't pleased as there was no money in that packet, only shredded paper. Very displeased indeed, as the man is shot. Brady returns the money to Barbara. He enlists the aid of theatrical photographer Arthur Arthurson (Vincent Holman) to identify the man in the phone booth.
But now we see him too, minus beard. It's Walter (Ballard Berkeley). He's with Barbara driving to the theatre. She rather unwisely tells him all Brady has learnt. She stops at the place where the 'accident' occurred. This time she notices a ledge near the clifftop where the 'corpse' might well have landed. "All a put-up job," she concludes. He has got to kill her of course. Peter Brady is naturally on hand to thwart Walter, alias the tramp.
Invisible Menu

.

.

.

.

.

We get to see The Invisible One, at least sketchily on a radar monitor!
A man is held prisoner on an Iron Curtain ship docked in London. Is Brady prepared to act illegally to rescue him? Sir Charles persuades him, unofficially of course. Dee takes Peter to the docks where she poses as an Evening Star reporter to find out more about the man. Peter visits the Stathmore Hotel to question Sonia Vasa (Greta Gynt), the man's wife. In the lift there, Irene Handl gives one of her delightful cameos, as a worried passenger with only an invisible man for company. After Brady leaves, Mrs Vasa phones the ship's captain - it proves to be a Commie plot to try and seize The Invisible Man. The advanced radar screen will be able to 'see' Brady when he boards the ship. Indeed, out of focus, we see Brady - a big net descends and he's dropped into the hold. Mrs Vasa comes to collect her reward, her freed hubby, but how naive can you get? She's locked up too. The ship immediately sets sail down the Thames.
But how do you keep an invisible man imprisoned? On the loose, he frees Mr and Mrs Vasa and plays a merry game with the ship's navigation. A struggle on the bridge ends with a crash on a jetty. A leap to safety and freedom! We end back at the hotel, and poor Irene Handl in that haunted lift

.

.

.

.

.


At the Atomic Commission's Wilton Experimental Plant, there's a break in, top secret plans are photographed, a guard shot dead.
At the airport, the thief Walker (Derek Godfrey) is temporarily detained. Dee happens to be on hand, and sees him slip the microfilm into the mink coat of puppeteer Penny Page(Hazel Court). At first Peter annoyingly doesn't believe his sister, his excuse they are off on holiday to Paris. But she persuades him to phone Sir George in London just to be sure. If Brady could have seen Sir George he would have been most suspicious, as someone is miming to Sir George's voice!
Walker's confederate Bunny attempts to steal the coat from her at Orly Airport, but her husband Marcel rescues it.
At the Blue Jeans Club, Peter finds Penny Page, "The Doll with the Dolls." Her act appears to be a somewhat tasteless striptease puppet act! Peter finds the mink coat, but nothing is hidden inside it. Mr Walker also puts in a couple of appearances to search through the coat, but finding it filmless he takes away Penny at gunpoint. Marcel follows and after them both is Brady in hot pursuit. Marcel arrives at the crooks' hideout first, but is forced to reveal where the film is. It's being developed at the Imperial Studios. Walker claims his prize but Brady immediately snatches it from him and burns it. Then it's back to rescue Penny from a baffled Bunny's clutches.
In honour of his deed, Penny performs a new act at the club with her stripper plus a new puppet, that of the Invisible Man!
A slight, but nevertheless charming story.

Note -there's a cameo for Joan Hickson, as first the baddies bump into her and then Marcel. Probably there was intended to be a third 'accident' with Peter Brady that didn't make the final print
Invisible Menu

.

.

.

.

.

Blind Justice -
There were these two pilots, chief pilot Arthur (Philip Friend) suspects dope has been smuggled on board his plane. Second pilot Sandy Mason (Jack Watling) is actually the guilty party, but he arranges for the heroin to be planted in his boss' luggage. Luckily although Arthur is arrested, he has this useful friend, an invisible one!
Hell-lo......... in this star studded cast there's also Leslie Phillips playing a crook called Sparrow. Then there's Arthur's blind wife, Honor Blackman. Sparrow visits her, to plant some evidence that will help convict Arthur- he toasts her rather tactlessly: "here's to your bright eyes."
Arthur arrives home. Sparrow shoots him before making a hurried departure. But a driverless car VOK 495 is following him! Near St Paul's Cathedral the trail goes cold.
At Scotland Yard, the inspector, on Brady's say-so interviews Mason. Brady listens in and follows him in case he contacts the rest of his gang. First a bus, then a taxi. He then drops some money at a newsagents. It is picked up by Sparrow so Brady has refound his man.
But how to prove he shot Arthur? Brady persuades Arthur's wife to provide the evidence. An invisible man with a blind woman! How can they possibly get Sparrow convicted? Brady acts as her eyes as she appears to drive VOK to a parking space outside a restaurant where Sparrow is dining. Of course really Brady is the driver. "That'll shake him! says Brady.
Guided by the Invisible Eyes she walks up to a bewildered Sparrow. Baffled, he does the only thing he can- run away. But she follows, again appearing to be driving. It's all too much for poor old Sparrow. He really thought she was blind! "Who ratted on me?" is the best he can offer. So all the dope ring is smashed and Arthur recovers. His wife to our hero: "Thank you for everything." Aaah.
To Invisible Man Menu

.

.

.

.

.

Jailbreak -

We start with a chase round that familiar station at Elstree. Mr Green (Dermot Walsh) is robbed on the train, just at the time his safe is being cracked at his factory.
Green is found guilty of stealing from his own safe. Five times he escapes prison. Five times he's recaptured. Brady becomes interested in his "drive for freedom" so Sally suggests he puts on his invisible clothes and break in to the jail. He does so and talks to Green who admits he had a criminal record. If only he could find the girl on the train who stole his wallet, he'd have an alibi. It's obvious the nightwatchman at the factory must have perjured himself so Brady goes to question him. That gets the real baddies on edge, and a message is smuggled in to the prison with the rather crude instruction printed on the inside of a cigarette packet "FIX JOE GREEN FOR GOOD!" By a stroke of luck Brady has broken in to the prison again just in time to prevent Green being done in by two of the inmates. Brady helps Green to escape by getting him to pose as the invisible man. They go to the factory and follow the nightwatchman who kindly leads them to Doris, the lady thief who eventually confesses to her crime and agrees to exonerate Green.
Final scene - Brady drives him off in to the distance.

.

.

.

.

.

.

Bank Raid

This is a reworking of the pilot story by Doreen Montgomery and Ralph Smart, which gives Sally a few entertaining lines not in that original.

It's midwinter and Sally is fishing, alone. Two men appear, "when we've got her He'll do anything we ask." He being Uncle Peter, who proves however to be on the scene after all, so no kidnap. End of fishing scene footage.
Next attempt is more successful. Burly boss Henderson (slimily played by Willoughby Goddard) poses as a doctor calling at Sally's school. He has terrible news of an accident that's befallen Sally's mother and whisks her off to the 'hospital.' Dee gets a surprise when she calls for Sally at the end of the school day. A shock for the school too, I should think.
Uncle Peter is issued with instructions of where to go if he wants to see Sally ever again. Dee drives him to an empty house. The Invisible One gives the kidnapper a punch, "start talking, you can't get away from me."
But eventually Brady has to give in and meets the boss who explains Sally will be returned once £50,000 is paid. How can Peter find that sort of money? Easy, coaxes Henderson, "walk into any bank and take what you need." Brady seems to have little choice so he does just that. The bank alarms ring as he takes the cash. Here come the police! But they're locked in the vault and Brady departs.
The crooks keep their side of the bargain, surprisingly. You'd have thought with such a simple money making scheme they'd want to keep hold of their asset. So Sally and Uncle Peter are reunited in a desolate Kent marshland landscape.
But good old Uncle Peter, risking the freezing weather, removes his overcoat and now invisible, nicks the crooks' car, picks up Sally and drives off towards town. The crooks zoom after in Brady's car and Sally from her car succeeds in attracting a policeman's attention. An easy task, as there's an Invisible Driver! A sudden application of brakes and the crooks get trapped, the rotund Henderson entertainingly squashed up against a wall.

Note: Dee must own two cars. First she drives 487AKP to the school, then she takes Brady to the deserted house in 249DGC

.

.

.

.

.


A simple but very effective storyline.

At a mountain hotel accessible only by cable car, a professor and his daughter check out. All very pleasant, at the end of a lovely holiday. "You're not going any place," snarls the manager Calatta (Alan Tilvern at his nasty best) as the daughter Suzy (an unconvincing Julia Lockwood) is slapped across the face.
Prof Owens (Walter Fitzgerald) cables his colleague Peter Brady to say he's not returning to his work at the lab.
"That man's been like a father to me," declares Peter, who goes off to Italy to persuade him to come back.
Owens tells him he's wasting his time. He appears to be spending his whole time at the casino, trying out his mathematical formulae for beating the bank. To date he's won 17,000,000 lire, but not for himself, but for Caletta. In case he has any ideas of obtaining help he's told: "remember your daughter's alone at the hotel... you win, she stays alive!"
Sister Dee goes to the tables and with the help of the Invisible Gambler it's rather easy for her to win, and more importantly for Owens to lose. The roulette ball performs some extremely curious gymnastics as Owens becomes more and more disillusioned with his system. But for some reason he persists. Dee bets three times on Seven and wins thrice.
"This is madness," comments the poor prof as the croupier looks on puzzled. When Owens plumps for Seven Dee opts for Three... and voila!
Has this cured Owens of his gambling fever? He explains to Brady that isn't his problem. It's Caletta. So Brady offers to help.
A lovely way to make a fortune! Owens starts winning and smiles again. The croupier is decidely baffled, and Owens is warned never to visit there again.
It's no shock that when Caletta is paid off, he informs Owens this is only the beginning... The prof must come with him to Monte Carlo, Las Vegas, South America! The poor prof looks beaten. He tries a getaway with his daughter down the cable car. We know the next move of Caletta's. Cut the cable! A fiendish plan but Brady manages to intervene at the eleventh hour.
"You asked for it Caletta." Brady even finds time to punch the villain before the sidekick cutting the cable is also thwarted.
Final scene: A unique moment as a casino is given back the winnings. The prof demonstrates how with invisible help he could win so easily. He leaves to blank astonishment,

Note: when Dee and Uncle Peter fly off to Italy, who looks after young Sally is not explained
Menu

.

.

.

.

.

.

.

.

.

.

.

.

.

Dee to The Invisible Man, "we see so little of you these days!!"
Here's an attempt to force the invisible Peter Brady to commit murder. I remember seeing this as a youngster and being quite frightened...

It's 1.30am, working home late on how to return to normality, Peter Brady emits an invisible yawn. Outside lurks an intruder. When Brady turns in, the criminal breaks in and steals Brady's briefcase.
Next morning clever young Sally spots a window has been "torn." Burglars! A policeman (Victor Platt) looking like something from a French farce, holds little hope of recovering the property. Then a phone call from a Lucian Curry (Griffith Jones) who "through some curious circumstances" has found the case in his garden.
Night, and the Invisible One pops round to collect it. Mr Curry's dog Juno, an enormous "brute," barks fiercely as a sort of greeting. Currie explains he'd actually sent his man Collins (Jack Melford) to steal the case. Brady makes to go but Juno, "who's been trained to go for the throat" is in his way. "Not very friendly is she?" notes Brady. "Juno would tear you to pieces."
So why does Curry want him? To kill John Vickers (Patrick Troughton), Curry's partner in a gold mine. He has a bodyguard, Ryan, and he's the only reason Curry can't do the deed himself. He's coming tonight!
Brady attempts t run off. Juno watches attentively outside the house as Brady strips off. He soon learns there's no way out. Vickers arrives with Ryan who's warned "keep your eyes open, this fellow will try anything." But of course Ryan isn't looking for an invisible attacker. Curry gives Brady the signal to strike, but of course The Invisible Fist doesn't strike. Instead Brady escapes, slamming the door, "Juno, get him!"
Ryan is knocked over in the excitement and this gives Curry the opportunity to shoot his enemy personally. And this time the Invisible Man has eluded Juno, by speeding away in a car. Alerting the police he creeps back to the house just as Curry is driving off with Collins. "Now for some real speed," cries Curry, looking ever more like some horror movie maniac. But the fun is terminated. The ignition key is removed. Brady was in the car too.
Final scene, Brady, reunited with his briefcase, takes Juno home

.

.

.

.

.

.

.

.

.

.

.

.

.

.

Point of Destruction

Pilot Bob (Alfred Burke): "All set, Scottie!" He nearly said Beam Me....
DJ Scott (Duncan Lamont) at Ground Control, boss of the unspecified project, replies,"this is where the others ran into trouble." Next.... you've guessed- it was only a small part for Mr Burke. "You killed Bob."
Cut to a coffee bar, where an enemy agent is being paid for nobbling the secret new air diffuser that was being tested.
Peter Brady still has faith in this diffuser however. The government may have stopped all its grants for the project, but Brady knows Scott well. Scott shows him round the factory to meet the workers, including the man in charge, Dr James Court (John Rudling). And he is the same man who was being paid in that coffee bar!
He reports back to his superiors. Had he managed to put Brady off the scent? "You can never tell with that character," Court responds, "he's got his face in bandages." Just leave Brady to Stephan, he's told.
The evil Stephan mit ein inevitable foreign accent (played inevitably by Derren Nesbitt) drives through the snow to Brady's home. He points his rifle, but how do you aim at an Invisible Target? One shot is not enough. Brady tears out of the house, "drop that gun you maniac!" There's a car chase with Stephan shooting at the Invisible Driver with Brady finally crashing by a stream. We see a splash as Brady lands in the frozen water. Blood stains in the car prove the assassin "must have hit him."
Newspapers are full of the news of the Missing Man. Of course, it's all a ploy to give Brady the opportunity to snoop round whilst Scott announces a Final Test, conducted by himself. Brady spots Dr Court up to his tricks. Court is forced to stay on board as the flight takes off. Don't blame Court for getting the jitters. He produces his gun. Ger me out of here! But Brady easily stops such nonsense, "I did it," confesses the naughty Court.
So at last there's a successful test while police car 894 FPC apprehends the evil Stephan
Invisible Man Menu

.

.

.

.

.

Death Cell
In this programme Peter Brady is driven round in his sister's Hillman WKW445.

A delivery man drives up to a loonybin. It departs plus one of the inmates, Ellen (Lana Morris) who goes to "the one they call the Invisible Man." He's on the London train, and she tells him she'd been kept prisoner by a Dr Trevor (Ian Wallace trying to break away from being typecast). Why? Last spring she had taken a photo of a George Wilson, and it's proof he's innocent. But as things stand, "an innocent man is being hanged tomorrow morning." The bad doctor had kidnapped her, but he still hasn't found her photo.
Arriving at Paddington, she disappears. An invisible Peter decides to check on her story and visits the condemned Wilson. He confirms Ellen's story so Peter promises to help.
At the sanatorium he learns from Dr Trevor "Wilson tried to make use of her disordered mind to build himself an alibi." Brady decides to snoop around, invisible now, naturally. He sees Trevor about to do another of his nasty injections on a screaming Ellen. He soon has her out and back to her flat where she'd hidden the much wanted photo behind the wallpaper above the fireplace.
In a building by the Thames, it's no surprise to us to see the place has been redecorated. In a fever of modernisation, even the fireplace has disappeared. But fortunately the old wallpaper is underneath some new stuff and the precious negative is still there! Rather foolishly Peter gives it to Ellen and it's even less of a surprise to see Dr Trev inject her and snatch her away. In his Rolls they drive over the Thames, but when he has to stop at some lights she leaps out and is knocked down. The evil Trevor arrives with the usual line of I'm a doctor, but thankfully a stolid policeman refuses to let her be taken away by him.
Meanwhile Brady is trying to persuade the Home Secretary (Bruce Seton) to wake up and postpone the execution. But without the photo, where's the proof? "What sort of story is this to tell the Home Secretary?" But when they learn Ellen is in hospital, Brady rushes the Sec there, to where she's being treated. Treated? With Dr Trevor pacing the corridor! At an opportune moment he snatches the negative from her, but it's just as Brady speeds up. The negative is given to the Sec and Brady zooms to the jail where Wilson is walking down death row. As if to demonstrate how slow the law moves, there's still no news of a reprieve, so Brady has to lock 'em all in a cell until the good news is finally phoned through

.

.

.

.

.

Vanishing Evidence
Smooth talking Charles Gray begins the story as he says "we are all very conscious of the great importance of the work you have been doing," to a professor. Or rather ex-prof. Gray plays Peter Tarle, "a very audacious international spy" who's holed out in Amsterdam with the prof's plans. The Invisible Brady flies there to help agent Miss Reydon (Sarah Lawson), who's shot Tarle in his flat during an unsuccessful attempt to retrieve the documents. A porter (typical Michael Ripper part) has identified her so she's been arrested.
At the apartment Brady arrives just as Inspector Strang (Peter Illing) is reconstructing the crime. Though, with police swarming everywhere, he can't open the safe where the plans are hidden, Brady is able to remove all Strang's carefully assembled evidence. The case seems to have collapsed, except for that porter. But the Invisible Trickster plays the poor porter along as he collects the plans from the safe- the porter thinks the keys have a life of their own, and thus later appears to the police as nothing but a mental case. So Miss Reydon is freed and by way of farewell receives an invisible kiss. Simple, but fun

.

.

.

.

.

.

The Prize

guest star Mai Zetterling

Tania is trying to leave an Iron Curtain country. But regrettably at the border stands the inevitable Anton Diffring. She can't leave.
At the Brady residence, Dee is making Peter "smart", in so far as one can make a man with all those bandages look so. Peter's been awarded a prize for his scientific work. He volunteers to rescue the Guest of Honour, Tania.
Negotiating a minefield, he is to meet up with his contact, Number 11. A border guard reports a Strange Object in the minefield, "a stick all by itself." This mine detector is captured, but the unanswerable question is - how did it move? Brady is helped by No11 to reach Tania's prison where she's facing some unpleasantries from Mr Diffring. Worse, he's no fool, and realises the answer to the unanswerable is that the mysterious minesweeper must have been in the hands of The Invisible Man. He sets a trap.
Stealthily Brady steps into Cell 5 where Tania is being held; but it's only a dummy and the door is slammed shut.
"You're a welcome visitor," shouts the triumphant Diffring. Next stage is to gas the cell. Nasty coughs from Brady. There follow some interesting camera shots of a Semi-Invisible Man in the smokey cell before four baddies in gas masks come in... and get locked in! "Fetch ze master key!" rants Diffring. Brady finally reaches Tania and together they steal a jeep with Diff in hot pursuit.
"Faster!" urges Tania to driver Brady. "Nice to meet you - I've always enjoyed your books," is the calm response. No11 helps Brady assist Tania through the minefield by looking at a plan of the area and relaying instructions to Tania by walkie talkie. Trustingly Tania in high heels plods through the mud. Diff arrives at last, and fumes "blow her up!" Machine gun Peter ends that scheme. Tania reaches safety, but how does Peter return? Dee is just explaining how, before the Awards ceremony, when Peter enters via a train on the "Trans Siberian branch line."
Exciting Ian Stuart Black story.

.

.

.

.

.

Flight Into Darkness
Geoffrey Keen, complete with beard, plays Stevens who works with Brady at the lab. Brady bids him farewell for the weekend, with the promise that "you're going to give some people the shock of their lives," when their experimentation on anti-gravity is published on Monday. But it's Brady who due for a surprise as Stevens disappears with the "all important files."
Now we see why Keen has a beard! He shaves it off and is swallowed up in London. Daughter Pat (Joanna Dunham) asks Brady to find her dad. He's traced to Box 47 at the Covent Garden Ballet, and to a lot of "shhhs" from the audience, Brady tries to reason with him. But Stevens is disillusioned with science and breaks away from Brady's grip. A chases ensues through Covent Garden Fruit Market, with the usual piles of baskets being toppled over.
Wilson (Esmond Knight), a "friend" of Stevens catches up with him and tries to persuade him: "no single country should have it, it ought to be the property of the whole world." Or to be more exact, of his own World Peace Organisation. His "peaceful" methods are soon exposed as a sham but just as Wilson's cronies prepare to do the usual and fly Stevens out of the country at Woodley Airfield, cue Peter Brady.
This is rather a dull tale of a scientist cheesed off with progress

.

.

.

.

.

.

.

.

.

.

The Decoy
Two suspicious men enter a dingy hotel room. Even more suspicious, one hides a gun under his pillow. Opposite the window watches Terry Trent (Betta St John) who is over to entertain the US troops. She is witness to the shooting that follows.
Toni, Terry's identical twin is lucky enough to have Peter Brady help her find her missing sister. He's naturally invisible as Toni checks in at the hotel Terry was staying at. A surprise for the manager who had seen Terry kidnapped. She goes to the same Room 10 whilst he scuttles off to his bosses. Following is Brady as he goes on a No 2 bus to an embassy. "She's just walked in to my hotel," he informs a bemused secretary there. A phone call to Gravesend 7599 ascertains from an Andreas that the girl is still safe. Poor manager- "nerves can sometimes play funny tricks." He's ordered back to the homeland.
Brady tries to hire a taxi, but it's a bit difficult getting one at the best of times, but worse if you are invisible! He finally takes Toni to the London Apprentice Hotel in Gravesend where he finds the kidnapper. Andreas notices Toni and believes Terry has escaped. He recaptures her and heads straight for his riverside hideaway. Just what Brady wants. He arrives in time to prevent the puzzled Andreas from shooting the twins.
And finally Brady visits the Trents backstage at the end of their great show. We never found out what the kidnappers intended to do with Terry. As sinister foreigners would they have demanded vital US secrets?
Invisible Menu

.

.

.

.

.

.

.

.

The Gun Runners

When a English engineer is shot dead by patriots, Brady resolves to prevent guns from reaching "foreign criminals." Miss Zena Fleming has just headed an International Commission investigating the pocket sized state of Bay Akim. She couldn't find any actual proof, so Brady goes along, invisible, as she returns there. The Minister of Customs and Export (Paul Stassino) welcomes her with the veiled threat: "if you are in any trouble, please come and see me."
A less friendly caller tells her an aircraft is leaving in half an hour, a gun reinforcing his invitation. Brady naturally interrupts his flow- "who sent you here?" The answer is forced out of him- the manager of Citrus Exports. Their warehouse is packed with crates, all full of lemons. But what of the "special crates"? Buried beneath the oranges are those guns.
Zena goes to tell the Minister of her discovery, though he is unconvinced. He accompanies her to the Citrus warehouse and after a lot of searching the guns are accidentally uncovered. "This is terrible," exclaims the owner in feigned surprise. He tries bribery, but when that fails the Minister has to reveal his duplicity. They plan to kill her but Brady just succeeds in preventing them.
The pair leave Bay Akim and Miss Fleming is able to celebrate at last.
Invisible Menu

.

.

.

.

.

The White Rabbit

"Get the dogs out- it must be found!" 'It' being an invisible rabbit who lives in a French chateau owned by ex Nazi collaborator Rocher (Paul Daneman). His privately funded scientists have been working on the formula for invisibility, so far only succeeding in a temporary answer. When the process is perfected "we can control France, and after that the world."
Suzanne happens to spot the now-visible escaped rabbit and soon the French Secretary is phoning Brady- "there is noone else who can help." Brady talks to Suzanne who is kidnapped and removed to the chateau to help in the experiment. "You are going to make a great contribution to our knowledge of human resistance," she's told. As she's readied for the fiendish looking machine Brady arrives, in the nick of time and the French police follow on to cart off the villains.
A very slight story, one feels the promising story line is never properly developed.

.

.

.

.

.

.

.

.

Man in Power

There was this bankrupt country "nothing but desert and date palms." Its sacred pact with the West is no barrier to the ambition of the country's general. He informs the king "your death will be reported as an assassination."
Johnny, the king's brother is warned to stay in Britain and complete his university studies. But the general is frustrated when he returns immediately. His Highness-to-be is certainly in need of protection, as is his sister (Nadia Rejin). She warns him he's walked into a trap, but he's a bit fortunate- he has Invisible Help!
Though the tribesmen remain loyal, the general warns him not to accept the crown. But the path of duty appears clear, until The Princess is kidnapped by Guess Who, in an act that seems destined to ensure the new King will be but a puppet ruler- "if you value her life, you will refuse the crown."
Brady is on hand and follows the screams and rescues the princess. The coronation proceeds.
Plan B for the general- "send me the man who will serve his meal tonight." Drugged and now defenceless the murderer is poised knife in hand, but again the Invisible Rescuer is on the scene! Thus the general is taken away for trial.
Andre Morrell was a dab hand at playing evil foreigners, and he makes the best he can of Ian Stuart Black's rather bland plot.

To The Invisible Man

.

.

.

.

.

.

.

.

.

..

Man in Disguise

From a shot of the Eiffel Tower and the fact that a taxi driver thanks Peter Brady with a "merci monsieur," we can guess we're in Paris. Brady is at the airport where (a la Simon Templar) he sees a damsel in distress, who in reality is not in need of any assistance. It's a ruse to enable her confederate Nick (Tim Turner) to steal Pete's passport and put some bandages on to pretend he's The Invisible One. An easy way to smuggle dope into England.
Brady, having extricated himself from Customs, goes to the Yard to search through their records. But the damsel is not on their files. He pledges to help track down the smugglers. With Sgt Winters (Jeannette Sterke) and Sgt Day (Howard Pays), they visit various night clubs. Eventually, at the Golden Monkey, a supply of reefers are bought. The Invisible Man finds that the manager, Harry (Denis Shaw) has the supply of drugs which Brady contaminates with salt. Winters, posing as an addict, starts to "holler" complaining about having to pay £20 for a spoonful of salt. Panicked, Harry rushes off to tell his boss (Lee Montague) and they all fall out. Brady however gives each of them an invisible punch before they are arrested. Only the damsel and Nick's crew remain to be rounded up.
Back home, Peter relaxes with his gym equipment: "are you getting rid of your invisible bulge?" queries Sally. Alert as ever, she spots a man tampering with The Invisible One's car. There's a bomb in it, a warning to Brady to lay off the dope smugglers.
Sgt Winters has another bright idea.... The criminals tail a Bandaged One and finally run him over. Since they're driving an ancient ambulance, they are able to stretcher him away to Nick's hideout. So here we find a rare group:
Tim Turner, who normally plays The Invisible Man,
Howard Pays disguised as The Invisible One to fool the crooks, and
of course The real Invisible Man, who's invisible as usual.
"Let's have a look at him, I'm curious." But of course they never do. The police swoop and the ring is smashed.
The story ends with a proposal to Sgt Winters to "do the town" with Peter again

Invisible Man Menu

.

.

.

.

.

.

.

.

.

Opening scene- a gambling club. One loser (Glyn Owen) exits, walking to London Bridge to end it all. "That would be rather foolish Mr Smith," says a voice. He's offered a way out of his financial worries- if he gives some information on the Rocket project The Solidor. Professor Howard has invented this metal which would be very useful in enemy hands.
So Smith zips off with The Rocket. As he's in charge of transport, it's easy. He even gets an army escort. Off he drives with lorry EXA265- a signpost clearly indicates it's come from Borehamwood (ie the studios!), but instead of proceeding on up the single carriageway A1 he turns right towards Barnet. Down a narrow track. Ambush! Driver Evans is knocked unconscious which gets Smith worked up. He needs to get him to hospital. Unconscious man number two!
In a quarry the Rocket is transferred to another vehicle TGJ198. By an amazing stroke of luck, Brady, in pursuit, spots tyre marks indicating where the lorry had left the main road. Invisible, he jumps on board TGJ and finishes up in the baddies' garage. Whilst they gloat over their success, Brady phones the police, but he's overheard. They try shooting at him. "I can see you," he tells them, "but you can't see me." The light is extinguished. "Can you see in the dark, Mr Brady?" A clever move, but Smith helps Brady before the police appear, too late to assist as usual.

To Invisible Man Menu

.

.

.

.

A disappointing story by Tony O' Grady (Brian Clemens) and Ian Stuart Black.
The pits in the series. The Network dvd includes a commentary by Brian himself with Ray Austen (why him?). Brian even jokes it is "badly written" and his comments, while occasionally revealing and informative, are often more laughable and inane, sadly. While the pair of them recognise 'William Tell' they decide Jennifer Jayne is firstly Lisa Gastoni, then later correct that, calling her 'Maid Marian,' for goodness sake, each time she is on screen. Brian also offers the interesting speculation that the National Studios, where the series was made, might have not had space, so some scenes were shot at the nearby Danzigers' studio.

So to the story, which has the ingenious premise that the Invisible Man cannot cast any shadow, so this new bomb, which is detonated when a shadow passes o'er it, has no fears for Peter Brady. The weakness of the plot, as our entertainers comment on it, is that Brady is hardly involved in the first half of the tale.
He has invented this detonator for the bomb, which is being demonstrated at 3pm by Cpt Barry Finch (Conrad Phillips). However when this begins a watch shows just after 2 o'clock!
It's a cloudless sunny afternoon. An aircraft is to fly overhead to cast a shadow to trigger the explosion. But things go wrong when Finch stupidly gets entangled in the wiring after triggering the mechanism. The bomb is live. It's ticking! Finch is trapped in rubble, "can't we dig you out?"
Impossible. Except of course for the Invisible Defuser. Call the plane off, good, now get Peter Brady! Cpt Betty (Jennifer Jayne), works out Brady has just over eighteen minutes, then the sun's shadow will fall on that bomb.
Brady drives through the pleasant countryside, not that fast at all, no wonder half the time has elapsed before he gets to the demonstration site. We've seen this bomb defusing time and again, one wire is cut, to Betty's expert instructions, then another, you think you could do it yourself, "steady... pull the detonator clear."
"Nice lot of tension," comments Ray Austen to the writer, certainly better than their comments. Betty thanks Peter Brady for rescuing Finch, nice one! Actually of course it was Mrs William Tell rescuing her future on screen husband

Invisible Man Menu

.

.

.

.

.

.

.

.

The Big Plot
Disappointing final story- there's no need for Peter Brady to be invisible in this one.
"Foreign Aircraft Crash" read the newspaper headlines. In the wreckage is a typewriter, inside which is a canister of Uranium 235. Brady believes (I can't fathom quite why) this is "part of an international plot." Mind you, it is- a bomb is to be placed "under London." Brady bets a replacement canister will be smuggled in, and he's dead right. Lady Peversham (Barbara Shelley) is returning to England after winning the French golf tournament. An alert customs official (Anthony Bate) finds her clubs are radioactive and phones WHItehall 7402. Sir Charles in turn contacts Brady.
There are a lot of sinister foreigners working at Lady Peversham's. Husband Larry, an enthusiast for Peace, is spotted by The Invisible Snooper stacking his car with materials. The baddies drive to one of London's bombsites and deposit a heap of rubble. So the bomb must be in Peversham's cellar! Now we see it! Lady P sees the final preparations- "police- quickly!" she phones, but she's captured before she can send a coherent message. Naive Lord P tries to persuade his wife that these men are really jolly good, but is shot for his trouble. The police surround the house and Brady succeeds in preventing London from being annihilated.

The series didn't end on a bang therefore, and as we never see Brady restored to normality, presumably he's still wandering round out there, invisible...... Maybe you'll see him one day
To Invisible Man

.

.

.

.

.

.

.

.

.

.

.

Here's Tim Turner, for once not in disguise!
Tim was Peter Brady's voice in most stories, though whether he was often Brady when clothed in all those bandages, who can tell us?