Taped Crime Menu
.
.
.
.
Sherlock Holmes (1951)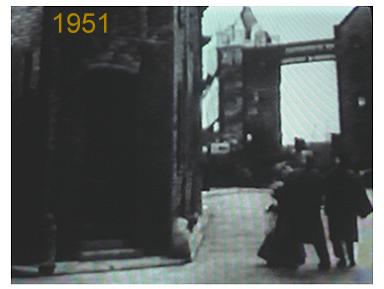 starring John Longden as the immortal detective and Campbell Singer as Dr Watson
(For the 1954 Sherlock Holmes series starring Ronald Howard . . For the 1960s BBC series . . For the 1979 Geoffrey Whitehead series)

The Case of The Man Who Disappeared


Based on the Conan Doyle story The Man with the Twisted Lip
Neville St Clair (Hector Ross), a patient of Dr Watson, has disappeared. A "very old friend" Marie had come to his home one day and insisted he obeys orders, or else.......
Kate his wife (Ninka Dolega), seeks SH's help. She doesn't know who the woman was, but she has found out her husband's alleged place of work does not exist.
SH examines the area around this address, and follows a mysterious match seller through a graveyard and on to Redmead Lane near Tower Bridge. Kate is brought there and spots her husband through a window. In rushes SH to find St Clair dead in the room. When the police arrive the corpse has of course disappeared from the match seller's room. But there is some clothing that belongs to St Clair, and his coat is found underneath the window on the bank of the Thames. The house is a shady opium den owned by Luzatto (Walter Gotell).
Against all this evidence, Kate still believes her husband is alive. "I ought to be kicked from here to Baker Street," jokes SH as he concurs with her. The key is in the bathroom of the house, he adds cryptically.
Kate's intuition seems to be substantiated when she receives an anonymous letter in printed letters cut from a magazine stating Neville is alive. SH of course can deduce much from this missive. It's from a woman.
He breaks into the property of this lady, Doreen alias Marie, at the opium den belonging to Luzatto, to ask her why she'd sent the note. Answer: "Neville told me to." Luzatto had been blackmailing Neville St Clair because he thought he had killed Doreen's husband. Neville had feigned death when SH had found his corpse earlier- incredible that SH was so taken in! Nevertheless, SH persuades her to set a trap.
The crooks break into Baker Street and capture SH. At least they think it's SH, though it's actually DrW. He's taken to Luzatto, who realising the error, orders DrW to write a note to SH ordering him to come to the den. But in breaks SH and there's a fight, during which, with typical sneakiness Luzatto creeps away.
When the fisticuffs are over, the match seller is shown to be Neville, who'd been a virtual prisoner of the evil Luzatto. He's exonerated of the crime he thought he was guilty of, so they all live happily etc etc
Crime Menu

.

.

.

.

.

.

.

.

.

.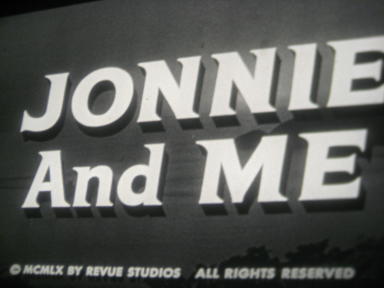 Jonnie and Me
A 1960 pilot made by Revue, filmed in Mexico. and starring
Richard Greene as Jonnie, and Robert Strauss as "me" (Hank)
with, in this story Hazel Court,
also Fernando Wagner, Jerome Cowan, Elsa Gardenas.
Teleplay: Danny Armold and Roland Kibbee. Directed by Danny Armold. Producer: Richard Irving.
This pilot was made but no series ever materialised from it. It introduces the main character, Jonnie, a wealthy playboy but secretly working for the US government, and his rival "me" aka Hank.They enjoy an uneasy relationship trying to spy out secrets and obtain the best price possible for them. This adventure has the added bonus of an appearance by Hazel Court.

It starts in Acapulco where Jonnie, relaxing on his luxury yacht with his latest conquest, rescues survivors from a stricken destroyer. The mystery is how it could have been sunk by a torpedo.
Jonnie stumbles on a note which shows that a millionaire named Karnak had had his ship fitted up with just such a torpedo. Jonnie invites himself to an exclusive party on this vessel.
A beautiful guest, Victoria, catches him taking photos so he chats her up and dances with her. Then he goes below to try and locate the torpedo and bumps into Hank. Behind a bulkhead he finds what he is looking for. He photographs the torpedo but they are discovered and dragged into the presence of Karnak. "You may die," he tells them. They are chucked overboard, which seems hardly murderous intent as the pair swim ashore.
Now Hank wants to share the vital photos, but Jonnie has to concede he hasn't got them. When he was searched he had handed them to Vicky.
When she comes ashore, she coldly informs Jonnie and Hank she has sold them to a higher bidder, ie Karnak. But later, at the airport, she kindly hands them to Jonnie alone, for a kiss or two. Hank however is wise to that and butts in to grab his share.
All very tongue in cheek, anticipating the mood of the 1960s spy genre, if this had been made a few years later it would surely have caught on. It's a very slight story, but interesting to watch Richard Greene attempting to throw off the shackles of his Robin Hood, alas, that was just impossible with the series ever being repeated

Crime Menu . . . Pilots' Menu

.

.

.

.

Boyd QC
starring Michael Denison in the title role, a well-respected, highly professional man-about-the courts. Richard Boyd QC is in demand by all kinds of clients. Some of his cases include murder, fraud, forgery, blackmail and poison pen letters.
One of A-R's big successes, the series ran from late 1956 until 1964, with time off, of course, for good behaviour. 83 stories were made.
Writer of all the stories was Jack Roffey. Introducing each story, and acting as narrator was Charles Leno as Boyd's clerk. However John Glyn-Jones played Boyd's clerk George in the first series only. Executive Producer series 1: Caryl Doncaster.
The set was an adaptation of Courts Three and Four at the Old Bailey, though this was never actually referred to, in the stories. Publicity claimed the programme's success was down to 1 authenticity coupled with suspense and excitement, 2 the court theme and 3 its authoritarian approach to the question of right and wrong in law. "The treatment of all cases is tough and realistic."

Note on actors in the series.
In addition to those listed below, the following have also stated they appeared in this series, though the actual story is not at present known:
Douglas Blackwell (series 1 or 2), Jane Downs (either series 1 or 2 or 3- she played a nurse), Jeremy Geidt, David Blake Kelly, Doreen Keogh (series 1), Paul Massie, Jill Melford, George Mikell, Jean 'Jill' Moore, Peter Stephens, June Thorburn, Susan Travers, Selma vaz Dias, Mavis Villiers, Lockwood West. John Horsley also made at least one appearance in Boyd QC before that listed in #4:1.

Series 1 ran for 13 weekly stories, commencing Christmas Eve 1956. All except 1:1, 1:2, 1:6 and 1:10 were being advertised for sale to other tv stations in the 1960s, so must have been filmed.
1:1 Her Father's Daughter
Designed by George Haslam. Directed by Michael Currer-Briggs.
Synopsis: what was the secret of Ruth Martin that turned the case for James Lavers?
The first ever episode.

1:2 The Greenstreet Girl
December 31st 1956.
Designed by George Haslam. Directed by Cliff Owen.
Synopsis: Judy Greenstreet, a secretary, endeavours to evade the amorous advances of her boss. The situation which ensues involves her in a charge of arson.

1:3 The Case of Casanova Jones
Monday 7th January 1957
Directed by Ronald Marriott
Cast includes: Junia Crawford... Ruby Wheeler.
To quote Boyd himself- "When is a bigamist not a bigamist?" The results of the marital adventures of a soldier, Pte Jones.
"There are four complete answers to a bigamy charge... proven absence of the marriage partner for seven years coupled with a genuine belief of death; dissolution of the first marriage and nullity of the first marriage. There is also a fifth which is not laid down by law, but which is equally effective. We meet it when Boyd QC defends a certain Private Jones, Casanova Jones as he became known in this case."

1:4 The Ordinary-Looking Man
Monday 14th January 1957
Directed by Michael Currer-Briggs.
"Richard Boyd is by no means invincible nor is he intended to be a 'clever dick.' There comes a time when his client is not quite so fortunate- when evidence is stacked too strongly against him. As Boyd's clerk, George, points out, 'You can't build bricks with straw.'... In this episode the case against Hatton Garden's diamond merchant Rosenstiel is black indeed, innocent as he would appear to be. This is a story of diamond smuggling that starts when an Irish runner is apprehended at the airport and refuses to divulge the names of his accomplices. Police investigation leads to the diamond merchant who by a circumstantial twist of fate finds himself in the dock."

1.5 Final Night Alibi
January 21st 1957, 8pm.
Director: Cliff Owen.
TV Times synopsis: "A ring at the door... a night watchman answers it- and the next moment he lies battered and bleeding on the floor. The defence of those accused of the crime was an alibi, but to be effective an alibi must be unshakeable"
Rediffusion synopsis: "Boyd's clerk George quotes Mr Weller's advice on how to conduct the case of Bardell v Pickwick- 'Stick to the alleybi' says Mr Weller, 'a alleybi's the thing to get him off!' George ends the programme some 27 minutes later, 'An alibi is like a chain. The more links in it the longer it gets... the difficulty lies only in finding its weakest link.' Finding that weak link is Boyd's task. He is confronted with the seemingly cast iron alibi of two crooks plaintively protesting their innocence to a charge of breaking and entering an office and stealing jewellery and silver to the tune of several thousand pounds."

1:6 The Light Tackle Job
Monday 28th January 1957
Directed by Ronald Marriott.
A violent criminal on the run can be gentle enough with the woman who loves him, but to the public at large he is a potential killer.

1.7 The £10,000 Wash Out
February 4th 1957
Director: Michael Currer Briggs.
Cast includes:
Raymond Francis... Col Barlow
Margo Johns... Mrs Barlow
Noel Coleman... Mr Eastley, Defending Counsel
James Raglan... Judge ("once again")
Of nearly 4,000 cases of forgery known to British police in a year, two thirds are cheque forgeries and of the few odd ones, one would certainly have been the falsely time-stamped betting letter. Colonel Barlow, assisted by his wife perpetrates a simple but effective method of putting this fraud into operation. A £10 treble win placed on three outsiders would win the Barlows a five figure fortune. All the runners had of course come in first but Barlow's bookmaker smells a rat. So does the Post Office, so do the police; and so the colonel finds himself in the dock. It seems fairly obvious that he has engineered a betting swindle but it is going to be difficult to prove, and Boyd as Prosecuting Counsel begins to feel that the defendant is going to get away with it. But Col Barlow did not keep up to date with his racing and it turned out to be all a matter of time and a horse called Crumpet that unseated him

1:8 The Open and Shut Case
February 11th 1957
Director: Michael Currer Briggs.
Cast includes:
Richard Gatehouse... Blackmailer
Gladys Boot... Housekeeper
Honor Blackman
An American woman in her mid thirties is accused of murdering her aged husband. Blackmail by an old American friend of hers enters the plot... Jealousy by her husband's housekeeper complicates the issue. The accused pleads not guilty.

1:9 Both Sides of the Story
Monday February 18th 1957
Directed by Ronald Marriott.
'The Stage' reported the following were part of this cast:
Betty McDowall... Jill Harris (Defence Counsel)
Christine Pollon... Helen Porter
Boyd's clerk says, "A mean cowardly sort of crime, and quite rightly the courts come down on it hard. All the same there are always two sides to every story." This robbery takes place in a railway carriage and the young man, Peter Hayman, is arrested on the charge in which he is alleged to have been armed with an offensive weapon, a revolver, and robbed Helen Porter of a necklace. The accused pleads not guilty, and Boyd QC is briefed to prosecute.
Additional details: "... This time the hitherto invincible paragon of the law courts takes a beating from the defending counsel who has 'the face of an angel and a mind like a needle.'"

1:10 The Light That Was Dark
February 25th 1957, 8pm
Directed by Michael Currer-Briggs
Synopsis: Hate and blackmail provide important elements in this case, where Richard Boyd defends a fascinating and sophisticated woman who is accused of murder.

1.11 Hit and Run
March 4th 1957
Director: Cliff Owen.
Cast includes:
William Franklyn... Jack Main
Barry Keegan... Police Inspector Roberts
Frank Shelley... Mr Donkin, Prosecuting Counsel
The charges concerns a road accident. The case in question is an up to date one from the point of view that causing death by dangerous driving is a new offence in Great Britain created by the Road Traffic Act of 1956. Replacing the charge of manslaughter which hitherto covered the same cirumstances, death by dangerous driving is no longer a felony punishable by life imprisonment, but a misdemeanour carrying a maximum sentence of five years. However, when a man's car kills a cyclist one night, police find him intoxicated at home. Boyd QC defends. But even he finds this a tough nut to crack.

1.12 The Key of the Door
March 11th 1957
Directed by Ronald Marriott
Cast includes:
Philip Dale... Mr Black, Prosecuting Counsel
Meier Tzelniker
Jeffrey Segal
Delia Paton
Synopsis: Minks and sables, beautiful furs worth thousands of pounds are stolen on a Sunday afternoon. Only one person could have done it- according to the prosecution.

1.13 The Third Stroke
March 18th 1957 (note- this story is definitely still in existence)
Cast includes:
Victor Maddern... Lee Blake.
Synopsis: Lee Blake, the safebreaker is standing in the dock. This case, the last in this series, is one of breaking and entering. A safe is blown open so expertly that it points to only one man. Eventually arrested, he stands in the dock, but Boyd finds his alibi as tough to crack as the Bank of England vaults. However, even good witnesses are persuaded that the timings of a defendant's alibi can be wrong, even by ten seconds.
Boyd's clerk ends the series with these words, "The Guvnor is going to France for a holiday with his eyes looking like roulette wheels."

Series 2 with 12 stories started in April 1958.
2.1 The Up-and-Coming Man
Wednesday April 9th 1958, 7.30pm
Director: Michael Currer-Briggs.
Synopsis: A girl decides to end her relationship with a married man. He takes the decision badly and threatens her life. One night she is razor slashed by an assailant, and she accuses her ex-lover. Nevertheless, arrested and charged, his case seems certain to be dismissed. Boyd, as prosecuting counsel, has to work hard against strong evidence to get a conviction.

2.2 Mustapha- King of Reefers
April 16th 1958
In the second edition of Boyd QC, Richard Boyd acts as prosecuting counsel in a case of drug trafficking. An Indian, Mustapha, is caught in possesion of hemp.

2.3 The Shropshire Lass
Wednesday 23rd April 1958 7.30pm
Directed by Michael Currer-Briggs.
Synopsis: Ken Morris pleads guilty to a charge of receiving stolen goods. Did his beautiful girl friend who is charged with him know the truth?

2.4 The Balance of her Mind
April 30th 1958
Says Boyd's clerk Albert, 'By the MacNaughton rules of 1843, no person can be convicted of any crime if it can be shown that at the time he committed it the balance of the mind was so disturbed that he didn't know what he was doing was wrong. And it is up to the defence to prove this...' The story opens with the murder of a middle aged lady by her twin sister, an epileptic. A next door neighbour hears the sounds of the killing and calls the police.

2.5 The Not-So-Civil-Servant
May 7th 1958
Director: Michael Currer-Briggs
Boyd QC finds himself defending an unpleasant character charged under the Prevention of Corruptiion Act. Richard Coote, a Licence Enforcement Officer, threatens a small Soho cafe proprietor with a traffic offence and suggests the matter could be glossed over for a small consideration. The cafe owner reports the matter to the police and Coote is arrested.

2.6 Two Wrongs
May 14th 1958
Directed by Jonathan Alwyn.
Synopsis: Armed robbery is a serious offence in the eyes of the law. In this episode, the Court's work is made difficult through a case of mistaken identity.
Storyline: Charles Woodman, a young tough is in the dock charged with robbing a jeweller at pistol point. Woodman pleads Not Guilty and Boyd takes on his defence though the evidence is strongly stacked against the accused.

2.7 The Other Half
May 21st 1958
Directed by Michael Currer-Briggs.
"A young mother, Mrs Pearson, is in the dock after attempted suicide by gas poisoning. She is charged on an indictment containing two counts- attempting to murder her baby and attempting to commit suicide. Boyd defends."
Cast included Carmel McSharry as Mrs Pearson.

2.8 Subaltern Red
May 28th 1958
Directed by Jonathan Alwyn.
Although every possible detail is carefully checked by police, it does sometimes happen that the vital clue remains stubbornly elusive. In such a case the work of counsel is rendered doubly hard.
"Synopsis: A young woman is found strangled in an East End coalyard and her husband Edward Dixon is charged with her murder. Prosecuting counsel produces damning evidence of Dixon's guilt and Boyd has to use all his powers of defence." (Sounds like Perry Mason all over again!)

2.9 A Question of Type
June 4th 1958
"Did old Mr Maitland write the libellous letters to discredit his son or was Dr Tom Maitland's cunning responsible for his father's appearance in court? That is the question posed in this edition of Boyd QC. Boyd is briefed to prosecute Mr Maitland on a charge of publishing a defamatory libel. Opposing him across the court is defence counsel Emrys Williams. The libel takes the form of anonymous letters which allege that popular Dr Tom committed an illegal operation on a young girl. This the doctor heatedly denies. By some careful police work and a little bit of luck the machine on which the letters were typed is traced to Maitland's own house- to his father's room. But in court Counsel Williams insists it was planted there by the doctor, eager to gain long-awaited revenge on his father for something which happened in the past

2.10 Last Train Home
June 12th 1958
Directed by Jonathan Alwyn.
"Marjorie Nelson is a wilful spoiled girl, accustomed to getting her own way, and living in an atmosphere of Only The Best Will Do.
Her association with young Frank Atkins, eager to please her every whim but financially prevented from doing so, seems headed for unhappiness.
In this tenth story of series two the story has gone a step further, from unhappiness to tragedy. Frank is in the dock accused of Marjorie's murder. Returning home on the last train after an expensive night out, the problem of money again causes an argument. Marjorie becomes hysterical, threatens to kill herself and opens the door of the carriage. Frank attempts to save her but the girl slips and falls from the moving train. An obvious accident, but in a dying declaration, Marjorie accuses Frank of pushing her. At the trial Boyd defends Atkins."
TV Times add the explanation that the evidence of a deceased person can only be admitted if the judge is satisfied the deceased was aware of their impending death.

2.11 The £12,000 Fiddle
June 18th 1958
"Three men, Quentin, Martin and Milne, are charged with conspiring together to obtain £12,000 from an insurance company by false pretences. The first two plead Not Guilty, but Milne anxious to return to the path of honesty he has followed for nine years admits the crime and offers evidence to the Crown against his former accomplices. Upon Boyd falls the responsibility of proving that Quentin and Martin are indeed guilty of fraud. All he has is Milne's uncorroborated statement, nothing at all in writing to connect two seemingly innocent men with the crime. And Milne is a former criminal whose last conviction was for a similar offence to the one with which he has now pleaded guilty."

2.12 The Family Affair
June 25th 1958, 7.30pm
Directed by Jonathan Alwyn.
TV Times synopsis: "Richard Boyd plans to spend a weekend in Kent with his family, but soon finds that it is not as quiet as he had imagined."
A-R synopsis: "Richard Boyd finds himself in court defending a member of his household, German maid Putzi Weigel. Putzi faces a charge of child stealing and another of causing the baby grievous bodily harm. When the baby, bruised and beaten, is found in the wardrobe of her bedroom, Putzi at first denies hysterically all knowledge of it. Later she admits taking the child from its pram but vehemently denies cruelty, alleging that the baby's mother is to blame. She is brought to court where Boyd finds himself in the strange position of cross-examining not only Putzi, but his own father and sister, Joanna.
This is the first time Boyd's family have appeared in the series."

Series 3 ran for 16 weekly episodes from 30 December 1958.

3.1 A Couple of Macs
December 30th 1958, 10.15pm
Directed by Michael Currer-Briggs.
"Two Scots go out on a pub crawl on New Year's Eve and become involved in a fight. They are charged with assault and causing an affray. Boyd is asked by an old friend to represent them under the Poor Prisoners Defence Act, does so, securing their release under two points of law. The results are highly amusing although based on actual law and authentic legal procedure."

3.2 Nylon Spells Murder
Tuesday January 6th 1959, 10.15pm
Directed by Jonathan Alwyn.
Synopsis: When a man has been killed and the case is being considered, a most important factor is time- that is, the time in which the intention to kill was formed. Without that intention, a killing is not murder; it may not even be manslaughter.

3.3 Old Tom
January 13th 1959
"Old Tom Brown, on the brink of receiving a life pension and £1,000 gratuity after 40 years with the post office, is charged with stealing three postal orders from a letter."

3.4 A Question of Talking Turkey
Tuesday January 20th 1959
Directed by Michael Currer-Briggs
Synopsis: Three weeks after Christmas is the harvest time for a bumper crop of Christmas crimes. Why did Boyd take this case? Was John Wainwright really involved in the turkey racket?

3.5 Cheap Ticket
January 27th 1959
Directed by Tania Lieven
"A good alibi is a cheap ticket to an acquittal any day of the week- and the alibi Bill Minto cooked up was the cleverest in many a long day."

3.6 Confession of Murder
February 3rd 1959
Directed by Michael Currer-Briggs.
"Was Pollard's confession voluntary, or made under pressure? How does a barrister reconcile his conscience to defending a man he believes to be guilty?"

3.7 An Inside Job
February 10th 1959
"Like many burglars, Harry believed in working with inside help, and, like many burglars, he was caught. It seemed an open an shut case. But Boyd was warned that Harry might still have a trick up his sleeve."

3.8 The Samurai Killing
February 17th 1959
Murder for gain and murder for revenge. Most cases of killing fall into one of these two categories, but murder for jealousy is not so common, and poses more difficult problems.

3:9 In Camera
February 24th 1959
Directed by Geoffrey Hughes
It is said the camera cannot lie. But when a photograph proved Elizabeth Wayne guilty of theft, there were some who thought the camera had made a mistake. For my review
Cast:
John Welsh... Sgt Bolton
Peter Bull... Morley
Brenda Hogan... Elizabeth Wayne
William Abney... Robert Welsh
Charles Gray... Tickle
Also in cast:
Ronald Leigh-Hunt... Braber
Ronald Cardew... Judge
Graham Leaman... Clerk of the Court
Malcolm Watson...Usher (recurring)

3.10 Escape
March 3rd 1959
Directed by Jonathan Alwyn.
It is not generally known that a Queen's Counsel can sit in a judiciary capacity as well as continuing his normal work. In this episode, Boyd, as Commisioner of Hasleford Assizes, is confronted with the tragic case of Olga and Eva Kristof (my review).

3.11 Rope's End
Tuesday March 10th 1959
Directed by Michael Currer-Briggs.
Murder on the high seas. Cragg always picked on Gaston Ledoux, until one day he went too far.

3.12 The Crooked Path
Tues March 17th 1959 10.15pm
Directed by Jonathan Alwyn.
Synopsis: 'It worked in the film so it must work in real life' is an attitude encountered in the courts all too frequently.
This week, Boyd defends a case of attempted murder- a case which need never have happened if Bill Whelan had faced up to life's problems.

3.13 In A Manner Dangerous
Tuesday March 24th 1959
A famous French actress was injured in a car crash and a pedestrian killed. Was Yvonne la Fayette guilty of driving 'in a manner dangerous'?

3.14 Flat to Let
Tuesday March 31st 1959
This story deals with a phoney estate agent who induces people to pay registration fees as a condition of obtaining particulars of available flats. In fact he has no list of flats, but keeps his clients dangling until the fee expires.

3.15 Matrimony Wanted
Tuesday April 7th 1959
In this final episode of the series, Peter Donovan, a confidence trickster, tries to defraud Valerie Frinton of her life's savings with an illegal marriage certificate.

Series 4 started in June 1960 and ran for 13 stories.
4:1 A Case of M'Shimba
Wed 29th June 1960 8pm
"Martha, an African girl, intends to marry a coloured American GI. Odapi, to whom she had been betrothed by a tribal custom, comes to England to take Martha back. A row develops, a policeman is called and Odapi attacks him with a knife. Odapi is arrested. In defending him, Boyd explains that Odapi believed the policeman to be a 'blue devil' sent by a witch doctor to punish him. (Odapi had been chosen as a vehicle for a dead chief's spirit, a belief known as M'Shimba, and had broken tribal custom by leaving his village.) The High Court Judge believes Odapi and orders the jury to acquit him."
Cast:
Dan Jackson... George Albert Memorial Odapi
Barbara Assoon... Martha Shimboko
Millard Williams... Tom Bates
Malcolm Keen... Judge
John Horsley... Mr Fraser
Lawrence James... PC Shaw
Edward Harvey... Mr Hornham
Malcolm Watson...Usher
Weyman MacKay... Clerk of the court
Corinne Skinner/Zoe Adams... African girls
Benny Nightingale/ Slim Harris... African men

4:2 Hell Hath No Fury
Wed 6th July 1960 8pm
Synopsis: Take two women, one man, a pinch of jealousy, a blade of malice- but do not stir these ingredients or you will have a first-class explosion.
"Helen Laird, Paul Soames' secretary and mistress, is charged with blackmailing him. She employs Boyd to defend her and convinces him she has been framed by Soames' wife. Mr Waring, the Prosecuting Counsel, has a strong case. However Boyd finds irrefutable evidence which convinces the court that Helen Laird is not guilty, and that she has been the victim of Mrs Soames' jealousy"
Cast:
Gwen Cherrell... Helen Laird
Alfred Burke... Prosecuting counsel
Noel Johnson... Paul Soames
Annette Kerr... Mrs Soames
John Dunbar... Mr Howarth
Peter Collingwood... Mr Moate
Geoffrey Denys... The Judge
Weyman MacKay... Clerk of the court
Owen Berry... Usher

4:3 The Hard Way
Wed 13th July 1960
"De Viani, a notorious confidence trickster, is in prison awaiting his trial. He decides to employ Boyd to defend him and to this end he commissions Green, a representative of Chetty and Winthrop to employ Boyd in his defence. Green denies all knowledge of De Viani and his request. De Viani claims that he told Green to collect a suitcase containing £250 so that there would be enough money to cover the brief. Green is charged with stealing the money and Baird, another employee of Chetty and Winthrop, is accused of receiving stolen goods. Boyd's prosecution reveals that Baird had disguised himself as Green, had visited De Viani in jail and had subsequently stolen Case and money. Green was acquitted"

4:4 One for the Road
Wed 20th July 1960 8pm
Directed by Pat Baker
TV Times Synopsis: A car in the hands of a drunk can be a lethal weapon and 'one of the road' can lead to sudden death as quickly and surely as the hangman's rope.
A-R Synopsis: A young pop singer, Peter Dalton, is arrested and charged with unlawful killing of a woman while being drunk in charge of a car. His manager, Lewis Gorman, is the only witness who can enlighten the court about Peter Dalton's condition on the night in question. He testifies that Dalton was extremely drunk and that his driving was dangerous on the journey home. In Dalton's defence, Boyd cross-examines Gorman and casts doubt on his version of the story. Further questioning proves Gorman to have been the culprit and shows that he deliberately framed Dalton so as to avoid a prison sentence.
Cast:
Bill Kerr... Lewis Gorman
Leonard Sachs... Prosecuting Counsel
Peter Rosser... Harry Bennett
Glyn Houston... Det-Insp Brown
Jeffrey Segal... Dr Martin
Peter Fraser... Peter Dalton
Ronald Cardew... The Judge
Claude Jones... Knowles
Trevor Maskell... Det-Sgt Smithers
Arthur Lawrence... Grindley
Weyman Mackay... Clerk of the Court
Owen Berry... Usher

4:5 Jellied Eeels They're Luv'ly
Wed 27th July 1960 8pm.
Directed by Michael Currer-Briggs
Storyline in TV Times- Rosie's eels and pies are 'doing very nicely,' but her ambitions grow too large against the better judgement of her crafty accomplice Willie.
A-R Synopsis: "Rosie Gould runs a cut price meat stall. Willie provided 'cheap' meat for Rosie, who then made meat pies which she sold on her stall. The meat used had been stolen from local farms by Willie. Eventually they were caught, but, however, this possibility had been foreseen and they had provided themselves with an alibi. Lottie Machin, who was known to be scrupulously honest, staunchily upheld their alibi. She said that they could not be responsible for the paricular theft in question because she was with them at the time having her picture taken; in the background of the photo was a clock showing the time and date which apparently 'verified' what they said. At the last minute, Boyd for the prosecution, finds a flaw in the alibi and the case is proven against Rosie and Willie."
Cast-
Megan Latimer... Rosie Gould
George Tovey... Willie Walters
Sheila Ballantine... Lottie Machin
Molly Lumley... Old woman
Geoffrey Hibbert... Alf Parker
Patrick Newell... Bert
Geoffrey Denys... Judge (in several of this series)
Donald Eccles... Mr Limpkin
Anthony Sagar... Dt-Insp Douglas
Owen Berry... Usher (also in other stories)
Betty Cardno... Mrs Painter
Mignon O'Doherty... Mrs Toogood
Louise Stafford... Mrs Noakes

4:6 The Decoy Chick:
Wednesday 3rd August 1960 8pm
directed by Pat Baker.
The Homicide Act of 1957 divides murder into two categories: 'capital' murder- punishable by death; and 'non-capital' murder- punishable by life imprisonment.
Sometimes as a result, a man's life depends on nothing but a pure technicality. Jim Lyons is a case in point.
A-R Synopsis: "Helen Mackenzie is murdered. Her fiance James Lyons discovers that Helen had somehow been mixed up with a gang of criminals; she had wanted to leave the gang but the boss, Benjamin Turley, threatened to kill her if she did. Helen left them and Turley shot her. In a blind rage, Lyons goes to Turley's flat, shoots him once, and stabs him twice, then gives himself up to the police. In defending him, Boyd points out to the court that it is not known whether Turley died from the bullet wound or the stab wounds, and on this fact would depend whether Lyons was to be sentenced to death or life imprisonment. Dr Lifford, who examined the body, could not say from which wound Turley had died. This doubt over a technical point, caused the judge to sentence Lyons to life imprisonment."
Cast:
Bryan Coleman... Prosecuting counsel
Barry Warren... James Lyons
John Barrie... Det-Supt Knott
Diane Clare... Helen Mackenzie
George Howe... Dr Lifford
Harold Goodwin... Stent
Gordon Whiting... Benjamin Turley
Brian McDermott... Snaith
Reginald Smith... The Judge
Lionel Gamlin... Mr Lermitt
Ian Clark... Standish
Michael Oxley... Webster
Anthony Dawes... Mann
Weyman MacKay... Clerk of the court
Owen Berry... Usher

4:7 Uncle George
August 10th 1960 8pm
The story: Every so often someone will try to pervert the true course of justice, and such was the case when Boyd was sitting as Special Commissioner at Springfield Assizes.
A-R Synopsis: "Joanna Harriden, Jonathan Courtenay and Caroline Swinden have an argument. A fight develops and Caroline is accidentally killed. In desperation, Joanna turns to her uncle, George Pack, who agrees to help. Pack decides that in return for a sum of money, he will accept responsibility for the accident. At the Assizes, Pack is charged with manslaughter. Boyd, who is sitting as Special Commissioner and Judge, decides that Pack's story is inconsistent and suggests to the police a further search for another witness. This is successful and important evidence comes to light which causes Pack to confess to the court the full story. The Case is dismissed and Pack, Joanne and Jonathan are imprisoned for perjury."
William Squire... Mr Corby
Redmond Phillips... George Pack
Leslie Weston... Mr Martin
Mary Watson... Joanna Harriden
Barrie Cookson... Jonathan Courtenay
John Kidd... Dr Sullivan
Colin Tapley... Det-Inspector Fuller
Edna Petrie... Miss Ralton
Frank Pemberton... Usher
John Boddington... Clerk

4.8 Fiddlers Two
Director: Michael Currer-Briggs.
August 17th 1960
Synopsis: Every now and then a case has the fascination of a jigsaw. No violent passions, no banner headlines, but, all the same, a fiddle that has been worked on the public by clever rogues.
A-R Synopsis: "Kenneth Martin and Gordon Nicholls are charged with defrauding the public by selling a useless hair tonic, and with rigging a competition which is part of their sales campaign. However Nicholss' true identity is revealed by Biron, a blind man, and subsequent examination by Boyd proves that the setup is a 'fraudulent device.'"
Colin Keith Johnson... Henry Stevens
Lucy Griffiths... Mrs Austin
Douglas Ives... Mr Austin
Ronald Fraser... Kenneth Martin
David Nettheim... Gordon Nicholls
Charles Morgan... Supt Latham
Philip Leaver... Mr Borland
Arthur Lowe... Mr Biron
James Raglan... Judge
Weyman Mackay... Clerk of Court
Owen Berry... Usher

4.9 The Little Man
Director: Michael Currer-Briggs.
August 24th 1960
Synopsis: Boyd is entrusted with the defence of John Parsons, but Parsons has confessed that he killed his wife. Boyd seems faced by an impossible task.
A-R Synopsis: "John Parsons is accused of strangling his wife Connie. He had intended to ask her for a divorce so that he could marry Florence Twiss, the woman he really loved. He and his wife had quarrelled, and in a scuffle Connie is killed. When he hears that the police are looking for him, Parsons gives himself up and admits to the killing. Boyd defends Parsons, and his thorough investigations reveal the true facts of the case. Boyd shows the court that Dr Attard, who conducted the postmortem, was inexperienced with death by strangulation and had inadvertently but wrongly diagnosed the cause of death. The correct diagnosis is given by Boyd's surprise witness Dr Burton. The jury returns a verdict of Accidental Death and John Parsons is acquitted."
Mervyn Johns... John Parsons
Ann Wilton... Florence Twiss
Doris Yorke... Connie Parsons
Edwin Brown... Milkman
Denis Holmes... Dr Foote
David Phethean... Supt Smith
Ronald Masters... Simpson
Martin Lawton... Det Sgt North
Ian Parsons... Prison Officer
Bryan Pringle... PC Nutting
Leonard Osborn... Mr Blackerler
Jessica Dickinson... Buffet Attendant
Richard Vernon... Mr Trottman
James Raglan... Judge
Michael Bates... Dr Attard
Robert Sansom... Dr Burton
Weyman Mackay... Clerk of Court
Owen Berry... Usher

4.10 New Lamps for Old
August 31st 1960
A-R Synopsis: "Aristotle Loukis is charged with the forging of hallmarks on antique silver, and also with intent to defraud Arnold P Kriebel of £5,000. In defending Loukis, Boyd explains that the antique silver had been left in the shop safe since before the war. He also explains how a set of modern hallmark punches came to be left in the safe. Boyd's defence appears strong, and it seems the case will be quickly wound up. However Mr Burton, the prosecuting counsel, produces further evidence which convinces the judge and jury that Loukis is guilty."

4.11 The Time of Day
Director: Pat Baker
September 7th 1960
Synopsis: Family loyalty and the love of a father for his son have been two essential elements of social behaviour. Unfortunately these very same qualities sometimes become warped, and that means trouble for everyone, especially the police.
A-R Synopsis: "James Sprott is accused of murdering his ex-girl friend. Boyd, the prosecuting counsel, establishes the approximate time of the murder at around 3pm to 4pm. Casement for the Defence calls as a witness a Mr Lewis who swears that the girl was alive between 3.30 and 4pm on the day of the murder. Casement also proves that Sprott was at the local hospital from 3.15 until 7.45pm. Boyd is convinced Sprott is guilty. Investigation proves that Lewis had perjured himself in order to repay Sprott's father for saving his (Lewis') son's life a year before. Boyd presents this new evidence to the court. Lewis confesses that he had not seen the murdered girl on that day. This fact along with the police evidence of fingerprints and bloodstains convinces the judge and jury of Sprott's guilt. He is sentenced to life imprisonment."
Robert Flemyng... Defending Counsel
Michael Brennan... Lewis
Joyce Barbour... Mrs Rumbold
Norman Bird... Mr West
John Wentworth... Dr Spiller
Reginald Smith... Judge
Mona Bruce ... Miss Nelson
Douglas Muir... Mr Sprott
Raymond Mason... Detective
John Dunbar... Mr Howarth
Weyman Mackay... Clerk of Court
Owen Berry... Usher

4:12 The Dog with a Bad Name (this was to have been the last of this series)
Director: Michael Currer-Briggs.
September 14th 1960 8pm
A-R Synopsis:
"James Burriss, an old lag, is charged with breaking and entering a garage and stealing tools. He pleads not guilty, and is defended by Boyd. His defence is that his car broke down and that, as he was close to a friend's garage, he thought he would borrow the necessary tools. However he did not know that the garage had changed hands and he swears that he got in through an open window. The garage owner, Arthur Todd, insists that all the windows and doors were locked. Evidence substantiating Burris' story is revealed when Todd's daughter is found to have been secretly courting and had used the open window in question as an exit. The window had stuck and she left it open all night. His case is proved not guilty, and Burriss is discharged."
Weyman Mackay... Clerk of Court
Leslie Dwyer... Jimmy Burriss
Margaret Bull... Miss Manners
George Bishop... Mr Huckle
Reginald Smith... Judge
Peter Vaughan... Sgt Curtis
Peter Howell... Mr Borford
Michael Harrison... PC Moss
Bert Platt... Charlie Barker
Cameron Hall... Arthur Todd
Leon Garcia... Ernie Etchingham
Owen Berry... Usher

4.13 Ada's Daughter
September 21st 1960
Director: Michael Currer-Briggs.
A-R Synopsis: "Ethel Courtenay, the daughter of Boyd's sister's housekeeper Ada, is arrested and charged with sending poison pen letters to people in her village. Vera, the wife of Dr Ticehurst, who is Ethel's employer, tells the police that she found a bundle of the letters in Ethel's room. Boyd defends Ethel and almost proves to that court that Dr Ticehurst was responsible for the libel. However Vera stands up, stops the case, and admits to having written all the letters"
James Raglan... Judge
Maureen Pryor... Ethel Courtenay
Helen Jessop... Penelope Boyd
Joan Young... Ada Courtenay
Oliver Johnston... Dr Ticehurst
Nora Nicholson... Vera Ticehurst
Margot Bryant... Mrs Cooper
Geoffrey Denton... Inspector Halpin
Martin Wyldeck... Mr Shoreham
Weyman Mackay... Clerk of Court
Owen Berry... Usher

Series 5 ran for 13 episodes, commencing 24 May 1961.
5:1 The Needle Match
Wed 24 May 1961 8pm
Directed by Jonathan Alwyn
David Spencer, international football star, is accused of killing an opposing player by deliberately dangerous play during a needle match.
Pete Murray... David Spencer
Maureen Connell... Ruth Hanson
Sheila Raynor... Mrs Spencer
Wensley Pithey... Mr Wodhurst
John Miller... Judge
Richard Wakeley... Lewis
Peter Welch... Monro
Kent Walton... Commentator
Ronald Mayer... Mr Straker

5:2 The Old Flame
Wed 31 May 1961 8pm
Directed by Jonathan Alwyn
Boyd defends a young doctor who is brought before the General Medical Council accused of improper conduct with a woman patient.
Cast:
Barrie Cookson... Dr Matthews
Hal Dyer... Mr Matthews
Fred Hugh... Mr Stunt
Owen Holder... Mr Hakin
Christine Finn... Marion Shaw
Ralph Nossek... Geoffrey Shaw
Alan MacNaughtan... Mr Walton
Langley Howard... President

5:3 Treasure Trove
Wednesday 7th June 1961 8.55pm
Directed by Richard Gilbert
Synopsis: The finding of buried treasure at Staddon Hall involves Boyd in the defence of its owners, the Carpenters.
Cast:
Charles Carson... Oswald Carpenter
Barbara Leake... Phyllis Carpenter
Peter Elliott... Peter Day
Edward Higgins... Dt-Supt Brooks
Ronald Ibbs... Edward Rickard
Leslie Weston... Sam White
Robert Webber... Mr Clark
Horace Sequeira... Judge
Terence Woodfield... Richard's junior

5:4 Out of the Frying Pan
Wed 14 June 1961 8.55pm (this had originally been announced as the first of this series)
Directed by Richard Gilbert
Synopsis: Boyd QC, acting as Commissioner at the County Assizes, gives a young junior a chance to act for the defence in a case of bigamy.
Cast:
Gillian Raine... Miss Robins, barrister
Noel Howlett... Mr Corby QC
Carl Lacey... Clerk
Pearl Nunez... Emmeline Davis
Dan Jackson... Johnson
Lionel Ngakane... Davis
Donald Hoath... Dt-Sgt Roper
William Douglas... Prison officer

5:5 Family Business
Wed 21 June 1961 8.55pm
Directed by Michael Currer-Briggs
Synopsis: Boyd's father is sued for breach of contract over the sale of a collection of jade.
Cast:
Austin Trevor... Brig. Boyd
Phyllida Law... Susan Boyd
Campbell Singer... Col Berringer
Bay White... Mrs Berringer
Donald Stewart... Steinbeck
Moira Kaye... Secretary
Avril Elgar... Valerie Hodges
Nigel Davenport... Meadows QC
Noel Dryden... Solictor
Brian Hayes... Judge
Colin Rix... Court attendant
Malcolm Watson... Associate
Roger Williams... Usher

5:6 Messing about in Boats
Thursday 29 June 1961 8pm
Directed by Richard Gilbert
Synopsis- Steven Blackford and Alexandra Haydon are sentenced to life imprisonment. To Boyd QC something appears wrong with the case and he finds grounds to bring them before the Court of Criminal Appeal.
Cast- Gillian Raine... Miss Robins
Henry McGee... Parker
John Wyse... President
John Boyd Brent... Mr Baker
Richard Clarke... Steven Blackford
Julie Paul... Alexandra Haydon
Ann Tirard... Harriet Haydon
David Evans... Paul Haydon
Frank Seton... Barman
Keith Pyott... Simpson
Jeremy Geldt... Dr Bassett
Pamela Hewes... Miss Trevor

5:7 Findings Keepings
Thursday July 6th 1961 8pm
Directed by Michael Currer-Briggs
Synopsis: Once more Jimmy Burris is in trouble- and once more Boyd agrees to defend him. But this time there is a ten year sentence hanging over Jimmy's head if the jury finds him guilty. Note: unusually in this tale, the accused confessed in court to previous convictions.
Leslie Dwyer... Jimmy Burris
Margaret Bull... Miss Manners
Erik Chitty... Mr Prendergast
Jean Conroy... Barmaid
Chris Carlsen... Reg Carpenter
Manning Wilson... Billy Hilder
Edmond Bennett... First henchman
Max Miradio... Second henchman
Edward Dentith... Police sergeant
Allman Hall... Mr Gregory
Reginald Smith... Judge
Weyman MacKay... Clerk (recurring)
Owen Berry... Usher (recurring)

5:8 The Runabout
Thur 13 July 1961 8pm
Directed by Richard Gilbert
Synopsis: A pretty girl is 'had up' for speeding- a twist of fate finds Boyd defending her at the Old Bailey on a far more serious charge.
Cast:
Penelope Horner... Kathleen Ewen
Ivor Salter... Dt Insp Courtenay
John Wentworth... Mr Ewen
Weyman MacKay... Clerk (recurring)
Barry Sinclair... Mr Fleet QC
William Kendall... Mr Blake
Michael Bangerter... Jonathan Blake
Brian Hayes... Judge (recurring)
Owen Berry... Usher (recurring)

5.9 Sunday's Child
Thursday 20th July 1961 8pm
Directed by Jonathan Alwyn
An elderly couple are charged with abandoning a baby in a country church. There is no doubt that they are guilty but the problem is- whose child is it?
Eileen Devlin... Mrs Douglas
Elsie Wagstaff... Mrs Davis
Oliver Johnston... Mr Davis
Bryan Coleman... Insp Burton
Daniel Thorndike... Mr Barclay
Eric Elliott... Clerk of the court
Anthony Bate... Desmond Francis
Virginia Maskell... May Davis

5.10 Roast Chicken
Thursday 27th July 1961 8pm
Directed by Sheila Gregg
Boyd goes to the country for a weekend's golf- but finds himself helping some friends involved in a case of arson.
Cast:
Ronald Leigh-Hunt... Tom Venning
Annabel Maule... Hilda Venning
Jack Carlton... Martin Vale
John Woodvine... Mr Clovier QC
Reginald Marsh... Dt Insp Holland
Charles Houston... Peter Dunn
Frank Gatliff... Magee
Brian Hayes... Judge (recurring)
Norman Atkyns... Barman

5:11 Death on Tap
Thur 3 Aug 1961 8pm
Directed by Jonathan Alwyn
Synopsis: James Wilson is committed for trial on a charge of murdering his wife. Richard Boyd is briefed to defend him.
Cast:
Laurence Hardy... James Wilson
Patsy Smart... Mrs Wilson
Ann Lynn... Betty
Catherine Woodville... Susan
William Devlin... Mr Stanley QC
Tony van Bridge... Inspector Dalston
Geoffrey Denys... Judge
Laidlaw Dalling... Bob Craddock
Sydney Wolf... Usher
Ronald Meyer... Mr Fry

5:12 The Headmistress
Thur 10 Aug 1961 8pm
Directed by Richard Gilbert
Synopsis: To the world, Marion Westbury, headmistress of a school for handicapped children, is a deeply religious and dedicated woman.
When Boyd QC defends her on a serious charge, he soon realises that it is going to be difficult.
The cast:
Gladys Boot... Marion Westbury
Aimee Delamain... Gladys Westbury
Bruce Wightman... Marriott
Dannis Handby... Lever
Ronald Adam... Mr Noel
Reginald Jessop... Inspector Rae
Trevor Baxter... Mr Austin QC
Donald Bissett... Judge
Carl Lacey... Judge's clerk
Billy Milton... Clerk
Hedger Wallace... Customs man
Lionel Wheeler... Prison officer

5:13 The Season of the Year
Thur 17 August 1961 8pm
Directed by Jonathan Alwyn
Synopsis: General Braithwaite cannot resist the temptation to poach salmon on his neighbour's estate. But his weakness leads him into deeper water than he bargained for.
Cast:
Roger Livesey... General Braithwaite
Austin Trevor... Brigadier Boyd (recurring)
Michael O'Halloran... McBean
Norman Bird... Police sergeant
Derek Tansley... Mr Draper QC
Brian Hayes... Judge (recurring)
Norman Shelley... De Silva
Harry Littlewood... First poacher
Frank Pendlebury... Second poacher
Owen Berry... Usher (recurring)
Weyman MacKay... Clerk of Assize (recurring)
John Waite... Jury foreman
Alan Tucker... Keeper

The final series 6 had been taped starting in December 1962. Originally it was scheduled for a network release for the following spring, but for reasons unknown, this never happened and A-R showed it to parts of the network from autumn 1963. Where known, the dates planned for the original video tape recordings are shown.
It seems to have run for 16 stories, announced by Associated Rediffusion as: 1 Fishy Story, 2 A Conspiracy of Silence, 3 Parlez-vous, 4 What the Eye Doesn't See (see 6.3 below), 5 Pictures in the Fire (see 6.9), 6 By Gas That's Murder, 7 The Fourteen Hundred Dollar Question, 8 Thread of Evidence (see 6.7 below), 9 No Hoper (6.14), 10 A Little Learning, 11 Square Peg (see 6.13 below), 12 The Reluctant Persecutor (sic- see 6.15 below), 13 The Case of the Lazy Eye (see 6.16 below), 14 The Hurricane, 15 The Simple Question, 16 End of Term (see 6.10).
Some 'leading actors' announced to appear in this series were Dulcie Gray, Edgar Wreford (see 6.13), Guy Deghy, Kenneth Connor (see 6.3), Leslie Dwyer and Carl Bernard (6.9).
TV Times stated that in 1963 Boyd QC was screened in six countries abroad, and that included Australia, where according to Michael Denison it was "immensely popular."

6.1 The Hurricane
Taped December 24th 1962. Original transmission date had been scheduled for June 4th 1963, but only shown on
Friday October 18th 1963, 10.15pm.
Director: Richard Gilbert.
The sinking of the SS Loveday in a hurricane 150 miles off the coast of San Moy means a journey for Boyd to Hong Kong and his appearance at the Queen's Bench on behalf of an insurance company.
Mark Dignam... Captain Adams
Andrew Crawford... Captain O'Reilly
Hugh Latimer... Mr Quentin
Robert James... Lucas
Tom Bowman... Petersen
John Boxer... Saunders
Yolande Firmin... Receptionist
Wemay Mackay... Judge
James Goei... Barman
Leslie Weston... Old Seaman
Joe Ritchie... Insurance Broker
Ronald Falk... Naval officer
Jimmy Gardner... Waterfront Man

Fishy Story
Taped January 14th 1963. Original transmission date had been scheduled for March 5th 1963, thus this would have been the first of the series.

6:3 What the Eye Doesn't See
Friday 8 November 1963 10.5pm
Directed by Pat Baker
The story- As Chairman of the Appeals Committee at Springfield Magistrates Court, Boyd patiently hears Case of Bajendra Singh who was found guilty of serving Dins Dog Food in his Indian curry.
Cast: Kenneth Connor... Bajendra Singh
Roy Dotrice... Mr Jacobs
Jeffrey Segal... Mr Victor
John Woodnutt... Mr Jackson
Patrick Newell... Mr Pyecroft

A Conspiracy of Silence
Taped January 21st 1963. Original transmission date had been scheduled for March 12th 1963.

Parlez-vous
Taped January 28th 1963. Original transmission date had been scheduled for March 19th 1963.

6.6 By Gas That's Murder
Probaly taped on February 11th 1963. Shown on November 22nd 1963

6:7 Thread of Evidence
Taped on March 4th 1963. Original transmission date had been scheduled for April 23rd 1963, but only shown on
Friday 6 December 1963 10.5pm
Directed by Pat Baker
In the Civil Court, Boyd has a hard task defending a young couple, until his Junior comes to his assistance with her superior knowledge- not as a barrister, but as a woman.
Robert Brown... Adrian Marshall
Howard Douglas... Stationmaster
Bill Treacher... Arnold
Frank Littlewood... Clerk
Richard Bebb... Mr Eadey
Mary Yeomans... Mary Dunnett
Richard Thorp... Tom Dunnett
Joy Shelton... Ann Marshall
Kenneth Henry... Judge
Gilliane Raine... Sheila Robins
John Citroen... Douglas Aldwyn

The Fourteen Hundred Dollar Question
Taped on February 25th 1963. Original transmission date had been scheduled for April 16th 1963.

6:9 Pictures in the Fire
Taped March 18th 1963, the second on this day. Shown on
Friday 20 December 1963
Directed by Richard Gilbert
A fire at the countess's London art salon, and Boyd finds himself defending her in court.
Isa Miranda... Contessa Anna Maria Villaresi
Carl Bernard... Tarquin Eley QC
Windsor Davies... Mr Wood
Brian Badcoe... Mr Price
Keith Pyott... Judge
Frank Seton... Shopkeeper
William Job... Adrian Marley
Martin Cookson... Usher

6:10 End of Term
Taped: January 7th 1963. Original transmission date scheduled June 18th 1963 as last of series, but finally shown on
Friday 27 December 1963
Directed by Pat Baker
Boyd accepts a dock brief from Bessie Mann, accused of stealing nine cage birds.
Clifford Mollison... Judge
Leonard Trolley... Clerk
Margot Boyd... Bessie Mann
Walter Sparrow... Prison Officer
Patricia Hayes... Miss Twiss
Peter Gale... Policeman
Ernest Clark... Mr Hinson
Owen Berry... Usher (recurring)
Barbara Bruce... Florrie Moss
Robert Hunter... Joshua Ireland

A Little Learning
Taped March 18th 1963. Original transmission date had been scheduled for May 7th 1963.

6:13 The Square Peg
Taped March 25th 1963. Original transmission date had been scheduled for May 14th 1963, but only shown on
16th January 1964
Directed by Richard Gilbert
Boyd has recollections of his army days when he finds himself Defending Counsel at a district court martial.
Richard Warner... Sir Hugh Adair
Edgar Wreford... Major Alsop
George Tovey... Smudger Smith
Cavan Kendall... Private Adair
Patrick Connor... CSM Frazer
Hugh Morton... Mr McDermott
Stuart Nichol... President of Court Martial
Edward Phillips... Judge advocate's rep
John Maynard... First Recruit
Martin Appleby... Second Recruit
Clive Marshall... Third Recruit
Shane Rogers... Fourth Recruit
Martin Cort... Fifth Recruit

The three final programmes had originally been announced for series six, but evidently there had not been time to screen them, and they were shown to fill in odd slots.
6.14 The No-Hoper
Director: Richard Gilbert.
Taped on March 4th 1963 (2nd on this day). Shown on
March 5th 1964.
Synopsis: Joy Tyson, a successful model, pleads guilty to a serious crime and comes before Boyd QC who is Recorder at Springfield Assizes. Her refusal to talk puzzles him, but Boyd discovers the reason for her silence.
Rest of cast:
Ian Macnaughton (Det Insp Burtenshaw),
Walter Brown (Peter Blandford),
Daniel Thorndike (Mr Pitcairn),
Janine Grey (Joy Tyson alias Alice Springer),
John Flint (George Ireland),
Hamish Roughead (Clerk) and
Peter Hutton (Usher).

6.15 The Reluctant Prosecutor
Directed by Richard Gilbert.
Taped December 3rd 1962. Original transmission date had been scheduled for May 21st 1963, but only shown on
16th September 1964
Synopsis: Boyd defends an American driven to crime by his hobby
Natalie Kent... Bessie White
Frederick Leister... Major General Boyd
Charles Carson... Toby Bailey
Terence de Marney... Hiram P Gruber
Derek Nimmo... Mr Barden
Donald Bisset... Magistrate
Cyril Wheeler... Magistrate's clerk
Fred Ferris... Sgt Wilkes
Christopher Wray... Court police officer

6.16 The Case of the Lazy Eye
Taped December 17th 1962. Original transmission date had been intended to be May 28th 1963, but only shown on
23 September 1964.
Directed by Raymond Menmuir.
In the last ever story, Boyd finds himself defending Halfern's Holiday Camps Ltd in a damage claim against them. As he thinks the company is clearly in the wrong it seems an open and shut case - until one witness makes a slip.
Cast:
Jack Melford... Mr Caston
Ernest Hare... Judge
Bert Brownshill... Mr Halfern
Leslie Sarony... Mr Grogan
Eric Dodson... Mr Ormeroyd
Derek Martinus... Mr Cox
Lavender Sansom... Nurse
Joe Gibbons... Mr Western
Anne Pichon... Mrs Western
Sarah O'Connor... Ann Western
Richard Longman... Mr Beresford
Richard Wilding... Usher
Derek Jones... Boy
---

To Boyd QC


.

.

.

.

.


Brief details of some of these live stories:

1.1 CASE 1: SEPTEMBER 16.
Monday September 16th 1957 9pm
Written and produced by Barry Baker
Directed by Jean Hamilton
When a Scotland Yard detective sets out to solve a murder, he takes with him a 'Murder Bag.' This exciting new series will show viewers how the contents of the bag are used to trap a murderer. The bag contains rubber gloves, small boxes of various sizes and shapes for holding clues like hair, cigarette ends, dust etc, a small but powerful magnifying glass, pliers, tweezers- everything the detective needs for his first survey of the crime.

CASE 2: SEPTEMBER 23
September 23rd 1957
Written and produced by Barry Baker
Directed by Jonathan Alwyn
Viewers will see how the whole force of the law can be brought to bear on one case.

CASE 4: OCTOBER 7
October 7th 1957
Written and produced by Barry Baker
Directed by Jonathan Alwyn
When investigating a murder, things are not always what they seem, and an innocent face does not guarantee an innocent person.

CASE 6: OCTOBER 21
October 21st 1957
Written and produced by Barry Baker
Directed by Jonathan Alwyn
Murder by poisoning can be a very difficult
crime both to trace and to prove,
but it's harder to escape the evidence which
can be provided by using the Murder Bag.

CASE 7: OCTOBER 28
October 28th 1957
Written and produced by Barry Baker
Directed by Jean Hamilton
Supt Lockhart is faced with the most difficult type of case to prove- one in which the body of the victim cannot be discovered.

CASE 8: NOVEMBER 4
November 4th 1957
Written by Barry Baker.
Directed by Jonathan Alwyn
When the police are called to investigate what appears to be suicide, they are careful to see there has been no foul play

CASE 11: NOVEMBER 25
November 25th 1957
Written by Peter Ling, based on a story by Glyn Davies.
Directed by Jean Hamilton.
There are more ways than one of telling a story, but when Supt Lockhart investigates a murder, he has to find the truth behind the story.

CASE 12: DECEMBER 2
December 2nd 1957
Written by Peter Ling, based on a story by Glyn Davies.
Directed by Jonathan Alwyn.
According to the local police,
this is an open and shut case,
but when Supt Lockhart arrives on
the scene, he thinks differently.

CASE 15: DECEMBER 23
December 23rd 1957
Written by Peter Ling, based on a story by Glyn Davies.
Directed by David Boisseau.
Supt Lockhart investigates the theft of some turkeys. It's always happening at Christmas- but this time a man is killed.

CASE 17: JANUARY 6
January 6th 1958
Written by Barry Baker, based on a story by Glyn Davies.
Directed by David Boisseau.
In a quiet country village, a man has been murdered. There are plenty of clues for Supt Lockhart to work on, but it is village gossip which gives him a definite lead.

CASE 18: JANUARY 13
Jan 13th 1958
Written by Barry Baker, based on a story by Glyn Davies.
Directed by John Moxey.
Supt Lockhart uses the records department as well as the Murder Bag to track down a killer.

CASE 19: JANUARY 20
January 20th 1958
Written by Barry Baker, based on a story by Glyn Davies.
Designed by Fredric Pusey.
Directed by David Boisseau.
Colonel Boulton is found murdered. The obvious supect is an escaped convict named Lofty Potter. But Supt Lockhart knows Lofty of old, and does not want to prefer a charge just yet.

CASE 20: JANUARY 27
January 27th 1958
Written by Peter Ling, based on a story by Glyn Davies.
Directed by John Moxey.
A murderer of unusual cunning matches his wits against the combined forces of Supt Lockhart and the Murder Bag.

CASE 21: FEBRUARY 3
February 3rd 1958
Written by Peter Ling, based on a story by Glyn Davies. Designed by Fredric Pusey.
Directed by David Boisseau.
Amy Carslake, American heiress, is found drowned in her bath. The bathroom door is locked, and it looks like a case of death by misadventure. But a photograph gets publicity, and the affair takes a different turn.

CASE 22: FEBRUARY 10
February 10th 1958
Written by Barry Baker, based on a story by Glyn Davies.
Directed by Jean Hamilton.
Even the rich can be involved in murder. Supt Lockhart- with the Murder Bag is called in to solve an unusual case.

CASE 23: FEBRUARY 17
February 17th 1958, now at 9.30pm
Written by Peter Ling, based on a story by Glyn Davies. Designed by Fredric Pusey. Directed by David Boisseau.
A night watchman is attacked, and a valuable consignment of nickel stolen. During the investigation, a case of robbery with violence becomes a double murder.

CASE 24
February 24th 1958
Written by Barry Baker
based on a Story by Glyn Davies.
Directed by Jean Hamilton.
To a tramp, two crossed arrows means 'go anywhere away from here,' but to Lockhart they can point the way to a murderer.

CASE 25: MARCH 3
March 3rd 1958
Written by Peter Ling based on a story by Glyn Davies.
Designed by Frank Gillman.
Directed by David Boisseau.
An old bicycle pump and the obduracy of a Swiss shipwright, seem to be the only clues in what Scotland Yard calls The Stolen Anchor Case.

CASE 26: MARCH 10
March 10th 1958
Written by Peter Ling
based on a story by Glyn Davies.
Designed by John Clements.
Directed by Jean Hamilton.
Somebody in the gang talked too much, and the police are able to make a swift arrest. This adds up to a motive for murder. But as Supt Lockhart discovers, things are not always what they seem.

CASE 27: MARCH 17
March 17th 1958
Written by Peter Ling based on a story by Glyn Davies.
Designed by Henry Federer.
Directed by John Moxey.
In the grim atmosphere of a prison, murder is committed. Supt Lockhart is presented with many suspects among the convicts.

CASE 28: March 24th 1958
Written by Glyn Davies
Designed by Frank Gillman
Directed by Jean Hamilton.
When Supt Lockhart encounters the dread of all police officers, the 'sticky' murder inquiry, he meets also an old police trick put to a new use- by the murderer.

CASE 30: MARCH 31
March 31st 1958
Written by Glyn Davies
Designed by Michael Yates
Directed by Jean Hamilton.
Jeslousy, greed, love- these three emotions mixed with plain water equal the hardest case of Lockhart's career.
Note: this plot is advertised in TV Times for the above date, though the case number should be no 29, and it is possible this programme went out as Case 30 the followuing week (ie April 7th)

2.2 (Case No. 32) LOCKHART BUYS A BROOCH
July 7th 1958 8pm
Written by Barry Baker based on a story by Glyn Davies.
Designed by Frank Nerini.
Directed by Cyril Coke.
Unpremeditated and senseless killing is one of the most difficult types of murder to solve.

2.6 LOCKHART SETS A TRAP
August 4th 1958 8pm
Written by Barry Baker from a story by Glyn Davies
Designed by Frank Gillman
Directed by Cyril Coke.
There are no two people exactly alike; no two people do anything exactly alike, from tying a shoelace to committing a murder. Watch Lockhart follow this line of thinking in an unusually difficult case

2.7 LOCKHART COUNTS THE SHOTS
August 11th 1958
Written by Barry Baker based on a story by Glyn Davies.
Designed by Fred Pusey. Directed by Cyril Butcher.
A man is shot dead on an upper floor of a block of flats. How did the murderer enter and leave without being seen?

2.8 LOCKHART FINDS A NEEDLE
August 18th 1958
Written by Barry Baker from a story by Glyn Davies.
Designed by Frank Gillman. Directed by Cyril Coke.
Usually in a case of murder, the victim at least is known. But what if a body has been in the river for six months? How can its identity be established?

2.10 LOCKHART LISTENS TO THE BIRDS
September 1st 1958 8pm
Written by Barry Baker from a story by Glyn Davies.
Designed by Frank Gillman.
Directed by Jonathan Alwyn.
When criminals play for stakes high enough to make it worthwhile to take any risk, they are dangerous. For Supt Lockhart, it becomes another case of murder

2.13 LOCKHART WATCHES THE CLOCK
September 24th 1958 7pm
Written by Barry Baker from a story by Glyn Davies.
Designed by Frank Gillman.
Directed by Daphne Shadwell.
Three people could not see the railway station clock which caused their death

2.16 LOCKHART PICKS A WINNER
Wednesday October 15th 1958
Written by Barry Baker, from a Story by Glyn Davies
Designed by Henry Federer
Directed by Roger Jenkins
The prospect of easy gains on the race track has often led men to back more heavily than they can afford. But when luck is against them their despair may lead them to violence, perhaps even suicide.

2.17 LOCKHART PROBES THE PAST
October 29th 1958 7:30 pm
Written by Barry Baker, from a Story by Glyn Davies. Directed by Roger Jenkins, designed by Henry Federer.
In the eyes of the law, there are few motives which extenuate murder. In the eyes of the public however, a distinction may be made between some cases, which seem more deserving of the maximum penalty, than others where the motive is revenge

2.19 LOCKHART PLAYS WITH FIRE
Wednesday 5th November 1958
Written by Barry Baker, from the Story by Glyn Davies.
Designed by Frank Gillman.
Directed by Daphne Shadwell.
Please to remember the Fifth of November, Gunpowder Treason and Plot. The plot is untangled by Supt Lockhart, who has occasion to remember a particular Guy Fawkes night when the guy was not made of straw.

2.20 LOCKHART MISSES THE PLANE
Wednesday November 12th 1958 7.30pm
Written by Barry Baker from a story by Glyn Davies.
Designed by Henry Federer.
Directed by Roger Jenkins.
Did she fall, or was she pushed? A stock question in murder mysteries perhaps, but when a body is found beneath a balcony, it is the question Lockhart has to answer

2.21 LOCKHART PULLS THE TRIGGER
Wednesday November 19th 1958 7.30pm
Written by Peter Ling from a story by Glyn Davies.
Designed by Frank Gillman.
Directed by Daphne Shadwell.
There is always something sinister about an anonymous letter. In this case, a tip off had a quick reply- one that the writer certainly did not expect.

2.22 LOCKHART READS A MAP
November 26th 1958 7.30pm
Written by Peter Ling from a story by Glyn Davies.
Designed by Henry Federer. Directed by Roger Jenkins.
Supt McWeaver's irritability has grown worse during the two years he has been trying to catch Stockingfoot, a successful sneak thief. In this case, Stockingfoot is tracked down, but hardly to McWeaver's satisfaction

2.23 LOCKHART CALLS THE TUNE
December 3rd 1958 7.30pm
Written by Peter Ling from a story by Glyn Davies.
Designed by Frank Gillman.
Directed by Daphne Shadwell.
Joe Coote 'sings' to the police, but the tune doesn't seem to please some of the boys. Lockhart visits their favourite night club and makes them face some unexpected music

2.25 LOCKHART MEASURES A MILE
December 17th 1958 7.30pm
Written by Peter Ling from a story by Glyn Davies.
Designed by Frank Gillman.
Directed by Peter Robinson.
A suburban council estate, a boxer's training camp and a nylon stocking make up the pattern formed by Supt Lockhart's investigations

2.26 LOCKHART COINS A PHRASE
December 24th 1958 (not fully networked)
Written by Peter Ling from the story by Glyn Davies.
Directed by Roger Jenkins.
"Boodle of queer and snide" - the jargon of making counterfeit money has a suitably odd ring about it. But, even at Christmas, passing dud florins may lead to murder.

2.27 LOCKHART FINDS A GUN
Thursday January 1st 1959 10.15pm
Script: Peter Ling from a story by Glyn Davies.
Designed by Sylva Nadolny.
Directed by Daphne Shadwell.
The case begins in a timber yard, where a man is killed. There is no weapon, but when Supt Lockhart has collected all the clues, he finds the murder weapon in his hands

2.28 LOCKHART FOLLOWS A DOG
Thursday January 8th 1959 10.15pm
Written by Peter Ling from the story by Glyn Davies.
Designed by William Brodie.
Directed by Michael Currer-Briggs.
A torso on the river bank, a wet blanket, and the hairs of a dog are the main factors in Supt Lockhart's murder investigation.

2.29 LOCKHART FINDS A FLAW
January 15th 1959
A team of country house breakers plan a robbery, but murder intervenes.

2.30 LOCKHART FITS THE SHOE
January 22nd 1959
Written by Bill Hitchcock Directed by Daphne Shadwell
In the early hours of the morning Supt Lockhart is called in to solve a murder.

2.31 LOCKHART BREAKS EVEN
January 29th 1959
Written by Bill Hitchcock From the Story by Glyn Davies Directed by Jonathan Alwyn Designed by Frank Nerini
A prisoner escapes, £20,000 is stolen and Lockhart finds himself with a double murder on his hands.

2.32 LOCKHART VISITS A HOSPITAL
February 26th 1959 10.15pm
Written by Peter Ling from a story by Glyn Davies.
Designed by Henry Federer. Directed by Graham Watts.
When the nurses in Ward Four go off duty, one of them makes a date- with murder.

2.35 LOCKHART SEES THE PM
February 26th 1959 10.15pm
Written by Peter Ling from a story by Glyn Davies.
Designed by Henry Federer.
Directed by Daphne Shadwell.
PM here means Post Mortem! When Supt Lockhart is called on official business to the village of Clinton Priory, his visit is a matter of life and death

2.36 LOCKHART MISSES A CLUE
March 5th 1959
Written by Barry Baker from a story by Glyn Davies.
Designed by Michael Wield.
Directed by Graham Watts.
A literary agent is getting his clients' manuscripts published in his own pen name, and when murder is committed, Lockhart has a wide field of possible suspects

2.37 LOCKHART WATCHES A FILM
March 12th 1959 Written by Peter Ling From the Story by Glyn Davies.
Designed by Michael Wield.
Directed by Daphne Shadwell. An arrest is made; the murderer is charged; and another of Supt Lockhart's cases comes to an end. But when does a murder case begin?

2.38 LOCKHART SEEKS A DRIVER
Wednesday 18th March 10.15pm
Written by Peter Yeldham from the story by Glyn Davies.
Directed by Graham Watts.
Albert Fox is out on bail. Within 24 hours he is dead. Was it murder or suicide?

2.40 LOCKHART MAKES A TALLY April 1st 1959 10:15 pm
Written by Peter Ling From the Story by Glyn Davies
Designed by Frank Gillman Directed by Penny Wootton
Rose's Cafe means cheap food and a night's lodging for long distance lorry drivers. But for one man, it means ... death.

Crime Sheet starring Raymond Francis as Chief Det-Supt. Lockhart.
The title was changed from Murder Bag so that cases other than murder could be investigated by Tom Lockhart.
Introduction read by Redvers Kyle: "Crimes like these can happen at any hour of any day. Crimes against you, the citizen. The Crime Sheet is the official police record of all crimes as they are reported. The first step in bringing criminals to justice. This is London, a city of ten million people in 750 square miles. Metropolitan Police District 5, the area under Chief Supt Lockhart, 150 square miles of streets in which any crime can happen now."

2 LOCKHART FOLLOWS A LINE
April 15th 1959, 10.15pm
Written by Peter Yeldham.
Director: Penny Wootton.
To many people the theatre means excitement and glamour, but for those working behind the scenes it is often a different story

3 LOCKHART PLAYS SAFE
April 22nd 1959, 10.15pm.
Written by Peter Yeldham from the Story by Glyn Davies
Designed by Bernard Goodwin, Directed by Roger Jenkins.
A skilful gang will organises a safe cracking job witht he meticulousness of a military operation. But the unexpected always happens, in this case, a few blood stains provide Lockhart with the esential clue.
Note-this may be the first story in which Gerald Case replaced Raymond Francis- see below.

4 THE SUPERINTENDENT HEDGES A BET starring Gerald Case as Chief Supt. Carr.
April 29th 1959 (Raymond Francis had gone down with mumps, so Gerald Case replaced him for this and a few other stories.)
Script: Peter Ling from the Story by Glyn Davies
Director: Penny Wootton.
Also in this cast:
Ronald Leigh-Hunt... Insp Nick Clarke
Helen Shingler... Hilda Maclean
Dorinda Stevens... Carol Betterton
William Kendall... Major Lucas
Shay Gorman... Hector Grey
Frank Hawkins... Waites, receptionist
Philip Leaver... Mr Abercrombie
Brian McDermott... PC Gittings
Victor Charrington... PC Harris
Clive Chapman... Page boy
John Nicholson... Waiter
Brenda Haydn... Barmaid

5 THE SUPERINTENDENT FINDS THE ANGLES
May 6th 1959, 10.27pm
starring Gerald Case.
Written by Peter Ling From the Story by Glyn Davies
Designed by Frank Nerini, Directed by Roger Jenkins
The police are baffled when they find that the man they believe responsible for an assault is lying in the hospital bed next to the victim.

7 LOCKHART CHOOSES A WEAPON
Raymond Francis definitely returns to the series.
20th May 1959 10.15pm
Written by William Hitchcock from the story by Glyn Davies.
Designed by Henry Federer.
Directed by Roger Jenkins.
For the law to be upheld, citizens must be prepared to give evidence against an accused person. In this case, the accused seeks revenge.

8 LOCKHART FITS A UNIFORM
Wednesday 27th May 1959 10.15pm
Written by Peter Yeldham from the story by Glyn Davies.
Designed by Michael Weald.
Directed by Daphne Shadwell.
When the postman arrives with a special delivery for George Spennet on his early closing day, he finds himself involved in a crime of robbery with violence

10 LOCKHART GOES BACKSTAGE
Tuesday 9th June 1959
Written by Peter Yeldham from the story by Glyn Davies.
Designed by Michael Wield.
Directed by Daphne Shadwell.
The scene is set, the actors know their cues. But when Lockhart walks on stage, it is not for applause

11 LOCKHART VISITS A PAWNSHOP
Tuesday 16th June 1959 10.15pm
Written by Peter Yeldham from the story by Glyn Davies.
Designed by John Emery.
Directed by Roger Jenkins.
A hooligan breaks into a shop, carrying a knife, with overwhelming consequences

13 LOCKHART MISSES THE POINT
Wed July 1st 1959, 8pm
written by Peter Ling.
Director: Roger Jenlins.
A police investigation of a minor offence sometimes sets off a major crime. In this case, when a postman reports a letter addressed in pencil, he little suspects that this will end with a man lying dead in an alleyway

14 LOCKHART SEARCHES THE RECORDS
Wednesday 8th July 1959, 8pm
Script: Peter Yeldham from a story by Glyn Davies.
Director: Daphne Shadwell.

16 LOCKHART LOSES A WITNESS
Wednesday 22nd July 1959
Script: Peter Yeldham from a story by Glyn Davies. Director: Daphne Shadwell.
A confidence trickster has to win the friendship of his victim- but in this case friendship is repaid by death.

20 LOCKHART VISITS A LAUNDRY
August 19th 1959 9.30pm
Written by Peter Yeldham from the story by Glyn Davies.
Designed by Bernard Goodwin.
Directed by Penny Wootton. A girl is murdered in a night club. Lockhart has a small clue- a laundry mark.

21 LOCKHART KEEPS AN APPOINTMENT
August 26th 1959 8pm
Written by Edward Dryhurst from a story by Glyn Davies.
Designed by Frank Gillman.
Directed by Geoffrey Hughes.
An old man dies from natural causes. But then the will is read, and Chief Supt Lockhart is in the thick of it again.

22 LOCKHART MEETS A ROMEO
September 2nd 1959
Written by Peter Yeldham from the story by Glyn Davies.
Designed by Frank Gillman.
Directed by Graham Watts.
'A nice friendly pub' it seems to Chief Det-Supt Lockhart, but just what is the connection between it, the Romeo and the poison pen letters?

23 LOCKHART CLOSES A DOOR
September 9th 1959
Written by Glyn Davies.
Designed by Bernard Goodwin.
Directed by Ian Fprdyce.
Lockhart sets out to find an escaped prisoner, but instead finds a murderer.

24 THE SUPERINTENDENT TAKES A TRIP
Interesting, this was shown on November 8th 1961. Possibly it was one of the episodes made during spring 1959 when Raymond Francis was ill- it was screened over two years later. Script: Raymond Marshall. Director: Daphne Shadwell.
Gerald Case... Chief Supt Carr
Reginald Marsh... Insp Nicholson
Paddy Joyce... Teddy
Victor Charrington... Desk Sergeant
Charles Gray... Jimmy Bellamy
Maureen Pryor... Maureen Morley
Ewen Solon... 'Dreamy' Daniels
Warren Mitchell... Bob Green
George Tovey... Sam
Keith Faulkner/ Tony Ford... Police Constables
When a chief superintendent meets a sandwich board man, he finds that more than sandwiches are at stake

Notes: Ian Hendry was in three Murder Bag stories, as well as one Crime Sheet.
Bill Fraser was in a story of Murder Bag series 1.
Sarah Lawson was in one Murder Bag in Jan or Feb 1958.
Douglas Blackwell appeared in one Murder Bag.
Richard Thorp also appeared in Murder Bag, in an unknown story.
Others who have stated they appeared in unknown editions of Murder Bag: John Blythe, Angela Browne, Tom Chatto, Harriet Johns, Noel Johnson, Duncan Lamont, Ronald Leigh-Hunt, Myrtle Reed, Sally Ann Shaw, and Peggy Thorpe-Bates.
Others who have stated they appeared in Crime Sheet: Robert Henderson, Harriet Johns, and Vic Wise.
Roger Jenkins stated he directed fifteen stories in Murder Bag/ Crime Sheet.
Hugh Munro stated he had also directed Murder Bag.

.

.

.

.

.

5.1 Alibis Are Fixed (July 2nd 1963)
Ben Jordan (Patrick Jordan), international thief, is brought from Paris by Robbie Robinson (Ferdy Mayne). Police notice his arrival, and he is kept under observation. After arranging an alibi, Jordan with the aid of associate Archie Martin, eludes police by slipping out of a taxi. During the robbery, Martin, who is looking after the getaway driver, decamps.The robbery is unsuccessful, and Jordan and George Kean hurry after Martin.
It is discovered that a woman named Patricia Dunn had gone away with Martin. Because nitroglycerine in a certain form had been used, the trademark of Ben Jordan is recognised, and Baxter is sent after him. In Patricia's flat, Jordan is found, but he has an alibi.
Martin is murdered, and police connect him with the robbery. Lockhart learns that a light coloured shooting brake was seen near where the body was found. He has a tyre imprint photographed.
George Kean, armed with a false passport, joins his wife. Both are taken to the Yard, where they learn that the passport had been supplied by Robinson. This crook however denies knowing Kean or Martin. But Baxter finds a blood stained towel, Kean claims he had cut himself shaving off his moustache. Lockhart taxes Robinson with the towel and the tyre imprint. Robinson tries to tell the truth, thus breaking Jordan's alibi by saying that Pat Dunn was with him

5.6 Alexander's Ragtime Girl
Alexander Alexander, a shy young graduate training to be a barrister, takes Jennifer Buckley, the girl he wants to marry, home to meet his mother. Mrs Alexander (Pauline Letts) is shocked and tries to dissuade them. At a party Jennifer gets into an argument with Gary Benson, Pete Gonzales (Gerald Harper) and Ricky about her forthcoming marriage. There is a scene when Mrs Alexander breaks in, she leaves, then Alexander with jennifer. Next morning Jennifer is found murdered.
Time of death is established at 2.30am, and it is also found that she was two months pregnant. Lockhart and Baxter break the news to Jennifer's father Dr Buckley, who is shocked. Mrs Alexander is upbraiding her son as Lockhart and Baxter turn up to inform them of Jennifer's death. Alex says they left each other at midnight, but cannot account for his movements afterwards. Baxter interviews those at the party, and learns that Pete left soon after Alex and Jennifer.
A wooden chair leg, the murder weapon, is found. Lockhart and Baxter discard the idea of the murderer being one of the party guests, since they all seem to have alibis. Therefore they return to the Alexander house. Alex admits that Jennifer did go out with other men, but he doesn't know about that particular night. As he is obviously under suspicion, his mother comes forward to admit killing Jennifer

5.7 Pay as You Earn
"Tregunter, Clarke and Palmer plan to steal a safe from the office of a building firm. They spray a yellow van with grey paint, cover the number plate with mud, cut the lock at the rear of the premises and substitute a new padlock. While Tregunter keeps watch outside the office, the others, using a battery operated fork lift truck, steal the safe. The only clues are the marks of the truck and the substituted padlock. The grey van is seen leaving the scene of the crime and a general call is put out, but by this time the thieves have reached Palmer's garage, washed off the grey paint, and managed to get away through the road blocks. Lockhart returns to his office with the padlock which was issued by a government department, but which department? Had he seen Clarke and Tregunter at that moment, he would have known the answer, as they were returning to prison, being parolees on a rehabilitation course.
Baxter and Lockhart get a lead on Tregunter and depart for the prison, but by the time they arrive, Tregunter and Clarke have been released. However a prisoner tells the governor that he heard Joe Dean, Palmer and Clarke discussing a burglary using a fork lift truck. The police go to Palmer's garage, but when they arrive they find the body of Palmer beside the empty safe.
Clarke is found, and detained on a charge of stealing the money, which he admits. Tregunter is found at the house of a girl called Frances, a secretary at the building company. The police find the proceeds of the robbery there, so Tregunter is taxed with the murder of Palmer, but he proves that he was not there at the time of the killing. Attention is then focussed on the girl, who admits that she killed Palmer to prevent him getting away with all the money"

5.9 Peggy
"Anne Cassett is assaulted by John Clint. He is charged, found guilty and sent to Northmoor Mental Hospital, but escapes one year later. Baxter visits the hospital and finds the walls of Clint's cell covered with drawings of cats, panthers and lions, and is given samples of poems written by Clint to someone named Peggy.
Clint gets to London and telephones an attractive model Joanna Simpson (Catherine Woodville). She anwers the phone, but he does not speak. The same night, Clint attacks a motorist near Joanna's address in Chelsea. Lockhart sees the injured man in hospital, who identifies Clint.
Baxter visits Clint's mother, but the only information he gets from her is that Clint had been employed in a gown shop, and that he had loaned an amount of money he had won on the pools to one of the girls. That night Joanna returns home with her fiancee, and after he leaves she goes into the kitchen to call her cat. Clint is there.
Following the information that Clint had worked in a gown shop where models were employed, special attention is given to models called Peggy. Eventually a girl named Peggy Dawson is found, but although she knew John Clint, she denies receiving money from him, and names Joanna as the person who did. It is then discovered that Joanna had previously occupied the same address as Anne Cassett.
Joanna, alone in her flat with Clint, has succeeded in convincing him that she had intended to marry him and had kept his money for this purpose, but a telephone call from her fiancee changes the situation and Clint rounds on her. The police arrive and Clint, in attempting to run away down the fire escape, falls to his death.
Baxter picks up Joanna's cat, on the collar is the name Peggy. John Clint, in his mental illness, had thought that the cat had come between him and Joanna"

5.10 Statement to the Press
When Baxter is told by an informer that Alan Klein, a wireless engineer, is going to be 'sprung' from Dartmoor, Lockhart plants Benson, of the Special Branch, in the cell with Klein. Benson talks Klein into taking him with him on the breakout. They escape safely and drive to a derelict flour mill owned by John Pentelow. Here they are met by Lee Gilbert and Lofty Rogers (Jack Watson), who need Klein for a crime their boss has planned. Benson receives a cool reception, it is made plain that he is not to be trusted. Lee Gilbert goes to see Mr Big, Bryan Fellows (Hugh Manning) in his office, to complain about Benson's introduction. Gilbert returns to the mill and after being bested in a row with Benson, says that Klein will be responsible if Benson comes with them on the job.
Benson works on Klein, who finally tries to phone his wife because he is worried about her, but he is stopped by Rogers. Baxter tries to trace the call, but is unsuccessful. Meanwhile Rogers is given the briefing for the job, a raid on a security van. Fellows takes a plane to Paris with his secretary Wendy. The raid now takes place, and is successful.
The van used by the raiders is found, and inside is a piece of plaster with a phone number, left by Benson. The number is that of Lee's girlfriend. Baxter sees her and by playing on her greed for money by mentioning the large reward, is given Fellows' phone number. Lockhart connects flour found on Gilbert's trousers with the miller's van which had gone through a road block earlier. The van is traced to John Pentelow and searched.
Benson contacts police, but in so doing, is found out. The gang are about to deal with him, when Lockhart and the police burst in to arrest them

5.11 Scaremonger (Sept 10th 1963)
Ben Morland (Barry Keegan), just released from prison, has a message for his cell mate's widow, Jane Hobbs. But when he visits her, she won't listen to him.
Lockhart receives a call to tell him that there is a bomb at Paddington Station, and another in a pillar box in Pimlico. Both bombs are found, but neither has a fuse, and Lockhart suspects that it is the work of a hoaxer, and forbids any publicity.
Next morning, the lab reports on the newspaper wrapping around the bombs. Cut into the second page of one, there is the number 21, followed by the letters C and L. An article appears in the Evening Citizen, which denigrates police, and Lockhart in particular.
After inquiries, Lockhart interviews Harvey, Wand and Morland. Another bomb is found in a library, and Lockhart finds another, this one with a fuse, on the back seat of his car.
Police keep watch on Morland, and he is followed to Jane's house. Baxter enters, finding Morland unconscious.
Lockhart keeps a rendezvous with the Bomb Man in a mews garage, arriving early to find Jane Hobbs with her brother in law and a dummy wearing an old raincoat. The message Morland was to have given Jane was to tell her to disperse a load of gelignite. She has found this and tries to kill Lockhart, whom she blames for her husband's death

5.16 Two Dreams in a Fire
Pearce uses an ingenious method of fraud, and has had success with it for some time, but police are almost on to him. He decides to run away with the week's takings, approximately £700, planning to go abroad, abandoning his girl friend Nell Burroughs. Five miles from Dover, he passes a garage run by Sean McMurdoch (Eddie Byrne), but then gets a puncture.
Sean is called out to repair it. He drives there in his little van, and notices a bag with the stolen money. He strikes Pearce on the head, puts him in the van, drives it down a steep slope and sets fire to it.
Bowman and Baxter, who are on to Pearce's crimes, have obtained information about his car and the amount of money stolen. Next morning Lockhart is told about the body in the burnt out van, and travels to Dover. He quickly establishes that the body is not that of Sean, and it is identified as that of Pearce. On the car radio, while he is near Liverpool, McMurdoch hears a broadcast calling attention to the car he is driving. He abandons it, and sets off for the docks, carrying the stolen bag of money.
A letter found in McMurdoch's house intimates that he might go to a pub in Belfast, so the quest moves to Northern Ireland. The publican, apprehensive of his position because it is murder, reveals that McMurdoch has left for the border. Just short of here, McMurdoch's car breaks down. he spots the police car in the distance, and attempts to rush across the border, but is felled by Baxter, and arrested for murder

5.17 An Eye on the Kings
Berry who is planning a jewel robbery, employs 'Petty' Smith to recruit assistants. With Harry Matters (John Junkin), Petty engages two men, Wills and Petrie, and together with ex GPO man Swallow, they plan the job. Lockhart is informed of the plan, so a watch is kept on Berry. The raid is carried out, and a broken window sets off an alarm in the security office. It is arranged that security men meet up with police at the jeweller's, these men are Petrie and Wills.
The plan works- the security van arrives and the guards are deceived. Matters, also in uniform, sits out of sight, monitoring police radio calls. When the guards open the vault, they are attacked and their keys stolen. A quarter of a million pounds worth of jewellery is stolen.
Seen by Baxter in his home, Berry explains where he has been, and blames Godfrey for the job. Continuing his pressure, Lockhart instals Det Sgt Bowman outside the door of Berry's house, and has Berry's phone tapped. The stolen jewels are hidden in Wills' room. But Berry is unable to move the stolen property. He is nervous, and gets angry when Petty Smith calls at his home. There is a row and Baxter is waiting with a car when Berry emerges from the house.
Lockhart interviews Godfrey, and is given an account of his movements, then purposely lets Godfrey know what Berry has alleged about him. He pinpoints in this allegation that the information could have started at a billiards hall owned by Berry, and frequented by Petty Smith. Godfrey swallows the bait, and sends his right hand man Wally to see Petty. After some intimidation, Petty talks. Wills becomes nervous, and after talking with Petrie, phones Berry. This call is traced so Lockhart obtains the address of the hideout. Wally and a strong arm man get there first. Wills is beaten up, the jewels taken. But police arrive and they are all arrested. Berry is picked up later

5.18 Requiem on a Typewriter
Archie MacLaren, an ex police officer turned private investigator, is shot dead in his office. Lockhart, an old colleague of Maclaren, is called in. With Baxter, he investigates the scene of the crime, and finds a piece of torn off paper stuck on the typewriter, indicating that something had been typed has been pulled from the machine. The only thing the police have to work on are MacLaren's address book, and his bank statement, and they find his three most recent clients were a Mr Littleton, Westbrook and Sons, and a Mrs Anstruther.
Baxter sees Mrs Anstruther (Dandy Nichols), who employed Maclaren to get divorce evidence against her husband, a womaniser and a violent man. Baxter obtains a photograph of Anstruther from a newspaper, which is circulated to the police and the press. Det Sgt Tandy investigates Littleton, and establishes that he could not possibly have been to MacLaren's office.
Lockhart starts on the third client, Westbrook and Sons, and finds this company had not used MacLaren for over two years. It is decided to see the person who drew MacLaren's cheque, a Mr Oliver Westbrook, at his private address in Sussex.
Anstruther, located at a hotel with a woman known as Mrs Anstruther, is taken to Scotland Yard, coincidental with the arrival of his real wife, who produces a letter from MacLaren returning her documents, thereby clearing her husband of all suspicion. However as a result of Lockhart's investigations, Anstruther is arrested for bigamy and fraud.
This leaves one remaining suspect- Oliver Westbrook, but when Baxter arrives at his Sussex home, he is informed that Westbrook has died during the night. Baxter goes back to Lockhart with the news, and he applies to the Home office for a post mortem.
Lockhart examines the clues on the typewriter revealed by Forensics, as a result of which Westbrook's nephew Julian is accused of murder

5.19 A Hole in the Head
Joey Beeble (Aubrey Morris), a tramp, finds a human skeleton in the Epping Forest. The man had been shot. Dr Penton finds some granite dust and gunpowder on the clothes and in the hair of the skeleton. Graham Crowley (Andrew Faulds), a sculptor, is called in to reconstruct the man's features, and a photograph is taken and circulated. Through this the police are led to a stonemason's yard, where a man named Begg works. His wife screams when she sees the photo- she knows the dead man.
Lockhart and Baxter visit Mrs Grace Begg at her home. She tells them that the dead man's name is Rinaldo Sarto. He was an Italian and used to work at the yard. She had become friendly with him, but her husband disapproved. A report on the gunpowder is received: it is known as black powder. Lockhart thinks Rinaldo might have blown a safe just before he was murdered, and checks on recent safe blowings using this method. A result soon comes, and Sgt Plimmer of the Essex police, provides the information. A man named Redding, with an address in King's Cross, has been arrested in a stolen car containing some of the proceeds from the safe blowing. Also found in the car: a cartridge case, and some blood stains. Baxter returns to the office- he had been to an address in King's Cross where Sarto lived, along with another man who answers to the description of Redding.
Redding is sent to prison for five years. When he is faced with a possible charge of murder, he blames Joe Rezkowski. Joe's premises are searched, and police find odds and ends of jewellery settings, and an automatic pistol. The settings are identical with some stolen in the safe blowing, though the gems have been removed. Ballistic tests show that the rifling on the bullet was different to that on this gun barrel, but a further test shows that the impression on the discharged shell case was the same. Rezkowski is arrested for murder

5.20 The Gamblers
The story opens in the Crucible Club, where a chemin-de-fer game is in progress. There are seven players, fashion model Raine Smith (Gabriella Licudi), Harvey Hale (Gerald Campion), Nigel Carpenter (Terence Longdon), Arnold Hurst, Johnnie Lightman, Frank Drover, and the owner of the club Suzie Dart (Petra Davies). The game ends when Carpenter, who has won £500, leaves.
Next morning Carpenter is found dead. News of the murder appears in the morning papers. At Carpenter's flat, Lockhart and Baxter find that a sum of money has been stolen, and they also find a £5 gambling chip with the name Crucible on it.
Lightman's girl friend Claire, reads the report of the murder and rings Lockhart's office. She also speaks to Frank Drover who works with him. When Lightman comes into the office, he is told about the phone call. He denies that he killed Carpenter, though Frank says, 'what exactly do you want Arnold and me to say?'
Lockhart and Baxter meet Suzie Dart at the Crucible, where they learn about the game and all those who played it. They all seem to have some sort of alibi, icluding the croupier, who implies that he had been with Suzie. That night, Drover walks into the flat of Raine, and asks for a false alibi. He is refused. Arnold Hurst tries a similar thing with the croupier, and he also is refused.
A reconstruction of the previous night's game, with everyone except Carpenter present, takes place. Following this, all the people except Drover, Lightman and Hurst, establish concrete alibis, but the latter three alibi each other. Drover and Lightman's stories do not tally, and Lockhart decides to see Hurst, the third man in the alibi. They find him at The Crucible, and after Lockhart has asked several questions, a flaw is found in his story. Hurst admits murder

5.21 No Previous Convictions
Frank Evans, Harold Slessor and Stanley Bridges, all men with clean records, are enlisted by Bill Warren to rob a wages car. They net a quarter of a million.
After the share-out, Bridges drives to London and on the way is involved in a motor accident and is killed. When police find the money, Lockhart and Baxter are called in. They examine with fingerprint expert Fellows, the unusual mark on Bridges' hands. The marks were caused by playing golf. His photo is circulated to golf courses, and three days later Bridges is identified by a professional in Gloucester. Lockhart and Baxter see him, and he names two associates in golf, Evans and Slessor. The following Saturday, the pair visit the course, and are followed by Baxter and Hodgkins. Later two cases of money are discovered in a railway station. Observation is kept here.
Barbara Green, Bill Warren's mistress, has a boyfriend, an ex-con named Alfred Jackson. After the raid, she tells him what has happened, and that Bill plans to cross the Channel to France in a cabin cruiser. Warren gives Barbara the name of the mooring place and of the vessel, and as soon as he has left, she phones Jackson.
A car park attendant who saw Warren at the races, identifies a photo of him, this concentrates the search on the Brighton area. A policeman stops Warren, accompanied by Barbara, and he produces a false driving licence.
A box of tablets marked Bethnal Green has been issued to her, and she pretends she has lost them to delay Bill's departure. He finds these tablets she has hidden, and realises that she has deceived him. He takes his money and leaves. Barbara, unable to get any of her tablets, collapses. Semi conscious, she phones the police. She is brought out of a coma and informs on Warren and Jackson. The police dash after them and find the vessel Fair Maid stranded with the two men on board. It had missed the tide

5.22 Always a Copper
Charlie Gibbons (Leslie Dwyer) has a stepdaughter April who works at the Emerald Club. Derek Patterson, owner of this club, is infatuated with her, so for this reason she keeps her friendship quiet with Colin Hartley.
Ex Det Sgt Leyland is employed by Colin's dad to watch whom he meets. Lockhart, on a routine visit to the club, sees Leyland outside. When Colin arrives at April's flat, Leyland reports the infornation to Colin's dad. Later he challenges Colin about his relationship with April, Colin's response to to say that he is going to marry her because she is pregnant.
Next evening April does not show up at the club, and Patterson is told she is leaving to get married. He leaves the club hurriedly.
Lockhart and Baxter are called to April's flat. Murgatroyd the porter had found her body. He gives information about Patterson and Hartley. Lockhart finds Colin at the Emerald Club. He has an alibi, but Lockhart breaks it. He then admits he went to see April at her flat, at her request, but he had found her already dead.
Patterson also admits going to her flat, but says that on seeing Colin's car, he had driven away. He had gone to a bar and drunk steadily.
Lockhart then talks to Charlie Gibbons, who says he knew about the baby, because she had written to him about it. However it is established that he cannot read, and eventually he admits to murder

5.23 Death of Samantha
Samantha Grey (Hariette Johns) runs a photographic studio with her partner and lover Simon McCowen. The story opens with a photo session in progress, which Samantha is directing. She sees model Vicky West (Nyree Dawn Porter) and orders her to leave the studio. In her office she has a row with Simon, and slams the door, and makes for home. But that night she is found murdered.
Lockhart finds her place has been expertly burgled. He obtains a list of property stolen, mainly jewellery, and has it circulated.
Tony Harris, a burglar, gives his girlfriend Marcia a watch. She sells it to a jeweller who takes it to Scotland Yard. Opening the back, Lockhart finds an inscription, To Samantha All My Love S.
The Method Index at the Yard turns up several thieves using the special technique of burglary, one being Tony Harris. Baxter finds Marcia in a pub, but she is called to the phone. When she runs off, Baxter goes to her address to resume his questions. Tony shows up and is detained.
He claims he bought the watch from a man in a cafe. Lockhart sends for Simon McCowen.
McCowen is married, and the burglar Jimmy Humphries tells his wife of her husband's affair with Samantha, after Humnphries falls out with McCowen. Lockhart forces Humphries to admit to a charge of burglary, and later finds Simon at the opened safe in Samantha's house. Simon gives himself away and is arrested

5.24 Solomon Dancey's Luck
Solomon Dancey (Harry Locke) is released from prison just before Christmas, and having no money, steals a handbag. But the contents are worthless so he throws it away. The owner of the bag refuses to prosecute him, and he then attempts to obtain a loan from bookmaker Charlie Monkton (Sydney Tafler). He is ordered out of Monkton's house, on the way he steals their Christmas tree.
He returns home carrying the tree to find that his wife Sheba (Liz Fraser) has not only been given a turkey, but their lodger Alexander Mudgeon (Bob Grant) has produced whiskey and a necklace for her.
A parcel arrives from prison, from an old associate of Dancey's who has died and left him clothes, a banjo and the lease of a house, which has only ten days to run. This annoys Sheba, who throws it all into the dustbin. In a temper she picks up the stolen tree, and crashes it to the floor. The pot breaks and they find £3,000 inside.
Thus they look forward to a merry Christmas, buying new clothes, and Solomon purchases an identical tree which they return when Charlie and his muscle man Alfred (Danny Green) call for it. After they go, Solomon, worried what they will do when they find the money gone, reveals the source of his wealth to Mudgeon. When Solomon goes off to play bridge, Mudgeon phones Lockhart.
The bookmaker discovers his loss, and is on the point of searching for Dancey when Lockhart turns up to question him. Charlie denies any loss of money. Then Solomon asks Lockhart for protection, his story is that he found a lot of money in the garden of the house left to him. Lockhart wants to examine it, and they find a note from Sheba saying she has got the money and has run away with the lodger.
Without the money, it is not possible to prosecute Solomon. When the police have left, Solomon finds Sheba locked up in a cupboard, Smudgeon had done it and taken the cash. They know he is on his way to London Airport, so Sheba informs Charlie what has happened, and he and his wife settle down to the turkey provided by Mudgeon

5.25 Formula for Death
Lockhart and Baxter, investigating a wages snatch, have only one lead, a grey saloon car.
Ginger Smith (Howard Pays), who organised the snatch, is now planning another at the North Wickham government research station. A second group are watching the station: Adrian Melius, Peter Westbury, and Eugene Milo, but they are only waiting for the delivery of a certain advanced isotope formula. In fact they are watching the station when Ginger with two men and a woman start their raid. As they are taking the money from a security van, Melius sees through his binoculars, that they have got the canisters containing the new formula. They send Milo after the car on his motor bike, but he crashes and is killed.
Lockhart visits the research station and learning about the isotope, arranges for a warning to be put out.
Back home, Ginger has managed to open one of the canisters, only to find a slug of metal. When he hears the police warning, he goes straight to hospital. The doctor phones the police who search Smith's house where they find the canisters and the money.
Police believe Milo to be connected with the crime, but they also need the names of the others involved, so Ginger's name and address appears in the press report as the one mixed up in the raid. This gets the gang to swallow the bait and all are arrested

5.26 A Car Is Stolen
The Assistant Commissioner of New Scotland Yard's car is stolen. Though Lockhart is on the case, it is Sgt York of Bow Street who arrests the thief, Charles Newell. Bail is opposed, but a surety from Janet Nelson, wife of Harry Nelson (Alan Tilvern) enables Newell to be remanded on bail. Lockhart sets Baxter and York to make further inquiries, after examining a marked map found in the stolen car.
Newell realises this map must have been found by police, and skips bail, going off with a Charlotte Ryan. But when he switches on the ignition of the car, it blows up and he is killed.
With York and Baxter and Inspector Morrison, Lockhart goes to the scene of the murder. Saunders and Owen admit lending Newell money, but deny trying to kill him. Joseph Ryan had threatened Newell because he knew his daughter intended to run away with Newell. But though he intended to thrash him, Ryan says he had changed his mind. However he has no alibi.
Examining the shattered car, Morrison finds evidence to identify Nelson as the killer. But in the office of Nelson's automart, police find him dead. Time of death is established at between midnight and one o'clock. Joseph Ryan admits that he murdered Harry Nelson, because they had argued about money. On the murder weapon are found traces of a face powder which matches that found in Charlotte Ryan's handbag

.

.

.

.

.

some Series 6 Schedules
Note titles filmed by director Adrian Cooper on Feb 19th 1964. He also produced the filmed inserts.
6.1 Play on Letters: rehearsals Mar 11th-14th/16th-21st 1964, taped Mar 24th, screened April 6th 1964
6.2 Who Takes the Blame?: rehearsals Mar 25th-28th/31st-Apr 4th 1964, taped Apr 7th, screened April 13th 1964 (Note- orignally to be titled The Scapegoat)
6.3 The By Boys: rehearsals Apr 1st-4th/6th-11th 1964, taped Apr 14th, screened April 20th 1964
6.4 My Father Is My Brother: rehearsals Apr 8th-11th/13th-18th 1964, taped Apr 21st, screened April 27th 1964
6.5 Line Of Fire: rehearsals Apr 15th-18th/21st-25th 1964, taped Apr 28th, screened May 4th 1964
6.6 The Write-Off: rehearsals Apr 22nd-25th/27th- May 2nd 1964, taped May 5th, screened May 11th 1964
6.7 An Eye for an Eye: rehearsals Apr 29th-May 2nd/4th- 9th 1964, taped May 12th, screened May 18th 1964
6.8 Red Roses for Emma: rehearsals May 6th-9th/11th- 16th 1964, taped May 19th, screened May 25th 1964
6.9 Death of a Breadwinner: rehearsals May 13th-16th/18th-23rd 1964, taped May 26th, screened June 1st 1964
6.10 Greeting from a 12-Bore: rehearsals May 20th-23rd/25th-30th 1964, taped June 2nd, screened June 8th 1964
6.11 It's Coming Down Harder: rehearsals Mar 19th-21st/23rd-28th 1964, taped Mar 31st, screened June 22nd 1964
6.12 Trained to Kill: rehearsals May 27th-30th/June 1st-6th 1964, taped June 9th, screened June 29th 1964
6.13 The Break Out: rehearsals June 17th-20th/22nd-27th 1964, taped June 30th, screened July 6th 1964
6.14 The Rainbow Turned to Dust: rehearsals June 24th-27th/29th- July 4th 1964, taped July 7th, screened July 13th 1964
6.15 Varnish on Three Fingers: rehearsals July 1st-4th/6th-11th 1964, taped July 14th, screened July 20th 1964
Note- these are the offical company schedules, but were sometimes altered

.

.

.

.

.

.

.

.

.

Series 8 Schedules
Shown Rediffusion Tuesdays (other regions Wednesdays)
8.1 The Jolly Boy: rehearsals Sept 29th-Oct 2nd/ Oct 4th-9th 1965, VTR Oct 12th, transmitted Nov 2nd 1965
8.2 The Hi-Jack: rehearsals Oct 13-16th/ 18th-23rd, VTR Oct 26th, transmitted Nov 9th 1965
8.3 Danger Wrong Turning: rehearsals Oct 6-9th/11th-16th, VTR Oct 19th, transmitted Nov 16th 1965
8.4 It Could Always Happen: rehearsals Oct 27-30th/Nov 1st-6th, VTR Nov 9th, transmitted Nov 23rd 1965
8.5: A Moment of Freedom: rehearsals Nov 3rd-6th/8th-13th, VTR Nov 16th, transmitted Nov 30th 1965
8.6 The Street: rehearsals Nov 10-13th/15th-20th, VTR Nov 23rd, transmitted Dec 7th 1965
8.7 Run Johnny Run: rehearsals Nov 17-20th/22nd-27th, VTR Nov 30th, transmitted Dec 14th 1965
8.8 The Ring of Truth: rehearsals Oct 20th-23rd/25-30th, VTR Nov 2nd, transmitted Dec 21st 1965
8.9 What's All This Then?: rehearsals Dec 1st-4th/6-11th, VTR Dec 14th, transmitted Dec 28th 1965
8.10 Sing Me the Old Song: rehearsals Nov 24-27th/29th-Dec 4th, VTR Dec 7th, transmitted Jan 4th 1966
8.11 The Lifer: rehearsals prob Dec 20th-23rd/27th-Jan 1st 1966, VTR Jan 4th, transmitted Jan 11th 1966
8.12 A Dead Cert: rehearsals Dec 29th-Jan 1st 1966/Jan 3rd-8th, VTR Jan 11th, transmitted Jan 18th 1966
8.13 The Fit-Up: transmitted Jan 18th 1966

.

.

.

.

.

.

.

.

.

Series 9 Schedules
9.1 A Bottle Full of Sixpences: rehearsals March 31st- April 11th 1966, VTR April 13th, transmitted May 2nd 1966
9.2 Ask Me If I Killed Her: rehearsals April 18-27th 1966, VTR April 29th, transmitted May 9th 1966
9.3 The Old Pals' Act: rehearsals April 25th - May 4th 1966, VTR May 6th, transmitted May 16th 1966
9.4 You Can Never Tell Till You Try: rehearsals May 2nd-11th 1966, VTR May 13th, transmitted May 23rd 1966
9.5 Charlie Come Lately: rehearsals May 9th-18th 1966, VTR May 20th, transmitted May 30th 1966
9.6 It Isn't Just The Money...: rehearsals May 16th-25th 1966, VTR May 27th, transmitted June 8th 1966
9.7 The Night Walker: rehearsals May 23rd-June 1st 1966, VTR June 3rd, transmitted June 15th 1966
9.8 The Smoker: rehearsals June 6th-15th 1966, VTR June 17st, transmitted June 22nd 1966
9.9 The Killing: rehearsals May 30th-8th 1966, VTR June 10th, transmitted June 29th 1966
9.10 Golden Boy: rehearsals June 20th-29th 1966, VTR July 1st, transmitted July 6th 1966
9.11 A Hero Of Our Times: rehearsals June 13th-22nd 1966, VTR June 24th, transmitted July 13th 1966
9.12 Leo Did the Picking and It All Went Bad: rehearsals June 27th-July 6th 1966, VTR July 8th, transmitted Friday July 22nd 1966
9.13 You Don't Think Twice: rehearsals July 4th-13th 1966, VTR July 15th, transmitted Wednesday July 27th 1966

.

No Hiding Place
Rediffusion synopses for series 9 (1966)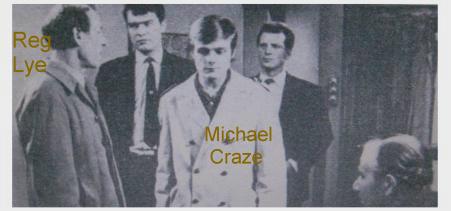 9.1 A Bottle Full of Sixpences. VTR made 13th April, transmitted 4th May 1966.
Act 1: Opens: Brighton station. A young man, Tom in a wheelchair travels up to London in the guards van. He attacks the guard and steals some of the mail. The guard is seriously injured and Lockhart investigates, using the abandoned wheelchair and a travelling rug as his clues. Tom has carried out the crime in order to obtain money for his parents, owners of a small cleaning shop which is doing very badly. His father Fred had been a small time criminal years ago, but has gone straight, and all the family hopes centre on Tom's future as an engineer. Realising what Tom has done, in the shop parlour, Millie Connor pleads with her husband to get enough money so Tom can get away.
Act 2: In his office Lockhart interrogates Smithy the dining car attendant who had pushed the wheelchair into the guard's van. Smith has a record, and Lockhart thinks, mistakenly, that he may be an accomplice. Following up markings on the rug, he sends Perryman to Connor's shop and discovers the rug is missing from there. Further information suggests the criminal may be Fred, who Millie says has gone up north. Fred is wandering round searching for a suitable place to rob, and eventually settles on his friend the local publican.
Act 3: Fred breaks into the pub that night. He opens the safe where the night's takings are stored but bungles the whole thing and is chased from the premises by Mrs Parson's the publican's wife. Fred manages to reach home and hand some of the money to Tom who now runs away. Police arrest to swoop Fred who tries pathetically to give them the slip. Fred is questioned by Lockhart and confesses to the train robbery also. But Lockhart doesn't believe him and Fred is shattered when he learns the train job now carries a murder charge since the guard has died. He still insists on his guilt in order to shield his son, but Tom decides he must give himself up. Final scene shows Millie in the shop parlour throwing a bottle of sixpences against the wall.
Note: Jim Gardner was scheduled to play Mr Parsons but not in TV Times credits

9.2 Ask me If I killed Her (VTR made on April 29th 1966, screened May 11th 1966) - click for my review of this surviving story

9.3 The Old Pals' Act
VTR made 6th May, transmitted 18th May 1966.
Act 1: Jay Parry's body is found floating in the Thames while a party is in progress on his barge. Lockhart is called in when it is discovered that Parry had been drowned elsewhere. Parry had been a partner in a factory run with Godfrey Bailey, an old war chum. Amy Fairfax, Bailey's secretary, knows a great deal about their private lives, and Lockhart soon learns Parry's wife Lucy had been having an affair with a Dr Mason. These two were together at the party though Mason arrived just before Jay's body was found. They are both under suspicion when Lucy discovers Bailey was planning to sack Jay and had advertised his job. To remove suspicion from herself, Lucy suggests Bailey may be the murderer.
Act 2: At Bailey's office, Bailey admits to Lockhart that he had decided to replace Jay, but denies knowledge of the advert. From Amy, Lockhart learns that Mason and Jay had had a row in which Jay had threatened to have Mason struck off if he did not stop seeing Lucy. She confesses that she had placed the advert to try to bring Jay to his senses. Lucy, knowing that Mason and Bailey were due to meet on the night of the murder, now fears that Mason did kill her husband, but tries to excuse it to Lockhart by saying Jay was unbalanced, had tried to kill her once and had never been the same man since the war during which he had been tortured. Mason denies it. Amy reveals to Bailey her discovery that Jay had a blackmail hold over him because they had both been involved in killing a German war criminal after the war.
Act 3: Mason is tricked into revealing the address of his bungalow where he and Lucy used to meet. Evidence points to the bath having been the one used for the murder. Mason admits that he saw Bailey and Jay coming to the bungalow but he left by a back door before they came in. Lockhart deduces that Jay had brought Bailey there to kill Mason, thereby increasing his blackmail hold over Bailey, but instead Bailey had killed him. Amy, spending the evening with Bailey, tries her own blackmail and is nearly murdered herself. Police arrive. Bailey is arrested for the murder of Jay

9.4 You Never Can Tell Till You Try
VTR made 13th May, transmitted 25th May 1966.
Act 1: Lockhart receives anonymous information that a James Paterson is the big receiver who lives in a large house in North London. He has just discovered that his wife Sarah is strangely interested in his assistant Philip Munro, whose house is the first scene in this story. Paterson decides to throw suspicion by arranging a robbery of valuable art works from his house. The plan has a double purpose, for having used Munro, Paterson and his right hand man and chauffeur Doyle, will frame him so he gets sent to jail. Sarah persuades Munro to play along with them, but to steal Paterson's valuable jewellery haul as well. The act closes with Sgt Russell watching Munro's flat at night.
Act 2 opens in Lokchart's office. Police have discovered one of the art works at Munro's flat. It had been planted by Doyle. Munro is arrested. But Paterson discovers to his horror that the jewels hidden in a vault in the basement have gone too. When Sarah visits Munro in prison, Munro tells her to relay to Paterson his terms. Fifty thousand pounds for the jewellery. Paterson has to agree to help Munro get out of jail.
Act 3: Paterson stands bail for Munro, saying the theft might have been a misunderstanding. Lockhart agrees, since he wants to get at the truth about Paterson's role as a big receiver. He receives an anonymous call to go to outside Paterson's house. Munro, planning to leave the country with Sarah, goes to the house and is taken down to the cellar. The money is handed over, whereupon Munro reveals that the jewels are still in the house, hidden in a sawdust bin. About to leave with Sarah, she trips on the stairs causing him to fall. Paterson seizes Munro's gun but Doyle takes it from him. Sarah had planned a neat twist, but Munro sets off the burglar alarm, Doyle shoots, and police burst in to arrest the lot of them

9.5 Charlie Come Lately
VTR made 20th May, transmitted 1st June 1966.
Act 1: Opening scene: a break-in at a furrier's. Lockhart investigates and discovers the thieves broke in through the floor from the offices below, which belong to a travel agency. Charlie Bamber, an ex-cop who now runs an unsuccessful private detective agency, is hired to follow June Tarrant, wife of Mr Tarrant. She works in the travel agency. Charlie follows and sees her meet a man called Mackay, and in following him, he is led to Nicky Peters, big time receiver. In a cafe Charlie reports back to Sgt Russell.
Act 2: In his office, Lockhart is getting closer to June Tarrant's involvement with the thieves. Mackay rumbles the private detective, and tries to buy off Charlie with £1,000. Charlie plays hard to get. Charlie then informs Lockhart that he is determined to get the glory for himself on this case and thus restore his reputation.
Act 3: In Charlie's office at night, Mackay increases his offer but Charlie refuses the bribe. Later Charlie is knocked down by a car and badly injured. But even now he will not tell Lockhart anything as he wants the insurance reward. Charlie goes to see June and tell her the truth about Mackay. June had believed Mackay was in love with her, and when she hears what Charlie tells her, she goes straight to the police, having had it out with her husband. Charlie is too late in bringing the case to Lockhart, who has now tied the case up

9.6 It Isn't Just the Money...
VTR made 27th May, transmitted 8th June 1966.
Act 1: In an attempt to trap a suspect protection racketeer, a Greek Cypriot named Fergathis, Inspector McHugh has arranged for numbered notes to be among the pay-off from a Greek cafe owner. But when police arrive at Fergathis' home they are beaten to it by an unknown assailant who attacks the suspect and makes off with his cash box. Lockart takes over the case, but Fergathis refuses to make any charge against his attacker. Mrs Fergathis clearly knows more than she is telling too. Sgt Russell visits the cafe owner and gets the impression that Fergathis' hold over the Greek community rests on something more than fear. Lockhart is summoned to MI5.
Act 2: Lockhart learns that during the Cyprus troubles, Fergathis secretly aided the British forces. In return he had been brought to Britain where has was guaranteed safety. So Lockhart must get absolute proof before making any charges. The marked money is reported as having been paid in at a country bank by a Dr Reynolds, headmaster of a private school for retarded children. Reynolds claims the money arrived in a parcel with no name. Lockhart decides to check on all the parents, and eventually comes to the lodging of Jim Donovan, whom we had first seen in the opening sequence. He is one of the parents, and as Sgt Perryman leaves after interviewing him, he sees a car draw up, the driver is Mrs Fergathis.
Act 3: It turns out Mrs Fergathis had once been married to Donovan and the child at the child is hers. She fears her husband may harm Donovan in order to recover the cash box which contains valuable private papers as well as the money. Police watch Donovan's home and Mrs Fergathis tells her husband that Donovan was the attacker and insists he pay £1,000 to get those papers back. Reynolds appeals to Donovan to go to the police, but instead as Lockhart arrives, Donovan dashes off with the box, determined to get the money to help the school. As he crosses the main road, pursued by police, he is knocked down. He is taken to the Greek cafe, where he dies. Greeks in the cafe find the box and inside papers which prove Fergathis was a traitor. That decides them on telling the truth about the protection racket, and Fergathis is arrested

9.7 The Night Walker
VTR made 3rd June, transmitted 15th June 1966.
Act 1: Opening scene outside Westminster Coroner's Court. Lockhart is investigating the murder of a tramp found strangled on the Embankment. Not the first such murder of late. Sgt Russell finds one tramp, Bowdler, garrulous and cantankerous, with a passionate interest in shoes, who had met the dead man just before his death. He had been at Waterloo Station trying to beg from an immigrant. A freelance journalist, Dilke, persuades his editor to let him do a story on these tramps. His photographer Dennis accompanies him. When Bowdler tells Lockhart that he's now certain the immigrant was an Indian, Lockhart recalls the pathologist's opinion that the type of strangling was similar to that use by the Thugee Sect in India.
Act 2: Ships' crews are checked, but Russell finds out the Indian is staying at the same hostel as Bowdler. Dilke, disguised as a tramp, with Dennis and their girlfriend Penny Tusker have started their night quest. He gets into an ugly argument with another tramp Mahoney. The latter falls down stairs and cracks his skull. Dilke returns to his flat, but realises he had left his cigarette letter with Mahoney. Through an interpreter, Lockhart interviews the Indian, Ghomboos. It is a confusing interrogation. Lockhart then receives a report of the death of another tramp.
Act 3: The pathologist informs Lockhart that the latest tramp did not die by strangulation, and that the ligature was applied afterwards. The lighter is also found. Dilke's editor, horrified at what his team have done, informs Scotland Yard. Sgt Perryman arrests Dennis, and Lockhart questions him and Dilke, who had used the accident to make up a good newspaper story. But they did not murder Mahoney. Ghomboos goes missing, and is found murdered in the same way as the other tramps. Bowdler is spotted running off, and is chased across railway lines where he is killed, still wearing sandals he had stolen from Ghomboos

9.8 The Smoker
VTR made 17th June, transmitted 22nd June 1966.
Act 1: In his living room, Harry Nelson enters with two beer bottles. Pete Voss, a loud mouthed South African is in Harry's flat which he shares with his girlfriend Helen. They had once been cell mates, and now they are planning to rob a Hatton Garden jeweller. But to set it up, they need to do a small job to raise a few hundred pounds. They break into a bakery where Helen worked, and steal £400, but as they leave they are surprised by the manager and Voss hits him on the head, killing him. Harry wants to cry off the Hatton Garden job, but Pete persuades him not to.
Act 2: Following a clue of some prison tobacco found at the scene of the crime, and the fact that Helen used to visit Harry in prison, the police interview Harry. Voss takes Helen to the room they have hired as the hideout for their big job. They get back to Harry's flat just as he is being taken away for questioning. As the police have nothing against Harry, he has to be released. In their hideout, Harry sees that Helen has fallen for Pete, that makes him definitely decide to break away. He attempts to take Helen with him, but Voss knocks him aside, and he falls over hurting his chest. He leaves. Voss decides to go ahead on his own. With Albert, the driver, the diamond merchant is robbed. But when Albert demands his cut, Voss runs him down with his Mini.
Act 3: Police know Albert was an old mate of Harry and pull Harry in again. However Harry has an alibi, for he can prove he was in Paddington Hospital having his chest attended to at the time of the killing. But angry at Albert's death, Harry promises to lead police to the murderer. However he gives a police sergeant the slip and makes his own way to Voss' room. He is determined to kill Voss, but police, having traced the address through an Overseas club, arrive in time to stop him

9.9 The Killing
VTR made 10th June, transmitted 29th June 1966.
Act 1: Jack Woods, a pupil at a Greek night class, is found stabbed to death in a layby. His beautiful teacher Katrina Polyannis, arrives at the scene just after the murder, followed by Tony, another pupil who is keen on her. Earlier a Greek had called at the school saying he was Katrina's husband then he had left giving the school secretary a lift home, then being involved in a minor car accident. Mr Woods is a quiet living commuter, his wife is devastated, and bothered about the sudden appearance at her house of Arthur Johnson, who has univited, come to comfort her. Sgt Russell interviews Katrina in the restaurant owned by her husband, but learns nothing. But as he leaves, we discover that the 'husband' who had called at the night school is in fact the chef at the restaurant.
Act 2: Tony, having taken Katrina home, tells her in a funk he wants nothing to do with it. Lockhart questions Arthur and learns Jack was a dreamer who longed for the day when he would have enough money to go back to the Greek islands. Lockhart warns him to keep away from Mrs Woods. Tony is questioned, lying madly, but does reveal that Jack Woods was acting strangely the day before his murder, as if he had won the Pools. Polyannis knows that Tony is the one person who might give the police a lead, and sends some men to intimidate Tony. When Lockhart visits Mrs Woods, he finds Arthur there. In Jack's papers, they find out he had had a hefty win on the horses. The bet had been laid by Arthur Johnson, but before police realise the implications, Arthur has done a bolt.
Act 3: The police search the layby for a knife. Arthur had been in grave financial difficulties. If he had wanted to keep Jack's winnings, he would have had a motive for murder. Tony is visited by two hoodlums and faints with fright. Arthur hides in Mrs Woods' house when Lockhart calls to tell her that her husband was planning to elope with another woman. Katrina, her husband, and the chef are brought in for questioning. Arthur is found by Lockhart and admits he hung on to the money, but only after learning about Jack's death. The school secretary reveals the phoney alibi set up by the chef on Polyannis' behalf, and so Polyannis is arrested for murder
No Hiding Place

.

.

.

.

.

The tenth and final No Hiding Place series of 15 stories was shown in 1967.
Lockhart had yet another new assistant, Det Supt Gregg, played by Sean Caffrey. The new producer Michael Currer-Briggs explained, "we are going to try and build up a relationship between Gregg and Lockhart- Lockhart with his wisdom and experience on one hand, and Gregg, who is young, full of initiative and with a new outlook on things." The idea was to have a more personal relationship than with previous assistants, "Gregg is in no sense just an office boy, he will make his own decisions and have more responsibility." Caffrey himself described his character as, "a cool hard nut, intelligent and on the ball. He lives for his police work." Raymond Francis admitted, "I suppose I must be living Lockhart to a certain extent." With his last two sergeants, "I felt like a headmaster with two senior boys... this will be a relationship built on mutual respect with no patronising."
In the first story, It's All Happening, Lockhart is still at his familiar office, but in the second story The Game, he starts moving in to a new office in Queen Victoria Street, and by the third, A Girl Like You, he has settled in there. It was still the same studio however.

Some Series 10 Schedules
Programmes were shown on Wednesdays at 8pm in the London region, other areas screened on different days, Mondays being the earliest on Granada.
10.1 It's All Happening: VTR Feb 14th 1967, transmitted Mar 15th 1967
10.2 The Game: VTR Feb 28th 1967, transmitted Mar 22nd 1967
10.3 A Girl Like You: VTR Mar 7th 1967, transmitted Mar 29th 1967. Note David Boisseau directed his own film inserts for this
10.4 A Price on my Head: VTR Mar 28th, transmitted Apr 5th 1967
10.5 A Letter from Helga: VTR Feb 21st, transmitted Apr 12th 1967. Note original title had been No Help for the Ballards
10.6 A Murder is a Murder: VTR Mar 14th, transmitted Apr 19th 1967
10.7 New Faces for Old: transmitted Apr 26th 1967
10.8 Decree Absolute: VTR Mar 21st, transmitted May 3rd 1967

To NHP menu

.

.

.

.

.

Sergeant Cork: regular cast details, and transmission times


John Barrie starred in the title role, alongside William Gaunt as his assistant Bob Marriott, who appeared in all stories except 5.12.
Theme music: Philip Green. Producer: Jack Williams.
Charles Morgan, as Supt Rodway starting with the third series, eventually received star billing alongside Barrie and Gaunt. He first appeared as a different character in #10, but made his bow as Sgt Rodway at the end of series 2 (#21), becoming a regular as Supt Rodway in all series starting with series 3 (in all stories except #32, 47, 58).
It was announced that AJ Brown was to join the final series in 1966 as Assistant Commissioner John Thor(!), he pops up in 5.1 and had also been in #4.35.
Other slightly regular characters appearing in some stories were: Freddie Fowler as Chalky White, the caretaker at the Yard, who was in all the series, but not every tale, on a semi-regular basis. Arnold Diamond as Insp Bird in later stories of the first series only. John Richmond as Supt Nelson ialso series 1. Carmen Silvera as Mrs Fielding in 2, 9 (she is also in #61 in a different role).
In the second series, Edward Ogden appeared as Sgt Gardner and Barry Raymond was PC Evans.

1.1 Case of the Reluctant Widow (Saturday June 29th 1963, 10pm)
Note- viewers pointed out one error by Ted Willis, Major Bradnock's decorations were stated on his office door, OBE and MC. However neither of these could have been awarded before the twentieth century

1.2 Case of the Girl Upstairs (July 6th 1963)

1.3 Case of the Two Drowned Men (July 13th 1963)

1.4 Case of the Knotted Scarf (July 20th 1963)

1.5 Case of the Stagedoor Johnnie (July 27th 1963)

1.6 Case of the Respectable Suicide (August 3rd 1963)

1.7 Case of the Slithy Tove (August 10th 1963)

1.8 Case of the Persistent Assassin (August 17th 1963)

1.9 Case of the Sleeping Coachman (August 24th 1963)

1.10 Case of the Soldier's Rifle (August 31st 1963)

1.11 Case of the Public Paragon (September 7th 1963)

1.12 Case of Ella Barnes (September 14th 1963)

1.13 Case of the Gold Salesmen (September 21st 1963)

Second series:

2.1 (14) Case of the Fenian Men (Saturday December 28th 1963, 7.10 or 7.25pm depending on ITV region)

2.2 (15) Case of the Fourth Visitor (January 4th 1964)

2.3 (16) Case of the Ormsby Diamonds (January 11th 1964)

2.4 (17) Case of the Medicine Man (January 18th 1964)

2.5 (18) Case of the Bristol Mail (January 25th 1964)

2.6 (19) Case of the Silent Suffragette (February 1st 1964)

2.7 (20) Case of The Self made Man (Feb 8th 1964)

2.8 (21) Case of the Stricken Surgeon (February 15th 1964)

Third series:
3.1 (22) Case of the Two Poisons (April 4th 1964, 10.10pm)

3.2 (23) Case of the Six Suspects (April 11th 1964)

3.3 (24) Case of Big Ben Lewis (April 18th 1964)

3.4 (25) Case of the Amateur Spy (April 25th 1964)

3.5 (26) Case of the Elegant Mistress (May 2nd 1964)

3.6 (27) Case of the Hangman's Noose (May 9th 1964)

3.7 (28) Case of the Dumb Witness (May 16th 1964)

3.8 (29) Case of the Monk's Hood Murder (May 23rd 1964)

3.9 (30) Case of the Penny Plains (May 30th 1964)

3.10 (31) Case of the Hero's Return (June 6th 1964)

3.11 (32) Case of the Great Pearl Robbery (June 13th 1964)

3.12 (33) Case of the Killer's Mark (June 20th 1964)

3.13 (34) Case of the Cynical Traitor (June 27th 1964)

Fourth series:
4.1 (35) Case of the Vengeful Garnet (August 22nd 1964, 10.05 or 10.20pm according to ITV region)

4.2 (36) Case of the Wounded Warder (August 29th 1964)

4.3 (37) Case of the African Murder (September 5th 1964)

4.4 (38) Case of the Dutiful Murderer (September 12th 1964)

4.5 (39) Case of the Pious Patriarch (September 19th 1964)

4.6 (40) Case of the Merry Widower (September 26th 1964)
Note- This was the final story in this series, ending with the happy celebration of Bob Marriott's engagement. There was now a break of over one and a half years before the final series was made.

Series 5 (and last)

5.1 (41) Case of the Fellowship Murder (Saturday April 9th 1966, 9.10-10.5pm- this was the London transmission date- some other areas like ABC premiered the series as late as 1968. The Network dvd is a little confused over all this.)
At the beginning, Bob Marriott returns from his holiday in Paris, though any honeymoon (see 4.6) is not mentioned.
Unlike the previous series, there was no case number attached to the on screen titles of the individual episodes.

5.2 (42) Case of the Wayward Wife (Saturday April 16th 1966)

5.3 (43) Case of the Missing Cabinet Maker (Saturday April 23rd 1966)

5.4 (44) Case of Horseless Carriage (April 30th 1966- London, January 2nd 1968- ABC Midlands/North)

5.5 (45) Case of the Prominent Thespian (May 7th 1966)

5.6 (46) Case of the Dutiful Bride (May 14th 1966)

5.7 (47) Case of William Huckerby, Platelayer (May 21st 1966)

5.8 (48) Case of The Notorious Nun (Saturday May 28th 1966, Friday March 29th 1968 in Granada region)

5.9 (49) Case of the Rogue Regiment (June 4th 1966)

5.10 (50) Case of the Travelling Texan (June 11th 1966)

5.11 (51) Case of a Lady's Good Name (June 18th 1966, July 7th 1966 9.40pm Westward TV, February 6th 1968 ABC)

5.12 (52) Case of Albert Watson, V.C. (June 25th 1966, 9.10pm) (No William Gaunt in this story.)

5.13 (53) Case of Vanishing Victim (July 2nd 1966)

5.14 (54) Case of the Threatened Rajah (July 9th 1966)

5.15 (55) Case of Devil's Daughter (July 16th 1966, 9.20pm ATV London, March 12th 1968 ABC)

5.16 (56) Case of the Unpopular Judge (July 23rd 1966)

5.17 (57) Case of the Painted Boat (July 30th 1966)

5.18 (58) Case of the Strolling Players (August 6th 1966 London, but shown on Sunday June 9th 1968, 3.50pm in ABC Midlands/North)

5.19 (59) Case of the Chelford Changeling (August 13th 1966 London, December 23rd 1967 on ABC Midlands/North)

5.20 (60) Case of the Silent Bell (August 20th 1966 London, March 26th 1968 Midlands and STV)

5.21 (61) Case of the French Mademoiselle (August 27th 1966, ATV London, December 17th 1967 ABC Midlands/North 3.50pm)

5.22 (62) Case of the Simple Savage (September 3rd 1966)

5.23 (63) Case of the Fallen Family (September 10th 1966)

5.24 (64) Case of the Crystal Ball (September 17th 1966 ATV London, October 14th 1967 ABC)

5.25 (65) Case of the Silent Policeman (scheduled for August 20th 1966, but postponed to September 24th 1966 on ATV London, shown on October 28th 1967 on ABC)

5.26 (66) Case of the Hooded Students (October 1st 1966) - the final story ever

My thanks to Alan Collins for his help in unravelling the ATV London transmission dates for Sergeant Cork

To Videotape Crime menu
Sergeant Cork

.

.

.

.

.

.

.

.

.

.

Dixon of Dock Green

.

.

.

.

.

.

.

.

.

.

Obviously a matter of opinion, but I feel Jack Hawkins comes out the best. Poor Vittorio is my nomination for the worst, simply because he obviously has some slight difficulties with the langauge.