Crossroads to Crime 5*
1 The Twisted Candle 4*
2 Marriage of Convenience 6*
3 The Malpas Mystery 5*
4 The Man who was Nobody 4*
5 Clue of New Pin 6*
6 Partners in Crime 5*
7 The Fourth Square 3*
8 Man at the Carlton Tower 4*
9 Clue of Silver Key 7*
10 Attempt to Kill 5*
11 Man Detained 5*
12 Never Back Losers 5*
13 The Sinister Man 7*
14 Candidate for Murder 5*
15 Backfire 5*
16 The Share Out 6*
17 Flat Two 5*
18 Number Six 6*
19 Time to Remember 6*
20 Locker 69 2*
21 Playback 5*
22 < Solo for Sparrow 8*
23 Death Trap 4*
24 The Set Up 6*
25 The 20,000 Pound Kiss 4*
26 Incident at Midnight 2*
27 On the Run 5*
28 Return to Sender 5*
29 Ricochet 5*
30 The Double 4*
31 The Rivals 5*
32 To Have and to Hold 7*
33 The Partner 3*
34 Accidental Death 6*
35 Five to One 8*
36 Downfall 6*
37 The Verdict 7*
38 We Shall See 2*
39 Who was Maddox? 5*
40 Act of Murder 6*
41 Face of a Stranger 7*
42 Never Mention Murder 4*
43 The Main Chance 5*
44 Game for Three Losers 2*
45 Change Partners 7*
46 Strangler's Web 6*
47 Dead Man's Chest 1*
Picture- #21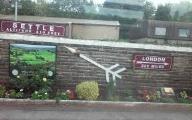 This series of films was made for the cinema at Merton Park Studios.
In early 1960, it was announced that Anglo Amalgamated had acquired the rights to ninety Edgar Wallace stories and had arranged for two companies to make them into films. The Film Producers' Guild at Merton Park with Jack Greenwood as producer were to make twenty, while Independent Artists with Julian Wintle and Leslie Parkyn were scheduled to make thirty. In fact the only one the latter made was #3, at Beaconsfield Studios, and it was Merton Park who went on to make about forty genuine Edgar Wallace stories.
The standard varies according to the scriptwriter and director, but the best are very good indeed.
Strictly speaking, the first listed (Crossroads to Crime) was not part of this series, though when the series was screened on television, it had added to it the Edgar Wallace haunting opening sequence with the bust of the great thriller writer. Most of the later films (from #40 on) were similarly included in this tv screening, though they do not have the bust of Edgar in the opening titles.