Ragtime- Late Joys (Westward Television)
Shown on Westward on Christmas Day 1965, screened in the London ITV region on Boxing Day 1965 from 11.40am to 12.15pm and on Ulster TV on Dec 30th 1965. It featured The Players' Theatre London: Lisa Shane, Julia Sutton, John Griffin, Roy Sone, Ed Graham, and Harry Haythorne, with Pianist Geoffrey Brawn and Drummer Ronnie Lanchbury. These all travelled down from London to Weswatrd's Plymouth studios to make the show. Devised by Reginald Woolley. Dances arranged by Buddy Bradley. Directed by John Bartlett To main tv menu


.

.

.

.

.

Westward Television started

on April 29th 1961, transmitting on
Channel 9 (Stockland Hill), Channel 12 (Caradon Hill).

Westward Studios were sited at Derry's Cross Plymouth. Whilst excavating the site, bones were unearthed, apparently those of French prisoners of the Napoleonic Wars! Bidders for the franchise included the eventual winners led by Peter Cadbury, then chairman of Keith Prowse. Unsuccessful was a group that might have provided an interesting media company; formed by British Lion Films, it was supported by show biz luminaries as varied as the Boulting Brothers, Henry Hall and Brian Rix. Another group World Television Productions, headed by EMI, probably frightened the ITA off with their grandiose plans. Whilst giving a nod of course to local material, Lord Boothby, one of the directors promised "music, ballet and drama programmes of a very high order. We hope to present Shakespeare on the lines already achieved by Sir John Gielgud." In fact an incredible 15 applications were received to run this station.
So Westward gained the contract because of its local involvement. Cadbury claimed that "194 of our subscribers actually live in the area," so no wonder he stated his company had "no intention to compete with the major networks in the spectacular or in plays requiring large casts." Perhaps he'd learnt from the mistakes of others! "There's a wealth of material for local programmes...local industries such as cheese-making, mead, carpets, oysters, tin-mining could be developed into interesting programmes." For this reason perhaps he made the improbable remark "noone is likely to make a fortune from this venture." Other executive officers were Frank Hoare MD (who'd been in films since 1932), Baynham Honri, Technical General Manager (in films since 1921) and Emile Littler, Programme Controller.
To publicise the new tv station, the Westward Exhibition Train, hauled by an old fashioned steam engine, sped from London to the first port of call, Truro. Hosted by Mr Jack Train (!), it visited 22 or 23 towns in a six week period starting in February 1961. It included a Cinema Coach where visitors could see 16mm film clips from programmes to be screened.
Westward was never really a major ITV player. Which is perhaps why I would nominate its most lasting contribution as being Gus Honeybun, the popular local puppet rabbit. Westward TV closed on the last day of 1981, Gus one of the few to survive into the new era with TSW.

Westward TV Menu

.

.

.

.

.

.

.

.

.


A dispute in early 1963 saw the dismissal of 18 ACTT technicians at the Plymouth studios.
The new Television Advertisement duty had forced Westward to make stringent cuts to remain financially viable.
Managing Director Peter Cadbury offered some revealing comments: "None of us ever thought we were going to make our fortunes. It would have been easy to set up our studios in a back street and to make the absolute minimum contribution to local programmes we could get away with. But we built our studios with the best of everything, we even installed two videotape machines to safeguard ourselves against a programme breakdown by the failure of one."(!)
He remarked bitterly that "we modelled ourselves on Anglia when it should have been nearer a Moosejaw operation if we had known what the Chancellor was planning to do to us." In fact Anglia had been far more ambitious that Westward had ever dreamed of, with its own drama department, and the wildlife series Survival.
Cadbury claimed that directors "waived their fees for the first 12 months, and we are all doing it again this year." His own salary currently is currently about £6 per week nett. Thus he blamed "the inquitous tax" for Westward's crisis,

Taunton was at the forefront of a 1962 clash with TWW. For three years viewers in this town had received TWW programmes, but when Westward started, their Stockland Hill transmitter was only 14 miles from Taunton, and the area was designated as a primary Westward area. Thus Westward representatives toured the town advising viewers that by turning their aerials they could receive Westward transmissions. TWW began a long dispute with Westward over this

Westward TV Menu

.

.

.

.

.

.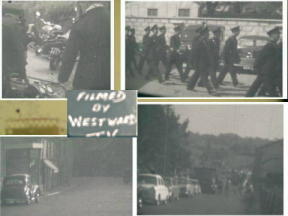 Pictures:
mute footage from early Westward TV news stories
including
top left, a cave rescue,
top right, a medals ceremony, possibly associated with the rescue
bottom left, an idyllic village scene, contrasted with
bottom right, the summer holiday traffic congestion
Westward Television Menu
.
.
.
.
.
.
TAM Top Ten
Westward TV area TAM ratings w/e 7 May 1961
1 Ward 10 (Tues) 59%
2 Sykes (BBC) 58%
3= Wagon Train 55%
3= Black & White Minstrels (BBC)
5 Tales of Mystery 53%
6 Criss Cross Quiz 51%
7= Army Game 50%
7= Arthur Haynes Show
7= Ordinary People (Westward)
7= Laramie (BBC)
Week ending 27th Aug 1961 for Westward area
1 Top Secret 51%
2 Route 66 49%
3 Coronation St 48% (Aug 23)
4 Harpers W1 47%
5= EW10 (Aug 22) 46%
5= Wagon Train
7 Maverick 45%
8 Ordinary People (WTV) 43%
9= Coronation St...41% (Aug 21)
9 The Good Die Young film
Top BBC: Perry Mason and Laramie (39%)
TAM ratings for Westward TV area w/e Dec 3rd 1961
1 Double Your Money 59%
2 Highway Patrol 56%
3 Perry Mason (BBC) 55%
4= Legends of the West 54%
4= Billy Cotton Show (BBC)
6= Hawaiian Eye 53%
6= Lawman
8 London Palladium Show 51%
9= This is Your Life (BBC) 50%
9= Dixon of Dock Green (BBC)
Week ending 6th May 1962 for the Westward TV area
1 Compact (May 3 BBC)... 58%
2 Compact (May 1 BBC)... 51%
3= Coronation Street...50% (Apr 30)
3= Coronation Street (May 2)
3= Take Your Pick
6 London Palladium Show... 48%
7 Laramie (BBC)... 47%
8 The Rag Trade (BBC)... 45%
9 Bootsie and Snudge... 44%
10 Legends of the West... 43%
10= This Is Your life (BBC)
Week ending Dec 29th 1962, in the Westward TV area
1 Take Your Pick... 62%
2 Emergency- Ward 10 Dec 28th... 60
3 Dixon of Dock Green (BBC)... 56
4 Laramie (BBC)... 52
5= Zero One (BBC)...51
6= Double Your Money... 50%
6= Professional Boxing (BBC)
6= Professional Wrestling
6= Coronation Street...49 (Dec 24th)
10 Compact (BBC)...48
Week ending April 21st 1963
1 Double Your Money... 54%
2= Coronation Street...51 (Apr 15th)
2= Coronation Street (Apr 17th)
4 A Chump at Oxford film (BBC) 50
5 Z Cars (BBC)...48
6 Billy Smart's Circus (BBC)...47
7= Candid Camera...44
7= Here's Harry (BBC)
7= Take Your Pick
10= Treasure Hunt (Westward)...43
10= Emergency- Ward 10 (April 19)
10= BBC: What's My Line,
The Good Old Days, Juke Box Jury
Week ending March 29th 1964, in the Westward TV area
1 Sykes and a Menace (BBC)... 58%
2 Top of the Pops (BBC)... 54
3= Coronation Street (Mar 23rd)...53
3= Coronation Street (Mar 25th)
5 Professional Boxing (Rediffusion)... 52
6 Sportsview (BBC)... 51
7= Crane... 50
7= Burke's Law
9= Z Cars (BBC)... 49
9= Take Your Pick
Week ending 14th February 1965 (Westward)
1 Coronation St... 62% (Mon 8th)
2 Double Your Money... 61%
3= Coronation St... 58% (Wed 10th)
3= The Saint... 58%
5= No Hiding Place... 53%
5= Take Your Pick... 53%
7= Treasure Hunt... 51% (Westward)
7= Peyton Place... 51% (Wed 10th)
7= The Beverly Hillbillies... 51%
10 Discs A Gogo... 50%
Week ending 27th November 1966 (Westward)
1 Take Your Pick... 57%
2 Double Your Money... 54%
3 Treasure Hunt... 53%
4 London Palladium... 52%
5 Cinema... 51%
6= The Monroes (BBC1)... 50%
6= The Big Valley... 50%
8 Coronation Street... 49% (Nov 21)
9 Crossroads... 48% (Nov 22)
10= Sports Desk... 47% (Nov 21)
10= Crossroads... 47% (Nov 23)
Westward TV area Week ending Aug 6th 1967
1 Summer Playhouse 46%
2 Coronation Street (July 31) 44%
3 Black and White Minstrels (BBC) 42%
4 Till Death Us Do Part (BBC) 39%
5= Miss Westward 67 (WTV) 38%
5= World In Action
5= Coronation Street (Aug 2)
8= The Mortal Storm (BBC) 36%
8= Half Hour Story
8= Crossroads (Aug 3)
.
W/e 22nd October 1967 (Westward)
1 Miss ITV 55%
2= Take Your Pick 53%
2= Coronation Street (18 Oct)
4 Coronation St (16 Oct) 51%
5= The Informer 48%
5= Val Doonican Show (BBC)
7= Tarzan 46%
7= World in Action
7= Star Movie (Stalag 17)
10 University Challenge 44%
Westward TV area TAM ratings w/e 26 Nov 1967
1 Val Doonican Show (BBC) 55%
2 Dr Finlay's Casebook (BBC) 51%
3 All Gas and Gaiters (BBC) 50%
4 Dixon of Dock Green 49%
5 Coronation Street (Nov 22) 48%
6 Treasure Hunt (Westward) 47%
7 Tarzan 46%
8 Mrs Thursday 45%
9 Steptoe and Son (BBC) 44%
10= Sports Desk (Westward Nov 20) 43%
10= Coronation Street (Nov 20)
10= Panorama (BBC)
10= Star Movie (Strange Cargo)
10= Englebert
W/e 24th December 1967 (Westward)
1= Tarzan... 48%
1= Coronation St (Mon)... 48%
1= Variety Parade... 48%
1= Dixon of Dock Green... 48% (BBC)
5= All Gas and Gaiters... 47% (BBC)
5= Val Doonican Show... 47% (BBC)
5= Treasure Hunt (Westward)... 47%
5= Frankie and Brucie's Show... 47%
10= Take Your Pick 45%
10= Kelvin Hall Circus... 45%
W/e 3rd March 1968 (Westward)
1 The Dark Number... 56% (BBC)
2= Treasure Hunt ... 50%
2= Take Your Pick
4 Ironside... 49% (BBC)
5 Coronation St... 48% (Feb 28)
6 The Saint... 46%
7= Double Your Money... 45%
7= Sportsview (BBC)
9= Coronation St... 44% (Feb 26)
9= Cilla (BBC)
9= Garrison's Gorillas