Westward Television opened on April 29th 1961, and transmitted for 20 years until the end of 1981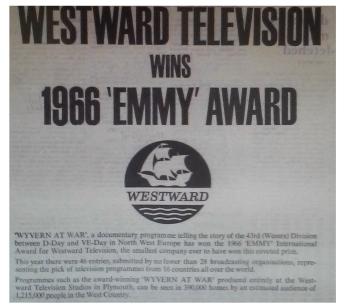 Westward - origins,
Look Westward - stills
A crisis in 1963
Farm and Country,
Original drama (1966/7)
Westward Beat (1964)
Cider Cellar (1965)
Covering the West (1965)
The Case of The Missing Celebrity (1966)
Some Local TAM ratings
A few Westward Sales

Some Westward TV Schedules:
Christmas Day 1961,
Christmas Day 1962,
Saturday November 23rd 1963,
Sunday July 5th 1964,
Thursday December 17th 1964,
Saturday May 8th 1965,
Wednesday July 6th 1966,
Sunday July 10th 1966,
Tuesday January 23rd 1968,
Monday October 7th 1968,
Wednesday May 28th 1969

Spin Along
Westward ran their own pop series in 1961/2 with Alan Freeman. Though it went off air during the Equity dispute, it bounced back in April 1962.
To main tv menu


.

.

.

.

.

Westward Television started

on April 29th 1961, transmitting on
Channel 9 (Stockland Hill), Channel 12 (Caradon Hill).

Westward Studios were sited at Derry's Cross Plymouth. Whilst excavating the site, bones were unearthed, apparently those of French prisoners of the Napoleonic Wars! Bidders for the franchise included the eventual winners led by Peter Cadbury, then chairman of Keith Prowse. Unsuccessful was a group that might have provided an interesting media company; formed by British Lion Films, it was supported by show biz luminaries as varied as the Boulting Brothers, Henry Hall and Brian Rix. Another group World Television Productions, headed by EMI, probably frightened the ITA off with their grandiose plans. Whilst giving a nod of course to local material, Lord Boothby, one of the directors promised "music, ballet and drama programmes of a very high order. We hope to present Shakespeare on the lines already achieved by Sir John Gielgud." In fact an incredible 15 applications were received to run this station.
So Westward gained the contract because of its local involvement. Cadbury claimed that "194 of our subscribers actually live in the area," so no wonder he stated his company had "no intention to compete with the major networks in the spectacular or in plays requiring large casts." Perhaps he'd learnt from the mistakes of others! "There's a wealth of material for local programmes...local industries such as cheese-making, mead, carpets, oysters, tin-mining could be developed into interesting programmes." For this reason perhaps he made the improbable remark "noone is likely to make a fortune from this venture." Other executive officers were Frank Hoare MD (who'd been in films since 1932), Baynham Honri, Technical General Manager (in films since 1921) and Emile Littler, Programme Controller.
To publicise the new tv station, the Westward Exhibition Train, hauled by an old fashioned steam engine, sped from London to the first port of call, Truro. Hosted by Mr Jack Train (!), it visited 22 or 23 towns in a six week period starting in February 1961. It included a Cinema Coach where visitors could see 16mm film clips from programmes to be screened.
Westward was never really a major ITV player. Which is perhaps why I would nominate its most lasting contribution as being Gus Honeybun, the popular local puppet rabbit. Westward TV closed on the last day of 1981, Gus one of the few to survive into the new era with TSW.

Westward TV Menu

.

.

.

.

.

.

.

.

.


A dispute in early 1963 saw the dismissal of 18 ACTT technicians at the Plymouth studios.
The new Television Advertisement duty had forced Westward to make stringent cuts to remain financially viable.
Managing Director Peter Cadbury offered some revealing comments: "None of us ever thought we were going to make our fortunes. It would have been easy to set up our studios in a back street and to make the absolute minimum contribution to local programmes we could get away with. But we built our studios with the best of everything, we even installed two videotape machines to safeguard ourselves against a programme breakdown by the failure of one."(!)
He remarked bitterly that "we modelled ourselves on Anglia when it should have been nearer a Moosejaw operation if we had known what the Chancellor was planning to do to us." In fact Anglia had been far more ambitious that Westward had ever dreamed of, with its own drama department, and the wildlife series Survival.
Cadbury claimed that directors "waived their fees for the first 12 months, and we are all doing it again this year." His own salary currently is currently about £6 per week nett. Thus he blamed "the inquitous tax" for Westward's crisis,

Taunton was at the forefront of a 1962 clash with TWW. For three years viewers in this town had received TWW programmes, but when Westward started, their Stockland Hill transmitter was only 14 miles from Taunton, and the area was designated as a primary Westward area. Thus Westward representatives toured the town advising viewers that by turning their aerials they could receive Westward transmissions. TWW began a long dispute with Westward over this

Westward TV Menu

.

.

.

.

.

.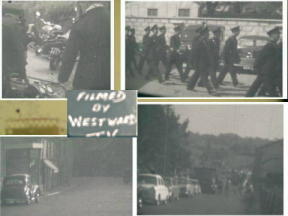 Pictures:
mute footage from early Westward TV news stories
including
top left, a cave rescue,
top right, a medals ceremony, possibly associated with the rescue
bottom left, an idyllic village scene, contrasted with
bottom right, the summer holiday traffic congestion
Westward Television Menu
.
.
.
.
.
.
.
.
.
Week ending 27th Aug 1961
for Westward area
1 Top Secret 51%
2 Route 66 49%
3 Coronation St 48% (Aug 23)
4 Harpers W1 47%
5= EW10 (Aug 22) 46%
5= Wagon Train
7 Maverick 45%
8 Ordinary People (WTV) 43%
9= Coronation St...41% (Aug 21)
9 The Good Die Young film
Top BBC: Perry Mason
and Laramie (39%)
Week ending 6th May 1962
for the
Westward TV area
1 Compact (May 3 BBC)... 58%
2 Compact (May 1 BBC)... 51%
3= Coronation Street...50% (Apr 30)
3= Coronation Street (May 2)
3= Take Your Pick
6 London Palladium Show... 48%
7 Laramie (BBC)... 47%
8 The Rag Trade (BBC)... 45%
9 Bootsie and Snudge... 44%
10 Legends of the West... 43%
10= This Is Your life (BBC)
Week ending
Dec 29th 1962,
in the
Westward TV area
1 Take Your Pick... 62%
2 Emergency- Ward 10 Dec 28th... 60
3 Dixon of Dock Green (BBC)... 56
4 Laramie (BBC)... 52
5= Zero One (BBC)...51
6= Double Your Money... 50%
6= Professional Boxing (BBC)
6= Professional Wrestling
6= Coronation Street...49 (Dec 24th)
10 Compact (BBC)...48
Week ending April 21st 1963
1 Double Your Money... 54%
2= Coronation Street...51 (Apr 15th)
2= Coronation Street (Apr 17th)
4 A Chump at Oxford film (BBC) 50
5 Z Cars (BBC)...48
6 Billy Smart's Circus (BBC)...47
7= Candid Camera...44
7= Here's Harry (BBC)
7= Take Your Pick
10= Treasure Hunt (Westward)...43
10= Emergency- Ward 10 (April 19)
10= BBC: What's My Line,
The Good Old Days, Juke Box Jury
Week ending
March 29th 1964,
in the
Westward TV area
1 Sykes and a Menace (BBC)... 58%
2 Top of the Pops (BBC)... 54
3= Coronation Street (Mar 23rd)...53
3= Coronation Street (Mar 25th)
5 Professional Boxing (Rediffusion)... 52
6 Sportsview (BBC)... 51
7= Crane... 50
7= Burke's Law
9= Z Cars (BBC)... 49
9= Take Your Pick
Week ending
14th February 1965 (Westward)
1 Coronation Street... 62% (Mon 8th)
2 Double Your Money... 61%
3= Coronation Street... 58% (Wed 10th)
3= The Saint... 58%
5= No Hiding Place... 53%
5= Take Your Pick... 53%
7= Treasure Hunt... 51% (Westward TV quiz)
7= Peyton Place... 51% (Wed 10th)
7= The Beverly Hillbillies... 51%
10 Discs A Gogo... 50%
Week ending 27th November 1966 (Westward)
1 Take Your Pick... 57%
2 Double Your Money... 54%
3 Treasure Hunt... 53%
4 London Palladium... 52%
5 Cinema... 51%
6= The Monroes (BBC1)... 50%
6= The Big Valley... 50%
8 Coronation Street... 49% (Nov 21)
9 Crossroads... 48% (Nov 22)
10= Sports Desk... 47% (Nov 21)
10= Crossroads... 47% (Nov 23)
W/e 24th December 1967 (Westward)

1= Tarzan... 48%
1= Coronation St (Mon)... 48%
1= Variety Parade... 48%
1= Dixon of Dock Green... 48% (BBC)
5= All Gas and Gaiters... 47% (BBC)
5= Val Doonican Show... 47% (BBC)
5= Treasure Hunt (Westward)... 47%
5= Frankie and Brucie's Show... 47%
10= Take Your Pick 45%
10= Kelvin Hall Circus... 45%
W/e 3rd March 1968 (Westward)
1 The Dark Number... 56% (BBC)
2= Treasure Hunt (Westward)... 50%
2= Take Your Pick
4 Ironside... 49% (BBC)
5 Coronation Street... 48% (Feb 28)
6 The Saint... 46%
7= Double Your Money... 45%
7= Sportsview (BBC)
9= Coronation Street... 44% (Feb 26)
9= Cilla (BBC)
9= Garrison's Gorillas
Westward Television Menu

.

.

.

.

.

.

.

.

.

Cider Cellar (1965) The picture is from Westward TV's
monthly Saturday night series which was hosted by
Robin Hunter.

Westward Television Menu

.

.

.

.

.

.

.

.

.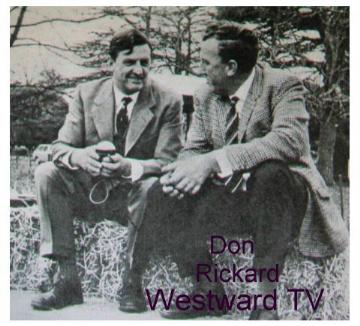 Farm and Country
This was Westward TV's unambitious series aimed at their farming community.

Details of a few of this Sunday afternoon series:
October 4th 1964, 2.45-3pm. The full title of the programme was 'Westward News, Farm and Country Edition.'
December 13th 1964, 2.45-3pm. Royal Smithfield Show with Don Rickard, Westward TV Agricultural Correspondent.
March 7th 1965, 2.45-3pm, with Farmers Weather.
May 2nd 1965, 2.50-3pm.
June 20th 1965, 2.55-3.10pm, with Farmers Weather.
July 3rd 1966, 2.35-3pm reporter Don Rickard. Director: John Bartlett.

On July 10th 1966, 2.40-3.10pm Westward showed Farm '66 A Border TV Production, a complete course of 37 programmes leading to a City and Guilds certificate in farm machinery written and presented by Alfred Luke.

To Westward Television Menu

.

.

.

.

.

.

.

.


Westward's first Christmas offering, in common with other ITV stations, was mostly networked material, except where marked*.

11.15am High Mass - from St Dominic's Priory Church London
12.30pm * Christmas Bandstand- with St Denis Silver Band
1.00 News
1.05 Christmas Box - with Noele Gordon
2.00 The Cyril Stapleton Show - guest stars Ronnie Carroll, Cleo Laine, Janie Marden
3.00 The Queen
3.07 Chipperfield's All Star Christmas Circus - with Arthur Haynes and Richard Hearne
4.20 Close-Up - highlights from musicals past and present
5.00 * Shirley Temple Story Book - Mother Goose
5.50 * Christmas Message - by the Bishop of Crediton
5.55 News
6.05 * Westward Diary - special Christmas edition with Kenneth Macleod
6.30 * Christmas Cartoon Party
7.30 Coronation Street - the men go off on a sports outing, while their wives get dinner ready
8.00 * Hawaiian Eye - I Wed Three Wives
8.55 News
9.05 A Merry Max - Max Bygraves with Kenny Ball
10.05 The Pickwick Papers - film starring James Hayter
11.55 * Faith for Life - by the Vicar of St Mary's Penzance
* Local Weather Forecast and Close down
Westward Television Menu

.

.

.

.

.

.

.

.

Christmas Day 1962 - Westward TV

10.30am Small Time - The Christmas Tree
11.00 Christmas Morning Service from the Church of the Ascension Wembley
12.05pm The Nativity (A-R)
12.30 Gus Honeybun and Yogi Bear
1.00 News; Christmas Box with Noelle Gordon and Eula Parker, also Frank Ifield, Dorothy Ward
2.00 Christmas Fare with Cliff and The Sahdows
3.00 The Queen; Chipperfield's Circus
4.10 Christmas Diary with Kenneth Macleod, Frederick Harvey, Burda Cann, Plympton School Choir, and Choirs of Wells
5.00 Christmas Rendezvous
5.55 News; A Christmas Message Dr Ramsey
6.15 Spin Along Santa with Alan Freeman, Joe Brown, The Viscounts, Tommy Bruce, Christine Campbell, host Leslie Hoare
7.00 Treasure Hunt
7.30 Emergency Ward 10
8.00 Dickie Henderson Christmas Show guests Bernard Bresslaw, Hughie Green, Alfred Marks
9.00 News
9.10 No Hiding Place 100,000 Halfpennies
10.10 Rhapsody in Blue film starring Robert Alda
11.40 Faith for Life; Close down

.

.

.

.

.

.

.

.


Westward TV Programmes for Saturday November 23rd 1963
1.15 News
1.20 World of Sport- Racing from Windsor, Tenpin Bowling, Rugby League, Wrestling
5.05 Snip and Snap
5.15 Move Over Dad
5.45 News
5.50 Thank Your Lucky Stars - Cliff Richard, The Shadows, Bobby Rydell
6.35 Comedy Bandbox
7.15 The Sentimental Agent
8.10 The Larkins
8.50 News
8.55 The Avengers - The Medicine Men
9.55 Espionage
10.50 Limelight
11.25 Silent Service
11.55 Weather
11.56 Faith for Life
Close down
Westward Television

.

.

.

.

.

.

.

.

.

.

.


10am Sunday Session
11.00 Morning Service - Radlett Parish Church Herts-12.15
2.25 Farming Comment (ABC)
2.35 International Detective - The Conway Case
3.05 African Patrol - Black Ivory
3.30 Miss Adventure - Strangers in Paradise 1
4.15 The Big Film - Let's Live a Little starring Hedy Lamarr
5.35 Westward Beat Competition - introduced by Russell Turner
5.40 Robin Hood - The Flying Sorceror
6.00 Gus Honeybun's Birthdays
6.05 News
6.15 The Sunday Break
6.40 Hallelujah - Annete Battams
6.55 Give at Seven - Steve Race: Methodist Homes for the Aged
7.00 About Religion - Calendar with John McGregor and Colin Bell
7.25 News Headlines
7.28 77 Sunset Strip - The Diplomatic Caper
8.25 Blackpool Night Out - guest star Jimmy Edwards
9.25 News
9.35 Armchair Mystery Theatre - Ian Hendry in Time out of Mind
10.35 Interpol Calling - Ascent to Murder
11.05 Stamp Stories
11.10 The Business of Writing - part 2
11.30 Weather
11.31 Faith for Life - Bishop of Crediton and Close down
Westward Television

.

.

.

.

.

.

.

.

.

.

4.38 Westward News Headlines
4.40 Gus Honeybun's Birthdays
4.45 Small Time - Fireside Story with June Thorburn
5.00 Junior Criss Cross Quiz
5.25 Ivanhoe - Face to Face
5.55 News
6.05 Westward Diary; Weather
6.30 Stars in the West - Theatre Royal Drury Lane, with Laurence Harvey
7.00 Double Your Money
7.30 HMS Paradise - Hail Lieutenant Hathway- and Farewell
8.00 Ben Casey - August is the Month before Christmas
8.55 News
9.10 This Week
9.40 The Alfred Hitchcock Hour - You'll Be the Death of Me
10.35 Out of Town
10.50 News Headlines
10.52 Dial 999 - Extradition
11.20 Towards 2000 - Cities of the Future
11.50 Weather
11.51 Faith for Life - Rev John Parkinson
Close down

Westward Television Menu

.

.

,

12.45 News
12.50 World of Sport
5.15 The Forest Rangers - The Bird Watchers
5.45 News
5.50 Thank Your Lucky Stars - Shirley Bassey
6.35 Saturday Film - The Cowboy and the Lady
8.25 Mainly Millicent - guest star Cleo Laine
9.00 News
9.10 Peyton Place - Betty and Elliot try to make a new life
9.40 Cider Cellar - Robin Hunter introduces stars including Billy Burden
10.10 Public Eye - Nobody Kills Santa Claus
11.05 On the Braden Beat
11.30 University Challenge Tournament - quarter finals
11.55 News
12.00 Weather
12.01 Faith for Life - Rev Frank Pewtress
Close down

Westward Television Menu

.

.

.

.

,


2.00 The Royal Show
4.38 Westward News Headlines
4.40 Gus Honeybun's Birthdays
4.45 Small Time - Musical Box
5.00 Zoo Time
5.25 Rin Tin Tin - Sorrowful Joe Returns
5.55 News
6.05 Westward Diary
6.35 Crossroads - Ben: I haven't parked the car here, love. I don't want everyone to know about the transaction
7.00 Landmark - Torrington WI v Kingswear WI
7.30 Coronation Street
8.00 No Hiding Place - Golden Boy
8.55 News
9.10 The Dickie Valentine Show - guest star: Norman Vaughan
9.40 Cilla at the Savoy
10.20 Wrestling
11.10 News Headline
11.15 Reporting 66
11.40 Dateline
11.51 Faith for Life - Rev Norman Wright
11.57 Weather
Close down

.

.

.

.

,

11am The Morning Service - from The Church with the Holy Name Claygate
12.15pm Sunday Session- The Anatomy of First Aid, 12.35 Les Trois Coups, 12.55 Interval, 1.20 ABC of Do It Yourself- ends 1.45
2.10 Royalist and Roundhead - Setting the Scene
2.40 Farm '66 -Materials with Alfred Luke (Border TV)
3.10 Indiscreet - film with Cary Grant
5.00 Gus Honeybun's Birthdays
5.05 Weaver's Green
5.35 F Troop - Too Many Cooks Spoil the Troop
6.05 News
6.15 Tingha and Tucker - Noah
6.35 What do you Say? - new religious quiz (Southern TV)
6.55 In View - George Target, Julie Felix, Peter Moloney and guest Ted Moult
7.25 Batman - Rats Like Cheese part 2 with George Sanders
7.55 The Wind Cannot Read - film
9.55 News; Weather
10.05 The Blackpool Show - Tony Hancock with Frankie Howerd, The Kaye Sisters, Lenny the Lion, John Junkin and Peter Gordeno
11.05 African Patrol - Killer from the Forest
11.30 Faith for Life - Miss Evelyn Carr of the Royal Sailors' Rest Devonport tells Rev John Ashplant of the work of Aggie Weston (1873-1918)
11.36 Weather
Close down

To menu for Westward Television

.

.

.

,

.

.

.

,

Westward TV Programmes for Tuesday January 23rd 1968
11.20am Schools
4.33pm Westward News Headlines
4.35 Gus Honeybun Show - birthdays, and Alibaba
4.45 Playtime
5.00 Adventures of the Seaspray - a column of smoke from an isolated island
5.25 Come Here Often - Cliff Morgan and Sarah Ward
5.55 News
6.05 Westward Diary
6.35 Crossroads - Diane: I can still hear them, it was awful!
7.00 Star Movie - A Hole in the Head
9.15 Fear Naught - first of a two part networked Westward documentary on The Royal Tank Regiment
10.00 News at Ten
10.30 The Man Who Never Was - Things Dead or Done
11.00 This Is Our Land - Tin, Copper and Clay with Walter Minchinton: 7 part Westward series
11.30 Crucible - Clive Gunnell on Exeter's new theatre (Westward)
12.00midnight Faith for Life
12.06am Weather and Close down
Westward Television

.

.

.

,

Westward TV Programmes for Monday October 7th 1968
11.03 Schools
4.28 Westward News Headlines
4.30 Gus Honeybun Show - the immortal rabbit
4.40 Once Upon a Time
4.55 Arthur
5.20 The Survival Game - Scotland v The South clash
5.50 News
6.00 Westward Diary
6.20 Sports Desk
6.35 Crossroads
7.00 Treasure Hunt - Westward TV quiz
7.30 Coronation Street
8.00 World In Action
8.30 Playhouse - Number 10 starring Roland Culver
10.00 News
10.30 Peyton Place
11.25 Faith for Life
11.31 Weather and Close down
To Westward Television

.

.

.

,

Westward TV Programmes for Wednesday May 28th 1969
3pm Cricket - Yorkshire v West Indies
4.01 Westward News Headlines
4.03 Gus Honeybun Show - birthday greetings, then Gus introduces Caspar the Friendly Ghost
4.13 Origami (A Lily)- with Robert Harbin
4.25 Open House - Angela Rippon and Andy Price, last of series. Angela reports from a Bridgewater work centre
4.55 Anything You Can Do - inter tv station quiz with Ed Stewart. Border v Channel
5.20 TheTingaree Affair - Episode 2 Spy with Peter Arne
5.50 News
6.00 Westward Diary and Weather
6.35 Crossroads
7.00 Treasure Hunt - Westward quiz with Keith Fordyce
7.30 Coronation Street
8.00 The Champions - The Survivors
9.00 The Mind of JG Reeder - The Political Policeman
10.00 News; Sez Les
11.00 Professional Wrestling
11.45 Faith for Life - The Scriptures Today
11.51 Weather Forecast and Close down
To Westward Television

.

.

.

.

.

.

.

.

.

.

.

Westward Beat Competition
After a series of brief shows introducing each of the contenders, the Final was transmitted on Thursday July 9th 1964 (7.00 to 8pm), with compere Alan Freeman.
The finalists were
Chet and the Triumphs (from Bristol), The Rustiks (Paignton), The Devonairs (Plymouth), The Barracudas (Torquay), The Big Four (Truro), and The Iveys (Weston-Super-Mare).
The judges were Craig Douglas, Brian Epstein and Russell Turner. The first prize was a recording contract with Decca and three bookings at Plymouth's Odeon Ballroom. Second prize received (don't faint) £50, with third getting £25.
Russell Turner, with director John Bartlett, had auditioned the hopefuls, over a hundred groups, aided by Alan Feltham (Press Officer) and Guy Baskin (Senior Floor manager).
Claimed Turner, he hoped the winners would be "potentially capable of topping the national and international charts by next Christmas"(!) Alas, it was not to be, despite "all the resources of Westward Television behind them." And the winners were..... The Rustiks. The group consisted of Keith Taylor, Bill Covington, Rob Tucker and Dave Gummer. They did make three records (including I Am Not The Loving Kind, Decca F12059), and made other tv appearances, on shows like Ready Steady Go.
This was perhaps Westward's biggest ever tv show! Not surprising really that the programme, which only went out in their own region, was not revived by Westward TV.

Westward Television Menu

.

.

.

.

.

.

.

Covering the West
A 1965 18 minute promotional film from Westward Television.
can be seen on YouTube

A mock West Country accent gives us a travelogue of the region, with pictures depicting rural pursuits. Then, thankfully, we are informed the area is more than this traditional picture. Five million visitors arrive annuallly by road and rail. Manufacturing industry is increasing. Another "changing trend" is television viewing, a 50 second clip is shown from a Western, in fact Bonanza, before a graph shows Westward Television's increasing number of viewers. From 730,000 homes in May 1961, three years later there are 1,100,000 homes, 68% of all homes in the region.
Local programmes are shown, with a brief clip of a beauty contest. Then Sports Editor David Vine, host of Sports Desk, informs us that the station has covered no less than 48 different sports.
Children's programmes: there are currently 12,000 members of the Gus Honeybun club. A 45 second clip of an unidentified puppet show follows.
After this a 20 second clip of a viewers' questions type programme.
The Controller of Programmes is at his desk, proud to reveal that no less than seventeen Westward programmes had been sold to other ITV stations in the period from April to Spetember 1964.
Networked programmes are of course also covered. There is a 40 second clip from Coronation Street, while The Beverley Hillbillies rates 45 seconds. Shirley Bassey in the Sunday Night at the London Palladium is given 40 seconds.
Then some of the backroom staff are shown in action. Finally a clip from Westward's quiz Treasure Hunt with Kenneth Horne getting into some difficulty reading a viewer's name and address
To the Westward Television Menu

.

.

.

.

Westward programmes Sold
Since most of Westward's output was for Home consumption, not much of their limited output was sold to other companies.
However in 1965, sixteen of their programmes were sold. They included:
A Long View a documentary about pioneer tv personality Leslie Mitchell. This was bought by TWW, Tyne Tees, Ulster and Grampian.
Wyvern at War was purchased by three ITV regions.
Ragtime in December 1965 was bought by Ulster, but, significantly also, by Rediffusion, Westward's first ever sale to one of The Big Four.
Three further Westward programmes were shown on the complete network, while three others were networked to the 'little network' of regional companies, including the children's series Go!

Westward also entered two programmes for the American National Academy of Television Arts and Sciences awards: Breakout, the second part of the Wyvern at War programme, and Battle of Trafalgar, Westward's contribution to the Action at Sea series

Westward Television Menu

.

.

.

.

The Case of The Missing Celebrity
(Friday December 23rd 1966, Westward TV only, 6.05-6.30pm)
Script: Stuart Hutchison and Roger Gage. Music and Lyrics: John Bartlett and Terry Roper. Producer: Roger Gage.
With Del Cooper, Susan Denny, Clive Gunnell, Kenneth Macleod, David Mudd, John Pett, Michael Reinhold, Roger Shaw and Stuart Hutchison.

A fancy dress Christmas party is interrupted by shattering news. A Westward celebrity is missing. The Westward Diary team investigate, aided by Batman and Robin. They come up against a very unpleasant villain, who in turn is badly hindered by a very mod-type Fairy Queen.
I can reveal that the quest is for none other than a VIP with winking eyes, long ears, and buck teeth. For non-Westward intelligensia, it is none other than, gasp, Gus Honeybun!

Westward Television Menu