TYNE TEES TELEVISION
Tyne Tees board
TTT Early Days
A few Tyne Tees Television entertainment shows
Some TTT advertising
Petrushka: March 1960
TTT Top 10 Mar 1959, May 1960, Jun 60, Aug 61, Sept 61, Mar 62, May 62, Aug 62, Dec 62, Mar 63, Jul 63, Oct 63, Feb 64, Jan 66, Sept 66, Jun 67, Nov 67, Dec 67, July 68
TTT programme schedules
January 21st 1959, April 2nd 1959, March 13th 1960, June 10th 1960, January 22nd 1961, September 21st 1961, July 29th 1962, April 24th 1963, January 29th 1966, June 21st 1966, August 29th 1967, September 22nd 1968, October 25th 1968

Our Geordie
This was the original title for Turn-Up for Tony (shown on TTT on 26th Jan 1968). a filmed story shot on location, made by Robert Tyrrell. With no dialogue or commentary, only a specially composed music score. Originally this had been aimed for entry to the 1965 Montreux Festival, it depicts the recent history of the North East of England through a day in the life of one man played by Tony Tanner. Others appearing included Sheila Falconer, Ted Lune and Norman Mitchell. Bob Tyrell wrote the script, but Tony Tanner developed the story to the point where neither of them could recall where one left and the other began. "Tony turned my somewhat laboured symbolism into a lively story of a real and vivid character," Tyrell said. Arthur Clifford (Tyne Tees Programme Controller) commented, "we may not win at Montreux, but I certainly think we have a programme that will attract attention for showing in the North East, and, I hope, in other independent television areas." Thankfully the film survives and can actually be viewed on the BFI site.
My commentary: after opening titles, we move to the Sally Army hostel, where Tony has this vision of himself as a gent, before coming down to earth with a half a fag. which Ted wants to share. Down the hill in the wet to Central Station, it's 9am. A chat and a free fag from a nice lady at a kiosk, whoops he slips over. Destination: Employment Exchange. Ted is still following, after another fag. he gets a puff, before Tony is moved on by a policeman (Norman Mitchell). Back to the lady who accidentally bumps a door into him: police want to know what's going on. Tony gazes at the new high rise flats from the rubble of demolished houses, and imagines living there happily with his girl, before reality returns: a job is being advertised! This is how he will get on. In a large factory, his tedious job starts, picking out little lumps on a conveyor belt, the finished product he imagines himself cleverly manufacturing with his admiring lady assistant. Water! He inagines the adulation, culminating in his knighthood. With his first pay, he buys a bunch of flowers for his friend, but oh dear, she is dating the policeman. In a bar, he drowns his sorrows, and numerous bars later, with two mates he reaches La Dolce Vita, only just on his pins. Place your bets. In his dreams, this suave gambler wins a fortune to winks from a hostess. It seems she is saying "save me" from the croupier, the policeman. An imagined James Bond-type figure, he saves her, before he finds he really has won. His mates want a cut, so Tony sneaks away, bumping in to his lady love. Off they run, Ted happily given another fag, over the Tyne Bridge for the closing titles.
The film stands up against similar silent films of the talkie era like The Plank, though this is more interested in showing social background, and the humour is mostly very obvious, inserted you feel, to make the background more interesting. Nevertheless, it has inventive moments, and it might have been interesting to see James Bolam in the part, visually Tanner is very like him
Main Dinosaur TV Menu

.

.

.

.

.

.

.

Tyne Tees Board 1958
Television Centre, City Road, Newcastle, telephone 610181
Chairman: Sir Richard Pease.
Vice Chairman: Claude Darling
Directors included George and Alfred Black, Sydney Box, EG Fairburn, Lord Layton, Peter Cadbury, Viscount Ridley, Col EG Angus, CC Darling, DA Pease, and Prof EJR Eaglesham.
Managing Director: Anthony Jelly
Controller of programmes: Bill Lyon-Shaw
Head of Music: Denis Ringrowe
Sales Director: Peter Paine

Tyne Tees Board 1963
Directors: Sir Richard Pease, Claude Darling, Col EG Angus, George Black, Alfred Black, Sydney Box, Laurence Cadbury, Prof E Eaglesham, EG Fairburn, Sir Harold Howitt, DA Pease, Viscount Ridley, Prof G Daysh.
Managing Director: Anthony Jelly

.

.

.

.

.

.

.

A few Tyne Tees Television Shows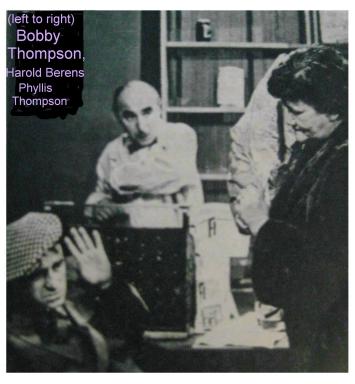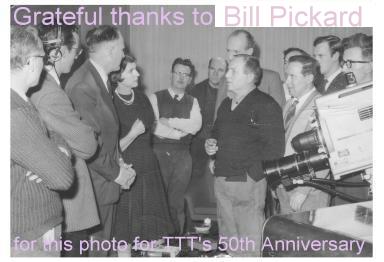 The reality did not quite match the high ideals that had been promised by George and Alfred Black.

TTT's first home grown comedy series was The Bill Maynard Show, which received a thumbs down from the critics, running from Jan 19th for 8 weeks until Mar 9th. It was replaced on 16th March with the Bobby Thompson Show (pictured), a domestic comedy also starring Phyllis Thompson, Harold Berens and Len Marten. This hit the local Top Ten TAM ratings, but was generally regarded as disappointing.

The One O'Clock Show ran to 1,098 shows endeding on March 27th 1964, the last programme included Joe Ferris, Austin Steele, Jack ('Wacky Jacky') Haig, Colin Prince, George Romaine, Len Marten, Katie Beckley, Rees Hughes.
The programme listings on this page illustrate that audiences came from different local towns. But on April 17th 1959 it was two hundred press people who were invited- the reason was the theme was newspapers.
The One O'Clock Show for April 2nd 1959 starred Terry O'Neill, with Austin Steele, Chris Langford, George Romaine and the Dennis Ringrowe Quartet. But though not credited in The Viewer listing, Jack Haig and his wife Betty were also appearing. Producer was the legendary David Croft. The audience for the show at this era was estimated at between 100,000 and 150,000 "housewives." On April 28th 1960 there was a special show celebrating its 300th edition.
Special guests were not always announced, but on April 1st 1959 Bernard Braden and Barbara Kelly appeared. Other big names in one off spots on the show included Margaret Lockwood, Diana Dors, Shirley Bassey, Cleo Laine, Alma Cogan, Arthur Askey, Harry Secombe, Norman Vaughan, Bruce Forsyth, Frankie Howerd, Arthur Haynes, and Max Bygraves (Mar 19th 1963). The 1,000 edition included Norman Vaughan as guest star, with Chris Langford making a welcome return.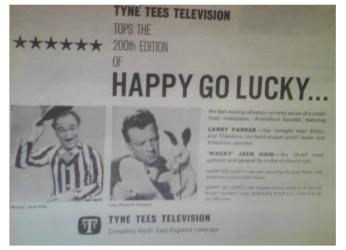 Happy Go Lucky (1959-1964)
Tyne Tees Television's children's programme was a miscellany of live action and a Popeye cartoon. It also included children's song requests.
The human stars were Larry Parker, who also wrote most of the scripts, and Jack Haig (Wacky Jacky), who joined in September 1959, as reporter on the fictional Ambleford Gazette, whose clowning around frequently lead to mishaps. Once Haig fell off a studio roof top and was almost unconscious. Another time, as a plumber, a jet of water sprayed at him and injured one of his eyes. Larry also played Lucky the Clown, and had a rabbit puppet named Theodore.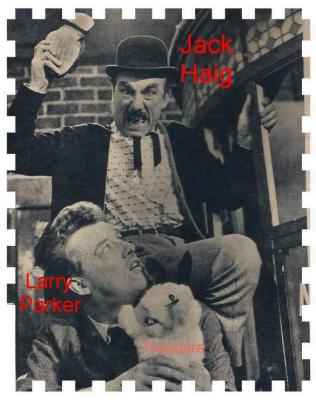 The first show went out on Tuesday January 22nd 1959. The 200th edition was clocked up during April 1963. The last edition was on September 1st 1964.
Among the programmes with a special content noted in The Viewer were
June 9th 1960: the gang visit Haltwhistle, Wacky Jacky becomes Our Man In Haltwhistle.
Aug 25th 1960: Kate and Theodore are away in London. The rest of the gang present a beach show, Larry's conjuring goes well until Wacky Jacky gives some help.
Jan 25th 1961: The gang's shop is burgled, detective Wacky Jacky investigates. Script: Bob Hedley

At the Golden Disc was TTT's talent show, first programme on January 21st 1959. In charge was that fine producer Philip Jones. With Tony Martell of the auditions department, he scoured the area for amateur talent. Two discoveries who went on to make tv appearances in other shows were Don Crockett, and David MacBeth, who appeared here as David North. The final on May 7th was won by the Joe Boston Trio, their prize £250. Chief judge was Jack Payne. A second series began that autumn, quarter final winners were given a spot on the next week's One O'Clock Show. The final the following February was won by Larry Mason: judges included Marion Ryan, Joe Mr Piano Henderson, Jimmy Henney and Alan Freeman.

Under New Management from November 1959. Set in a derelict Tyneside pub, it starred Glenn Melvyn, Danny Ross and Mollie Sugden. Producer was David Croft. Among those who made appearances in the series were Cardew Robison, Graham Stark, Arthur English, Jack Douglas, and Hugh Lloyd

Young at Heart - "the teenage programme with the mum and dad appeal" ran to several short series. Jimmy Saville hosted the first starting May 4th 1960.
The 1962 shows from 6.30-7pm were compered by Gary Marshal with The Visionaires, and included: Shirley Bassey (Jan 17th), The Clyde Valley Stompers and the Hedley Ward Trio (Jan 24th), and Bobby Vee (Jan 31st) making his British tv debut. Also on with Vee were The Clyde Valley Stompers, Vince Eager, The Honeys, and Sylvia Sands

Your Kind of Music (October 26th 1960) - The first of a second series starred Larry Adler, with Keith Beckett, Ivor Emmanuel, Anatole Nakashidze, Marie Petrova, and Nicanor Zabaleta. This hour long show was produced by Bill Lyon-Shaw and directed by Peter Glover. The orchestra was The Augmented Northern Sinfonia Orchestra conducted by Michael Hall and Arthur Wilkinson. The George Mitchell Singers also featured.

The Derek Dene Show was a series that began on April 21st 1964. Script: Brad Ashton. Producer: Malcolm Morris.

The Joan Turner Show - Joan (1922-2009) starred in this six part Tyne Tees series starting on December 31st 1964.
Joan stated, "it is an entirely new format for a tv show, something like my radio series Melody Fare. I shall be playing current records, singing requests, show film clips, and go into my kitchen for a look at a new recipe. One of the main items will be my visit to the home of a show business personality, where I shall talk to the stars and their families." Those booked were Rolf Harris, David Nixon. Arthur Haynes, Bob Monkhouse, Cardew Robinson, Peter Noble, Vera Lynn, Brian Rix, and Max Bygraves.

Music of Music ran for 13 weeks starting April 1st 1965. Link man was Frank Phillips

North East Glamour Trail
The July 13th 1965 edition came from the Working Men's Club Newton Aycliffe, with regular host Shaw Taylor, and guest star Salena Jones. Chair of the judges was Peter Haigh, replacing regular McDonald Hobley, who compered eleven of the thirteen shows.
The director of the series was George Adams, except for shows from Consett, Bishop Auckland and Alnwick, which were directed by Anna K Moore.
The final was held on September 21st 1965, live from the Mayfair Ballroom in Newcastle, with special guests Ray Ellington, Cleo Laine and Steve Benbow. Other guests during the run of the show were Chris Langford, Helen Shapiro, Julie Rogers, Jackie Lee, Anita Harris, Janie Marden, Jeannie Lamb, and Valerie Masters

And All's Well (1966) - a late night Friday show, "a cocktail with a musical base, a dash of talk, and a splash of the unexpected." Introduced by Austin Steele,
Jan 28th 11.7pm with Jeannie Lambe, and Stan Roderick (trumpet)
Feb 4th 11.5pm with Chris Langford, and Bill le Sage
Guest on Feb 25th was Alan Melville, also appearing tenor saxophonist Kathy Stobart
Mar 18th 11.25pm with Chris Langford and Danny Moss (bass clarinet)

Nightclub '68 was a series of 13 half hour shows made at Club Siesta Stockton, that began on July 4th 1968. It incorporated heats of the Miss Tyne Tees contest. Norman Vaughan was compere, director Ian Cook. Among those appearing were Kenny Ball, John Rowles with Debbie Dean, Anne Bright, Morgan James Duo, Shelley Ross, Freddie and the Dreamers, Brenda Marsh, and The Peddlers. A surviving show, the final one, included Wendy King


To TTT start

.

.

.

.

.

.

.

.

.

.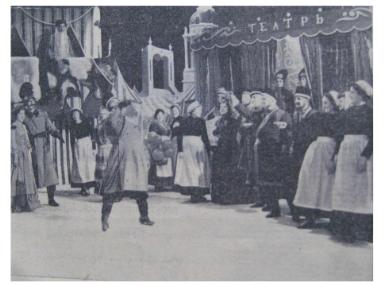 Petrushka
(March 28th 1960, 10.30-11pm)

With Keith Beckett in the title role, Patricia Kirschner as The Ballerina, Rodney MacDonald as The Blackamoor, Malcolm Goddard as The Charlatan, and John Massey as The Devil.
"The best programme I have ever seen on Channel Eight," declared TE Bergman, "and among the best ballet productions televised on any channel." Whether most locals would have agreed with this verdict is another matter.
He admired the camera work, sound mixing and staging, "thoroughly professional and artistically inspired."
"The dancers, musicians, technicians and producer, Peter Glover, deserve a television award." He added, as it was not fully networked, "it would be a great pity if this production does not get a wider showing."
TTT were brave enough to repeat the programme at the end of 1960, proving that it was at one stage on tape. Where could it have gone to?


To TTT start

.

.

.

.

.

.

.

.

.

.
.
.
.
.
.
.
.
.
.
.
.
.
.
.
.
.
.
.
.
.
.
.
.
.
.
.
.
.
.
.
.
.
.
.
.
.
.
.
.
.
.
.
.
.
.
.
.
.
.
.
.
.
.
.