.
.
.
.
.
See also The Terrible Ten. . . . To the Berlin made Flash Gordon
For background of some ITV Children's serials . . . My research into Romper Room,
Details of a few BBC Children's serials.


In this section you can find my reviews of a few children's programmes that have thankfully survived all the terrible years of wiping and destruction.
Admitted, they are mostly pretty tame and low budget compared with anything children expect these days, but at their best they offered us youngsters fifty and sixty years ago real entertainment. I pick out as deserving to have survived the years, The Railway Children, typical of the BBC's semi high brow output, and Garry Halliday, children's thrills at their best. For comedy, Bonehead is a forgotten classic.

Picture Question: Grampian TV produced their own Romper Room, as did Ulster. Which ITV company ran the franchise for the longest? Answer

.

.

.

.

.

.

.

DO NOT ADJUST YOUR SET (Rediffusion 1968)

This innovative children's wacky comedy introduced the talent of David Jason, and other Python regulars, Michael Palin, Eric Idle and Terry Jones. Producer was Humphrey Barclay.

Review of Series 1

Might it have been the termination of the Rediffusion contract that led to the end of this programme? Dare I suggest it, brought about Monty Python??

.

.

.

.

.

.

.

1.1 (Dec 26th 1967, 4.55pm)
The main sketches are:
A historical scene as a radio sketch, brought to a head by Denise Coffey switching channels.
The Eric Von Tutri Players. A chamber quartet whose instruments became ever more wildly eccentric, leading to glorious extermination.
The Family Grocer is Michael Palin whose customer David Jason is served with a tin of boot polish instead of the groceries he requests.
Science for Sixth Forms- this seems to be an echo of a schools broadcast the scriptwriters must have watched. An experiment with a pencil demonstrating gravity- obvious, but a good punchline.
The Bonzo Band perform a long skit about Frankenstein.
The Stool Pigeon is a nice take off of the No Hiding Place genre. An incredibly poorly disguised copper infiltrates a villainous gang, with a choice final revelation.
Captain Fantastic (David Jason)- he receives messages in his lunchbox (well this was really a kids' show), and goes in pursuit of a moving tree. This finishes well, but is overlong.
The Tartan Thistle Club is about as dull as those other Scottish dancing programmes, though here the dancers all end up by imbibing a wee dram

To Do Not...

.

.

.

.

.

.

.

1.2

A royal procession comes to a halt- the point of this was lost on me.
Identity Parade: Denise Coffey inspects each of the cast paraded in front of her, before making her identification.
Hospital skit: Thomson a patient is "fiddled with," lessons in how not to treat a "poor specimen."
Time for Fun: Fivers Club with Aunty Denise nicely talking down to us.
Captain Fantastic: he is in a rowing boat in a road. He chases the tree down the high street and bumps first into Superman, then The Most Evil Woman in the World, the tallest too.
David Jason takes off Hughie Green in a version of Opportunity Knocks with Milton Cornplaster missing his chance 'cos of the ad break.
The Bonzo Band dressed as coons, odd and dreadful.
Concorde, a fascinating documentary on its development, "we're building a ship." Main British contribution are the deck chairs. It turns mildly surreal.
Two of Us, a Flanagan and Allen type song, except a third joins in, then a fourth etc etc

To Do Not...

.

.

.

.

.

.

.

1.5
A full screen photo of all the stars is shown, except Terry Jones is a hippo.
How To Eat: an illustrated lecture by Michael Palin, demonstrated by David Jason. The Wrong and Right Approach- mostly the wrong.
The Blue Danube played by a trio including one playing a tailor's dummy.
Happy Grin Insurance Agency demonstrates the domestic dangers in not having insurance, causing mayhem. A good punchline.
The Bonzo Band are dressed as a soccer team.
Michael Palin is ze French chef.
Denise Coffey is a tv continuity announcer who, when things start to go wrong, cracks up.
"That fellow on tv" Eric Idle is clinging for dear life on a high wall, David Jason spots him and chats to him, and brings others along to stare.
Captain Fantastic- Return to Nowhere Station. Stuck to a huge magnet, Fantastic short cicuits it to escape. He tracks down Mrs Black up a chimney at the railway station. The Brit Men are custard pied, before Mrs Black gives him one herself. They elude him by boarding an invisible train.
Naval Gilbert and Sullivan songs to finish

To Do Not...

.

.

.

.

.

.

.

1.6

In the opening scene, a parking warden decorates a parking meter, military style.
In Round Up the theme is Craftsmanship. Michael Palin sits on several chairs which collapse.
London 1968- common problems. Then a spaceman is interviewed about life on another planet.
February's Painting of the Month, is followed by a TV survey appeal.
At the Burglary Prevention Department, Denise Coffey provides information on her valuables to a man who is obviously a crook, why, he is wearing a mask. Nice pay off to finish.
The Bonzo Band are in the jungle, with an oldie, Hunting Tigers Out in Indiah.
Michael Palin is a vicar, giving his sermon on Thou Shalt Not Nick Lead.
Scenes of Village Life: a Yorkshire meeting proves frightfully dull.
Captain Fantastic. Mrs Black is tracked to her hideout, where Fantastic attempts to snatch her "norrible" handbag.
The ending is a mournful Cockney song about Miss World, decidedly off key and way out

.

.

.

.

.

.

.

1.9
The Football Results: Terry Jones...2 Michael Palin... ILL. Eric Idle...4 David Jason...4. Denise Coffey was abandoend at half time.
She asks the Sport questions. In live chess, the pieces are eaten. Tim Brooke-Taylor turns up as a frogman since Palin is indeed ill, but is told to "push off." Then we have a highly confusing match report.
After weightlifting, David Jason goes for The World's Low Jump Record. Football hooligans, is followed by Eric Idle and Terry Jones arguing after the match about Sportsmanship, with a good punchline.
David Jason gives the Whackfield Wanderers a team talk with unusual tactics, a 10-1 formation.
At the Patent Office, Denise Coffey offers her new sport with bananas. Tim shows up again as a golfer and is told to push off, again.
The Bonzo Band, dressed in white, have an oldie Hello Mabel.
Denise Coffey predicts the fortune of David Jason, he is going to be robbed- and is.
An Italian customs officer questions a British minister.
On top of a piano, Denise Coffey introduces Captain Fantastic. He is now free on an empty beach, but backward policemen chase him and his brolly gets broken. It needs mending...
Finally we have DC as Juliet, surrounded by numerous Romeos, but interrupted again by Tim Brooke-Taylor

.

.

.

.

.

.

.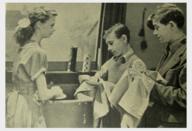 The Appleyards (1952-1957)
This is sometimes billed as British tv's first soap opera for children, but in my view, it wasn't. These were tales about an ordinary middle class family.
Constance Fraser was Mrs Appleyard, Douglas Muir (first series: Frederick Piper) Mr Appleyard. Their children were played by Patricia Fryer /Carole Oliver (Margaret), Derek Rowe (Tommy), David Edwards (John), Dawson France (William) and Sheila Martin (Ann). Other semi-regulars: Barbara Brown as Hazel Foster, Robert Dickens as Ronnie Grant, Tommy's chum, and CB Poultney as Mr Spiller 'The Nuisance.' Also in earlier series Tessa Clarke as Janet Appleyard.
One interesting appearance came in #9.6 on April 20th 1957, with Susan Hampshire.

Here's my review of the only surviving programme:
Series 10: Family Treat (December 29th 1956, 5.15pm)

Post Christmas gloom is hovering, "I don't want to smile." Only Tommy is at all jolly, and he proposes cheering everyone up by going to the local panto... he'll pay!
The only snag is that there are several hangers-on, like Mr Spicer. No matter Mr George Appleyard is volunteered to pay for them. However the gossip is that this is the worst panto ever, which is why tickets have been so easy to come by.
Since Tommy's paying for the family, it is important everyone must pretend they are really enjoying themselves. In fact the theatre is almost empty, the Appleyards' party squashing into a box.
Undoubtedly the gossip is correct, "it's awful," admits Tommy, though everyone shows a brave face, forcing the laughter. Hazel persuades them that they must enjoy themselves. This is a dangerous premise for any story, and it is inevitable that watching the excerpts from Dick Whittington falls flat, because it supposed to be flat. Mr Appleyard is obliged to sing a solo, then a magician enlists Tommy's aid, surely an unwise move, and turns "really nasty" when he is upstaged.
As Tommy's pound note has been burned during the trickery, he cannot stand the supper planned for afterwards, but they are able to buy some fish and chips, and the gloom is lifted when Ronnie shows up to wish them all A Happy New Year

.

.

.

.

.

.

.




Garry Halliday
My review of the only surviving programme:
3.3 The Outcast (January 30th 1960)

If you are of a certain age, you will recall BBC's children's Saturday serials starring the dashing pilot played by Terence Longdon. Aided by his faithful but dim friend and co-pilot Bill Dodds (the ever reliable Terence Alexander), the sinister Voice was their arch enemy. He was played by Elwyn Brook-Jones, and I always shivered whenever Halliday brushed with him- he was the ultimate villain! He interviews his accomplices and victims via closed circuit telly. If our faded memories are sometimes over generous to old programmes, I'm pleased to report that seeing Garry Halliday again was every bit as pleasing as over fifty years ago. True I am a trifle older, but though of course this is very dated as regards the cheap sets, it's nevertheless a well done children's drama. Bill Dodds was even more entertaining than I recalled and The Voice was almost as scarey as he appeared to a young lad.
So popular was the series, that eight six part adventures were screened from 1959 to 1962. Series 4 and 6 were lucky to get one extra part, so altogether 50 half hour stories were made.
The second series in autumn 1959 had Garry Halliday running his own charter company carrying freight and occasional passengers to Paris. Filming was done at Ferry Field Airport Lydd. Jennifer Wright joined the cast as air hostess Jean, with Richard Warner as Dr Edmundo, in business with The Voice. Also appearing were Jeremy Burnham, Juno Stevas, Hamilton Duce and Frederick Treves, whom I liked very much in this programme.
Series 3 started in January 1960 and was a story of vanishing scientists. Sadly Elwyn Brooke-Jones died and he vanishes from the programme after this.
The sixth series in January 1962 was titled Garry Halliday and the Secret of Omar Khayyam. Apart from the main stars, Bill Kerr appeared as Eddie Robins, Maurice Kaufmann as Adolph Traumann, and Hugh Latimer as Temhani.
The seventh series following on from this one was Garry Halliday and the Gun Runners, again with Bill Kerr, Maurice Kaufmann and Hugh Latimer. Alan Tilvern also featured as General Hasheme. The final series were six self contained adventures.
A contemporary reviewer wrote these words of praise: "Children must have loved it. I know I did. The characters were vivid, the script was good, often witty. Bill Dodds is talking about his latest girlfriend. 'You wait till you meet her. She's not a bit like me. Just as well really, eh?'" The reviewer concluded, "Trouble has been taken over its preparation and whole sections of it were filmed... produced with good pace by Richard West."

To the Children's Menu

.

.

.

.

.

.

.

The Outcast

Here's the gist of the frightfully BBC voice which recaps the previous two episodes: "Garry Halliday is up against his old enemy The Voice, now engaged in a colossal scheme to kidnap five world famous atomic scientists and sell them to the highest bidder. Two scientists have already been kidnapped. Now The Voice plans to take another, Professor Mundt and his secretary Martin. At the suggestion of Inspector Potter, Halliday's plane has been chartered to fly Mundt back to Frankfurt, to the annoyance of Mr Smith-Clayton of the Home Office. Bill Dodds is on the plane as well as his fiancee Sonya, who is acting as stewardess. The only others in the plane are three security men, but they are headed by O'Brien, The Voice's principal lieutenant."

Prof Mundt is seized, despite protests from Smith-Clayton (Peter Myers, who does a fine impression of a British silly ass type).
"Alter course please, Captain Halliday." Has he any choice?
Sonya: "A rather gruesome chap is pointing a gun at me." But Bill does his 'card trick,' and in a filmed sequence the result of the punchup is that Garry retakes control. The victorious heroes radio the bad news to their enemy.
The Voice: "it's almost a pleasure to have you as my antagonist." But he has a card up his sleeve, for Garry's normal stewardess Jean Willis has been kidnapped, and Garry has to concede.
Bill remonstrates with his boss in vain over his mysterious change of heart: "look here, I know I'm a bit of an ass sometimes, but I'm not as stupid as all that."
Garry is forced to land in a remote mountainous area, apparently in Switzerland. O'Brien hands him £15,000 to make it seem Garry is in with the gang. Naturally he refuses, but Smith-Clayton sees it as proof that Garry must be a traitor.
With the gang clearing off with the professor, and the plane disabled, Garry Bill and Sonya start to walk. Garry reaches a telephone exchange and tries to warn Inspector Potter. But local police arrest him.
The Voice gloats to Jean, revealing this scheme to discredit Halliday. And once thoroughly disgraced The Voice is going to enjoy killing him, "humanely if possible."
There's an angry scene in the police station. Our heroes are locked in a cell, "what are we going to do, Garry?"
Sadly, I don't think we're ever going to find out


To Garry Halliday
To the Children's Menu

.

.

.

.

.

.

.

The Flower of Gloster (Granada, 1967)

Originally planned in 10 parts but shown in 13. In the title role is a 72ft canal barge, that starts its journey in Wales, making its way by 220 miles of canal to the Pool of London. It is supposed to be delivered there by a boatyard owner, who falls ill, so his children Mike aged 10 and Liz aged 12 with the help of old friends Richard and Annette, deliver it for him. Deadline date is July 14th. Actual shooting began towards the end of May 1967. The older children are: Richard O'Callaghan (Richard) and Annette Robertson (Annette). The youngsters: Elizabeth Doherty (Elizabeth) and Michael Doherty (Michael). Script: Chris McMaster- though a lot of the dialogue seems improvised, only O'Callaghan at all comfortable with this. Director: Mike Beckham. Producer: Bill Grundy.
Amazingly, this was Granada's first belated attempt at a children's drama serial, and it sure shows. The story cannot decide if it is drama, comedy or documentary, and trying to be all three, it falls between all three camps. Following the tradition of the Children's Film Foundation, little effort is made to obtain young child actors who can actually act, giving the production an appallingly amateur feel, only compensated by the fine location shooting.

1 The Accident (Wednesday September 27th 1967 5.25pm)- July 4th: restoration of the barge is complete, Jim and his eldest son Dick are to deliver it from North Wales to London when Jim collapses. We have met his children cycling on the Llangollen viaduct- Mike even falls in! Under Dick's charge, with Liz as his second in command, the barge sets off. Rival to reach London first is Evans, another barge owner (Talfryn Thomas)

2 The Cut- Along Chirk Viaduct the barge begins its (very) slow progress, Mike cycling as far as the tunnel to see them off. Is it Liz's fault that the barge gets damaged? She fetches help, while to fill in time, Mike wanders off to learn about boat restoration. Up and running again, Liz cooks a bite for Dick to eat, the result is that the barge runs into the bank. Another near disaster is when she takes the tiller, but then decides she can also do the washing up. They bump, literally, into old Charlie, a barge man through and through for some extempore chat. Then they reach their first lock. Here Dick is sent the odd message, where is Mike?

3 The Boy- The industrial landscape around the Anderton Boat Lift where the engine overheats delaying progress. Liz finds Mike hiding in the hold. Next morning we spend a lot of time watching them wake up

4 The Girl- Audlem Locks where Mike and Liz start some horseplay and leave it to Dick. Liz goes shopping and Mike learns about a coal barge. After Dick tells them off, Mike takes the tiller and runs down a dinghy. Dick rescues the nice girl in it from drowning and retrieves her things. Her name is Anne, and she's stranded. Come with us, suggests Dick

5 Betton Woods- An angry barge owner warns that these woods are haunted. Running out of fuel, they have to moor here overnight, "I don't like it." Like two babes in the wood, Mike and Liz go exploring, Dick and Anne miss them and search for them. A few spooky noises is the sum total of their scares, and these come from some badger expert who tells them all about his hobby

6 The Dog- Anne punts as Dick tows the barge "only a mile." A horse helps them reach Market Drayton where they take on fuel. To pay for repairs to Anne's dinghy, Dick strips down a rowing boat, while Mike has to peel spuds. Anne befriends a stray dog which joins the party, they name it Baskerville

7 Lost- this is actually a story! The wretched Baskerville runs off, the gormless Mike pursues and disappears. An angry Dick moors at Wolverhampton to reprimand Mike on his return, "this is not a pleasure trip." Anne's navigational skills lead them into a dead end, where yobs pelt them with stones. Dick grabs one of the horrors, forcing them to tow the barge for a distance

8 The City- Day Six, the barge is stuck in mud. They are helped to get moving by a man who tells them the history of industrial canals for ages. While Dick arranges to earn some extra cash, the children shop at the Bullring, Liz buys useless stuff, Anne helps a lost boy, Mike is carted away by police, while Dick waits impatiently for them to return

9 Life and Death- 'Chocolate' Charlie helps them tow through 50 locks to Braunston Junction. Here they meet up again with Jack. Liz has to fetch a midwife, and they make way for a funeral barge, before entering The Tunnel

10 The Tunnel- Blisworth, the longest tunnel on their journey, spookily interesting. Engine trouble strikes, "we'll never get out of 'ere." But they do, by "legging" it, then Mike explores the waterways museum

11 The Deadline- an episode with more structure. 65 miles to go, and three days to make it! But Newell the new owner of The Gloster says he wants his boat by tomorrow! However the children don't know that, and are messing about in a dinghy. Then they enjoy themselves in the maze at Woburn, an improvised game of the Frontier. After a trip to the fairground, Mike gets himself lost inside the abbey. He's found in Victoria's bedroom, and they dash off, "we'll never make it!" (Not sure if the lady who shows them round Woburn Abbey is the Duchess herself, Nicole Milinaire formerly a tv producer of series such as Sherlock Holmes, Dick and the Duchess- be nice if it was)

12 The Hitch- a torch is the only help as they travel through the night, only stopped by an obstreperous lockkeeper. Now it's a race to get to London ahead of Dan Evans' boat, The Vigilant (last seen in story #1). Some naughty sabotage sees The Gloster drifting with "a hell of a bang." The rudder is jammed, valuable hours lost releasing it

13 Late - The boat is spruced up as they travel through Little Venice. Evans on The Vigilant tries a last trick, sending his son Dai to set the locks around Kentish Town against the Gloster. The Vigilant catches them up and takes a different route to the Thames. Anne is left to steer the barge while Dick cycles to The Vigilant and shoves Evans in the canal! They find a river pilot to take them on the Thames, under Tower Bridge, past the Houses of Parliament to meet the buyer Mr Newell at Lambeth Pier. It is noticeable that by now Mike and Liz are hardly involved at all
Children's Menu

.

.

.

.

.

.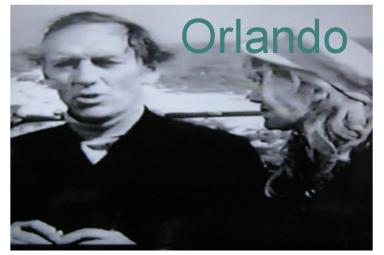 ORLANDO (1965-8, Rediffusion)
An interesting series, a spin-off from the series Crane, but screened on children's tv. Crane has quit Morocco, so his sidekick Orlando returns to Britain to run a boatyard. The opening theme music was 'Walk in a Nightmare,' (aka Hellraisers) and by contrast, the stories ended with 'Make Us Laugh.'
My review of 2.27 Rhyme- But No Reason (11th October 1966).
No sign of the divers who have been exploring the cave, Orlando and Co are scouring the seas from the cliff top. "We have to do something," but wise Orlando knows that all that can be done is wait.
One of the explorers, Trevor (John Steiner), Miss Tully's nephew, leaves Steve behind in the cave. Orlando perceives that Steve must be "in serious trouble," so descends the cliff face to the rescue.
Trevor's actions convince Jenny that he must be one who killed his uncle, but Miss Tully just cannot accept this. To find out the truth Jenny goes off to look in Cmdr Tully's yacht for his missing diary.
In the cave Orlando discovers an unconscious Steve. Trevor must have done it. Even Miss Tully has to reluctantly agree, "he might have killed you."
The secret message is now in Orlando's hands, but what on earth does it mean?
In a candle H and R
Take you to a place not far
Where the cranes can never fly
Yet they soar towards the sky
Start here go left and left once more
Which brings you to the secret door
There's no red herring to this clue
But a Jack to Gill will give it you.
"Haven't a clue what it means." After his adventures, Orlando is laid up in bed, but at least that gives him ample time to study this puzzle. Steve tumbles to the menaing of one line, Zoo, that's where cranes never fly.
In Jenny's unsuccessful search for the diary on the yacht, she stumbles on this message also, but is stopped in her tracks by Trevor, who must have that diary as well. At a chandlery, Trevor and his mate bust in, "the stakes must be very high"
To Children's Menu

.

.

.

.

.

.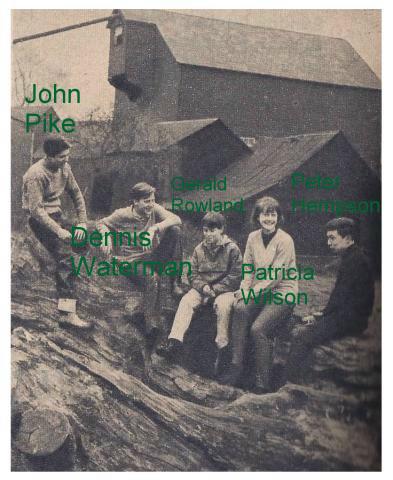 The Barnstormers
Good to report that the series has been partly rescued, Unlike many CFF films, the children's acting in this is not amateurish.
3 The Lost Treasure - review to follow.

Cast: That most interesting child star Dennis Waterman appeared as Mike, Gerald Rowland as Rusty, Peter Hempson as Philip, Patricia Wilson as Sarah, and John Pike (late of 'Ivanhoe' and 'The Old Pull n Push') as Alan. Tina Martin as Miranda, Susan Purdie as Elizabeth and Jeffrey Shankley as Peter appeared after the first story.
Joy Thwaites wrote the scripts, and the director was Marc Miller.
The five children, their leader Mike, decide to form their own dramatic society and write and produce their own play. But they need to find a suitable venue and hit on a deserted 18th century water mill that stands in a stream outside their village. As the production takes shape they discover interesting facts about the mill. One rumour claims a pirate once lived here and hid his treasure within its walls. Secret passages and a concealed trapdoor confirm the tale. A property speculator hears about the treasure and attempts to buy the mill for redevelopment.
The first episode was screened March 3rd 1964. It was 'Mystery at the Mill' in which the children, wanting to make the most of their holidays, try to join The Tudor Players. They are also intrigued by a strange light in an old mill. Also in this story were Gillian Webb as Miss Brentford and Peggy Ann Wood as Mrs Smith.
Episode 2 (Mar 10th)- also appearing were Gillian Webb, and Nadine Hanwell.
Episode 3 was 'The Lost Treasure' (Mar 17th) and introduced Henry Soskin as Mr Selbourne, whom Sarah and Rusty meet as they start rehearsals for their play.
Episode 4 was 'Enter a Stranger' (Mar 24th) in which the future of the Mill is threatened.
Episode 5 (Mar 31st)
Episode 6 was 'Camberley's Quest' (April 7th) in which the mystery of the casket grows deeper. (Note- no story on April 14th due to Budget.)
Episode 7 was 'The Spanish Casket' (April 21st) in which the casket is stolen.
Episode 8 was 'A Door to Nowhere' (April 28th) featured AJ Brown as Alderman Purbeck.
Episode 9 'Rusty in Danger,' again included AJ Brown and told how Rusty did some exploring.
The tenth and final episode was on May 12th and titled 'Old Alexander's Secret.' Nora Nicholson played Mrs Herriard, and the story showed The Barnstormers thoroughly exploring the tunnel.
A finale titled Playmaking with the Barnstormers was shown on May 19th.


Children's Menu

.

.

.

.

.

.

ORLANDO. Details of individual stories:
SERIES ONE
Script editor: Denis Butler. Director: Hugh Munro for all these stories except 1:8, and 1:10 which were directed by John Rhodes.
Starring Sam Kydd as Orlando.
With Gregory Phillips as Long John Turner, Margo Andrew as Triss Fenton, and
Archie Duncan as Cpt Dan Cassidy (1,2,6,7,11,12), Clifton Jones as Nelson (1,2,4,5,8,9,13), Clifford Earl as Sgt Prothero (1,5,8,10,11,12,13), Paul Holdaway as Prod (1,3,4,5,12), Kevin Stoney as Adler (3,4).
1.1 The Silver Spoon, Tues 13th April 1965.
Orlando takes over a boatyard at Drake's Landing and walks into a mystery.
Script: David Butler. With Dudley Stevens as Phil Cardew.
1.2 Orlando Tells a Story, Tues 20th April 1965.
Orlando's life seems to be threatened by an enemy out of his past.
Script: David Weir. With Lindsay Campbell as Bates.
1.3 A Ring of Dogs, Tues 27th April 1965.
Orlando foils a betting coup which could spell disaster for Prod.
Script: Ludovic Peters. With Alister Williamson, and Jimmy Gardner.
1.4 Humpty Dumpty, Tues 4th May 1965.
Orlando is involved in the freeing of a convict.
Script: David Wilde. With Richard Lee.
1.5 Mask of Fear, Tues 11th May 1965.
A clown walks a tightrope to rescue an injured boy and regain his lost courage.
Script: Larry Forrester. With Sydney Arnold as Mr Hoppy.
1.6 The Black Snake, Tues 18th May 1965.
A brother, of whom Orlando has never heard, comes looking for his help.
Script: David Butler. With Barry Lowe and Wolfe Morris.
1.7 Ding-Dong Bell, Tues 25th May 1965.
A bedraggled cat leads Orlando to a smugglers' den.
Script: Julia Durell. With Denzil Ellis and Mabelle George.
1.8 Flight to Calais, Tues 1st June 1965.
An old comrade of Orlando comes to him for protection.
Script: Reed de Rouen. With John Morris and Penny Morrell.
1.9 A Load of Bilge Water, Tues 8th June 1965.
A lost boat carries a strange cargo.
Script: David Weir. With Hilary Wontner, Judith Fellows, Tony Caunter.
1.10 The New People, Tues 15th June 1965.
Orlando goes into hiding to solve the mystery of Broughton Manor.
Script: Len Herwood. With Steven Scott and Leo Maguire.
1.11 Skinny, Tues 22nd June 1965.
Only a coward can save a town from disaster.
Script: Larry Forrester. With Alan Baulch as Skinny, and Susan Richards.
1.12 A Code for Life, Tues 29th June 1965.
Coded messages lead to the trapping of an interesting crook.
Script: Ludovic Peters. With Milton Johns and Daphna Dan.
1.13 The Gold-Plated Football, Tues 6th July 1965 (final story of first series).
International complications arise when Long John and Triss find a gold-plated football in the sea.
Script: Reed de Rouen. With Michael Segal and David Baron.

The programme was so successful, it returned for two further series,
Series 2 (51 programmes, April 1966 to March 1967).
Orlando is still in London and makes new friends in the first story, who rescue him from a bunch of dockworkers. They are Steve, played by David Munro, and his sister Jenny, played by Judy Robinson. They are in all the stories of this series, along with Sam Kydd.
The first series of stories was titled A Slight Case of Pilfering
Script: David A Yallop. Directed by Adrian Cooper.
Also appearing Hugh Morton as Bishop, Hugh Cross as Insp Hersch (stories 2-7), and Trevor Martin as Burton (stories 2-7)
2.1 Packet of Trouble (5th April 1966).
Orlando comes to the London docks and runs straight into trouble. With Peter Diamond, Roger Rowland, Michael Beint, Ken Watson and Brian Anderson.
2.2 A Man Called Burton (12th April 1966).
Orlando, Steve and Jenny are on the trail of some crooked goings-on. With Reg Lye, Roger Rowland and Miriam Raymond.
2.3 The Achilles' Heel (19th April 1966). Burton renews an acquaintance, and seems to hold all the aces. With Roger Rowland, David Morrell and Irene Sutcliffe.
2.4 Check (26th April 1966). After taking some exercise, Orlando sees the light. With Roger Rowland, Michael Beint, David Morrell, Miriam Raymond and Denys Graham.
NO programe on May 3rd due to budget.
2.5 The Cookie begins to Crumble (10th May 1966). The big net is cast and some fish are caught, but the big ones swim the other way. With Roger Rowland, Michael Beint, David Morrell, and David Drummond.
2.6 Rainbow Day (17th May 1966).
2.7 Follow the Leader (24th May 1966). The big stuff is heavy. The little things mean a lot. With Roger Rowland, Michael Beint, and David Morrell.
The second adventure was titled Orlando and the Cemetery Walkers
Script: Paddy Manning O'Brine. Directed by Ronald Marriott.
Also appearing Norman Chappell as Click, Windsor Davies as Willie the Gospel (2:8, 9 and 11 12, and 13), Jon Laurimore as Duffer and Barry Linehan as Sgt Banner (2:8, 9 and 11).
2.8 The Cemetery Walkers (31st May 1966). Ghosties, ghoulies, things that go wump in the night... all that and Orlando too. With Patti Dalton.
2.9 A Body in the Basin (7th June 1966). A body, and Orlando is up the creek. With Andrew Downie as Insp Todd.
2.10 The Plot Thickens (14th June 1966). The Mad Hatter and the Cheshire Cat... Alice to the rescue. With Alan Lake, Donald Webster and Frank Peters.
2.11 Maiden Voyage (21st June 1966). All aboard the Betsy Lou- plus stowaways. With Alan Lake, Donald Webster, Murray Evans, Edward Ogden, Patti Dalton and Hugh Morton as Bishop (returning from his role in 2:1-7).
2.12 Break Out (28th June 1966). Fifteen men on Orlando's chest- or it seems like that. With Alan Lake, Donald Webster, Murray Evans, Edward Ogden, James Mellor, Clifford Cox, Hugh Morton.
2.13 The Tables Turned (5th July 1966). The thieves fall out... Orlando gets out in the nick of time. With Alan Lake, Donald Webster, Murray Evans, James Mellor, Andrew Downie and Hugh Morton.
The third adventure was titled The Gizzmo's Revenge
Script: Len Herwood. Directed by Adrian Cooper and produced by Ronald Marriott.
Also appearing David Cole as Dr Brown, Peter Bayliss as Podger (not 2.17, 18), Ian Ogilvy as Moz, Clifford Elkin as Crown Prince Urandi, Leonard Sachs as Valdares (not 2.17), Ronald Bridges as Luis and Cliff Diggins as Roca.
2.14 (12th July 1966)
2.15 Royalty Moves In (19th July 1966). Orlando goes visiting and Steve gets the message the hard way.
With Alan Gerrard as Det-Insp Jones, Jessie Evans as Mrs Wilkins, and Stanley Simmons.
2.16 Lady in Waiting (26th July 1966). Jenny becomes lady-in-waiting and Steve gets worried.
2.17: Corpse Diplomatic (2nd August 1966). Orlando goes fishing- and a King gets his chips. With Roger Delgado and Stanley Simmons.
2.18 Sink or Swim (9th August 1966). The Gizzmo turns up and some people miss the boat. With Stanley Simmons.
The fourth adventure was titled Now You See It- Now You Don't and with it the series became more tongue-in-cheek, yet another spy send-up, with D.A.T.U. (Disintegrating Atomising Teleportation Unit) and M.I.N.C.E. (Ministry Investigating National Crime and Espionage).
Script: David A Yallop. Directed by Fred Sadoff and produced by Ronald Marriott.
Also appearing Joyce Grant as Maximillian Birk, Peter Myers as Agent Six, Oliver MacGreery as Erroll Harold (not 2.24), Clive Elliott as Smith (not 2.24), John Cater as Professor Linger and Christopher Benjamin as Cardoni (not in 2.19).
2.19 That Was No Lady- That was the Man from M.I.N.C.E. (16th August 1966). When our heroes meet, people are nutty and new, they discover what goes on at Regent's Park Zoo. There's DATU and MINCE and even a plane, and right at the end, they all miss the train. With Clifford Earl as Pilot, and David Griffiths as Thug.
2.20 Shuffle the Pack and Up Pops the Joker (23rd August 1966). O and S go to MINCE and have fun getting through. Jenny talks to Cardini and learns something new. Let's find who the joker is, who can it be? The answer, my friends, surprised even me.
2.21 A Funny Thing Happened to me on My Way to the Prison (30th August 1966). Orlando inside? What madness! What folly! Agent Six meets the villains complete with his brolly, Jenny argues with Smith, and Smith has to bend, but why does Orlando keep quiet at the end?
2.22 And for My Next Trick (6th September 1966). The Baddies turn good, and the Goodies turn bad, has Orlando gone crazy? Has Cardoni gone mad? Horatio's sprung from a robbery slick while DATU this time does the vanishing trick. Also with Michael Balfour as Horatio Ponsenby-Smythe.
2.23 The Spies Who Went in from the Cold (13th September 1966)
2.24 Dont Go Down the Mine Chaps, it's Bursting at the Seams (20th September 1966). Agent 6! Steve's Office! and Jenny! Poor dear, and the Elephant House- why they all disappear, Orlando hunts for the villains, and find them he must, for DATU is working itself fit to bust. Directed now by Don Gale. Also in the cast: Ken Parry.
Orlando and the Dangerous Waters was the title of the fifth adventure in this series. Script: Ivor Jay. Directed by Bryan Shiner. Produced by Ronald Marriott. With Agnes Lauchlan as Edith Tulley, John Steiner as Trevor Beale.
2.25 Clue in a Clue (27th September 1966).
Where it's old and yet is new,
Nearby the stone, there lies the clue.
The yacht killed William, but alive is he,
Not beneath the spreading chestnut tree.
The dead fire is the tree you need,
And five miles west the trail will lead.
With Donald Layne-Smith as Henry Layne, and Brian Peck as Detective Inspector.
2.26 Skin Deep (4th October 1966).
2.27 Rhyme- But No Reason (11th October 1966).
Now you begin to see the light.
Once there's victory in sight
Face the north and walk quite straight
To the place where you must wait.
Many streets in front of you
In the beginning only two.
Remember to observe the law
Don't hurt yourself upon the door.
With Jack Woolgar and Ben Kingsley.
2.28 Victory in Sight (18th October 1966).
2.29 Find the Lady (25th October 1966).
Take each clue, one by one
The yacht killed William, and go on
To book and cave and paper too.
It's all there- add nothing new,
Then at last will be revealed
Where the answer is concealed.
With Shane Rimmer as Kahn, Hal Galili, Penelope Keith as Waitress, and George Little.
2.30 All in the Book (1st November 1966).
The end is here where you began,
Liquid assets for the man,
Who orbits far in outer space.
But here on earth where ends the chase,
The assets that propel a rocket
Are packed to slip into a pocket.
With Shane Rimmer, Hal Galili, and Edward Harvey.
The sixth story was titled Orlando and a Man Called Moosh Script by Paddy Manning O'Brine. Directed by Adrian Cooper and produced by Ronald Marriott. Sam Kydd also played Moosh. Others appearing in this serial: Arthur White as Ben Ali Kebab, Zia Mohyeddin as Abdul (not 2.31), Derek Sydney as Fashfash (not 2.31), Arthur Howard as Inspector Marigold (not 2.34, 35), and Dennis Chinnery as Sergeant Bond.
2.31 Has Anyone Seen Fred Kebab? (8th November 1966). Orlando gets the wanderlust and out jumps Jumbo. With Wolfe Morris as Aloysius Wong, Nellie Hanham as Mrs Nekrasov,
2.32 Come with Me to the Casbah (15th November 1966). Orlando takes off and lands with a bump! With Leo Leyden as Percy Uplightly.
2.33 The Man Called Moosh (22nd November 1966).
2.34 Only a Camel Loves a Camel (29th November 1966). Steve and Jenny get stuck while Orlando roasts Kebab. With Hugh Futcher.
2.35: Hubble, Bubble, Double Trouble (6th December 1966). Orlando and Moosh meet again and one goes over the edge. The question is, which one? With Hugh Futcher. Note- Moosh proved so popular, he returned in series three.
Adventure No.7 was Stealers Keepers
Script: Ivor Jay. Directed by Fred Sadoff. Produced by Ronald Marriott.
2.36 Storm Warning (13th December 1966). Orlando risks the treacherous voyage to the island against the advice of the local innkeeper. With Joe Wadham as Lowrie, PG Stephens as Matthew Leach, Allan Cuthbertson as Ronald Hawtrey, John Gill as Tom Ballinger, and Michael Gough as Harry Prentice.
2.37 Wake Up Screaming (20th December 1966). Orlando tries out a pair of crutches as a lame joke, but nobody thinks it is funny. They are dynamite, and when Steve goes down, Jenny blows up. With David Munroe as Steve, Judy Robinson as Jennie, PG Stephens as Matthew Leach, Michael Gough as Harry Prentice, and Allan Cuthbertson.
2.38 A Peeping Tom and a Shoe (27th December 1966). Orloano finds a shoe, but where's the body? Steve's rope trick is a vanishing act. Jenny opens a door and is shaken by a hand. With David Munroe, Judy Robinson, PG Stephens, Michael Gough,Allan Cuthbertson and Brian Badcoe as Stan Bassett.
2.39 Assassin Airborne (3rd January 1967).
2.40 In at the Death (10th January 1967). Orlando stops the show but doesn't want the spotlight... it could kill. Meantime Jenny throws a faint and Steve throws punches. With PG Stephens, Allan Cuthbertson, Michael Gough, Clifford Earl as Pilot (as in 2.19), Peter Pratt as Doctor, Brian Badcoe as Stan Bassett, Robert McBain as TV Interviewer and Royston Tickner as Commissionaire.
The eighth story in the series was Orlando and the Frightened Clown. It was written by Dino Irlandese from an original story by David Fisher. Directed by Adrian Cooper and produced by Ronald Marriott. With Harry Towb as Barnaby, Clive Dunn as Dai MacTavish (not 2.45), Louis Mansi as Tom Turtle, Dickie Owen as Tim Turtle, and John Abineri as Jingles Partridge (not 2.41).
2.41: Beginners Please (17th January 1967). Orlando goes to the theatre and meets a clown who has stage fright. With George Claydon as Ben, and Noel Davis as Percy Poopdeck.
2.42 The Show Must Go On (24th January 1967).
2.43 Clown on a Bike (31st January 1967). The Turtles get a surprise and a policeman sees double.
2.44 An Apple a Day (7th February 1967). Enter the Fairy Queen who casts a fruity spell. With Priscilla Morgan, and Noel Davis.
2.45 Send for Fred Pinwad (14th February 1967). Barnaby and Jenny get tied up while Orlando goes out with Fred. With George Moon as Fred Pinwad.
2.46 Curtain up (21st February 1967). Barnaby can't open the box until Dai gets a part. With George Moon, Noel Davis and Edwin Apps as Mr Diddybox.
The ninth and final adventure of this year long series was Irish Stew. Script: Len Herwood. Directed by Adrian Cooper, produced by Ronald Marriott. With Sheila O'Sullivan as Mrs O'Connor (Orlando's mum), Patrick McAlliney as Paddy, Maurie Taylor as Seamus, Peggy Marshall as Mrs Murphy (not 2.49 or 51), Peter Welch as Rogers.
2.47 A Tune in the Night (28th February 1967). With Shay Gorman as Liam.
2.48 The Stew Thickens (7th March 1967). Having postponed his holiday, Orlando sells flags and goes hunting. With Shay Gorman, Harry Davis and Gerry Sullivan as Flynn.
2.49 Masks Over Masks (14th March 1967). Orlando takes a leaf out of the book of Judges and finds that the Gideon treatment works. With Gerry Sullivan, Barry Keegan, Dermot Kelly and Eddie Byrne as Brady.
2.50 A Bit of a Dance (21st March 1967). With Gerry Sullivan, Eddie Byrne.
2.51 Pincer Movement (27th March 1967). With Gerry Sullivan, Eddie Byrne and Wesley Murphy.

Series 3. Orlando returned after a twelve month break, for 12 more programmes, three four-part serials, in 1968.
Orlando and the Return of Moosh.
Scenes with Bonzo the camel from Chessington Zoo were filmed in a sandpit near Reigate. Script: Paddy Manning O'Brine. Director: Adrian Cooper. All stories with Arthur White as Shish Kebab, Hugh Futcher as Hedgehog, Freddy Foote as Ben Ali, Jack May as Col Snitzenbaumer, and Richard Murdoch as Beau-Beau Geste.
3.1 Beau Geste and All That (Monday 25th March 1968). In which Orlando loses a camel and finds a car- and meets up with old friends. Roger Booth as Sheik Abu Hassan.
3.2 When Did You Last See Your Father? (1st April 1968).
3.3 Dont Look Now, There's a Djellebar Behind you! (8th April 1968). In which Orlando loses his liberty and finds a way out... With Jasmina Hamzavi.
3.4 Where Was Moosh When the Lights Went Out? (15th April 1968). In which Orlando finds a solution and finally loses the boat. With Jasmina Hamzavi and Dallas Cavell.
The second story in this series was Orlando and the Up Jungle Affair. Script: Paddy Manning O'Brine. Directed by Nicholas Ferguson. All stories with Arthur White as Shish Kebab, Robert Russell as Jeremiah Gutbucket, Michael Poole as Captain Pete Crambas, and Moyra Fraser as Lady Tapwater.
3.5 Lady Tapwater Turns It On (Mon 22nd April 1968). In which Orlando is offered a job, take it or leave it.
3.6 Who's Afraid of Piranha Fish? (Fri 3rd May 1968). In which Orlando meets the dreaded Nurglers, and Kebab goes fishing. with Antony Stamboulich as Speedy Gonzales, Bob Hornery as Fred Jeeduddah, and Tania as Kiki Benfica.
3.7 Me Tarzan - Up A Gum Tree (10th May 1968). Orlando takes a bath, and the villains take a powder. With Antony Stamboulich, Bob Hornery, and Tania.
3.8 Lets Be Hairy Together (17th May 1968). Lady Tapwater finds her husband and Orlando finds her the trouble. With Antony Stamboulich, Bob Hornery, Tania, David Kelsey as Lord Willy, and Bob Todd as Doctor Deadstone.
The final group of stories was Orlando and the Fifi Affair. Script: Paddy Manning O'Brine. Director: Adrian Cooper. All stories with Arthur White as Shish Kebab, Dennis Chinnery as Snookah Billy Yards, Rex Garner as Serge Trowzerzoff, Trevor Bannister as Toulouse Quelquechose, Maggie Jones as Brnaca McBangle, Jack Allen as Inspector Hugh Gret, and appearing also in some of this group of stories were Ronnie Stevens as Fred Froldbottom, and Gavin Reed as Alphonse Alouette.
3.9 (24th May 1968).
3.10 Aimez-vous Serge Trowzeroff? (31st May 1968). In which Kebab is offered a bath and Orlando pulls out the plug. With Vic Wise as Charlie Escalier (no R Stevens or G Reed).
3.11 Comment Allez Are You Up? (7th June 1968). Kebab loses his head, and the gendarmes a pair of feet.
3.12 Au Revoir But Not Goodbye. (14th June 1968). In which Orlando and Kebab take a walk in the sewer and come up covered in bluebells.

In all, 76 programmes were made, making it the longest running of Rediffusion's children's serials.
But with the termination of the company's contract, the series died.

To Children's Menu

.

.

.

.

.

.

.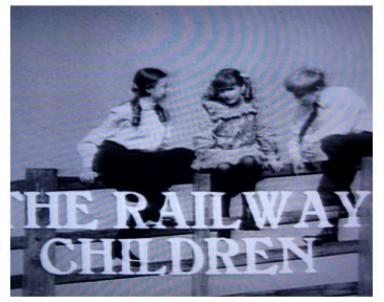 The Railway Children by E Nesbit

A seven part BBC serial made in 1968 directed by Julia Smith.
The BBC had something of a love affair with this marvellous story, making two memorable versions in 1951 and 1957. I was brought up on this latter, and recall poignant scenes such as the terrible moment when father is taken away, the kindly Old Gentleman, and of course the happy reunion. That wonderful composition by Grieg so well fits the mood of the story.


In this version Jenny Agutter played Bobbie, a role she was to recreate in Lionel Jeffries' better known 1970 film version. The other children were replaced in the film, a pity, because the youngest Phyllis is always the best part and Gillian Bailey gives her an enthusiastic quality even if she falters at times. Neil McDermott as Peter seems not to have had any other screen roles. The reliable Gordon Gostelow is Perks, more authentic for me than the film version, though perhaps Mother (Ann Castle) doesn't make quite the appealing impact as that of Dinah Sheridan's film character.
In June 2017, Gilli Bush-Bailey (Phyll) wrote to me: "I remember the excitement of night-filming on the train and the cold of Yorkshire in March and then the sunny days too as we sat on the fence for the title sequence… the fun of it all and the strange rags put in my hair overnight so I had suitably curly hair in the morning…. I was 12 years of age…. A long time ago…. But lovely memories"

Episode 1- The Visitors (May 12th 1968)
Episode 2- The Coalminers (May 19th 1968)
Episode 3- The Message (May 26th 1968)
Episode 4- The Foreign Gentleman (June 2nd 1968)
Episode 5- The Secret (June 9th 1968)
Episode 6- The Rescue (June 16th 1968)
Episode 7- The Meeting (June 23rd 1968)

To Children's Menu

.

.

.

.

.

.

1 The Visitors
Playing with Peter's new clockwork train in their cosy suburban home, young Phyllis causes the engine to crash. But rely on their father, Tom, when he comes home, he'll mend it!
When he does get in he's tired, but kindly examines the broken locomotive. "Is there any hope?" Perhaps there is for the train, but not for father when two strange men come knocking at their door. It makes for a poignant scene as heated voices can be heard in the adjacent room before father makes a hurried departure, "It's a mistake," are his parting words.
Ruth the maid (Mary Healey, not convincing) won't reveal anything to the children as she tucks them in bed. Mother looks in evidently distressed, whispering to Bobbie the eldest, "I can't tell you anything more tonight, love."
In their posh sitting room next morning, mother explains she's going to be very busy, for they are going to move to the country, adding ominously, "we're going to be very poor." The volatile Ruth is sacked for nearly blurting out the story, indeed there are to be few comforts when they quit their suburban luxury. Nevertheless they can still manage a taxi to take them to the station! Their destination, Waterloo, while a Great Western locomotive transports them a long, long way.
It's night when they reach their lonely destination, Perks the Porter, a friendly face, directs them to Three Chimneys. "It looks so dark," but kindly Perks loans them a lantern for the walk.
Housekeeper Mrs Viney ought to have got things ready, but she hasn't. The cottage is so bare compared with their London home. No fire, no food!

.

.

.

.

.

.

2 The Coalminers

It's no easy job lighting a fire with damp sticks. Bobbie can't manage it. And washing is no fun either, using the pump with only cold water.
The children wave to a passing train, then walk on to the station to return Mr Perks' lantern. The friendly porter kindly gives them "a tour of inspection" before they go back home for breakfast. The house is still very cold, but mother has found where the provisions are so the food warms them up.
Mother is attempting to write stories to earn some money, but her room where she writes is very cold. Peter thinks he has an idea.
He and Bobbie help themselves to some of Mr Perks' coal supply while Phyl distracts the porter with reminiscences of his childhood. This ploy works for several visits, Perks remembering his own naughty days outwitting a farmer, nicely echoing the children's own antics.
Now mother can write in warmth, until that inevitable day when Perks catches them at it, "got you, me young varmint." Even more cutting is his "I thought you were my friend," to Phyllis.
His Nibs, the stationmaster, is apprised, he's the man to deal with them. He uses the word "stealing." But their motive strikes a chord, and Bobbie apologises, and so they are forgiven, "jolly decent."
Contrite, they return home. A nice little vignette of childhood innocence

.

.

.

.

.

.

3 The Message
After returning from London, a tired mother seems to be hiding something from Bobbie. They have a heart to heart about father who is "abroad," that's what mother says. She does seem unwell and having retired to bed, Phyllis asks the doctor to visit.
Dr Forrest diagnoses a fever and prescribes medicines and food to help cure her. But how to pay?
Peter has dared to go back to the station to collect a parcel, and had been relieved to find the stationmaster promising to let "bygones be bygones."
Waving to a passing train, an old gentleman in the first class carriage kindly waves back to the children. That gives Peter an idea. He tears up a sheet and paints a message on it. When the train next passes the old gentleman sees the message to watch for Phyll at the station. She hands him an appeal for help. Bobbie has had her own scheme, asking Dr Forrest if he can be paid on an installment scheme.
Perks brings up a basket to Three Chimneys. It's sent "from your friend on the 9.15," the old gentleman. Perks adds his own offering of sweet briar cuttings.
Mother is on the mend, pronounces Dr Forrest and she is able to come downstairs, to a meal cooked by Bobbie. They have to explain how they have been helped to a shocked mother. "Who is this man?" All they can reply is, "he's not really a stranger." No, he certainly wasn't

.

.

.

.

.

.

4 The Foreign Gentleman

The children are waiting for the 3.27 train, mother has gone to see a solicitor. He is advising her not to proceed.
A passenger alights from a train, he has a hat and a beard, foreign. Perks wants his ticket, but he seems not to understand. Passengers gather round, as well as the three children, trying to work out what language he speaks.
Peter has a smattering of French and this prompts the man to issue of torrent of French which Peter can't hope to grasp. Wait for Mother, she can speak the language. As they wait, Peter shows the visitor his stamp collection, and works out the man is Russian.
Mother is soon conversing with him. His name is Ivan, a famous author whose family had been deported. He's looking for them in this country having been released from prison himself. Ivan is taken to Three Chimneys, though Dr Forrest confides to Mother that he doubts the wisdom of harbouring such a person.
Peter's brilliant scheme is to ask The Old Gentleman to locate Ivan's family. They leave a letter to him with the stationmaster. Mr Inglewood that's the Old Gentleman's name, and 'His Nibs' is mightily impressed that the children know him.
Days later, Perks, seemingly the postman, delivers Mr Inglewood's reply. It's good news, he has made "all the necessary arrangements." But less good news, for among the old newspapers Perks brings, Bobbie notices an article about her father's imprisonment. Phyll notices that Bobbie is upset, in a superb scene, a tearful Bobbie doggedly keeping the dark truth to herself.
Next morning a more cheerful Ivan bids farewell and Dr Forrest sees his train off

.

.

.

.

.

.

5 The Secret
"What's he done wrong?" Bobbie asks her mother about her father's imprisonment. And when told the answer is nothing, "that's not fair." But mother is fighting to get the case reopened.
Peter and Phyllis speculate on what the pair can be talking about. "A talking-to," they decide it must be.
A worried mother asks Dr Forrest privately about Bobbie. "She'll grow up," he confidently asserts."
Then it's down to the station to see Perks, only to find they must have offended him somehow. Some secret they have kept from him. Gradually he gets it out, something to do with his missing the farewell to the foreign "prince." Something about their not "letting him in on things."
Peter finally puts his request, the reason why they have come. To get his clockwork locomotive repaired. Perks says he'll "think about" it.
The three children are playing when they see a tree falling on the railway line (though it looks more a branch to me). As they fail to shift it, Bobbie and Phyll remove their red petticoats to wave and warn the driver of the next train, "it's coming!"
Rather too quickly, the express does stop. Bobbie faints. But the train is saved.
Down at the station the stationmaster and Perks are puzzling why the "fast" hasn't yet come through. Peter and Phyllis dash in to enlighten them.
Bobbie is taken home where kindly Dr Forrest pronounces she'll soon be "as right as rain." Perks brings his "hearty vote of thanks," and, more sheepishly, their petticoats, and apologises for his former abruptness. A happy scene as he confides to Phyll that there'll be an official vote of thanks shortly

.

.

.

.

.

.

6 The Rescue
From Jabez Inglewood, to the three railway children, an invitation to a presentation in honour of their great deed.
They don their Sunday best for the great occasion, "you do look nice." Down at the station, it is all spruced up, Perks providing flowers from his own garden.
To rousing cheers, and a speech from their old gentleman himself, the children receive hearty congratulations, as well as presentation watches. Peter tries to reply with his thanks, off the cuff, "it was rather fun," he admits. Light refreshments follow, during which Bobbie takes aside Mr Inglewood, and shows him the press cutting about her father's imprisonment. Bobbie explains her mother had tried everyone she could to help exonerate him, and now she's "so thin and tired looking." Her rather naive appeal touches him though he is rather nonplussed, "I remember the case distinctly." He promises to look into it though he "cannot guarantee anything."
There's one further request, this from Phyllis to the "engineer," the train driver involved in that rescue. As Perks can't manage to mend Peter's broken locomotive, could he? He says he'll take it to the repair shed.
Days later, a paper chase with boys from the local school. The children watch as the hare runs past, pursued by the pack. The route goes through the railway tunnel (surely their headmaster would be sacked nowadays for infringing health and safety?). At the other end, the children watch them emerge, but for some reason there's one lad less, so the children resolve to find out if he's stuck in the pitch black tunnel.
"I want to go back," cries Phyll. As they grope through the darkness, a train hurtles into the mouth of the tunnel, and the children have to dodge into a recess in the wall

.

.

.

.

.

.

.

7 The Meeting
A train flashes past in the dark tunnel, then, alone, Peter searches for the boy. Groans point him in the right direction and there's Jim (Christopher Witty) lying in the middle of the track, his ankle injured. In the dark, the two girls join them.
With another train due (how the last missed Jim, who knows?), Peter and Phyllis run to the signalbox and the signalman wires a warning to Mr Barnes. Bobbie comforts Jim who is in some pain and they talk and hold hands. Rescue arrives and Mr Perks helps Jim to Three Chimneys. A reluctant mother makes him comfy, and there's a surprise for them all when it turns out Jim is in the care of his grandfather who is none other than Mr Inglewood! He visits his grandson and thanks everyone, finishing with a quiet word to Bobbie. He's hopeful of some good news soon.
Dr Forrest is soon able to declare Jim is well enough to return to school. "A swiz," declares Peter, and Jim's sorry to leave also. So is Bobbie, as the three children bid him farewell.
But when The Green Dragon passes, all the passengers mysteriously cheer, Dr Forrest smiles over the "wonderful news," and all the locals greet Bobbie warmly as she undertakes an errand down to the station. Here Mr Perks and the stationmaster greet her royally, Mr Perks with a blushing kiss, then the famous scene of father stepping off the train, nicely understated compared with Lionel Jeffries' film version. That is dramatic and atmospheric, this is merely over in a flash, but it is equally effective with the lovely theme music gentle in the background as the two leave the station and wend their way to Three Chimneys. Peter and Phyll each receive a big hug then mother and father quietly walk into the house. Outside, the three railway children dash down to the trackside for a final happy wave to the next train

.

.

.

.

.

.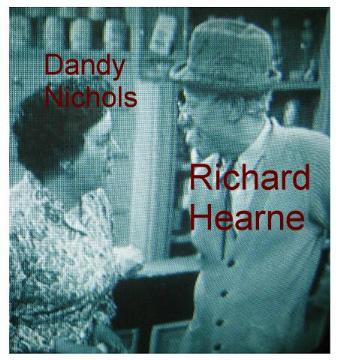 Mr Pastry (BBC)
Richard Hearne was a superb children's entertainer, now unjustly neglected by a generation who thirst after crudity in humour, a thing that Richard always vehemently avoided.
His long running appearances on Children's Television made for gentle fun-loving enjoyment, that us innocent children thoroughly appreciated. He made many one off short films, but I think the first series was Mr Pastry's Progress, fifteen minute stories, shown in late 1950/ early 1951. Three series were made in the early Sixties- details. In these, I particularly liked Barbara Hicks as Miss Print, a fine foil to Pastry's antics.
It seems very few of his tv shows both for BBC and also ITV survive. If you have any of his tv programmes or can add more data, I'd love to hear from you! Most interesting to see, would be his 1957 A-R series for adults, Highland Fling. And of course, we can only speculate how his interpretation of Dr Who might have turned out. However, thankfully, some of his numerous Ed Sullivan TV Shows in America are still around as are his British feature films.
Mr Pastry Learns to Ski
A 1956 BBC film short as Mr Pastry demonstrates how not to ski. Fairly predictable clowing around on Norway's ski slopes, some scenes shot in Geilo, accompanied by a dreadfully typical running commentary of the era. Mr Pastry leaves his hotel to suffer an avalanche of snow from the roof. Then to the ski school where he knocks over all the other pupils like ninepins. Lesson One is on a slalom, after smashing through the gates Mr Pastry narrowly misses careering into a train. He takes a railway trolley and narrowly escapes crashing into a huge express. Next day on the bobsleigh he zooms downhill, faster and faster, don't panic, the steering wheel has come off in his hand! He winds up on a rooftop, in one piece. Then it's the plane home, he leans out of the cockpit to wave goodbye
Ask Mr Pastry
7 Forty Eight Hours' Rest (May 6th 1961)
According to Mrs Spindle, Mr Pastry is doing the oddest of things, he has despatched soap flakes instead of cornflakes to one mystified customer. The vicar has another complaint, instead of the underwear he has ordered, he has been sent some frilly knickers. Perhaps Mr Pastry has been overdoing it. He needs some peace and quiet for a man his age.
But to young Stoker, he proves he is at the peak of his powers. He jumps over some chairs, then leaps over a wall very acrobatically. But Miss Print insists, "get him to bed at once!"
Mr Pastry explains to Stoker that there is nothing wrong with him, though perhaps he is worried about the forthcoming band contest, as well as the need to call the plumber. However, merely to please Mrs Spindle, he does agree to take to his bed.
The spare room, she orders. Stoker is happy to sort out the bandsman who needs extra practice, and call the plumber over the faulty tap.
After some nicely timed slapstick with his waistcoat, Mr Pastry really decides he has been overdoing it, and is tucked into bed. Of course that is the start of his troubles. Miss Print kindly plugs in an electric blanket, which promptly blows up, then the vicar sends some large flowers which tickle him and droop over his bed. Then the phone rings, no rest here. Mr Pastry chucks the offending objects out of his window, so there is no rest for the poor policeman standing outside his window!
"You're being a bit baughty," he is ticked off. The phone rings yet again, in a typical Mr Pastry sequence of mayhem, building up with more objects out the window, kindly friends returning them, the plumbers badly fixing the pipes so the wall collapses, water everywhere
Return sadly to the Children's Menu

.

.

.

.

.

.

.

A little more about BBC Television Series with Mr Pastry
Richard Hearne's final three series were
1 Ask Mr Pastry (1961)
2 Mr Pastry's Progress (1962)
3 Mr Pastry's Pet Shop (November/ December 1962)
Richard Hearne starred in these series of six stories each. The scripts for Ask Mr Pastry were written by Patrick Campbell and Vivienne Knight. The producer was David Goddard. He also produced Mr Pastry's Progress, and Mr Pastry's Pet Shop, these scripts by James Cairncross.
Mr Pastry was supported in the series by Barbara Hicks as Miss Print. Scruffy the dog played Buckingham in series 2.

A few story details:
Ancient Rights
Saturday April 29th 1961 5.25-5.50pm
Mr Pastry turns historian and proves himself a match for big business.
Also with Barry Henderson (Stoker), John Kidd (Vicar), John Brittany (Constable), Patricia Sinclair (Susan Bell), Dandy Nicholls (Mrs Spindle), Winnifred Sabine (Miss Broome), James Cairncross (Roy Spalding), John Woodnutt (Mr Spalding), Ian Shand (Farmer Tony Young).
Cop and Robber
1961, rpt Jan 15th 1962
In tracking down a mysterious robber, Mr Pastry makes a fair cop.
Also with Barry Henderson (Stoker), John Kidd (Vicar), John Brittany (Constable), Patricia Sinclair (Susan Bell), Dandy Nicholls (Mrs Spindle), Betty Cooper (Mrs Benson), Katharine Page (Miss Bridges), Susan Crawford (Marty Spolinsky), Malcolm Butterworth (Ricky Spolinsky), Frank Ellement (Steve Spolinsky), Christopher Hodge (Mr Green).
2.5 The Trainspotters
1962, rpt March 4th 1963
Mr Pastry and the Trainspotters Club find adventure all along the line.
Also with Cambria Smith (Susan), Roger May (Michael), Tessa Wyatt (Katy), Nicholas Roylance (Jimmy), Carl Bernard (Mr Sanderson), Derek Smee (Mr Wilmer), Carl Duering (The passenger), John Dawson (Col Maitland), Joe Grieg (Driver).


Details of other stories appreciated
Mr Pastry main page

.

.

.

.

.

.

.

BONEHEAD (1960-2)
One of BBC Children's Television great comedies written and produced by Shaun Sutton, who described the series as "a weekly reminder that crime doesn't pay." A one-off made its mark in 1957, leading, after a long pause, to this run of three series, which launched three and a half years later.
The ever popular Colin Douglas was in the title role, "an amiable, gentle giant, eager to carry out The Boss' last order- if only he could remember what it was." The Boss, played by the superb Paul Whitsun-Jones, was "bursting with boyish enthusiasm," longing to be "the Napoleon of the Underworld." The absurdly named Happy was portrayed by Douglas Blackwell. He gloomily follows from disaster to disaster, pessimistically certain of failure.

1.5 Going Straight (Sat Oct 29th 1960, 5.25pm) - As Boss and Happy emerge from jail, Boney greets them with "did you have a nice time?" Efforts to keep in paid employment end in sackings but a fortuitous discovery of a stolen safe by Bonehead leads our gang to a warehouse. The Plan: drop the safe from a great height to smash it open. Posing as policemen they proceed to the tall building. However, there they meet up with an old safe cracker friend, who kindly opens their safe for them, only to learn it is empty. Arrival of the real police results in a Keystone Cops-type chase
3.1 Let's Pretend (July 14th 1962)- The Boss' latest plan: Rescue eccentric shortsighted millionaire Mr Popkiss (Reginald Barratt) and claim £50 a time for each saving act. Disguised as a plumber, a gardener and a window cleaner our gang calls at his mansion. The old bucket on top of the head trick fails, as well as falling into the lily pond, so it's desperate measures: blow the house up! But this only results in a flooding farce, into which falls quite unnoticed the pathetic Popkiss. Maybe this was nearly the pinnacle of black and white children's tv comedy

.

.

.

.

.

.

.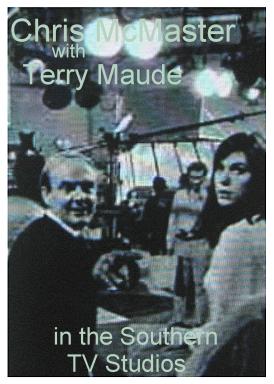 Freewheelers
Southern TV's most successful serial ran for 104 episodes (eight series of thirteen stories each) between 1968 and 1973. Producer Chris McMaster said Freewheelers was not intended to be "way out, with it or trendy. Scientific facts would be correct and the deadly devices within the bounds of possibility," although he did admit his plots were influenced by Danger Man and The Avengers. Certainly the first few series achieved a fine balance of thrills and fun, deserving to be placed alongside these great series, if only in a junior capacity.

The first serial entitled Menace! in 5 episodes starred Geoffrey Toone as the villain Von Gelb, and
Ronald Leigh-Hunt as Col Buchan (not episodes 1 and 2), with the children Tom Owen as Bill Cowan, Gregory Phillips as Chris Kelly (not 1.1), Mary Maude as Terry Driver, plus Ronald Govey (Monk) and Michael Brennan (Boone), Script: James Hopes.
Location shooting for series 1 was done in Portland, Botley, Portsmouth, Hayling Island, the Isle of Wight, and Southampton Docks.
1.1 The Sleepers (April 4th 1968) - my review
1.2 No Smoke (April 11th 1968) - my review
Also in this episode were: Ivan Beavis (Bryant), John Swindells (Alf), and Michael Murray (Cmdr Bell).
1.3 The Camp (April 18th 1968) - my review. Also with Howard Lang (Admiral Nash).
1.4 The Ultimatum (April 25th 1968) - my review. Also with Howard Lang.
1.5 Face to Face (May 2nd 1968)- my review. Also with Howard Lang.

The second serial following straight on from the first was called Recipe for Danger in 4 episodes, with the same main stars:
Geoffrey Toone (not story 1.6 or 1.7), Ronald Leigh-Hunt (not story 1.6 or 1.7), Tom Owen, Gregory Phillips, and Mary Maude.
Others appearing in each of the 4 episodes of this story: Nicholas Smith (Captain Nils Larsen), and Roy Patrick (Olaf),
Script: Barry Busbridge. Director: John Braybon. Producer: Chris McMaster.
1.6 Too Many Cooks (May 9th 1968)- my review. Also appearing: Norman Mitchell (Dusty), Gordon Faith (Stefan), Bruno Barnabe (Alex Dmitropolous), Peter Thompson (Carol), Arnold Beck (Kurt).
1.7 One Man's Meat (May 16th 1968) - my review. Also in this: Gordon Faith, Bruno Barnabe, Peter Thompson, Arnold Beck and Terry Wright (Policeman)
1.8 Trouble Brewing (May 23rd 1968) - my review. Plus Bryan O'Leary (Paddy), Julian Grant, Clive Taylor, and Ned Stern
1.9 Bring to the Boil (May 30th 1968) - review, plus Bryan O'Leary, John Higgins, John McNulty, Michael South, Robert Wilcox, and Michael Wrigley. The third and final serial of this first series following on from the second was called
The Big Freeze in 4 episodes, with the same main stars: Geoffrey Toone, Ronald Leigh-Hunt, plus Ronald Adam (Prof Lawrie), Tom Owen, Gregory Phillips, and Mary Maude. Also appearing in each of the 4 episodes of this story was Chris Matthews (Dr Robert Duncan).
Script: Trevor Preston. Producer: Chris McMaster.
1.10 Icarus (June 6th 1968) - review. Also in this cast were Ronald Govey (Monk, as in the first story), Brian Wilde (Dr Spencer).
1.11 Valkyrie - review (June 13th 1968). Also in this cast was Charles Lamb (Clayton).
1.12 Anvil- review (June 20th 1968)
1.13 Gotterdammerung - (June 27th 1968) - review. Also in this cast were Ian Flintoff (TV announcer), Ronald Govey, and Jane Murdoch (Dr June Paxson).

Series 2- The Zander Plot (in 8 parts)
Chris Chittell as Nick now replaces Chris.
With Geoffrey Toone, Ronald Leigh-Hunt, plus Jeanne Moody (Terry Driver), Denys Peck (Otto), Gary Hope (Hunter: stories 5-8)
Script: Rick Trader Witcombe. Director: Peter Croft. Producer: Chris McMaster.
A review of the only surviving episode of this story, the last: 2.8 Doomsday (January 8th 1969)

Colour series 6, made in 1971 has been reissued on dvd. Ronald Leigh-Hunt is the only original cast member left, and there are now children stars in Wendy Padbury as Sue Craig, Adrian Wright as Mike Hobbs, and Leonard Gregory as Steve Walker.
6.1 Nero (September 27th 1971) - Ryan and Burke (Richard Shaw and Michael Ripper) have escaped prison and are lurking on Shanklin Pier where Steve, Mike and Sue spot them. But they run off and land in a crumbling mansion where Professor Nero (Jerome Willis) recruits them to rob a ship, The Dragon, of the cargo of gold bullion worth six million that it is transporting. Now this ship happens to be where our Three are working as waiters...
6.2 Operation Seagull - The gas Somnol has knocked out nearly everyone on The Dragon, enabling Ryan and Burke to remove the crates of gold. But Mike and Steve hide in the boxes and are able to alert Col Buchan that their hq is Bickley Manor, where the gold is melted down into frying pans. The money raised from their sale will fund Nero's ace project
6.3 Medusa - The Department of Oceanography Cambridge is where Professor John Barnet, now missing, had worked on making larger plankton to solve the world food shortage, code name Medusa, and Nero looks like the prof! His assistant Dr Jo Bell (Jenny Till) tells Col Buchan all this while the boys find out Operation Seagull is an air display. When Mike learns too much, Soapy (Lawrence James) places a bomb in the plane Mike is to pilot, but luckily his plot fails. Col Buchan takes Jo to Paris for a meeting of Achilles, a scientists' club that Barnet belonged to, but once there he is knocked out
6.4 Mayday - Ryan and Burke shoot at Steve's plane, "they've got my right wing!" He's able to land at Stockbridge, safely. All sixty scientists at the Achilles meeting have disappeared, where? Sue joins Colin (Mike Lewin) to find the answer, no luck at Hartland Point, and Col Buchan has his own methods, by joining the arrested Ryan and Burke as a fellow prisoner. A fake rescue for them is staged and they are tailed by Mike and Steve to Portsmouth, where they join a training ship
6.5 Pirates - Bodinnick Lighthouse, that's Nero's hq. Joining him is Mike and Steve's ship, The Malcolm Miller. Colin is wounded, and Sue captured near the giant machine Medusa, which is concealed under the lighthouse. She's tied up on the beach, at the mercy of the incoming tide
6.6 The Threat - Mike and Steve swim from their ship to the shore to rescue Colin and, water up to her neck, Sue, both taken by dinghy to Polperro, though en route Col Buchan picks them up. They plan to put Sue on The Churchill, sister ship to The Malcolm Miller, that Ryan and Burke are going to hijack. At the lighthouse, one scientist, Prof John McCabe (Simon Cuff) is anxious for action, but Nero is not ready yet for Medusa
6.7 Doomsday - "The world, I have decided to destroy it," cries Nero. Only those 60 scientists and the youngsters from the two ships will survive as Medusa spreads o'er the earth. Later, they'll emerge into a brave new if empty world, "he mustn't do it!" Buchan and Jo penetrate the lighthouse to prevent tragedy, and the ships' crews are rescued. An almighty explosion, only Ryan and Burke survive, and they grab Mike and Steve as hostages

6.8 Black Box - Mike and Steve get away from Ryan and Burke, given shelter by ex-Navy man Caine (Kevin Stoney). But he is now involved with the two baddies after Nero's box that tells the whereabouts of the six million in gold. The boys have grabbed this from Ryan and Burke, and on Col Buchan's yacht, they open it
6.9 Cypher - Ryan and Burke get aboard Buchan's yacht, moored on Weymouth Quay, and blow open his safe to snatch back the coded message, that was in Nero's box. Prof Gotts (Ronald Adam) has told Buchan that the script is Hittite, but it's "gibberish." Caine holds the only key to the code, and he has taken Steve prisoner
6.10 The Parcel - Steve is rescued by Mike and Sue. Caine goes to ground, but sends a parcel bomb to Col Buchan. Luckily that's chucked into the sea. It's now a race to crack Nero's code to obtain the number of the bank account that holds Nero's fortune. Operation Red Herring, that's Caine's plan to take this gold away by yacht using the Cowes Races as a cover
6.11 The Race - Caine loads the gold he's collected from The Netherlands General Bank on to his van, hiding it in a windmill- well, this is Holland. Buchan follows by car, Mark and Sue by yacht, somehow they're all in Amsterdam, and look who are also here, Ryan and Burke at a garage where Caine has placed one crate of gold
6.12 Red Herring - "It's those kid's again!" Mike and Sue tail Ryan and Burke through the streets of Amsterdam. "We've got to lose 'em." The baddies reach the ship Argus. Time to stowaway, and see the gold being carried on board. They certainly have better luck than Col Buchan, who is diverted by Caine's wiles and caught by customs with gold hidden in his tyres, put there when his car was in the garage. A neat little chase thriller
6.13 Pay Off - "We'll soon be in Rio drinking champagne," boasts Caine, the yacht race their cover for escape. Stowaways Mike and Sue start a punch up which tv cameras pick up, alerting Col Buchan. As Steve creates a diversion, Buchan clambers on board Caine's ship
Children's Menu

.

.

.

.

.

.

.

.

Sexton Blake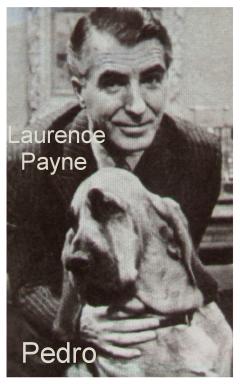 (made by Rediffusion Television)
Children's Menu
Laurence Payne was in the title role with Roger Foss as Tinker. Pedro the dog was also a regular. They appeared in all the stories.
The first adventure was The Find-The-Lady Affair in 4 parts.
Script by Max Oberman. Directed by Adrian Cooper.
The only surviving story is:
1.1 The Lady Vanishes (Monday September 25th 1967).
Florence 1927. After the Palazzo Medici closes for the night, an intruder emerges from a coffin, discards his mummy bands, and creeps to the window. Opening the shutters he lets his two accomplices in. "Mamma mia," is the incredibly corny line of the nightwatchman when he spots the ex-mummy, and he is powerless to stop the theft of the Painted Venetian Lady.
In Sexton Blake's flat, Tinker is hanging that same picture, though this is a copy of course. It's a good copy however, "she's got more clothes on than some." But an ad in The Times has intrigued SB, someone wants to contact him as the recent purchaser of this picture.
He proves to be a shopkeeper with a foreign accent, sinister, Helmut Waltz (Wallas Eaton) who offers increasingly large sums for the copy, as SB refuses to sell. Some flimsy cock and bull story is offered why he's prepared to pay so much, "that's a crazy one and no mistake," observes Tinker later.
Matt lives on a riverboat, a painter, very disorganised but an expert in art, so SB turns to him. He knows of Waltz and his dubious reputation, which opinion would be confirmed if SB could see what he's up to now. His gang have broken into SB's flat, Mrs Bardell screams and SB and Tinker interrupts the theft, Tinker gives chase with Pedro while SB takes Mrs Bardell's description of the thief, "ten foot tall." Inspector Coutts (Ernest Clark) is quite amused when SB turns to him to ask him to investigate this attempted robbery. He quickly recognises the handiwork of James Fisher, Jimmy the Fish, who has eluded the Yard for years.
Matt has examined SB's painting, a good copy, the best copy he knows belongs to the Duke of Fontwell. Under SB's picture he finds another, probably 400 years old- it's the copy that belongs to the Duke
Rest of cast: Dorothea Phillips as Mrs Bardell, who appears intermittently throughout the series, Wallas Eaton as Helmut Waltz, Fredric Abbott as Matt Carnegie, Hugh Futcher as Jimmy the Fish, Ernest Clark as Inspector Coutts.

Here are details of the rest of this long running series.
1.2 The Lady Has Two Faces (October 2nd 1967)
1.3 Search for the Lady (October 9th 1967)
1.4 The Lady Is Found (October 16th 1967)


The second story was Knave of Diamonds in 5 parts.
The script was by Peter Ling (returning to the company he had worked for in children's tv for many years, after leaving to create Compact and Crossroads). Directed by Peter Croft.
Details of the stories:
1.5 The Black Star (Monday 23rd October 1967 5.25-5.55pm). Sexton Blake is invited to a party, but where there are diamonds, there is danger. With Dorothea Phillips, Geoffrey Chater as William Passer, Basil Moss as Paul Passer, Philippa Gail as Carole Vane, David Simeon as Frank Hudson, Aubrey Woods as Inspector, Arthur Brough as Dr Anstey, Terence de Marney as 'Dutch' Vlieghen.
1.6 The White Dove (30th October 1967). 'I tell you when Mr Passer was killed, there was no human being anywhere near to him. He was quite alone...' With Dorothea Phillips, Basil Moss, Philippa Gail, David Simeon, Aubrey Woods, Terence de Marney.
1.7 The Green Demon (6th November 1967). Sexton Blake and Tinker hurriedly set off for the Continent in pursuit of Carole Vane. With Basil Moss, Philippa Gail, David Simeon, Ann Curthoys, Robin Lloyd and Roger Rowland.
1.8 The Blue Lily (13th November 1967). From the Green Demon to the Church of St Nicklaus. With Terence de Marney, Philippa Gail, Roger Rowland, Leonard Sachs as Insp Van Steen, and Martin Shaw as Piet Reinders.
1.9 The Red Waistcoat (20th November 1967). Blake finds the facts staring him in the face. The Bull/ The Dove/ and most important of all, something he'd entirely overlooked. With Philippa Gail, Dorothea Phillips, Basil Moss, David Simeon, Aubrey Woods, Leonard Sachs, Martin Shaw, and Brian Cant as Police Constable.
The third story was The Great Tong Mystery.
Script: Max Oberman. Directed by Adrian Cooper.
1.10 Ding Dong Hong Kong (27th November 1967). In which the Chinese New Year, the Year of the Scorpion, is a shortlived one for Alan Gurney- and a challenge to Sexton Blake. With Alan Gerrard as Alan Gurney, Alan Bernion as The Scorpion, David Morrell as Editor, Robert Lee as Kir Tan, Kathleen Eu as Hsi-Shih, Meredith Edwards as Insp 'Taff' Evans, and Dorothea Phillips.
1.11 Oranges and Lemons (4th December 1967).
1.12 Here Comes a Candle (11th December 1967).... to light you to bed, with a chop-chop chopper to lop off your head.... and Sexton Blake develops a sore throat. With Alan Bernion, Robert Lee, Kathleen Eu, Keith Bonnard as Tseng Fu, Meredith Edwards and Dorothea Phillips.
1.13 Ding Dong Beat The Gong (18th December 1967). In which Sexton Blake is conspicuous by his absence- until the right moment. With Tommy Yapp as Cheng Pei, Alan Bernion, Robert Lee, Kathleen Eu, Keith Bonnard, and Meredith Edwards
1.14 Special for Christmas Day -The Vanishing Snowman (25th December 1967, 5.05-5.55pm).
Script by David Edwards. Directed by Michael Currer-Briggs.
Strange happenings at Tench Hall challenge Sexton Blake and Tinker.
Cast: Laurence Payne, Roger Foss and
Bryan Pringle as Henry Brown, Hilary Mason as Mrs Abbot, Zuleika Robson as Wendy, Julia McCarthy as Lady Trevona, Derek Francis as Sir Gerald Trevona, Royston Tickner as Stanley Mears, Helen Lindsay as Diana Grant, Nicola Pagett as Patricia, John Woodnutt as Det Sgt Lace, Peter Macann as Jack, Lee Menzies as Peter, and Dorothea Phillips.
The fourth story was House of Masks.
Written by Peter Ling. Directed by Peter Croft.
1.15 The Mask of Murder (1st January 1968).
1.16 The Mask of Fear (8th January 1968). Suspect number one makes an odd move for someone who protests his innocence. With Campbell Peters as Cagliostro, Dona Martyn as Leonora Crayle, Robert Sessions as Barry Wayne, Rosamund Greenwood as Lady Kettering, Michael Latimer as Vernon Lashwood, and Edward Atienza as Mr Timmins.
1.17 The Mask of the Demon (15th January 1968). Blake finds a fire, plays a game of squash... and calls a bluff. With Campbell Peters, Dona Martyn, Rosamund Greenwood, Michael Latimer, and Edward Atienza.
1.18 The Masks Are Off (22nd January 1968). Pedro follows a scent, which leads Blake and Tinker to the end of the trail. With Campbell Peters, Dona Martyn, Rosamund Greenwood, and Michael Latimer.
The fifth story of this first series was The Invicta Ray.
Script: David Edwards. Director: Ian Fordyce.
1.19 Enter Mr.Mist (29th January 1968). The clues are P.4.C.2.x28 and a lady's fine lawn handkerchief- and again Blake has to work with Inspector Evans. With Walter Sparrow as Skeleton Sims, Veronica Hurst as Patricia Chetwynd, Denis Goacher as Mr Mist, Meredith Edwards as Inspector Evans, Mark Kingston as Randolph King, and Michael Rothwell as Mr Tapp.
1.20 Tinker Is Dead (5th February 1968). Tinker fits a standard six foot coffin, and his death certificate is signed. With Dorothea Phillips, Walter Sparrow, Veronica Hurst, Denis Goacher, Meredith Edwards, Mark Kingston, and Michael Rothwell.
1.21 Mr.Mist Has a Turn (12th February 1968). Tinker's life is in the balance, and Scotland Yard receives a most extraordinary delivery. With Archie Duncan as Sir Bernard Mackintosh, Dorothea Phillips, Walter Sparrow, Veronica Hurst, Denis Goacher, Meredith Edwards, and Mark Kingston.
1.22 Scandal in the House (19th February 1968). Sexton Blake sets an ingenious trap for Randolph King, but Mr Mist plays his trump card. With Dorothea Phillips, Veronica Hurst, Denis Goacher, Meredith Edwards, Mark Kingston, and Raymond Young as Rt Hon Spencer Chetwynd.
The sixth and final story of this first series was The Red Swordsman.
Script: Max Oberman. Directed by Peter Croft.
Pedro the dog was now joined by a rival: The Matador!
1.23 The First Matador (26th February 1968). A peaceful game of golf leads Blake into a dangerous game of dominoes... With Ballard Berkeley as John Pollock, Polly Adams as Barbara Mayne, Dominic Roche as Doctor Poole, Eric Lander as Inspector Cardish, and Dorothea Phillips.
1.24 The Third Matador (4th March 1968). Can Blake save Fennell? With David Garth as Mr Fennell, Polly Adams as Barbara Mayne, Olwen Brookes as Miss Cranber, John Hussey as Humphrey Cranber, and Dorothea Phillips.
1.25 The Matador Strikes Again (11th March 1968). With Fennell dead, the hunt for Hopwood is on. With Eric Lander, Dominic Roche, Eric Dodson as Mr Hopwood, Polly Adams, John Hussey, and Dorothea Phillips.
1.26 The Matador Unmasked (18th March 1968). The Matador and Sexton Blake come face to face... but Pedro intervenes. With Eric Lander, Eric Dodson, Polly Adams, Olwen Brookes, and John Hussey.

Sexton Blake returned for a second series in the summer of 1968:
Sexton Blake v The Organisation in six parts.
Script: Roy Russell. Directed by Peter Moffatt. Produced by Ronald Marriott.
With Dorothea Phillips (all stories except the final episode), Edward Jewesbury as Dr John Mangini, Elizabeth Bell as Julia Mangini, Morris Perry as Von Meck (stories 1 to 3, and 5), and Noel Howlett as Sir Miles Murray (stories 1 to 3, 5 and 6).


2.1 Blake Meets His Match (Wed 19th June 1968).
2.2 The Danger Sign (26th June 1968). Tinker asks how the Great Von Meck does his illusions. But Blake falls victim to a real-life trick. With John Normington as Billy John.
2.3 Up Against It (3rd July 1968) The sign on Blake's wrist means danger. So where does an illusionist vanish to when he's off stage? With John Normington, and Judy Liebert as Newspaper clerk.
2.4 Rendezvous With Death (10th July 1968). How can Blake stop Dr Mangini giving in to the Organisation- without any harm coming to Julia? With John Normington, Michael Wolf and Basil Henson.
2.5 The Secret of Hoodoo House (17th July 1968). Locked in Mangini's car, onthe brink of Clay Ridge, hands tied, handbrake disconnected. How can Blake escape? With Basil Henson, Michael Wolf, John Normington.
2.6 No Escape (24th July 1968). Pedro has found the escape hatch. Blake is on his way down. But the Commander has set a trap for him. With Basil Henson, Michael Wolf

Sexton Blake's third series in November 1968, included these stories each in 2 parts: The Case of the Gasping Goldfish, Return of the Scorpion, then in January 1969: The Great Train Robbery, and The Great Soccer Mystery (this in 3 parts).
These were now made by Thames TV, making this one of Rediffusion's only programmes to survive into the new era.

A fourth series began in October 1969 with these stories in three parts each: Sexton Blake and Captain Nemesis, Sexton Blake versus the Gangsters, Sexton Blake and the Frightened Man (only 2 parts) Sexton Blake and the Undertaker, Sexton Blake and the Toy Family (only 2 parts).

A final series began in December 1970 with Sexton Blake and the Puff Adder, in six parts.

A total of sixty programmes were made in all.
Note- this site deals mostly with programmes made up to the 1968 ITV franchise debacle, so I am only including outline information on these last adventures for the sake of completeness.
Children's Menu

.

.

.

.

.

.

.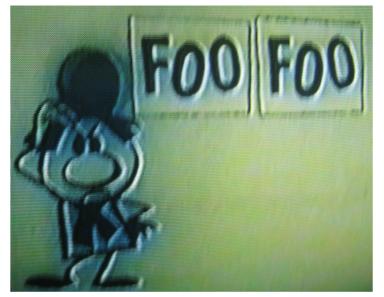 An ABC cartoon series made in 1960
Foo Foo
"A regular cartoon TV series has long been overdue and even without the advantages of colour, Halas and Batchelor have successfully created a fresh character who is sure to please the kiddies," wrote critic Lawrence Masidlover.
"A group of 33 fine films have been produced each lasting seven minutes and involving the adventures of Foo Foo. Two films are transmitted consecutively.
Foo Foo is an engaging little fellow and is sure to delight children from six to sixty. An amusing tramp (like Popeye), he has an arch enemy Gogo, who has an outsize beard. Gogo is a bully relying more on brute strength than cunning.
On the other hand our hero Foo Foo is small and Chaplinesque in appearance, complete with bowler hat. And like Chaplin this humorous character could last for years (well, that prophecy failed). It is not easy to make a tv cartoon series when there are so many established characters from America. Despite this Halas and Batchelor successfully took the plunge. They developed a new technique for cartoons. Each picture story is so carefully prepared that the plot could be followed easily although not a word of dialogue is spoken. A fine effort."
Only story I have seen- #20 'Beauty Treatment'

.

.

.

.

.

.

.

Sooty
with longsuffering creator, Harry Corbett.

Was the wonderful Harry the first non-standard English speaking star on the BBC?! Though of course his creation, Sooty, was the real star, and you musn't forget the mischievous Sweep. Harry knew how to entertain children, with a mixture of slapstick and naughtiness plus an element of self parody. I used to love his pained expression when Sooty or Sweep got him in the face with ink... or flour.... or.... almost everything else under the sun!

Sooty's Garage-
The expected chaos when Harry calls at Sooty's garage and gets squirted with petrol

Sooty's Pottery (16mm film)
Sooty "the expert" demonstrates how to make a pot, but Sweep switches up the kiln temperature, and the pot is frazzled. Sooty's magic repairs the damage, but only partly, because it now has no bottom, and when it is filled full of milk...

When Muffin met Sooty -
celebrated encounter between the pair in the Muffin series

As Harry used to say, Bye bye Everyone, bye bye- to Children's Menu

.

.

.

.

.

.

.

.

.

.

.

.

.

.

Menace! 1.1 The Sleepers (April 4th 1968)
A disjointed opening sequence, but have patience, the story does come together and gains momentum.

"Target range one mile... Stop engines." Mysterious sounds. "Course 090." Completion of a successful exercise, except for "ruddy idiot" Boone (Michael Brennan) who has failed to do his part of the job properly. Can he make amends when it's the real thing?
The packed 5.45pm London to Portsmouth train is a little unusual, an anorak's delight. For a start it's not an electric train, and the line it runs on has traffic lights as signals! But more relevant to the plot, the train also has a relief steward.
A party of sailors are enjoying themselves in the restaurant car. They are bound for a new Polaris sub, and one young passenger, Bill Cowan chats happily to them.
But the steward ejects him from the coach, and Bill spots the original steward who has been knocked unconscious. Hurriedly he fetches the guard, but by the time he's on the scene, the body has gone. The guard is sceptical, but Bill tells another young passenger, Terry Driver.
In the restaurant car, all the sailors have been drugged. At a pre-arranged location, Boone has got the signal changed to danger. Stop. One carriage, the restaurant car, is uncoupled. The train chugs onward, minus the drugged sailors.
On the alert, Bill notices the last coach has become detached. As per plan, Boone is phoning the signalbox, "this is box 106, stop the Portsmouth train." So it shunts back to pick up the errant carriage. Now on it are replacement sailors. And Bill knows it, for one, Alf whom he'd been chatting to, isn't there now. "They're not the same sailors," Bill warns Terry
Review of part 2 . . . To Freewheelers

.

.

.

.

.

.

.

Menace!
1.2 No Smoke

Bill helpfully recaps the plot for newcomers, as he works out how all the sailors have changed. But why, that's the key unanswered question.
Terry takes the bull by the horns and tries to talk to the sailors, but meets a wall of silence. She agrees to split up with Bill, undertaking to follow these sailors. Bill's rather improbable task is to leap off the train as it rattles along, then, unhurt apparently, hitch a ride from a motorcyclist and catch up with the coach which is transporting the original bunch of sailors. They reach a dark isolated house, "lock them in the cellar."
Bill, and his motorcycle mate Chris Kelly find a grill by the cellar and the sailors urge them to fetch the police. Guards dressed in white chase the two lads and they are driven straight into the hands of Boone. He ushers them into the presence of the Boss, Number One ("as a name it lacks panache," he admits). The pair are interrogated. This German seems "as mad as a hatter."
"Ze problem is, what is to be done with you?" However very conveniently he also explains his plans for world domination, based on revenge for his country's defeat in ze last war. This kidnapping of sailors is but one of six simultaneous operations. All the replacements are bound for a nuclear submarine. Having been privy to these secrets, Boone escorts them to the cellar. There Chris has the bright idea of starting a small fire and this doesn't cause them all to be fried alive, for the guards dash in and our boys and the sailors escape. Though phone lines are dead, they use the coach that brought them here to make their bid for freedom.
Terry has alighted from the Portsmouth train (a different one to that in episode 1!) and has followed the sailors who are marching to the dockyard. There she is picked up by the real sailors, plus Bill and Chris, but sad to say, they arrive only in time to see the submarine submerging

To review of part 3
To Freewheelers

.

.

.

.

.

.

.

Menace!
1.3 The Camp

Admiral Nash: "Thesus our latest nuclear submarine is missing." Even the PM is worried.
Col Buchan of MI6 is put in charge of the search. He admits, "we don't know who's got it." But maybe those kids do.
Bill is showing Chris his boatyard. Terry has just joined them for a meal, when the phone rings. Colonel Buchan asks the two lads to come to Portsmouth to see a film, footage from July 1944 of the Nazi programme to build a super rocket. In charge of the project is Von Gelb, and he's the Nazi who had interrogated Bill and Chris! Col Buchan adds quietly, "you see why we've got to get our hands on him." But his quest proves to be peculiarly unsuccessful.
The boys tell Terry all about the interview and speculate where Von Gelb might be based now. They test out their theory by checking on out-of-season holiday camps in the vicinity. The first is deserted, and at a second they also draw a blank.
Between Freshwater and Compton Bay, our trio discover a more active camp. There's Boone! Over a fence they climb and there in the great dining hall sits, in solitary splendour Von Gelb, surrounded by the boom of German grand music, for he is gloating over his triumph.
"Time to turn the screw a little harder," he smirks, and on a tv link he confronts Col Buchan. The sub is targetted on London, he warns, and it's loaded with nuclear missiles

To review of part 4
To Freewheelers

.

.

.

.

.

.

.

Menace!
1.4 The Ultimatum

The PM has to decide whether to accede to von Gelb's extortionate demand for £100,000 in diamonds. "The fellow's a madman."
In his holiday camp, echoing to the strains of Wagner, the Nazi puffs a contented cigar. "It is time to pay some debts." On the Thesus (which looks suspiciously like a model), the crew prepare to fire missiles if so ordered.
The three kids, in attempting to run away from the camp are shot at. It brings about an interesting chase round the funfair, and then Bill and Chris hide first up the helter skelter, then in a chalet. They espy Boone in a frogman's suit with a large canister. If the lads did but know it, this is a replica of the canister that Col Buchan is to send the diamonds in. However Boone is so incompetent that von Gelb decides to entrust this mysterious mission to his impassive servant Monk.
Now von Gelb and his entourage take their leave of the camp in a Land Rover, but what they don't know is that Bill and Chris are hidden inside. Their destination is a boat, von Gelb's boat. But where has Terry got to? She's the prisoner of the Nazi, or "guest" as he terms it. "You're just a common thief," she retorts, which doesn't endear her to him. Chris is von Gelb's prisoner number two. But at least Bill Cowan has got away, to the police.
To prove his powers, von Gelb now arranges a demonstration explosion of a missile in mid-Atlantic

.

.

.

.

.

.

.

Menace!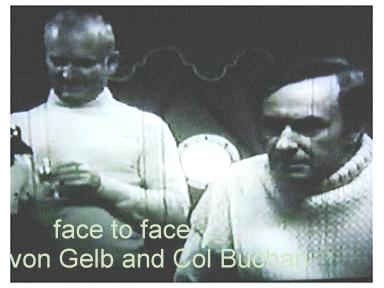 1.5 Face to Face

The explosion temporarily blanks out radio communications.
The diamonds are readied for sending, plus Col Buchan's ace, a miniature radio transmitter. "Whoever picks up the diamonds will lead us straight to von Gelb." Terry and Chris are von Gelb's prisoners. They try and convince the dim Boone to rebel, but he doesn't play ball. As they wait the arrival of the diamonds, von Gelb plays chess against Terry. "The mental discipline of the game would do you good," he advises. Using the chess pieces, he illustrates his triumph- Col Buchan is the chivalrous knight, "but lacking striking power." And who is von Gelb? "The directing mind," the King!
Enter Monk with the canister of diamonds. The transmitter is winkled out of one of the jewels, and chucked overboard. only Chris manages to switch a diamond for the transmitter.
Grid ref 57244200. Von Gelb, rich beyond dreams, now plans to sail away to repeat his blackmail on another country, America perhaps? His boat makes for Thesus.
Bill has joined Col Buchan on HMS Pegasus. By helicopter they fly to the rendezvous with Thesus that von Gelb is now at. Thanks to Terry and Chris eluding their captors, von Gelb's boat has been careering wildly and Buchan is lowered by rope on to the Thesus just after von Gelb has gone aboard.
Von Gelb is boasting of his Button, his hand caressing the dangerous device. In bursts Buchan with a gun. "Surface at once," he orders. But this is stalemate, as the Nazi threatens to press the button if he is shot. Luckily, the idiot Boone interrupts the tension. But in a puff of smoke, von Gelb disappears, "check, but not I think checkmate!"

End of story. Return to Freewheelers or why not start the next adventure?

.

.

.

.

.

.

.

Series 1.6
Recipe for Danger
This four part serial is less tightly written than the first. Too much time is spent on setting the scene, the absence of seeing the arch villain weaving his fiendish plot is disappointing, it would be all right if the story was a ten parter, but as it is, the build up in the first two stories isn't justified by the final two episodes.

1. Too Many Cooks

The lost expanse of the sea. A ship drifts, the crew lifeless. The headlines proclaim Fifth Ship Vanishes.
Chris is going on board The Tromso. The cook Dusty (Norman Mitchell) asks Chris, "you don't think it's going to happen to this ship?"
While the ship remains in dock, Chris is given a temporary job by the captain (Nicholas Smith with what I think is a Norwegian accent). When Dusty is taken ill, Chris knows of a last minute replacement, Terry. "Women are unlucky on board ship," protests the captain, but with noone else available, he offers her a trial.
Bill and Chris carry in the necessary food supplies, plenty of potatoes. In the kitchen they spot a ladle that has been impregnated with dope. "Who would want to do it to Dusty?"
This ladle is apparently part of some new kitchen equipment purchased from the Eureka Ship Chandlers, a shop run by Dmitropulous, who also trains ships' cooks. Chris buys four similar ladles there.
Terry's cuisine has proved a big hit with the crew, but for the forthcoming voyage a cook is supplied from Dmitropulous' school.
Now Terry poses as a posh lady seeking a place on one of Dmitropulous' courses. She enlists on a crash course.
Chris snoops round the Tromso and spots the new cook...

To my review of next episode , or back to Freewheelers

.

.

.

.

.

.

.

One Man's Meat
"Just a coincidence?" That is, the new cook just happens to be one of the trainees at Dmitropulous' school.
At this school Terry kneads dough to Italian music, "she does not strangle it," he tells the other students. Terry smuggles out the spare keys to the building in some dough, and later Chris makes impressions of them. "I hope they fit."
That night Bill and Terry break in to Eureka's premises. Chris keeps watch outside. A bobby on patrol nearly rumbles them. But what is the combination of the safe? Terry had heard Dmitropulous mumble Greek Independence Day, March 21st 1821, so they try 3211821, "no good." Try the day first, suggests Terry. 2131821, "it works."
Bill scans the documents and takes plenty of photos. However Dmitropulous returns from his party celebrating independence, thank goodness Chris stalls him, enabling Terry and Bill to get away via a skylight.
The photos are developed. A map of Ireland, lists of sailings, including the ships that have disappeared, "Tromso must be the next one on the list." Blaskin Island seems to be the key, "never heard of it."
On board Cpt Larsen is worried as the cook is feeling sick.
Next day, at the school, soup is being made. "23rd March, Tromso," Terry overhears. She phones Chris, who rushes to alert Cpt Larsen, but he never makes it

Review of next episode, or
Back to Freewheelers

.

.

.

.

.

.

.


Recipe for Danger
3. Trouble Brewing

Chris is taken prisoner on the Tromso, "don't try anything." Deep down in the cold room, he is locked in.
With the ship about to sail, Bill climbs on board to wish Captain Larsen bon voyage. The captain is rather upset because the new cook Olaf is not very good.
When Bill meets up with Terry again, she tells him of the radio message she had overheard. They dash to warn Larsen, but too late, for the ship has left harbour.
Bill recalls Colonel Buchan has a country cottage nearby, "I hope he's in." But he is out.
So they decide to search Eureka Chandlers again, in case Chris is kept there. But a man stops them, and he is holding a gun. It's Colonel Buchan!
He sifts through the information Terry and Bill give him, "I've been working on this case for some time now." He radios the Tromso and leaves a message for the captain, "Arrest the Cook. Do Not Eat Anything prepared by the cook." But the message is not received, the crooks intercept it. And in charge of them is Von Gelb!
Col Buchan takes a helicopter out to the ship, regretting he can't take Bill and Terry with him. But they have their own ideas about that, and stow away.
Mealtime on the Tromso. Radio operative Paddy hears tapping, it's Chris. He traces the source and releases the prisoner. All Chris can find now are drugged members of the crew. A speed boat is racing towards the ship.
"Going somewhere?" Chris is asked. He's captured once more as Von Gelb climbs aboard. He is ready and waiting to greet Colonel Buchan...

For review of the final part of this adventure
Now, back to Freewheelers

.

.

.

.

.

.

.


Recipe for Danger
4. Bring To The Boil
(Different opening music to the usual.)

Chris has got free and despite frantic waving, the helicopter lands Col Buchan on von Gelb's ship. The greeting Buchan receives from von Gelb is nothing if not predictable, "nice of you to drop in on us again."
Von Gelb's right hand man shoots at the departing helicopter and the pilot is hit, the helicopter careering out of control. "They were a sitting duck," moans Buchan.
But he isn't aware that Bill and Terry were on board, but luckily they bale out. Very improbably they succeed in climbing on board the Tromso, unnoticed.
Chris warns Captain Larsen of the whole plot but both are captured and locked in the cold room, only to be rescued by Bill and Terry. "We recapture the ship," that's Larsen's idea, and to do so they need to dispose of the enemy, whom they pick off one at a time. But Olaf smashes the rasio so they cannot summon help. "What are we going to do now?" They are heading for Ireland, Blaskin Island, uninhabited rocks.
Von Gelb is taunting Col Buchan as they pit their wits in a game of 3D chess. Kindly von Gelb outlines his evil scheme to start a war with his captured ships and the armaments he has ammassed, "any war with the possibility of escalation" involving the superpowers.
Larsen plans, since he seems to have watched The African Queen, to use the Tromso to ram von Gelb's fleet, thus causing an almighty explosion. The only drawback is that Col Buchan will get blown up too.
In von Gelb's cabin, Col Buchan announces "check." "I was expecting zat," von Gelb has to concede. Olaf warns von Gelb of Larsen's plan with the strains of Wagner booming in the background. Panic. The three kids whisk away Col Buchan in a dinghy. Explosion. "We've lost him!" as von Gelb also escapes, speeding away in a motor launch.
"There'll be another time"

Time to go back to Freewheelers menu. Or

On to the next adventure

.

.

.

.

.

.

.

Icarus
Beware of Icarus Pens. The ones supplied to Prof James Lowrie (Ronald Adam) are making him go all funny. For he is now walking zombie-like from his laboratory to his car, and driving away.
Two gallons, he asks, as he stops off at a garage, where the attendant just happens to be Bill. The professor also asks the way to Saddler's Mill, it's near Tidworth, he's told, as he mutters mysteriously to himself the one word Icarus.
"A completely blank expression" he had, Bill explains to Terry and Chris later. When they read the papers, the see the prof is headline news, having disappeared from his research establishment in Scotland. They resolve to pose as reporters, writing a feature on the mill. Dr Spendler (Brian Wilde) kindly takes them on a tour, he's very enthusiastic about spectro analysis, obviously a genuine scientist. But the head of the place turns out to be the evil Monk, Von Gelb's right hand man, and he spots Terry alone and locks her up in a cell with Prof Lowrie. The two boys are exploring the mill on their own when they bump into another 'spy' none other than Col Buchan in a disguise "like Frankenstein's uncle."
When Terry and the prof are taken from the premises in an Icarus van, the boys follow, as does Col Buchan, but the van gives them both the slip. Buchan tells them how eleven eminent scientists have disappeared recently.
The two prisoners are being transferred to a small boat and speed out to sea to be landed on board a liner, The Valkyrie. Yes it must be.... it is... as Wagner booms out, there stands the towering Von Gelb
Time to go back to Freewheelers menu. Or . . . On to the next adventure

.

.

.

.

.

.

.


1.11 Valkyrie
Into a bookshop, Col Buchan ushers Bill and Chris, it's his HQ.
Terry has been welcomed aboard Von Gelb's floating lab, where Prof Lowrie is imprisoned, along with his fellow scientists. Like zombies, they work for the Nazi. "What have you done with them?" And here's Icarus, a machine that controls the brain, inventor Dr Alfred Muller," their wills, not their intellects are paralysed."
Col Buchan travels to Lowrie's former workplace, to consult Dr Duncan, but this assistant of Lowrie has just been subjected to Icarus' rays and has zombied his way to his car, then grabbing a boat, SU310, winged his way towards von Gelb.
Luckily the boys have spotted his strange behaviour and followed him, rather against Buchan's instructions.
On board The Valkyrie, Lowrie is protesting against Von Gelb's plans, "you Nazi beast!" This distraction enables Terry to damage Icarus and thus Duncan suddenly becomes a free agent again, giving Bill and Chris the opportunity to escort him safe to harbour, where Buchan, somehow already back from Lowrie's lab (I thought it was in Scotland?) questions Duncan about research into mind control. "Why should they want me?" queries Duncan, for what he had been working on with Lowrie was a weather machine.
Terry is facing the wrath of Von Gelb, and is locked in a hold, alone
Get back to Freewheelers menu. Or . . . On to the next adventure

.

.

.

.

.

.

.


1.12 Anvil
"We'll find that damn ship if it kill us," cries Col Buchan, who has worked out that the Icarus pens are how those professors were lured to von Gelb.
On the Valkyrie Prof Lowrie is being shown The Anvil, the giant machine that will control the weather, and which is nearing completion... with Lowrie's assistance.
Buchan persuades Lowrie's assistant Robert Duncan to pretend to be under the influence of Icarus once more. He is carrying a transmitter so that von Gelb's position can be discovered. The scheme works and zombified, Duncan wends his way to the ship. With a fix on where the ship is anchored, Buchan takes Bill and Chris out to sea with him. But a "damn storm" prevents them getting near The Valkyrie, that localised storm created of course by von Gelb. Go back or else, von Gelb orders Buchan over the radio. "Operation Valkyrie abandoned." "It worked," shouts a triumphant von Gelb.
Under the influence of Icarus, Lowrie and the other zombie scientists continue their task. Soon there will be "the results that I want," smiles the Nazi.
Indeed The Anvil is quickly ready for action. Von Gelb announces his terms to Col Buchan, the "gift" of a thousand rare paintings, or Anvil will be activated. To reinforce his demand he shows its capability. A sudden inexplicable fall in temperature in one part of Britain. Unless his terms are met it will spread all over Britain. Cue, pictures of a snowy paralysis

Review of the final episode in this adventure Or, Go to Freewheelers menu.

.

.

.

.

.

.

.


1.13 Gotterdammerung
All roads around London blocked with ice, the Thames frozen. "Von Gelb has got us over a barrel."
Sabotage, that's Buchan's plan to stop the villain. Robert Duncan devises an antidote to counter the 'fluence of Icarus. Dr JE Paxson is the next scientist that von Gelb has on his hit list, and she is Duncan's fiancee. So June Paxson is given a necklace to wear so she can resist the lure of Icarus. Soon she is responding to Icarus and marching her zombie way to Valkyrie.
The boys have used their own initiative and boarded the ship that carries provisions from land to the Valkyrie. Surreptiously they clamber on board and have soon located Terry, but, oh dear, they are captured also.
Now June Paxson is on board she is able to set the three free and enlist them in her mission of destruction. Bill radios a message to Colonel Buchan, and that is the one word Gotterdammerung, the signal for action. Our heroes are chased round the boat and this has its slapstick moments but becomes on the serious side when guns are fired at them. By now the fighting is at close quarters, but the distractions give June the opportunity to get to Anvil just as an angry Von Gelb is activating it for further paralysis of Britain.A few cut wires and it is simply immobilised. With the captured scientists no longer under the 'fluence, mutiny on board! End of the evil scheme, but as per usual von Gelb eludes his just punishment. With five of the scientists still his prisoners, he vanishes, "he's got as many lives as a cat"
Go to Freewheelers menu.

.

.

.

.

.

.

.

2.8 Doomsday
Explosions are to occur in every water pipeline in the country. Boone and Monk have placed the charges, due to go off in eight hours time at noon. How can von Gelb's evil plan to take over Britain while the nation sleeps drugged be prevented? On his volcanic isle, the master criminal, aided by Olga, anticipates his triumph; "everything is ready for the invasion." After London, he can invade other countries. He spouts poetry along the lines of zis sceptred isle etc.
Col Buchan suggests creating an antidote, for with but six hours left he sees it's futile to try and locate and destroy all the exploding canisters. Then he realises that von Gelb must have his own antidote at the ready.
At their lighthouse, Monk and Boon have a supply and Buchan snatches it, somehow hoping enough of the stuff can be manufactured in time.
"Achtung, ze moment for action has arrived!" Von Gelb addresses his troops, "forward to ze new vorld!" But among those troops are our three heroes. They join the troops flying by helicopters for the invasion.
Two hours to go. The PM gets the army to distribute the antidote, but it's too late, so the BBC are instructed to warn everyone not to drink any water. However, Buchan's phoned request is switched to Monk, and no warning is ever broadcast.
So soon nearly everyone is asleep, roads littered with unconscious bodies a la Day of the Triffids. In his flash Merc, MMM300C, von Gelb parades royally into London, past Big Ben to Nelson's Column. It's an impressively done scene, as von Gelb sidesteps the bodies in his hour of glory. Alas, he's in for a shock, when Buchan steps up with Bill Nick and Terry to arrest him. "Von Gelb in the bag at last"
Back to Freewheelers menu.

.

.

.

.

.

.

.

THE FLIGHT OF THE HERON
The story commences in the year 1745, so you can guess the theme! Veteran Scottish star Finlay Currie played a blind soothsayer, who prophesies that a flying heron will bring together two men on opposing sides: Ewen Cameron, a highland chieftain (Ian McCulloch), and Captain Keith Windham, an English officer (Jon Laurimore). Though they are enemies, they do learn a lot from each other.
Most of the location shooting was done over a six week period around Fort Augustus and Loch Ness. (A report said this cost STV around £5,000 in hotel bills!) Indoor scenes were videoed in STV's Glasgow studios. So many props were required, a special wagon on a train from London had to be hired to transport the furnishings, cannons and costumes etc.
With all the extras, the cast amount to 187. In charge of the budget of £50,000 was master producer Francis Essex, with director Brian Mahoney. The script was by Moultrie Kelsall from a novel by DK Broster. The atmosphere breathed a kind of serious historical serial on the lines of the successful BBC prototypes, rather than something like jolly old Ivanhoe. The breathtaking outdoor scenery gives the series a fine sense of reality, only marred by the uneasy feeling that because of their limited numbers, these are after all only actors dressed up wandering round the Scotland of today. And perhaps it's not so much fun compared with the likes of The Adventures of Robin Hood. Yet it turned out as good as anything its rival BBC could have done for children, and that is praise enough.

A contemporary review by AM of the series is Headlined STV's Serial Is Worth Watching: "It is authentic. To hear longish stretches of conversation in Gaelic, is to remind us of the very different cultural heritage. After watching episode 2, she wrote, "Captain Windham was a prisoner of the laird, after being thrown from his horse, which had been frightened by a heron. Thsi incident is foreseen by Blind Angus, who had the gift of second sight. Windam was treated with every courtesy in the laird's home... he gave his parole not to escape... this episode was essentially the story of an encounter between two men of honour against a sensitively distilled background of Highland courtesy, English pride, and fey mystery... certainly this serial is one to be followed and fully deserves its wide (network) showing."

My reviews of each episode
1- Capture (28th February 1968)- with Sheila Whittingham, 2- Rebellion- with Sophie Stewart, 3- Escape- with Leonard Maguire, Bruce McKenzie, 4- Levee- with Helena Gloag, WHD Joss, 5- Retreat- with Meg Watt, Allan Craig, 6- Rescue- with James Copeland, Bill Henderson, 7- Torture- with Tom Conti and Richard Wilson making brief appearances, 8- Revenge - with John Young.

Fly back to Children's Menu

.

.

.

.

.

.

. 1 Capture
Ewen Cameron is arguing with gamekeeper Lachlan, forbidding him to shoot a heron. Apparently sighting the bird foretells a meeting with a Sassenach redcoat, both their fates interlinked. The prophecy from old Angus MacMartin is that this enemy will do you great service, but cause you also bitter grief.
A romantic farewell by the loch with Miss Alison- these are the two loves of Ewen's little world. They even see the heron Lachlan didn't shoot.
Ewen's world is to be enlarged, for news has reached the glen that the Prince has landed at Borrowdale, "he has come at last! Clan Cameron will rise!"
"A uniquely barbarous prospect" is facing Captain Windham and his redcoats on the march to Fort William. The captain bemoans the fact that he could have been in Flanders fighting against civilised troops, if it hadn't been for this Young Pretender. In a wild mountain pass, an ambush awaits. Scouts sent on ahead spot a lot of madmen with bagpipes. A gun battle follows, Windham hastens on horseback to Fort Augustus to rally reinforcements. However he is surrounded by kilted warriors who chase him across the moors. Fleeing on his horse, it suddenly shies at the sight of a heron in flight. Windham is left stunned and lamed. He staggers forward, his sword a walking stick, but unluckily meets with Ewen. He refuses to surrender and despite Ewen's reluctance, the two fight with swords. The victory is an easy one, and the weakened Windham is taken prisoner. On his word of honour, he is placed on Ewen's steed to be taken to Ewen's home, there for his wounds to be bathed
To Review of part 2
To Flight of the Heron

.

.

.

.

.

.

.

The studio scenes lack a certain flow and some, not all, of the acting is weak.

Aunt Margaret supplies bandages and medicaments for the injured Captain Windham, who Ewen calls his "guest," though Windham himself more realistically describes himself as "prisoner."
After the injured Redcoat is made comfortable, the two enemies chat, there's a sense of admiring friendship, only spoiled by the Englishman getting hot under the collar when Ewen seems to suggest he might be tempted to break his parole. Ewen adds the riposte, "at morning prayers we pray for our rightful sovereign."
Bagpipes awaken Windham next morn, "that infernal row." He wanders round the estate until kilted warriors spot him seeing what he should not see. Accused of spying, Windham is brought before blind Angus, who only speaks Gaelic. His second sight warned him of the heron in the Sassenach's path, and he is ordered to be freed, though the "unmannerly ruffians" would take their own revenge, except Ewen intervenes.
With Aunt Margaret keeping a watchful eye from the window, Miss Alison Grant approaches Winham as he sits aside the loch. She really wants to know if he is only biding his time before he gets a chance to escape. He in turn pleads with her to spare his friend Ewen from embarking on this "hopeless venture." Hardly diplomatic, and she castigates his "English way of thinking," retorting that they follow the one who "has the right."
Now it is Ewen who makes an impossible demand, saying he will let Windham go free, if he promises to take no further part himself in the campaign. That cannot be accepted, so the pair agree that Windham must go with Ewen, still on parole, on his journey on the morrow.
To the skirl of more bagpipes they take their leave of the castle
To Review of part 3
To Flight of the Heron

.

.

.

.

.

.

.
3 Escape

To the noise of more bagpipes, the Scottish mini army gather "to strike terror into the hearts of a foreign people."
Prince Charles orders Lochiel to persuade Captain Windham to accept the terms of his release. But this is still refused, so terms of parole are discussed. Finally a compromise is reached, the parole will end in three days, at 9pm on the 23rd.
So Windham continues to march with the group across the bogs, wheels jarring on rutted roads as cannon and arms are dragged slowly onward. Windham jests with Ewen over this new type of military strategy.
After one night roughing it, the group settle in to a burgess' home near Corpach. Ewen is placed in charge of a baggage train by His Royal Highness, and seems to forget about the ending of his 'prisoner's' parole. But naturally, Captain Windham has not, and he lays his plans to flee once the time of his parole is over.
Disguised in a kilt, he writes a farewell note, and descends the stairs from his bedroom. Oh, he just remembers to remove his Redcoat wig.
"He's gone, my prisoner... I clean forgot," cries Ewen. The note angers him, especially the offer of three guineas for the loan of the clothing
To review of part 4
To Flight of the Heron

.

.

.

.

.

.

4 Levee
We move on. This story is really a one-off interlude after the first three episodes that flow nicely.
Ewen Cameron is now aide-de-camp to Prince Charles, while Captain Windham is in the Hanoverian garrison in Edinburgh, which is all but surrounded by the prince's army.
The victory of Prestonpans is celebrated at Holyrood House, where the prince greets Ewen and his fiancee Miss Alison. Ewen has a brush with the obnoxious Strickland over protection for the slightly foppish Scottish prince with the French accent. It is agreed that Ewen shall guard the prince as he walks to a secret rendezvous "dangeroudly near" the castle to meet... a lady. "This is an honour," the elderly host declares, the prince is actually here to seek financial support for his cause. But Ewen's alertness is justified when the house is surrounded by Redcoats, and the prince barely escapes via a secret stairway. Captain Windham and his men burst into the house.
"I know that the Pretender is here." Ewen suggests he look in Holyrood.
"Accept the fortunes of war," retorts Windham, now the positions of the two men are reversed from their previous encounter. However matters can quickly change, and the redcoats retreat in cowardly fashion, leaving Windham once more in the custody of Ewen, who is wounded after their slight scuffle.
"I lost my temper," apologises WIndham, adding by way of explanation, "I thought you had your sword out." They bandage Ewen's bleeding hand, then Windham is allowed to 'escape,' ironically via the very route that his highness had only just taken.
There's another gap before the story continues with events leading up to Culloden.
To review of part 5
To Flight of the Heron

.

.

.

.

.

.

5 Retreat
1746- after moving south to Derby, the Scots have retreated back to Scotland and Ewen makes for Lady Ogilvy's house in Inverness.
Alison has received a message from her father in France, that he is too ill to return home. She must go to see him. A boat is to depart in two days. So the hasty Ewen proposes an immediate marriage. The minister obliges and the happy ceremony takes place, his Royal Highness bestowing his gracious blessing.
Time for Alison to depart, reluctantly, and she bids tearful farewell to Ewen, sensing he is to face grave danger.
Her intuition is correct, the Redcoats strike, Ewen is injured. Gently he is carried to Glen Nevis House, his ribs cracked. He is ordered to rest. He is cared for by his doting Aunt Margaret. Then comes an order,
"Gather your men, and march at once. Cumberland is moving." The English break through to Nairn, "ill news" for the Scots who are tired, hungry, dispirited.
The Scots take their stand on the moor, against Lochiel's better judgement. "Any hope of repulsing him?" Ewen asks of the Redcoat leader. The Scots have but the "courage of despair," but no tangible hope of success.
Lochiel even plans with Ewen a suitable rendezvous when the inevitable retreat occurs (the cave behind the rock).
As winds howl over the desolate more, the troops engage in combat
To review of part 6
To Flight of the Heron

.

.

.

.

.

.

.

6 Rescue

The grim moor, guns now idle, men lying dead in mud.
Major Guthrie's men are sacking cottages, shielings, when Captain Windham prevents Guthrie from needless barbaric cruelty to an injured highlander, who indeed proves to be an officer, Lochiel's kinsman Cameron. Windam argues for Cameron's life and Guthrie finally concedes, since the man is more use alive.
In a dark room, Windham patches up the still unconscious Cameron's wounds.
Later, Windham explains to the brash Guthrie his debt to Cameron. "Friends in both camps," jibes Guthrie, adding hastily, "just a pleasantry."
Returning to Cameron with some food, the injured man screams in agony as his wounds are treated. "You saved my life, this is more than kindness." Cameron relates how the redcoats had left him for dead. Exhausted through lack of food, he had been hiding in this shieling when he had been flushed out by Guthrie's men. The pair reflect on the prophecy that they would meet five times, this is now the third.
Cameron does know of Lochiel's whereabouts, though that of course is his secret. But Guthrie wants to know it. Yet Windham concedes privately that he would be sad if Lochiel were to be captured

Review of part 7
To Flight of the Heron

.

.

.

.

.

.

.

7 Torture
Major Guthrie continues to rant, blaming Windham. Retorts the latter, "you swine, you twist everything I say." He is questioned as to his motives for assisting the highland rebel instead of spending his time on his soldierly duties. After a flare up, he is arrested for insubordination.
Thus there comes about the fourth meeting between the two men on opposite sides, this time in the depths of prison. The truth comes out that Cameron had not yielded to torture in revealing Lochiel's whereabouts, but exhausted after days of intense interrogation, in his sleep he had uttered the name of the mountain where Lochiel's cave is. "I slept and I talked." The two part, shaking hands.
But the mountain Cameron has named cannot be located, does it exist? He is further questioned, but will never reveal the real name of the place.
Good news for Windham- he is exonerated. That is, if he will testify against Cameron. But even the intervention of His Royal Highness will not persuade Windham to sink to that. "It is no part of military duty to play the informer."
Lord Albermarle berates him for his insolence to the royal personage, but he doesn't attempt to make Windham testify against Cameron at his trial which will shortly begin away in Carlisle. Instead, he commissions Windham to travel to Arisaig where intelligence suggests The Young Pretender is heading to flee the country by ship

To review of the final episode
Flight of the Heron

.

.

.

.

.

.

.

Cameron is being dragged off to his trial, tied up on a horse, guarded by three Redcoats. A highland lassie aids his flight and despite a hot chase, Cameron is free from his pursuers. Soaked to the skin, he gains his freedom.
As far south as Morar, Captain Windham had set soldiers on watch for the Prince. News of a drowned man has reached Windham- could it be Cameron? But there is that prophecy that they would meet five times- so Windham is as sure as he can be that his friend still lives. And it is true, though only just, for the wounded Cameron has barely struggled home. Bedraggled, step by step he had staggered, then crawled to safety.
Soon he's in better spirits under the ministrations of Aunt Margaret. Even though he would be with his wife away in France, he must warn Lochiel who is in hiding, "there's something I must tell him." But some of his kinsman cannot trust him, for they believe he did, albeit inadvertently and inaccurately betray Lochiel.
Cameron rides to Arisaig but is spotted by Redcoats. For Windham lies in wait for the prince. A Redcoat is poised to shoot Cameron, "you can't let a rebel escape."
But this is no the prince, and Windham remembers his debt of honour to the highlander and refuses to allow Cameron to be killed. However that kindness backfires when a zealous Scot runs through this gentle Sassenach with a sword.
Cameron and Windham's final meeting sees the latter dying. "Your friend... always." Windham yet has breath to warn Cameron of the approaching patrol as the pair shake hands. Sadly, Cameron takes leave of the dead soldier, barely to catch the boat for France.

A tense final episode, satisfying if sad, though the script never makes you feel the relationship between the two enemies who became friends is ever more than on the surface.

Children's Menu

.

.

.

.

.

.

.


To Main TV Menu

.

.

.

.

.

.

.


"We want Muffin, Muffin the Mule
Dear old Muffin playing the fool!
We want Muffin- everybody sing
We want Muffin the Mule."
Presented by Annette Mills, it even seemed creaky to me in the 1950s, now all it can offer is a quirky period glow amid the dangling puppet strings. My only favourite character was Mr Peregrine, and it's still enjoyable watching his irate snapping- I vote him the best puppet character on 1950s tv, not even excluding Bill and Ben!
Father Christmas Muffin- "we spent the whole morning decorating the Christmas tree," declares Annette Mills, though looking at what she shows us, you'd never guess it! On top is Louise as the fairy queen. Muffin is Father Christmas, but has a rival in Peregrine. Wally and Molly make the Christmas pud, then Oswald appears as Father Christmas only with a white cloak and red beard
Dick Muffington And His Cat - 5 miles to walk to London but Dick is lost in a wood. Another panto as Mr Peregrine as one of the ugly sisters has to dress up as a fairy to utter the line, "turn again Muffington." In London, Dick chases away all the mice and is knighted, "off with his head"
When Muffin met Sooty
Schoolboy Muffin - Professor Peregrine gives out homework which baffles the "very slow brain" of Oswald the Ostrich. Muffin produces a One Man Band with a song about, of all things, a timetable. When Muffin hides the professor's timetable, Peregrine has one of his splendid tantrums
Muffin's Aquarium - Peregrine warns about the dangers of an aquarium, Oswald adds three water worms, Willie, Wishy and Washy. Muffin's tadpole starts a-growing, soon it's outgrown its home- it's an octopus! Peregrine sorts him out, and with bells on his tentacles, the friendly octopus dances to his song
Muffin and the Bird Parliament- President Peregr-ine resigns, down with birds proclaims Muffin until he's elected new chairman, so it's up with birds, taking to flying. The two dispute who is chairman, best moment is when Peregrine attempts to fly
Muffin and the Squeaking Shoes - Peregrine's new squeaking shoes make him even more pompous. The grotesque Mr Bee supplies the beeswax that Annette wants to secretly put on his shoes while he sleeps. She achieves this by singing, naturally. But though his shoes do not squeak any more, he upsets everyone by "creeping up" on them. Oswald eats the shoes and starts squeaking himself
Muffin in a Jam - Muffin is making carrot jam. A queen wasp offers to pinch some honey. Oswald preserves Willie "for posterity" and Peregrine gets stuck to a plate. Louise makes friends with the wasp before a "squadron" of them fly in
Muffin's Bedtime Story - After the song Resolutions, we hear Mr Peregrine wants to "look after people." Louise is first, Annette sings Dressing Gown and Shoes, extraordinary! Next it's Monty, before Mr Peregrine himself has the song I'm In Charge. Muffin has to go to bed too, he dreams of four clowns, in a sequence with simple superimposed pictures
See also We Are Your Servants (1956)
Wave goodbye children, to Muffin and his friends, and return to the Children's Menu

.

.

.

.

.

.


.

.

.

.

.


First appeared on September 14th 1955, running each autumn through to the spring the following year. After a summer break it faithfully would return each autumn until the first big change when Eamonn Andrews left at the end of 1964. Regular Leslie Crowther took over in 1965, and the series continued its merry way until 1984. "We never talk down, or have any of this kiddiewinkie stuff," explained Crowther. "If we did," added his assistant Peter Glaze, "we'd be out on our ear." "

Series 3: March 19th 1958: with Winifred Atwell who bangs out Piano Tuner's Boogie, Poor People of Paris, and Let's Rock n Roll. Pinky and Perky an acquired taste if ever there was, also include a weird elderly lady rockin', plus a rockin' frog. Ronnie Corbett (as Skylark Hands) and Michael Darbyshire appear in a sketch Eamonn Andrews tells us is Cops and Robbers, with James Beck appearing as a detective from the Yard. The Double or Drop quiz is there as usual, though I felt Uncle Eamonn decided the winners of the qualifiers rather arbitrarily.


Series 4: March 18th 1959 (last of the current series): There are the usual games with balloons, long sticks, parcels etc. Double or Drop has prizes such as tv aerials and kippers! First guests are "you know who," Pearl Carr/Teddy Johnson, who claims Eamonn "you'd like to hear again." They sing Sweet Elizabeth. Martin Grainger's Puppets follow them. Ronnie Corbett and Eddy Leslie act a sketch in a lighthouse with 700 steps. A tale of contraband, Ronnie getting soaked with sea water lots of times. Dickie Valentine is the top attraction, singing Simple Life, then an interesting duet with two girls in the audience In My Life. He then stars in the final sketch The Pied Piper of Hamelin.
Series 8: October 11th 1962: with Pinky and Perky, and regulars Leslie Crowther and Peter Glaze.
Series 9: May 7th 1964: the final programme hosted by long-serving Eamonn Andrews.
It includes Leslie Crowther and Pip Hinton singing Where There's You There's Me.
With omnipresent Peter Glaze, they perform two sketches which seem like something written by Ernie Wise, only without any appearance from Eric to enliven proceedings- The Stowaway, and The Prisoner of Fender.
Magic is in the hands of Vic Perry, and Peter and Gordon provide the pop music.
At the end, Eamonn is presented with a plaque and stands uncomfortably with the crowd as they sing the final song. By this date, the half-hearted shouts of 'Crackerjack!' from the children in the audience contrast with their enthusiasm from the earliest shows of this series.
Series 19: March 7th 1975 : opening depicts an incompetent highwayman. The Mystery of Moustrap Manor, and the kids cry "rubbish" and who can blame 'em? For overacted it is. The Bay City Rollers sing Bye Bye Baby. Then Annie Get Your Goon! a musical of sorts

.

.

.

.

.

.
Billy Bunter of Greyfriars School (1952-1961)

Gerald Campion was the perfect embodiment of the finest creation of that great author Frank Richards. The rest of the cast, with the exception of Kynaston Reeves as Mr Quelch, were perhaps rather a disappointment, but it's a jolly good show, you chaps, that this series hasn't been entirely lost!
Though the series was aimed at children, there is no doubt that many older fans of the pre-war Magnet were pleased to watch also. The scripts by Frank Richards himself were mostly adaptations of storylines found in his books, and the limitations of the budget and cramped studio space, meant that the atmosphere of the Magnet and the Bunter books was hinted at, rather than recaptured. It was always going to be difficult to bring out the master's fine prose style, but enough remains to make any Bunter fan enjoy it. Anyone not used to the Greyfriars' ethos might be more unsympathetic, but I like the way Frank Richards does adapt his material to suit the post war child in a way that his post war books do not, the result is more a cartoon caricature than his original, but who cares?
I say you fellows, click here for outline details of the series.

Or click on the titles below for my reviews of surviving stories:

3.1 Backing Up Billy Bunter
3.2 Bunter The Bold
3.4 Hunting Bunter
3.5 Bunter on the Warpath
3.6 Bunter's Christmas Box
5.2 Billy Bunter's Burglar
6.7 Bunter Won't Go
7.3 Double Bunter

Oh lor,' you'll have to go back to the Children's Menu

.

.

.

.

.

.

.

.

Billy Bunter of Greyfriars School

(BBC)
List of programmes made with dates of first transmission
Most programmes were repeated, and these repeats are not shown here. However it seems from scrutiny of the cast lists that a few of those listed in series 6 and possibly 7 were actually repeats. Possible repeat programmes are in italics
Let a fellow pass to my Billy Bunter main section

.

.

.

.

.

The main cast for the very first series in 1952 included
Gerald Campion as Billy Bunter
John Charlesworth... Harry Wharton
Keith Faulkner... Bob Cherry
David Spenser... Hurree Singh
Barry MacGregor... Johnny Bull
Michael Danvers Walker... Frank Nugent
Kynaston Reeves... Mr Quelch


Note- Apart from Gerald Campion, other actors took the parts of other boys in other series. Gerald Campion joked that he got hazy about who was in which series, so much so that if an actor accosted him booming, "Campion, remember me. I played Nugent (Cherry, Wharton, Mauleverer) in 1953," he would worry if "he was the one I tripped up, deliberately, in the study scene." Actors who played the main parts in the entire run:
Harry Wharton: John Charlesworth (series 1,2), Anthony Valentine (3,4), Richard Palmer (5), Julian Yardley (6,7)
Frank Nugent: Michael Danvers Walker (1), Peter Marden (2), Lawrence Harrington (3,4), Michael Crawford (5), Jonathan Margetts (6), Michael Tennant (7)
Bob Cherry: Keith Faulkner (1,4), Brian Roper (2,3), Cavan Kendall (5), Peter Greenspan (6), Jeremy Bulloch (7)
Hurree Singh: David Spenser (1), Ron Moody (2), Barry Barnett (3), James Doran (4), Leonard Davey (5), Brian Tipping (6), Hugh Ward (7)
Johnny Bull: Barry MacGregor (1), Colin Campbell (2), David Coote (3,4), Nigel Anthony (5), Melvyn Baker (6), Gregory Warwick (7)
Mr Quelch: Kynaston Reeves (1,3,4), Raf de la Torre (2,3), John Woodnutt (5), Jack Melford (6,7)

Bend over to the Bunter story list

.

.

.

.

.

Bunter Won't Go!
This seems to have been the only new story made in 1954.
July 1st 1954

Gerald Campion as Billy Bunter,
Henry Searle as Harry Wharton,
Brian Smith as Bob Cherry,
Michael Danvers-Walker now as Frank Nugent,
Barry Macgregor as Johnny Bull,
Ronald Moody as Hurree Singh,
Miles Brown as Coker,
Kynaston Reeves as Mr Quelch, and
John Stuart as Dr Locke.

Wriggle off to the Bunter story list

.

.

.

.

.

.

.

.


Bunter on the Run
Saturday July 9th 1955 (4-4.30pm)
Produced by Joy Harington
'To be Announced'... Mr Quelch
John Charlesworth... Harry Wharton
Brian Roper... Bob Cherry
Peter Marden... Frank Nugent
Colin Campbell... Johnny Bull
Ronald Moodie... Hurree Singh
Anthony Valentine... Lord Mauleverer
Erik Chitty... Railway Porter
Radio Times: "A new fortnightly series... once again Bunter will be played by Gerald Campion, 32 years old, and 11 stone 12 lbs at the last weighing. John Charlesworth, another of the 'originals' from the Bunter television series in 1952 will be back as Harry Wharton... the silly ass boy Mauleverer will be making his television debut, played by Anthony Valentine." (Valentine went on to play Harry Wharton in the next series!)
Presumably Raf de la Torre played Mr Quelch in this story, as for the remainder of this series.

Yarooh- go to Bunter story list

.

.

.

.

.

.

.

.


Bunter Hypnotist
July 23rd 1955
Produced by Joy Harington
Directed by Pharic McLaren
Raf de la Torre... Mr Quelch
John Charlesworth... Harry Wharton
Brian Roper... Bob Cherry
Peter Marden... Frank Nugent
Colin Campbell... Johnny Bull
Ronald Moodie... Hurree Singh
Henry Davis... Skinner
Alaric Cotter... Snoop
Anthony Valentine... Lord Mauleverer

Oh jiminy, get back to Bunter story list

.

.

.

.

.

.

.

.


BunterKnows How
September 17th 1955, rpt: July 20th 1956

Produced by Pharic McLaren

John Charlesworth... Harry Wharton
Brian Roper... Bob Cherry
Peter Marden... Frank Nugent
Colin Campbell... Johnny Bull
Ronald Moodie... Hurree Singh
Raf de la Torre... Mr Quelch
Desmond Carrington... Wingate
Kenneth Cope... Loder
Christopher Hodge... Banks

Sneak out of dorm to the Bunter story list

.

.

.

.

.

.

.

.

Backing Up Bunter September 9th 1956
Produced by Shaun Sutton
Designer: Eileen Diss
Kynaston Reeves... Mr Quelch
Anthony Valentine... Harry Wharton
Brian Roper... Bob Cherry
Laurence Harrington... Frank Nugent
David Coote... Johnny Bull
Barry Barnett... Hurree Singh
Paul Whitsun-Jones... Mr Bunter
Robert Perceval... Lucius Tregg
Christopher Hodge... Gosling
Peter Scott... Coker
with Melvyn Hayes, Glyn Dearman, Alaric Cotter


My review: Backing Up Billy Bunter
Bunter is having to swot for a scholarship! His dad's in financial trouble as his secretary, Tregg, has absconded with the contents of Mr Bunter's safe, so oh crikey! - Bunter has to help out by bagging the schol! As his good intentions might just waver, the Famous Five have promised to back him up. Classic Frank Richards, an abbreviated version of his novel of the previous year of the same name. The only 'active' schoolboy characters are those mentioned, but the plot is otherwise the same, even down to the 5,000 pounds Tregg has stolen. Except he hides in a house which the Famous Five find by accident in the rain, and Johnny Bull squirts ink at him, uncovering his false beard, and Mr Bunter's fortune, much to Billy's satisfaction. Some wonderful moments before this, as the Damoclean Sword makes Bunter strive against nature to actually do a spot of work.
Beasts! Go to Bunter story list or main Bunter section

.

.

.

.

.

.

.

3.3 Billy Bunter's Double (Sep 23rd 1956)

Gerald Campion stated that this was his favourite episode, partly maybe because he played both William George Bunter, and his athletic cousin Wally.
He explained, "this was managed by exposing only one side of the film, while I as Wally, played the scene, leaving pauses for Billy's dialogue. I then changed clothes, the film was rewound, and then the other strip was exposed, with me as Billy, answering Wally's questions."
Campion added, "we did it in one go and congratulated ourselves, as a slip on anyone's part would have meant starting all over again!"

Go and eat coke at the Bunter story list

.

.

.

.

.

.

.

.

.

.

Bunter on the Warpath
October 7th 1956
Produced by Shaun Sutton
Designer: Eileen Diss
Kynaston Reeves... Mr Quelch
Anthony Valentine... Harry Wharton
Brian Roper... Bob Cherry
Laurence Harrington... Frank Nugent
David Coote... Johnny Bull
Barry Barnett... Hurree Singh
Melvyn Hayes... Skinner
Alaric Cotter... Snoop

My review of 3.5 Bunter on the Warpath
Bunter is avidly reading The Adventures of Demon Dick in the Crimson Comic, "didn't know he could read!" When Quelch confiscates the horror comic and tears it up, Bunter gets his revenge by hiding Quelch's radio up the chimney. That fails, though Skinner and Snoop, in hot water, also swear to make Quelch "squirm," hiding his invaluable gold medallion. This is effected after lights out (at 8.30pm!). "Rigorous inquiries" are made, while Bunter at last gets his own back hiding Quelch's radio. He unfortunately accidentally drops it and the noise draws Quelch's attention though Bunter is exonerated partly when the medallion is found inside the radio, but only partly exonerated as he still has a thousand lines to do. Best scene is when Bunter, having sneaked into Quelch's study, has to think up a pretext, which is he wants to listen to the radio. A pleased Quelch makes him listen to Beethoven's Seventh

Leggo to Bunter story list or else to Bunter menu

.

.

.

.

.

Bunter's Christmas Box (October 14th 1956)
Produced by Shaun Sutton. Designer: Eileen Diss
Kynaston Reeves... Mr Quelch
Anthony Valentine... Harry Wharton
Brian Roper... Bob Cherry
Laurence Harrington... Frank Nugent
David Coote... Johnny Bull
Barry Barnett... Hurree Singh
Glyn Dearman... Lord Mauleverer
Christopher Hodge... Gosling
Douglas Blackwell... The Man
Sidney Monckton... Wells
Roger Maxwell... Colonel Wharton
The general story outline follows that in the 1953 Billy Bunter's Own.

My review: Mr Quelch is congratulating Gosling on his choice of Christmas tree. He informs the porter he is expecting a large case.
Bunter is spending Christmas with... noone. Harry Wharton refuses to invite him to Wharton Lodge, but he forces himself on poor Mauly. Harry's kind second thoughts inviting Bunter are thus turned down flat, since Bunter couldn't stand "his stuffy old uncle."
He phones his father telling him the good news, before discovering Mauly is spending the vac with a tutor... to work. Once Bunter learns the truth, Wharton becomes "dear old Harry," but too late. So Bunter's plans turn on the packing case, which had contained two large globes. Bunter relabels it to Colonel Wharton, with himself inside.
As the colonel is away, the heavy case is left unopened. Bunter emerges to help himself to Bob Cherry's chocs. Then, only when all the house is silent at 11pm does he raid the larder, consuming as much as he can.
Next morning Wells the butler spots Bunter out of his lair. He tells the Famous Five, who search for him so they can "boot him till he hops it."
Bunter emerges again to bump into a sneak thief helping himself to the silverware. By good fortune Bunter traps him in the case, and the crook is sent to the police station. "The fat porker" is permitted to stay, "I fought him like a tiger." However he is less pleased when Mr Quelch turns up for the festivities. He gives Bunter a present which when opened is Virgil's Aenid. However inside the volume is found a more welcome gift, chocolates!

Crumbs! Go to the Bunter story list or Bunter menu

.

.

.

.

.

Bad Lad Bunter
Shown Saturday August 10th 1957 at 5.25pm
Produced by Pharic Maclaren
Designed by Tony Cornell.
Cast in order of appearance:
Keith Faulkner... Bob Cherry
Anthony Valentine... Harry Wharton
Laurence Harrington... Frank Nugent
David Coote... Johnny Bull
James Doran... Hurree Singh
Gerald Campion... Billy Bunter
Peter Scott... Coker
Anthony Toller... Potter
Timothy Harley... Greene
Edward Lexy... Mr Prout

bend over to Bunter story list

.

.

.

.

.

Bunter's Burglar
Shown Saturday June 27th 1959 at 5.25pm
Produced by David Goddard.
Cast in order of appearance:
Cavan Kendall... Bob Cherry
Richard Palmer... Harry Wharton
Michael Crawford... Frank Nugent
Nigel Anthony... Johnny Bull
Leonard Davey... Hurree Singh
Gerald Campion... Billy Bunter
Michael Caridia... Coker
Tim Hudson... Mr Prout
David Hemmings... Potter
John Woodnutt... Mr Quelch

My review:
A "Jolly lark"- Coker has planted an egg in Prout's deckchair, but Cherry is all for stopping the tragedy, though Bunter isn't, "rotten spoilsports." So just as Prout is about to sit down, Bob knocks over the chair. Coker is not amused especially when Bob squashes the egg over Coker's face.
The egg having failed, Coker resorts to a tin of treacle. Bunter has designs on this of course, and takes his chance when Coker lands himself in a row with the Famous Five. But they make Bunter return the tin.
After lights out, Bunter resolves to recapture it. However he makes so much noise that he disturbs Mr Quelch and is ordered back to bed. But the lure of treacle is so strong that at midnight Bunter makes a second attempt. This time disaster in the shape of Mr Prout who has been sitting up waiting for Coker's nefarious designs on the tin. In the dark Prout grabs at Bunter who has to punch the master on the nose to get away. Of course Prout assumes that Coker is the guilty man.
9am next morn, Prout interviews the miscreant who will be expelled. Coker protests his innocence. He refuses to be sacked.
Coker didn't punch you, Bunter asserts to Prout. He should know. Not that he knows anything himself, but in his inimitable way the truth comes out. Quelch is an old hand at getting the truth out of Bunter. "I didn't know there was any treacle... I don't like treacle." But Bunter's belief that he thought it was a burglar he was punching is a mitigating circumstance.
Quelch kindly lets him off, and even Coker is grateful he has been exonerated, and expresses his thanks by pouring treacle all over Bunter's face
Oh lor, wriggle back to Bunter story list or else try the Bunter main menu

.

.

.

.

.

Phoney Bunter
Shown Saturday July 11th 1959
Produced by David Goddard.

Cast in order of appearance:
John Woodnutt... Mr Quelch
Alaric Cotter... Skinner
Vernon Morris...Vernon Smith
Cavan Kendall... Bob Cherry
Richard Palmer... Harry Wharton
Michael Crawford... Frank Nugent
Gerald Campion... Billy Bunter
Nigel Anthony... Johnny Bull
Leonard Davey... Hurree Singh
Tim Hudson... Mr Prout
John Kidd... Manager of Chunkley's
Ivan Owen... Mr Skinner
Alastair Speed... Carter

Oh scissors, back to Bunter story list

.

.

.

.

.

Bunter's Birching
Shown Saturday July 18th 1959
Produced by David Goddard.

Cast in order of appearance:
Cavan Kendall... Bob Cherry
Richard Palmer... Harry Wharton
Michael Crawford... Frank Nugent
Nigel Anthony... Johnny Bull
Leonard Davey... Hurree Singh
Gerald Campion... Billy Bunter
Vernon Morris...Vernon Smith
John Woodnutt... Mr Quelch
Lionel Marson... Dr Locke
Colin Douglas... Gypsy

Wow wow wow, back to Bunter story list

.

.

.

.

.

.

.

.

.

.

Bunter's Bedtime Story
Scheduled for Saturday August 8th 1959, though as it was shown four week's later on September 5th 1959, possibly it was not screened on the former date?
Produced by David Goddard.

Cast in order of appearance:
Richard Palmer... Harry Wharton
Leonard Davey... Hurree Singh
Michael Crawford... Frank Nugent
Cavan Kendall... Bob Cherry
Nigel Anthony... Johnny Bull
Gerald Campion... Billy Bunter
Alaric Cotter... Skinner
Michael Caridia... Coker
David Hemmings... Potter
John Woodnutt... Mr Quelch

Rumble your way like Rip van Winkle back to Bunter story list

.

.

.

.

.


Brainy Bunter
Screened- July 30th 1960 5.25pm
Producer: Clive Parkhurst
Characters in order of appearance:
Julian Yardley... Harry Wharton
Peter Greenspan... Bob Cherry
Jonathan Margetts... Frank Nugent
Gerald Campion ... Billy Bunter
Jack Melford... Mr Quelch
Barry Halliday... Skinner
Brian Tipping ... Hurree Singh
Melvyn Baker... Johnny Bull
Reginald Greene... Postman
Irene Richmond... Mother
Ivan Owen... Nosey Jenkins

Detention for whoever destroyed this story as you return to Bunter story list

.

.

.

.

.


Lord Billy Bunter
Screened- August 13th 1960
John Charlesworth... Harry Wharton
Brian Roper... Bob Cherry
Peter Marden... Frank Nugent
Colin Campbell... Johnny Bull
Ronald Moodie ... Hurree Singh
Anthony Valentine... Lord Mauleverer
Raf de la Torre... Mr Quelch
Robert Young... Doctor Locke

This seems certainly to be a repeat from series 2

I say I say I say, go to the Bunter story list

.

.

.

.

.

Bunter Won't Go Screened- August 27th 1960
Producer: Clive Parkhurst
Designer: Susan Spence
Julian Yardley... Harry Wharton
Peter Greenspan... Bob Cherry
Jonathan Margetts... Frank Nugent
Brian Tipping ... Hurree Singh
Melvyn Baker... Johnny Bull
Jack Melford... Mr Quelch
Ian Hobbs... Coker
Maurice Colbourne... Dr Locke

My review of 6.7
Bunter Won't Go
The title is that of a chapter in the book The Banishing of Billy Bunter. This is an abbreviated free adaptation of this story, that just captures its essence, mainly thanks to Campion's 'presence'.
After a whopping Bunter tells the Famous Five he's going to get back at Quelch with this egg. Overhearing, Quelch awards him an extra 200 lines. When Coker throws a hassock out of his study and it accidentally hits Quelch in his deckchair (!) Bunter is on the spot and cackles. Oh Lor', Quelch is not amused, taking Bunter to Dr Locke for expulsion. Bunter hides in a study but Quelch finds him and takes him to the station. At 11pm in the Remove dorm Bunter returns exhausted having walked from Lantham, "miles and miles." Next morning when Quelch appears in the dormitory the rumble of Bunter's snore awakes the echoes! Bunter escapes to the boxroom. Coker climbs a ladder in order to extricate him, getting rapped on his knuckles by way of thanks. However he does break down the door and Bunter is dragged off to the beak. When Coker learns why Bunter is expelled he bursts in to the sacred presence to confess. Finally we see Bunter enjoying a feed with the Five. In between mouthfuls, Bunter suggests his new idea- why not a tomato in Quelch's face?
Look for Postal order at Bunter story list or search at Bunter main menu

.

.

.

.

.


Bold Bunter
May 27th 1961, 5.20pm (repeated Feb 19th 1962)
Producer: Clive Parkhurst
Film Cameraman: Bill Munn
Film Editor: Larry Toft
Cast in order of appearance:
Gerald Campion... Billy Bunter
Jeremy Bulloch... Bob Cherry
Gregory Warwick... Johnny Bull
Julian Yardley... Harry Wharton
Michael Tennant... Frank Nugent
Hugh Ward ... Hurree Singh
Mark Mileham... Gypsy boy
Barry Halliday... Skinner
Jack Melford... Mr Quelch
Peter Thomas... Jenkins

A new version of the story from series 3, with a different cast.

I say you fellows, gerrout to Bunter story list

.

.

.

.

.

Double Bunter June 3rd 1961 (repeated Feb 26th 1962) A new version of the story from series 3, with a different cast
Producer: Clive Parkhurst
Designer: Susan Spence
Film camera: Bill Munn
Film editor: Larry Toft
Ian Hobbs... Coker
Julian Yardley... Harry Wharton
Jeremy Bulloch... Bob Cherry
Michael Tennant... Frank Nugent
Gregory Warwick... Johnny Bull
Hugh Ward ... Hurree Singh
Jack Melford... Mr Quelch
Patricia Leventon... Maid

My review of
7.3 Double Bunter - Frank Richards returns to his character of Walter Bunter, a much more serious version of Billy. When Billy faces Coker's wrath after pinching his apples, and Quelch's cane after not doing his lines, he changes places with his double Wally who is staying in Pegg on holiday- though the filmed sequence here looks nothing like the fishing village of the books. On his return to Greyfriars, Bunter Mark 2 fells the astounded Coker, and surprises Quelch by reading Virgil, the shipwreck scene. He suggests to Quelch lines 109 and 110 are not quite perfect, a perceptive remark that decides Quelch not to introduce the cane. Then Bunter offers to play cricket, and a film shows him at the nets clean bowling each of the Famous Five in turn. He takes the bat too, and his lofty shot knocks poor Coker out. "What does food matter?" Wally asks Billy, who wants to change back, since the boarding house food is so awful. Thus Billy returns to Greyfriars, plus one black eye, by way of thanks from Wally. But it was at least "a marvellous wheeze"- except that Coker is still chasing after Bunter
Construe the Bunter story list or main Billy Bunter menu or even get sacked and return to the Children's Menu

.

.

.

.

.


Hunter-Bunter
June 10th 1961, repeated March 5th 1962
Producer: Clive Parkhurst
Designer: Susan Spence
Film camera: Bill Munn
Film editor: Larry Toft

Jeremy Bulloch... Bob Cherry
Julian Yardley... Harry Wharton
Gregory Warwick... Johnny Bull
Michael Tennant... Frank Nugent
Hugh Ward ... Hurree Singh
Jack Melford... Mr Quelch
Malcolm Gerard... Lord Mauleverer
George Woodbridge... Bert Maggs
Peter Glaze... Jim

You chaps return to the Bunter story list
or go on your hols by returning to the Children's Menu

.

.

.

.

.

.

.

.

.

.


A seven part story of the wartime occupation of the Channel Isles, the first production to be made after Mary Field, late of the Children's Film Foundation, joined ITV. According to this unsympathetic contemporary, her first effort was not a success:
"I hate to say it, but on its first showing it's very bad indeed. If ABC thinks this will combat BBCtv, then it's in for a shock! It is true that Sydney Newman has put one of his best directors on the job and also one of his best designers. Peter Ling who has written the script knows exactly how to angle his script, but it just doesn't come off. Why? The answer is relatively simple. ABC has not been courageous enough. It has placed too many embargoes on the author in an effort to keep down expenses. The result is a cardboard serial which doesn't have the slightest ring of truth in it. The script does indeed need to be tighter. Ling is writing down too much and he is concentrating too much on plot. It also needs a greater use of film to conjure up the atmosphere of the Channel Islands. Without it the play falls down like a dead duck. Obviously more money has got to be spent on it.
The story involves three children who remain on the island when the Germans occupy it. They find the whole thing exciting and great fun. To me, this is wrong. Children should be made to realise that war is a horrible and terrible experience. It isn't a game. It isn't fun. This, then, is where the serial is wrong. it is too much of a romp. It is raucous when it should be raw. There is no feeling of fear at the impending occupation and when the Germans do arrive they come in such numbers that they would be hard put to it to even occupy a village. Even the German flag that was hoisted was noticeably home made. It would indeed be unfair to compare Counter Attack with BBCtv's Silver Sword, which began a vogue for realistic children's drama. Unfortunately the last war has become exciting costume drama for many of today's young viewers. Even so, realism still should be the keynote. Without it the serial will never succeed."
After viewing the second episode our critic was dreadfully predictable in his additional comments: "I looked in again to see whether Counter Attack has improved. I regret to say it has become considerably worse. It would seem that the plot is worthy of the attention of the six to nine age group while obviously being angled at the nine to fourteens. Miss Field obviously wants the best of both worlds. Without having made up their minds as to the age group they wanted to attract ABC tv has, in my opinion, done a great disservice to children's television. Sydney Newman cannot apply the principles of Armchair Theatre to young viewers. Children like to be treated as adults while it is obvious that Armchair Theatre viewers are prepared to be treated like children."
However unlike the critic above, I enjoyed it! If the story is seen as a kind of Enid Blyton's Famous Five, or rather Famous Three, it's a ripping adventure seen through childish eyes. Jeremy Bulloch has all the authority of the natural leader, whilst Murray Yeo is a good counterfoil as the cheeky but innocent Cliff.
This tone is set in the opening title sequence- a very official voice announces the Occupation of the Channel Islands. But, we are informed, there is some "unofficial" opposition, as three kids throw mud right in a Nazi's face. No this isn't gritty wartime drama, it's not meant to be, and for me this is the best of the ABC serials I have seen.
Episode 1 White Flag . . . 2 Escape . . . 3 Sealed Orders . . . 4 Secret Agent . . . 5 Traitor's Mark . . . 6 Guard Duty . . . 7 Last Chance
Children's Menu

.

.

.

.

.

.
1 White Flag (17 January 1960)


During the voluntary evacuation before the Channel Islands face invasion, Joe Carter is one who has to bid farewell to his chums. His radio he loans to his friend Terry Benson, which will be jolly useful for the Argo Club, with other members Carol and Cliff Delamere. The group meets at the Old Mill which is linked to the Delamere's shop by a secret underground passage. "We'll fight the Germans with practical jokes!" they decide.
The adults however are more soberly awaiting the invasion, among them Carol's elder sister Miss Jean Delamere, and Terry's dad Tom Benson (Leslie Sands) who really feels he should be joining the Forces, if it weren't for the fact he has to take care of Terry. But watch out for Mr Prout (Bruno Barnabe), because he looks like a traitor. Besides, he speaks German.
By order of the British government, everyone has to display the white flag of surrender. Major Heinrich Wolf (Joseph Furst) announces the enforcement of rules: "if any of these orders are disobeyed, immediate disciplinary action will be taken."
First to be in trouble could be Tom, who tries to leave to join the Navy. Jean Delamere is to look after Terry. However Terry and his friends have a whale of a time transmitting news of the invasion on their radio. And the Admiralty picks up their messages.
That night the Germans are knocking on the door of the Delamere shop, but it's only the Major announcing that he and his batman Kurt Lander will be billeted here. "England has already lost the war," he smiles at the children. But will he spot their radio?
Continue to Episode Two of Counter Attack or Return safely back to Counter Attack

.

.

.

.

.

.
2 Escape

The Major glances round Cliff's bedroom, where Terry's radio is hidden. Luckily a cap gun is all he spots. Phew! "I hope you sleep well," Carol thankfully bids Major Wolf goodnight, taking care that he doesn't see her then sticking her tongue out at him.
Next morning, Cliff gives the Major another rebuff when he asks if Cliff enjoys school. "No," retorts Cliff, "who wants to take German?"
Tom, who is planning to leave the islands tonight at 10pm, takes exception when the Major snaps propaganda photos of him with the children. Tom snatches the camera and bolts. He bids his friends a quick goodbye: "mind you don't get killed," advises Cliff.
Terry continues to send radio messages to the Admiralty, though one request rather puzzles the high-ups there: can they send some stink bombs?
They're for Cliff who is offered pocket money to be office boy for the Major, who still can't quite reach the children. Not surprising when his remarks include "English children spend too much time playing!" This job is useful, for Cliff learns a guard has been posted at St Briac's Point, just where Tom's boat is moored.
"We've got to warn them." Cliff and Carol create a diversion whilst Terry flashes to the offshore boat, enabling it to come and pick up his father. But the three are captured by Muller who destroys the camera, to the Major's chagrin: "Dummkopf, this is my camera!" Now those photos are useless- hurrah!
Mr Prout offers to grind maize at the old mill, the children's headquarters, and from where Terry is now transmitting. Prout shows the Major round the mill and the radio is discovered. The apparatus is smashed.

Crumbs, you'd better return to Counter Attack start, but if you want to read on go to Episode Three of Counter Attack

.

.

.

.

.

The Major is very angry at finding their radio. Will he believe that they were merely sending messages to friends on the island? Thankfully, he gives them the benefit of the doubt. But he will be watching them, he warns. However Jean Delamere, Carol and Cliff's wiser elder sister, gets her own back, shouting at the Major. "She's got a nerve." She tells him that in future he will have to take off his muddy boots before entering her home. That shows him!
A strategically placed tin tack on the floor catches the bare footed man. Then a little more sabotage when his field telephone line is cut. However Cliff's booby trap above the cupboard door backfires, when the Major spots it and forces Terry to walk right into it.
The three children decipher the final message they have received, before the radio had been smashed. It tells to go to a rendezvous at midnight.
"Out On Important Business," announces a note they leave for Jean. A tough crawl through undergrowth to the place. Guns are blazing as they hear a plane. It must be British. A parachute descends, and with whistles blowing, the children grab the package and run for it.
Safe, they examine the contents, which are titled, Important Mission, Contact Us. But how can they do that, as their radio is broken?
The answer is in the package, which includes valves and spare parts. As well as Cliff's stink bombs, plus, more mysteriously, tobacco and razor blades.
But there's bad news. The Major has learned of Tom's escape and arrests Jean Delamere for aiding him. As the children scream, she's lead away.

To avoid any trouble, go back to the Counter Attack start or, if you want to read here about the Secret Agent,
you can go to Episode Four of Counter Attack

.

.

.

.

.

.
4 Secret Agent
"We know everything that happens on this island," the Major tells Jean Delamere. At least he thinks he does! Jean plays a trump card- the major will have to look after her children. Faced with such a prospect, he relents, and Jean is permitted to stay at home.
Terry has now repaired the smashed radio and is able to transmit to the mainland. There's a job for them. Hide a British Intelligence Officer who is being landed tonight at 11pm.
Here he is! He gets rather a surprise when his young contacts give the correct password! "You're only kids- holy mackerel!"
Cliff has not been allowed out so late, and feels left out, so he decides on his own action, putting a stink bomb in the major's bed- "happy dreams, major!"
"Es stinkt hier!" cries Major Wolf, who teaches Clifford, as he calls him, a lesson. Cliff has to stay in that smelly room.
A radio message to the mainland advises of the safe arrival of agent Hugh (Oliver Neville). But someone is listening in to their message- it's Mr Prout. It turns out Hugh is an old school friend of Jean's, but whilst they happily chat, Mr Prout has been listening at their door....

Phew, get back quick to the start of Counter Attack.
Or to find out the truth about Mr Prout, continue to Episode 5

.

.

.

.

.

.
5 Traitor's Mark
"No-one must know I'm here," agent Hugh warns Jean and the children. But there is Mr Prout listening in at the keyhole. He enters and tells them he's on their side. As an ex British Intelligence Officer, he promises them his assistance. He cites Col Richardson as a contact and his bona fides is established. Cue- jolly music.
But it's a swizz for the children, for now Hugh doesn't need their help. However they're pleased to be allowed to continued their practical jokes, so as to distract the Nazis away from Hugh's task, which is to locate and destroy the enemy arms dump.
Thus, next morning "some young rips," as Mr Rowley the milkman (Edward Palmer) describes them, have painted large V signs on the curfew notices. "Who has done all this?" demands the goaded Major Wolf. "Funny isn't it?" comments Cliff, though the Major doesn't look at all amused. The children note that Mr Rowley has a V sign on his back, showing he must be a collaborator.
Prout has found out that the German arms dump is in the cellars of their headquarters- surely a rather dangerous location! Cliff shows them his secret passage in there, but it's too narrow for Hugh to negotiate.
But Terry has broken in there. He's trying to remove any evidence that it was Cliff who had painted those V signs on the chairs. But as he enters, he's pounced on by Major Wolf himself.

Wow.... back to Counter Attack start .
Or to learn of Terry's fate, go to Episode 6

.

.

.

.

.

.
6 Guard Duty
"Where is Clifford?" demands the major of Terry, "move!"
The major has found Cliff's hanky at the scene of the crime, and not only Cliff, but Carol and "one of the workmen", Hugh actually, are caught. Luckily the major dismisses Hugh, not realising his importance, as he rounds on Clifford.
"I'm going to punish you," he rants. But his bark seems worse than his bite, for the penalty is that all three children are confined to their house for one week.
Prout hides Hugh in a deserted barn, where Jean takes him provisions, plus a gun. Whilst Prout then tries to retrieve the radio from the mill, the children divert Kurt, the major's batman, by locking him in the bathroom and hiding his clothes. The kindly Kurt seems to take it in good humour, and warns the children not to go near the mill again. He even tells them why- because it's the new place where the ammunition is stored. Carol seems to take quite a shine to him.
Prout takes this as misinformation when the children excitedly break him this news, but the children are able to succeed where he cannot because of his size, and squeeze through a gap in storage boxes in the mill, and rescue their hidden radio. England is contacted and they are entrusted with the important task of telling Hugh that he must rendezvous at 22.00 tonight after destroying the dump.
However once more the major catches them. "This time, this is it... you will be sent to France, a prison camp." Kurt is in trouble too for spilling the top secret information: "I shall have you shot for this."
Flee back to Counter Attack start .
Or to find out how the serial concludes, go to The Final Episode

.

.

.

.

.

.

.

7 Last Chance
"You will obey my orders," rants the major, shouting wildly in German. The three children and Kurt are locked in the old mill, but of course they know the secret way out! "We've got to hide," urges Terry. "But what about Kurt?" Carol asks. To save his life, they take him with them as a prisoner of war. Kurt goes willingly. When it's all explained to Jean, she gets them to pack their belongings to leave with Hugh.
There are more rants from Major Wolf when he finds his prisoners have flown.
Hugh and Prout break into the German headquarters and set the explosives. But Hugh realises this is not the main arms dump, and Prout persuades him to make for his rendezvous. Prout will blow up the mill.
"This is a surprise!" Quisling Mr Rowley finds the children have got away, and insists they tell him all they know: "if you've got any sense, you'll keep in with them" (the Germans), he tells the youngsters. They refuse, as you'd expect, and he dashes to headquarters to get help.
In the mill Prout is captured by the major. "Herr Prout, where is the bomb? If you don't tell me, I shall shoot you." As the German hq explodes, Prout and Major Wolf struggle violently. As the fight rages, the mill blows up.
Cheers from the children as they watch from the waiting submarine- "mission accomplished." It's left to Jean to add a touch of sobriety as she concludes "that's the thing about war, there never is a complete victory."
To Counter Attack start . . . Children's Menu

.

.

.

.

.

.
Pathfinders in Space, Pathfinders to Mars, Pathfinders to Venus (1960/1, ABC)

starring Gerald Flood as Conway Henderson; his charismatic charm was used by ABC in further children's serials;
George Coulouris ('To Mars' and 'To Venus') as Harcourt Brown, a free thinker, a protoype, just perhaps for Zachary Smith in Lost in Space;
with Stewart Guidotti as Geoffrey Wedgwood, he plays his part with intense boyishness.

A letter to TV Times (Nov 1960) nicely summarised the first adventure,
"Never before has papier mache been so craftily bonded to produce a moon rocket. Congratulations also to Ian for managing to survive that near atomic explosion by hiding behind a rock, considering that he appeared to be more stable than the rock."

Pathfinders to Mars: 1 The Imposter, 2 Sabotage in Space, 3 The Hostage, 4: Lichens!, 5 Zero Hour on the Red Planet, 6 Falling Into the Sun.

Pathfinders to Venus: 1 SOS from Venus 2 Into the Poison Cloud 3 The Living Planet 4 The Creature 5 The Venus People 6 The City 7 The Valley of Monsters 8 Planet on Fire

.

.

.

.

.

Pathfinders in Space

1 Convoy to the Moon- At a Scottish rocket research station Conway Henderson meets Valerie Jimmy and Geoffrey, children of Prof Wedgwood (Peter Williams) who's doing "something men have dreamed of for centuries," that is, flying to the moon. Sighs Jimmy "gosh I wish I was going." When Geoffrey accidentally leaves a screwdriver in the backup ship, the auto pilot short circuits and so, of course, Henderson has to fly it, along with his crew, hip hip, the two boys. Girls complain now. But fear not, is that a stowaway.....? Quote- "Maybe in a year's time, we'll be running tourist trips"(!)
2 Spaceship from Nowhere - Valerie has sneaked on board. "What are the names of your crew?" Wedgwood asks Henderson. Answer- "Don't get annoyed dad." They orbit the moon relaying tv pictures back to Earth, while Wedgwood's ship lands on the moon safely. But what is that third rocket? "It's heading straight for us!"
3 Luna Bridgehead -Avoiding the mystery ship, the children have to land on the moon, 150 miles from the sister rocket. Young Jimmy is the First Boy to tread on the moon- rewrite the history books! He also finds a triangle symbol suggesting they're not the first here, then he slips down a hole, "it's man made"
4 The Man in the Moon- In rescuing Jimmy, the three children and Henderson are trapped in an underground base used by some alien force, "perhaps they're still here!" Then they discover water
5 The World of Lost Toys- Valerie finds a frozen man, "a great catastrophe happened here." Then with Jimmy she finds toys, and Wedgwood finds the log of a rocket
6 Disaster on the Moon- The reconstructed story of the first moon expedition in a past age, using a lot of models, a fine parable of modern life. Then reality- a meteorite strikes. MR1 destroyed. On MR2 there is only room on the trip back to Earth for "one adult and one child"
7 Rescue in Space- a curious 17 minute finale. Henderson and Valerie are the chosen ones to fly home, leaving the others on the moon, to die. But that 400 million year old rocket (!) is utilised by the others, " a chance in a million." When it, not surprisingly, suffers metal fatigue, there follows the "first space rescue"

.

.

.

.

.

The Imposter

Emergency on take off! Professor Norman Wedgwood is safe, though his arm is broken, what went wrong? The expedition must go forward, and Henderson is the only possible replacement. Yes he'll take along Prof Mary Meadows plus Prof Hawkins as well as Geoffrey as radar operator.
But as he is looking after his niece, Margaret (Hester Cameron), she'll have to come along also! She's strong willed and won't be put off by Geoffrey's attempts to frighten her about space travel, "I won't be a passenger."
Nobody has met the other crew memebr, Prof Hawkins (Bernard Horsfall), who is flying in from Australia. At the airport, he is diverted and an imposter (George Coulouris) takes his place.
Blast off is 23.30. The crew enter the rocket, Henderson checks controls. Back at base, Wedgwood supervises operations. At the very last moment Hawkins jumps on board, oddly not seeming to know procedures. So the (toy) rocket is launched. Cheers all round. That mouse, Hamlet, a seasoned traveller to the moon, is OK, so everything must be all right

To part 2 OR Pathfinders start

.

.

.

.

.

Sabotage in Space
"Sweet" Hamlet the mouse is OK after take off, so everything must be OK. Or is it? Prof Hawkins is secretly radioing "Sector 10," and though Base on Buchan Island intercepts his message, fail to understand its significance.
Hawkins reveals something of his intentions to Geoffrey as they talk about the natural phenomenon of Space Chatter. "Suppose some of it," he suggests," was a jumble of intelligent symbols," proof of extra terrestrial life forms? In fact Hawkins is convinced there is life on Mars itself.
"They're four degrees off course," base warns. "That's impossible," Henderson nevertheless corrects course. so what caused the deviation?
Base learn that Hawkins is an imposter when the real professor turns up. Who is the man on the rocket? A warning is sent but the rocket's radio is sabotaged, and will take ages to rebuild. The man is Harcourt Brown, the writer of a fanatical book People from Other Planets.
Geoffrey finally repairs the radio enough to send out, though not receive, messages. Only Mary and Margaret at this point even suspect there's something fishy about their professor.
Now it's time to go into the moon's orbit. Fuel containers already there are collected, "we made it." The group explore while Harcourt Brown takes over the rocket, only Margaret is left behind, now she is a hostage. "I'm giving the orders now," snarls Harcourt Brown, as he sets course for Mars!

To part 3, The Hostage OR Pathfinders start

.

.

.

.

.

.

.

.

.

The Hostage
"I'm giving the orders now," snarls Harcourt Brown, and he's set course for Mars! His hostage Margaret gives a spirited defence, but everyone is in HB's power now.
56 million miles to Mars. 6 weeks 2 days 35 minutes. HB is being guided there, not by any control from Earth, but, he claims, by his friends on Mars. "We've got to stop him," cries Geoff, helplessly.
Henderson does attempt to regain control. A blueprint of the rocket gives him the idea. Kill the refridgeration plant and make HB's capsule unbearably hot. Margaret must put on a space helmet to protect her. To do all this, Henderson will have to climb outside the spacecraft. Geoffrey distracts HB as he listens to space chatter, apparently his messages from Mars, and the rescue is quite exciting, only the obvious model of the rocket is far too low tech for 21st century viewers. A nice touch is when Henderson loses his spanner, it drifts off into space, presumably pulled by a hidden string! But HB thwarts the plan and Henderson himself all but drifts away into space, "I nearly floated off into eternity."
Co-operate, HB warns them all, for it's going to be a "very long journey."
That's true, and gradually food has to be rationed, even for Hamlet the mouse. Water is so short, Margaret faints. "There'll be water on Mars," HB promises her and quite generously releases her to the others, after obtaining their word not to stop the journey to Mars.
"That's Mars!" The rocket enters the Martian clouds, "we're going straight down!"
A simple story, but well acted, of an exciting adventure, improbable yes that children could ever make such a pioneering trip, but cosy, homely, the sort of excitement every true child dreams of

To part 4 OR Pathfinders start

.

.

.

.

.

.

.

.

.

Lichens!
Almost a crash, but safe landing on Mars, all without assistance from Harcourt-Brown's Martians. "I've dreamt of this moment all my life," thus an ecstatic Brown. When the dust has settled, it is the children who take the first steps on the planet. First task: find water.
After Henderson gives Mary a little kiss, exploration commences. No sign of any Martians to greet Brown! Margaret and Geoff remain behind, in charge of the spaceship. Hamlet is granted the freedom of the craft. Margaret spots specks on the radar, it's a huge cloud of dust. Coming towards Henderson. Geoff radios a warning. Is it Martians? Of course not, though the children almost believe so for a short while.
The nearest water is likely to be on the ice cap, maybe five hours walk. Brown goes missing, taking the radio with him, it's getting colder now as the two approach the ice cap.
The children receive a radio message from Earth. Take off in seven hours time or it will be too late to return to Earth for many many months. Brown has somehow got back to the spaceship, "I'll look after you from now," he tells the children. He assumes that Henderson and Mary have got lost and perished. Brown is still determined to contact his Martian friends and wants to take the children with him, but Margaret objects, "I don't trust Mr Brown." Geoff however can see little choice and persuades her to accompany them on the quest for Martians. But Brown soon finds out it's a frost. But there is some life on Mars.
For Henderson has now collected water, when a cloud develops, and rain falls. Suddenly and very quickly lichens sprout from the ground, "they're taking root everywhere." The two explorers get entangled in the foliage.

To part 5 OR Pathfinders start

.

.

.

.

.

.

.

.

.

5 Zero Hour on the Red Planet
Mary is trapped by the superfast growing lichens, however the scene appears more comic than it's supposed to be, as Henderson also struggles to shake the 'plants' off themselves, the lichens looking more like plastic balloons! What they cannot do however, a sudden wind does, it blows away the plants and they are free, "that was a lucky escape."
Brown has worked out his search for the Martian civilisation is doomed. He also admits to Geoff and Maragret that Henderson and Mary are not dead, he'd just left them, so the children start an immediate search for them. They trek along the edge of a dangerous ravine, little oxygen left, "we're not beaten yet." Margaret first spots them, "Dr Livingstone I presume." Only one snag, a ten foot crevasse between them. A difficult delicate balancing along a narrow improvised bridge, Mary makes it, Henderson slips but is pulled to safety, too long a scene, now all are safe together.
Not easy to find their route back to base, though Mary does find time to collect a few rock samples on the way.
Brown is pondering the fate that will await him if they get back to Earth. Twelve minutes before they must take off, and the rocket is sighted. But Mary slips off a ledge and into soft dust, like quicksand. Geoff starts to dash ahead to the rocket to fetch a rope, but no need, Henderson pulls her out. Valuable time wasted, only seven minutes to absolute zero. Brown in the rocket asks himself, "why should I wait for them?" As the party closes on the rocket, Brown pulls up the ladder ready to take off. 1 minute left. But what is that Thing inside the craft?

To the final episode .... Pathfinders start

.

.

.

.

.

.

.

.

.

6 Falling Into the Sun
"You can't leave us behind on Mars," cries Henderson to Harcourt Brown. And he doesn't for the lichens inside the rocket are thick enough to prevent take off. On Henderson's instructions, Brown switches off the refrigeration system, to destroy the suffocating plants. Thus our spacemen are still able to get inside the spaceship, trampling all over those pvc plants, to find Brown unconscious. Only one casulaty, "poor Hamlet," though he is later found safe and sound. And those dead lichens provide Mary with a great wheeze, she extracts water from them, enough for the journey home.
Buchan Island HQ back on earth pick up a message that Mars has been left behind. But the terrible news is that Zero Hour has been missed, the craft can never catch up with the Earth's orbit, "that's just about it then."
Brown has a fantastic solution to their dilemma, increase the rocket's relative speed by using the sun's gravitational pull. Fire at the sun, then deflect away to Earth, a kind of short cut. What a madcap idea, specially as the sun's gamma rays are fierce and blinding. Soon Brown is suffering what seems to be radiation sickness, Henderson is unconscious, and Geoff has lost his sight. But only temporarily, he and Margaret deflect the rocket away from the sun but the heat is overwhelming and surely they must all perish. It's exciting though their salvation you feel they ought to have predicted. Luckily Mercury causes an eclipse for them, and they fly on in the cold shadow of that planet, towards Eath, guided now from Buchan Island.
They are all safe and well. Brown makes up with Henderson with a snap piece of philosophy, "the progress of true science depends not only on the cold calculating type, but also on the adventures and dreamers."
A fantastic plot, if only the rocket had looked less like a small toy!
Safe, Brown can dream of setting his sights on Venus, "Brown, why don't you come down to Earth?"!

.

.

.

.

.

.

.

SOS From Venus
Returning from Mars, the spaceship intercepts an appeal from near Venus, "sounds like an American voice to me." Conway Henderson seeks Buchan Island's advice.
Captain Wilson's secret mission has been struck by a meteorite, causing him to be stuck in an orbit round Venus. But Henderson is advised that "Wilson hasn't got a chance," so return to Earth, don't risk your lives.
However these instructions are suddenly reversed, the reason: a Russian ship has set off from Earth towards Venus! Luckily Henderson will get there sooner.
Harcourt Brown has some wild theory that an advanced race live on the planet! Thus he is very keen to make the journey, even though they will not be landing.
The children play draughts, and speculate what might be behind the great cloud that surrounds Venus. But for sure, "only a fool would attempt to land there."
Wilson radios that his electrical field is failing, advising Henderson to "watch your own instruments."
Oh dear, a meteorite is hurtling towards them! Change course. "It's still following us." Impact will be 150,000mph! "How long have we got?"
But Henderson thinks he can break the magnetic field, and of course he succeeds. Their spaceship orbits Venus in search of Wilson. However naughty Harcourt Brown alters a taped message that Wilson relays, a trick to check out his theory about Venus. Henderson, believing Wilson has landed, prepares to make the attempt himself, "that's suicide"

.

.

.

.

Into The Poison Cloud

Harcourt Brown plays Wilson's tape that he has doctored: "...will have to land on Venus."
Mary tries to determine the composition of the cloud. Intense calculations, then the rocket zooms through the dense yellow and decelerates, preparing to land in a forest, "it's going to be rough." Though the model manages it perfectly.
Wilson sees the British rocket mysteriously landing, then runs out of fuel himself. He will have to land also.
On the planet, the British expedition starts exploration, no need for a helmet scoffs Harcourt Brown, and for once he is right, the air is fit to breathe. Mary and Henderson go exploring, leaving the children in charge of the rocket.
They argue about life on the planet, Harcourt Brown explains about Venus time. Jeff reports back to Buchan Island. Harcourt Brown finds a fish skeleton. He sees Wilson's rocket descending through the carbon cloud. We see Wilson pass out as his rocket crash lands. He is about three quarters of a mile from the British rocket.
Jeff, witnessing the landing, decides to go to Wilson's aid, "we mustn't stay away too long." They stumble across a snake before reaching the American rocket USV7. But it has "been ransacked by some creature!"

.

.

.

.

.

.

.

.

.

.

.

.

The Living Planet

"I've got a feeling someone's watching!" No comment.
"There's something in the rocket! It's smashing things up"

Jeff and Margaret run away from the ransacked rocket, thankfully they have not noticed a stray studio hand lurking within! But then, gosh, Henderson radios them and orders them to go back inside and lock themselves in until he gets there.
Harcourt Brown wanders off on his own, in search of the city he believes exists here. He stumbles on Wilson who reluctantly joins the quest as he believes there is "something all around me."
Henderson takes Jeff with him in their continued search for the crashed Wilson. However Wilson has been spun a lie by Harcourt Brown, to keep him from going back. Harcourt Brown tells Wilson the other members of his expedition are all dead. They find a human skull.
Hamlet the mouse runs away, but outside the rocket, Margaret does catch him. However a nasty looking hairy hand scares her and she dashes back inside the safety of the rocket. Scream! Mary sends an SOS as the hand tries to force its way in: "it must be a monster!"
Jeff has his own problems. He has got separated from Henderson, "Mr Henderson, where are you?"
He radios back to base, but they have their own crisis. Lights go out

.

.

.

.

The Creature
"We're surrounded!"
Mary and Margaret are trapped inside MR4, while Jeff wanders round searching for his uncle. he has lost radio contact with base, where it has suddenly become eerily quiet.
But Jeff gets back safely to them. Though "it's a bit dangerous," they set out seeking Henderson.
Harcourt Brown and Wilson are exploring a cave, full of primitive paintings, "what do they all mean?" They emerge and find a large plant that opens and closes, a flesh eater.
A storm brews. But the children find their uncle, who cannot remember what happened to him. Margaret finds a huge axe. The tracks of Harcourt Brown and Wilson are spotted. They are now climbing a sort of mountain. The former collapses, maybe on purpose, so that the wavering Wilson stays with him. Then Wilson slips down an orifice in the mountain- it's a long fall.
Oh dear, Hamlet has got stuck inside the flesh eating plant! Panic, "the leaves won't open." Henderson chops at its base with the axe Margaret has found. But it's no good. However more rain falls, the plant kindly opens up and Hamlet is thankfully rescued. They shelter in the cave, admiring the paintings. But a creature follows them in

.

.

.

.

The Venus People

The creature stuns Mary and Henderson, the children run off, deep into the cave.
Brown rescues Wilson, and they explore another cave. Jeff explores his cave and somehow gets separated from his sister. Henderson and Mary, having come round, search for the children, and find Jeff reciting the poem Father William. Thus they are reunited, and now have to search for Margaret, plus Hamlet of course.
Weird howls echo round the caves, as Brown stumbles on a huge bone and a spear. Margaret totters into this cave, and this makes Wilson realise that Brown has lied to him about everyone being killed. The three of them continue their search for the civilisation that Brown is convinced exists on the planet, while the other three meet some hairy locals, primitive but intelligent.
A bubbling volcano inside the mountain makes Wilson decide that it is time to stop their quest and return to the rocket. Creatures attack Wilson, but he is saved by Henderson. They all search for Brown who now has Margaret with him. But a rock fall has trapped Brown, no more than he deserves, and a Venus woman takes Margaret onward

.

.

.

.

The City
The Venus girl leads Margaret to safety. The others are choking with the smoke, "the lava's coming in!"
But the Venus girl saves them, and they all go to help free Brown. They reach the far side of the mountain- and there is the city! It looks like a jumble of jagged prehistoric rocky peaks. Henderson is all for returning to the safety of the rocket, but the rest persuade him to at least explore the city first.
A stream provides refreshment. Jeff and Margaret teach the Venus girl a few English words and learn her name is Kiki.
Mary has been bitten on her mouth by something. She becomes groggy, but still manages to walk towards the fantastic rock formation. Kiki seems scared of the place, and to Brown's disappointment, there is "nothing alive here."
Mary collapses. She instructs the others how to collect vegetation to make penicillin for her. Thus she recovers, though she has to be carried, by Henderson and Wilson.
Kiki shows Brown some great ostrich-size eggs. "Grub!" But perhaps not, for overhead circle some nasty looking flying reptiles

.

.

.

.

Valley of the Monsters
An interesting footnote in the credits advises that some deliberate mistakes are included as part of an experiment. Me, I always thought Hamlet was a guinea pig.

The pterodactyls swoop with what sound almost like human voices. After they have flown off, Kiki leads the group to some water. Brown wanders off as usual as the party rests. A dust storm is followed by more monsters, fighting, "how horrible." This is done too obviously on film, but they all get clear "just in time."
Mary takes a few tentative steps, and gets a kiss from Henderson. They all plod on towards the rocket, delirious through lack of water and food. Margaret is first to collapse. But Kiki shows them more water and they are revitalised.
Jeff finds some huge diamonds "worth a fortune," which Wilson, who is starting to crack up, wants to take home- can't blame him. In the water they find uranium. Talk centres on progress and how the planet might be colonised.
Finally they get within sight of MR4, but between it and them is a giant sea of boiling lava

.

.

.

.

.

.

Planet on Fire
"We'll never get back to Earth," prophesies Brown, who doesn't want to leave Venus anyway. Fire licks the screen as the actors cough their way through "a wall of flames."
Brown goes off by himself "again." Wilson goes to bring him back. "I don't want that rocket to go back to Earth," cries Brown. A savage attacks them, and Wilson is felled. Brown continues his merry way. He gets back to the empty rocket first, and radios a message that he is the only survivor, no life here on Venus, so no point in coming here again.
Henderson arrives in time to prevent Brown from utterly destroying the rocket. They'd better take off immediately, no time to wait for Wilson.
But Kiki brings Wilson at the last second. However they have to abandon ship because of fire. It's the Russian rocket- is it crash landing?
An acrid smell fills the Venusian air- someone is watching them! However it turns to be a lone Russian come to rescue them.
Brown insists on staying on the planet, and Margaret bids farewell to Kiki, "she'll be all right." Brown promises to take Kiki back to her home.
Then they depart Venus, "the end of our great adventure."

I wonder if ABC had plans for further stories like Journey to Saturn, etc etc?
Note: this episode included a number of Deliberate Mistakes, to judge children's reactions to what they are watching. A kiss between Conway and Professor Meadows also was included in this experiment. Eighty children aged 8 to 13 watched a preview at Teddington Studios

.

.

.

.

.

.

.

City Beneath the Sea (1962, ABC)
In this ABC children's serial, Gerald Flood stars again, this time as Mark Bannerman. My only gripe -the underwater scenes, whilst adding authenticity, are overlong and not entirely convincing. Unfortunately there are no fish in the sea!
The script was by John Lucarotti whose "method is to take a known scientific fact and enlarge on it." In this case it was the concept of a whole city able to live under the ocean.
1 The Pirates -An ex Nazi Uboat commander, Swendler (played with a swagger by Denis Goacher) steals a British sub. Hidden on board are mag editor Mark Bannerman and his youthful assistant Peter. They summon the Navy to the rescue
2. Escape To Aegira - "I wouldn't want to be in their shoes when Swendler finds them!" It's Swendler v. The Royal Navy! An exciting cat and mouse for viewers who risked switching on after the slowish first scene setter. First round goes to Swendler, as Bannerman is taken to an underwater city
3 Tide Of Evil - Mark and Peter are set to work in the underground laboratory where they discover many scientists who had disappeared. In an escape attempt, Mark "gums up the works", but he's ordered out into the ocean to repair his sabotage. Peter gets swept away by the current - and that of course is the End of Part Three!
4 Cellar Of Fear - Peter is rescued and the sabotaged air system repaired so work can speed ahead with Professor Westfield's worldwide transmitter, the last experiment needed for boss Professor Ziebrecken's "complete conquest of the sea." Ziebrecken (Aubrey Morris - was this his finest hour?) explains he's doing it all for altruistic reasons. But, asks Peter, "suppose he didn't tell everyone about his work?" Mark travels to 35,542ft to the underwater cellar, where he sees what Ziebrecken has stored there - warheads for a nuclear missile
5 Power To Destroy - Ziebrecken desires "a world free of tension and strife." Unfortunately he also wants "a world united, with me as its leader." "The frightening thing is," Marks tells Peter, "that Ziebrecken thinks it's quite possible." To try and attract international attention, Peter throws out an oxygen cylinder, which implodes, and damages a bathyscape. Ziebrecken sentences him to death
6 Operation Grand Design - While Swendler prepares an "accident" to befall Mark and Peter, our heroes finally alert the world by exploding a warhead - BOOM!
7 Three Hours To Doomsday - "My name is Ludwig Ziebrecken. I am speaking to you from Aegira, my city beneath the sea. I have a series of nuclear missiles directed at the capitals of the world." Will we have to submit to his demands? Aubrey Morris provides an endearing study of a paranoid dictator- "which shall I destroy first, Bannerman? London, New York or Moscow?"
For the sequel Secret Beneath the Sea . . . or . . . Children's Menu

.

.

.

.

.

Secret Beneath the Sea (1963)

1 The Mysterious Metal - Swendler escapes the authorities, and in the guise of a showman exhibits the "eighth wonder of the world" Phoenissium. After his secret are a man calling himself George Smith (Reginald Smith in a kind of Hitch imitation) and Dr Deraad, architect of Aegira. Eluding Smith's henchmen, Swendler passes his secret to Bannerman. Orders Smith: "this time I want no mistakes...."
2 Voyage Into Danger - A thief breaks into Bannerman's office, stealing the plate of Phoenissium, but neglecting to take the all-important research notes. Taking Peter and Janet, Bannerman sets sail for Aegira to look for the important Phoenissium deposits. But Sir George orders a ship to ram their sub, and though the attempt's unsuccessful Deraad locks Peter and Janet in a compartment which has now started to flood....
3 Sabotage - "Mark, there's nothing you can do." But Peter and Janet are "jolly lucky" and at Aegira Peter 'helps' dour Prof Gordon (Robert James) who is designing a spectrascope camera until it is sabotaged. Peter is accused, though it's nasty Dr Deraad who's the culprit. With Janet, Peter searches Deraad's lab to prove his guilt, but the pair are spotted....
4 The X - Layer - So Peter and Janet are hauled before Cpt Payne: "that wasn't very clever was it?" Exonerated, Janet's underwater exploration nearly ends in tragedy when it appears she has forgotten to replenish the gas supply. Mark goes underwater too, as he thinks he knows where the Phoenissium is.....
5 The Take-Over - "Bannerman's in trouble... I think he's dead!" gasps Dr Deraad. He's not, naturally, and the search is on for Mark's mysterious attacker. After another explosion, Captain Payne resigns
6 The Death Trap - "You completely fooled them!" All is revealed in this final episode. Working "twice as hard," the phoenissium is located, though we never hear any more about the evil Smith (see episode one). But at least the saboteur is captured: "if it hadn't been for you, I might have succeeded," Bannerman is told

If you're not too scared, return to the Children's Menu .

.

.

.

.

.

.

The Lion The Witch and The Wardrobe (ABC)

with, in her first tv role, Elizabeth (Liz) Crowther as Lucy.
An acclaimed production, though by today's standards this is done on the cheap, studio sets are well designed but obviously restrictive. The child actors do at least not distract from CS Lewis' fine storyline

1 What Lucy Found in Her Wardrobe (9th July 1967)

8 The Triumph of the Witch (27th August 1967)-

Hey presto, return to the Children's Menu

.

.

.

.

.

.

.

.

.

.

.

.

.

What Lucy Found in the Wardrobe

After an invitation to join the adventure, an old man (Jack Woolgar) climbs some library steps and introduces himself, "I'm the professor." He introduces the four chidlren who came to stay with him, in order of age, Peter, Susan, Edmund, and Lucy.
It is dark as they discuss exploring the large house on the morrow. Film is usefully employed to show them wandering around a huge place, eventually proceeding down a long corridor into a bare studio room. Alone, Lucy peers in a wardrobe. Through the fur coats to the spacious rear, "deeper."
"I can always go back." She finds herself by a lamp post in a wood and encounters the unusual Mr Tumnus, "are you a devil?" No he is a fawn, and she is in Narnia, "it's always winter here."
Mr Tumnus takes her to tea in his nice cave, and entertains her. She must get back, she decides, that makes him cry. He explains that he has to work for the white witch, "I'm a kidnapper." He is scared of this evil witch. Nevertheless, he promises to let Lucy go,. and through the descending flakes of snow, they make their way back to the lamp post.
"I've come back," she tells her brothers and sister, though they haven't even noticed her absence

.

.

.

.

.

.

.

The Triumph of the Witch

Edmund is tied up. The witch prepares to attack him, but "just in time," Edmund is rescued by a leopard, minotaur and unicorn.
The professor offers some narration, before we see the enraged witch, "I shall have my revenge."
Next morn, the three children are woken by Mrs Beaver, and are reunited by Aslan with the naughty Edmund, "I'm sorry I caused so much trouble."
Here comes a messenger from the witch, "asking for safe conduct." But is she acting in good faith? She approaches Aslan with her retinue. She points out the Traitor, and adds sinisterly, "traitors belong to me." It is at Edmund that she is pointing.
Privately Aslan confers with the Witch, this lasts a long period. The announcement is that the matter is settled, her claim is renounced. Not revealed is how it was fixed. Nobody dares ask that.
Aslan admits to the children, that this battle he must fight alone. But the two girls are given permission to accompany Aslan on the first step of his journey to meet the Witch. Only they must obey him. They wander round the studio, until at last he leaves them, and they watch fearfully. "A terrible sight" they behold

.

.

.

.

.

.

.

.

.

.

.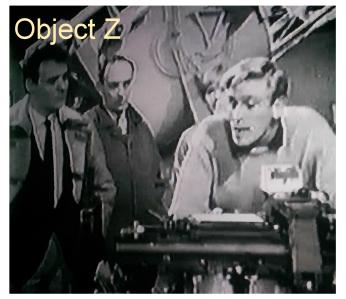 Object Z (Rediffusion)
Although a serial for children, shown Tuesdays at 5.25pm commencing 19th Oct 1965, writer Christopher McMaster, a one time director on Coronation Street, originally wrote it as an adult programme! Producer Daphne Shadwell got him to adapt it for the children's slot.
The stars were Trevor Bannister as tv commentator Peter Barry, and Celia Bannerman as his assistant Diana Winters. Other regulars were Margaret Neale as June Challis, Denys Peck as Robert Duncan, Ralph Nossek as Prof Ramsey, Brandon Brady as Brian Barclay, William Abney as Ian Murray, Julian Somers as Sir John Chandos (PM), Terence J Donovan as Capt Wade (eps 1,2 and 6).
Mr review of the first episode: 1. The Meteor
Trevor Bannister: "A nova? The only nova I'm familiar with, is a bossa nova!"
But this is a new object, not a nova, but what is it, seen in the night sky? It's several million miles away, at present, but it must be six miles across. It's approaching Earth! "I've never seen anything like it before... in fact, it's heading straight for us!" The Prime Minister looks serious. Cooperation with America (now where have you heard that before?), and a more unlikely alliance with Russia might enable a machine to be constructed to divert the meteor. News of the impending calamity is broken on U-K tv. Then the PM makes his solemn announcement in a seemingly unintentional parody on Churchill in 1939.
This is an impressive start to the serial. Well acted with the tension maintained, yet still time to portray the central characters in some detail.
Brief details of the remaining stories: Episode 2: The World in Fear, October 26th 1965: death and destruction approach the earth. Can it be averted? with Terence Woodfield, Penny Morrell, Roger Rowland, Hugh Munro, Arthur White, John Newman.
Episode 3: Flight from Danger, November 2nd 1965: the world's leaders learn the truth. With Roy Herrick.
Episode 4: The Aliens, November 9th 1965: the aliens are coming closer. What do they want? With Lindsay Campbell, Jeffrey Wickham, Robert O'Neil and Dmitri Mackaroff.
Episode 5: Too Late, November 16th 1965. With Arthur White and Bernard Kay.
Episode 6: The Solution, November 23rd 1965: everything becomes clear- or does it? With Richard Bidlake, Milton Johns, Lindsay Campbell, Jeffrey Wickham.
The sequel was: OBJECT Z RETURNS, a six part story which commenced in February 1966. The same team were behind the scenes, while the stars returned, Trevor Bannister and Margaret Neale. Other regulars also continued- Denys Peck, Ralph Nossek, Brandon Brady, Julian Somers and Arthur White (Keeler). New face was Toni Gilpin as Terry.
Episode 1: The Voice from Space, February 22nd 1966. Are the invaders real this time? Do they really exist? With William Abney (as in series 1).
Episode 2: March 1st 1966.
Episode 3: The Monsters, March 8th 1966. With Paul Armstrong and Terence Woodfield.
Episode 4: The Menace from the Depths, March 15th 1966. Something strange is going on in the oceans. What can it be? With William Abney.
Episode 5: The Big Freeze, March 22nd 1966. Barclay sets out on a hazardous quest. With William Abney, Barry Lowe, and David Saire.
Episode 6: The Eleventh Hour, March 29th 1966. The world freezes, and Robert must find an answer. With William Abney, and Barry Lowe.
Children's Menu

.

.

.

.

.

.

.

.

.

.

.

.

.

.

.

.

.

.

The Terrific Adventures of The Terrible Ten
Made starting 1960 in Melbourne, these short stories consisted of narration with the occasional bout of childish acting, a sort of amateur version of The Forest Rangers. Somehow it was very popular on Children's TV in England. Roger Mirams directed this series, on a shoestring budget: "it was like the early days of the cinema all over again." He even roped in his own family to act in the series. His wife Gwen had the unenviable task of looking after all ten child stars.
The Terrible Ten Build a Town -Old packing cases are built into a set of a frontier town by the kids, using impressive DIY skills and much cleverer than anything Barry Bucknall could do, or any of those tosed infants on Your Very Own. But jealous enemy Rex Jackson swears he will capture the town
The Enemy Attack -"This means war!" With the aid of flour bombs and the like, a jolly time is had by all, and the enemy have to retreat

The Terrible Ten Fire Brigade! -The TT obtain an old jalopy and, a la Scrapheap Challenge, convert it into a red fire engine, horse drawn to boot. "Sound the fire alarm!"
The Terrible Ten Fire Brigade in Action!- Some comedy as the girls practise their first aid before the alarm is sounded. Pop Jones' old shack is alight. Overcoming the natural reluctance of their steed to pull the old banger, the TT rattle and race to save the old timer from the licking flames. Their First Aid nearly finishes him off!

A Horse Named Joe Part One -The narration is dropped here in favour of all dialogue which is terribly badly done. Old enemy Ofoot challenges the TT to a horse race at the forthcoming fair
A Horse Named Joe Part Two -Return of some narration! A wandering wild horse proves the TT's best bet to beat Ofoot. They call it Joe after Joanna who had found it. Training begins in earnest
A Horse Named Joe Part Three -Bad news! Joe is a missing racehorse called The Emperor. Says the owner- "I can't let a little girl like you ride him," as he leads Joe away
A Horse Named Joe Part Four -"They couldn't keep you away." Joe returns and is allowed to race. Sing to him, the owner explains to Joanna and "there's nothing in this world that can catch him." So it's all pats and smiles- "the most wonderful day of my life"

The Terrible Ten At Sea - The TT work in a boat yard, and have to deal with one rude customer. He lights a fire despite being warned against it, and this starts a bush fire which spreads rapidly, raging through the forest. The TT set out in their ship The Enterprise to the rescue (part one, which would continue with Operation Sea Rescue)

Note: The Terrible Ten Help the Police can be watched on YouTube.
Children's Menu

.

.

.

.

.

.

.

.


This was the name of a newspaper run by five enterprising children, lead by Peter (Brent Oldfield).
Produced by Shaun Sutton, and directed by Barry Letts.
Shot mostly on 16mm film, it was a fun series, with typically stereotyped, but nevertheless very enjoyable caricatures of incompetent but lovable police, and bumbling criminals.
Several episodes have survived- here is the only one however, that I have seen...

The Great Treasure Hunt (Feb 10th 1969, 5.20pm)
Train Robbers Hiding In Cliffsea, are the headlines, but unfortunately it's The Recorder that has scooped this story. After the £100,000 are the police, with PC Cullis (Michael Wisher) ordered to scour the children's playground for suspicious characters! He keeps watch at the Children's Paddling Pool.
Adventure Weekly has a great wheeze- a Treasure Hunt. Five clues: send one shilling for the first clue. This is: Look for a Man in Whiskers. Actually, it's poor Mr Filling (Bartlett Mullins) who is 'volunteered' for the role, and he has to don a false beard for the part.
Charles Boyd and Eddie Wheeler, the two robbers, are lying low, planning to hire a motor boat to cross the Channel to France. But they had better go in disguise. "Is my beard on straight?"
Ah! PC Cullis spots that false beard on Mr Filling: "just come down to the station." His mistake is soon evident. But later he happily chats with the crooks, without pentrating their disguises. But a member of the public spots that beard, mistaking it for Clue No1. "Quick, run for it!"
A chase across the beach, the robbers speeding away in their boat, with the staff of Adventure Weekly in hot pursuit. Bringing up the rear, in a pathetic rowing boat is PC Cullis- "hoy, wait for me!"
It is lucky that Charles and Eddie have a dud boat. It breaks down, and PC Cullis effects his arrest, though not before he has fallen into the sea. Adventure Weekly really has got a scoop now

.

.

.

.

.

.

.

.

.

.

.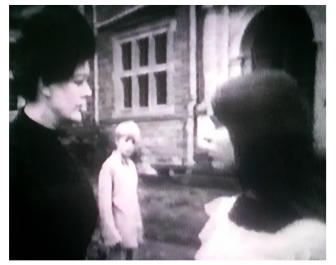 Tom's Midnight Garden (BBC, 1968)

This was a serial in the best Reithian tradition, uplifting, upright, with an educating use of background classical music, in short, not for today's generation - but of its day, wonderful! It perfectly encapsulates the old BBC, and a forgotten era. Unfortunately, the acting of the children is very short of convincing.

Episode 2 (this is the only episode I've seen)
Tom wanders the magic garden in his pyjamas. There are trees to climb, easy as he feels weightless. Abel the gardener doesn't answer his queries, in fact he doesn't even see Tom, who finds he can go through solid doors, even if it is slightly painful an experience.
Aunt Grace leaves three children in the garden to play hide and seek. They are wearing "funny clothes." Tom tries to join in, but as they can't see him, it's impossible. But then he realises that the only girl, Hatty, can see him, and hear him too.
She tells him she's a princess. She gives him an apple, but he cannot eat it. Every night after that he plays with her in the garden. But Tom hears her being warned not to climb on the wall, for it's imperative she does not hurt herself.
Tom does notice the seasons change quickly, but after three weeks, he's shocked when she tells him they have been friends for three years, now she is fifteen years old. They argue over which one of them is the ghost. But after patching it up, he instructs her how to construct a tree house. A branch snaps and she falls to the ground

.

.

.

.

.
Quizzes / Game Shows/ Panel Games etc


See also Take Your Pick- do any of these survive? See my research
Double Your Money (A-R) - with background on all thirteen seasons (1955-1968)
Opportunity Knocks (ABC)
Criss Cross Quiz (Granada)- Details of transmission dates, also for Junior Criss Cross Quiz
The Golden Shot (ATV)
BBC Series- What's My Line?, The Brains Trust, Animal Vegetable Mineral, Ask The Family, Top of the Form, This is Your Life

Pick The Winner (Sept 13th 1964, BBC2)
Here's a photo of the panel on the first of this series, which was hosted by Gay Byrne.
David Healy was the only regular panellist. Arthur Askey, Katie Boyle and Thelma Roby were others to join him later in the year, while others appearing in 1965 included Ted Ray, Lance Percival and Charlie Chester. It ran until summer 1965

PREVIOUSLY REVIEWED IN THIS SLOT:
(Dates are first transmission of the series): I've Got A Secret! (early 1956, A-R), What's It All About? (January 1956, A-R), Spot The Tune (May 1956, Granada), My Wildest Dream (May 1956, Granada), State Your Case (Nov 1956, ABC), Turnabout (June 20th 1957, A-R), How to Manage Men (July 1957, ABC), Do You Trust Your Wife? (September 1957, ATV), Twenty-One (July 3rd 1958, Granada), Can Do (ABC July 5th 1958), Dotto (September 14th 1958, ATV), Keep It In the Family (Sept 15th 1958, ATV), Snakes and Ladders (Southern, Sept 22nd 1958), How's Your Memory? (ATV, January 1959), This Is Your Chance (April 20th 1959, ATV), Full House (June 1959 A-R), Concentration (June 16th 1959, Granada), The Brighter Sex (July 3rd 1959), Twenty Questions (June 17th 1960, A-R), It's Only Money (June 30th 1960, A-R), What's It All About? (July 14th 1960, BBC), In My Opinion (July 18th 1960, Granada), Vice Versa (1961 TWW), Take a Letter (Jan 10th 1962, Granada), Don't Say a Word (A-R, June 13th 1963), Mr and Mrs (TWW 1964), Landmark (Westward 1965), Sixth Form Challenge (June 15th 1966, Granada), What Do You Say? (July 10th 1966, Southern TV), Strictly for Laughs (Aug 27th 1967, ABC).
Main Dinosaur TV Menu

.

.

.

.

.

.

.

.

.

.

.

.

.

.

Criss Cross Quiz . . . Quiz Menu
My brief review of final 1967 edition, one of the few survivors today of this show- Questions seem pretty tough! At the end sadly quizmaster Barbara Kelly can't invite the winner to return next week, as the show is ending.

Here are details I have unearthed about this long running show, and its junior counterpart...

Criss Cross Quiz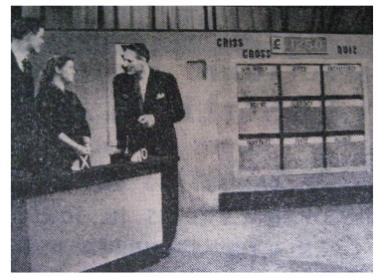 Granada's quiz, which ran to nearly 350 programmes, was first aired on Monday June 18th 1957 at 8pm. Initially it was shown each Monday, Wednesday and Friday at this time.
"This is probably the best quiz programme on television today," wrote critic Derek Hoddinott. "The object is rather ingenious. Two contestants play the old game of noughts and crosses by answering simple questions on a set number of subjects. Each correct answer is worth ten pounds and a cross or naught in the appropriate square. Generally the quiz is slick and well directed. The contestants are interesting enough in themselves, and Jeremy Hawk has exactly the right approach. He moves the programme along at a good pace and gives the impression that you haven't been watching it for anything like thirty minutes. I give this show top marks!"
Every question was worth £10, and the winner who completed a game as in Noughts and Crosses, continued to play another game. At first the show was billed as The Quiz with No Prize Limit, though when one clever contestant scooped over two grand, this rule was changed. The first to win a prize of any size was named Harvey Cole, who had won £620, at which point he decided to retire. Teacher Rodney Challis-Sowerby won £2,000 at the end of 1957. The following year, Rushworth Fogg from Glasgow beat this total winning nearly £2,300.
Actor Jeremy Hawk was the first presenter, and David Main the first director. The format continued until the Friday edition was dropped, on and from September 20th 1957. By next month, the bi-weekly quiz became limited to Mondays only at 8pm. But it remained popular and continued in its 8pm slot. Max Morgan-Witts was the new director by the end of the year, and correct answers were increased in value to £20. Another new director in the new year, saw one of the quiz's stalwarts Wilfred Fielding in charge behind the scenes. The show moved to Tuesdays at 8pm as from February 18th 1958, then to 9.30pm in that spring, before a summer break. Jeremy Hawk however did not rest, he went straight on to Junior Criss Cross Quiz.
Series 2 began at the start of 1959 on Wednesdays at 8pm. The director was again Wilfred Fielding. The 100th edition was on April 15th 1959. IThe series ran until June, at which time 21 year old Wigan schoolteacher Angela Fleming had to be 'retired' as she had won £1,200, and the maximum prize was now limited to £1,000.
There was a year's gap until the third series commenced on Tuesday June 15th 1960 at 8pm. As in a previous series, there were two shows per week, the second being screened next day at 8.25pm. After two weeks the times were changed on June 27th 1960 to Monday at 7.30pm and then Wednesday 7.30pm. Graeme McDonald directed and David Main was producer. In the autumn the series was transmitted only once a week, on Wednesdays, Eric Harrison and Wilfred Fielding now directing, and an 'On the Spot Judge' David Ensor (from The Verdict is Yours) on hand in case of dispute. This series continued in 1961, at 7pm (Coronation Street of course bagging its 7.30 time), director was now Philip Casson. In the summer it moved to Mondays at the same time, but not now fully networked. The third series came off air in October 1961, possibly as a result of the ITV dispute with Equity. Jeremy Hawk had hosted the shows in these first three series.
A fourth and final series did not make an appearance until Wednesday July 1st 1964 at 7pm, once again not fully networked. New quizmaster was Bill Grundy, and old hand Wilfred Fielding was the director. The show now ran continuously for over three years. Producer was Patricia Lagone. Top prize was again limited to £1,000. Grundy's run ended on September 2nd 1964, the following week Barbara Kelly took over, and remained hostess until the end the series folded. "I shall enjoy invading a field previously occupied mainly by men," she commented. Patricia Owtram was producer. From September 20th 1964, the show went out on Tuesdays at 7pm. Pauline Shaw, who was also producing the junior show, took over as producer for two weeks on November 10th 1964, long term director Wilfred Fielding continued in his role. Patricia Owtram returned on Nov 24th 1964, but two weeks later on December 8th, Philip Casson took over as producer. Next change behind the scenes came in the June 15th 1965 edition, when John Hamp became the new producer, and David Warwick the director. With the autumn schedules, the show moved to Thursdays at 7pm in September 1965, personnel as before. It was not fully networked, some regions not screening the quiz at all now. During 1966 the times it was shown varied from region to region, those that screened it at all, Granada now placing it in their own area in a slot on Fridays at 7pm. About a year on, in summer 1966, the first change in personnel for a long while came with Richard Guinea taking over the directing.
More changes at the start of September 1966, with Barry Davis the next director, and a new producer in Peter Mullings.
By early 1967 Don Bennetts was directing the quiz, now on Mondays at 6.30pm to those regions showing it. After Easter 1967 it had moved to Wednesdays at the same time then on Fridays at the same time for the summer. Other regions that still showed it treated the long running quiz with some disdain, Rediffusion screening it after 11pm! No wonder prizes had now dropped back to the original £10 per correct answer. John Hamp who had worked on the show two years previously was now the producer for the final programmes, the last being on September 22nd 1967, this show being one of only four surviving in Granada's archive.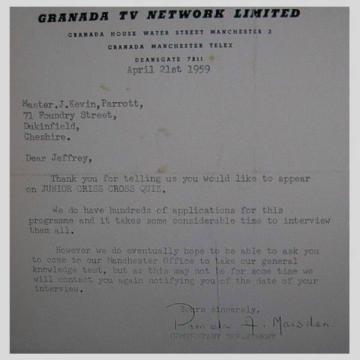 Junior Criss Cross Quiz
For children aged 12 to 15. Jeremy Hawk moved from the adult version to start this children's series off, late in 1957 on Wednesdays at 5pm. Unlike the senior version, contestants did not compete for cash, but points. 50 points could win you a pair of skates, 100 a tool kit, 150 a record player, 200 a cine camera, and 250 a portable typewriter. Wow! The biggest prizewinner in the first year of shows was Rosalind Hilson, daughter of a doctor from Ashton, near Manchester who won 850 points, and two prizes, a radiogram and a bicycle. Fourteen year old Alan Hindle of Prestwich beat this tally in 1959 with 1,650 points. Then at the end of February 1960, thirteen year old Jeremy Purser of Wilmslow smashed this record.
The early participants were 'organised' by Reg Marsh whose task was rather difficult. He explained, "we have to restrict contestants to those living in a ten mile radius of the studios; it is important they should not miss school." I am not sure children over most of the country would have agreed! However during 1958 it was stated, "via a two-way link, contestants in Glasgow, Cardiff, Birmingham or London match themselves against the young competitors in a Manchester studio."
First Criss Cross Quiz director, David Main, was in charge behind the scenes. Tom Spaulding and Mike Wooller, as well as Wilf Fielding from the senior version, were also directors.
During the summer of 1958, now at 5.15pm, Jeremy was taking a rest, and the quiz was hosted by Elaine Grand, and directed by Claud Whatham, starting on July 9th 1958 (after a two week break when Wimbledon tennis had been shown). Then in September 1958 Chris Howland took over the quiz, now on Wednesdays at 5pm, directed variously by Mike Wooler, Wilfred Fielding and Claud Whatham. In August 1959, Bill Grundy took over the role of question master, with Eric Harrison and later Eric Price directing. Bill's last show was on March 2nd 1960 at 5pm, after which time Elaine Grand returned, with Peter Mullings directing, until on Wednesday May 4th Jeremy Hawk returned to host the series. Before long, he was joined by his old partner, producer David Main, though Graeme McDonald was now directing the actual quiz. However after a run of a year and a half, this first long series finished, partly because Jeremy was to start the senior version again. The final programme was on June 8th 1960.
A second series began in May 1961, Jeremy Hawk kicking it off, though Gordon Luck, who had hosted It's Wizard in the same slot soon took over- the time was Thursdays at 5pm, the most regular slot Junior Criss Cross Quiz enjoyed. Philip Casson, who was concurrently directing the 'senior' version, was in charge behind the scenes. Eric Harrison was a later director, with Pamela Brown the producer. Claud Whatham and David Warwick also directed some editions during 1962. The run came to the end in July 1962.
Series 3 was actually billed as "Criss Cross Quiz" and began on Thursday February 14th 1963 in that familiar 5pm slot. The new quizmaster was Australian Mark Kelly, Pamela Brown continued as producer, with Wilfred Fielding now the director. Despite this name change it was for children only, aged 12 and above. One champion in May 1963 was twelve year old Michael Moss of Kenton. Robert Holness, who was also hosting Take a Letter, took over during September 1963, with Pamela Brown still producing and Wilfred Fielding still directing.
The name reverted to "Junior Criss Cross Quiz" in early June 1964, because the grown up version returned to the screen at the end of that month. Pauline Shaw took over the producer's job on September 24th 1964. A special edition on Christmas Eve 1964, though called Junior Criss Cross Quiz still, was a special "grown-ups" edition. Mike Sarne asked the questions, and five sports stars competed for presents to be donated to children's hospitals. Answering questions were Ian Ure, Trevor Bailey, Derek Ibbotson, Madeleine Ibbotson, and Linda Ludgrove. Sarne continued hosting the show in 1965, which moved to Fridays at 5pm from March 5th that year. March 26th 1965 marked the debut of new quizmaster Danny Blanchflower. On Friday June 18th 1965, John Hamp became the new producer, and David Warwick the director, both also at this time had started on the senior version. Leslie Chatfield became the new director from December 23rd 1965, the date having been switched to Thursdays at 5pm (the same day as the adult version) as from December 9th. Another change of directors came on June 2nd 1966, when Richard Guinea took over. As was now traditional, he also was directing the senior Criss Cross Quiz at the same time. Danny Blanchflower left in July 1966 (to watch the World Cup?!), and Peter Wheeler was the new host for the remainder of the programmes. From September 1st, again mirroring the senior version, a new producer started work- Peter Mullings. The director was now Barry Davis, though by November 1966, David Warwick had returned for a while to the role.
But by early 1967 Don Bennetts was directing. The final throes of the series saw John Hamp return as producer on May 25th 1967, with new director Eric Prytherch. Peter Wheeler was still asking the questions up to the final ever edition on Thursday June 29th 1967. This final series had run continuously for over four years. Today, despite Granada's laudable archival policy, only three of around 460 shows seem to remain in their archive. If you were lucky enough to appear, do let me know your memories!

.

.

.

.

.

.


A great panel game devised by Americans Mark Goodson and Bill Todman. The first BBC series began on July 16th 1951. 275 programmes were transmitted, before the Ninth series started on August 30th 1959. Reviewing the start of this 1959 season, St John Roberts wrote, "only two original members remain, Isobel Barnett and Gilbert Harding." Mind you, these were the pair we most remember today! "Lady Barnett still plays the game as if her life depended on getting the correct answer, while the old fire and quips seem to have diminished from Harding's repertoire." In describing the first of the new series, he commented that it "still remains the most successful of quiz games and with Dawn Addams as guest celebrity (spelt incorrectly on the superimposed caption) the programme is worth watching. Whether its popularity will last throughout the winter remains to be seen. Familiarity breeds contempt!"
In fact, the programme ran until May 13th 1963, though it was also revived much later on BBC2 and ITV.
Details of Sat Oct 5th 1957: 1st on is a page boy, whom Isobel Barnett guesses. Barbara Kelly almost guesses a diamond setter. An Indigestion Tablet packer is not found out. The guest is Denis Compton, whom Gilbert Harding calls Stanley Matthews but later identifies correctly. A quickie from the audience is a chippy, impossible to guess in one minute
A few sample panels, Eamonn Andrews of course was usually in the chair.
March 17th 1952 with Gilbert Harding, Marghanita Laski, Jerry Desmonde, Elizabeth Allan (also on March 24th 1952)
February 8th 1953 with Gilbert Harding, Barbara Kelly, Jerry Desmonde, Ghislaine Alexander
March 8th 1953 with Gilbert Harding, Barbara Kelly, Ghislaine Alexander
March 29th 1953 with Gilbert Harding, Elizabeth Allan, Jerry Desmonde, Ghislaine Alexander
January 2nd 1955 with Isobel Barnett, Barbara Kelly, David Nixon, and "a guest"
February 27th 1955 (7.45-8.25pm) with Isobel Barnett, Barbara Kelly, David Nixon and Douglas Duff
February 13th 1956 with Gilbert Harding, Isobel Barnett, Ben Lyon, Zoe Gail
June 25th 1956 with Gilbert Harding in the chair, Isobel Barnett, Barbara Kelly, Bob Monkhouse, Alan Melville. (exactly same on July 16th 1956)
March 31st 1957 with Isobel Barnett, Barbara Kelly, Bob Monkhouse, Eric Robinson.
April 5th 1957 (last of series) with Isobel Barnett, David Nixon, Bob Monkhouse, Eric Robinson. The mystery panellist was Victor Borge.
October 26th 1958 with Gilbert Harding, Isobel Barnett, Sara Leighton, Farmer Moult
November 9th 1958 with Gilbert Harding, Isobel Barnett, Brian Reece, Adrienne Corri
November 23rd 1958 with Gilbert Harding, Isobel Barnett, Adrienne Corri, Bob Monkhouse
March 22nd 1959 with Gilbert Harding, Isobel Barnett, Louise Collins, Cyril Fletcher. (same on November 15th 1959)
January 17th 1960 with Gilbert Harding, Isobel Barnett, Cyril Fletcher, Polly Elwes.
April 30th 1961 with Isobel Barnett, Barbara Kelly, Cyril Fletcher and "a guest panellist"
November 26th 1961 with Isobel Barnett, Barbara Kelly, David Nixon, Maurice Edelman MP
January 14th 1962 with Isobel Barnett, Barbara Kelly, David Nixon, Alan Melville (same on March 4th 1962)
March 4th 1963 with Isobel Barnett, Barbara Kelly, David Nixon, Gerald Nabarro MP
May 13th 1963 (last ever in this run) with Isobel Barnett, Barbara Kelly, David Nixon and Jimmy Edwards

.

.

.

.

.

.

Opportunity Knocks (ABC)
with Hughie Greene. That suspicious Clapometer is the dodgiest part!
A superb account of a 1965 edition: "an astonishingly old fashioned sockeroo opening. A huge stage, an orchestra with conductor standing with raised baton, a voice from somewhere shouting the title of the show with what seems like awe, admiration and a fitting sense of glory to come. The drums roll and the music starts and Hughie Green appears like Nero at the games. Can Saturday viewing ask for more? Well, as a matter of fact, it can. Better discoveries of course. Most of his stars of tomorrow are simply copies of artists already on stage and tv."

Edition date unknows:
Those seeking your Vote were: The Headliners (teenage pop group), Anthony Graham (hip crooner at piano), Duggie Clark (comedian, Frankie Howerd style), Lisa Gordon (singer), Caribbean All Steel Band, James Gilhooley (opera singer), The Flying Paulos (trapeze artists).

All Winners Final (July 1968)
introduced by Bob Sharples. Then on comes Hughie Green, firstly with news of Brenda Marsh and Allun Davis' Eurovision failure. Last week's winners were The Graysons who sing May We Delilah, an old fashioned number on the lines of The King Brothers.
Second on is 12 year old Ieuan Thomas with a monologue. He tells Hughie off for calling him 'Ian' and informs him "I've been on Harlech Television."
Next is lively singer and banjoist Wendy King, followed by "a wicked bunch," The Birkenhead Operatic Society. Some banter with Hughie includes "why don't you kiss the leading lady?" He does.
Dave Swan is "the rubber faced joker," a sample is his Nose Smoking opener. Duke's Noblemen are "the dreamiest," singing City Windows, dressed in their gimmick, royal capes, though the song is pretty run of the mill.
Lynne Walton with two partners perform a ballet. Then it is time for the "longest running winner" and also the show's biggest find, Mary Hopkin. Hughie sits aside her as she tells him that her new guitar had been given her by George Harrison. She is The Beatles' "favourite." Hughie wishes her "all the success."
After all the acts have returned on stage, Hughie explains next week's show will be different, the last show made by ABC. But Thames will take over the show in August
Quiz Menu

.

.

.

.

.

.

.

.

.

.

.

.

.

Double Your Money
My review of the first ever show in Monday September 26th 1955 at 8pm:
Hostess Verne O'Hara introduces three children answering queestions, they are followed by Hughie Green, complete with school cap.
For this very first programme, he explains the rules like any modern day quizmaster does every single week.
At last, here is the first contestant, Alan Harding from New Southgate, a clerk whose subject is Geography. The £4 question on the Azores seems more like a £32,000 one on Who Wants To Be A Millionaire! The £16 question is a black and white photo which Hughie shakily shows Harding. It is correctly identified as Rio. To win his £32 he has to name the provinces of Canada. All ten of them. He does. Surely he has earned his place on the Treasure Trail! To get on this, he has to answer the tough preliminary question on the location of three rivers.
Miss Polly Matthews is second on. She is from Notting Hill and chooses as her subject Animals. However, despite whispers from the audience which Hughie has to suppress, she is unable to correctly name Churchill's poodle.
Mr and Mrs John Wallen, married 55 years, are from Ballspond Road. They are naturals, and Hughie gets a lot from them. You almost wonder if they're genuine. Their subject is music hall and need coaching to get the £1 question right. Finally they fail on the £8 question, and are kindly given £6 by Hughie.
Mr and Mrs Taylor, married 5 months, are asked questions on the RAF. or rather he answers, she merely giggles. What is a Roundel, is their £4 question. Despite a hint, they cannot get it right.
The Treasure Trail starts at £64. Alan Harding returns with 30 secs each to identify firstly the largest tea exporter, then the largest rubber producer. As he gets both wrong, he leaves with his £32. I reckon that cost the tv firm £38, plus a few extras, like Hughie's fee
Background to this series: Hughie Greene hosted this good old fashioned quiz where the jackpot was - do I hear you swoon?- a thousand pounds- for £32 you almost sell your soul to Hughie. But Hughie links it well, like a real old pro.
This was the junior relation to Michael Miles' Take Your Pick. Both series had started on Radio Luxembourg, but as host Hughie Green was often reminded, his show started second.
First question on your chosen subject was worth £1, and each correct answer doubled up the prize, before eventually, for the £64 question, you were put on 'The Treasure Trail,' actually a soundproof box where you could win £128, £256, £500 or even reach the jackpot of £1,000. Originally there were 58 categories from which you selected your specialist subject, everything from Anatomy to Astonomy, Classical Music to Stamp Collecting.
This first series ran each Monday, later moving to Wednesdays at 7.30pm and running until June 1956.
I include an interesting photo from a show from October 1955. On the right Hughie is centre stage, of course, but his assistant seated, holding up the £16 placard became one of tv's best loved faces... Fenella Fielding. The first successful contestant to win £512 was a 24 year old law student with a red beard and the improbable name of Plantagenet Fry. His subject was History. Near the end of this first series another contestant won £500, Barbara Shorter, answering questions on films.
Like some other A-R series, it was commissioned and made by 'Arlington Television and Radio.' For the summer season, Hughie hosted Opportunity Knocks.
Series 2 commenced in September 1956, again shown on Wednesdays at 7.30. A-R's studio designer John Clements was responsible for the set, and Audrey Starrett directed. Amongst the hostesses were Verne O'Hara, Sheena Marshe, Shirley Deane (from Jan 1957), Stella Rogers (from Nov 1957), Cherie Danton (series 2), Deirdre Williams (series 2), Lalita Rudra and Maya Guha (first appearances: March 6th 1957), and Pat Goddard. There were many other hostesses during the 1950's, but TV Times did not often list any names, and I am only including those whose names I have definitely been able to verify myself. In October 1956, fourteen year old Bernard Owen won £512 for naming all the winning Cup Final teams since the war. One of the first winners to reach the £1,000 jackpot in Feb 1957 was Lynda Sympson. A winner of £512 were Donald and Sylvia Matthews who won that amount on questions about ballet. (They decided not to risk the thousand pound question.) Another couple went on to win £1,024 on opera, Charles Covey and his wife Rosemary. Robin Burke, a girl from Pakistan also won that anount answering questions on English literature. Near the end of January 1957 Hughie went on the road, recording programmes in Leeds, Sheffield and Hull. This series ended on June 12th 1957.
Series 3 began on Thursday September 19th 1957, now in the peak 8pm slot. Hostesses included Trisha Ball and Ann Anderson. The October 31st 1957 show introduced two new faces, Rosalie Ashley and Linda Gray (daughter of Leslie Grade). Later the hostesses were Patricia Fenn and Hazel Sutton. New director was Ronald Marriott, though Eric Croall took over after a few weeks. Robin Richmond played the organ. The 100th edition was celebrated on April 10th 1958. After the usual summer break, the programme returned for
Series 4 on Thursday September 18th 1958, now at 8.30pm. During 1959 starting times moved around, first 7pm then 8pm. Robin Richmond returned on the organ, hostesses were Jean Clarke and Suzanne Lee. Amanda Barrie joined as a hostess in Spring 1959. Eric Croall was now producer, director being Bill Turner. A special edition on Christmas Day 1958 had all contestants as children. After the summer break, Hughie returned with
Series 5 commencing on Monday September 14th 1959 at 7.30pm. For a few weeks it was sceened at 8.35pm, before settling in to a 7.30pm slot. The personnel were the same, but a new hostess joined Jean Clarke in early 1960, Janine Gray. Another 1960 hostess was Wendy Smith. Though not advertised in TV Times, Diana Dors and husband Dickie Davies came on the show that May and won the jackpot of £1,000, donated to the Variety Club. Another £1,000 winner in this series was Anthony Kerr in November 1959, his subject was History. The final programme of series 5 was on Monday June 20th 1960.
Series 6 returned on September 15th 1960, with the same personnel, including Mrs Alice Earey aged 77 as chief hostess, who had appeared as a contestant winning £4 back in February, then on two shows the previous June as hostess. With her was showgirl Joanna Davies. 22 year old Barbara Whatley was the hostess when the series reached the 200th edition on Thursday December 1st at 7.30pm. To mark the occasion, new contestants were all teenagers interested in become scientists. This series ended on June 8th 1961.
Series 7 was in the same time slot, with the same personnel, except Nancy Roberts was now hostess, starting on Thursday September 14th 1961. However at the start of 1962, in the midst of a prolonged Equity strike, it moved to Fridays at 7pm, swapping places with rival Take Your Pick. But by the following month it had returned to Thursdays, now at 8pm. One show shown in January was recorded at TWW's Cardiff studios (tape made 8th Jan 1962). To mark the 250th edition, 250 balloons were launched from various ITV stations round the country. The final show on June 7th 1962 showed clips from the funniest moments of the series. Nancy Roberts played the bagpipes.
Hughie returned on Thursday September 13th 1962 at 7pm for the eighth series. A special TV Times cover showed him and Michael Miles. Nancy Roberts (custodian of the questions) was joined by Julie de Marco (in charge of the money) who had been with the show for about a year, with Robin Richmond on the organ as usual, and Eric Croall still the director, though Don Gale took over early in 1963. Two specials in April 1963 were recorded in Germany, at the RAF Gastow Camp near Berlin. For these two shows, Jean Clark returned, deputising for Nancy Roberts. The final show was on June 6th 1963.
Series 9 began on 12th September 1963, this was programme number 306, with the same hostesses in the now familiar Thursday 7pm slot. However Jackie Brown was the new organist, while Julie de Marco was now billed as "the singing hostess with the notes - top C and £sd." Film actress Linda Christian temporarily replaced Nancy Roberts on October 17th and 24th, Then from 31st October, 23 year old Barbara Roscoe became the new "figure with the questions." In February 1964, Double Your Money's best remembered face, ex-contestant (she won a mere £8) Monica Rose became the "mod-est" new hostess "with the answers." She enjoyed a cheeky rapport with Hughie. Barbara Roscoe soon replaced Julie de Marco as the second hostess. In common with Take Your Pick, some special programmes began to vary the studio based format. In March 1964 there was a series of Commonwealth Editions, with specially selected teenagers answering questions on different Commonwealth countries. The angle was- the £64 was asked in India, the £125 question in New Zealand, the £250 in Australia, the £500 in Antigua, with the final £1,000 question in Canada. On April 30th 1964, that £1,000 question was posed by the Niagara Falls. Following on from this success, Canadian contestants appeared in the show, and even better for Hughie, a version of the series was sold to Canadian TV. At the end of this run, the hostesses included Julie de Marco back "with the songs," as well as Monica Rose, "the thorn in Hughie's side." Newcomers included, doing the original hostess' roles, Eleanor Calbes, in charge of the money, and Terry Coubay, with the questions. After the traditional summer break,
TV Times marked the returned of the series with another front cover, shared with Michael Miles. The first show of series 10 was on Thursday September 17th 1964, now at 7.30pm with Don Gale again directing. Julie de Marco and Monica Rose continued, as did Jackie Brown at the organ. By that November, the show was back at its most familiar 7pm time, and Helena Donaher became a new keeper of the money. An American holiday contest was a special prize at the end of this year. This series finished its run on June 10th 1965.
Tuesday September 14th 1965 at 7pm marked the start of series 11. Monica Rose now "rises to every occasion," whilst "her friend" looks after the money. Jackie Brown also returned, and the show was again produced by Don Gale. Musical requests were sung by Allun Davies, to prove this was not merely a quiz. Specials included a commemoration of the 25th Anniversary of the Battle of Britain on September 28th, and a "Sentimental Journey" ran throughout November finishing on December 7th, visiting places viewers had requested. Guests helping Hughie choose the successful winners were Gerald Flood, Diana Dors, Noel Trevarthen, and Rupert Davies. Other hostesses included Alexandra Stephenson, looking after the money, replaced in early 1966 by Lesley Langley. About this time Barry Langford started directing the show. Anita West was a hostess in February, at which time the show was offering science students a Travel Research Scholarship worth £500, the prize finally being awarded on the April 12th show. Peter Croft directed shows at this period, but old hand Don Gale returned once the Travel Scholarship had been decided. Monica Rose even made the cover of TV Times in the May 21st edition, before the final show on June 7th, which had her and Hughie on a trip down the Clyde, stopping off to rope in locals as contestants.
The penultimate series, series 12, began on Tuesday September 27th 1966 at 7pm with Monica Rose, Anita West and Jackie Brown again, Peter Croft now directing. Bill Costello was the programme editor. The first programme promised that six contestants would win the chance to take part in the programme to be recorded in Moscow. Two shows were made in The House of Friendship in Moscow, and shown on November 8th and 15th 1966. Hughie and Monica made the long trip, Bill Hall was at the piano, and Natasha Vasylyeva was an additional hostess. Russian contestants participated (presumably ones who could speak English) in this "first ever Western quiz game in the Soviet Union." TV Times marked the occasion with a photo of Hughie with Moscow in the background. After such high jinks, it was back to the London studio, Audrey Graham now joining Hughie Green who was still "annoyed by" Monica Rose. More excitement however in early 1967, with the "Hostess with the Mostest" competition. The finals were included in the March 14th programme, recorded at the Top Rank Suite in Croydon. After a telephone vote, Karen Cornish joined the programme, and Mary Bygraves replaced the irreplaceable Monica Rose. Mary was, like Monica, an ex-contestant. She had won £250, but she was a little different, she was 76 years young. With Hughie now heavily involved with Opportunity Knocks, this series, like the last, was slightly curtailed compared with previous years.
In fact, the final series 13 did not start until January 1968. Hughie had known for a year that the series, with Take Your Pick was doomed, because the ITA had stated that the new franchises that were to start from later in 1968 must not include these quizzes! Monica Rose returned as hostess, alongside Judy Monks. Audrey Graham returned during February. Suzanne Dobson was at the organ. Don Gale was producer. The programmes were shown on Mondays at 7pm, though some regions screened the programmes on Wednesdays at 7pm. No exotic locations this winter or spring, but the series nearly ended on a high, with the chance to win a trip to Australia, the lucky contestant drawn from 'the travel drum.' Sadly the winner failed to answer his questions correctly! The very last programme was shown in London on Monday July 22nd 1968 at 7pm, made in Adelaide, Australia. Hughie had two Aussie hostesses, but the producer was old hand Don Gale. Double Your Money had run to over 450 programmes, Hughie Green hosting every one of them.
Double Your Money and try to get rich,
Double Your Money without any hitch,
Double Your Money, it's your lucky day,
Double your Money and take it away.
Quiz Menu . . Main TV Menu

.

.

.

.

.

.

The Golden Shot (ATV)
* 1967 show with Jackie Rae, the first host of ATV's live show. Guest Tom Jones.

* Show compered by Bob Monkhouse. Guest Clive Dunn.

.

.

.

.

.

.

.

.

.

The Brains Trust (April 20th 1958, 4.15pm)
Michael Flanders introduces Yehudi Menuhin, Alan Bulloch, Dr J Bronowski and Malcolm Sargent.
First question: what is good and bad music? MS starts off, JB puts a spoke in, asking for Good to be defined. Who is competent to decide? he queries. MS responds: "a good work will live, bad will die." YM attempts to describe the progression of a good piece. AB suggests a good piece offers diversity of interpretation.
What is the difference between brain and mind? JB offers a slow considered response, we get "beyond the ground anybody knows about." AB brings in Soul, "out of fashion." MS suggests it is "beyond the mind." JB stirs it up again.
Music again, "I don't like the question," complains YH, which relates to interpretation of a composer's intentions. MS claims that composers rarely offer the best tempo. "It depends on the way that particular man puts it over." MF summarises: "we don't think the composer knows best."
Suppose Hitler had not been born? "An improper question," answers AB, "unanswerable." MS says "it would have been someone else" who dominated Germany. AB speaks of his youth in that country, it would have needed " a genius" to stop Hitler.
The panel are asked for an early memory. AB says his memory of the Battle of Jutland was faulty, since he would have been under one year of age. JB reckons his memory when under 4 of being trampled by a horse is also a false memory.
Do you prefer music with an audience? AB likes being alone so as not to be distracted. JB likes to see the performer. MS isn't affected by an audience, since he cannot see it. YM agrees even though he can.
This series was much less profound than I had believed it to be. It is little more than the modern tendency to sound bytes, admittedly extended, but rarely thrashing out a single issue

.

.

.

.

.

.

.

.

.

Ask The Family
"Sounds like a bedtime drink," declared Mr BBC Robert Robinson the host, in one programme. With his dry wit, he is very much the Victoria Coren of his day. He presided over the quiz with his own brand of avuncular headmasterfulness.
It was first aired on June 12th 1967, and ran until 1984. It was revived twice for short runs.

Series 7 final (Jan 7th 1975) Stock v Cooper
Questions include words and number puzzles, geography and history, and music- classical naturally. Indeed the only pop music is a very dated Andy Williams song that is played loudly. Questions are pretty tough, a minor Brain of Britain you might call it, even today's Eggheads might struggle with no politics or sport questions in this edition.
The order of the day are subjects like the specialist Shakespeare's plays round, highbrow stuff of that ilk. Robinson shows his disdain when one tv question on Alias Smith and Jones- a Western series- is prefaced by his comment, "I'm given to understand..."
At the end, the top team is awarded "a little present" for winning the series. It is "furniture," the precise value of which is not revealed. However Robinson gives the game away when he gives the runners up a consolation "prize," which is a portable colour television. Not that we see it

Series 13 final (Aug 10th 1981) Almond v Griffiths.
The former from near Reading, the latter from Llandudno. The competition as Uncle Robert says, to find "the cleverest family."
It starts with homonyms, then a variety of specialist questions. Several music, classical of course, though we do descend to listening to Muffin the Mule and pondering his final tv appearance (it was 1957). 279 of varying colours is a question about London underground stations. A harder round was on identifying synopses of novels. Renoir's Boating Party is used to provide a Memory Test, as Uncle Robert admits, "a bit daft, but there you are." The final question is on a snail. A slight chuckle when one of the alternatives for it was to stick it in a stamp album.
Easy winners, the quizmaster is "given to understand" they win a hi-fi. The consolation prize is a music centre

.

.

.

.

.

.

.

.

.




Animal Vegetable Mineral

Erudite BBC mateyness amongst the experts, utterly baffling to non cogniscenti

.

.

.

.

.

.

.

.

.

Top of the Form

Social history- innocent intelligent middle class youth about to be swept away by the pop revolution

.

.

.

.

.

.

.

.

.

This is Your Life (BBC)

Detailed reviews of these programmes

1.1 July 29th 1955: Eamonn Andrews
3.27 March 31st 1958: Harry Secombe
4.31 Apr 27th 1959: Stirling Moss
6.4 Oct 10th 1960: Sybil Thorndike
7.1 Oct 2nd 1961: Max Bygraves
8.19 Feb 12th 1963: Hattie Jacques
9.1 Oct 9th 1963: Stratford Johns
9.24 March 19th 1964: Barbara Mullen

Note: this series clocked up its hundredth edition on May 11th 1959

.

.

.

.

.

.

Eamonn Andrews (1955)

This was the first ever British show, and the host and mastermind behind the American series, Ralph Edwards, was flown over to introduce it. He's clearly not quite au fait with some Britishers.
In the audience he teases us by introducing Boris Karloff. Is he the subject of this programme? No, so how about Bebe Daniels and Ben Lyon. No.
Edwards approaches Eamonn Andrews who has brought Freddie Mills along. The latter knows that Eamonn is to be the subject of the show, but Eamomn thinks it's to be Freddie. A neat trick, one that Eamonn was to do to others many a time.
His big breakthrough had been in February 1950, taking over as MC of the radio programme Ignorance is Bliss at the Paris Theatre London, and an exuberant panelist reminds him of the occasion.
Childhood faded photos serve to introduce his mother then the rest of his family. Eamonn looks decidedly worried, as though some awful revelation might be sprung on him. But family anecdotes brush away the possible tears and he's more cheerful as we hear of his start as an amateur boxer in 1944. His semi final opponent comes on stage, no wonder Eamonn can't place that voice; it seems Eamonn had time to do some radio commentary on the other semi final, before going on to win the competition.
1949 in Double or Nothing he met his future wife, it wasn't a whirlwind romance. Then we hear of Ignorance is Bliss, and at the same time Eamonn started Sports Report. In 1951 began his long association with the tv panel game What's My Line?
Irish music plays quietly in the background as a boxer recalls what was considered to be the "finest sports commentary ever heard," a radio broadcast relayed from a San Francisco boxing match. One needs to recall that sports commentary up till then had been staid affairs, observant but dispassionate. Eamonn changed all that

.

.

.

.

.

.

Stratford Johns
Studio 4, Television Centre. Rehearsing a scene from Z Cars with Frank Windsor, there's a knock on the stage door. "Come in," shouts Inspector Barlow, in crashes Eamonn Andrews promising 'Alan' as his first name is, "a host of surprises."
They enter the theatre in a car to the strains of Z Cars. First guest is an acquaintance from back in 1948 at Southend Rep. "I had such a crush on him... he was wonderfully slim," Joan Sims relates.
Born in South Africa in 1925, his brother and mother speak to him on film. He was a champion swimmer, trained as an accountant but also a keen actor. In December 1944 he had joined the South African Navy, then the Royal Navy. He came to England in 1948, starting in rep at Southend. Then at Kendal where his leading lady had been Joan Francis, then of Coronation Street. He also took over the running of a small hotel in St Martin's Lane. Valerie Dean tells how it became like a second home, "he was like a father to me." Antonio's dancers were other guests and there's a slightly obscure story told in broken English of how they were a little noisy one night, but interrupted in their revelry by 'Alan' with no clothes on himself.
There is a clip from a 1961 role in Maigret, in which he is on the run. On film Rupert Davies greets him from Nice. "Take it more leisurely," he advises.
His wife Nanette tells how he nearly didn't accept the Z Cars part, "he didn't think the series was going to run."
One final surprise, the Z Cars team arrive with his youngest son

.

.

.

.

.

.

Max Bygraves

A rehearsal at the Prince of Wales Theatre is interrupted by Eamonn. Max accepts the invitation.
His "staunchest admirer" is first on, Bessie Braddock, who sits in a creaking chair. Max's mum and dad are pointed out by Eamonn, shyly watching in a box.
Max' favourite star is seen on film- Max Miller. Somehow he can recall schoolboy Bygraves asking for his autograph. Miller offers some advice, surely tongue in cheek.
In 1940 Bygraves joined the RAF, where he met his future wife, Blossom. Their three children plod shyly on stage. He has a story of visiting his wife in maternity, where his brother impersonated him, as he had missed the train.
In Sunderland, Joe Loss had met the young unknown, who had written a song for Joe, who offers a nice tribute.
Fame in a night. His role in Educating Archie. On film, Eric Sykes in Italy recalls the time Max had visited him in hospital, a disguised Max had posed as a doctor.
Val Parnell comes on, and has a minor dispute over Max' Palladium debut. Then a goose walks on stage, from his 1954 panto appearance, somebody named Harry underneath the costume.
A clip is shown from the 1960 film Spare the Rod in which Max made his debut in a serious role. Finally on stage comes an Italian girl whom Max had given a break. It is striking how affectionately he greets her, as compared earlier with his own children. To conclude, she and other children sing Gilly, Gilly, Ossenfeffer, Katzenellen Bogen by the Sea, naturally

This is Your Life Menu

.

.

.

.

.

.

Sybil Thorndike
A photo of a Victorian girl, as Eamonn prowls round the BBC to a studio where a rehearsal is taking place. "Crikey," Sybil responds.
Composure restored, she enters the stage. First on is Michael Redgrave who tells of two films in which they both appeared but never met. "What a surprise."
Aged 13, she had attended the Guildhall School of Music, but a wrist injury forced her to abandon that career, and she became instead an actress. In 1903 she sailed for America where she spent several years with Ben Greet's theatrical company. A record of this actor manager is played.
Back in England in 1907, like any good showbiz script, she now had a hard time, but married Lewis Casson, "oh you brute," she tells him as he walks on, "what a deceiver!" He explains they were both keen on New Theatre, and he pays his wife a fine tribute. "Thank you Lewis, you haven't said that to me for a long time!"
During the first war she often had to play men's parts, and she giggles like a youngster with another who had to do the same, Natalie Kent, as they share memories.
GBS wrote St Joan for her in which she played the title role in 1924. In 1931 she was made a Dame of the British Empire. In 1938 she co-starred with Emlyn Williams who greets her on film. Her part was "played by a good and great woman with a sense of humour."
During the second war she toured Wales, and a village postmistress is dug up from a village Eamonn can't pronounce, and we are told Sybil "was wonderful as Lady Macbeth." In 1944 she was in Peer Gynt with Ralph Richardson who admits, "I was in great awe of you." Then from behind the scenes is her coach who taught her how to fly, on stage, as the Queen of Hearts, "wonderful." Ann Todd then a young actress in July 1943 at the Vaudeville has a tale of nosebleed and one about a hat. Ann concludes in true showbiz speak, "I couldn't have done it without your help."
Then on audiotape a ten year old relative greets her from New Zealand, there's a message from a Hong Kong leper colony, and another from a Malayan school. On film from India, a lady praises Sybil's Shakespearean prowess. Mention of the play Treasure Hunt brings on her director, that other great name in theatre, John Gielgud who went back to 1922 with her.
Her first leading man, when she was aged six is next to walk on, Russell Thorndike who points out the youngsters in the stage box, grandchildren, "look at them all!" she cries.
Her son says hello from Australia, and Canadian grandchildren have little stories before their mother walks in in person. Clearly Sybil has enjoyed the occasion, though as daughter Anne appears she finally resorts to some overacting. "Oh, how wonderful!" she repeats

.

.

.

.

.

.

Hand in pocket, Eamonn Andrews reveals that tomorrow is April Fools Day, and it seems to have come early as we have a long wait at the entrance to the studio before we hear Harry's voice, and finally see him in person, as he enters the stage door with Peter Haigh. Inside, as he takes off his overcoat he threatens Peter with "you wait!"
Eamomn starts by talking of Harry's twin talents, Clown or Caruso? On film, Adele Leigh explains how they first met on a tv show, singing a duet from Madame Butterfly. "One of the finest tenor voices," she says in true show biz speak.
The first studio guests are his mother and father, "he was always larking about the house." Then his elder brother, chalk and cheese you might say. Finally his sister, with whom Harry had performed an amateur act.
One of his teachers talks of his lively class, Harry the ringleader. War service- and an army buddy comes on, then one from the Royal Artillery. He muddles his lines talking about North Africa in December 1942, but thanks Harry for writing a letter home to his wife when the buddy went missing. A third buddy, Len, worked with him as a pianist, they still do.
He met his wife in 1946 at the Mumbles Dance Hall, and we see their two children watching this programme at home.
1948 he teamed up with scriptwriter Jimmy Grafton, 'Cogros,' who describes Harry as "a great comic and singer," that's about right. A chance meeting with a BBC producer gave him his break. She reveals all.
After voice coaching he performed many concerts. After one charity do in 1951 he crashed his car, the unlucky victim being Katy Boyle, unscathed, she says. Then film of a Manchester hospital ward complete with waving children, after which a nurse comes on (in uniform naturally) to explain Harry had donated a tv set for the kids.
On the morrow he's off to Africa. Escorts come on stage to carry him there, they are Spike Milligan, Ray Ellington and not announced Peter Sellers. Eric Sykes is announced by Eamonn but never appears. Amid chaos, Eamonn tries to present Harry with the Red Book

.

.

.

.

.

.

Stirling Moss c1960
Waiting on the street at Bush Green, a small growd gathers as a car eventually draws to a halt. Eamonn opens the door to surprise Stirling Moss.
In the studio, we start with 25 year old film of "the vituoso of the steering wheel," here on his pedal car. Then to today's newspaper, 99mph in the headlines. First guest dug up is his old schoolmistress who gives quite bit away when she says, "he had more than his share of energy."
Though his father and mother urged him to be a dentist, Stirling always knew he wanted to be a racing driver, and his parents were indeed keen amateur racers themselves. From Paris, Lance Macklin tells of a few escapades chasing round France, and praises Stirling's powers of concentration on the racetrack too.
A journalist explains how it happened that SM drove a Jag for the first time, "he walked the race." 1951 film of a win in the Gold Star British Championship only led to a frustrating period according to Ken Gregory his personal manager. 1954 was a glorious failure with his mechanic Alf Francis, "we worked like two brothers." Alf calls him "the greatest living racing driver."
1955 with Mercedes starts the years of fulfilment. 1956 Vanwall, 1957 marriage. Katie says he never relaxes. A clip is shown from the A-R tv series with Daniel Farson, People in Trouble. SM had helped a grateful Paul, seen in this extract, providing him with a disabled vehicle.
On film, perhaps the greatest driver of the time, Fangio, greets Stirling on film. Eamonn translates.
Stirling Moss OBE is greeted by one final voice, his first mechanic an ex German POW, who concludes, "one of the greatest racing drivers in the world." Seems they all agreed on that, and certainly his name has passed into British folklore
To 'This is Your Life' Menu

.

.

.

.

.

.


Hattie Jacques (February 12th 1963)
Hiding behind a newspaper in the stalls of the BBC Theatre, Eamonn Andrews surprises Hattie, who is walking down the aisle with Eric Sykes. He's the first guest, "I've been dying to tell you!"
We learn that she was born in Sandgate Kent, went to school in Hammersmith, where she was stagestruck. Indeed she has this surprised smile she wears throughout the programme, which sometimes appears just a little too put on.
We learn of her fine work with the Red Cross which she joined in 1940. A guest tells of her work in wartime hospitals and at bomb incidents.
A clip from the 1959 Carry On Nurse serves to introduce Shirley Eaton who is the archetypal This Is Your Life gushing guest.
Leonard Sachs recounts her audition for the Players Theatre in which she sang the Marie Lloyd song A Little of What You Fancy. There is also film of Hattie singing My Old Man.
Her first important film was Chance of a Lifetime (1950) and producer Bernard Miles describes Hattie as "a born actress." He adds, "she was worth every penny."
John Le Mesurier strolls on, the couple had married in November 1950. She "makes every moment count," says John, describing her as "a whirlwind," a contrast to himself no doubt.
A ship had adopted Hattie and she meets first one of the sailors, then all her adopted family.
A clip from the 1961 In The Doghouse brings in Leslie Phillips, "I always enjoy working with Hattie." He'd been rather jealous of her in this film, for she had rather hit it off with Rosie, a chimp, said Rosie now comes on stage to a big hug.
Charity work for the East London Spastics, one mother tells of her kindness raising over £5,000 as their president.
A guest who'd last seen Hattie in 1946 tells of her songwriting. Max Bygraves has a holiday tale from Paris, and he ends by praising her professionalism.
The programme finishes with her family joining her

.

.

.

.

.

.

Barbara Mullen

An "elusive" lady, we hear an old record she made. She is filming round Shepherd's Bush as Eamonn stops an old car. Out she steps with her co-stars of Dr Finlay's Casebook.
Looking modest and slightly baffled, she walks on stage, "those two divils," she mutters.
Born in Boston USA, she made her name in Jeannie. Co-star Eric Portman relates how she was "quite special."
An American relative explains how the family were poor, her mother running a speakeasy. Her father returned to his home in Arran, and appeared in the famous documentary film. In person he tells a story of how on Independence Day his daughter went missing, aged three. Her brother PJ says "she was so tiny," and talks about her dancing prowess for which she won several cups. He plays an accordeon while she dances with her ancient dad.
Aged but 20 she wrote her autobiography, then enrolled in a London drama college. "The tiniest voice I ever heard," her teacher observes. Director Harry Watt talks of her staying with him as she studied, later she acted in his film The Siege of Pinchgut.
An assistant cameraman on Man of Aran, John Taylor later married her in 1941. Their daughters also join them on stage.
A clip from the 1942 Thunder Rock. Finlay Currie apepared with her, and he praises her with a nice little story.
Dr Finlay and Dr Cameron are on next, pouring a cuppa for her for a change. They don't say too much, but one line is "she will not take me seriously."
Time is now short as her sister niece and nephew bring on the dancing cups she had won years before. A seal comes on and she shakes her fist at Dr Cameron as the music rolls. It has a slightly theatrical atmosphere, not surprisingly, and Barbara Mullen's bemused look through most of the programme seems to me just a little too good to be true

.

.

.

.

.

.

.