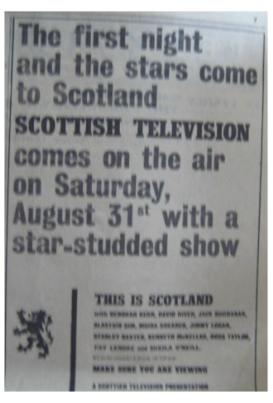 Scottish Televison STV (Channel 10)

This was the first ITV station after the Big Four to start transmission. STV's Opening night was 31st August 1957, "one of the most glittering show business gatherings ever assembled in Scotland," said Gordon Irving. The switch on at 6.12pm was by the Secretary of State for Scotland in front of STV staff, "trim in smart blazers with Scottish Television emblems on their pockets." One sad note, a 29 year old theatre electrician George Doughty at the Theatre Royal studio, collapsed and died 40 minutes before the station went on air.
Among the audience for the star studded opening show at 6.30, were 'rival' tv bosses Lew Grade, Val Parnell, and Sidney Bernstein while from the ITA were Sir Kenneth Clark and Sir Robert Fraser, and from ITN Chris Chattaway. Others included Dr Tom Honeyman, Jack and Mrs Radcliffe, Miss Greta Lauder, Freddie Carpenter, Peter Donald and Stewart Cruikshank. The on screen audience was estimated at around two and a half million viewers, though Nielsen's more accurate measurement gave 150,000 homes watching.
Unlike the other founding ITV companies, it's good to report that STV is alive and well, and maintains a certain proud independence from the rest of the network.

Rai Purdy's 1957 STV plans
My review of STV's Opening Night Show This is Scotland
One O'Clock Gang
Some other early STV productions
Some STV TAM Ratings (1960-7)
Sample STV schedule from 1967

In charge of STV was Lord Thompson, for ever associated with his remark about ITV being a licence to print money.

To Main Menu

.

.

.

.

.

.

.

.

.

STV Local Programmes 1957-1967


The weekly news magazine was titled Here and Now and actor Esmond Knight was one of its comperes. "The programme is largely made up of film and studio interviews provocative enough to be regularly followed up in the national press," Don Cumming wrote in 1960. One MP claimed, "Here and Now is viewed by all my political, trade union and local government contacts."
STV's first talent spotting programme was Fanfare, I think jazz singer Fiona Duncan was the winner. A second talent series had the imitative title Stars In Your Eyes, the winner being opera singer Joan Summers. She was given her own STV programme on May 4th 1960.
Jig Time was a popular local show. In 1958 this was transmitted on Friday nights "genially compered" by kilted David Kinnaird. Critic H Bronson wrote: "the best thing is its essential matey-ness. If it can preserve this friendly spirit, it would be worthy of seeing on other regional networks. Eight pretty girls known as the Scottish Television Dancers trip out reels and figure dances in lively fashion, bringing welcome movement to the small screen. The Reivers choose offbeat ballads and prove an interesting foursome while Betty Robson is a young singer in the best Scottish tradition."
One guest on Friday January 23rd 1959 for a Robbie Burns special was the baritone John Heddle Nash. Also appearing: Betty Robson, Clydebank Lyric Choir, Geraldo, and reader Harold Wightman, with Davie Kinnaird as host. Directed by James Sutherland.
The series had a short break in the summer of 1959, but returned on September 18th 1959, transmitted from the Scottish Industries Exhibiton at Kelvin Hall, with David Kinnaird, The Reivers, Jimmy Blair's Band and The Andrew Macpherson Chorale.
Wrote critic Gordon Irving "Jig Time must take credit for helping to inspire the new trend in entertainment." Indeed Imitation being.... etc etc, the BBC's White Heather Club which got shown all over the nation, was started as a result of the success of Jig Time. The BBC disputed STV's innovative claim saying their show was the original. Perhaps life is too short to penetrate now to the depths of this dispute, but according to the BBC Publicity Officer for Scotland the facts were: White Heather Club first appeared as part of A New Year Party (December 31st 1957). Note however it was not a show in its own right as yet. Jig Time was first shown on STV on February 18th 1958. So now you know!

Christmas Eve 1958 saw a live telecast from Dunfermline Abbey. A report noted "the camera angles did credit to all, and there was a grand sense of movement. It was a programme worthy of the network."
The final show of 1958 "A Guid New Year from Glasgow" was produced by Rai Purdy. Directed by James Sutherland, Liam Hood and Geoff Rimmer, it featured Jack Radcliffe, Larry Marshall, Jimmy Nairn (of the 'One O'Clock Gang') with Jimmy Blair and His Band. And the last show of 1959 was an hour long Jig Time special, again directed by James Sutherland.

Mr Fixit was a 1959 puppet series starring Roy Kinnear in his tv debut. Some programmes were recorded, Jim Tattershall manipulated the puppets, director was Liam Hood.

A serious series on Tuesdays at 10.30pm starting on July 7th 1959 took cameras to various Scottish centres of business. The first programme dealt with steel, later programmes covered shipbuilding, coal, whiskey, farming, and textiles/chemicals. Programmes were devised by John Wilson, and directed by Liam Hood.
Locally produced programmes often did well in local TAM ratings. Scotsport at times even reached No.1 whilst John Grierson's This Wonderful World was known to have attained eighth spot.
Sense and Nonsense was a discussion series that was first screened on August 6th 1962. In February next year the format was altered to include a studio ausience who put questions to the panel.
The Adventures of Francie and Josie was a huge hit with STV viewers. It was also screened by Grampian and Border.
Stars were Jack Milroy as Francie, and Rikki Fulton as Josie. Six episodes began on October 26th 1962, and such was the success that a second series began taping in spring 1963, though it was not screened until that autumn. There followed two short series in early 1965 and summer 1965.
Scripts were by Stan Mars, and the director was Jimmy Sutherland. The stars played two Glaswegian simpletons. Fulton said after the first series, "usually when a series finishes on the telly, it's quickly forgotten. But Jack and I get daily reminders of the remarkable popularity of Francie and Josie.... I picked up a taxi and the taximan recognised me and refused to take the fare saying, You brought so much happiness to me and countless others that this is my way of saying Thank You... I've had bigger fan mail through the tv series than at any period of my theatrical career. Our youngest fan, believe it or not, is aged two! His mother pleaded with me for a picture, he howled the house down after each of your last programmes, and keeps asking when you're coming back."
One Night Stand was a series of ten shows starting in February 1964. Compere was Pete Murray, director Jack Sampson. The series offered thirty Scottish groups a tv appearance, recorded in Studio A at the Theatre Royal before an audience of 600. The opening show included Tommy Dene and the Tremors, The A Bears, and Lulu and the Luvvers. I think I know the winners. The Original Checkmates also joined in, as well as one group from Down South in each show
STV is one of the few survivors of the ITV network. Indeed they do now have a certain independence from the current over centrallised ITV (perhaps they should be named I-ITV !) which is ironic as there's no doubt that originally STV could have thought a lot bigger, and with their resources ought certainly to have produced a much greater contribution to the network.
Complaints about its lack of ambition were frequently voiced. For example the Scottish branch of actors' union Equity held a meeting, chaired by Duncan Macrae, adopted a resolution to "request the ITA to direct its Scottish Committee to initiate discussions with representative Scottish organisations on programme balance, existing and future ITA services, with a view to ensuring the proper proportion of Scottish material employing Scottish professional performers."
STV Drama
Typical of the company was their first STV Television Theatre, on January 30th 1959 at 9pm. The Open by Alex Peterson was in fact a presentation by the Perth Repertory Theatre.
STV's second original play was a hospital drama, The Keys of Paradise on 11th March 1960 (over two years after the station had been on air!) by Ronald Mavor, directed by James Sutherland, produced by Gerry le Grove. The played starred Richard Matthews, others in the cast included John Grieve, Martin Heller, Elaine Wells, Helena Gloag and Walter Carr.
To my review of STV's 1968 children's serial Flight of the Heron .
Post Graduate Medicine was one of STV's most unique contributions to the network was a series of twelve specialised forty five minute monthly programmes aimed at doctors.
It began on STV on March 11th 1963. Sir Charles Illingworth introduced each episode
The Epilogue- In January 1960, Scottish Television announced a training course for Scottish clergymen, to make them "into better television personalities." It was a four week course, two two hour periods per week to study camera and microphone techniques, the projection of personality, with talks and demonstrations by actors and writers. The course ended with two short talks by course members, from their own material, then "ministers will be invited to make suggestions and criticisms... about their own performances"
STV Menu
.
.
.
.
.
.
.
.
.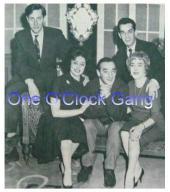 The One O'Clock Gang from Theatre Royal Glasgow


was STV's Lunchtime show, originally the title had been mooted as The Goofy Gang.

On Monday February 16th 1959 it "celebrated" its 365th edition! Mainstay of the show was compere Larry Marshall (real name Harry Tomasso) who said, "the Gang has not once indulged in any unsavoury jokes;" nowadays of course that would be a matter for ridicule, so all credit to Marshall. The Gang also included Sheila Matthews and Brian Douglas who provided the songs. Producer Rai Purdy described the show as "an informal get together between half a dozen folk who are out to entertain you in a relaxed sort of way."
Clearly things had improved since that first show on 2nd September 1957, which one critic (Gordon Irving) slated thus,
"This lunch time half hour proved deficient in slick comedy material, and will require much greater polish if it is to hold its viewing public. Larry Marshall, as comedian, has too spivish an approach, and needs to be more sympathetic... the programme is safer in its song department, put over quite attractively by singers Brian Douglas and Sheila Matthews. The Tommy Maxwell Four give musical backing. A spot for audience interviews has possibilities, but the interviewees should be more carefully selected. One member of the audience frankly admitted to being idle!... This lunchtime spot has so many rough edges that.. immediate attention is required. Robin Gardiner and Gordon Fleming are responsible for the script, such as it is. Bill Skinner directed."
January 11th 1960 saw the start of the feature Yours for a Song, which reached its final in May, in which contestants submitted a piano copy with words and music of an original song. The winner received a gramophone record of the song, a first class return fare to London, a week at a London hotel, with £20 for incidental expenses, plus a letter of introduction to two music publishers.
Other features at this period included Leave It To Larry!- every Tuesday Larry Marshall arranged for concert parties to entertain hospital patients. Then every other Thursday old time variety artists strutted their acts. Programme 3 on Feb 18th 1960 included Cissie Glen, Tommy Dale and Bert Bendon. Programme 4 on March 3rd 1960 featured Bessie Hogarth, Alf Fleming (aged 80+), violinist Hamilton Scott, and Dave Willis.
Another of the numerous guests on the show was Carmita aka Ivi Rodan (Fri Jan 30th 1959).
This 1962 photo depicts the Gang of that era. Front left: Dorothy Paul, the singer, Larry Marshall centre, and right front Moira Briody, Irish singer. Rear left is Jimmy Nairn, an old friend of the show and the straight man, with rear right Charlie Sim singer and comedian. The Tommy Maxwell Quartet (led by drummer TM) continued to provide the music. At this time STV claimed it had clocked up "more performances on British television" than any other programme, though that's open to question.
STV Menu

.

.

.

.

.

.

.

.

.

TAM ratings in Scotland (STV area) w/e 26th June 1960


1 Flag Fall (Armchair Mystery Theatre) ABC 61%
2 Silent Service STV * 55 #
3 Delfont's Sunday Show ATV 54
4 No Hiding Place A-R 52
5 The Variety Show Granada 51
6 Boxing BBC 50
6= Bonanza ATV presentation * 50
6= Interpol Calling STV presentation * 50 #
9 Silver River (film) STV presentation * 48 #
9= Criss Cross Quiz Granada 48
*=NOT in National Top Ten. # Not in any other regional top ten in this week.

TAM ratings in Scotland (STV area) w/e 11th February 1962
1 Film: Port of Escape (STV) 66%
2 Bonanza 63%
3= Rats of Tobruk (A-R) 61%
3= Take Your Pick
5= Stryker of the Yard 58%
5= Rawhide
7= Coronation Street (Feb 7th) 56%
7= London Palladium Show
7= Bronco (BBC)
10 Coronation Street (Feb 5th) 55%

TAM ratings in Scotland (STV area) w/e 11th October 1963
1 Francie and Josie (STV) 76%
2 Armchair Theatre 67%
3 77 Sunset Strip 66%
4 Dickie Henderson Show 64%
5= Scotsport (STV Oct 9th 9.45) 63%
5= The Saint (Oct 10th) 63%
7 Coronation Street (Oct 9th) 62%
8 Coronation Street (Oct 7th) 61%
9 Double Your Money 60%
10= Thank Your Lucky Stars 58%
10= London Palladium Show 58%
Note- top BBC shows with 50% were Dick Powell Theatre and Dick Van Dyke Show

TAM ratings in Scotland (STV area) w/e 9th February 1964
1= Coronation Street (Feb 5th) 67%
1= Francie and Josie (STV)
3= Coronation Street (Feb 3rd) 65%
3= Liberal Party Political
5= The Dakotas 64%
5= Candid Camera
7 Discs A Go-Go 63%
8= The Avengers 62%
8= Silents Please
10= Here and Now (Feb 7th STV) 61%
10= Take Your Pick
Note- top BBC show with 60% was Steptoe and Son

TAM ratings in Scotland (STV area) w/e 21st February 1965
1= Coronation Street (Feb 15th) 68%
1= Take Your Pick
3 Burke's Law 61%
4 Francie and Josie (STV) 60%
5 Coronation Street (Feb 17th) 59%
6 Emergency- Ward 10 (Feb 19th) 58%
7 No Hiding Place 57%
8= The Human Jungle 56%
8= Dr Finlay's Casebook (BBC)
10 Hong Kong (screened by STV) 54%

TAM ratings in Scotland (STV area) w/e 7th March 1965
1= Francie and Josie (STV) 64%
1= Coronation Street (March 3rd)
3= Coronation Street (Mar 1st) 59%
3= Take Your Pick
5= Emergency- Ward 10 (Mar 5th) 55%
5= Burke's Law
7= The Saint 54%
7= Dr Finlay's Casebook (BBC)
9= No Hiding Place 53%
9= The Fugitive

TAM ratings in Scotland (STV area) w/e 6th February 1966
1 The World of Stanley Baxter (STV) 66%
2= Double Your Money 58%
2= A Song for Everyone (BBC)
2= London Palladium Show
5 Coronation Street (Feb 2nd) 57%
6 This Man Craig (BBC) 56%
7 The Rat Catchers 55%
8= Coronation Street (Jan 31st) 52%
8= The Man From Uncle (BBC)
10= Desilu Mystery Theatre 51%
10= Take Your Pick

TAM ratings in Scotland (STV area) w/e 31st December 1967
The BBC is now dominant. Rediffusion's Frost Programme is the highest placed ITV effort:
1 Stanley Baxter Show (BBC) 55%
2 Film: Man Who Shot Liberty Vallance (BBC) 54
3 Film: Brigadoon (BBC) 52
4= Film: The Square Peg (BBC) 51
4= Top of the Form (BBC)
4= The Man from UNCLE (BBC)
7 Top of the Pops (Dec 28th BBC) 49
8= Top of the Pops (Dec 26th BBC) 48
8= The Newcomers (Dec 28th BBC) 49
10= The Frost Programme 46
10= Saturday Thriller: The Prowler (BBC)
STV Menu

.

.

.

.

.

.
Rai Purdy, executive producer of STV,
outlined plans for the station in January 1957.
(Given in an interview when he flew in from Vancouver. He had formerly worked for CBS in New York as a producer for seven years.)

His three main objectives were:
1 To give viewers first class entertainment.
2 To give Scottish talent every opportunity to develop and be seen on STV. "There is plenty of talent in this country."
3 To do as much cultural programming as possible, consistent with the policy of providing the best entertainment possible. "The Edinburgh Festival will be covered, and there will be discussion programmes on matters of outstanding moment."

He also added that "we hope to train an almost completely Scottish staff for the new station. I want to get Scots and train them, rather than import outside help."

Rai left STV in 1960 to return to work in Canadian TV

.

.

.

.

.

.

.
STV programme details were published in TV Guide, Roy Thomson's own imprint. TV Times found it difficult to swallow that they were not permitted to issue their Scottish edition, as they were so doing in London, the Midlands and the North. However they did get their own back when ITV forced the standardisation of the network in 1968. Before then other ITV regions had also cheerfully opted out of Associated Rediffusion's TV Times noose, ie TWW, Tyne Tees, and Westward.

Scottish Television Schedule for Thursday March 9th 1967
10.45 For Schools -2.55
4.50 Lesley - for the youngest Scots, with Lesley Blair
5.00 Junior Criss Cross Quiz
5.25 Movie Magazine with Peter Lewis (TWW)
5.55 News
6.05 Here and Now with Bill Tennent
6.35 Crossroads - Kitty: "Dick... will you pick up that telephone"
7.00 Criss Cross Quiz
7.30 Command Performance: Beloved Enemy film with Merle Oberon
8.55 News
9.10 This Week
9.40 The Investigation - Another play illustrating Granada's obsession with the lawcourts
11.20 Reflection - with Ludovic Kennedy (STV)
11.50 News Headlines, followed by
Pollok By-election
12.00 Late Call - Rev A Cameron Gibson, Fenwick Church, Kilmarnock
12.05 Late Night Look - In search of a Holiday Isle of Wight with Brian Redhead (Southern TV)
12.30 Close-down
STV Menu

.

.

.

.

.

.

.