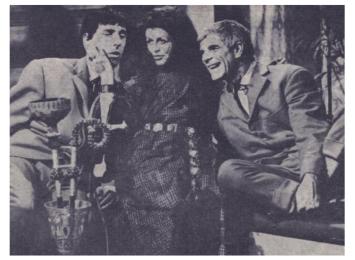 Scottish Televison STV (Channel 10)
Main Dinosaur TV Menu
In charge was Lord Thompson, for ever associated with his remark about ITV being a licence to print money. Unlike the other founding ITV companies, it's good to report that STV is alive and well, and maintains a certain proud independence from the rest of the network.
This was the first ITV station after the Big Four to start transmission. STV's Opening night was 31st August 1957, "one of the most glittering show business gatherings ever assembled in Scotland," said Gordon Irving. The switch on at 6.12pm was by the Secretary of State for Scotland in front of STV staff, "trim in smart blazers with Scottish Television emblems on their pockets." One sad note, a 29 year old theatre electrician George Doughty at the Theatre Royal studio, collapsed and died 40 minutes before the station went on air.
Among the audience for the star studded opening show at 6.30, were 'rival' tv bosses Lew Grade, Val Parnell, and Sidney Bernstein while from the ITA were Sir Kenneth Clark and Sir Robert Fraser, and from ITN Chris Chattaway. Others included Dr Tom Honeyman, Jack and Mrs Radcliffe, Miss Greta Lauder, Freddie Carpenter, Peter Donald and Stewart Cruikshank. The on screen audience was estimated at around two and a half million viewers, though Nielsen's measurement gave 150,000 homes watching, rising to 180,000 for the opening variety show
Rai Purdy's 1957 STV plans
This is Scotland my review of STV's Opening Night Show
Some STV productions 1957-1968
Some STV TAM Ratings (1960-8)
Sample STV schedules
Photo: Francie and Josie, seen here with Ethel Scott A Song for Scotland (STV, 1966)
STV Programme Controller Francis Essex launched the series, his aim to "discover a song that will truly reflect Scotland- one that be whistled and sung all over the country."
The winning song was Roy Ford's Loch Maree, sung by Moira Anderson. These Are My Mountains. written by Jimmy Copeland, was in the runner's up spot. Several recordings were made of this, apart from Moira's, that by the Alexander Brothers sold over 20,000 copies in the first two months it was launched. Peter Mallin also recorded it, selling over 10,000 copies. Another version was by the Jim McLeod Band. Whether Essex's aim was achieved, maybe posterity has decided.
At the time, reviews of the show were hardly encouraging. Of the Sunday January 23rd offering (7.25-8.20pm), Bob Millar wrote, "it started off well enough- original sets, thoughtful production... professional polish. Then somebody behind the scenes kicked over a chair which fell with an almighty clatter, throwing Andy Stewart right out of his stride." The critic also complained of the Eurovision-style voting "which were two or more scores behind, at one stage a cardboard digit fell to the floor. At the end Andy Stewart was so confused that he thought one song had won by seven clear votes, when in fact it was only tied." As for the songs, "I counted six separate references to hills or mountains, four to heather, two each to rivers, lochs..."

.

.

.

.

.

.

.

.

.

STV Local Programmes 1957-1968
STV drama
* One O'Clock Gang (1957-64)
Jig Time
Star Feature (1961-2)
Fastand Folk (1961)
Round-Up (1962-5)
* The Adventures of Francie and Josie (1962-5)
One Night Stand/ Dig This (1964)
Alexander Brothers Show
Man Behind the Star (1965)
Glaister (1965/6)
* Did You See Una? (1967)
The Music People (1967)
Anniversary Celebrations (1962/7)
Brief details of other STV productions in chronological order
STV menu

.

.

.

.

.

The Music People
was a series of thirteen half hour shows that began on Monday April 3rd 1967 at 10.05pm. According to Liam Hood, STV head of light entertainment, "the exciting difference is that all the artists will have an opportunity of displaying facets of their talents which have not previously been seen by a tv audience." He cited as an example, Joe McBride, "who has always had a hankering to sing skiffle and folk." He added that "one of the Kaye Sisters plays the banjo and another is an acrobat dancer."
1 April 3rd 1967: Ronnie Hilton, with songs including San Francisco
2 April 10th 10.35pm: Mark Murphy, including Skye Boat Song, Indian Summer
3 April 17th 10.05pm
4 April 24th 10.10pm: Joe McBride
5 May 1st 10.05pm: Janie Marden, who as well as singing, tried a spot of comedy
6 May 8th 10.35pm
7 May 15th 10.05pm: Libby Morris
8 May 22nd 10.05pm: Edmund Hockridge sang numbers including Nothing Like a Dame, Figaro, and Make It Easy on Yourself
9 May 29th 10.05pm: Dickie Rock and The Miami Showband
10 June 5th 10.05pm: Susan Maughan
11 June 12th 10.05pm: Vince Hill, with songs and impersonations (Ken Dodd, Bernie Winters, Harry H Corbett &c)
12 June 19th 10.05pm: Lynda Baron
13 June 26th 10.05pm: Dickie Valentine
Other artists appearing included, Kenny Lynch, and David Kernan. A report added that the Morgan James Duo, and Ivor Emmanuel "are provisionally booked."
STV programmes

.

.

.

.

.


Typical of the company was their first STV Television Theatre, on Friday January 30th 1959 (9-10pm). The Open by Alex Peterson was in fact a presentation by the Perth Repertory Theatre. As the title suggests, the story was set at the year's biggest golf tournament, with an unknown player all set to win. Some outdoor scenes were shot at St Andrews, which, at the time of year was under snow- which had to be removed (presumably not the whole course!).
STV's second original play took a long time to materialise. It was a hospital drama, The Keys of Paradise on Friday 11th March 1960 (9.35-11.05pm) by Ronald Mavor, directed by James Sutherland, produced by Gerry le Grove. The play starred Richard Matthews as Dr Crow an anesthetist but also a drug addict. Others in the cast included John Grieve, Martin Heller, Elaine Wells, Helena Gloag, Walter Carr, Calum Mill, Bill Simpson, and Rosemary Anderson.
Mon Dec 17th 1962 Double Image by 'Duncan McLeod' starring Roger Livesey, with Geraldine McEwan, Charles Houston and John Watson. Director: Desmond O'Donovan. The feud between Hamish, a janitor in a snob Edinburgh apartment house, and an impecunious colonel (Livesey) who lives in the top flat.
Mon Dec 24th 1962 Dear Boss by Clifford Hanley, starring Gordon Jackson as a newspaper editor and Elisabeth Murray as his secretary. His colleagues dispute his authority.
Mon Dec 24th 1962 The First Foot by John Keir Cross with John Fraser as 'Boysie' head of a gang of safebreakers, with Frank Wylie, Callum Mill, Colin Miller and Anne Kristen. Also appearing Dave Willis as a policeman. Outside rehearsals began on May 31st 1962 directed by Desmond O'Donovan, with studio production from June 11th.
The Tower recorded May 12th 1963 with Walter Brown as Barney Morris, Rosemary Anderson, Joan Scott and Glen Michael.
Truth is a Stranger recorded on June 1st/2nd 1963 screened Nov 28th 1963, 10.10pm, a 30 minute play starring Anthony Steel, Susan Shaw, Elisabeth Murray, Denis Ramsden, Nancy Gilmour and Dave Willis. Script: HA Wrenn, director: Brian Mahoney. A novelist sees on his his plots come to life, himself the chief murder suspect. Death of a Gladiator (Oct 31st 1963) starred Finlay Currie as Cory, an aged Shakespearean tragedian, who has fallen on hard times

I am extremely grateful to William McGregor for kindly enabling me to retrieve this data on
The Jimmy Logan Theatre Hour
Plays in 2 one hour parts with a Scottish flavour direct from the Metropole. This 1965 series of seven plays were adapted for tv by Sam Cree. Brian Mahoney directed plays, except where indicated.
#1 Love Locked Out (Oct 3rd/10th 1965 10.15pm) Patt 1 Strike Noticed, Part 2 Strikes Pay starring Jimmy Logan as Joe Campbell and Doreen Hepburn as Alice Campbell, Caroline Grant as Winnie Campbell, Alex McCrindle as Charlie Baird, Helen Norman as Flo Baird, Roy Hanlon as Sydney Campbell, Nina Marriott as Bernice Baker, and Wallace Campbell as Jock Sampson. Script: David Kirk. A father goes on strike, so to make him see sense, the wife organises a women's strike
#2 S for Sugar Candy (Oct 17th/24th 1965) with Alex Finlay as Davie Coggie and Helena Gloag as his housekeeper Mirren. Two brothers who run a sweet factory with completely different outlooks on life. Davie is contented, while his brother Peter (Michael O'Hallorhan) is ambitious. Events take a turn with the arrival of a long lost niece from America, Tabitha Coggie (Lyn Ashton). Also in the cast: Richard Mathew as Budge the butler, Bill Henderson as Hon Isadore Benn, Stewart Mungall as Dufton, and Louise MacLaren as Fanny Shanks. Script: Donald McClaren
#3 Happy Landings (Oct 31st/ Nov 7th 1965 - now at the earlier time of 9.35pm). Part 1: Double Booking. Part 2: Two by Two. Script: Patrick Cargill. Director: James Sutherland. Starring Leon Sinden as Arthur and Marillyn Gray as Eve, with Phil McCall as Willie, and Ida Schuster as Rose. Also in the second part: John Toye as Michael, Janet Michael as Doreen, and Alec Monteath as Briggs
#4 Friends and Neighbours (Nov 21st/28th 1965) Part 1 Peaceful Co-Existence, Part 2 Join the Party, starring Jimmy Logan as Bob and Doreen Hepburn as Mavis, with Joan Fitzpatrick as Jessie, Myra Foryth as Sandra, Walter Carr as Tommy, Paul Young as Roger, Glen Michael as Vladimir, and Sarah Maxwell as Petri. Script: Austin Steele. Director: James Sutherland. A Scottish butcher and his wife rent a houseboat in England, only to discover that it has been rented by a brigadier and his wife.
#5 Mugs and Money starred Elizabeth Begley as Marsha, JG Devlin as Barney, and Harold Goldblatt as Rabby. With Kevin Moore as Willie, Norma Varden as Gugs, James Copeland as Scotty, Gertrude Russell as Sarah. Script: JG Devlin. Director: Clarke Tait. Part 1 Orange and Green (Sun Dec 5th 1965, 9.35pm) Part 2 Black and Blue (Sun Dec 12th 1965, 9.35pm). Also in this part were John McBride as Albert, and Bill Morrison as Sam Sausage
#6 Goodnight Mrs Puffin (Dec 19th 1965, 10.15pm)- part 1 Prophet and Loss starring Richard Mathews as Henry Cameron and Marillyn Gray as Amelia Puffin, with Lennox Milne as Ethel Cameron, Jan Wilson as Jacqueline Cameron, Leslie Blackater as Pamela Cameron, James Kennedy as Nicholas Cameron, Betty Gillin as Annie, Antony Kenway as Stephen Parker, Joe Dunlop as Victor Parker, Roy Boutcher as Roger Vincent. Script: Arthur Lovegrove. Part 2 (Dec 26th) Carry Forward- with the same cast
#7 A Scrape of the Pen (Jan 2nd/9th 1966, 7.25pm) Part 1 Auld Year Out and Part 2 New Year In, starring Jimmy Logan as Mattha Inglis and Molly Urquhart as Leezie Inglis with Jan Wilson as Flora, June Andrews as Beenie Scott, Edith Hart as Agnes, Barbara Burstyn as Eppie, Edith MacArthur as Mrs Baikie, Maurice Roseves as Geordie Pow, John Young as Hugh Menzies, Douglas Mitchell as Shepherd, Colette O'Neil as Jean Lowther, Hilda Case as Taffy Knot, May Henry as Miss Pringle, Leebie Tait as Mrs McAllister, and Joe Dunlop as Alec Inglis. Script: Graham Moffat
Note: An earlier play in this series was shown on June 6th/ 13th 1965 at 7.30pm. The play was Bachelors Are Bold by TM Watson, starring Jimmy Logan as Archie McLean, a retired grocer, Alex Finlay as undertaker Gilbert Dalgleish, and Bill Tennent as Bailie Albert Bogle, with Paul Young, and Jan Wilson as Susie.
Francis Essex claimed a "heart warming success" for this series, "it consistently pulled in a far larger audience than the American films opposing them on the other channel."

Scottish Playbill (STV)
A series of plays under the title Scottish Playbill were screened approx monthly in 1966/7. Producer was Brian Mahoney.
1.1 A Man and His Time (Feb 7th 1966, 8pm)- the pilot for an abortive series, made in summer 1965, on the poet William McGonagall.
1.2 Depth (Feb 28th 1966, 8pm) with Martin Heller- a supermarket magnate uses publicity to further his chances in a Scottish by-election
1.3 The Silver Soldier (Mar 25th 1966)
1.4 All in Good Faith (May 2nd 1966, 10.05pm) starring Marjorie Thomson as Mrs Mryson, John Grieve as Mr Bryson, Walter Carr as Jadie, with Joseph Brady as Nicholl and Una MacLean as Rena. Also Leo Maguire as Alan, Harry Walker as Colin, Jackie Farrell as Peter, Phil McCall as The Gancher, and Katie Gardiner as Tina. Script: Roddy MacMillan. Director: Clarke Tait.
1.5 The Comeback (May 23rd 1966. 10.05pm) with James Grant as boxer Sam McManus attempting to recapture former glory
Second series:
2.1 The Inward Lens (Oct 11th 1966, 9.10pm) starring Paul Young as Ken Villiers, Kara Wilson as Tina Villiers, with Katy Gardiner as Barmaid, Sebastian Breaks (tv debut) as Det Sgt Kenton, and Donald Hewlett as Ian Harper. Script: Edward Crowley. Director: Liam Hood. Villiers is a psychopathic murderer whose compulsion to kill leads him to his sister being the next victim
2.2 To Stand Alone (Nov 8th 1966, 9.10pm) starring Toni Gilpin As Maria Wallace and Joe Dunlop as John Wallace, with James Donnelly as Kevin Connolly and Clifton Jones as Tom hardie. Also Gertrude Musoke as Maid, Imuyang Ema as Voice on Phone, and Margaret Leslie as Linda van Horden. Script: Hector MacMillan. Director: Brian Mahoney
2.3 No Kind of Hero (Dec 6th 1966, 9.22pm) starring David McKail as L/Cpl King, and Leon Sinden as Col Jamieson with James Copeland as RSM, Alex Allan as Lt-Col Robbie, and Paul Kermack as Major Cunningham. Also Glen Reid as Pte Bowles, John Shedden as Cpt Kerr-Hunter, Robin Lefevre as L/Cpl McGuffie, Peter Lincoln as L/Cpl Fraser, Nicholas Light as Cpt Rowlandson, Walter Jackson as Cpl Johnstone, and David Kinnaird as Sgt Guard Commander. Script: John Mohr. Director: Liam Hood. L/Cpl King's small misdemeanour snowballs to create a gulf between pfficers and men
2.4 Grand Tour (Jan 3rd 1967, 9.10pm) with Rikki Fulton, a comedy though it was "ludicrously unfunny" according to critic BA. Starring Rikki Fulton as Mr Andrews, with Lew Schwarz as cafe proprietor Stefan Markovic, Clem Ashby as Policeman, Glen Michael as retired officer Col Stipe, Ida Schuster as Morna Markovic, Myra Forsyth as Mama Markovic, Christopher Michael as Darko Horovic, Douglas Anderson as the Courier, with John Young, Robin Lefevre, and Peter Lincoln as Frontier Guards. Dancers: Maggie Riding, Pat Ramsay, Peter Salmon. Script: Lew Schwarz. Director: Bryan Izzard. Glasgow bachelor Mr Andrews misses the bus while on a Grand Tour of Yugoslavia. He attempts to rejoin the coach party but is stranded in the fighting village of Popojnik where nobody speaks English. He makes several friends, but even they can't get him past the heavily guarded frontier post.
2.5 Heather on Fire (Feb 7th 1967, 9.10pm), script by Moray McLaren, director Geoffrey Nethercott. Starring Moultire Kelsall as Robert Balquhain Sr, and Lawrence Douglas as Robert M Balquain Jr, with Claire Richards as Christine Balquain, Robert Mill as George Fenwick, and Walter Carr as Dougal. Others in the cast: Effie Morrison as Mary, Tom Conti as Hector McFarlane, Jan Wilson as Jeannie Anderson, Arthur Blake as John Elliott, Gavin Breck as Tom Scoullar, and Katy Gardiner as Effie Wauchope. A story of Rantin' Robin, a writer who is turned out by his family for penning 'decadent rubbish.' He is wealthy young Robert who has been fascinated by the squalor of Old Town Edinburgh. In defiance of his father, he leaves home to live there, hoping to achieve financial independence though his poetry

The Queen of Scots Nov 29th 1967
To my review of STV's 1968 children's serial Flight of the Heron
STV programmes

.

.

.

.

.

Glaister
STV's most ambitious drama series to that date, but it never ran to more than 4 episodes. Russell Waters starred as Professor John Slater, his true case histories. Scripts were based on his book Final Diagnosis, and written by Allan Prior.

1 Girl in the Dark (Fri Dec 10th 1965, 9.40-10.35)- a nineteen year old housemaid (Pauline Munro) is strangled by her soldier boyfriend (Alan Lake). Also in the cast: Roland Curran. Location scenes shot in Lenzie.

2 Murder Car (Fri Dec 17th 1965, 9.40pm)- a murder from fifteen years earlier: a Glasgow policeman was sentenced to death for killing his mistress. Cast included: Colette O'Neil as the murdered girl, Roddy McMillan as the policeman, Bryden Murdoch as Harald Leslie and Leonard Maguire as John Cameron.

3 The Close Shave (Mon Jan 10th 1966 9.10pm)- with John Cairney as a Polish psychopath. Location senes in Kames Street.

4 Gorbals Boy (Jan 17th 1966 9.10-10.05pm)
Script: Allan Prior. The story of a knife carrying product of the slums, Jimmy Galloway played by Phil McCall, with his girl played by Anne Kristen. His fighting poses an agonising problem for his friends. When he kills a man and runs back to the Gorbals for protection, should they follow their unwritten law of never helping the police. But when someone else is arrested, should they ignore their 'law'?

.

.

.

.

.

The Alexander Brothers Show

This very popular programme ran to many series, and included one show made in colour, for STV test purposes. The format was simple: the brothers visited locations in Scotland, and sang songs associated with those districts.

1965 shows started Monday 6 Dec at 10.05pm, last show 3 Jan 1966 (10.35pm)

1966 shows on Tuesday at 8.25pm 27 September to 20 December.

Guests on 1967 shows shown Thursday at 6.30pm included: first of series: 28 Sept Joe Henderson, 5 Oct Roger Whittaker, 12 Oct The Karlins, 19 Oct Clinton Ford, 26 Oct Anne and Laura Brand, 2 Nov Miki and Griff, 9 Nov was the last of this series

.

.

.

.

.

.

.

.

.

One Night Stand
a series starting on Thursday 27th February 1964, 9.40-10.10pm. Compere was Pete Murray, director Jack Sampson.
"Scottish beat groups in friendly rivalry with English professionals." It offered Scottish groups a tv appearance, recorded in Studio A at the Theatre Royal before an audience of 600. The Original Checkmates also joined each show.
The opening show included Tommy Dene and the Tremors, The A Bears, and Lulu and the Luvvers. I think I know the winners. Critic BP having watched it, declared, "after hearing some of the unbelievably ugly things done to the human voice and to perfectly innocent musical instruments, this show will be for at least one home just what it is called, One Night Stand- I couldn't stand it a second night."
Second show on March 5th included The Seven Sinners Showband; Beat Unlimited, The Golden Crusaders, and (from England) The Zephyrs.
Number 3 on March 12th featured The Copycatz, The Vampires, Tommy Trousdale and His Sundowners, and (from the South) Dave Berry and The Cruisers.
The show moved to Wednesdays at 6.30pm: the fourth on March 18th 1964 included The Rockin' Berries.
Show 5 (March 25th) also featured The Rockin' Berries.
6 April 1st with The Ramblers, The Strangers, Helene and The Kinsmen, The Contrasts.
7 April 8th included from England The Big Three
8 April 15th included Rob Storme and The Whispers
9 April 22nd included The Swingin' Blue Jeans
Further programmes on April 29th, May 6th, 13th, 20th with the final 14th show on May 27th, which featured Peter's Faces, The Ardennes, Tommy and the Apaches, and The VIPs
At the launch of the series in February, producer Liam Hood optimistically prophesied, "by the time the series ends in May, some potential rivals to The Beatles may well have been found!"

Dig This
Consisting of 23 shows, Dig This was also hosted by Pete Murray, of whom one young viewer complained in The Viewer, "he is not to my mind a suitable compere> He seems to be too much like the games master of a lot of little children!"
1 July 10th 1964 6.30pm with The McKinleys, The Leroys
2 July 17th 1964 6.30pm
3 July 24th 1964 6.30pm with The Vernons, Andy Gray, The Golden Crusaders
4 July 31st 1964 6.30pm
5 Aug 7th 1964 6.30pm with The Mojos, The Copycats
6 Aug 14th 1964 6.30pm with The Four Pennies, also The Impacts
7 Aug 21st 1964 7.00pm with The Federals, The Meteors
8 Aug 28th 1964 7.00pm with Peter's Faces, Dean Ford, The Gaylords, Dick James
9 Sept 4th 1964 7.00pm with The Trendsetters
10 Sept 11th 1964 7.00pm with Big Dee Irwin, The Golden Crusaders
11 Sept 18th 1964 6.30pm with Lorne Gibson, The Zombies
12 Sept 25th 1964 6.30pm with Alex Harvey's Soul Band, The Trends
13 Oct 2nd 1964 6.30pm with Lulu, Barry St John
14 Oct 9th 1964 6.30pm with The Merseybeats, The Poets
15 Oct 16th 1964 6.30pm with The Pretty Things, Vince Martin, The Kimbos
16 Oct 23rd 1964 6.30pm with The Kinks, Jay Anders, The Chevelons
17 Oct 30th 1964 6.30pm with The Long and The Short, The Monarchs
18 Nov 6th 1964 6.30pm with Kenny and The Wranglers
19 Nov 13th 1964 6.30pm with The Downliners
20 Nov 20th 1964 6.30pm with The Cherokees, The Athenians
21 Nov 27th 1964 6.30pm with Lulu, The Dakotas
22 Dec 4th 1964 6.30pm with Sounds Incorporated, The Mark Five
23 Dec 11th 1964 6.30pm with Cliff Bennett and The Rebel Rousers (last of series)

.

.

.

.

.

Man Behind the Star
A face-to-face profile of the star combined with their act. Producer Francis Essex commented, "against a background of the star's act are inserted short revealing interviews conducted by Ian Wallace."
Five hour long programmes: Roy Castle (Nov 26th 1965), Bruce Forsyth (Dec 3rd 1965), Andy Stewart (Dec 10th 1965), Tony Hancock (Dec 17th 1965), Frankie Vaughan (Dec 24th 1965).
The first two, directed by Francis Essex, were recorded in summer 1965. The other three were made later. Originally it had been intended to include Millicent Martin in the series.

A comment on the Dec 3rd show by AN, "it revealed a lot of Bruce's likeable personality. The method was simple enough: snatches from a show he did for Channel 10 in Glasgow, with brief interviews in between."

Details of Tony Hancock (STV, Friday Dec 17th 1965 8.00-8.55pm)
Interviewed by Ian Wallace, "Tony will give a frank personal assessment of what makes him tick." Director: Bryan Izzard. Bob Addison reviewed the programme at the time: "... it's been five long years since Hancock held court as king of tv comedy, but in the true traditions of show biz, he re-emerged from the wilderness with a riotous appearance in a recent Eamon Andrews Show (Oct 17th 1965). Last night showed just how good Tony can be as Tony Hancock. Asked by Ian Wallace if he regretted 'the last five years,' he replied, 'no, I don't think so. It was a disappointment yes, but I wanted to experiment... once you've reached your peak you feel there are others to conquer. I'm sure the experience I have gained during the past five years will add to anything I'll do in the future.'"

.

.

.

.

.


was a popular local show. In 1958 this was transmitted on Friday nights "genially compered" by kilted David Kinnaird. Critic H Bronson wrote: "the best thing is its essential matey-ness. If it can preserve this friendly spirit, it would be worthy of seeing on other regional networks. Eight pretty girls known as the Scottish Television Dancers trip out reels and figure dances in lively fashion, bringing welcome movement to the small screen. The Reivers choose offbeat ballads and prove an interesting foursome while Betty Robson is a young singer in the best Scottish tradition."
HB also described a show in October 1958: "this late night programme, televised weekly on Fridays at a peak hour, scores by its essential simplicity and prettiness, plus talent of eight dancing girls, a group of young kilted Scottish males, and some pleasant singing. The setting is an old barnyard interior with hay and farm implements. A compere (David Kinnaird) bids the viewer enter and presumably join in the jollifications. A quartet named The Reivers offer earthy and comical Socttish ballads... The Clydebank Lyric Choir give good choral backing... James Sutherland directs briskly with Rai Purdy producing. The dances are arranged by Bruce McClure"
Appearing on the December 18th 1958 edition were Betty Robson from Dundee, May Cartwell (of STV's Music Deprtment) and Joan Macleod. James Sutherland directed with Bruce McClure arranging choreography.
One guest on Friday January 23rd 1959 for a Robbie Burns special was the baritone John Heddle Nash. Also appearing: Betty Robson, Clydebank Lyric Choir, Geraldo, and reader Harold Wightman, with Davie Kinnaird as host. Directed by James Sutherland.
The series had a short break in the summer of 1959, but returned on September 18th 1959, transmitted from the Scottish Industries Exhibiton at Kelvin Hall, with David Kinnaird, The Reivers, Jimmy Blair's Band and The Andrew Macpherson Chorale.
Wrote critic Gordon Irving "Jig Time must take credit for helping to inspire the new trend in entertainment." Indeed Imitation being.... etc etc, the BBC's White Heather Club which got shown all over the nation, was started as a result of the success of Jig Time. The BBC disputed STV's innovative claim saying their show was the original. Perhaps life is too short to penetrate now to the depths of this dispute, but according to the BBC Publicity Officer for Scotland the facts were: White Heather Club first appeared as part of A New Year Party (December 31st 1957). Note however it was not a show in its own right as yet. Jig Time was first shown on STV on February 18th 1958. So now you know!
It ran until about 1961, at which time Robert Wilson was host.
STV programmes

.

.

.

.

.

Fastand Folk ('hungry folk')

a 1961 series directed by Brian Mahoney, who ambitiously described it as "an illuminated moment of history...this series of programmes has been an exciting experiment in producing intimate television without in any way depriving guests of spontaneity. Paradoxically this can only be achieved by a very careful rehearsal of facilities and timing." Hostess was Jacqueline McKenzie, regular contributor was Robin Richardson.
Programmes were not shown every week, but included the first on
1 Wed May 10th 1961 (10.55-11.23pm).
2 Wed May 24th (10.35-11.05)- the National Theatre.
3 Wed June 7th (11.07-11.37) with Cedric Thorpe Davis and Alexander Gibson.
4 Wed June 28th (10.35-11.05) had Scottish painters talking about Scottish painting.
5 Wed July 12th (10.50-11.20pm) guests Eric Linklater and Compton Mackenzie, with Oswald Wynd and Magnus Magnusson. Mahoney said, "one of the most exciting programmes has been that on Scottish Writing."
6 Wed July 26th- final programme

.

.

.

.

.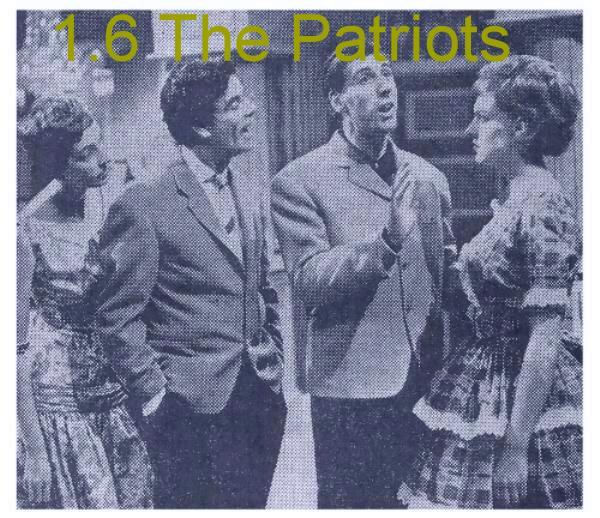 The Adventures of Francie and Josie ("Hellawtherr!")
I am most indebted to William McGregor for kindly supply photostats of many editions of The Viewer with details of this series.

This was a huge hit with Scottish viewers. It was also screened by Grampian and Border, early series were also screened by Tyne Tees, and more surprisingly Anglia. Ulster TV showed it from autumn 1963. Stars were Jack Milroy as Francis McKenzie('Francie'), and Rikki Fulton as Joseph Tierney ('Josie'), two Glasgow layabouts, not unlovable delinquents, who'd rather do anything, or anybody, than turn their hand to an honest day's work. They were assisted by a rota of actors including Clem Ashby, Glen Michael, Douglas Marchie as cafe proprietor Luigi, and Ethel Scott. Appearing in an unknown episode: Joanna Rigby. The final series 4 introduced Vivienne George as a regular cast member. Scripts were by Stan Mars, and the director was Jimmy Sutherland.
After Liam Hood announced planning for the series in Sept 1961, a long Equity strike interrupted production, only one programme (Errant Knights) had been completed before production ceased in Nov 1961. Eventually six episodes were shown, starting on Oct 26th 1962, and such was the success that a second series began taping in spring 1963, six completed before the summer, for screening that autumn. "Their brand of humour has the genius of Chaplin or Keaton," claimed one over enthusiastic critic. Better perhaps was, "Francie and Josie are chips off the eternal Glasgow." Claimed Rikii, "much of the success is due to the fact that Jack and I get on so well."

1.1 Errant Knights (Oct 26th 1962, 9.15pm) also with Ethel Scott, Clem Ashby, Glen Michael, Douglas Murchie, Muriel Henry, and Jameson Clark. Alice Dale and Jean Fitzpatrick played 2 giggling lassies. Francie and Josie have got £10, and naively imagine they can go to Majorca on it. A travel agent directs them instead to Rothesay (location shooting here), where they try to raise the wind in a talent contest. At their digs they have trouble with the landlady, who bans fish suppers, not to mention feminine company. Critic BM praised the "professional assurance" of the two stars, he said the show compared favourably with the BBC's Citizen James. Another critic thought the series made a "promising start"
1.2 The TV Fans (Nov 2nd 1962 9.15pm. rpt Dec 29th 1963 5.05pm) Also with Ethel Scott, Clem Ashby, Glen Michael and Douglas Murchie, plus Una MacLean, Michael O'Hallorhan, John Mulvaney and Muriel Henry. The boys appear on a tv quiz and win a prize of a trip to Paris, under the bossy guidance of Miss Georgina Cosy (Effie Morrison). Her idea of Paris differs from theirs, seeing museums and art galleries. They soon escape, ending up in a Paris dive
1.3 The Souvenir Hunters (Nov 9th 1962 8.30pm)- the boys are locked overnight in the Palace of Holyroodhouse
1.4 The Penpal (Nov 16th 1962)- when an American penpal is stupid enough to send the boys 100 dollars to buy her a souvenir, she can expect trouble
1.5 The Donors (Nov 23rd 1962 8.30pm, rpt Jan 19th 1964 5.05pm) Also with Ethel Scott, Clem Ashby, Glen Michael, Douglas Murchie, and Arthur Boland, Julie Hamilton, Muriel Henry, Kay Rose. How could the boys be mistaken for doctors? They are visiting Luigi in hospital, who has an ingrowing toenail
1.6 The Patriots (Nov 30th 1962 8.30pm)- the two wide boys go to a charm school "to get some 'polash,' but instead of being 'aired and graced' they become involved in a spy drama
2.1 The Guinea Pigs (Sept 18th 1963 9.15pm)- also with Ethel Scott as Samantha and Cleopatra, Douglas Murchie, Clem Ashby and Glen Michael. Samantha is a posh unversity student writing a thesis on Patterns of Social Behaviour, the boys are persuaded to be her guinea pigs
2.2 The Princess (Sept 25th 1963, rpt Feb 9th 1964, 5.05pm)- with Glen Michael as Akim, Ethel Scott as Doctor, Clem Ashby as Mustaph, Douglas Murchie, Brian Carey as American, Muriel Henry and Joan Nicol as Two Extras, and Rosemary Anderson as The Princess. Armed with a thirty bob camera, a keen eye, and a non legit stance outside Glasgow's poshest hotel, the boys go into the photographic business. But instead they get involved in shooting of a different kind, when a beautiful princess asks them for help from assassins. "Hair raising window ledge antics,"
2.3 The So'jers (Oct 2nd 1963, rpt Feb 16th 1964) - with Douglas Murchie, Stewart Henry as Sanny, Arthur Bolass as Bert, Clem Ashby as Waitress, Glen Michael as medical officer, and Philip Ellesmere as Commanding Officer. Also paratroopers of the 15 (S) Battalion Parachute Regiment. "The bad patch episode... although the talented pair finished up in a troop carrying plane faced with the order to jump. the show itself never really got off the ground. It taxied around with a few old chesnuts, rose a few feet in the TAM air with pub and barrack room scenes that were clever but never humorous, but, like the final scene, the show came crashing down to earth... what went wrong? Jimmy Sutherland's direction was faultless. The fault, I'm afraid, lay in the script and with the producer who obviously tried to get too much into half an hour... Funny moments: Francie and Josie, in full para kit, tried to get through the MO's door together. Then they woke up and found themselves in the Army being greeted by the para sergeant (Clem Ashby). But missing was the sharp wit, the reparteee, the slapstick routine we've come toe xpect of Scotland's greatest comedians. Sanny and Bert (Stewart Henry and Arthur Boland) alone stood out and gave real performances. Philip Ellesmere as the Commanding Officer was terribly miscast. His voice did not have the authority or fire necessary to carry off his role. Perhaps the part played by the paratroopers was the most rewarding. At least, in a cut to telecine, they jumped out before the episode came to an end and left us to sit and wait for Francie and Josie's inevitable crash landing in the CO's office.
2.4 The Holiday (Oct 9th 1963, rpt Feb 23rd 1964) with Glen Michael as Manager, Clem Ashby as Head Waiter, Stewart Henry as Waiter, Ethel Scott as Constance, Joan Fitzpatrick as Yvonne, Brian Carey as Sir Thomas Pender, Ian Fraser and Malcolm Terris as Golfers, Catherine Griller and Elizabeth Ritchie as Their Wives, and Bob Mitchell as Reporter. A fiver from Luigi, plus their 'bru' money, and a 4-1 shot on the dogs, all add up to a luxury weekend at a top notch hotel. Much to the consternation of manager, head waiter and guests alike
2.5 The Rivals (Oct 16th 1963, rpt Mar 1st 1964): cast also included: Douglas Murchie as Luigi, Ethel Scott as Felicity, Glen Michael as Jim, and Clem Ashby. The boys fall for glamorous model Felicity, they agree they will both date her, assuming of course that Felicity is willing.
2.6 The Night Club (Oct 23rd 1963 9.10pm, rpt Mar 8th 1964 5.05pm) also with Douglas Murchie, Joan Scott as Secretary, Glem Michael as Ham Actor, Ethel Scott as Tilly, John Mulvaney as Wee Man, and Clem Ashby as Mr McClure,. The boys buy guitars even though they can't play them: they've got a gimmick- talent! Or so they think. Luigi is persuaded to turn his cafe into a night club
2.7 The Banditos (Oct 30th 1963 9.48pm, rpt Mar 15th 1964) also with Ethel Scott, Clem Ashby, Glen Michael, Brian Jones, and Philip Elsmore. Rose, the daughter of the governor of Texas has been kidnapped by notorious Mexican bandit, Pancho (Speedy) Gonzales. The boys come to her aid, at least that's what Francie dreams. And who can blame him, after a plate of porridge and two Forfar Bridies?
2.8 The Stamp Collectors (Nov 6th 1963 9.10pm, rpt Mar 22nd 1964 5.05pm) with Ethel Scott, Clerm Ashby, and Glen Michael. With two stamps short on their National Insurance cards, those likeable layabouts have no option, they have to work! They are hired as sales assistants in a posh departmental store. Their first customer is the store manager's wife
2.9 The Housewarming (Nov 13th 1963 9.10pm, rpt Apr 5th 1964,) with Ethel Scott, Clem Ashby, and Glen Michael. Aunt Jessie moves out, and Josie moves in, an event to be celebrated with a house warming. But no hot peas and totty crisps for them, they mean to do it a la latest women's magazine
2.10 The Matchmakers (Nov 20th 1963 9.50pm rpt Mar 29th 1964) with Ethel Scott, Clerm Ashby, Glen Michael, Douglas Murchie, Marillyn Gray, Mary Riggans, Evelyn Elliot, Hilary Thomson, and Muriel Henry. It's the Lonely Hearts Club for Luigi. Those irrepressible bird fanciers get him all spruced up to meet his blind date. But wherever they lend a hand, trouble inevitably follows
2.11 The Wallet (Nov 27th 1963 9.10pm)
2.12 The Glesca Gallants (nd)
2.13 The Odd Job (Dec 31st 1963 11.05pm, rpt Apr 19th 1964 5.15pm) with Ethel Scott, Clerm Ashby, Glen Michael, Charlie Sim, Douglas Murchie, Alistair Audsley, Brian Jones, Jackie Farrel, and David Eavis. Josie goes job hunting with Francie's Cockney cousin. They land up in a deserted Scottish island with the strange and sinister Dr Yes their employer. He has perfected working robots, or is it the boys? (Note: since Jack Milroy had lost his voice at rehearsals, the script had to be hastily revised.)
3.1 The Good Deed (Feb 2nd 1965 8pm), the cast included Glen Michael as Cecil Buckland. The boys recall some classroom acquaintances like Auld Blubber Lips
3.2 The Decoy (Feb 9th 1965)- among the cast: Glen Michael, Clem Ashby, Ethel Scott as Bebe "an attractive gun moll," George Clarkson, and Walter Jackson. The two lovable layabouts head for "The Rivereria" where their French is more with a Glesga accent. They make friends with some bikini girls and stay in a posh hotel. Francie even asks for homely Scots food, putting the hotel officials in a quandry.
3.3 The Birds (Feb 16th 1965)included in this cast: Ethel Scott as Lizzie, Alice Dale as Ilsa, Glen Michael and Clem Ashby as Danish naval officers, Elizabeth Carney as Ingrid and Rosemary Davy as Hedy, two Danish au pairs. On the train to Glasgow, the boys meet two au pairs, "a couple of stoaters." However the girls are with two bearded naval friends
3.4 The Stowaways (Feb 23rd 1965)
3.5 The Volunteers (Mar 2nd 1965) - also with Ethel Scott, Glen Michael and Clem Ashby, plus: Maud Risdon. Ros Drinkwater, Carol Page, Brian Carey, Paul Johnson, and David McKail
3.6 The Legacy (Mar 9th 1965)
3.7 The Toff (Mar 16th 1965)
4.1 The Luck of The_? (July 11th 1965 7.30pm) - also in the cast: Sheena Campbell as Miss Cut Price. Twelve hours in the life of the boys
4.2 The Meat in the Sandwich (July 18th 1965)
4.3 The Lovebirds (July 25th 1965)
4.4 The Licence to Kill (Aug 1st 1965)
4.5 The Arty-Crafty Brigade (Aug 8th 1965)
4.6 The Song Makers (Aug 15th 1965 7.30pm) cast includes Lillian Welsh

Of these latter two series, producer Liam Hood said that seven shows of series three were scheduled to start recording on Sunday August 30th 1964. and had been taped by the start of December 1964. Another six were recorded in the new year.
Fulton said after the first series, "usually when a series finishes on the telly, it's quickly forgotten. But Jack and I get daily reminders of the remarkable popularity of Francie and Josie.... I picked up a taxi and the taximan recognised me and refused to take the fare saying, You brought so much happiness to me and countless others that this is my way of saying Thank You... I've had bigger fan mail through the tv series than at any period of my theatrical career. Our youngest fan, believe it or not, is aged two! His mother pleaded with me for a picture, he howled the house down after each of your last programmes, and keeps asking when you're coming back."

The Rikki Fulton Hour (STV), "a programme of laughter, music and dancing," was director Jimmy Sutherland's description of the show. Also appearing in the first edition of this monthly series on April 24th 1965 were Ethel Scott, Glen Michael, Clem Ashby, Maud Risdon, Walter Jackson and Clemence Bettany.
The following year Rikki went on to make the situation comedy Rikki. But the series was not as successful as his previous efforts with Francie and Josie, so was taken off after six episodes, the final one on May 12th 1966 being titled MacRomeo and Juliet. His Francie and Josie partner Jack Milroy replaced Rikki's series on May 19th with his own show, with sketches and a guest star, his first being Donald Peers.
On the first day of 1967 Rikki starred in A Show for Hogmanay, then on Jan 3rd the 55 minute play Grand Tour. Another series of Rikki followed, produced by Bryan Izzard. It started on April 11th 1967 ("school concert level of originality"), with the story of how Bonnie Prince Charlies was delivered from the Redcoats by one Angus Macgillicuddy. The second show on April 18th was titled The Removal Man . However this series was taken off after only three of the programmes had been transmitted. In fact seven programmes has already been taped, so where did they all go to? The final episode The Smuggler shown on Tuesday April 25th 1967 was centred on the skipper of a battered old steamboat, used to smuggle illicit whisky from an island to the mainland
STV programmes

.

.

.

.

.

Round Up
was STV's weekly children's 55 minute magazine on Tuesdays (5.00-5.55pm) in place of A-R's Tuesday Rendezvous.
Introduced by Paul Young and Morag Hood. Features included Sports Club, Pop Corner (3 panellists comment on new discs), Future Reference (careers advice), Critics' Corner (discussion of topical importance), Personal Column (celeb interview), a Schools' Quiz.
Script: Lavinia Derwent. Director: Geoff Rimmer, later Ted Williamson took over.

Listing of the programmes with some of the special guests:
1 October 30th 1962 (first edition)
8 Dec 18th 1962 (no programme Dec 25th)
14 Feb 5th 1963 Andrew Wilson of Wilson's Zoo
15 March 12th 1963 (after a four week break, the series resumed)
16 Mar 19th 1963 Ricky Stevens
17 Mar 26th 1963 Polly Perkins, John Leyton
20 Apr 16th 1963 Gerry Marsden
23 May 7th 1963 Patsy Ann Noble,
26 May 28th 1963 Danny Williams
27 June 4th 1963 Eden Kane
30 June 25th 1963 Kenny Lynch
31 Sept 17th 1963 Carol Deene, Bobby McGregor, Bob Monkhouse
33 Oct 1st 1963 Mike Sarne
35 Oct 15th 1963 John Leyton, Julie Driscoll
37 Oct 29th 1963 Don Spencer, Danny Storm
39 Nov 12th 1963 Meg Munro, Dugald Semple
40 Nov 19th 1963 Tony River and The Castaways
41 Nov 26th 1963 John Leyton
42 Dec 3rd 1963 Kenny Lynch, Patsy Ann Noble
43 Dec 10th 1963 (included quarter finals of quiz Dalziel High v Notre Dame High)
44 Dec 17th 1963 Dusty Springfield
45 Dec 24th 1963 Santa Claus!
47 Jan 7th 1964 Jim Clark, Bert Weedon, Doug Sheldon
48 Jan 14th 1964 Frank Haffey, Mickie Most
49 Jan 21st 1964 Wayne Gibson and Billie Davis. Colin Meiklam and His Penny Whistle
50 Jan 28th 1964 The Fortunes
51 Feb 4th 1964 Cloda Rogers
52 Feb 11th 1964 Lina Lane, Frankie Davidson
53 Feb 18th 1964 Vince Eager
54 Feb 25th 1964 Kenny Lynch, The Laurie Jay Combo
55 Mar 3rd 1964 Dev Douglas, Houston Wells, John Cairney
56 Mar 10th 1964 Leslie Duncan, Duffy Power (three week break)
57 April 7th 1964 The McKinlays
58 April 14th 1964 Carol Deene, Gerry Dorsey
59 April 21st 1964 Jackie Lynton, Lulu
60 Apr 28th 1964 Kenny Lynch, Billie Davies
61 May 5th 1964 Chad Stuart. Jeremy Clyde. Personality Parade included The Beatles (recorded Apr 30th)
62 May 12th 1964 Tommy Quickly, Bobby Shafto
63 May 19th 1964 Andee Silver, Tony Sheridan
64 May 26th 1964 The Countrymen
65 June 2nd 1964 Brian Howard and The Silhouettes
66 June 9th 1964 Chad Stuart, Jeremy Clyde
67 June 16th 1964 Jean martin, Craig Douglas
68 June 23rd 1964 Shirley and Johnny
69 June 30th 1964 Brian Poole and The Tremeloes. Also interview with The Beatles
70 July 7th 1964 Mike Sheridan and the Nightriders
71 (now on Wednesdays) Sept 16th 1964 Wayne Gibson and The Dynamic Sounds
72 Sept 23rd 1964 The Langleys
73 Sept 30th The Rustiks
74 Oct 7th Sir John Hunt
75 Oct 14th Ronald Mavor, Johnny Kidd and The Pirates
77 Oct 28th Dave Willis
78 Nov 4th Ritchie Calder
79 Nov 11th Julie Grant, Dave MacIntosh
80 Nov 18th The Rockin' Berries
81 Nov 25th 1964 The Art Woods
82 Dec 2nd Jim Kennedy (Celtic)
83 Dec 9th Cedric Thorpe Davis, The Boston Bexters
84 Dec 16th Kenneth McKellar
85 Dec 23rd (included the Schools Quiz final)
Note: Kara Wilson became co-presenter with Paul Young sometime around now
87 Jan 6th 1965 Jimmy Powell
88 Jan 13th 1965 The Overlanders
89 Jan 20th 1965 Sandra Barrie and Twinkle
90 Jan 27th 1965 Kenny and The Wranglers, Jack Milroy
91 Feb 3rd 1965 Tom Jones
92 Feb 10th 1965 The Moody Blues
93 Feb 17th 1965 Carol Elvis, John Best
94 Feb 24th 1965 The Poets, Don Arrol
95 Mar 3rd 1965 June Laverick, Antoinette and Mike Dallon
96 Mar 10th 1965 Scott Forrest, Martha Smith
97 Mar 17th 1965 Dawn Addams, Liza and Crispian St Peters
98 Mar 24th 1965 Molly Weir, Ray Adams
99 Mar 31st 1965 The Dalys
100 Apr 7th 1965 (now half hour length 5.25-5.55pm) Wayne Gibson
101 Apr 14th 1965 Pinky
102 Apr 21st 1965 Beau Brummel
103 Apr 28th 1965 Mial Lewis
107 May 26th 1965 Michael Chaplin with his disc I Am What I Am. Stanley Baxter, Arnold Wesker, Duncan Macrae and Patsy Ann Noble on trends in the theatre
108 June 2nd 1965 Doreen Wells dancing from Swan Lake
109 June 9th 1965 Manfred Mann. Spy films was the theme
111 June 23rd 1965 Manfred Mann, Ronnie Scott
114 July 14th 1965 Georgie Fame and the Blue Flames
115 July 21st 1965 Lulu, Pete Murray, Mol Thompson, Vicki Carr
116 July 28th 1965 The Animals
117 Aug 4th 1965 Alma Cogan, Ken Colyer Jazz Band (last edition)
Note: Eric Linklater also appeared in one of this final 64/65 series

.

.

.

.

.

.

.

.

.

.

.

Telethon, "unique in British television." Three STV studios were linked up to turn out a continuous stream of local programmes in 1962, Gerry le Grove of STV reflected in The Viewer on "five hectic years, but what fun!" Gordon Irving wrote about the evening of special programmes, "quite a night of Scottish broadcasting." At 1pm, the first offering of the day was Whigmaleerie with Jack House enthusing about cats, followed at 1.10 by Keeping Your Man with Eric Milligan and 1.20 the Scottish News. Sign off at 1.30 until 5pm for Junior TV (Holiday Music and Richard the Lionheart). The ITN News at 5.55 was followed by Scottish News at 6.05 and Friday Fare at 6.15, an admag presented by Edith McArthur and Evelyn Elliott.
6.35pm was the start time for The Anniversary Programme, starting with an anniversary edition of Here and Now with Henry Hay, Ian Ross, Len Thomson and Emilio Coia. Studio Downbeat was introduced by Raymond Boyd, with The Eighbeats, "it's rock, it's twist, and it's for the young at heart." This Wonderful World was a special edition of John Grierson's programme, followed by The One O'Clock Gang, albeit in an evening edition.
At 9pm a break for the ITN News, before the evening continued: Max Haskin, a ten minute version of the lunchtime series of magic. Scotsport introduced by Arthur Montford, with "the sports story which he thinks you will most want to see again." Highland Air with John Bannerman, a Gaelic show with Evelyn Campbell, Alasdair Gillies, and Fergie MacDonald. WD Crocker read an excerpt from his poetry. The Scottish National Orchestra played The Great Gates of Kiev by Moussorgsky (surely a Scottish piece might have been more appropriate?). From Studio A was introduced by Kenneth McKellar (his contribution on tape) with the award for STV Personality of the Year. Joan Summers also joined in. A special edition of Jig Time was introduced by Jimmy Nairn and included Sheila Paton and Don Gordon, with Michael O'Halloran, Elaine Wells, Douglas Cameron, and Gordon Roddick. The evening concluded with Late Call with Noel Stevenson, then managing director of STV, taking part in the final Epilogue. Close down at an unspecified time. This Telethon thankfully survives.

As a somewhat belated 10th birthday celebration, STV presented The Queen of Scots on Wednesday November 29th 1967 at 8pm.
Shown in two segments: Cast details:
1 Loch Leven also with Jeremy Young as The Younger Ruthven, Peter Wyngarde as William Maitland of Lethington, James Copeland as Lord James Stuart, Earl of Moray, Walter Carr as Lord Lindsay, John Laurie as John Knox, Morag Forsyth as Mary Fleming, Nell Curran as Lady Beaton, Margaret Leslie as Mary Livingstone, Grace Joss as Mary Seaton, Victor Carin as James Hepburn Earl of Bithwell, Richard O'Sullivan as Lord Henry Darnley, Tom Conti as David Rizzio, Michael Deacon as Earl of Lennox, Will Joss as The Elder Earl of Ruthven, Gerald Slevin as Ker of Fawdonside, Constantin de Goguel as Taylor, Patrick Carter as Hay, John Young as Lord Melville.
2 Fotheringay also with Jeremy Young as Bromley, Peter Wyngarde as Burleigh, Walter Carr as Sir Amyas, Mary Kerridge as Elizabeth, Victor Carin as Walsingham, Michael Deacon as Babington, Patrick Carter as Knollys, Bob Wilson as Bishop, Malcolm McIlwrath as Phillips, Ian Halliburton as Gifford, Francis Ghent as Ballard, Ian Dempsey as Savage, Ken McKenzie as Throgmorton, Iain Agnew as James VI.

Gordon Irving wrote, "Ellen McIntosh achieved quite a feat in the part of Mary Stuart, and conveyed all her moods and thoughts. She was rarely off the screen during the entire two hours.... There was much solid acting from many others in the large cast of 34, and among these the work of Peter Wyngarde as Maitland of Lethington, John Laurie as a highly emotional John Knox, Victor Carin, Richard O'Sullivan, Tom Conti and Mary Kerridge must be singled out. Crowd scenes were well handled, and the final execution moment had much drama. In costumes, sets and direction by Geoffrey Nethercott, the play deserved high praise. Apart from some confusing moments near the beginning, it held interest throughout. A pruned version of say 90 minutes would be worthy of network consideration. The play, commissioned for STV's tenth anniversary, was written by Jack Gerson and Ian Stuart Black. To attempt even a two hour stretch was a bold move."
Paul Foster however noted, "I often felt it favoured Mary and showed Elizabeth in a more unfavourable light... for example there was no reference to the Battle of Langside when Mary was defeated and fled to England for Elizabeth's protection... I admire Ellen McIntosh very much, but she lacked conviction. Victor Carin as the power grasping Bothwell and Peter Wyngarde's immaculate Burleigh provided an object lesson in timing and style."
STV programmes

.

.

.

.

.

Did You See Una? (early 1967)
was one series produced by Francis Essex. It starred Una McLean as a woman of the Walter Mitty type, who dreams of different lives she'd like to lead, though in fact she runs a small hotel. Devised by Stan Mars, who wrote some of the scripts, other contributors were Kelso Roberts and Dick Bradley. Director: Charles Tait. The series was taped, starting in November 1966. Essex praised "the irresistible personality" of McLean, stating in September 1966, "if there is one talent-loaded potentially international star just waiting for the opportunity to hit the headlines, it is Una."
The series began on January 10th 1967 at 10.05pm with Read Any Good Books Lately? Also in this cast were Glen Michael, Alex McAvoy, Margery Dalziel, Doris McLatchie, Paul Kermack. Malcom Ingram, and Glenys Marshall. GI reported: "The script formula is wrong. Miss McLean's talent is too spreadeagled in a revue-style half hour, that calls on her to do too many things... how much better it would be to put Una and her support into a well rounded and simple comedy situation each week, and tell a humourous story without all these bits and pieces, clever though some of the characterisation was on the first edition. The opening item before the credits, with Una seated in front of a row of actors and actresses, held up the pace, and hit a localised note that wasn't necessary. Incidentally, the slick opening credits augured well, but the half hour soon shrunk back into fair but not noteworthy quality. The best item was when Miss McLean was seen in two sketches making love to a girl. By the end it had all become rather tedious... it shaped as a good attempt, but with the wrong basic idea."
Further shows in this same slot came on the following twelve Tuesdays, including Travel on Feb 7th 1967, the cast also featuring Robin Hunter, Alex McAvoy, Helen Norman, Ian Trigger, and Vivienne St George. The eleventh show on March 21st was on the theme of Sport and Outdoor Life. The final programme came on April 4th at 10.05pm.
The series must have been taped since it was shown on Grampian TV in the summer of 1967, where the show was top of the TAM ratings for w/e July 16th.

Over to Una (STV)- this was Una McLean's next series, which unlike the previous revue style show, was pure situation comedy. The regular supporting cast included Glen Michael, returning from the previous series as Andy Una's wide-boy salesman cousin, Phil McCall as Una's father, and Effie Morrison as her home help. Director: Charles Tait. Guest stars were Alfie Bass, Dick Bentley, Bill Kerr, Clive Dunn, and Hattie Jacques. After the first show on Thurs Nov 16th 1967 6.30-7pm, the Scottish Evening News enthused, "STV are on a winner with Una McLean the lass from Larkhall." The series ended on December 14th 1967 after 5 episodes

.

.

.

.

.

STV's first talent spotting programme was Fanfare, I think jazz singer Fiona Duncan was the winner. A second talent series had the imitative title Stars In Your Eyes, with Rai Purdy and music from Geraldo's Band. The winner was an opera singer from Kirkintilloch, Joan Summers, who according to one report, managed to beat another competitor named Dudley Moore in one heat. She was awarded her own STV programme on May 4th 1960, A Date with Joan Summers. It lasted a mere 15 minutes and was screened at 10.45pm.

Christmas Eve 1958 saw a live telecast from Dunfermline Abbey. A report noted "the camera angles did credit to all, and there was a grand sense of movement. It was a programme worthy of the network."

The final show of 1958 A Guid New Year from Glasgow was produced by Rai Purdy. Directed by James Sutherland, Liam Hood and Geoff Rimmer, it featured Jack Radcliffe, Larry Marshall, Jimmy Nairn (of the 'One O'Clock Gang') with Jimmy Blair and His Band. And the last show of 1959 was an hour long Jig Time special, again directed by James Sutherland.

Mr Fixit was a 1959 puppet series starring Roy Kinnear in his tv debut. Some programmes were recorded, Jim Tattershall manipulated the puppets, director was Liam Hood.

This is Scotland was a serious series on Tuesdays starting on July 7th 1959 which took cameras to various Scottish centres of business. The first programme dealt with steel, later programmes covered shipbuilding, coal, whiskey, farming, and textiles/chemicals. Programmes were devised by John Wilson, and directed by Liam Hood.

The New Year Show (STV Dec 31st 1960, 11.30pm-12.30am) - Seeing in the New Year 1961, STV produced their most expensive show to date, based on the theme Make A Wish. It starred David Hughes, Jill Day, and Ivor Emmanuel. Also taking part were The Amin Brothers Eyptian foot jugglers, comedian Len McLean, Deidre O'Callaghan an Irish musician, with Bruce McClure's Dancers, and the George Keenan Orchestra. The hosts were Gracie Clark and Colin Murray from the Metropole. Director: Walter Butler. Producer: Gerry le Grove. Perhaps the biggest disappointment for viewers was that this show was not live- it was filmed. Is it now lost?

At The Lucky Diamond was STV's local talent show, produced by Liam Hood. With musical director George Keenan, he auditioned the potential acts. The show began on Monday June 18th 1962 and ran for 19 weeks. It climaxed with the final on Monday October 22nd 8-8.30pm. The top prize was £250, with £100 for the runner up. The finalists included The Merrynotes from Wishaw, Leslie Harvey and Hank Kelly guitarists from Glasgow, and Lana Barclay a singer from Bothwell. The winner was 29 year old electrician David Cunningham, a singer from Bo'ness.

Sense and Nonsense began on STV on Monday July 30th 1962 at 10.40pm. It was notable for being one of the earliest tv appearances of Magnus Magnusson, who was the president of a panel of four Scotsmen who discussed items in the news. Producer David Johnstone said, "this will be an unscripted and unrehearsed programme, with every member of the panel completely free to express his or her own views on the subject selected by the chairman." He added, "if anything breaks on the nine o'clock news, the panel will consider its implications." It ran until Dec 17th 1962, then returned on Jan 7th 1963 at 10.30pm until a final programme on Feb 4th 1963 by which time the format was altered to include a studio audience who put questions to the panel

Hogmanay was STV's final show of 1962, on New Year's Eve 11.45pm. Hosted by Jimmy Nairn, among the seventy guests were Rikki Fulton, Larry Marshall, Jack Milroy, Charlie Sim, Sheila Paton, Moira Briody, Dorothy Paul, Peter Mallan Trio, Bill McCue, Piper Seumas McNeill, Isabel Mackay, Billy Forsyth, Bill McCue, Jimmy Reilly, Jimmy Blair's Couuntry Dance Band, and winner of the talent show At the Lucky Diamond David Cunningham. The show was partially networked to London and some other regions. At the last moment, Fulton and Marshall withdrew from the show in protest that their sketch was being limited to two and a half minutes (it was about what a Scotsman is alleged to wear under his kilt). Claimed producer Liam Hood, "everything was done most amicably," the comedians had felt they could not do their sketch justice in such a short space of time

Post Graduate Medicine was one of STV's most unique contributions to the network was a series of twelve specialised forty five minute monthly programmes aimed at doctors.
It began on STV on March 11th 1963. Sir Charles Illingworth introduced each episode

A Man In His Time: William McGonagall (production started June 1964, STV)
An hour long dramatised biography directed by Brian Mahoney about the Scottish poet, played here by Bryden Murdoch, with filming in Dundee. Script: Joe Boyle. Introduced by Leonard Maguire. A total of 22 actors were in the cast

Hey There! (STV 1964)
A series showcasing top entertainers singing their four best numbers from their LPs. Directed by Brian Mahoney and made in STV's Studio C at Theatre Royal.
The first show on Monday November 30th at 6.45 featured Helen Shapiro, with subsequent shows offering The Alexander Brothers (Dec 7), Teresa Duffy (Dec 14), Joe Brown and the Bruvvers (Dec 21), and Robin Hall and Jimmie Macgregor (Dec 28).
From Jan 4th 1965, the slot was taken over by The Pop Spot, which on this day starred Billy J Kramer and The Dakotas. Jan 11th: Adam Faith and The Roulettes. Jan 18th: Sandie Shaw. Jan 25th: Freddie and The Dreamers. The last was on Feb 1st: Cilla Black

Ne'erday (STV December 31st 1964, 11.50pm-1.45am)
"A show with a difference." Stars were the familiar Francie and Josie, this was set in Auntie Jessie's kitchen, where the two stars switch on the tv to watch their favourite show, a Hogmanay spectacular with singing, dancing, folk singers and specialty acts. Producer Liam Hood explained, "we plan to do a sort of show within a show... viewers will move from the kitchen to a set of the Francie and Josie Show." Also with Kenneth McKellar, Bill Tennent, and Sheila Paton.

STV Scottish Television's 'new look' in 1965 was down to the departure of original programme controller Gerry le Grove, and the appointment of Francis Essex, late of ATV. A new board consisted of James M Colthart (previously deputy chairman), Francis Essex, Iain Stewart, Noel Stevenson and William Brown (previously deputy managing director).

Young Scot '65 (STV weekly from Wednesday Feb 17th 1965, 7pm, with the final on April 28th 1965)
The search for a teenager who has displayed "initiative and community spirit." Potential candidates were reviewed by a selection committee which included Lord Clydesmuir, Mrs Michael Noble, Rev George MacLeod, Duncan Macrae, Sheriff Harald Leslie, Naomi Mitchison, and Lavinia Derwent. Judging each case on its merits on the show was a panel which included Juimmy Logan and Rikki Fulton as well as Chief Constable William Merriless, Dr Tom Honeyman, Malcolm Slessor and Lord Polwarth. The Evening Times slammed the third in the series (Mar 3rd), "right at the start this programme came on air with pictures and no sound. After a long delay we were told that the programme would continue without sound." The same paper said of the final, "frustrating: the questions were often preceded by waffling prologues." However the paper's verdict was more encouraging on Meet Young Scot '65 on April 28th 9.10-9.30pm, "we got for the first time some idea of the things the judges were really looking for... there were excellent suggestions for improving the contest should it ever be organised again. I particularly like the idea that Young Scot of the Year should be chosen by young Scots"

Late Night Larry (June 7th, 14th, 21st and 28th 1965) This was Larry Marshall,'s 'compensation' for the ending of the One O'Clock Gang. Half hour "frolics" with Dorothy Paul, Moira Briody and the Tommy Maxwell Quartet. Director: Liam Hood.
A contemporary report of the first show: "After watching hundreds of One O'Clock Gang shows, and now the first of Larry Marshall's four late night shows, I'm still not sure whether the wee Glasgow comic is a better script-gag-song writer than he is a performer. That's the puzzling thing about Marshall. Like McGonagle, you're never quite sure whether he's a genius or just downright terrible. He has never quite hit the heights although he has been in and around the tv scene in Scotland for well night eight years. Seen only occasionally in evening spots, this was by far Larry's best effort yet. It started off with a bang! Lavish sets full of promising material and star names- and then, half way through- flop!... The mock opera at the end, Larry's own creation... was a sensation. How much better if the entire half hour had been given over to it. Bill McCoe, clearly Scotland's outstanding bass singer, was in glorious voice as was the lovely soprano Dorothy Paul... Let's see what Larry & Co can do with their three remaining programmes. No doubt Francis Essex is watching events closely"

STV Music Hall (STV 1965)
Compere: Johnny Beattie. Critic BM wrote of the first show, "not in the rave class, but it was far from a flop."
Tuesday October 19th 1965 9.10-10.05pm: with Chic Murray and Maidie, Kenny Ball and His Jazzmen, David Berglas, Will Starr, Denis Clancy.
October 26th 1965: with Ivor Emmanuel, The Clancy Brothers
November 2nd 1965: Callum Kennedy. Billy Rusk (November 9th 1965 no show)
November 16th 1965: Alex Finlay
November 23rd 1965: Rolf Harris
Other guests on unknown dates included David Nixon, The Cluny Boys, Eileen Keegan, Sheila Paton, Janie Marden, Mal Hollander, The Douglas Brown Four, The Derek Franklyn Trio.

Present Grandeur Nov 29th 1965, 10.05-10.50pm- on Cumbernauld. A second programme on Monday Dec 6th 1965 10.35-11.20pm was titled High Living. A third and fourth programme followed at the same time the following two Mondays. The fifth and final programme on Dec 27th at 10.35pm was titled Not Proven.

Song for Scotland (1966)- to find a song that expressed "feeling about Scotland." Any type of song could be submitted, ballad, comedy, folk, pop. Andy Stewart- who else?- was judge, and two songs proved popular, Loch Marie, and These Are My Mountains by Jimmy Copeland. A second competition was announced in July 1967, to be held in early 1968, with six shows, the top prize was a splendid £100.

Night Club Night (STV Mondays 10.05-10.35 starting Jan 10th 1966).
Screened from the elegant Restaurant Chevalier, top cabaret acts were shown, with compere John Toye. Critic Hugh Brown complained, "my main objection to Night Club Night is that it fails completely to capture any sparkle or gaiety... indeed it leaves one with the impression that there's very little of either." Guests included: Lance Perceval (Jan 10), Ronnie Carroll (Jan 17th), Rolf Harris, Cleo Laine, Matt Monro, Donald Peers (Feb 28th), and The Beverly Sisters.
A revival titled Night Club Nights began on Monday January 9th 1967 and was transmitted live from Glasgow's Chevalier Casino. Resident musicians were Peggy O'Keefe and Her Trio, with Peggy as host. Director was Bryan Izzard. In the first show Kenny Lynch and magician Johnny Hart appeared. Janie Marden was on January 16th, while Kenenth McKellar starred on February 13th.
Another 12 week series started on Jan 8th 1968 at 10.30pm. This new series came additionally from (during February) the Piccadilly in Glasgow and (during January) the Pentland Club in Edinburgh. Director: Russell Galbraith.
Appearing in the first show was George Chisholm.

A Matter of Expression- Summer Saturdays in 1967 at 11.05pm. A half hour series of humorous sketches, all mimed. Though only shown in the STV region, the humour was apparently not especially Scottish. No words were used, only mime, plus dance and jazz. Star was Alex McAvoy, director Bryan Izzard

The Bowler and The Bunnet (Tuesday July 18th 1967, 8.35-9.30pm- dvd issue 2011) marked the tv directorial debut of Sean Connery. A study of The Fairfield Experiment after one year. This was a new deal in management and labour relations on Clydeside. The opening scene was an attention grabber: a Celtic victory, though cameras quickly moved to Dumgoyne, and Govan. Connery put the questions and gave commentary. Script: Cliff Hanley. Producer: Bryan Izzard. Partially networked.

The Soldier's Tale (Tues Sept 4th 1967 8.30-9.30pm)
A bold screening of Stravinsky's opera with the Edinburgh Festival cast which included Patrick Wymark, Una Stubbs, Gordon Jackson and Nicky Henson. Director: Wendy Toye.
Playing the soldier was Henson, with Una Stubbs as the princess, and Patrick Wymark as The Devil.
Peter Hemmings, Director of Scottish National Opera, stated, "we are delighted to be continuing the association with STV which was so fruitful in the production of Singing For Your Supper." Francis Essex added, "after last year's production of The Winter's Tale, Peter Hemmings and I were enormously impressed with the atmosphere in the Assembly Hall"
STV programmes
STV Menu

.

.

.

.

.

.

.

.

.

The One O'Clock Gang from Theatre Royal Glasgow


was STV's Lunchtime show, originally the title had been mooted as The Goofy Gang.
On Monday February 16th 1959 it "celebrated" its 365th edition! Mainstay of the show was compere Larry Marshall (real name Harry Tomasso) who said, "the Gang has not once indulged in any unsavoury jokes;" nowadays of course that would be a matter for ridicule, so all credit to Marshall. The Gang also included Sheila Matthews and Brian Douglas who provided the songs. Producer Rai Purdy described the show as "an informal get together between half a dozen folk who are out to entertain you in a relaxed sort of way." Clearly things had improved since that first show on 2nd September 1957, which one critic (Gordon Irving) slated thus, "This lunch time half hour proved deficient in slick comedy material, and will require much greater polish if it is to hold its viewing public. Larry Marshall, as comedian, has too spivish an approach, and needs to be more sympathetic... the programme is safer in its song department, put over quite attractively by singers Brian Douglas and Sheila Matthews. The Tommy Maxwell Four give musical backing. A spot for audience interviews has possibilities, but the interviewees should be more carefully selected. One member of the audience frankly admitted to being idle!... This lunchtime spot has so many rough edges that.. immediate attention is required. Robin Gardiner and Gordon Fleming are responsible for the script, such as it is. Bill Skinner directed."
January 11th 1960 saw the start of the feature Yours for a Song, which reached its final in May, in which contestants submitted a piano copy with words and music of an original song. The winner received a gramophone record of the song, a first class return fare to London, a week at a London hotel, with £20 for incidental expenses, plus a letter of introduction to two music publishers. Other features at this period included Leave It To Larry!- every Tuesday Larry Marshall arranged for concert parties to entertain hospital patients. Then every other Thursday old time variety artists strutted their acts. Programme 3 on Feb 18th 1960 included Cissie Glen, Tommy Dale and Bert Bendon. Programme 4 on March 3rd 1960 featured Bessie Hogarth, Alf Fleming (aged 80+), violinist Hamilton Scott, and Dave Willis.
Another of the numerous guests on the show was Carmita aka Ivi Rodan (Fri Jan 30th 1959).
The 1,000th edition was celebrated on September 13th 1961 from 1-2pm. Shown before a specially invited audience of civic dignitaries, show biz personalities, and press men. Five hundred members of the public also attended in the circle and upper circle of the Theatre Royal. The programme included reminiscences by the cast of their previous shows. Sketches were performed by the established cast, mixed with special guest appearances. According to advance publicity, the following stars had been invited (though I have no idea if they did come): Benny Lee, Alastair McHarg, Sheila Mathews, Anne Shelton, Jack Milroy, Jose Donnelli, and Eileen Keegan.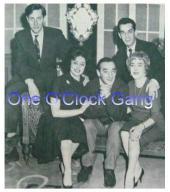 Also in Sept 61, Walter Butler, the show's director and Larry Marshall attended auditions at the newly opened Border TV studios, to find some local artistes to appear on the show: first to make her tv debut was 16 year old Morag Tosh from Dumfries
This 1962 photo depicts the Gang of that era. Front left: Dorothy Paul, the singer, Larry Marshall centre, and right front Moira Briody, Irish singer. Rear left is Jimmy Nairn, an old friend of the show and the straight man, with rear right Charlie Sim singer and comedian. The Tommy Maxwell Quartet (led by drummer TM) continued to provide the music. At this time STV claimed it had clocked up "more performances on British television" than any other programme, though that's open to question.
On Monday July 8th 1963, Dorothy Paul (wife of Gerry le Grove) returned to the One O'Clock Gang, after an absence of five weeks, during which she gave birth to a daughter. "I was quite terrified," she told reporters, "it was like starting in show business all over again... On Monday however, half way through my first song My Love Is Like A Red Red Rose, I thought I was going to faint. But Larry Marshall and the rest of the Gang smiled encouragingly off camera, and I got through somehow.
Lord Hill watched the show (from a private box in Studio A) on June 17th 1964. Was it because of this, that the series was taken off at the end of that year? The shock news came in October, first to leave was Charlie Sim. For the last few months the show changed its name on Mondays to Monday Mixture, on Fridays to Grand Palace of Variety. Other days saw the show but with bylines of Jigsaw (Tues), Disc Date (Weds) and Dress Parade (Thurs). The very last show was on Dec 31st. Gerry le Grove was quoted as saying, "there are no difficulties between the company and The Gang. They all understand and are quite happy about it." A directive from the ITA was the cause, all down to that visit from Lord Hill.
With the enforced cessation of The One O' Clock Gang at the end of 1964, STV introduced a new lunchtime line up to start 1965.
On Tuesdays (starting Jan 5th) cook Eric Milligan was allocated his own half hour programme, with cooking tips and recipes. On Wednesdays from Jan 6th came Larry-Go-Round with Larry Marshall, with the latest discs spinning, and guests artists appearing. First guest was Kenny Lynch. On Thursdays from Jan 7th came Stop and Think, with Elaine Wells and Jimmy Nairn, a programme for women, covering items of interest to the family. The first show included Jimmy visiting the home of Charles Hepburn to examine his collection of antiques. Also in this series was a slot devoted to buying a house. Fridays from Jan 8th saw A Box at the Grand, old time music hall, featuring the well known STV faces of Larry Marshall, Jimmy Nairn (acting as the chairman), as well as Dorothy Paul and Moira Briody. Guest on Jan 8th was Billy Redmond, others in the series included Jimmy Reid and Dave Willis. Then on Mondays from Jan 11th Dot and Mo featured Dorothy Paul and Moira Briody with viewers' song requests. All in all, slight variations from the old One O'Clock Gang!
programmes menu

.

.

.

.

.

.

.

.

.

TAM ratings in Scotland (STV area) w/e 26th June 1960


1 Flag Fall (Armchair Mystery Theatre) ABC 61%
2 Silent Service STV * 55 #
3 Delfont's Sunday Show ATV 54
4 No Hiding Place A-R 52
5 The Variety Show Granada 51
6 Boxing BBC 50
6= Bonanza ATV presentation * 50
6= Interpol Calling STV presentation * 50 #
9 Silver River (film) STV presentation * 48 #
9= Criss Cross Quiz Granada 48
*=NOT in National Top Ten. # Not in any other regional top ten in this week.

TAM ratings in Scotland (STV area) w/e 1st October 1961
1 Rawhide 66%
2= Double Your Money 62%
2= The Americans (STV)
4 Bonanza 61%
5 Coronation Street (Sept 27th) 59%
6 Television Playhouse 58%
7 Probation Officer 56%
8= Hippodrome 55%
8= Hawaiian Eye
10= Scotsport Special 53%
10= London Palladium
Top BBC: Perry Mason 46%

TAM ratings in Scotland (STV area) w/e 11th February 1962
1 Film: Port of Escape (STV) 66%
2 Bonanza 63%
3= Rats of Tobruk (A-R) 61%
3= Take Your Pick
5= Stryker of the Yard 58%
5= Rawhide
7= Coronation Street (Feb 7th) 56%
7= London Palladium Show
7= Bronco (BBC)
10 Coronation Street (Feb 5th) 55%

TAM ratings in Scotland (STV area) w/e 8th April 1962
1 Coronation Street (Apr 4th) 68%
2 Bonanza 65%
3= Father Knows Best 63%
3= Take A Letter
3= You Can't get Away With Murder
6 London Palladium 61%
7= Coronation Street (Apr 2nd) 60%
7= Laramie (BBC)
9 Playdate: The Vigilante 58%
10= Stryker of the Yard 57%
10= Arthur Haynes Show
10= Here and Now (Apr 4th STV)
10= European Cup (A-R)

TAM ratings in Scotland (STV area) w/e 28th July 1963
1 Password 45%
2= Bus Stop 67%
2= Ward 10 (July 23)
4= Coronation Street (July 24) 43%
4= Don't Say a Word
6= Casebook 42%
6= Maupassant
8= Coronation Street (July 22) 41%
8= No Hiding Place
10 Stars and Garters 40%
Note- top BBC show (31%): Professional Boxing

TAM ratings in Scotland (STV area) w/e 11th October 1963
1 Francie and Josie (STV) 76%
2 Armchair Theatre 67%
3 77 Sunset Strip 66%
4 Dickie Henderson Show 64%
5= Scotsport (STV Oct 9th 9.45) 63%
5= The Saint (Oct 10th) 63%
7 Coronation Street (Oct 9th) 62%
8 Coronation Street (Oct 7th) 61%
9 Double Your Money 60%
10= Thank Your Lucky Stars 58%
10= London Palladium Show 58%
Note- top BBC shows (50%): Dick Powell Theatre / Dick Van Dyke Show

TAM ratings for STV w/e 15 Dec 1963
1 Francie and Josie 71%
2= The Travelling Man (A-R) 67%
2= Alfred Hitchcock Hour
2= The Swindler (ABC)
5 Hawaiian Eye 66%
6 That's My Boy 65%
7 Here and Now (STV Dec 13) 64%
8= Coronation St (Dec 9) 63%
8= Take Your Pick
10= Discs A Gogo 56%
10= World In Action
Top BBC: Dixon of Dock Green (56%)

TAM ratings for STV area w/e Jan 5th 1964
1 Coronation Street (Dec 30) 65%
2 Personality of the Year (STV) 60%
3= Discs-A-Gogo 58%
3= Francie and Josie
5 No Hiding Place 56%
6 Follow the Sun (STV) 54%
7 Alfred Hitchcock Hour 53%
8= New Year Party (BBC) 52%
8= Take Your Pick
8= Touch of the Norman Vaughans

TAM ratings for STV area w/e Jan 12th 1964
1 Coronation Street (Jan 6) 65%
2 Discs-A-Gogo 64%
3= Coronation Street (Jan 8) 63%
3= Espionage
3= Take Your Pick
6 Ready Steady Go! 62%
7 Francie and Josie (STV) 61%
8= Here and Now (Jan 6 STV) 60%
8= Hawaiian Eye
10= All Our Yesterdays 57%
10= Stars and Garters
10= Here and Now (Jan 10 STV)
10= Thank Your Lucky Stars
Top BBC: Steptoe and Son 52%

TAM ratings in Scotland (STV area) w/e 9th February 1964
1= Coronation Street (Feb 5th) 67%
1= Francie and Josie (STV)
3= Coronation Street (Feb 3rd) 65%
3= Liberal Party Political
5= The Dakotas 64%
5= Candid Camera
7 Discs A Go-Go 63%
8= The Avengers 62%
8= Silents Please
10= Here and Now (Feb 7th STV) 61%
10= Take Your Pick
Note- top BBC show with 60% was Steptoe and Son

TAM ratings for STV area w/e Aug 2nd 1964
1 Sunday Mystery Theatre 48%
2= Love Story 47%
2= Ward 10 (July 31)
4 Burke's Law 46%
5= Coronation Street (July 27) 45%
5= Coronation Street (July 29)
5= Celebrity Game
8 Call In On Carroll 44%
9= No Hiding Place 43%
9= Triangle
9= Zane Grey Theatre Theatre
Top BBC= Call The Nurses/ The Gun Expert (41%)

TAM ratings for STV area w/e Aug 23rd 1964
1 Conservative Party Political 66%
2 No Hiding Place 64%
3 Coronation Street (Aug 17) 63%
4 Gunsmoke 56%
5= Festival Club (Aug 17 STV) 54%
5= Discs a Go-go
7= Coronation Street (Aug 19) 53%
7= Sunday Mystery Theatre
9 Burke's Law 52%
10 Blithe Spirit - Choice of Coward 51%
Top BBC: Lance At Large (39%)

Scottish TV area TAM ratings w/e 11th Oct 1964
1 Coronation Street (Oct 5) 55%
2 Burke's Law 54%
3= They Sold a Million 52%
3= Criss Cross Quiz
5= Scotsport (STV) 51%
5= Paris 1900
7= Canadian Miscellany (STV) 50%
7= Circus Comes to Town
9 Coronation Street (Oct 5) 49%
10= Here and Now (Oct 5 STV) 48%
10= Three's a Crowd (Border)
10= Ward 10 (Oct 6 and 9)
10= Take Your Pick
Top BBC was Hollywood and the Stars (46%)

TAM ratings for STV area w/e Jan 24th 1965
1= Coronation Street (Jan 20) 70%
1= Take Your Pick
3 Coronation Street (Jan 18) 63%
4 Just Jimmy 62%
5 Discs a Go-go 60%
6= Perry Mason (BBC) 57%
6= Police Call
6= The Detectives
6= Burke's Law
10 Ward 10 (Jan 22) 56%

TAM ratings for STV area w/e Feb 14th 1965
1 Take Your Pick 68%
2 Coronation Street (Feb 10) 66%
3 Francie and Josie 65%
4 Coronation Street (Feb 8) 61%
5 Burke's Law 58%
6= Front Page Story 57%
6= Ward 10 (Feb 12)
8= Discs Go-go 54%
8= The Detectives
8= Double Your Money
8= Let's Sing Out (STV)
8= The Villains

TAM ratings in Scotland (STV area) w/e 21st February 1965
1= Coronation Street (Feb 15th) 68%
1= Take Your Pick
3 Burke's Law 61%
4 Francie and Josie (STV) 60%
5 Coronation Street (Feb 17th) 59%
6 Emergency- Ward 10 (Feb 19th) 58%
7 No Hiding Place 57%
8= The Human Jungle 56%
8= Dr Finlay's Casebook (BBC)
10 Hong Kong (screened by STV) 54%

TAM ratings in Scotland (STV area) w/e 7th March 1965
1= Francie and Josie (STV) 64%
1= Coronation Street (March 3rd)
3= Coronation Street (Mar 1st) 59%
3= Take Your Pick
5= Emergency- Ward 10 (Mar 5th) 55%
5= Burke's Law
7= The Saint 54%
7= Dr Finlay's Casebook (BBC)
9= No Hiding Place 53%
9= The Fugitive

TAM ratings for STV area w/e Dec 12th 1965
1 Alexander Brothers (STV) 59%
2 Coronation Street (Dec 8) 57%
3= Take Your Pick 56%
3= Glaister (STV)
3= No Time for Sergeants
6= Love Story 55%
6= Double Your Money
8= Desilu Mystery Theatre 54%
8= Cinema
10= The Western- Jessie James (BBC) 53%
10= Jimmy Logan Theatre Hour (STV)
10= Eamonn Andrews Show

TAM ratings in Scotland (STV area) w/e 6th February 1966
1 The World of Stanley Baxter (STV) 66%
2= Double Your Money 58%
2= A Song for Everyone (BBC)
2= London Palladium Show
5 Coronation Street (Feb 2nd) 57%
6 This Man Craig (BBC) 56%
7 The Rat Catchers 55%
8= Coronation Street (Jan 31st) 52%
8= The Man From Uncle (BBC)
10= Desilu Mystery Theatre 51%
10= Take Your Pick

TAM ratings for STV area w/e Oct 2nd 1966
1 London Palladium Show 63%
2 Dare I Weep (Rediffusion play) 61%
3 Alexander Brothers Show (STV) 57%
4= Cinema 56%
4= Marco Polo (STV film)
6 The Baron 55%
7 This Week 54%
8= Double Your Money 53%
8= Hippodrome
8= Till Death Us Do Part (BBC)

TAM ratings in Scotland (STV area) w/e 26th November 1967
1 Dr Finlay's Casebook (BBC) 57%
2= Stanley Baxter Show (BBC) 56%
3= Z Cars (BBC) 51%
3= Coronation Street (Nov 22)
5= Scotland Late (Nov 24) 50%
5= Film: Random Harvest (BBC)
7 Film: Rocking Horse Winner (STV) 49%
8 The Frost Programme 48%
9= The Man From Uncle (BBC) 47%
9= Saturday Thriller (BBC)
9= Sykes versus ITV

STV area TAM ratings w/e 3 Dec 1967
1 Stanley Baxter Show (BBC) 63%
2 London Palladium 62%
3 The Untouchables 60%
4 Big Show Carbine Williams (STV) 57%
5 Scottish Minstrel (BBC) 56%
6 Dr Finlay's Casebook (BBC) 55%
7 Z Cars (Nov 26) (BBC) 52%
8= Z Cars (Nov 27) (BBC) 51%
8= Candid Camera
10 Coronation Street (Nov 29) 50%

TAM ratings in Scotland (STV area) w/e 31st December 1967
1 Stanley Baxter Show (BBC) 55%
2 Film: Man Who Shot Liberty Vallance (BBC) 54
3 Film: Brigadoon (BBC) 52
4= Film: The Square Peg (BBC) 51
4= Top of the Form (BBC)
4= The Man from UNCLE (BBC)
7 Top of the Pops (Dec 28th BBC) 49
8= Top of the Pops (Dec 26th BBC) 48
8= The Newcomers (Dec 28th BBC) 49
10= The Frost Programme 46
10= Saturday Thriller: The Prowler (BBC)

TAM ratings in STV area w/e 21st April 1968
1= Case of the Seven Saints (STV) 51%
1= Alfred Hitchcock Hour
3= Film: Psycho (BBC) 50
3= Sportsview (BBC)
5= Moira Anderson Sings (BBC) 47
5= Scotsport (Apr 17)
7= Spindoe 46
7= The Big Show
9 The Golden Shot 45
10= Film: Pide & Passion (STV) 44
10= Man in a Suitcase
10= News at Ten (Apr 19)
STV Menu

.

.

.

.

.

.

Rai Purdy, executive producer of STV,
outlined plans for the station in January 1957.
(Given in an interview when he flew in from Vancouver. He had formerly worked for CBS in New York as a producer for seven years.)

His three main objectives were:
1 To give viewers first class entertainment.
2 To give Scottish talent every opportunity to develop and be seen on STV. "There is plenty of talent in this country."
3 To do as much cultural programming as possible, consistent with the policy of providing the best entertainment possible. "The Edinburgh Festival will be covered, and there will be discussion programmes on matters of outstanding moment."

He also added that "we hope to train an almost completely Scottish staff for the new station. I want to get Scots and train them, rather than import outside help."

Rai left STV in 1960 to return to work in Canadian TV

.

.

.

.

.

.

.

STV programme details were published in TV Guide, Roy Thomson's own imprint. Later it was The Viewer. TV Times found it difficult to swallow that they were not permitted to issue their Scottish edition, as they were so doing in London, the Midlands and the North. However they did get their own back when ITV forced the standardisation of the network in 1968. Before then other ITV regions had also cheerfully opted out of Associated Rediffusion's TV Times noose, ie TWW, Ulster, Tyne Tees, and Westward.

Scottish Television Schedule for Friday Sept 6th 1957
1pm One O'Clock Gang
1.30 Local News-1.35
5.00 Jolly Good Time
5.30 Long John Silver
6.00 Answers Please with Neville Barker
6.30 Cool for Cats host Kent Walton
6.45 ITN News; Local News
7.00 Lilli Palmer Presents
7.30 Emergency- Ward 10
8.00 Criss Cross Quiz host Jeremy Hawk
8.30 Assignment Foreign Legion
9.00 Jack Hylton Presents Beside the Seaside with Richard Murdoch
9.30 This Week
10.00 Private Secretary
10.30 Friday Fayre (STV)
10.45 Cherry Wainer
11.00 News
11.15 Close-down

Scottish Television Schedule for Tues Mar 11th 1958
1pm One O'Clock Gang
1.40 Scottish News-1.45
2.43 Schools-3.50
5.00 Jolly Good Time
5.25 Lassie
5.55 ITN News; Scottish News
6.15 The Buccaneers
6.45 Admag
7.00 Charlie Chan
7.30 Emergency- Ward 10
8.00 Criss Cross Quiz
8.30 Larry Marshall Show
9.00 Chelsea at Nine
10.00 Yours in Sport
10.15 Kelvingrove By Election
10.45 News
11.00 Close

STV Schedule for Monday Dec 29th 1958
1pm One O'Clock Gang
1.40 Local News-1.50
5.00 Seeing Sport
5.25 Popeye
5.55 ITN News; Scottish News
6.10 Overseas Press Club
6.40 Right to Reply
7.00 Mark Saber
7.30 Shadow Squad
8.00 Keep It In The Family
8.30 Wagon Train
9.27 Stars In Your Eyes
10.00 News
10.15 The Heritage- play
11.45 Close-down

STV Schedule for Tuesday July 8th 1959
1pm One O'Clock Gang
1.40 Local News-1.45
5.05 Small Time
5.15 Junior Criss Cross Quiz
5.45 Sir Lancelot
6.15 ITN News; Scottish News
6.35 Junior Scotsport
7.05 Close Up
7.30 Concentration
8.00 Crime Sheet
8.30 This Week
9.00 George Gobel Show
10.00 News
10.15 The Verdict is Yours
10.45 Success Story: Hank Jensen
11.00 Close

STV Schedule for Thursday Aug 18th 1960
1pm News Flash
1.02 One O'Clock Show
1.40 Local News
2.15 Racing from York
5.00 Four Feather Falls
5.15 It's Wizard
5.25 Robin Hood
5.55 ITN News; Scottish News
6.15 This Wonderful World
6.45 Between Ourselves
7.00 Cool for Cats
7.30 It's Only Money
7.55 A Date with Shirley Jones
8.30 No Hiding Place
9.25 News
9.35 Television Playhouse
10.35 What the Papers Say
10.50 International Detective
11.20 News Headlines
11.22 Close

STV Schedule for Fri July 14th 1961
1pm One O'Clock Gang
1.40 Local News-1.40
5.00 Friday Island - four young castaways on a desert island
5.25 Tales of the Texas Rangers - Hardrock's Dilemma
5.55 ITN News; Scottish News
6.10 The Warning Voice - The June bride
6.30 African Patrol - Inspector Derek seeks the brains behind a smuggling operation
7.00 Sea War - Commandos and Combined Operations
7.30 EW10
8.00 This Week - Anthony Nutting on the Common Market
8.30 Take Your Pick
8.55 Bootsie and Snudge
9.25 News
9.35 No Hiding Place - Signals at Danger
10.30 Friday Fare
10.45 Man from Interpol - Death via Parcel Post
11.15 News Headlines
11.17 Late Call
11.22 Close

STV Schedule for Wednesday May 16th 1962
1pm The One O'Clock Gang
1.30 Highland Air - fortnightly ceilidhs with John Bannerman, Alasdair Gillies, and Evelyn Campbell
1.40 Scottish News -1.45
2.35 For Schools: Summing It Up, Patterns of Powers, Science in Industry
3.45 Racing from York -4.45
5.00 Zoo Time - Chi-Chi on parade
5.25 Lassie - The Hungry Deer
5.55 News; Scottish News
6.15 Father Knows Best - Safety First
6.45 Farson In Australia - Percy Cerutty
7.00 Take A Letter
7.30 Coronation Street
8.00 Top Secret - The Man from Carataz
9.00 News
9.15 Survival - The Only Pretty Ringtime
9.45 Startime
10.45 Scotsport
11.15 News Headlines
11.17 Late Call - Rev D Anderson Black (Mearns Parish Church)
Close down

Scottish Television Schedule for Saturday May 26th 1962
1.10 Station Tuning Signal
1.15 News
1.20 Sport (as ITV)
5.05 Tomahawk - The Betrayal
5.30 Cartoon Time - Huckleberry Hound/ The Flintstones
6.25 News
6.30 Saturday Bandbox- starring Mr Pastry
7.25 Greyhound Racing - from the White City
8.10 Tread Softly Stranger film starring Diana Dors
9.45 News
9.50 Star Feature - introduced by Jimmy Nairn
10.30 The Invisible Man - The Rocket (STV)
10.55 Route 66 - The Opponent
11.50 News
11.55 Late Call - Rev Dr William Smellie (St John's Kirk Perth)
Close-down

STV Schedule for Boxing Day 1962
12.45pm One O'Clock Gang
1.40 Ice Skating from Paisley
2.45 Wrestling
3.30 Just William's Luck film
5.00 Zoo Time
5.25 Hawkeye
5.55 ITN News
6.05 Here and Now
6.30 Animal Parade
6.45 Highland Air
7.00 Take a Letter
7.30 Coronation Street
8.00 Outlaws - The Bitter Swede
9.00 ITN News
9.15 Norman and Bruce
10.10 Tiger by the Tail starring Larry Parks
11.30 Late Call Rev DF Macdonald Lyesland Church Paisley
Close

STV Schedule for Thursday Sept 5th 1963
1pm One O'Clock Gang
1.30 Local News-1.35
5.00 Criss Cross Quiz
5.25 Space Patrol
5.55 ITN News
6.05 Here and Now
6.35 Roving Report
7.00 Don't Say a Word
7.30 Best of Bootsie and Snudge The Importance of Being Jumbo
8.00 Casebook The Square Mile Murder
8.30 The Honeymooners Something Fishy
9.00 ITN News
9.15 This Week
9.45 Television Playhouse The Night of Reckoning
10.45 Naked City Today the Man who Kills Ants is Coming
11.40 News Headlines
11.42 Late Call Rev James Carrie, St James Pollok
11.47 Close

STV Schedule for Wednesday Jan 22nd 1964
1pm One O'Clock Gang
1.30 Local News-1.35
2.35 Schools Story Box; The Tools of Science; Drama-3.46
5.00 Zoo Time
5.25 Badger's Bend episode 2
5.55 ITN News
6.05 Here and Now
6.45 One Man's War 3 Solid Contact with Air Commodore Sandy Johnstone
7.00 Take a Letter
7.30 Coronation Street Walter makes a decision
8.00 Professional Boxing from the Embassy Sportsdrome Birmingham
9.00 ITN News
9.15 Songs That Matter To Me Jimmy Nairn introduces Teddy Johnson and Pearl Carr
9.45 They Made News with Jo Grimond and Sir John Hunt
10.15 Scotsport Boxing from Govan Town Hall and Rugby- South v Midlands
10.55 Crusade in Europe Over-running Germany, and Victory's Aftermath
11.30 News Headlines
11.32 Late Call Rev Dr James Quin St Peter's College Darleith
Close

STV Schedule for Thursday Apr 9th 1964
1pm One O'Clock Gang
1.30 Local News-1.35
3.00 Afternoon Sport: Hockey-4.15
5.00 Criss Cross Quiz
5.25 Fireball XL5
5.55 ITN News
6.05 Here and Now
6.30 In Your Garden
7.00 Double Your Money
7.30 Candid Camera
8.00 Sam Bendict
8.55 ITN News
9.10 This Week
9.40 Silents Please
10.10 Naked City
11.05 Roving Report
11.30 What the Papers Say
11.46 News Headlines
11.47 Late Call
11.52 Close

STV Schedule for Fri Nov 27th 1964
11.15am-11.55 Schools (also 2.05-2.25)
1pm Grand Palace of Varieties chairman James Nairn esq
1.30 Local News-1.35
5.00 Five O'Clock Club
5.25 Fireball XL5 Flying Zodiac rpt
5.55 ITN News
6.05 Scottish News
6.15 Yhe Common Touch - political mag with George Reid
6.30 Dig This
7.00 Take Your Pick
7.30 Emergency- Ward 10
8.00 Burke's Law Who Killed Vaudeville?
8.55 ITN News
9.10 Victoria Regina 3 Autumn
10.05 Let's Sing Out Oscar Brand introduces The Rooftop Singers, Clancy and Collen, Sharah Trostin
10.35 News Headlines
10.37 Cops and Robbers narrator Edward G Robinson
11.32 Tightrope Music and Mink
12.02 Late Call with Very Rev FF Laming, St Mary's Cathderal Glasgow
Close down

STV Schedule for Tuesday Apr 6th 1965
1pm Newsreel
1.05 Today It's Tuesday presenter John Toye
1.30 For the Youngest Scot with Francis Campbell -1.40
3.15 What Is A Budget?
3.30 The Budget
5.55 ITN News
6.05 Here and Now
6.35 Crossroads
7.00 Dateline
7.30 Ward 10
8.00 Combat
8.55 ITN News
9.10 Call In On Valentine
9.30 The Budget
9.48 The Ladykillers
10.18 World In Action
10.48 News Headlines
10.51 Dateline
11.01 Newsreel
11.06 Auto Mechanics
11.26 Late Call
11.31 Close

STV Schedule for Monday Feb 28th 1966
10.35am Life Begins on Sunday rpt -11.05
11.10 For Schools-3.10pm
4.45 Small Time- Tum
5.00 Action- with Peter Murray
5.25 Ivanhoe- Slave Traders
5.55 ITN News
6.05 Here and Now- with Bill Tennent
6.35 Crossroads- Marilyn: "Oh you were wonderful Michael, and you weren't at all scared. I could have kissed you"
7.00 All Our Yesterdays
7.30 Coronation Street- Jerry is on the danger list and Len on the spot
8.00 Scottish Playbill- Depth starring Martin Heller and Leon Sinden
8.55 ITN News
9.10 The Incredible World of James Bond
10.05 Night Club Night - John Toye with guest Donald Peers
10.35 Clearway- William Branston chairs a discussion on divine providence
11.05 Late Night Look- A Man Called Shenandoah- Survival
11.30 News Headlines and Dateline
11.45 Late Call- Rev Arthur Gray, St John's Church Paisley
11.50 Close-down

Scottish Television Schedule for Sunday Nov 6th 1966
11.40am Action This Day-12.10
12.15pm Sunday Session
2.10 News; Kaleidoscope
2.45 Farm '66
3.15 Opportunity Knocks
4.00 Batman
4.30 Michael Shayne
5.25 Harvey cartoon
5.30 Stingray
6.00 News
6.15 The Forgotten Door; Date With Music; Appeal; This Is the Day
7.30 Sunset Boulevard film
9.25 I Dream of Jeannie
9.55 News
10.05 London Palladium Show- starring Fess Parker
11.05 Eamonn Andrews Show
11.50 Late Call
11.55 Close-down

Scottish Television Schedule for Tuesday November 8th 1966
(From 8.25 to 11.05, apart from ITN News, all original STV programmes)
4.50 Lesley - for the youngest Scots, with Lesley Blair
5.00 Disney Wonderland
5.25 Orlando Has Anyone Seen Fred Kebab? part 1
5.55 News
6.05 Here and Now with Bill Tennent
6.35 Crossroads - Andy: "Well that proves it. You can't even give the stuff away"
7.00 Double Your Money visits Moscow
7.30 Peyton Place
8.25 Alexander Brothers Show
8.55 News
9.10 Scottish Playbill To Stand Alone with Joe Dunlop
10.10 The Islanders - on The Future
10.35 Cliffhanger with Cliff Hanley
10.50 The Hossack Report - with John Hossack
11.05 News Headlines, followed by Dateline
11.17 Late Call -Rev James L Dow, Lochranza and Pirnmill
11.22 Late Night Look - Country Style Cy Grant welcomes guests Lyn and Graham McCarthy and Joe Davison (Tyne Tees TV)
11.52 Close-down

Scottish Television Schedule for Thursday March 9th 1967
10.45 For Schools -2.55
4.50 Lesley - for the youngest Scots, with Lesley Blair
5.00 Junior Criss Cross Quiz
5.25 Movie Magazine with Peter Lewis (TWW)
5.55 News
6.05 Here and Now with Bill Tennent
6.35 Crossroads - Kitty: "Dick... will you pick up that telephone"
7.00 Criss Cross Quiz
7.30 Command Performance: Beloved Enemy film with Merle Oberon
8.55 News
9.10 This Week
9.40 The Investigation - Another play illustrating Granada's obsession with the lawcourts
11.20 Reflection - with Ludovic Kennedy (STV)
11.50 News Headlines, followed by
Pollok By-election
12.00 Late Call - Rev A Cameron Gibson, Fenwick Church, Kilmarnock
12.05 Late Night Look - In search of a Holiday Isle of Wight with Brian Redhead (Southern TV)
12.30 Close-down

Scottish Television Schedule for Friday March 17th 1967
4.50 Lesley - with Lesley Blair
5.00 Disney Wonderland
5.25 How
5.55 News
6.05 Here and Now
6.35 Crossroads
7.00 Take Your Pick
8.00 No Hiding Place - It's All Happening
8.55 News
9.10 Mr Rose
10.05 This England
10.36 News Headlines
10.38 The Common Touch
11.08 Late Call
11.13 Late Night Look: Homicide - Aunt Sally starring Terry McDermott
12.08 Close-down

Scottish Television Schedule for Wed July 17th 1968
4.49 Lesley - with Lesley Blair
4.59 Survival
5.25 Sexton Blake
5.55 News
6.05 Scottish News
6.10 Today is Wednesday
6.35 Crossroads
7.00 Double Your Money
7.30 Coronation Street
8.00 Man in a Suitcase - Three Blinks of the Eyes
9.00 University Challenge
9.30 Cinema
10.00 News at Ten
10.30 With Bird Will Travel
11.02 Professional Wrestling
11.48 Late Night Look - To Be a Pilgrim
12.15 Late Call
STV Menu