TYNE TEES TELEVISION
Tyne Tees Television Early Days
A few Tyne Tees Television entertainment shows
Some TTT advertising
Petrushka: March 1960
TTT Top Ten Listings
Mar 1959, May 1960, June 1960, Dec 1962, Mar 1963, Jan 1966
TTT programme schedules
January 21st 1959, April 2nd 1959, March 13th 1960, June 10th 1960, January 22nd 1961, September 21st 1961, July 29th 1962, April 24th 1963, January 29th 1966, June 21st 1966, August 29th 1967, September 22nd 1968, October 25th 1968
Pictured are two of the stars of
Tyne Tees' lunchtime show
The One O'Clock Show
.
.
.
.
.
.
.
A few Tyne Tees Television Shows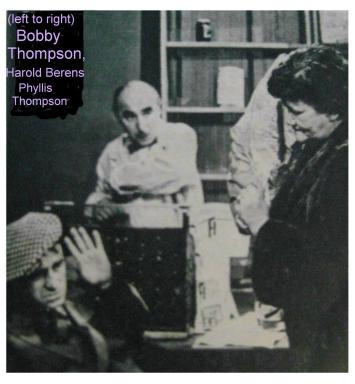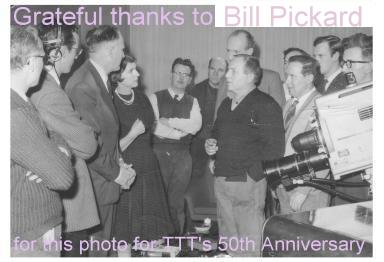 The reality did not quite match the high ideals that had been promised by George and Alfred Black.

TTT's first home grown comedy series was The Bill Maynard Show, which received a thumbs down from the critics, running from Jan 19th for 8 weeks until Mar 9th. It was replaced on 16th March with the Bobby Thompson Show (pictured), a domestic comedy also starring Phyllis Thompson.

Seen on the right are the stars of one of TTT's most popular efforts, which ran to over 1,000 shows until it ended in March 1964, the One O'Clock Show, some of whom are, from the back: Joe Ferris, Austin Steele, Jack ('Wacky Jacky') Haig, Colin Prince, George Romaine, Len Marten, Katie Beckley, Rees Hughes.
The programme listings on this page illustrate that audiences came from different local towns. But on April 17th 1959 it was two hundred press people who were invited- the reason was the theme was newspapers.
The One O'Clock Show for April 2nd 1959 starred Terry O'Neill, with Austin Steele, Chris Langford, George Romaine and the Dennis Ringrowe Quartet. But though not credited in The Viewer listing, Jack Haig and his wife Betty were also appearing. Producer was the legendary David Croft. Special guests were not usually announced, but on the previous day had been Bernard Braden and Barbara Kelly. The audience for the show at this era was estimated at between 100,000 and 150,000 "housewives." On April 28th 1960 there was a special show celebrating its 300th edition.
Happy Go Lucky (1959-1964)
Tyne Tees Television's children's programme was a miscellany of live action and a Popeye cartoon. It also included children's song requests.
The human stars were Larry Parker, who also wrote most of the scripts, and Jack Haig (Wacky Jacky), who joined in September 1959, as reporter on the fictional Ambleford Gazette, whose clowning around frequently lead to mishaps. Once Haig fell off a studio roof top and was almost unconscious. Another time, as a plumber, a jet of water sprayed at him and injured one of his eyes. Larry also played Lucky the Clown, and had a rabbit puppet named Theodore.

The first show went out on Tuesday January 22nd 1959. The 200th edition was clocked up during April 1963. The last edition was on September 1st 1964.
Among the programmes with a special content noted in The Viewer were
June 9th 1960: the gang visit Haltwhistle, Wacky Jacky becomes Our Man In Haltwhistle.
Aug 25th 1960: Kate and Theodore are away in London. The rest of the gang present a beach show, Larry's conjuring goes well until Wacky Jacky gives some help.
Jan 25th 1961: The gang's shop is burgled, detective Wacky Jacky investigates. Script: Bob Hedley

At the Golden Disc (1959) was TTT's talent show, in charge was that fine producer Philip Jones. With Tony Martell of the auditions department, he scoured the area for amateur talent. Two discoveries who went on to make tv appearances in other shows were Don Crockett, and David MacBeth, who appeared here as David North.


To TTT start

.

.

.

.

.

.

.

.

.

.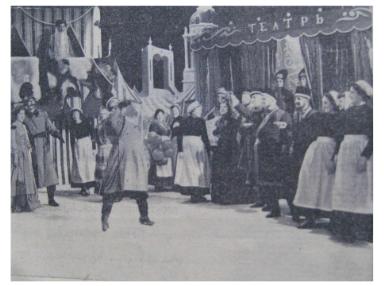 Petrushka
(March 28th 1960, 10.30-11pm)

With Keith Beckett in the title role, Patricia Kirschner as The Ballerina, Rodney MacDonald as The Blackamoor, Malcolm Goddard as The Charlatan, and John Massey as The Devil.
"The best programme I have ever seen on Channel Eight," declared TE Bergman, "and among the best ballet productions televised on any channel." Whether most locals would have agreed with this verdict is another matter.
He admired the camera work, sound mixing and staging, "thoroughly professional and artistically inspired."
"The dancers, musicians, technicians and producer, Peter Glover, deserve a television award." He added, as it was not fully networked, "it would be a great pity if this production does not get a wider showing."
TTT were brave enough to repeat the programme at the end of 1960, proving that it was at one stage on tape. Where could it have gone to?


To TTT start

.

.

.

.

.

.

.

.

.

.
.
.
.
.
.
.
.
.
.
.
.
.
.
.
.
.
.
.
.
.
.
.
.
.
.
.
.
.
.
.
.
.
.
.
.
.
.
.
.
.
.
.
.
.
.
.
.
.
.
.
.