TYNE TEES TELEVISION
Tyne Tees board
TTT Early Days
A few Tyne Tees Television entertainment shows
Some TTT advertising
Petrushka March 1960
Turn Up for Tony (1968)
TTT Top 10
Mar 1959, May 1960, Jun 60, Aug 61, Sept 61, Oct 61, Mar 62, May 62, June 62, Aug 62, Dec 62, Mar 63, Jul 63, Oct 63, Feb 64, Jan 66, July 66, Sept 66, Jun 67, Sept 67, Nov 67, Dec 67, July 68
TTT programme schedules
January 21st 1959, April 2nd 1959, March 13th 1960, June 10th 1960, August 22nd 1960, January 22nd 1961, September 21st 1961, July 29th 1962, April 24th 1963, January 29th 1966, June 21st 1966, August 29th 1967, September 22nd 1968, October 25th 1968

The Richer Life (Tyne Tees Sept 2nd 1965, 10.10pm)
A programme of modern music and composers. Brian Widlake talks to Josephine Nendick mezzo soprano, Luciano Berio composer, John Wilks, and music critic Arthur Jacobs. With the Park Lane Ensemble directed by Jacques-Louis Monod. Producer: Robert Tyrrell

.

.

.

.

.

.

.

Tyne Tees Board 1958
Television Centre, City Road, Newcastle, telephone 610181
Chairman: Sir Richard Pease.
Vice Chairman: Claude Darling
Directors included George and Alfred Black, Sydney Box, EG Fairburn, Lord Layton, Peter Cadbury, Viscount Ridley, Col EG Angus, CC Darling, DA Pease, and Prof EJR Eaglesham.
Managing Director: Anthony Jelly
Controller of programmes: Bill Lyon-Shaw
Head of Music: Denis Ringrowe
Sales Director: Peter Paine

Tyne Tees Board 1963
Directors: Sir Richard Pease, Claude Darling, Col EG Angus, George Black, Alfred Black, Sydney Box, Laurence Cadbury, Prof E Eaglesham, EG Fairburn, Sir Harold Howitt, DA Pease, Viscount Ridley, Prof G Daysh.
Managing Director: Anthony Jelly

.

.

.

.

.

.

.

A few Tyne Tees Television Shows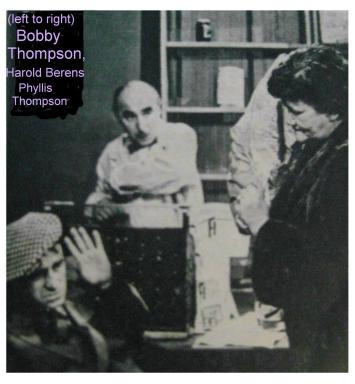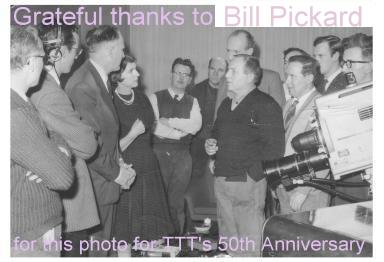 The reality did not quite match the high ideals that had been promised by George and Alfred Black.

TTT's first home grown comedy series was The Bill Maynard Show, which received a thumbs down from the critics, running from Jan 19th for 8 weeks until Mar 9th. It was replaced on 16th March with the Bobby Thompson Show (pictured), a domestic comedy also starring Phyllis Thompson, Harold Berens and Len Marten. This hit the local Top Ten TAM ratings, but was generally regarded as disappointing.

The One O'Clock Show ran to 1,098 shows endeding on March 27th 1964, the last programme included Joe Ferris, Austin Steele, Jack ('Wacky Jacky') Haig, Colin Prince, George Romaine, Len Marten, Katie Beckley, Rees Hughes.
The programme listings on this page illustrate that audiences came from different local towns. But on April 17th 1959 it was two hundred press people who were invited- the reason was the theme was newspapers.
The One O'Clock Show for April 2nd 1959 starred Terry O'Neill, with Austin Steele, Chris Langford, George Romaine and the Dennis Ringrowe Quartet. But though not credited in The Viewer listing, Jack Haig and his wife Betty were also appearing. Producer was the legendary David Croft. The audience for the show at this era was estimated at between 100,000 and 150,000 "housewives." On April 28th 1960 there was a special show celebrating its 300th edition.
Special guests were not always announced, but on April 1st 1959 Bernard Braden and Barbara Kelly appeared. Other big names in one off spots on the show included Margaret Lockwood, Diana Dors, Shirley Bassey, Cleo Laine, Alma Cogan, Arthur Askey, Harry Secombe, Norman Vaughan, Bruce Forsyth, Frankie Howerd, Arthur Haynes, and Max Bygraves (Mar 19th 1963). The 1,000 edition included Norman Vaughan as guest star, with Chris Langford making a welcome return.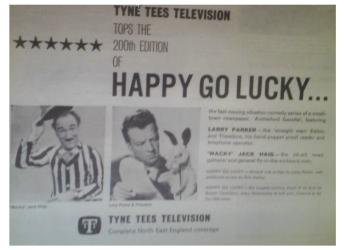 Happy Go Lucky (1959-1964)
Tyne Tees Television's children's programme was a miscellany of live action and a Popeye cartoon. It also included children's song requests.
The human stars were Larry Parker, who also wrote most of the scripts, and Jack Haig (Wacky Jacky), who joined in September 1959, as reporter on the fictional Ambleford Gazette, whose clowning around frequently lead to mishaps. Once Haig fell off a studio roof top and was almost unconscious. Another time, as a plumber, a jet of water sprayed at him and injured one of his eyes. Larry also played Lucky the Clown, and had a rabbit puppet named Theodore. Bruno, ''biggest dog in the profession,' was a feature on this series in 1963, until his death at the end of June. With his partner Veronica, he would bark to order

The first show went out on Tuesday January 22nd 1959. The 200th edition was clocked up during April 1963. The last edition was on September 1st 1964.
Among the programmes with a special content noted in The Viewer were
June 9th 1960: the gang visit Haltwhistle, Wacky Jacky becomes Our Man In Haltwhistle.
Aug 25th 1960: Kate and Theodore are away in London. The rest of the gang present a beach show, Larry's conjuring goes well until Wacky Jacky gives some help.
Jan 25th 1961: The gang's shop is burgled, detective Wacky Jacky investigates. Script: Bob Hedley

At the Golden Disc was TTT's talent show, first programme on January 21st 1959. In charge was that fine producer Philip Jones. With Tony Martell of the auditions department, he scoured the area for amateur talent. Two discoveries who went on to make tv appearances in other shows were Don Crockett, and David MacBeth, who appeared here as David North. The final on May 7th was won by the Joe Boston Trio, their prize £250. Chief judge was Jack Payne. A second series began that autumn, quarter final winners were given a spot on the next week's One O'Clock Show. The final the following February was won by Larry Mason: judges included Marion Ryan, Joe Mr Piano Henderson, Jimmy Henney and Alan Freeman.

Under New Management from November 1959. Set in a derelict Tyneside pub, it starred Glenn Melvyn, Danny Ross and Mollie Sugden. Producer was David Croft. Among those who made appearances in the series were Cardew Robison, Graham Stark, Arthur English, Jack Douglas, and Hugh Lloyd

Young at Heart - "the teenage programme with the mum and dad appeal" ran to several short series. Jimmy Saville hosted the first starting May 4th 1960.
The 1962 shows from 6.30-7pm were compered by Gary Marshal with The Visionaires, and included: Shirley Bassey (Jan 17th), The Clyde Valley Stompers and the Hedley Ward Trio (Jan 24th), and Bobby Vee (Jan 31st) making his British tv debut. Also on with Vee were The Clyde Valley Stompers, Vince Eager, The Honeys, and Sylvia Sands

Your Kind of Music (October 26th 1960) - The first of a second series starred Larry Adler, with Keith Beckett, Ivor Emmanuel, Anatole Nakashidze, Marie Petrova, and Nicanor Zabaleta. This hour long show was produced by Bill Lyon-Shaw and directed by Peter Glover. The orchestra was The Augmented Northern Sinfonia Orchestra conducted by Michael Hall and Arthur Wilkinson. The George Mitchell Singers also featured.

The Derek Dene Show was a series that began on April 21st 1964. Script: Brad Ashton. Producer: Malcolm Morris.

It's the Geordie Beat (Tyne Tees Sunday Sept 27th 1964, 7.28-8.25pm)
Introduced by Steve Race and compered by Alan Freeman with David Hamilton, this was the climax of Tyne Tees' Rehearsal Room series. It featured no less than nine North East pop groups, including of course The Animals and The Yardbirds. It was recorded in the City Hall on Sept 25th before 2,000 fans, and networked to Anglia, Ulster, and Border. Some other regional stations showed it during October

The Joan Turner Show - Joan (1922-2009) starred in this six part Tyne Tees series starting on December 31st 1964.
Joan stated, "it is an entirely new format for a tv show, something like my radio series Melody Fare. I shall be playing current records, singing requests, show film clips, and go into my kitchen for a look at a new recipe. One of the main items will be my visit to the home of a show business personality, where I shall talk to the stars and their families." Those booked were Rolf Harris, David Nixon. Arthur Haynes, Bob Monkhouse, Cardew Robinson, Peter Noble, Vera Lynn, Brian Rix, and Max Bygraves.

Music of Music ran for 13 weeks starting April 1st 1965. Link man was Frank Phillips

North East Glamour Trail
The July 13th 1965 edition came from the Working Men's Club Newton Aycliffe, with regular host Shaw Taylor, and guest star Salena Jones. Chair of the judges was Peter Haigh, replacing regular McDonald Hobley, who compered eleven of the thirteen shows.
The director of the series was George Adams, except for shows from Consett, Bishop Auckland and Alnwick, which were directed by Anna K Moore.
The final was held on September 21st 1965, live from the Mayfair Ballroom in Newcastle, with special guests Ray Ellington, Cleo Laine and Steve Benbow. Other guests during the run of the show were Chris Langford, Helen Shapiro, Julie Rogers, Jackie Lee, Anita Harris, Janie Marden, Jeannie Lamb, and Valerie Masters

And All's Well (1966) - a late night Friday show, "a cocktail with a musical base, a dash of talk, and a splash of the unexpected." Introduced by Austin Steele,
Jan 28th 11.7pm with Jeannie Lambe, and Stan Roderick (trumpet)
Feb 4th 11.5pm with Chris Langford, and Bill le Sage
Guest on Feb 25th was Alan Melville, also appearing tenor saxophonist Kathy Stobart
Mar 18th 11.25pm with Chris Langford and Danny Moss (bass clarinet)

David and the Donkey (1967 shown Christmas Day 10am London area)
If the Nativity happened tomorrow, how would we react? Would we still go on worrying about our day to day concerns, or would we be able to set free our imaginations to accept the miracle? These are the questions that Antony Brown asked himself and tried to answer in his Christmas play...
Performed originally at the Canterbury Festival, and Drury Lane Theatre in London, this was shot both in Tyne Tees studios, and on location in Corbridge... the cast included Cy Grant, and Jessie Evans who were in the Drury Lane production, with the choir of St Nicholas' Cathedral in Newcastle. Producer: Penny Wootton

Geordie Girl (Tyne Tees 1968) was screened on Friday 5th January 1968 and starred Susan Maughan and Alan Price. It was made by the TTT Outside Broadcast Unit using the north east's varied scenery as background to songs and dance routines. Producer: Christopher Palmer

Nightclub '68 was a series of 13 half hour shows made at Club Siesta Stockton, that began on July 4th 1968. It incorporated heats of the Miss Tyne Tees contest. Norman Vaughan was compere, director Ian Cook. Among those appearing were Kenny Ball, John Rowles with Debbie Dean, Anne Bright, Morgan James Duo, Shelley Ross, Freddie and the Dreamers, Brenda Marsh, and The Peddlers. A surviving show, the final one, included Wendy King


To TTT start

.

.

.

.

.

.

.

.

.

.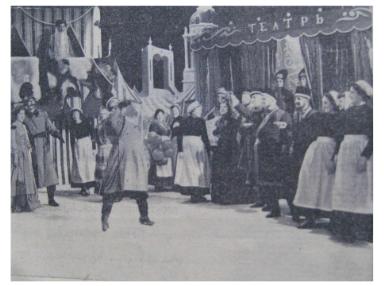 Petrushka
(March 28th 1960, 10.30-11pm)

With Keith Beckett in the title role, Patricia Kirschner as The Ballerina, Rodney MacDonald as The Blackamoor, Malcolm Goddard as The Charlatan, and John Massey as The Devil.
"The best programme I have ever seen on Channel Eight," declared TE Bergman, "and among the best ballet productions televised on any channel." Whether most locals would have agreed with this verdict is another matter.
He admired the camera work, sound mixing and staging, "thoroughly professional and artistically inspired."
"The dancers, musicians, technicians and producer, Peter Glover, deserve a television award." He added, as it was not fully networked, "it would be a great pity if this production does not get a wider showing."
TTT were brave enough to repeat the programme at the end of 1960, proving that it was at one stage on tape. Where could it have gone to?


To TTT start

.

.

.

.

.

.

.

.

.

.
.
.
.
.
.
.
.
.
.
.
.
.
.
.
.
.
.
.
.
.
.
.
.
.
.
.
.
.
.
.
.
.
.
.
.
.
.
.
.
.
.
.
.
.
.
.
.
.
.
.
.
.
.
.
North East Region TAM ratings
week ending 2nd January 1966
1 The FBI TTT Presentation 77%
2 The Outer Limits TTT presentation 65
3 Coronation Street (Jan 5th) 64
4 The Avengers 63
5 Take Your Pick 60
6 The Liars 59
6= Double Your Money 59
8 The Flintstones TTT presentation 57
8= There Was A Crooked Man (film) 57
8= Tournament TTT Quiz 57
To TTT start
.
.
.
.
.
.
.
Tyne Tees TV area TAM ratings w/e 10 July 1966
1 Love Story 56%
2 Peyton Place 54%
3 Batman (July 4) 53%
4 Blackpool Show 52%
5= Batman (July 7) 51%
5= Sixth Form Challenge
7= Batman (July 6) 50%
7= No Hiding Place
7= You Can't Win
10= Batman (July 5) 48%
10= Cilla at the Savoy
No BBC in Top Ten
To TTT start

.

.

.

.

.

.

.

TAM ratings for Tyne Tees region w/e Sept 4th 1966
1 Peyton Place 61%
2 Coronation Street (Aug 31) 60%
3 The Informer 57%
4 Bruce Forsyth Show 56%
5= Steptoe and Son (BBC) 51%
5= This Week
5= This Is Your Town (TTT)
8 Love Letters film (BBC) 49%
9= Voyage to the Bottom of the Sea 47%
9= Blue Light (TTT)
9= Opportunity Knocks
9= Pride of the Yankees TTT film
9= Follow That Man TTT film

To TTT start

.

.

.

.

.
North East Region TAM ratings

week ending 11th June 1967

1 The Avengers 58%
2 London Palladium Show 55
3 World in Action Special 52
4 Coronation Street (June 5th) 49
5 Gideon's Way 48
6 Emergency- Ward 10: 47
7= Star Movie 46
7= Stories of DH Lawrence
9 Coronation Street (June 7th) 45
10 Peyton Place 44

Top BBC programmes: Top of the Form, and The Frost Report (39%)
TTT start

.

.

.

.

.

.

.

Tyne Tees TV area TAM ratings w/e 24 Sept 1967
1= Tarzan 57%
1= Amos Burke
3= Coronation Street (Sept 18) 56%
3= Coronation Street (Sept 20)
3= The Saint
6 Opportunity Knocks 55%
7 The Avengers 53%
8 Love Story 52%
9= World in Action 50%
9= Peyton Place (Sept 19)
9= Calamity Jane (TTT film)
9= Top BBC: Man from Uncle (37%)
TTT start

.

.

.

.

.

.

.

Tyne Tees TV area TAM ratings w/e 26 Nov 1967
1 Coronation Street (Nov 22) 57%
2 Man In A Suitcase 56%
3 Tarzan 54%
4 Death by Misadventure 53%
5= Coronation Street (Nov 20) 52%
5= The Gamblers
5= News at Ten (Nov 23)
8= Cinema 50%
8= Star Movie (Last Man To Hang)
8= Take Your Pick
Top BBC= Dr Finlay 49%
TTT start

.

.

.

.

.

.

.

Tyne Tees TV area TAM ratings w/e 10th Dec 1967
1 Tarzan 59%
2= World In Action 57%
2= Man In a Suitcase
4 Playhouse: The Confession 56%
5= Take Your Pick 53%
5= Coronation Street (Dec 6)
7 Sunday Matinee: In the Doghouse (TTT) 52%
8 Coronation Street (Dec 4) 51%
9= Star Movie: Weekend with Lulu 50%
9= Saturday Thriller: Eye Witness (BBC)

.

.

.

.

.

.

.

North East Region TAM ratings

week ending 7th July 1968

1 Bachelor of Hearts (TTT star movie) 46
2 Life with Cooper 45
3= News At Ten (July 4) 44
3= The Cobweb (TTT film)
5= News At Ten (July 1) 43
5= Felony Squad
5= Love Story
8= Coronation Street (July 3) 42
8= Danger Man
8= Night Club '68 (TTT)
8= The Human Jungle

Top BBC programme: Lulu's Back In Town (38%)
TTT start

.

.

.

.

.

.

.

Tyne Tees Programmes for Wednesday January 21st 1959

12.55 Opening Announcement
1.00 News Flash, and
One O' Clock Show - audience today from Whitley Bay
1.40 North East News -1.45
2.43 Schools: Twelfth Night - 1 His Very Genius -3.50
5.00 Junior Criss Cross Quiz
5.25 The Buccaneers - The Raiders
5.55 News
6.05 North East News
6.10 The Invisible Man - Secret Experiment
6.40 Roving Report - City Under Siege
7.00 Wyatt Earp - Witness for the Defence
7.30 At the Golden Disc - Tony Martell and Eric Nicholson in the new discovery show (TTTV)
8.00 Criss Cross Quiz - with Jeremy Hawk
8.30 Seat in the Stalls - Heaven and Earth with Paul Scofield, a filmed tv play
10.00 News
10.15 Focus on Youth - Jack Hylton Presents, including Jeremy Lubbock
10.45 Sports Desk - introduced by George Taylor
11.00 The Jack Jackson Show - with Glen Mason and Malcolm Jackson
11.30 Epilogue - Father Paschall

TTT start

.

.

.

.

.

.

.

Tyne Tees schedule for Thursday April 2nd 1959
What is interesting in this schedule is the number of locally made programmes (marked #).


1pm ITN News Flash and #The One O'Clock Show - the audience were from Framwellgate Moor
The Weather and 1.40 #North East News-1.45
5.00 #Happy Go Lucky introduced by Larry Parker with Lucky the Clown, Gwenda Lea, Syd Kirkness, Jim Alder, Theodore, and Popeye
5.25 The Living Sea - Pacific Island
5.55 News; #North East News
6.10 The Adventures of the Scarlet Pimpernel - The Flower Woman
6.40 #Ned's Shed admag with Lisle Willis as Ned, Dan Douglas as Knocker, and Maud Foster as Meg
7.00 African Patrol - John Bentley in Man and Beast, with Peter Dyneley and Dorinda Stevens
7.30 #At the Golden Disc with Tony Martell and Eric Nicholson. Building to the final on May 7th with six 'Golden Discoveries'
8.00 Double Your Money
8.30 Seat in the Stalls starring Richard Hearne in Something in the City
9.30 Amateur Boxing - Northern Counties v Scotland
10.00 News
10.15 #The Boys Request with Sheila Matthews, Ethna Campbell, David North, and The Raindrops
10.45 What the Papers Says - with Vadim Nekrassov
#The Epilogue by Rev PWH Rudge of St Anne's Church Newcastle
Close down

.

.

.

.

.

.

.

TTT Programmes for Sunday March 13th 1960
11.15am Church Service from Hereford Cathedral-12.15pm
1pm Soccer - Show Biz X1 v TV All Stars
2.05 Free Speech- with Roy Jenkins, chair: Edgar Lustgarten
2.30 Inside Story- Robert Brown in The Conspiracy
3.30 Suspense- Jack Watling in And the Devil Makes Three
4.30 Trader Horne - TTT admag with Kenneth Horne
4.45 Rin-Tin-Tin - The Medicine Man
5.15 Robin Hood- Pepper
5.45 It Can Happen Tomorrow
6.05 ITN News; 6.15 The Sunday Break
7.00 About Religion- Gluttony and Sloth
7.25 ITN News
7.30 Cannonball- Ginny
8.00 London Palladium Show- starring Stanley Holloway
9.00 ITN News. 9.07 Armchair Theatre- Harry Andrews in Some Talk of Alexander
10.09 Maverick- James Garner in The Lonesome Reunion
11.00 Late Date - with Yana and Ronnie Hilton
The Epilogue- Rev E Taylor
Close Down
TTT start

.

.

.

.

.

.


12.55 Opening Announcement
1.00 ITN News Flash and then
The One O'Clock Show with Austin Steele, Len Marten Shirley Wilson, and George Romaine. Guest Allan Bruce
1.40 North East News, Weather -1.45
2.15 Racing from Sandown Park -3.15
5.00 The Roving Reasons - 11 The Copenhagen Copperplate
5.25 Mickey Mouse Club with Jack Newark
5.55 News; North East News
6.13 Sports Desk with George Taylor
6.30 Biggles - Biggles finds out Von Stalhein is the mastermind behind the international plot
7.00 Star Parade introduced by Adrian Cairns. The work of Val Guest
7.30 Emergency- Ward 10
8.00 Take Your Pick
8.25 The Army Game
8.55 This Week introduced by Richard Goold-Adams
9.25 News
9.35 Television Playhouse - Margaret Moves On starring Mona Washbourne
10.35 Have Gun, Will Travel - The Bride
11.05 News
11.07 Martin Kane - The Letter followed by
The Epilogue by Rev PWH Rudge, St Ann's Church Newcastle
Close down
Interestingly, the final of the Miss Viewer beauty competition was held on this evening, but evidently not shown live. 24 Tyne Tees contestants competed at the Oxford Galleries Newcastle. Host was Hughie Green, with Don Lang crowning the winner.
TTT start

.

.

.

.

.

.

5pm Seeing Sport
5.25 The Cisco Kid
5.55 ITN News; North-East News
6.15 North-East Roundabout - Monday edition
6.30 Gay Cavalier Masked Lady
7.00 Rainbow Room guests Julie Dawn, George Martin, Peter Regan, Les Baker, Joe Vaughan
7.30 Criss Cross Quiz
8.oo The Love of Mike
8.30 Bonanza The Hanging Posse
9.25 News
9.35 Deadline Midnight
10.35 Prime Minister of England with Alan Taylor
11.05 News Headlines
11.07 Martin Kane The Art Forgery
Epilogue Rev JA Ritchie, Baptist Church Durham Road Gateshead
TTT start

.

.

.

.

.

.

.

.

Tyne Tees Programmes for Sunday January 22nd 1961
11.00 High Mass from St Mellitus Tollington Park London- 12.05
2.25 The Farming Bulletin
2.30 Adventures in Paradise - Lady from South Chicago- guest star Paulette Goddard
3.25 Comedy Matinee: The Happiest Days of Your Life from The Nottingham Playhouse
4.20 Rin Tin Tin - Hubert's Niece
4.50 The Mask of the Clown - Episode 1
5.20 Journey of a Lifetime - Faith of the Fishermen
5.35 Young Outlook with John Reilly for young people in the North East. Includes Popeye
5.50 Godfrey Winn's Birthday Honours with Alfred Marks
6.05 News
6.15 Sunday Break
7.00 About Religion
7.25 News
7.30 Danger Man- The Island
8.00 Sunday Night at the London Palladium starring Frankie Vaughan, and Antonio
9.00 News
9.05 Armchair Theatre The Picture of Dorian Gray starring Dennis Price and Jeremy Brett
10.10 77 Sunset Strip - Mr Paradise
11.00 Monte Carlo Rally- Special Report on the Tyne Tees Television entry
11.10 The Unforeseen - The Voice
11.35 approx The Epilogue - Rev Rev TG Aikman, Trinity Presbyterian Church, Newcastle

.

.

.

.

.

.

.

.

Tyne Tees Programmes for Thursday September 15th 1961
1.00 News Flash
1.02 One O' Clock Show
2.35 Schools
5.00 Junior Criss Cross Quiz /.
5.55 News
6.05 North East News
6.15 North-East Roundabout
6.30 Look Now
6.35 The Count of Monte Cristo The Talleyrand Affair
7.00 Star Parade introduced by Adrian Cairns
7.30 Double Your Money
8.00 Our Kind of Girl Alma Cogan
8.30 Family Solicitor Wage Snatch
9.25 News
9.35 Television Playhouse Take a Fellow Like Me
10.35 Crisis On the Slipway Shipyards in the North East
11.06 Headlines and Liberal Conference Report
11.15 Whiplash Canoomba Incident
11.40 Epilogue - Rev Leslie Forster, Christ Church Dunston on Tyne

To TTT start

.

.

.

.

.

.

.

.

Tyne Tees Programmes for July 29th 1962
11am Salvation Army Open Air Service from Whitley Bay -commentator Maxwell Deas -12.05pm (TTT Production)
2.45 North-Eastern Farming Diary - introduced by Ken Lighterwood
2.50 The Four Just Men - Dan Dailey in The Deadly Capsule rpt
3.15 Sunday Cinema: The Girl in the Picture - starring Donald Houston
4.25 National Velvet - Chip
4.50 Anton Dolin introduces Stories of the Ballet- with Carla Fracci and John Gilpin (TTT Production)
5.05 Ivanhoe - The Monk
5.35 You'd Never Believe It! - Tim Brinton meets Michael Bentine
6.05 News
6.15 The Sunday Break - Christian Unity?
7.00 Living Your Life - Next Door to Nobody with Geoffrey Johnson-Smith, Mabel Vickerstaff, Eric Mole, Canon Ralph Stevens
7.25 News
7.30 Surfside 6 - Thieves Among Honour
8.25 The Award Show- introduced by Bruce Forsyth
9.25 News
9.35 Drama '62: The Teeth of Treason - starring John Phillips
10.35 The Cheaters - The Bite
11.05 The Epilogue - Canon Peter Wansey, Vicar and Rural Dean Darlington, and Close Down
To TTT start

.

.

.

.

.

.

.

Tyne Tees Programmes for Wednesday April 24th 1963
10.30 The Wedding of Her Royal Highness Princess Alexandra of Kent
1.30 News Flash
One O'Clock Show with Austin Steele, Terry O'Neill, George Romaine, Anita Harris and guests Carole Carr, Donald Peers
2.10 North East News; The Weather
2.15 Epsom Spring Meeting -4.30
5.00 Zoo Time
5.25 Happy Go Lucky and Popeye 200th edition with Larry Parker and Wacky Jacky (Haig)
5.55 News
6.05 North East News
6.15 North-East Roundabout
6.30 Discs A Gogo
7.00 Take a Letter with Robert Holness
7.30 Coronation Street - visitors for Dennis Tanner and Gamma Garments
7.55 Rawhide
8.45 Dickie Henderson Show with guest star The Marquis of Bath
9.15 News
9.30 Rt Hon George Brown (Party Political Broadcast)
9.45 Boy Meets Girl with Mike Sarne, Dowager Lady Aberconway, Barbara Cartland, Laurie Lee, Denise Robins
10.33 Police Call
10.38 Danger Man - The Dead Man Walks
11.08 On the Braden Beat
11.28 News Headlines
11.30 Epilogue - Maxwell Deas reads Jesu, Joy of Man's Desiring

To TTT start

.

.

.

.

.

.

.

.

Tyne Tees Programmes for Saturday January 29th 1966

12.25 Station Tuning Signal
12.30 Say It in Russian - Lesson 15
12.55 News
1.00 World of Sport
5.15 Lost in Space - The Keeper part 2
6.10 News
6.15 Thank Your Lucky Stars
6.55 Bonanza
7.50 Film: Bugles in the Afternoon
9.20 Morecambe and Wise Show
9.55 News
10.05 Mystery and Imagination - The Lost Stradivarius
11.10 On the Braden Beat
11.35 Epilogue - Mr Hedley G Murphy

Note- this schedule replaced that announced in The Viewer, which for the early evening had originally been announced as the following:
6.55 OK Crackerby - Crackerby's Tutor
7.25 The Big Valley - The Guilt of Matt Bentell
8.20 Morecambe and Wise
8.55 News
9.05 Court Martial - Operation Makeshift
Then as above from 10.05

To TTT start

.

.

.

.

.

.

.

.

Tyne Tees Programmes for Tuesday June 21st 1966

1.10 Station Tuning Signal
1.15 Post Graduate Medicine Treatment of Psoriasis
1.55 Wimbledon 1966
4.45 Small Time The Adventures of Twizzle rpt
5.00 Five O'Clock Club
5.25 Orlando Orlando and the Cemetery Walkers part 4
5.55 News
6.05 North-East Newsview introduced by Roderick Griffiths
6.30 Camp Runamuck Termites
7.00 All About You with Barry Westwood
7.30 Emergency- Ward 10 The hoaxer strikes again
8.00 Bonanza Peace Officer
8.55 News
9.10 Professional Boxing Brian London v Amos Johnson, live from Liverpool Stadium
10.05 This England Take It or Leave It rpt
10.35 News Headlines
10.37 Sportstime Ravensworth Golf, Vaux Cycle Race
10.57 North-East Newscast
11.07 Gourmet Ronnie Ronald in Morocco (Channel TV Production)
11.25 Expedition Shark Island
11.55 Time to Live 1 Time to Work with Canon D Goldie

To TTT start

.

.

.

.

.

.

TTT programmes August 29th 1967

2.15 Racing from Epsom - 4.30
4.40 See Here- Children's TV with:
Badlands Cannonball with Geoffrey Coates (TTTV)
Tingha and Tucker Club, at 4.45.
A Man and a Dog, at 5pm.
Come Here Often, at 5.25.
5.55 News
6.05 Summertime - local reports (TTTV)
6.25 Where The Jobs Are (TTTV)
6.30 Billy By Request - Billy Hutchinson plays tunes and Liz Fox reads letters (TTTV)
6.45 Sportstalk with George Taylor (TTTV)
7.00 Hancock's - guest star Frankie Randall
7.30 The Fugitive - The Judgement, part 1
8.30 Farewell Arabia - David Holden narrates a study of Arabia
9.30 Peyton Place - To Martin's dismay, a subpoenaed witness returns to town
10.00 News at Ten
10.30 Memories are made of This - Chris Langford and David Macbeth with Kim Davis and Sol Raye (TTTV)
11.00 Seaway - What the Rats Knew
11.55 North-East News Headlines and Weather
11.57 The Church in East Germany 2 The Church Persecuted with Rev Dr John Hudson Brunswick Methodist Church Stockton

To TTT start

.

.

.

.

.

Tyne Tees Programmes for Sunday September 22nd 1968

11.00 The Morning Service
12.15 Going Places - 12.40
1.30 Way to the White House
2.00 Farming Diary
2.30 Shoot commentator George Bayler
3.15 Sunday Matinee Tea for Two
5.00 The Lone Ranger
5.30 Tickertape with Joseph O' Conor
6.00 News
6.15 The Growing Summer 4 Blood with Wendy Hiller
6.40 The Rain on the Leaves Endurance
7.00 Choirs on Sunday
7.25 The Saint The Gadget Lovers
8.20 The Rise and Fall of Legs Diamond
10.00 News
10.10 Frost on Sunday
11.10 Thriller God Grant that She Lye Stille
12.05 God of the Open Air read by Maxwell Deas
12.10 Close-down

To TTT start

.

.

.

.

.

.

.

Tyne Tees Programmes for Friday October 25th 1968

7.30am Olympics-9.00
10.00 Schools
12.00noon - Sailor of Fortune
12.30pm Olympics
1.40 Schools
3.40 All Our Yesterdays
4.10 Pinky and Perky
4.25 Arthur
4.50 Clubhouse Geoffrey Wheeler
5.20 The Lone Ranger
5.50 News
6.00 Olympics
6.30 Voyage to the Bottom of the Sea
7.30 Peyton Place Hour
8.30 Never a Cross Word
9.15 Frost on Friday
10.00 News and Olympics
11.00 News Headlines; Focus
11.30 We Have Ways of Making You Laugh
12.05am Olympics
2.25 Winning Post

To TTT start

.

.

.

.

.

.

.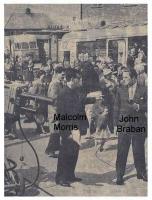 Hi There!
"The first ever British teenage advertising magazine."
Presented by Maureen Beck and Gillian Gile with Dennis Kirkland, monthly on Saturdays at 6.15pm.
The half hourly programme was scheduled on these Saturdays: October 24th 1959, November 21st, December 12th, January 11th 1960, February 13th, and March 12th.
Peter Paine, TTT sales director, stated, "there is a great market in the north east, and the content, programme location and filming of Hi There! will achieve the tremendously valuable factor of a selective audience of teenagers."
Originally Jo Douglas had been booked to present the series, but it is not known if she was actually involved in any of these admags.

Eskimo Frozen Foods
This 1960 photo shows the Tyne Tees TV mobile Ampex unit making one of six 30 second commercials for Eskimo. Interviews with local housewives were taped, then rushed to the Newcastle studios. TTTV were the first company to make such commercials.
Free samples of Eskimo frozen foods were given out to women, who also had the chance to enter a competition offering £100 of kitchen equipment. Producer Malcolm Morris is seen with the interviewer John Braban

More TTT admags
To TTT start

.

.

.

.

.

.

.

Our Geordie

This was the original title for Turn-Up for Tony (shown on TTT on 26th Jan 1968). a filmed story shot on location, made by Robert Tyrrell. With no dialogue or commentary, only a specially composed music score. Originally this had been aimed for entry to the 1965 Montreux Festival, it depicts the recent history of the North East of England through a day in the life of one man played by Tony Tanner. Others appearing included Sheila Falconer, Ted Lune and Norman Mitchell. Bob Tyrell wrote the script, but Tony Tanner developed the story to the point where neither of them could recall where one left and the other began. "Tony turned my somewhat laboured symbolism into a lively story of a real and vivid character," Tyrell said. Arthur Clifford (Tyne Tees Programme Controller) commented, "we may not win at Montreux, but I certainly think we have a programme that will attract attention for showing in the North East, and, I hope, in other independent television areas." Thankfully the film survives and can actually be viewed on the BFI site.
My commentary: after opening titles, we move to the Sally Army hostel, where Tony has this vision of himself as a gent, before coming down to earth with a half a fag. which Ted wants to share. Down the hill in the wet to Central Station, it's 9am. A chat and a free fag from a nice lady at a kiosk, whoops he slips over. Destination: Employment Exchange. Ted is still following, after another fag. he gets a puff, before Tony is moved on by a policeman (Norman Mitchell). Back to the lady who accidentally bumps a door into him: police want to know what's going on. Tony gazes at the new high rise flats from the rubble of demolished houses, and imagines living there happily with his girl, before reality returns: a job is being advertised! This is how he will get on. In a large factory, his tedious job starts, picking out little lumps on a conveyor belt, the finished product he imagines himself cleverly manufacturing with his admiring lady assistant. Water! He inagines the adulation, culminating in his knighthood. With his first pay, he buys a bunch of flowers for his friend, but oh dear, she is dating the policeman. In a bar, he drowns his sorrows, and numerous bars later, with two mates he reaches La Dolce Vita, only just on his pins. Place your bets. In his dreams, this suave gambler wins a fortune to winks from a hostess. It seems she is saying "save me" from the croupier, the policeman. An imagined James Bond-type figure, he saves her, before he finds he really has won. His mates want a cut, so Tony sneaks away, bumping in to his lady love. Off they run, Ted happily given another fag, over the Tyne Bridge for the closing titles.
The film stands up against similar silent films of the talkie era like The Plank, though this is more interested in showing social background, and the humour is mostly very obvious, inserted you feel, to make the background more interesting. Nevertheless, it has inventive moments, and it might have been interesting to see James Bolam in the part, visually Tanner is very like him