The Strange World of Gurney Slade (ATV, 1960)

"I am a walking television show," Mr Newley informs us, but should he not have said for Gurney Slade "walking disaster"? For this show, though loved by a few, was rightly shunned by the silent majority. Crippled tv show is perhaps the best description, you almost have to admire the effort to create something Completely Different, even if it flopped completely at the time. Verbalising of Thoughts, you might call it, or perhaps Silent Film Comes to the Telly which isn't strictly accurate, but you get the notion. If indeed anyone had any notion, though I feel they probably did, even if it don't come across.
Max Harris' contemporary music was the part that gave it the air of trendiness, was that the best part? Sid Green and Dick Hills were superb comic writers, who had one of their occasional disasters with this series. Producer Alan Tarrant went on a few years later to mastermind an even more spectacular flop, the 1963 Hancock. It was often said that in those days comics went to ITV for more money, but they also went for more failure.
My reviews:
Programme 1 (October 16th 1960)
Programme 2
Programme 3
Programme 4
Programme 5
Programme 6
To Comedy Menu

.

.

.

.

.

.

.

.

.

.


It all looks very ordinary: a domestic scene at Albert Petty's Lancashire home, plenty of talk from all except t' silent Albert hisself, who frustratedly walks out the front door, off t'set, eeee it were only a tv show.
By the Thames, on a park bench, he ponders the meaning of life, wonders who his neighbour is, and talks to anything, including a dog. He devises his own language which he shares with a keen passer by. By now the viewer is becoming increasingly bewildered wondering if he has gone bonkers or they.
Newspaper headlines about a takeover, a policeman orders him to pick up his newspaper and he tries several times to dispose of it, a welcoming dustbin gratefully accepting his gift.
Sir Geoffrey Jerome's Rolls, he joins "the takeover geezer," whose secret thoughts are not apparently on saving Britain's economy at all, but on his ideal woman.
"I think she fancies me," this a life size poster of a girl (Una Stubbs) in an ad for Klean-O. Here she is come to life! With her hoover they stroll into the park, dance on the bandstand, then push their model on the swings, the point at which viewer credulity is frayed beyond belief. From now on, it's survival of the viewer, and if you keep going, you see her disappear, the girl that is, not the show. Chaplin, don't eat your heart out. Disposing of the hoover is even harder than the paper. He tries selling it to t' Lancashire family, but gets t'order of the boot. Surely this must be self prophesying at its best. It definitely is, for Newley even advises us to switch off. Why not?
Either this is high high camp, as it may appear to the ultra trendy 1960's hippy and to today's retro weirdo, or is it bunk?
Gurney Slade

.

.

.


The opening title sequence must surely have influenced Patrick McGoohan in The Prisoner! On a bleak windswept airfield AN is reflecting on history, girls, and mostly his ideal girl. There she is, picking flowers aside the runway, "she's beautiful" in this colourless landscape. The climax builds as they close, their thoughts only, he pondering his chatup line, which debunks the whole scene.
I couldn't follow the next bit as she walks off to dance with a girl friend while he chants a dull ballad, it's a disillusioned epitaph.
Oh for love at first sight! AN tests his theory with an army parade of possible beauties, but of course the only one that falls for him is the plainest.
So he quits the drabness to ask a married couple strolling in the park with their children if they are sure they did marry the right person. "Shall I call a policeman?" Predictable outcome, responsive husband seeks freedom, gets arrested.
The two parents seeking new partners, AN is left with the two children and a baby in a pram, which he pushes dolefully. "My dad shouldn't have kissed that girl," the baby remarks. In this childlike world, they encounter a doubtful looking fairy (Hugh Paddick) who discusses cross pollination before granting the traditional one wish, not three, it's the cutbacks. AN's wish lands him in what appears to be the studio back lot in a sea of dummies which have been dismembered. With the children, he pieces together arms and legs and magicks her into life, it's their mum!
AN delivers a moral in double dutch as the family are reunited. Back at the windy airfield, alone, he dances with the camera and us
Gurney Slade

.

.

.

Programme 3
Loafing in the grass, AN is staring at ants, "it's not much fun being an ant." But how strong they are. Attack of the Giant Ants! You hope for a surreal scene developing this theme, but no! If he were an ant he could lift a grand piano, and this he mimes. He walks through the countryside (Kent), and at a cross roads turns in the direction marked Gurney Slade.
A mime sequence with a talkative gate, AN stares at the camera, it seems even he is surprised. He wanders on to a farmyard for a conversation with a dog, while in the background a farmer and his wife fight. Then AN passes her and her son who are miming something, I know not what. Thankfully AN moves on to a well. A wishing well, AN's wish is to be strong. How strong, inquires the voice inside the well. Scrap that AN decides, and returns to the farmer's wife.
Now he reflects on war while nibbling grains of corn, this for some odd reason leads to a meeting with Napoleon (John Bennett), "je suis all right Jack," is the level of the dialogue.
Another gate is closed- maybe this is an advert for the Countryside?- as the story meanders on to a scarecrow that sings. AN makes it a duet. Back to the farmer's wife and son, next AN chats to a cow (voice of Fenella Fielding), talk of milking, evidently with the cow nuzzling him, AN must have something nice in his pocket.
It's now clear what wife and son are up to, though AN prefers to return to the dog, then the ants. Can he join them? Or the bees?
I felt there were a couple of missed opportunites here. Or more
Gurney Slade

.

.

.

An empty musty courtroom with Gurney Slade waiting pathetically for his trial, after he has starred in a tv show which many have found not funny. Enter presiding judge, Lady Justice Eleanor who has never ever laughed. Defence Counsel Archie advises a plea of Guilty, he should know, he's full of those old corny gags- exit stage left Archie, dismissed, GS will conduct his own defence.
Prosecuting Counsel (Douglas Wilmer) gives the court a screening of said tv show, a sketch about an unemployed man thinking about countersunk screws, "even Diana Dors must have at least one." Well that's the level of the humour, if you can dignify it by such a name, surely the prosecution's case is proven. "No relation to any known sense of humour," to quote.
An expert in countersunk screws testifies. GS accuses him of being, wait for it......... "screwy." Indeed it's admitted, "there is nothing funny about a countersunk screw," or perhaps there is.
After chatting in this surreal court with the executioner, who is ready and prepared, a typical viewing family is called, the same family seen in the second programme. "Very clever... not funny," is the honest appraisal. The wife adds she didn't understand.
First defence witness is Rita. She smiles at GS, a walk on part. Next witness is the inanimate ad for Countersunk Screws. Now we're all ready for "the big Boyd QC twist." The grinning model in the ad, Richard Brown is tediously questioned. Not so much a twist, more a strangulation.
The jury retire to deliberate, GS sits in with them. Their verdict is inevitable. But before it's given, a nice twist, the Morning Mail offers the prisoner £20,000 for his life story.
I cannot explain why the jury sing their verdict. Clever rather than funny. It's the maximum penalty. The executioner steps forward. But his chopper is broken. How to mend it? You've guessed, that makes even Lady Eleanor laugh. Exit all
Gurney Slade

.

.

.

Programme 5
Inventive, if typically none too coherent, intellectually clever, nearly enjoyable.
GS is recounting a sweet fairy tale to an audience of children, all about a prince and princess and a magic tinker, "an allegorical figure"- ah. GS takes them to Gurneyland as we listen to their beautiful if silent singing.
Enter Albert a toff (Bernie Winters) who is being chatted up the plain Veronica, but he rejects her. GS casts a spell on them, auto suggestion really, but it backfires, he's keen, she's so pretty she's all for spreading her charms around more.
"What happened?" the bemused Albert inquires. As the children watch, GS explains Albert needs "the symbolic tinker," though the one who appears is real enough. Some GS persuasion gets this tinker to perform magic, which is in the eye of the beholder alone. Then GS rubs his magic pot, they all disappear except GS. They've gone to Gurneyland, his mind.
GS wanders inside his "big head" (yes that's a good description) trying to locate them. Here they are, having "a smashing time."
But GS is tempted by his "wicked side," who begs to take over. "I refuse to be corrupted," the good GS asserts. We see other facets of GS, in the depression room his worrying face, then his entertaining face, the children watch enrapt as he sings an awful beaty Strawberry Fair. The tinker performs more non-existent magic which GS tired of. He almost succumbs to his wicked side's temptation, but instead goes out of his mind, leaving all the children, and their happy families still inside.
Police baffled by their unaccountable disappearance
Gurney Slade

.

.

.

GS is posing in an empty tv studio. Backers ask the manager what he is. Answer: a performer, "it is presenting its problems, jokes nobody can understand." So, this must have been made after the series had already partly been screened. Viewers' main suspicion is, could this show be merely a time-filling exercise, it feels like it with this line recurring with variations, "how much time left to go?"
It's a second bout of self analysis, like programme four. GS gives his reflections on the series, chatting with many of the previously seen characters. Representing them, the Prosecutor from 4 is complaining, they're all in limbo. GS admits he has "no future plans" for them. In return, they complain that he has only half formed their personae, they've no backgrounds, no future. Was this really Newley reflecting his own doubts about the series?
"I didn't want to do any ordinary television comedy," he admits, a line that says it all.
Albert from 5 is asked to use his skill to have a rave up. The poster girl from 1 starts a mime dance and the tinker from 5 performs his invisible magic, which becomes real thanks to the fairy, but his own brand of magic has now paradoxically vanished. This might be intended as symbolic??
An Excuse Me dance is interrupted by a casting director who has found roles for them all in other well known (ITV) shows, so one by one the actors say their goodbyes to GS. The two children from 2 are last to depart.
Left on his own, GS asks himself, "another series?" He's been waiting collection and now AN arrives for him. It's an inventive ending as GS is visually transformed.
No, no second series. There was one good joke about Laurence Olivier, and one bad one from Bernie Winters. One nice touch was the poster of Una Stubbs with a tear running down the cheek, that's all that lingers in my memory.

However, you can applaud the effort. The show may exhibit an air of improvisation, yet I think it was planned in detail, maybe it needed even more thinking through before it was shot on film. A final interesting epilogue, screened in the Network dvd as 'Promotional' include a couple of brief scenes.
AN in an introspective chat: "Well, it was a noble effort, wasn't it?"
And even more telling addressing his poster, "I agreed to go along with you." Who's he blaming?

.

.

.

.

.

.

.

Steptoe and Son
A huge hit, we confess to being late converts, though not fans.
1.1 The Offer (1962 Comedy Playhouse pilot) -
Returning from his totting round with a cartful of junk, Harold is slagged off by Albert. It's not just the quality of the rags, it's the way Harold treats the horse, everything- Albert has it in for his son. He's been having it too easy, says the dad who has to rest at home. Harold is frustrated, he's being held back by his dad, specially with the birds. It's impressive how quickly the two characters are so quickly established in this first story, even down to Wilfred Brambell's facial contortions, though maybe this opener is more firmly grounded in the trade than some of their later studies. After this twelve minute scene in the yard, we move to inside the run down Steptoe household. Harold's unique method of tipping the dregs from wine bottles into half full ones is a classic example of his social aspirations- "I'm a connoiseur." Albert by contrast swigs the beaujolais, even though it's been accidentally contaminated with paraffin. The inherent pathos surfaces more strongly as Harold leaves his dad for a new start. "I could have been a company director by now!" But his very words show that the longer he takes over the break, the harder it will be. Out of the gate he attempts to push his cartload of possessions, but it's too weighty. "If I don't go now..." The sad fate of Harold is sealed for the whole series
1.5 The Diploma-
"British Junk for the British!" An interesting argument about the Common Market and the tunnel give this the feel of a mild period satire, as Harold and Albert explore the politics of it all in their own way. The story begins with a nice contrast between the two: Harold the intellectual, reading as he goes totting, and Albert back home swigging. It's clear business is low: "we can't go on like this." As a study of two "pathetic" strugglers, this is beautifully written, though I find it too genuinely real to be too funny. Harold, realising there's no future, has decided to study for a diploma to become a tv engineer, so whilst he struggles with the intracicacies of thermodynamics, it's Albert who has to do the round with the cart, ringing his bell, and soon discovering the hard facts about the dwindling modern day rag and bone trade. Yet almost inevitably, Harold is not up to the mark. What's a condenser for, inquires Albert of his hopeful offspring. Harold attempts an explanation. Albert looks dubious. Perhaps the main scenes are a little overlong, as Albert points out helpfully "that bit goes there." Suggestion ignored. Fianlly Harold is goaded into switching on the tv he has constructed, but again, the script is just over elaborated as he reaches the point of failure. Albert however makes a few quick changes as poor Harold stands by despairing. "Soon get my diploma," mutters Albert as the set lights up: Here Is The News! Harold admits defeat. To sustain this half hour comedy with but two characters is a fine feat, and it almost works here
3.4 Steptoe a la Cart (1964)-
This French "scrubber" Monique (Gwendolyn Watts) is a darling, and despite the obvious language barrier, Harold is smitten. Of course his other problem is Albert, "the soul of discretion," though hardly when father proves a fluent French speaker, learned in the first war. And not just a speaker for Harold's hopes of romance are dashed as Albert reveals, "I'm her granddad... she looks like me!"
5.7 Men of Property (1970)
6.6 Pot Black
Comedy Menu

.

.

.

.

.

.

Our Man at St Mark's
A-R's gentle comedy about a quiet vicar in a quiet parish. starring Leslie Phillips as Rev Andrew Parker with Joan Hickson as the housekeeper, and Anne Lawson as Anne Gibson
Scripts written by James Kelly and Peter Miller. Producer: Eric Maschwitz. Location filming was at Lincoln Cathedral
To Comedy Menu

1.1 The Facts of Life (transmitted Wednesday September 25th 1963 9.10pm, VTR made September 9th 1963)
My review: The vicar is preparing his harvest sermon with a rather obvious joke on the horizon... "the most difficult thing of all to practice is tolerance," when of course he's interrupted by his housekeeper and he gets rather ratty with her. But the theme continues nicely through the story as his girlfriend Anne tells him "people think it's funny, people going out with vicars." So she'd like him please not to wear his dog collar at the party tonight. "People don't expect vicars to cuddle!" But he feels he must wear that collar even though "it might inhibit people." Parishioners are bringing in produce for the harvest. There's some confusion over the two children who do so, Johnny (Kevin Bennett) is called 'Philip' at one point whilst Casey (Gillian Gosling) is introduced by the vicar as 'Tracey'. It's she who informs our vicar that "I'm going to have a baby" but as she's only about nine there's an awkward conversation ahead for Our Man. How does she know? he manages to ask. "A woman knows these things." Further gentle questioning gets to the heart of it all: Johnny must marry her "because he kissed me." Poor Johnny is told to apologise for such behaviour and as the vicar orders him, he realises he also should show some tolerance over that burning issue of the Dog Collar

Details of the remainder of the four series (total 46 stories):
1.2 A Joyful Noise (VTR made 16th September, transmitted 2nd October 1963)
Directed by Christopher Hodson.
Reginald Barrett... Mr Donald
Julian Holloway... Mike Daniels
The Classmates... The Scramblers
Kevin Bennett... Johnny Marshall
Clive Marshall... Tom
Also in cast: Eric-Hyde Wilson as Mr Hobson.
An attempt to pep up the singing at St Mark's leads to trouble with the organist. However Andrew, on the very verge of defeat, gets what he wants in a highly unconventional manner...
Detailed A-R Synopsis- Andrew is depressed by the slow and dreary singing at morning service, and angry at the motor cyclist who keeps roaring up and down the road outside St Mark's. After church he goes to the local coffee bar to tackle the biker responsible, Mike Daniels. The place is packed with teenagers, jiving and jumping to the rhythm of a local group known as The Scramblers. Mike denies he is the reason for the congregation's feeble singing, the music is dull and dreary anyway. Defeated, Andrew returns to the vicarage, reporting his failure to Anne and Mrs Peace. He contrasts the lively music in the packed coffee bar with the singing in his own half empty church. When he tackles Mr Donald on the subject, he finds himself up against a brick wall. The organist flatly refuses to consider any change, and resigns, leaving Andrew with the problem of finding a substitute before evensong.
At the coffee bar, Andrew admits to an astonished young Mike that he has come round to his point of view about the singing. He asks what kind of music would bring him and his pals into church. Mike replies by playing a modern beat tune on the juke box, commenting that, though this might be going a little too far, there were plenty of spirituals that the kids enjoyed because the groups played them. Seized with enthusiasm, Andrew asks him to get a sheet music of a spiritual in time for evening service. So Mike knocks up a local music dealer, while Andrew reassembles the choir for rehearsal. Their performance is ghastly, they cannot sing unaccompanied. At Andrew's suggestion, Mike rides off to try and recruit The Scramblers. It is close to 6.30 and the congregation are beginning to assemble. Anne has typed up the hymn sheets with the words of Go Tell It on the Mountain, but there is no sign of Mike or the group. All seems lost, until a roar of motor cycles and into the church sweep Mike and The Scramblers, escorted by a crowd of teenagers. The choir joins in, then little by little the whole congregation, led by the kids. Finally the whole church is rocking, and Andrew has won his battle.
1.3 Holier Than Thou (VTR made 23rd September, transmitted 9th October 1963).
Cast also includes:
Annette Andre... Jackie
Edith Macarthur... Mrs Hawkins
David Stoll... Mr Hawkins
Anne goes away for a few days, leaving Andrew with the problem of Jackie, 16 year old daughter of Mr and Mrs Hawkins, who has gone badly off the rails. Spoiled by her parents, and bored with life at home, Jackie is running round until all hours with married men. Andrew goes to talk to her but she only laughs at his dog collar and dashes upstairs to change for her evening outing. Though her disheartened father wants to drag her down again, Andrew thinks it better to go up and talk to her. When he finds Jackie's door locked, Andrew adopts a James Bond attitude, threatening to break it down. Flaunting herself in a negligee, Jackie greets him with pseudo sophistication, doing all she can to annoy him. Andrew doesn't fall for this. He shows good humoured tolerance, and gets through her defences when he warns her that if she wished to marry one day, she might find men shying away from a girl with her reputation. After he leaves her, Jackie stamps her foot in anger, then, looking at her attractive self in the mirror, wonders whether she could find a way to get past his holier than thou attitude.
As he struggles with the church accounts, Andrew has a visit from Jackie. Simply dressed and demure, she says she is trying to give up the old crowd, and as things are now so dull, she'd like some charitable work to do. As she is good at maths, Andrew shows her his accounts. She promises to have a look and invites Andrew round to join her parents for dinner the following evening. But when he arrives, he finds Jackie, attractively dressed, all on her own. She says her parents have had to go to a sick relative, so the pair enjoy a candlelight meal and a bottle of wine on their own. After dinner Jackie leaves Andrew listening to Music for Swinging Sinners, while she puts on a new dress. She returns, asking him to button it up at the back. Fumble fingered, he does so, then she invites him to dance. She makes fun of his olde worlde style of arms length dancing, and draws him close to her, her hand stroking his hair. After a few steps, Andrew warns her that though she is a very attractive young thing, he happens to have a girl of his own. She is rounding on him furiously when her parents return from the pictures. Andrew passes off his visit, to the relief of Jackie, as a harmless social visit. As she sees him away, she thanks him for covering up. After Andrew has gone, she receives a phone call from one of her married boy friends, asking her to come out. She asks him to call on her but when he learns her parents will be there, he replies, some other time. This casual answer strikes home, and she hangs up rather wiser for the evening's events
1.4 Side by Side (no Joan Hickson)
VTR made 7th October, transmitted 16th October 1963.
Directed by Christopher Hodson.
Beatrice Varley... Mrs Gray
Jack Bligh... Harold Gray
Jack Stewart... Father McIntyre
TV Times details: Andrew and his Roman Catholic colleague from St Dominic's become involved in a rather hectic problem of accommodation.
A-R synopsis: With Mrs Peace absent, Andrew, under Anne's direction, is moving around the furniture in the vicarage sitting room. But a heavy antique sideboard cannot be shifted. They are interrupted by elderly Mrs Gray, who wants to arrange a double plot for herself and her husband where they can be buried. After some confusion it is established Mr Gray is not yet dead, though "likely to go at any moment." But he, a veteran of two world wars, is a Roman Catholic, and when he learns of his wife's plan, he protests long and loud that on no account will he be buried in a Protestant churchyard. Andrew learns this when he calls on the old man. He therefore refers the matter to Father McIntyre of St Dominics.
But Father Mac has the door slammed in his face by Mrs Gray, so with Andrew, plans to have Mrs Gray called over to have further talks with Andrew. This time, Father Mac is warmly welcomed by Mr Gray, who pours out his desire to be buried in a Catholic cemetry under a small wooden cross, "like me mates in Flanders." He certainly doesn't want the white stone angel which his wife wants for their joint resting place at St Mark's. Father Mac perceives that Mr Gray is mostly motivated by a desire to spite his partner, and he reprimands the old man for his unchristian behaviour. At the vicarage Andrew has got into deep water wth Mrs Gray, who decides she will be buried in St Dominic's after all. But Mr Gray, offended by Father Mac's homily, now wants to be buried in St Mark's. In a final scene, the Grays are united by the antagonistic attitude, as they see it, of the two bewildered priests, and Mr Gray announces that after all they've been through, he'll probably be buried at sea. Then Anne views the new position of the sideboard which has been moved with Father Mac's help, and decides on further changes. But this is altogether two much for the two colleagues who silently steal away
1.5 A Previous Conviction (October 23rd 1963 9.25pm- this episode thankfully still in existence)
VTR made 30th September.
Directed by Geoffrey Hughes.
Warren Mitchell... Joe Meyer
Frank Tregear... Albert
Freddie Jones... George Gregory
Andrew's attempt to give an ex-convict a fresh start in life becomes more than complicated when Anne decides to take a hand.
From an A-R synopsis: Joe Meyer is the owner of a prosperous local business in electrical components. He has already taken on five ex-cons recommended by Andrew, but on this occcasion is less than enthusiastic about an accountant who has done a stretch for embezzlement. But he does agree to interview the man at the vicarage, Gregory, who spends his time at the moment solving crosswords in the reading room of the Felgate Library. But when Andrew tells him there about the interview, he wants to be left alone, no need of charity. Andrew returns to the vicarage where Anne and Mrs Peace are watching a lurid western, and when Anne hears the story, suggests Gregory, after years under uniformed authority, may have been put off by the dog collar. Anne offers to approach him herself, but the vicar begs his girl friend to stay out of the matter, but there is a gleam in her eyes...
Filled with missionary zeal, Anne establishes contact with Gregory in the reading room by doing a crossword herself, and enlisting Gregory's help in solving the clues. After a resentful start, Gregory becomes interested. Andrew has found out from the talkative Mrs Peace what Anne has been up to, and when Anne come is, allegedly from a shopping trip, they have a tiff which reduces Anne to tears, and she informs Andrew she is going out this evening with Gregory. After Andrew leaves, following her, Joe Meyer drops in to say he cannot go ahead with the interview. He cannot countenance having an embezzler working as his accountant. Mrs Peace accuses Joe of a lack of human feeling, and bullies him into doing the interview. Anne meanwhile has met Gregory who is planning to take her to the cinema followed by steak and chips. When Andrew meets Gregory, to persuade him to come for the interview, he has to tell Gregory that Anne is his girl friend. Gregory is bitter, Andrew gets fed up and threatens to punch Gregory on the nose. Gregory's reaction is a surprise, he slaps Andrew on the back, and goes out to get spruced up for Joe. Andrew is puzzled by this volte-face, but Anne explains, "you treated him like a man darling. You gave him back his self respect"
1.6 Know of Any Reason
VTR made 14th October, scheduled for transmission 30th October 1963, but postponed due to a party political. Possibly shown on November 13th 1963.
A-R synopsis: Andrew meets again Mike Daniels (story 1.2), who wants to marry Dorothy Maxwell, a pretty girl, but unenthusiastic.
Andrew, Mrs Peace and Anne are all delighted and celebrate with a glass of wine, Andrew fixing a date for the wedding. But when Mike takes Dorothy home, her father orders her brusquely indoors, telling Mike to clear off. But the wedding bells are affecting Anne, who tries to convey to Andrew her interest in a second wedding. In this Mrs Peace supports her.
The wedding day dawns, and Mr Maxwell gloomily accompanies his daughter to church. Mike is equally gloomy as he accepts the buttonhole provided by Tom, his best man. He's sad because the only way he has been able to raise the money for a flat to live in, is by selling his beloved bike. At the church, Mrs Peace is sporting a new hat smothered in artificial flowers, Anne is dressed to the nines too. Andrew is disturbed to learn that Dorothy is in the family way, that's why her father is forcing them to get married. Andrew takes Mr Maxwell aside into the vestry, and informs him that he is not prepared to marry the couple as they are not getting married for the right reasons.
Back at the vicarage, Mr Maxwell threatens to storm out, taking Dorothy and Mike off to the registry office. But his daughter refuses, supporting Andrew's stance, so Mr Maxwell storms off, casting her aside for ever.
Dorothy decides to go and stay with an aunt in Scotland until her baby is born. However Mike really does love her, and the vicar listens with satisfaction to their love scene. The couple return to St Mark's where the service goes ahead. Afterwards, Andrew bids them farewell as they leave on Tom's motor bike for a Devonshire honeymoon
1.7 The Man Who Came to Lunch
VTR made 30th October, transmitted 20th November 1963.
Director: Christopher Hodson
Dermot Kelly... Michael Flanagan
George Betton... Cleaner
Hamlyn Benson... Mr Oakes
Peter Thomas... Delivery man
Geoffrey Hibbert... Mr Hopkins
Irish tramp Flanagan has picked up a cigarette end from the gutter. When Andrew sees this, he offers the man a new cigarette, and soon learns Flanagan has been refused accommodation at a local hostel. To the indignation of Mrs Peace, Andrew invites him to lunch, after which Andrew goes to the hostel. The superintendent Mr Oakes claims Flanagan is bellicose and a drunk. Flanagan has remained at the vicarage, where he opens the door to a delivery man. Wine is being delivered, a local firm's traditional gift to the vicar for his Christmas Draw. Bravely Flanagan resists temptation for a while, but by the time Andrew returns, he is in a state of harmonious intoxication. In spite of protests from Anne, Andrew vows with christian determination that he will turn Flanagan into a respectable member of scoiety if it kills him!
After half heartedly attempting to leave, Flanagan accepts Andrew's offer of accommodation. After being cleaned up by a reluctant Mrs Peace, he is sent to Mr Hobson at the Labour Exchange. After refusing three offers, a gardening job is accepted without enthusiasm. We move to Sunday and is he coming to church? Flanagan says he is Roman Catholic. After the service, Andrew finds their guest missing, along with the Organ Fund money kept in Andrew's desk. Call the police, say Anne and Mrs Peace, but Andrew, still hoping to reform the vagrant, refuses. His optimism seems justified when Flanagan comes back to apologise for not accepting the job. He would have returned the cash also, except that he unfortunately encountered this poor fellow in terrible trouble, who was in need of a drink....
1.8 The Executive (November 27th 1963)

The programme was so popular it returned the following year for a second series, with Leslie Phillips replaced by
Donald Sinden as Rev Stephen Young, vicar of Felgate with Joan Hickson returning in her role as housekeeper Mrs Peace, plus Robbie the dog.
All Scripts were by James Kelly and Peter Miller. Critic MN wrote after seeing #2.5, "I liked DS's vicar very much, except when he was forced to behave and sound like a twit. Perhaps the writers are still mentally writing for LP's charmingly dithery cleric?"

Details of the stories-
2.1 Quite Nice in Amersham (Thursday April 16th 1964 7.30pm)
Directed by Richard Doubleday.
Joyce Carey... Mrs Roberts
Meg Ritchie... Jean
David Hemmings... Bill Palmer
On the day of his arrival, the new vicar finds himself at cross purposes with the redoutable Mrs Peace.

2.2 The Desk (April 23rd 1964)
Directed by Bill Turner
Ron Welling/Billy Cornelius... Furniture men
Jean Harvey... Mrs Mitchell
Ronald Leigh-Hunt... Mr Mitchell
Karen Lea... Secretary's voice
In his efforts to furnish the vicarage, the Rev Stephen furnishes himself with a problem... how to repair a broken marriage?

2.3 Brother Midnight (April 30th 1964)
Directed by Cyril Coke
Patricia Garwood... Miss Thompson
Brian Cronin.... Charlie
Jeffrey Shankley... Pete
Clive Marshall... Dave
Dudley Hunte... Mickey
Tina Martin... Pamela
Ray Anton and the Peppermint Men... Youth club group
A black boy wants to join the youth club, and Stephen has a fight on his hands.

2.4 The Runaway (May 7th 1964)
Patricia Garwood... Carol (also in 2.3, 5, 8, 9, 13)
Rev Stephen Young has the delightful task of seeing a friend home, but returning full of joy, he notices a leg sticking out of a bush

2.5 Gillian's Day (May 14th 1964)
Directed by Bill Turner
Patricia Garwood... Carol Thompson
Maris Tant... Gillian (a 17 year old unmarried mother)
Arthur Howard... Mr Matthews
Desmond Davies... Dr Farmer
A cat may look at a king- but should a really nice young lady keep smiling at the vicar in church?

2.6 No Bank for Sid (May 21st 1964)
Director: Bill Turner
David Lodge... Sid Morrison
William Marlowe... Albert
Barry Henderson... Mechanic
Linda Polan... Rachel Morrison
David Rosen... David Morrison
Philip Yardley... Mark Morrison
The vicar decides to buy a car, and meets a man as unusual as the car he sells.

2.7 A Question of Tactics (May 28th 1964)
Director: Christopher Hodson
Anthony Blackshaw... Tom
Geoffrey Denton... Mr Barrington
Kevin Stoney... Hopkins
Joe Greig... Jeffries
George Lee... Policeman
£100 is urgently needed for church repairs. Rev Stephen goes after the money in a manner his parishioners find somewhat staggering.

2.8 Too Good to Be True (June 4th 1964)
Directed by Bill Turner
Jean Trend... Deidre Bradshaw
John Howard... Thomas
Alan Browning... Alec Bradshaw
Eric Dodson... Mr Frost
Patricia Garwood... Carol Thompson
In which Rev Stephen, after a fleeting dream of champagne and caviar, deals firmly with a most unusual situation.

2.9 Rainbow's End (June 11th 1964)
Also with:
Patricia Garwood... Carol Thompson
Loretta Parry... Anna
Patrick Barr... Mr Broome
Susan Denny... Secretary
Julie Martin... Pamela
Ysanne Churchman... Matron
Darryl Read... Albert
Raymond Mason... Radio Commentator Roberts
Peter Thomas... Shop Assistant
As host at a children's outing it seems that Mr Broome does better than Rev Stephen

2.10 We Do It on Saturday (June 18th 1964)
Directed by Bill Turner
Linda Marlowe,,, Vivienne
John Harvey... Bernard Campbell
Barry Warren... Jeremy
Drama enters the vicar's life, while Mrs Peace has an adventure of her own.

2.11 Smoke Without Fire (June 25th 1964)
Directed by Christopher Hodson
Frank Seton... Ticket collector
Carol Mowlam... Jennifer
Peggy Thorpe-Bates... Mrs Thornton
Bette Vivian... Mrs Smith
James Bree... Mr Partridge
John Wentworth... The Bishop
Peter Walker/ Anthony Buckingham... Little boys
In which the vicar finds himself the subject of malicious gossip, with almost fatal results...

2.12 Harry the Yo-Yo (July 2nd 1964)
Director: Bill Turner
Harry Fowler... Harry Danvers (also in 2.13)
PG Stephens... Mike
Hedley Colson... Policeman
Rev Stephen catches a burglar red handed, and leaves him rather red in the face.

2.13 The Pleasure of Your Company (July 29th 1964, 9.10pm)
Director: Bill Turner
Harry Fowler... Harry Danvers
Patricia Garwood... Carol Thompson
Ursula Hirst... Mrs Thompson
Malcolm Knight... Jake
Norman Hartley... Motor cycle policeman
Thanks to the well-intentioned efforts of Harry the Yo-Yo, the course of true love very nearly comes to a standstill.

The third series starring
Donald Sinden as Rev Stephen Young,
with Joan Hickson, and
Harry Fowler as Harry Danvers (Yo-Yo - from end of series 2)
(Mr Robertson who played Robbie the dog, had died and was replaced).
The filmed sequences were made at Denham.

3.1 A Funny Thing Happened to Amanda (April 26th 1965)
Director: Bill Turner
Alan Baulch... Rob Barton (also 3.5)
Graham Rigby... Hargreaves
Anne Woodward... Mrs Hargreaves
Victor Maddern... Mr Burton
Pamela Hewes... Mrs Burton
Humphrey Morton... Chaplain
A most unusual couple seek sanctuary at the altar.

3.2 The Invader (May 3rd 1965)
Director: Richard Doubleday
Gretchen Franklin... Alice Perry
Charles Rea... Frank Perry
Joan Harsant... 1st woman
Nicholas Selby... Brother Joseph
John Blythe... Morris
Raymond Mason... Reynolds
A kill-joy in Felgate? Rev Stephen goes hunting.
(No story May 10th - Party Political Broadcast)

3.3 Four Hundred Years' Thick (May 17th 1965)
Director: Bill Turner
Francesca Annis... Frances Harding
Karen Lea... Mrs Butcher
Coral Fairweather... Mrs Harding
The vicarage is redecorated, and Rev Stephen in involved in a problem of love at first sight.
(No story May 24th)

3.4 Objection Sustained (May 31st 1965)
Director: Bill Turner
June Barry... Mary Burton
Jon Rollason... Charles Stokes
Trevor Bannister... Frederick Barret
Pat Connell... Stan Fisher
The eternal triangle sparks off a rather unusual disturbance in church.

3 5 Storm in a Cocoa Cup (June 7th 1965)
Director: Richard Doubleday
Martin Norton... Anthony
Alan Baulch... Rob Barton
Brian Hayes... Rev Murdoch
Martin Matthews... Rev Marlow
Graham Leaman... Rev Bailey
Rev Stephen finds himself threatened with trades union action from a most unexpected quarter.

3.6 A Question of Degree (June 14th 1965)
Director: Bill Turner
Ann Bell... Jane Dawson
Susan Danbury... Jennifer
Mark Kingston... Jennifer's father
Eileen Page... Jennifer's mother
Terry Brooks... Mike
Patti Brooks... Mike's mother
John Nicholas... Mike's father
A go-ahead young lady tries to bring Rev Stephen's Sunday School up to date with somewhat shattering results.

3.7 Pay Now, Live Later (June 21st 1965)
Director: Richard Doubleday
Terence Alexander... Mr Barrett
Margaret Durnell... Mrs Frost
Freddie Earlle... Mr Fenton
Roy Spencer... Doctor
Jack Bligh... Mr Wilson
Jane Bolton... Nurse
Maurice Peckman... Post office clerk
When Mrs Peace decides to take out an insurance policy, Rev Stephen finds himself unexpectedly involved.

3.8 Ninety-Nine and One (June 28th 1965)
Director: Bill Turner
Clive Morton... Bishop
Frank Sieman... Gatekeeper
Anthony Sagar... Bill Taylor
Anne Ogden... secretary
Freddie Jones... Benson
Roy Madron... Paddy
Stephen seeks to increase his flock, and the bishop asks divine forgiveness for a small but judicious piece of blackmail.

3.9 Edie's Ace (July 5th 1965)
Director: Bill Turner
Campbell Singer... Geoffrey Ruston
Helen Ryan... Miss Esdaile
Fay Compton... Edie Russell
Walter Sparrow... Porter
Rev Stephen finds himself involved in a battle against the new motorway.

3.10 The Galloping Major (July 12th 1965)
Director: Richard Doubleday
Derek Francis... Major Hubert Paxton
Gwen Cherrell... Celia Paxton
The vicarage suffers more than somewhat from the well-meaning assistance of Our Man from Burma.

3.11 Know Thine Enemy (July 19th 1965)
Director: Richard Doubleday
Brian Vaughan... Insp Gibbs
Walter Hall... Constable White
Jane Evers... Library receptionist
Frank Henderson... Hargreaves
Winifred Hill... Mrs Higgins
Godfrey Quigley... Father Patrick
John Miller... Black magician
The day-to-day problems of a country vicar are complicated by something unusually serious, an invasion of black magic.

3.12 The Yo-Yo Again (July 26th 1965)
Director: Richard Doubleday
John Scott Martin... Mr Gates
Victor Brooks... Det Sgt Martin
James Beck... PC Bailey
Charles Cullum... Magistrate
Philip Anthony... Prosecuting solicitor
Our long-reformed sexton and gravedigger, Yo-Yo, suffers a sad fall from grace, into the arms of a magistrates court.

3.13 Steps to the Cathedral (August 2nd 1965)
Director: Richard Doubleday
Clare Owen... Young woman
Tony Steedman... Archdeacon
Clive Morton... Bishop
Desmond Jordan... Michael Lawrence
Rev Stephen is faced with the problem 'To marry or not to marry,' and finds himself in a situation which may critically affect his own future.

Series 4 saw Donald Sinden promoted to Venerable Stephen Young, archdeacon at Lynchester.
With Joan Hickson, and
Clive Morton as The Bishop.
A new dog was introduced- Caber.
Producer: Eric Maschwitz (as series 1)

4.1 The Fall of the House of Lawther (July 4th 1966 9.10pm)
Director: Bill Turner
Michael Gwynn... Rev Michael Lawther
Daphne Slater... Mrs Lawther
Roy Godfrey... Builder
Rediffusion synopsis: "The Venerable Stephen receives a visit from the Rev Michael Lawther, vicar of Highfield. His church has been falling to pieces ever since it suffered bomb damage in the war, and he badly needs funds to repair the roof. When it transpires the roof will cost close upon £3,000, Stephen puts the problem to the bishop, who with the best will in the world cannot agree to providing the necessary funds. The area is due for redevelopment and the site of Lawther's church is scheduled to be replaced within a year or two by a block of luxury flats. When Stephen arrives at Highfield to break the news, he finds a very shabby church indeed, with a congregation of less than half a dozen for Morning Service, and a vicar determined to get the building repaired even if he and his wife have to do the work themselves. The Lawthers love the place, their treasured scrapbook revives memories of it as it was when wartime congregations packed the church and Lawther himself receive the George Cross for gallantry during the raids. Since those great days, the congregation has ebbed away to a new modern church on a local housing development. When Stephen suggests a little locum work around the diocese as a prelude to a possible permanent transfer to another parish, the vicar refuses indignantly. Back at Lynchester, Stephen discusses this sad problem with Mrs Peace, who suggests that maybe Lawther could be moved to the new parish of Gamley. When he enthusiastically proposes this to the bishop he again meets with a dead end. The bishop's view is that Lawther is tired and defeated, whereas Gamley calls for someone young and active to build the place up. Meanwhile in Highfield, a notice has been put up announcing that the church is to be closed owing to dry rot, and recommending worshippers to the new church in the neighbourhood. Interviewed casually by a local reporter, Lawther fires up against this. He pastes over the notice the announcement, Business As Usual. To the reporter he says, 'You wanted something unusual? Well print that!'
Part 2: over breakfast Stephen learns of Lawther's rebellion. After a spirited argument with Mrs Peace, who learns for the first time of the bishop's refusal to consider the transfer to Gamley, he hurries to Highfield to find Lawther preaching a fiery sermon to an audience of one, the local reporter. He is delighted to find the vicar in fighting mood, but points out to him that he has been flogging a dead horse. The days of Highfield are over and done with. If his congregation has left him, let him go out and follow them, start something new and build it up. Unfortunately he can't have Gamley, but there will be other things for him to do. Nevertheless, Lawther insists on being given a parish of his own and asks Stephen to convey this to the bishop. 'No,' says Stephen, 'if you want that parish, you can see the bishop and get it for yourself!' He brings Lawther to Lynchester and shows him into the bishop's study. Before the bishop can utter a word, Lawther is on the attack, and Stephen tactfully withdraws, happy in the hope that whatever else his Lordship may think of the interview, he will undoubtedly be convinced that Lawther is neither tired nor defeated!"

4.2 Love All (July 11th 1966)
Martin Jarvis... Rev Robinson
Jacqueline Ellis... Helen Robinson
"Rev John Robinson, a young vicar with a wife and family, is finding increasing difficulty in eking out an existence on the small stipend provided by his parish. His loving wife, an attractive scatterbrain by the name of Helen, simply cannot keep within the family budget. This leads to a domestic dust-up, as a result of which the vicar decides to supplement their income by taking on other spare time work. He calls upon the sympathetic manager of a local knitwear factory who, though he does not think it advisable to have a clergyman on the factory floor, offers him an opening as a door to door salesman, with van provided, which he accepts. When this is reported to the bishop by an indignant Parochial Council, Stephen Young is deputed to deal with the matter. Stephen finds the vicar unrepentant. He points out that he cannot live, even shabbily, on his income from the parish which has refused to provide him with a further allowance. He adds that the factory van enables him to cover more ground than previously, and he is therefore now in touch with far more people to whom he is able to offer advice and consolation. Stephen finds himself in growing sympathy with the vicar's situation. Their meeting culminates with the Rev John successfully unloading a charcoal grey sweater upon his distinguished visitor.
Part 2: The bishop is still unrelenting. He regards door to door salesmanship as undignified, the Rev John is to be ordered to give it up. This the young vicar refuses to do, whereupon the bishop demands his resignation. This he is prepared to give, when his wife takes a hand. Helen knows that the church is John's life. She surreptitiously visits the factory and persuades the manager to take her on in her husband's place. Returning home, she is in time to tear up her husband's letter of resignation, and all is well with the Robinsons!"

4.3 The Peppermint Man (July 18th 1966)
Director: Bill Turner
Peter Vaughan... Rev John Spencer
Martin Wyldeck... Dr Grant
Margaret Ward... Mrs Wells
Dorothea Phillips... Mrs Evans
Denis Holmes... Publican
Rediffusion synopsis: "Mrs Wells of Partleton complains to the Bishop of Lynchester that on the night of her husband's death, the local vicar had called at her house very much the worse for drink. Stephen Young as archdeacon is sent to investigate. Rev John Spencer strenuously denies the charge, how could he have been drunk on no more than a couple of glasses of wine with dinner? The widow vehemently persists with her accusation, while the local doctor who had been present on the night in question, is inclined to pooh-pooh the whole affair. He considers that, while Mrs Wells was not unnaturally hysterical, the vicar was in his opinion no more than drowsy from having been awakened in the middle of the night. Stephen, relieved to have found no more than a storm in a teacup, leaves Partleton, having preached in the church there.
Part 2: On his way back to Lynchester, Stephen calls at the local pub for a snack. He notices that the landlord is making up a sizable order for whisky, sherry etc. Though he cannot see who it is that comes into the off licence to collect this, he recognises the Welsh accent of Mrs Evans, the vicar's housekeeper. Filled with renewed doubt, Stephen with the bishop's agreement, decides to pay a second visit. He finds Partleton church closed for the evensong 'owing to the indisposition of the vicar.' When he tries to see Spencer he is headed off by Mrs Evans. He hears a crash from within the house, and when he brushes his way in, finds Spencer lolling in a chair, glass in hand. He is celebrating the anniversary of his wedding to a wife who has long since left him, not because of his drinking habits, but because she found village life boring and could not persuade her husband to move away from a parish to which he was devoted. Sorry though Stephen may be, he finds himself in duty bound to suspend Spencer from his duties and take steps to bring him before an Ecclesiatical Court." This story concluded in the episode The Silent Village

4.4 The Silent Village (July 25th 1966 10.30pm)
Director: Richard Doubleday
Same cast as for 4.3
Sequel to The Peppermint Man. Rediffusion synopsis: "Stephen finds the bishop is only partially prepared to support him. Though his lordship is willing to stand by the archdeacon's complaint against Rev John Spencer, he will not have the vicar suspended from duty until he has before him statements signed by the housekeeper, his doctor and the local publican in support of Mrs Wells' assertion the Rev John Spencer has on various occasions been incapacitated by drink. When Stephen goes back to Partleton to collect the statements, he finds all three of his prospective witnesses not only evasive but even willing to lie in defence of Spencer.
Part 2: Despite his defeat, Stephen is ready to press his complaint on the basis of his own statement and the original letter written by Mrs Wells. The bishop however insists that a statement must be obtained from Mrs Wells, when she dashed off the original letter she might well have been under such emotional stress that it would only be fair to have a more considered opinion from her. The lady however is quite uncooperative. She is sorry to have been the original cause of the enquiry, but cannot agree to a further statement. 'You see archdeacon,' she says, 'I have to live here.' With no statement, and the bishop having set the complaint legally in motion, Stephen nervously awaits a summons to the palace. The bishop announces thta there is now no case to proceed with and the matter must be dropped. He himself will inform Spencer to that effect. When Stephen has made a rather deflated departure, the bishop shakes his head and smilingly murmurs, 'he'll learn.' Following his appearance at the palace, the Vicar of Partleton calls in to see the archdeacon and apologise. He admits to having received an episcopal wigging and explains to Stephen why his parishioners were prepared to tell untruths on his behalf. 'You up here are the enemy,' he says, 'they live in the valley and to them I am the Church. They know my faults, and they like me, not in spite of them, but because of them'"

4.5 The Talking Machine (August 1st 1966 9.10pm)
Directed by Richard Doubleday
Harry Fowler... Harry
David Langton... Sir Geoffrey Challis MP
Malcolm Webster... Gregson
Jonathon Elsom... Mr Burns
Rediffusion synopsis: "When Sir Geoffrey Challis MP addresses the Lynchester Improvement Committee on slum clearance, Stephen Young is impressed. But not so, ex-sexton Harry Danvers, who has learned that this has been Sir Geoffrey's line of talk for ten years, while all the time as managing director of a property company, he has been making a fortune out of high priced housing developments around the city. Faced with an indignation committee consisting of Harry and Mrs Peace, Stephen writes a letter of protest to the local newspaper. Incensed by the letter, Sir Geoffrey sees the bishop and demands that his archdeacon be made to publish an apology. The bishop is uncooperative, he sees Stephen as a citizen and a voter fully entitled to concern himself with local politics as long as his facts are correct. Sir Geoffrey storms out threatening reprisal. Adjoining the cathedral are a few acres half promised to the bishop as a playing field for the choirboys. The ground is owned by a subsidiary company of Sir Geoffrey's by which the offer of the land is withdrawn. The bishop leaves the handling of the situation to Stephen...
Part 2: Stephen calls upon Mr Gregson, manager of the company that has withdrawn its offer of the field. At the same time Harry, feeling that he has let the archdeacon into a difficult situation, visits the bishop in his garden and offers him a bribe in the form of a load of the very best manure. Disregarding an invitation from the bishop to discuss the matter, Stephen visits Sir Geoffrey, and offers to publish an apology in exchange for a firm offer of the playing field. His letter, when it appears in the press, takes the form of an abject withdrawal in the light of his having discovered Sir Geoffrey has decided to build low rent houses to accommodate Lynchester's slum dwellers. At the next meeting of the Improvement Committee, Sir Geoffrey can do no more than accept the applause of the assembly. He has had a sharp lesson in gamesmanship from the archdeacon!

4.6 Night Call (August 8th 1966)
(no Clive Morton)
Director: Bill Turner
Paul Hardwick... Mr Mills
Pauline Yates... Mrs Parry
Tom Watson... Mr Parry
George Cooper... Inspector
A rainy night... a half-wrecked car... and the archdeacon finds himself having to deal with a most unusual case of the eternal triangle.

4.7 Holy Yo-Yo (August 15th 1966)
Directed by Bill Turner
Harry Fowler... Harry
Richard Hurndal... The Dean
Eric Chitty... Mr Andrews
Fred Ferris... Mr Jackson
Barney Gilbraith... Man in pub
Karen Lea... Mother
Colin Pilditch... Boy
Rediffusion synopsis: "Learning from Mrs Peace that a post as verger at the cathedral will soon be vacant, Harry The Yo-Yo Danvers, formerly sexton and gravedigger at Felgate, now garage hand in Lynchester, decides to apply. Always anxious to better himself, he is particularly attracted by the thought of being able to wear a cassock. The Venerable Stephen promises to put in a word with the dean on his behalf. After discussing cathedral matters with the dean, notably the crippling cost of keeping the fine old structure in repair, he mentions Harry as a possible candidate, and the dean agrees to see him. After a somewhat unusual interview, in the course of which he finds himself contributing ten shillings to the offertory box after an argument as to a detail of cathedral history, the dean tells Stephen that he will take Harry on for a trial period working with Mr Andrews, the retiring verger. Proud as a turkey cock in his cassock, Harry is initiated into his new duties. Andrews explains the keys to him and in the course of doing so, unlocks the strongroom in which is kept the cathedral treasure, gold plate, jewelled chalices etc. Harry is goggle eyed. In a local pub a man named Jackson who had hoped to get the job of verger, learns that Harry Danvers has a prison record.
Part 2: Harry is thoroughly enjoying his new duties, especially of escorting visitors round the cathedral. The dean is on the point of confirming his appointment when he is visited by Jackson with an account of Harry's criminal background. As a result he has to inform Stephen that he cannot possibly accept Harry for a post in the cathedral. Although Stephen pleads for Harry, assuring the dean that his candidate has gone straight and should be given a chance, the latter is obdurate, he cannot possibly entrust the keys and the guardianship of the treasure to an ex-convict. Stephen's job of passing this on is made the more painful by the fact that Harry, over optimistic as ever, has been buying furniture for the flat to be vacated by Mr Andrews. Bitterly disappointed, Harry sees in the dean's decision another instance of society's persecution of a man with a prison record. Flinging the keys at Stephen's feet, he walks out of the cathedral. A sad affair, but what can the archdeacon do?"

4.8 Are You There? (August 22nd 1966)
Director: Bill Turner
Peter Copley... Mr Dexter
Kathleen Michael... Mrs Vandervell
Shirley Cain... Mary Dexter
Mary Holder... Woman at seance
Stephen finds himself inadvertently involved in a contact with Spiritualism. Should Mr Dexter be allowed to ruin his life by clinging to a contact with the Beyond?

4.9 Cross Your Heart and Hope to Die (August 29th 1966)
Director: Richard Doubleday
Harry Fowler... Harry
Desmond Jordan... Michael lawrence
Janet Hannington... Jennifer (Mrs Peace's niece)
The visit of Mrs Peace's little niece to the archdeaconry almost leads to a fracas between Stephen and the Bishop.

4.10 Ships That Pass (September 5th 1966)
Rediffusion synopsis: "Letting himself into the cathedral after darkness, the Venerable Stephen is astonished to find a young girl named Carol seated in the nave moodily smoking. Having taken the cigarette from her and reproving her for allowing herself to be locked in, he demands what she is doing there. She replies that she had the need to make a particular prayer uninterrupted by the passers-by who had stared at her while the cathedral was open. There is something so strangely insistent about the girl that Stephen offers to wait a few moments while she finishes her prayer. When this is not enough for her he suggests that he leaves her there for an hour after which he will return to lock up. Back at the archdeaconry he asks the curious Mrs Peace to have the spare room ready as they might have a guest. When he returns to collect Carol he finds her missing and is calling out for her when the dean, seeing lights in the cathedral, enters with puzzlement. When they search for the girl, the dean finds her, again smoking, and having taken the cigarette from her mouth, leaves the archdeacon to deal with a situation which he himself simply cannot fathom. Having taken Carol to spend the night at the archdeaconry, Stephen demands an explanation, why is her prayer so essential? She replies with solemn sincerity, 'because I am going to kill myself!'
Part 2: Having sent his housekeeper to bed, Stephen discovers the reason for his guest's behaviour. It seems that Carol, having fallen victim to a gambling urge, has run into debt to the extent of over £4,000. As a secretary earning £15 a week she cannot repay the money and will not go bankrupt because she knows that her father, who has worked for years to save enough to retire on, will insist on meeting her debts. She has therefore decided upon suicide, which, as long as it can be made to appear accidental, will be covered by her life insurance policy. Having obtained her promise that she will do nothing until the next day, Stephen, after a sleepless night, pays an early visit to industrialist Geoffrey Ruston, the only wealthy man he knows. He tells Ruston Carol's story, and the best he can do is get an assurance that his friend will think it over. After cogitating, Ruston sends for the girl, and proposes to advnace her the large sum she needs on condition that she will work for one of his companies for £40 a week which, after she has paid income tax, will allow her to pay him back at the rate of £15 a week. Carol will have none of this, she says that as a gambler she cannot be trusted with money. If he himself will pay off her debts, she will work to repay him out of her independent earnings, only a pound a week at first, more if and when she does better. Ruston is won over and agrees. Shortly afterwards he calls to show Stephen a letter from the girl. With the sum of £1 enclosed it gives the statement of the sum outstanding. 'You were right,' says Ruston, 'she certainly is a determined girl'

4.11 My Uncle Oswald (September 12th 1966)

4.12 When Will They Ever Learn? (September 19th 1966)

4.13 There Are More Things...(December 28th 1966, final story)
Rediffusion synopsis: "The archdeacon is intrigued by a woman whom he discovers staring fixedly at a certain spot in the floor of the cathedral. She is a Mrs Treadwell, and she claims to have had a vision in the course of which she heard a voice calling upon her to dig up the floor at this particular spot, and she will find something. Stephen is strangely impressed by the story. He tries to interest the dean in the possibility of an excavation, but the latter shows a certain cynicism in the light of the cost of such an operation. Reference to the bishop gets him little further, his lordship has more important matters to think of. At Mrs Peace's suggestion, Stephen invites the dean over for dinner in an attempt to 'soften him up.' To his amazement he finds that the dean is on his side, he has merely been marking time in order to discover whether Stephen is sincerely set upon the excavation. On the morning the work is started, Stephen is visited by Mrs Treadwell with a confession that her story of the vision had been a pack of lies, an attempt to arouse interest in an obscure housewife with a very dull background. She has heard that the excavation has begun and pleads for it to be stopped immediately. Having discussed the matter with Mrs Peace, Stephen faces up to the dean who is interestedly watching the excavation. As he is about to confess, the workmen come across a square stone with an iron ring in it. The dean is delighted, Stephen somewhat taken aback. To their mutual disappointment, the workmen have to stop for the day. On a third visit to the archdeaconry, Mrs Treadwell, far from being relieved her vision is leading to something after all, wishes to have nothing more to do with the matter, she is now terrified of the attention that will be called to herself, the publicity, the prospect of being regarded as some sort of freak. Meanwhile the stone has been raised, disclosing a small stone chamber, empty, and at first sight devoid of purpose. As the excavation is on the point of being filled in again, it strikes the dean that being next to the main pillar of the cathedral, it may have been an inspection chamber for the checking of the foundations. On closer examination it transpires that the foundations supporting the pillar, which in turn supports the roof, have in the course of centuries turned to sand. The bishop now takes a hand. Unshaken by the fact that the essential repairs have been estimated at a possible £15,000, he is anxious to acknowledge the validity of the vision, only to be told, to his disappointment, that Mrs Treadwell will have no further part in the matter. He insists nevertheless on holding a special service of Thanksgiving, however it may have been brought about, there has been a divine revelation as a result of which the inevitable collapse of the cathedral will have been prevented"
Comedy Menu

.

.

.

.

.

.

It's a Square World (BBC)
A unique series with Michael Bentine. Here was Goon-type humour, that was certainly influential on the later much cruder Monty Python. Seven short series were produced between 1960 and 1964.
* Nov 2nd 1961. Sunday Night at the Twentieth Century Theatre, where the curtain doesn't lift properly, then a panto act (D Emery/F Thornton). MB is a dictator, interrupted by baby's bath time. Benny Lee and cartoons sing a nice version of Me and My Shadow. The News, only it ends with the arrest of the newsreader (MB). War in the Air is a cartoon, followed by two erudite professors of humour (MB/DE) inflicting pies soot flour etc on their interviewer (FT). The Floods is an inventive film about people eating a meal while their home is flooded. Sir Claude Berk (MB) talks on Berkism. A sketch with a polite Japanese bank robber. The famous Japanese garden suffering from a kamakaze beetle. A holiday report from Slobodia by DE
* Nov 9th 1961. Sixth and last of series, so the cast play tv critics. In the BBC car park is attendant (DE). Then DE is a policeman preventing a gold bullion robbery. DE transforms into a camp artist presenting his masterpiece to tiddly northern dignitaries. BL's singer sketch is dull. The Patent Office sketch gives the chance for some model making fun. DE is a brigadier with interminable film of his war memoirs, ending with a chase after a blonde (don't ask why) round the studio audience
* Apr 19th 1962. The Knife Thrower (FT), Japanese Fencer (DE), MB with the News. A BBC Ministry of Health Commercial, animation on a Chinese plate, Brazil a flop song and dance. MB interviews a puppet. TV violence: "it can't go on"- a soap opera set in Sidney Street in 1913. Sea shanties which transpose into the Black and White Minstrels
* The Craftsman (D Guyler/Leon Thau), "yes dad," with their tools of antiquity. Holding Up the Queen Mary and Knocking down the PO Tower (cartoon). Pretenders to the Throne: King Bert (Clive Dunn), "I'm not pretending mate" as he knights Sir Michael, "that'll be a dollar." Doomsbury Lifeboat is launched rather badly. Dr Albert Dottle (DG) and his Instant Breakfast, its only drawback its colossal cost. The Haunted Castle (a typical Square World model). The Art Expert (uncredited Dick Emery) strips off a painting to reveal an even more valuable one underneath but with a predictable ending. Main film to finish: Olympic Training at the mansion of Lord Noshing (MB)
* Dr Albert Dottle (D Guyler) and his tea driven Model T Ford, with some good jokes on the James Bond theme. Slobodian Oil Treaty (MB + Clive Dunn), the latter having to eat some awful delicacies. The Antique Fakers are interviewed by MB, DG demonstating his woodworm. The Brain (DG) plans to rob the crown jewels. Kamakaze Beetle (model) of a Japanese garden. HMS Incredible is seen in a cartoon, a satire on its modernisation over many decades. MB interviews the Admiral (CD) who shows a film of modern naval recruiting, press gangs in fact, and another film on naval manouevres
* Last of series starts with an unusual organist, Viewers' questions then the News Headlines, Assassination of the King of Slobodia- MB fails in his attempt getting blown up himself, The Gunsmith (Frank Thornton): a topical satire on a dealer selling arms willy-nilly to foreign agents but refusing to sell to a British farmer as his licence is inappropriate, Aerosols (MB), Dinner in a Stately Home in which FT in drag and John Bluthal are offered a feast but refuse every morsel, A scene all in Russian: secret footage from USSR (MB), Main film is Alderman Grimshaw (FT) and the Holiday Trippers' Invasion using war imagery, too long and tedious
* from the 1963 series: On Westminster Bridge, bowler hatted gents salute the Union Jack. An Ornithologist (Leon Thau) in the Dolomites finds a huge egg, which he cooks. Ronnie Barker is our United Nations Reporter as Slobodia joins the UN and everyone starts jiving. Cartoon of Benny Lee showing his inside as he sings, clever but not funny. MB on the Common Market, a lecture with a cartoon, comment ditto. French in Schools- a simple drama. Maggie Fitzgibbon sings Dead Leaves, with an ending anyone could anticipate. FT is at London Airport to meet a French film star, "corr!!" A musical Brigadier General (RB)- the zaniest moment is defusing "an unexploded German bass," very inventive, but the idea is too drawn out, but with a nice chase round London and then round the studio
Comedy Menu

.

.

.

.

.

.

.

.

.

.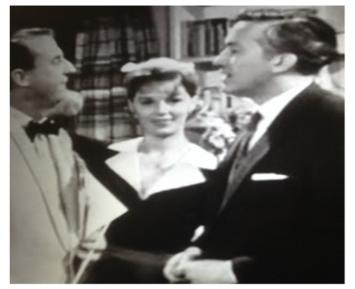 Dickie Henderson Show


See also A-R Shows, Dickie Henderson Half Hour. To Dickie Henderson Show Research section.
"It really is a happy show," claimed co-star June Laverick. "I expect there are many many husbands and wives who can see the funny side of our domestic arguments. I think this is why the show has been so successful." The opening theme was titled The Happy Family Man.

1.22 The Maid (April 10th 1961) - We meet Dickie, June and Richard, who are sorting through a "worthless" box of inherited junk. Talk is of Dickie's forthcoming appearance on At Home With The Stars, and they decide they'd better get a maid to get the place tidy. So Dickie visits the Triple Service Agency, where he meets Elsie Partridge (Carole Shelley) and talks at cross purposes, she thinking he wants a wife, "clean, tidy and thoroughly capable, and the main point, willing." Once the misunderstanding is sorted out, she sets to work, "that girl's making my life a torment," as she attempts to audition for a tv role with Dickie. Trying to pair her off with Jack proves a non starter, "mould me," she pouts at him. The interview is conducted by Neville Barker, Elsie as the maid gatecrashing every moment on this live programme. June uses the opportunity to try and sell off their old junk. Dickie is accompanied by Jack, rehearsing the song I Wonder Why, but Elsie turns it into a duet. "A surprise item," comments Neville. Finally Richard comes home, in a right state. Later, over a meal, we learn that Elsie has been booked on to Dickie's show, "a brand new discovery"

7.1 (April 29th 1964) - "A punch on the nose never solved anything," Dickie tells us. But he nearly comes to blows with William Franklyn who has a great part as Greg, ski champion, chess champion, pianist extraordinnaire, lion hunter, in fact champion everything. He has an answer to everything Dickie throws at him: "it must be very stimulating married to a comedian," he observes to June. Dickie and Jack try to "shatter the image" of Greg. Failure until Dickie tries to fake an accident. That fails too leaving Greg free to take June out for a meal. OK, Dickie finally admits he's jealous. But there's a nice punchline as the superman is finally found out

8.6 (September 13th 1965) - That master of the one-liner Dickie reminds us that "women are like politicians- we don't always agree with them, but we can't live without them." With such sentiments it's no surprise that June is in tears - she's found a 14 year old love letter from Dickie. "Well I can't go round spouting that juvenile mush now," he claims. But to prove he's still sentimental at heart, he gets Jack (Lionel Murton) to help him buy some pearls for June. To repay Jack, Dickie helps him by composing a love letter to Jack's girl friend (Norma Foster), based on his old stuff to June ("the whole world was filled with warmth and light") and sending 3 dozen red roses. June discovers Dickie has sent her flowers and finds out he's gone to see her and so thinks Dickie must be chasing after this girl. In a nice scene, she confides her worries to Jack who dreaming of his girl tells June the girl is "the most beautiful doll I've ever seen," which makes June even more upset. She overhears Dickie in conversation with her saying "beautiful, you've got just what I've been looking for! Shall I take this off now?" Of course the misunderstanding is sorted out and June gets her cultured pearls
Comedy menu

.

.

.

.

.

.

.

.

Arthur Haynes Show
Arthur was one of ATV's top comedy stars. Although most internet sites state that he made fifteen series and over 150 shows, which ran from 1957 to 1966, a convention we follow here, Arthur did also make some earlier shows, his very first being in February 1956.
This began as Strike a New Note, but renamed from April to June 1956 Get Happy with Maria Pavlou and Ken Morris. Joan Savage also appeared. The immortal Nicholas Parsons soon joined the regulars. Others in the first Get Happy show on 24th April were Four in a Chord, Malcolm Goddard, Josephine Gordon, Jane Kimm, Judy Collins, and Sylvia Herklets (later known as Sylvia Francis).
During October to December 1956 Haynes starred in The Arthur Haynes Show, presented by George and Alfred Black. Ken Morris was again featured alongside Joan Savage. Malcolm Goddard, and the George Mitchell Vocal Group also were in the show on 17th October.
Neither of these series ran every week, but they were Haynes' first starring series on television.
'Me and Arthur Haynes' was a well researched tribute shown in March 2011, in which Nicholas Parsons was a bit out in thinking the show was groundbreaking, highly popular would be a fairer comment. And while his adlibbing with Haynes was often impressive, I always felt it was slightly unprofessional the way they would often laugh at themselves. However that may be, Haynes was certainly a One Off.
With Arthur's heart attack in 1966, ITV were deprived of one of their top comedy shows. The nicest contemporary little tribute I have seen was this, "how Ealing will miss that white sports car of his, and that happy smiling face at the wheel."

Reviews of surviving shows:
(from series 4 maybe, 1959) with Aileen Cochrane and Harry Jacobson (piano). Nicholas Parsons plays a "hit and run motorist" and a vacuum salesman, Arthur then plays a camp tailor.
6.1 (October 6th 1960) - Aileen Cochrane sings round the theatre. A short weak sketch of Arthur's married life ("if he's not home by 8 I'm leaving him"), then 'Candlelight' a tv expose of dodgy garages - and with Arthur as mechanic, there's plenty to expose. A more substantial offering is the classic conflict between a snooty Nicholas Parsons who is complaining to Arthur about his shoddy workmanship redecorating his home. Arthur's absurd excuses get NP in more and more of a lather, "that's my expensive Chelsea plate..."
6.2 (October 13th 1960) - 'Candlelight': Plumbers, "nothing to hide" claims AH, out of one simple job he manufactures lots more. NP is dining in a restaurant, when he is joined by AH as a tramp, "do you mind taking your hands off my wine." His manner changes when it transpires the tramp is a secret millionaire. They get the giggles over the cheese
6.3 (October 20th 1960)- Candlelight on telephone operators. AH keeps getting customers wrong numbers, "I've been called out of my bath four times." Complains NP: "absolutely disgraceful." NP serves customer AH bottles of drink, the latter keeps changing his mind. Finally AH is a suspected burglar, nicked by NP
6.4 (October 27th 1960)- A tramp sells dealer NP a rare painting, then offers him two more. Getting ready for a picnic is a very poor sketch resorting to too much shouting. AH is a travel agent booking NP's holiday to Majorca, but NP loses his rag when AH changes the destination, "this is quite ridiculous"
6.5 (November 3rd 1960) - The silent first sketch is too long, AH and NP burglars in a creaky set. AH is a camp photographer assisted by Clarence (Leslie Noyes) insulting NP. Then NP's head is stuck in railings, "you're not going to cut my ears off"
6.6 (November 10th 1960) - AH attempts to sell connoisseur NP an antique clock, "you're pulling my leg." NP has a baby in a pram which tramp AH admires in his ignorance, "take your finger out of his mouth." An argument over a clock on a bus gets semi surreal and very loud mouthed
6.7 (November 17th 1960) - Poor NP is accused of being a hit and run driver, you feel quite sorry for him. Ditto when he is a vacuum cleaner salesman demonstrating to AH, whose sitting room is tidied up before AH reveals he already has one. AH is a camp tailor offering NP some very unsuitable suits, "I'm always getting flummoxed"
6.8 (December 1st 1960) - NP wants to buy an engagement ring from a camp jeweller and his assistant Clarence. An overage lad throws bricks at NP's car, but dad (AH) is "willing to forget it,"- nice punchline. In court magistrate NP judges tramp AH, "stop this ridiculous nonsense"
6.9 (December 8th 1960) - It's 2am when NP is roused from his slumber by AH who insists he look round NP's house for sale, "not a bit inconvenient." The place is smashed up amid some giggles from the cast. Then the pair argue over who hired a taxi, class distinction etc, "this is getting quite ridiculous"
6.10 (December 15th 1960) - in the first sketch NP has missed the last post, and postman AH refuses to accept the letter even though it's "a matter of life and death." Then in a second scene, NP has changed his mind next morning and wants his letter back, but bribery can't budge our postman. I liked the way the punchline was given to a cast member. Finally AH is a train passenger, this time with a long plank, seated squashed between NP and LN
6.11 (December 22nd 1960) - In the pub, AH nicks a couple of bottles of whisky from NP. Then he bumps into NP and they argue over whose presents are whose. In a store, Santa NP hands out presents, but AH's son wants a train set... "I'm not really Father Christmas"
6.12 (December 29th 1960) - NP wants a new record but finds this shop where they still sell cylinders. Then NP's wallet is nicked, AH is "a secret policeman," you can see the punchline a mile off. Two removals men are delivering a (flimsy) bureau to NP's home. It has to be hoisted in through an upstairs window, but NP is the one hoisted, "I can't hold on much longer"
6.13 (January 5th 1961) - AH's pal's head's locked in a huge box, Arthur must get him to a locksmith, but "he's not coming inside" this bus. Then AH is an Old Etonian, there's another, NP, who admires Arthur's medals and his doubtful memories of the war. At the end, Arthur bids everyone a happy new year
7.1 (March 30th 1961) - Main sketches: NP is a Saville Row tailor, goaded by a mere coalman into selling him a suit, "keep your dirty filthy hands to yourself." A nice study in class distinction. Dr NP doubts if Arthur is entitled to sick pay, as he's not ill. Arthur offers to sell his organs to make money, but this ends very very predictably
7.2 (April 6th 1961)- two rather weak sketches, the first with AH selling poor barman NP a "bargain" telly for £2, but there are lots of hidden extras. Then NP plays a "general" in a first class railway compartment, shared with a tramp with an alleged war wound, "will you please shut up?" Irritation in comedy can overflow into the real thing, as here
7.3 (April 13th 1961) - NP helps a trapped worker in a sewer who can't get out of a manhole as a Mini is parked over it, "utterly ridiculous." Of course it's AH who owns the car. A tramp knocks at NP's door," you don't want anything?" NP asks him incredulously. It seems Arthur is a carol singer, out of season too
7.4 (April 20th 1961) - AH wants to send a telgram to his Uncle Bert who cannot read. He's deaf too. Behind the Post Officve counter, NP finds Arthur's demands "ridiculous," with a good punchline. Next NP is a barman selling cigarettes to AH. Finally NP is the "bloke wot dishes out the money," AH asks him for it, so he can buy himself a new suit for his audition with the London Symphony Orchestra- as a ukulele player/ To NP's increased anger, AH sings the blues
7.5 (April 27th 1961) - The lift at Danescroft Lodge is filled with this table that removal men AH and Leslie are delivering. Posh NP is forced to wedge in under the table, "don't be so utterly stupid." Other passengers are crammed in, "you can't squeeze any more in." An old chesnut, but well done. Better than the other main sketch, a posh vicar (NP) in his Rolls picks up a man whose head is bandaged (AH). A con trick and when Arthur starts singing there's almost a crash. One nice in-joke, "remember Tubby Leeman?" Arthur asks, a reference to their producer
7.6 (May 4th 1961) - Arthur is in charge of a cup final turnstile, NP can't get through as a fat lady is stuck. Then NP is behind a Post Office counter, Arthur wants to send a parcel on the cheap. Then Arthur is in the House of Commons in order to see the MP for Ealing. His secretary (NP) patiently explains about the new tax allowances, "we do not bung this money in our pockets"
8.1 (September 16th 1961) - Arthur wants to get into the cinema for an OAP's cut price ticket, but manager NP refuses, "ridiculously unreasonable... will you please keep quiet for a moment?" A late passenger on the train is carrying an enormous pipe which he stuffs into a crowded compartment, NP: "you can't bring a sewer pipe into a railway carriage." Slapstick fun as a small passenger and then NP himself get trapped inside the pipe
8.2 (September 30th 1961) - 1943: a daring wartime escape, of sorts. Arthur's dad protests outside No10, "keep moving," orders policeman NP. Arthur is conductor of a night bus, which NP boards carrying a large box- what's inside?
8.3 (October 14th 1961) - 1942: adrift in a raft, the supreme sacrifice, well almost. A tramp calls at the posh Chelsea residence of NP. "Infernal cheek," Arthur has used NP's address for his letters, and even his phone number. PC Haynes books barman NP. Finally, Arthur is fishing in a drain for a two shilling piece. Noyes falls in the muck and mire, and of course toff NP follows him in
8.4 (October 28th 1961) - Sixpence is what Arthur demands as a toll from motorist NP, somehow the bill is increased to ten bob. Arthur's dog in a train scares fellow passenger NP, ten pounds sees him safe. Then, NP is in charge of a road widening scheme and has to remove a group of statues. Arthur objects. "You're talking utter nonsense," NP echoes his favourite line as he once again loses his cool
8.5 (November 11th 1961) - Barber Arthur has to shave NP who's understandably worried about Arthur's shaky hand. NP gets even more alarmed when Arthur calls in his assistant, shortsighted, "once he finds your face nothing can go wrong." Even worse when the Guvnor is called in, he's drunk (typical cameo by Freddie Frinton). By contrast, the final sketch is not quite satire and not quite funny sadly: NP is MP for Ealing, quizzed over the Common Market by Arthur. "The Japanese will not be in the Common Market," NP assures the worried Arthur, who decides he's against it. A pound note finally rids the MP of his troublesome elector
8.6 (November 25th 1961)- A tramp hands a halfpenny he has found to the bemused vicar. Postman Arthur tries to beat a mad dog but NP berates him, insisting on being "a friend" to the dumb beast. He fails miserably, "look what it's done to my clothes." In the best sketch, NP is relaxing in his luxury home when firemen burst in to put out a non existent fire, untold damage, "there hasn't been any fire," repeats NP in an utter frenzy, superbly overacting
10.1 (February 13th 1962)- Two tramps in the park, AH nagging his pipe smoking wife on the park bench, "you're letting yourself go." Then Arthur plays a dentist with patient Jack Douglas whose tooth needs extracting. Awful for the squeamish to watch, unless you love dentists, "what do I need?" a baffled AH asks his assistant. His partner's no improvement as he's short and short sighted
10.2 (February 20th 1962)- Opening mime with AH was a waiter, nicely done. Then he's Sir Oscar, a consultant, diagnosing a patient with Sir Tony and Sir Peter, they can't agree, the sketch nearly but doesn't quite come off. Then the great Man Trapped in the Letter Box sketch
10.3 (February 27th 1962) - For a moment, Arthur is Maigret, then more mundanely a prison officer. A poor sketch has him as a bin man annoying customers in a posh restaurant, just a couple of good touches. By contrast, Arthur is sunbathing on the beach- a long mime with a weak punchline. Finally a sweep on a crowded train, slapstick with soot
10.4 (March 6th 1962) - A tramp arrives to start work as a nursemaid, "to sit in front of the tv with the kids." Millicent his employer (Colleen Rae) copes as AH laughs while guzzling sweets. The 8.30 train is always late, except today: the new stationmaster deals with AH's daft complaint
10.5 (March 13th 1962) - AH calls at Mrs Riddle's house, posing as an insurance investigator- he is the thief who robbed her last night: the sketch teeters in class differences. Two tramps gatecrash a country club, everyone has a laugh over the real little horse
10.6 (March 20th 1962)- A tramp wishes the vicar happy birthday, worming his way into his solo celebratory meal, but NP's interaction is sorely missed with too many silences in this sketch. Then burglar AH is trapped in a bedroom, the owners return, but he still nicks everything
10.7 (March 27th 1962) - AH is a taxi driver in thick fog. Then a persuasive army recruting sergeant, rather too obvious the outcome. He has a 1961 Rolls Royce for sale, in his humble home, "only done 50 miles." He swindles a customer, the payoff not what you expect
10.8 (April 3rd 1962) - Arthur gets the giggles as PK Jones Dentist. The last train taxi driver sketch is too obvious. In a gag, Arthur's pen fails to work. Then a political confrontation between a by-election candidate and this unemployed man on sick pay which has been cut off
10.9 (April 10th 1962) - TF is welcomed to his new home by nosey neighbour AH, but the sketch loses itself. Then AH is a brigadier at a regimental dinner, but in reduced circumstances, a tramp. He has plenty to drink, lines include: "did you know Hindustan?" No, but Delhi Nellie...
10.10 (April 17th 1962) -AH helps a lady who asks to be burgled, "you've been awfully nice about it." At the bank AH complains to manager TF about his own money being lent, and demands his account be closed, all 10s 6d of it
10.11 (April 24th 1962) - Policeman AH questions TF about dropping litter. Two tramps (AH and LN) approach the vicar about his Good Neighbour Week. They put their feet up and are given accommodation, in return AH offers "a splendid gesture," a cheque. The only thing is he writes a cheque for £30 and gets £5 back in change
10.12 (May 1st 1962) - A bank manager shows AH his security system with predictable results. AH calls on new neighbour TF, "it won't be any convenience," using his phone, tv etc. AF psychiatrist sees patient AH, "nothing the matter with him." But Arthur wants all he can get from the NHS, "a bash at this psychiatric stuff"
10.13 (May 16th 1962)- AH hands out leaflets on The Curse of Alcohol. 'Sir Anthony's' daughter ain't been "copped" yet, so AH offers to take her off his hands. TF's pristine Rolls sports an extra passenger, who has to fit in a ladder somehow
10.14 (May 23rd 1962) - AH is a lifeguard and won't jump into the water "willy-nilly" even to save a man, "it's dangerous out there." An overlong sketch titled L Cars, Sgt TF deals with a tramp who wants "a bed for the night"
10.15 (May 30th 1962) - Dr Fayne advises AH that his wife is suffering from overwork and needs rest. But who will look after their eighteen children? There's a good pay off. Then a matrimonial dispute in court between AH and his "ratbag" wife (Patricia Hayes)
10.16 (June 13th 1962) - Headmaster TF interviews AH about his "genius" son Charles, who though he has won a scholarship, AH wants to become "a misshapen jockey." Less good is the sketch with "two filthy wretches" insulted by a bath attendant
10.17 (June 27th 1962) - AH is a policeman who gatecrashes a party, cadging a glass of champagne, two glasses... five, plus a win at roulette. Then two tramps fall out over whiskey and their meal, "there was a sausage there," with a good finish
11.1 (December 8th 1962) -In the opening show in a new series, a fascinating intro as Arthur congratulates the thin audience for turning out on such a foggy night. He has one scene with NP as a solicitor who is looking into Arthur's alleged noble connections. Then he plays a burglar teaching new boy, Michael Caine, how to do it
11.2 (Dec 15th 1962)- AH wants to buy NP's mansion, some nice social comment even if the punchline's too obvious. Three tramps on the park bench reflect on politics and women's rights, slightly
11.3 (December 22nd 1962)- A Christmas Special with Wendy Richard. Also in a sketch with Kenneth Griffith, AH plays a tramp feeding off the dustbins outside the Ritz
11.4 (Dec 29th 1962)- Bank Manager NP deals with a complaint by customer AH about a shop's refusal to cash an out-of-date £5 note to pay for his wife's new underwear, "the pound's getting smaller, and she's getting bigger." Then AH and LN are lighthouse keepers captured by a Nazi (John Bluthal), "ze war is over, you're better off losing"
11.5 (Jan 5th 1963) - On a tube train, AH and LN transport part of a shed, "utterly ridiculous," complains passenger NP, who gets wildly angry and stuck. Then AH argues with barman NP over paying for his drink. Newspaper editor of The Daily Globe (Glyn Houston) receives advice from AH, who then meets the paper's fashion editor (NP)
11.6 (Jan 12th 1963) - AH returns home but to the wrong house. A man with his arm in a sling (AH) complains to NP about his fierce dog Butch- he'd had to have 18 stitches when he burgled this house: "I'm going to be out of work..." Then NP has a nice go at being a supercilious travel agent, a pointless sketch, but they get the laughs really well. Then two tramps in a barn see two crooks hide their loot in a well
11.7 (Jan 19th 1963) - Architect NP has his "valuable" time" wasted by, of course, an inquisitive AH- occasional praise but mostly insult, "you're a snob." Two tramps cook sausages outside a mansion and are ordered off by NP- this doesn't come off
11.8 (Jan 26th 1963) - With his leg in traction, NP is fair game for his visitors AH and LN, "that's the end of poor Mr Parsons." Two tramps argue with their landlady (Patricia Hayes) in a tedious sketch
11.9 (Feb 2nd 1963) - another sketch on a train: AH and LN are carrying what seems to be a corpse in a shroud, "my poor little darling," bemoans Arthur. Fellow passenger NP is scared, though this is never black humour. Dr NP in a casualty department has one good exchange, as the doctor examines a tramp's foot. "Take his boot off." AH explains simply, "that's dirt." Alma Cogan sings and even dances with Jack Parnell
11.10 (Feb 9th 1963)- NP is awoken early by the heating engineer (AH) who inevitably annoys his client, "what's all this mess?" Two tramps dream of being Kings on the Moon, and, very tritely, how to get there first
11.11 (Feb 16th 1963)- In a gentleman's club, AH accuses NP, "you're sitting in my chair." It turns into a shoving match, "why can't you act your age?" Less successful is the sketch with the tramp on the underground threatening to jump under a train. A toff (NP) calls his bluff. With another tramp (DK) they try on a new dodge
11.12 (Feb 23rd 1963)- AH interests NP in a Lonsdale Belt, "it's mine." He only wants £4 for it, but NP offers £10. AH also convinces him that he is Freddie Mills with a facelift- until the real boxer shows up. AH sings with Dickie Valentine, though it's more a competition. The two tramps fake a seance with their landlady (Patricia Hayes), but it turns almost real
11.13 (Mar 2nd 1963)- AH is unusually cast as The Chancellor of The Exchequer, who is eavesdropping a party at Uncle Harold's Number 10 and becoming ever more neurotic- it's hardly satire. AH presents Anne Shelton with a special album for her charity work. NP hands out the dole to two tramps, explaining why DK only receives 9d but AH £2
11.14 (Mar 9th 1963)- Another train sketch, AH off to London, "a split man man" according to the papers: poor NP becomes ever more terrfied of him. Then AH joins Jack Parnell's band very briefly. Two tramps in the dock: judge NP, laying charges Rita Webb- an exchange of insults. NP's gavel breaks as AH and DK sing then dance
11.15 (Mar 16th 1963)- Barber AH argues with customer NP over the Rangers v Wanderers match: with a knife AH seems lethal. AH prepares a crepe suzette for NP, when it catches fire, the extinguisher sprays over poor NP. Finally a blacker sketch with two tramps in a church tower who persuade NP, who is going to throw himself over the edge, to give them his posh clothing, "I'm going to jump in my underpants!"
11.16 (Mar 23rd 1963)- in his hotel room, NP is warned by AH of his bad habits, with a good punchline. Two tramps offer miscellaneous ramblings on the beach
11.17 (Mar 30th 1963)- Psychiatrist AH treats NP who is overwrought- but so is AH! Who is the more inferior?: "you're the one that's potty!" Then DK is in a nightdress starting "rumours," his and AH's bedroom has lots of visitors, including a lady taking a bath, and Dr NP
11.18 (Apr 6th 1963)- AH calls at the bank to check his account is safe, £1 4s 6d. NP:"do you wish to see ALL of it?" It starts a panic: "the bank's gone broke!" Hop-Along-Haynes in a simple mime. Two tramps rehearse AH's play about tramps none too successfully, DK having to kiss RW is the ultimate
11.19 (Apr 13th 1963)- NP is peaceably reading his paper in the park when AH sidles up, "clear off!" They play the yes/no interlude in Take Your Pick. Two tramps meet the Tory candidate NP, interrupted by RW- slightly topical, but a damp squib
11.20 (Apr 20th 1963)- NP is butler to his lordship AH, acting as go-between with her ladyship and AH, and getting the worst of the altercation. AH and DK want to emigrate to Ireland, expenses paid, NP deals with them
11.21 (Apr 27th 1963)- not for the nervous: DK has toothache and AH gives dentist NP "help-" so how come NP is the one who gets gassed? Then Sir Arthur Haynes in a Season of Shakespeare, more Ernie Wise to start, but then as the set catches fire, the show must go on, a curious oddity
12.1 (January 4th 1964) Marty Wilde sings Money. AH inspects his decorating work at number 10, as political satire it's not too funny, "anybody can be a Prime Minister." Then tramp AH has a brew-up aside NP's Rolls, with a sadly tedious conversation about National Assistance, NP ever indignant
12.2 (January 11th 1964) with the Dave Clark Five - a classic show with AH at the peak of his powers. NP is a doctor in a first class carriage, being pestered by AH's "tasteless remarks," including the TV series Your Life In Their Hands, "will you please be quiet." Then the two tramps report to the police (NP) the theft of fourpence ("fourpence!"). NP picks up Arthur's mispronounciation of "Mission Hut" like a real pro. But is it possible they could've spotted the train robbers?!
12.3 (January 18th 1964) Cheap scotch for sale, AH tells NP, "it's been pinched." NP doesn't realise from whom! Then official NP is brought a security warning by AH, whose head is full of James Bond, "ridiculous raving rubbish." Unfortunately this lacks a good punch line. As does the Harley Street sketch with NP a psychiatrist promoted with a knighthood. Two tramps annoy the patients, "you've got to be potty to come here," and they even upset even Sir Nicholas himself
12.4 (January 25th 1964) AH and NP are rival shopkeepers. Then NP is the boss, "one big happy family" with workers AH and Dermot Kelly. Do we all get "the same treatment?" A strike threat makes a few cutting points. Then AH and DK don't help "a big fat pig" stuck in a window, definitely not pc
12.5 (February 1st 1964) with Joe Brown - A camp AH sits on a plane next to NP, "keep your riddle to yourself." The pair at one point are trying to make each other laugh. Then two tramps argue with their landlady (Rita Webb) over the cost of "used water." They dress up in a vain hope of impressing a "hoity toity" lady
12.6 (February 8th 1964) with The Rolling Stones. AH delivers a heap of junk to the Post Office, manager NP gets very worked up, a few pointed jibes at unsolicited mail. Two tramps volunteer to join the special police, NP's response is, "you're joking." The sketch contains reference to Z Cars, AH doing a Dragnet impression, and "some Avengers stuff"
12.7 (February 15th 1964) - Another railway conversation, AH's rounded elocution baffles NP and us, "are you feeling all right?" Unusually surreal with some quirky moments. At Danescroft Bank two tramps insult a market stallholder, then want to open an account with tenpence, the finish has Dermot Kelly improbably dancing with Rita Webb Beatles- style
12.8 (February 22nd 1964) The parents of Able Seaman Bert Haynes come to see him off to the intense annoyance of Naval Officer NP- but the sketch is overlong. Very brief is AH as Maigret. AH and DK are in the Tower of London, falling foul of Beefeaters and then a visitor (Rita Webb), setting off a full scale security alert
12.9 (February 29th 1964) - at dead of night, a man breaks into NP's mansion, "I came to look over the place," as it's for sale. A camp AH is ordered out, all slightly daft. Clever is a simple mime with AH and NP. Then a tramp visits patient DK in hospital, perhaps the latter is malingering
12.10 (March 7th 1964) - Film director NP is on location in a "quite quiet" street, only for AH to interrupt with "silly questions" about his "dirty" film. Then at a dinner party NP hires doubtful waiters AH and DK, and even more outrageous French maid Rita Webb, "you won't get away with this"
12.11 (March 14th 1964) - AH alights from his chauffeur driven Rolls to ask for financial help from NP at the Assistance Board. Then AH tries to train DK to become a millionaire boxer
12.12 (March 21st 1964) - A slow sketch is about NP from the Council trying to evict AH. In the launderette two tramps enjoy a slanging match with Rita Webb
12.13 (March 28th 1964) - AH phones Rev NP who is awoken from sleep, "he doesn't half sound annoyed." He also awakes Dr Henry about the Rev's "brainstorm." Then AH and DK are two tramps who persuade a teetotal vicar (NP) that with all the damp they need whiskey- on their chests, "I don't like the taste." Like the first, this sketch fizzles out resorting to a song to finish which is Rita Webb screeching brilliantly. NP gets the giggles as slapstick ensues
13.1 (Oct 10th 1964) - NP is butler to his forgetful lordship AH, "I don't want any arguments." Mispronouncing 'advertisement' brings on the giggles and a typical self parody as the sketch verges on the surreal. NP is then waiter at a West End restaurant, where some Eastenders turn up, "we're full up." There's a well worked ending
13.2 (Oct 17th 1964) - DK and AH are two weird gorillas in the zoo who throttle their keeper (LN) and insult a visitor (Rita Webb). Then an old favourite, the two tramps call at the house of a gent (NP), help themselves to his whisky and try to sell him false teeth. "It's strange," but all sorts of valuables seem to be disappearing...
13.4 (Oct 31st 1964) - weird sketch with AH & co dressed as stray dogs, novel but far too long. "A proper lord" (NP), in a more familiar sketch, deals with two removal men (AH and DK) who smash up the happy home, "look what you're doing!"
13.5 (Nov 7th 1964) - AH and his wife Yvonne (Patricia Hayes) want to move into a "posh" house, "not like our old one." But the colonel (Richard Caldicot) who owns it, certainly doesn't want Them. PH gets the giggles. Then AH and DK ask to emigrate to Australia, but the official, Jack Douglas in NP's role, doesn't react sufficiently
13.6 (Nov 14th 1964) - NP is the bobby on duty outside No 10, warning two persistent dustmen to "hoppit," amid topical jokes about the new Labour government. On the Cote d'Azur, AH and DK look more than a little out of place with Rita Webb and Patricia Hayes
13.7 (Nov 21st 1964) - AH and family to see their MP, NP naturally. As he'd been elected with a majority of only three, favours might be in order. Then Colonel Nicholas deals with an army of tramps who ask him to form them into a band of fighting men
13.9 (Dec 5th 1964) - "becoming senile" is Agatha (Pat Coombs), wife of his lordship (AH), deaf and all. Their decrepit man (DK) will have to go, because of their "platonic" children. It's all far too slow. At the golf club, the barman (NP) clashes with AH over serving his caddy. However it's bubbly all round for a hole in one, so Arthur makes sure there are plenty of those rare birds
13.10 (Dec 12th 1964) - For once it's NP who is a tramp. Then he's the PR man at Rosebud Chocolates, dealing with AH's complaint. He says that though he didn't like the chocs, he has not had his money back. After a cigar and Scotch, and some "tasteless" remarks, NP explodes at his "infernal cheek." There's silence in the club reading room until AH begins acting childishly with NP over occupying 'his' chair. A great sketch, for once the pair keep straight faces. Finally the two tramps talk about jobs and grab themselves a new pram
13.11 (Dec 19th 1964) - NP hasn't bought a turkey and it's late on Christmas Eve- butcher AH flogs him a "scraggy" bird. Then AH and his wife take one of their 18 kids to see Santa (NP)- "I am Father Christmas.""No you're not!"- very unseasonal-like. Then three tramps by the park bench give each other their presents
13.12 (Dec 26th 1964) - AH busks, then gabbles on to the manager of a gas saleroom (NP) that he's been converted to gas. But can they sell him a gas tv set? "Cheaper than a horse," DK has found a new pram pusher, a Billy Walker, whom AH and he train to be a boxer. But then the landlady (Rita Webb) wades in and all but adminsters the KO
13.13 (Jan 2nd 1965) Two tramps offer to clear away the snow for NP, only there is no snow. Later AH plans to expand his business and argues about his hidden assets with DK. Shop stewards AH and DK join the company ball with their loud wives, "will you please be quiet." AH finishes the series by spraying poor NP and guests with foam from the fire extinguisher (ending similarly as the previous series)
14.1 (Nov 20th 1965) - Disappointing start to this series, perhaps because NP was absent. Patricia Hayes and Arthur ask the vicar to christen all their ten children at one cut price go. PH and AH take their dustbin on the train, it catches fire and nearly gets out of control. There's a corny James Bond skit. DK and AH go busking on a bus in a sketch that livens up when Rita Webb as the conductress exchanges insults with the tramps
14.2 (Nov 27th 1965) - AH is a football manager whose team had nine men sent off! Then AH sees his bank manager about his overdue overdraft, overlong also - though they do talk of that familiar animal the economic depression. There's a short parody with 'Arthur Bond.' Naunton Wayne is the bumbling judge in a tedious case of two tramps accused of molesting a young lady
14.3 (Dec 4th 1965)- Unofficial strike leader AH uses a telephone kiosk as his office. A picnic on a golf course putting green is objected to by the golfers- a good premise but it fails here. Two tramps in the park muse on why we have five toes, then annoy a doctor (Pete Murray)
14.4 (Dec 11th 1965) -AH and his missus report to the police the theft of one lavatory chain. A camp pyschiatrist hypnotises TF whose dream concerning Miss World comes true, only to produce a nice pay off. 003 and a half Arthur Bond has a too obvious finish. A topical look at the Post Office Tower, two tramps claim it is leaning
14.5 (Dec 18th 1965)- "Captain" Robert Lang interviews a potential new daily (RW), whose husband AH suspects she will be the victim of flirting. Dr TF deals with a complaint from AH, predictable but with a good finish. Two tramps have emigrated to Dublin and join in a wake to get a free pint or 3, or 5
14.6 (Dec 25th 1965)- two tramps call at the house of her ladyship, improbably claiming to be a relative. Martita Hunt in her final tv role has a few good lines "(I am not a racehorse") but is sadly not given any chance to excel. Then AH, dressed nicely inappropriately as a toff, 'sings' Leaning on a Lamp Post, and even dances. Finally he is a waiter with RW being "Christmassy," kissing customers, though the sketch drags up to the final slapstick with another fire extinguisher
14.7 (Jan 1st 1966)- AH returns a purchase at the January sales, knickers too small in a feeble sketch. Two dustman want their Christmas box off RW, with a mutual exchange of insults. Two tramps are in Edinburgh, gatecrashing a Hogmanay party with many och ayes, kilt jokes and toasts, "a lot of old rubbish" as Arthur himself says
14.8 (Jan 8th 1966)- AH uses a public phone box to receive messages. Two tramps need to blow up Parliament, and ask an Indian, improbably played by John Carson, in a tasteless sketch. Fred (John Bluthal) directs a film, but with AH as shop steward, takes are many, "cut!" The final take is worth waiting for
14.9 (Jan 15th 1966)- Another train sketch, with Graham Stark: AH patriotically puts a Union Jack in his hat and talks of "foreigners," not PC. TF is a football manager who meets supporter AH, who has hard words for the team, and a final good twist. Two tramps rent a "bijou" flat, snag is the bathroom is shared with RW
15.1 (Mar 26th 1966)- AH and Graham Stark argue over a parking space, very childishly for two city gents, "'tis... 'tisn't." Two tramps tell works manager TF of DK's invention, more frustrating than funny
15.2 (Apr 2nd 1966)- Guest is Lulu. TF is interrupted on the phone by a loud road drill. AH and PH ask the Rev TF about the collection, could they have their half crown back? Two tramps have a medical with a doctor (Naomi Chance)
15.3 (Apr 9th 1966)- Off by train for a day at Bournemouth, first class, AH and pals annoy a posh passenger, too familiar and predictable. Two tramps irritate a cinema manager, searching for glasses for DK
15.5 (Apr 23rd 1966)- AH and LN are hospital porters disputing with staff nurse RW over a patient. Tramp AH clashes with cleaner RW before he is told he was been awarded a war medal in error
15.6 (Apr 30th 1966)- A gorilla is clutching a zoo visitor: AH knows how to effect a rescue, but it is RW who "settles him." Two tramps wander a derelict mansion, this, Arthur's last ever sketch, turns almost surreal
Menu