In A Holiday Mood (TWW August 1965)
recorded at Butlin's Minehead, featuring camp impressionist Janet Brown, resident comedian Clifford Henry, Allan Mills, Doreen Lavender and her Singing Dog Honey, and the Butlin Gaiety Girls
To Dinosaur TV Main Menu

.

.

.

.

.

.

.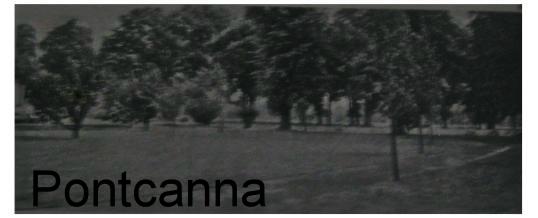 This photo is a shot of the grounds at Pontcanna, TWW's studio.
They were no ordinary grounds, for this was the "first outdoor studio in Europe." Laid at a cost of nearly £4,000, underneath were cables to connect outside broadcast cameras to the control unit inside the adjoining studio.

It was officially opened in a programme aptly named Hope It Keeps Fine, on Saturday August 16th 1958, 4.05pm. Lady Kilmuir performed the opening ceremony, the programme introduced by Donald Houston. Also on hand were Ivor Emmanuel and Pauline Shepard. The director was Jeff Inman.

In fact, there had been a trial run for the lawns in a new series on August 14th 1958, 4.20pm, Awyr Iach with Myfanwy Howell and Ron Saunders, the first in a weekly series, the English translation means 'Open Air.'
Thereafter the studios were frequently used in scenes for the Land of Song series.
.
.
.
.
.
.
.
First Night
(TWW Nov 20th 1960)
A contemporary account by J O'T of the opening programme from Arnos Grove Studios, Bristol:
"With all due respects... I think viewers would have been more entertained had they been able to keep to their usual Sunday night show (the London Palladium which starred Eartha Kitt). The mistake lay in trying to beat the Palladium at its own game- variety, without the cash prize element...
There was Jack Hylton playing the piano, a novel touch, but even he would not suggest that his playing was distinguished. Marty Wilde, brought in to replace Russ Conway, gave an act which was poor and lifeless, he lacked not only vocal ability, but also zest and delivery... Joseph Cooper played a piece by Granados, he played it well but it was more notable and 'brave' for the fact that it was not a highly popular composition. Bud Flanagan was not on top form, but delivered at least one joke: a reference to flies, entomological and sartorial. No TWW programme would be complete without Ivor Emmanuel- and he duly appeared. The show was well directed by Hugh Munro." Note: Rosemary Squires also starred.
Note: The new studios were officially opened at an unveiling ceremony on Tuesday October 23rd 1960 by the Lord Mayor of Bristol
.
.
.
.
.
.
.
Opening Day: Tuesday January 14th 1958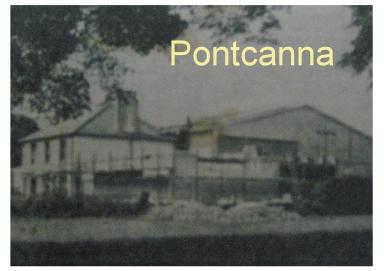 'All was hustle and bustle at TWW's Pontacanna Studios on Tuesday afternoon, as technicians frantically prepared for the Company's first evening on the air.
In the thick of the affray, American Mr Robert Myers, consultant technical manager said, "This is what you call giving birth to a baby. I've seen preparations in a nursing home that weren't a great deal different from this. I hope it goes off well."
Mr Myers is on loan from NBC to TWW. His fears were not justified. Despite their on-off history TWW's first night went off smoothly. On the reception side, people from areas deep in West Wales, well outside the Company's orbit, reported a clear picture.
At 4.45pm Production One began, managing Director Mark Chapman-Walker said, "we come as newcomers to this area. As individuals we have deep roots in Wales and the West. I hope that these roots mean that this new plant will flourish. We recognise we are invited guests to your homes and we must become part of your family life. If you do not like our programmes we shall deserve to have them switched off. We hope that you will not want to."
In a short film showing the beginnings of TWW the Earl of Derby, President of the Company, said, "this is a great moment for us all, because after all the difficulties and the frustrations that we have encountered in getting this station on the air, we are at last operating from what is, in fact, the most modern studio in Europe."
The main TWW opening offering was Stars Rise in the West, in which Jack Train introduced eleven personalities from the area who had made their name in show business. Frankly, the whole show seems to have been made on the cheap, nothing too arousing in this fare. Oddly when the miffed TWW were shut down nine years later, they provided a much more glitzy finale, you feel the two shows should have somehow switched in time so that this Stars Rise in the West should have been screened in 1968, perhaps as Stars Sink in the West. I suppose it proves that over the years TWW became much more professional and slick in their presentation.
At 8pm TWW's very own Roy Ward Dickson's hosted the quiz The £1,000 Word!
The national ITN News that night came from TWW's studios, appropriately enough read by Huw Thomas.
Interesting note from the TWW Studio is that everyone, men and women, wore a very light blue linen uniform while at work. This innovation was the idea of Chapman-Walker. The Company received American Advice in the setting up of its organisation. It seems to have extended further than technicalities. For at the head of each page of the first day's traffic sheet was the word 'Program.'
TWW start


.

.

.

.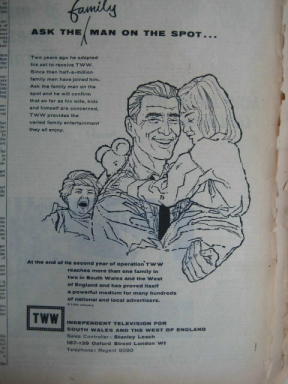 A selection of TWW trade advertisements issued in 1960

.

.

.

.
.
.
.
.
.
.
.
.
.
.
.
.
.
.
.
.
.
.
.
.
.
.
.
.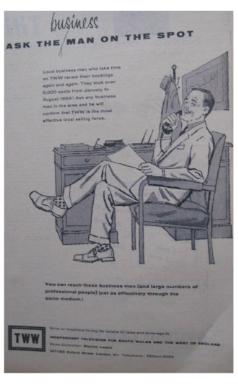 Last of the 1960 TWW trade ads

.

.

.

.

.

.

.

.

.

.

.

.

.

.

.

.

.

.

.

Extracts from a Speech by the Chairman of TWW, Viscount Cilcennin
given at the Cardiff Business Club in January 1960. (Cilcennin died suddenly aged 56, on July 13th 1960)
"No other station at the moment... is bilingual; no other station has to deal with two such distinctly different races on either side of the Bristol Channel; no other station has... to devote a certain amount of time (three periods of 40 minutes during the week and one period of 45 minutes on one Sunday a month) for programmes in the Welsh language."
"I think I am right in saying we are the only company with two Boards of Directors. There is the main board which meets in London or Pontcanna, and a special Welsh board , with Sir Grismond Phillipps as the chairman which always meets at Pontcanna.
A very large amount of our first year's profits... has been ploughed back into the Bristol studio. Already its local news service has been established and is working excellently in what will finally be the garages of the main studio."
"In two years TWW has obtained a viewing public of nearly two millions. This is out of a total of about three and a half million people who can receive the programmes... two million out of three and a half million is pretty good going for the first two years."
I think that television, be it BBC or Independent, has done a tremendous amount to keep families together. As we all know, the younger generation were inclined to leave their villages at night for the bright lights of the nearest town... television holds the families together wherever they live and keeps them in their own homes."
Of TWW's retailers' scheme he said, "This was started last March (1959) and has been a pronounced success. This scheme allows the retailer to make announcements on the screen at what, I hope, they consider a very economical rate, so that local viewers can be aware of the goods and service on offer. I believe it is the first time in British ITV that such facilities have been offered to the small man and we propose to continue with this service because television is not only for the 'big battalions' but it is for the small man to use as well."
Of the Arts: "Our Company gave a very great amount of help to the Bath Festival last year in order to encourage Bath to become one of the music centres of Europe. This year we have decided to make a grant to the Royal National Eisteddfod, which is taking place in your city (Cardiff), and I know will add still further to the glories of Welsh music and the Welsh language."
"The culture of Wales is a challenge to TWW, which we gladly take up, knowing that we have a highly receptive and discriminating audience. I trust we shall never fail you."

TWW Fourth AGM April 20th 1961


extracts from the speech by The Chairman The Earl of Derby:
1960 proved an eventful and satisfactory year for TWW. Our share of audience continues to be most satisfactory, especially for programmes we originate in Cardiff and Bristol. These have included plays, musical entertainment of all types, discussions, topical and news magazines, and real life adventure like Pegasus Overland, as well as Welsh language and other specialised programmes. During the year the number of homes in our region receiving TWW increased by 21%, and by the end of 1960 totalled nearly two and a half million. Once again, the company transmitted more regional advertising than any other Regional Company. The TWW Retailers' Scheme has extended its sphere of effectiveness and the majority of the retail establishments in the region display the attractive window plaque supplied by the Company.
With new Regional Companies still coming into being, the combined regional strength of independent television can become a still greater force, we have followed a policy of neighbourly co-operation with other contractors on matters which seem in the long term to benefit tv as a whole

.

.

.

.

.

.

.

TWW Officers in late 1957
Chairman: Viscount Cilcennin. "There's a certain cosiness about the chairman coming along to wish everyone all the best," wrote Harold Darton of TWW's first Christmas offerings.
Managing Director: Mark Chapman-Walker
General Manager: JR Myers
Station Manager and Chief Engineer: W Kemp
Programme Manager: Bryan Michie
Sales Controller: SJ Leach
London Manager: Peter Bartholomew
Head Producer: Meurig Jones
Company Secretary/Chief Accountant: G Bailes
London Office (from Oct 14th): 187-193 Oxford Street GERrard 6996.


TWW 1963
Chairman: Rt Hon Earl of Derby MC
Directors: Herbert Agar (USA), Sir William Carr, Sir Ifan Ab Owen Edwards, Alderman Huw T Edwards, Sidney Gilliat, Jack Hylton esq, Percy Jones JP, Liet-Col HM Llewellyn CBE JP, Sir Alexander H Maxwell KCMG, Eoin Mekie CBE, Sir Grismond Phillipps CVO, M Chapman-Walker CBE MVO, Tom R Jones FRSA, Alfred Francis OBE (Vice Chairman).
Chief Executives:
Programme Controller: Bryan Michie
Technical Controller: Walter Kemp
Sales Controller: Stanley Leach
Publicity Controller: Frank Brown
Regional Controller: Peter Bartholomew DSO
Operations Manager: T Carpenter
Executive Producer: Wyn Roberts
London Office: TWW House Sloane Street London SW1 (BELgravia 7000)
Cardiff Sales Office: Holst House Museum Place Cardiff (phone 31152-4)
Bristol Sales Office: Royal London Buildings Baldwin Street Bristol 1 (phone 2-1515)
Birmingham Sales Office: Cornwall Buildings Newhall Street Birmingham (CENtral 4311)
Manchester Sales Office: Royal Exchange Manchester 2 (BLAckfriars 3765).
Studios: Pontacanna Cardiff (phone 26633) and TWW Centre Bath Road Bristol (phone 70271).
TWW start


.

.

.

.

.

.

.

TWW English programmes
TWW had the distinction of being first to screen an opera on ITV. As part of their coverage of the 1959 Bath Festival, Bizet's "Dr Miracle" was screened.

Another first was claimed in their Autumn 1959 series of programmes titled Camau Cyntaf, designed to teach Welsh.

A curious experiment was aimed at churches and chapels which had no regular ministers. The screening of two sermons at different times on a Sunday morning "so that people in the different places of worship will be able to place a television set in front of the congregation and hold their services round the fixed transmission time of the sermon." With twelve inch screens and no video recorders, one wonders if any chapels actually adopted this scheme.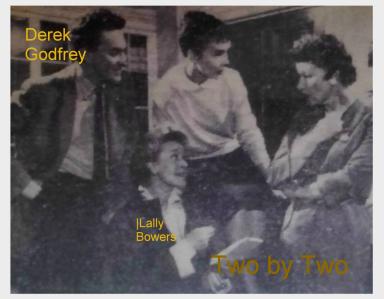 The Bristol Old Vic (1958/9 pictured)
Land of Song (1958-1964)
Jazz Club (1959)
Challenge (1959-1963)
Dance Date (1959-1960)
Mind Behind Murder (1960-1962)
Mr and Mrs (TWW)
Movie Magazine (1961-5)
Discs A Gogo (1961-5 and 1968)
Now! (1965-1966)
TWW admags
TWW quizzes
Local TWW news
TWW Talent Shows
Some other TWW programmes in alphabetical order
.
.
.|
.
.
Burton on Broadway (Tuesday August 18th 1964)
An interview in New York with Richard Burton by Quentin Reynolds, directed by TWW's Terence de Lacey.
Conversation ranged from his reaction to playing a modern version Hamlet, to, inevitably, his romance with Elizabeth Taylor

The Cider Apple (from May 6th 1966), a half hour series of "folk songs, sea shanties and cheerful choruses." The setting was a typical quayside pub, specially built in the Bristol studios. Producer Derek Clark said, "the West Country has always been rich in folk songs." The host was Steve Benbow, and behind the bar was Judy Kenny. Regular guests were Chas McDevitt and Shirley Douglas, with Billy Burden. Guests on the first show were The Crofters, Tommy Reilly, Adge Cutler, and Shirley Collins.

Claim to Fame - A series hosted by Guy Thomas. On February 9th 1967 at 10.10pm, the guest challenger was Peter Reynolds, film star. Trying to guess his more unusual claim to fame were panellists Olive Stephens, Caroline Lloyd, and Iain Crawford. Earlier in the month Peter had discussed his film career on TWW Reports

The Crowded Years (Fridays, 1960) was a series of film clips showing life between the two world wars. The link man was Bruce Lewis, director Mike Towers. The first in the series on April 8th 1960 was titled Landmarks, and included an interview with George Bernard Shaw.

Dylan Thomas- a 30 minute 1961 documentary film directed by Jack Howells, narrated by Richard Burton. It won an award in 1963 for the best Documentary Short

Exclusive (March 1965) going behind news stories, host Daniel Farson. "The theme of Exclusive will be to present the personalities behind the news events in the TWW area and to analyse any happenings which set people talking." Devised by Michael Towers and Wyn Roberts. This periodic programme had begun in TWW's early days.

For their first year, unlike most other regions, TWW avoided a lunchtime show, but at 1pm on Friday March 20th 1959 they followed the trend with an hour-long
Friday Special hosted by Rex Garner and Maureen Pryor, who left after May 15th, replaced by announcer Rita Street. 19 year old singer Maureen Evans was such a success that TWW put her under contract. Also a regular on the programme was Ted Trimmer, brother of actress Deborah Kerr, who presented film reports on diverse subjects such as ghost hunting in Monmouth and an inventor in Weston-super-Mare. TWW director Don Leaver stated it was "in the main light, informative with serious interludes. We shall not forget that there will be many men looking in, some in factory canteens and others relaxing at home before the afternoon shift." Programme editor was Michael Frostick.

Hecklers Halfhour appeared during the run up to the 1959 General Election- more details needed.

Some big names were featured in Holiday Mood in 1965. This was an outside broadcast series from the Gaiety Theatre at Butlin's Minehead. Alan Taylor was compere. The first show on August 27th included Jill Day, who also starred on September 3rd. Janie Marden starred on Sept 10th and 17th while top of the bill on Sept 24th and Oct 1st were Flanagan and Allen (this would have positively been their last tv appearance together). Regulars were comedian Freddie Sales, dancers Lynton Boys, tenor John Melvor, Tery and Toni Calder dancers, singer Suzanne Parsons, as well as the Marie de Vere Girls. A separate notice stated that camp impersonator Janet Brown also appeared

One local programme that introduced some well known names was In Your View. First host was Bryan Michie, Hugh Griffith took the reins on the December 17th 1958, Harold Lawson hosted until in January 1959 Dennis Vance took over the chair. Ted Willis was guest on Dec 30th 1958. Frankie Howerd starred on Tuesday January 13th 1959. Dilys Powell and Donald Houston appeared on February 24th 1959. From March 31st, the programme length was extended to 30 minutes, in this programme Dennis Vance was joined by Ted Willis and Sir Alan Herbert. The line-up on May 12th was Dilys Powell, Lord Birkett, and Sir Alan Herbert, on May 19th Harold Lawson, Ted Willis and Nancy Spain. Other guests who appeared included Lord Altrincham and Lady Violet Bonham-Carter. The programme was shown in a slot at 6.40pm, but moved to a late night slot of 10.45pm in January 1959. This coincided with an improvement, a critic claimed, "with the panel discussing viewers' letters reduced from four to two," with the net result that "the discussions have been growing steadily more stimulating." Another wrote, "this is one of the few late night programmes which practically compel you to keep watching." The series finished its run at the end of May that year. In the summer of 1959 it was revamped as 'Challenge' (qv). However the similarly titled Your Point of View was screened in the autumn of 1962, hosted by George Scott who had also run Challenge earlier that year. For half an hour he discussed viewers' letters with his guests, and you were encouraged to write because three guineas was paid for any letter used.

Journey into Spain with Bob Danvers Walker, focussed on traditional tourist spectacles like bull fighting, plus a look inside Salvador Dali's home. "We have gone into the little places of Spain," Bob explained. The programme was shown on November 30th 1959

Late Date - four shows starting on Thurs Nov 26th 1959 with Dave Lee and His Trio playing the top tunes of Richard Rodgers. On Dec 3rd Spanish harpist Marisa Robles was featured. Dec 10th: Dave Lee with the music of Noel Coward. Dec 17th: Chas McDevitt and Shirley Douglas. The series was networked to STV, Southern, Anglia and Tyne Tees

Life Begins at 80 (first programme Nov 23rd 1959) was a show based on an American format to which Bryan Michie bought the rights, and he turned it into what he believed was entertainment, "I am convinced that a series featuring octogenarians will be of great interest and entertainment value in the region." Critic Alec McKinty said "the programme invariably proves well worth watching- due to a great extent to the bluff, friendly manner of Bryan Michie as chairman.... Michie never allows the proceedings to sag into any sort of reminiscent monologue, he keeps things going with the pally remark or joke, accompanied by a deep and hearty guffaw." Among the many on later shows were Harry Levaine, Tom Crawford and Gilbert Gordon. Veteran star of the halls, Ada Reeve became a regular, saying, "the thrill of being in the TV show is just the same for me as was appearing on the stage as far back as 1879. I never get tired of it." To prove the power of tv, Ada added that "fully 100 people have stopped me in the street to shake my hand since I have been on the programme. It's wonderful." Another music hall star to appear was Albert Whelan in July 1960 in a show recorded in the Town Hall Bridgwater. Such success lead to the series being transmitted also in London and The Midlands.

Looking for a King was shown on Sunday December 20th 1964. It was a modern interpretation of the Old Testament story of Daniel. It was networked to Westward and Anglia. It was a thirty minute operetta, The Daniel Jazz

Making Room at the Top (Wed Feb 20th 1963, 9.45-10.30pm) - This non networked documentary was about the problems associated with university expansion. In particular, the ten million pound investment in Bristol University, enabling student growth to double in seven years.

Melody Time (1959)- on Tuesday May 5th and for the following two weeks, the music of Julian Slade was featured, with the composer himself at the piano, as well as Margaret Tudor Evans. The songs were sung in the first programme by Eleanor Drew, Ray Parks, and Angus McKay. Some songs were from Slade's show Christmas in King Street. May 12th was devoted to his best known Salad Days, and included singer Jane Wenham. The May 19th show had music from Free As Air.

Nye! an hour long documentary on Aneurin Bevan, written and directed by Jack Howells, shown on March 1st 1965, then networked on July 7th 1965.
It won the Television Production of the Year, as well as Best Documentary Award.

Pegasus Overland was an occasional programme that began on December 3rd 1959, filming eight territorial Army men setting off on a world tour to Australia that began from TWW's Pontcanna Studios. I cannot find information if they made it, but they planned to be in Teheran by Christmas. "The journey will take them through every variety of terrain- jungle, desert, plain, swamp and over mountainous land. Their jobs range from botanist to window cleaner."

Personal Scrapbook in 1963 featured interviews by Sir David Llewelyn with successful personalities. Among the guests were Kenneth More, Freddie Trueman, the Duke of Bedford, Graham Hill, Sir Gerald Kelly, Boris Karloff, Stephen Potter, and Naomi Jacob. Irish Television bought up the series

Police Five- TWW's regional version was first screened on Wednesday June 5th 1963 at 8.55pm

Presenting Maurice Woodruff began on Wednesday January 10th 1962 at 8pm. The famous clairvoyant talked to local people about themselves and their personal problems... "He will forecast future events for viewers and for members of the studio audience."

Soapbox (1958). Host was Simon Kester, though Wally Reyburn took over from Oct 27th, at which time a bonus of £15 was paid to the best speaker on the programme. First director was Jeff Inman. This series ended on January 5th 1959, the final programme included John Baker, Joy Owen, Ronald Delderfield as well as Wally Reyburn. Rex Garner was one of the panel of "hecklers" during the run.

Stan At Ease (autumn 1966) gave Stan Stennett a tv series of his own for the very first time. Six shows were made in Bristol, produced by Douglas Clark. Rehearsals began on July 18th, with the first telerecording on Wed Aug 31st. Transmission of the first series ended on Nov 18th 1966. Each show had a guest star, but, explained Stan, "the basic idea will be to introduce young talent, four youngsters under the age of 15 in each show." A report added, "if it is a success it is likely to be networked." Well, the second series starting Tuesday January 10th 1957 at 7pm, was also shown in the Grampian area on Sundays, which suggests that it was videotaped.
Producer: Derek Clark.In both series, Stan was assisted by Kris Ken and Bob Giles. Music: Jerry Allen Trio.
Auditions took place in Bristol, Swindon, Taunton, Cardiff, Swansea and Barry. Over 1,000 young hopefuls auditioned for the first series.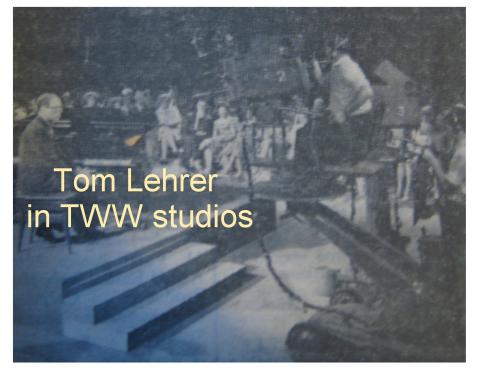 Summer Serenade (Wednesday August 10th 1960). Alec McKinty described it, "without doubt TWW's new series... is the quietest, the most pleasant, soothing and entertaining they have yet produced." He described this first programme as having "a relaxed, engaging atmosphere with Bach and Grieg ... rubbing shoulders with the more popular compositions. There's a great chance here for TWW to prove that they can put on a classical-popular series in the Eric Robinson idiom... Joseph Cooper... compered and played the piano, He made a good job of both. With but a small orchestra Norman Whitehead backed him, and the other artists, with satisfactory skill. Laurence Payne appeared, looking as much like Kirk Douglas on screen as he does on stage. Louise Parker's singing became a bit squeaky here and there. But all in all, the whole programme was well produced and performed"

Time (Wasted) with Tom Lehrer was a series of three 15 minute shows made at TWW's Pontcanna Studios on July 7th 1960. In just six hours, Tom had discussed rehearsed and recorded 45 minutes of songs. A TWW offical stated, "certainly not the lukewarm variety- they're the sort which have aroused controversy." I don't have any transmission dates but TWW had planned to screen them during October that year. It is good to note that the soundtracks have survived. In fact the tapes must have survived for a while, since STV was screening the series in May 1961

The Tony Crane Show (TWW, Christmas Day 1967)
Singer Tony Crane appeared in his own show, a half hour light entertainment with Tony singing romantic, light-hearted, and swinging numbers. Guest star was Stubby Kaye with support from the Malcolm Goddard Dancers, Bob Miller and the Millermen and singer Rosanella. The show was not networked

Venice- The Drowning City (1965) was a 30 minute film in which Gwyn Thomas took a gondola trip around the city. As well as a TWW screening, this was also shown on Ulster (Mar 2nd 1965, 11.17pm), Tyne Tees (Mar 12th 1965) and Border (Mar 26th 1965. 10.37pm)

Voices of Wales (1965) a half hour show introduced by Donald Houston and featuring the Welsh National Opera Company and South Wales choirs. It won the local Best Entertainment Award in 1965

Wales and the West (1962) - John Betjamin visited West of England towns, while Gwyn Thomas went to South Wales, commenting on what they find. Programmes included trips to Bath, Swindon, Sidmouth, Ebbw Vale, and Laugharne. Director: Jonathan Stedall. Producer: Douglas Henry. For some reason, in October 1962, Lord Snowden was shown privately a selection of these programmes, when he visited TWW's London offices.

Yer 'Tiz (1958 Mondays) - compere Brian Vesey Fitzgerald, director Jeff Inman. One unusual feature was a four minute "news ballet," based on a current news story, interpreted in dance and mime. Dancers were taken from the Western Theatre Ballet, artistic director Peter Darrell

.

.

.

.

.

.

.

Mind Behind Murder intdouced by Rev Gordon Lang. 3 series of thirteen programmes each, starting in April 1960.
He discussed "some of the famous criminal trials he has attended over the past 35 years." This was of course nothing like Edgar Lustgarten's Scotland Yard!
The fifth in the series dealt with the Thompson-Bywaters case, and included an account of a condemned woman's last moments on the scaffold. A councillor complained this programme was "particularly repulsive... it was startlingly unpleasant to hear from Lang that the informer was the executioner." But the ITA rejected the complaint. TWW added, "the programmes in the series are now broadcast late on Saturday evenings, usually about 11 to 11.20pm. The series is regarded by ITA as being responsibly conceived and prepared and is presented seriously and without sensation."
The tenth of series 1 on July 2nd 1960 covered the Field and Gray case, the murder of Irene Munro in Eastbourne in 1920.
A later programme dealt in two half hour parts with Evans and Christie (Jan 1st 1962), in which Lang discussed the motives and background of the accused with Peter Lilley. The series continued until 1963, Westward TV also showing some of these later programmes.

Lang returned in autumn 1962 with Mind Behind Power, with a second series starting on May 13th 1963, at 10.30pm, with profiles of Winston Churchill, David Lloyd George, Aneurin Bevan, and Ramsay MacDonald. In 1965 he hosted Mind Behind Crime, the first programme on Jan 18th dealing with Craig and Bentley. Among subjects in the twelve part series were the Portland Spy Ring, and Horatio Bottomley.
Footnote: Lang also hosted numerous TWW religious programmes.

.

.

.

.

.

.

.

A 30 minute drama-type programme was introduced by Godfrey Winn.

Dance Date provoked a lot of critical jeers but eventually gained in popularity. The theme tune of the series was written by Dave Lee with lyrics by Herbert Kretzner.
The series began on Saturday November 28th 1959, script by Peter Kay, producer Dennis Vance.

"A strong West Country flavour" was how the series was pushed, however though the plays were made by TWW, viewers couldn't spot much of the vaunted regional appeal.
One story shown on January 2nd 1960 starred Jennifer Browne, John Gabriel, Karal Gardner and Daniel Moynihan, under regular director Don Leaver.
On 30th January 1960 the story was called Finishing School and starred Ann King and veteran Mary Merrall. A fortnight later the story featured Peter Sallis with Carol Ann Ford and Carole Maybank. The final programme was shown on March 12th that year.

.

.

.

.

.

.

.

Admags included
The Better Home Show (1958 on) with Barrie Gosney, and Diana Dove who appeared until Dec 1958 after which time Anne Valery relaced her.
Friday Shopping List (1958) with Simon Merrick.
Round and About (first series Oct 1959-Apr 1960) 26 programmes with Pearl Catlin, who said, "I have been trying very hard to perfect The Real Approach, I hope I have succeeded. If I had not been allowed to exploit personality I would have been lost."
Where Are You Going? (1961/2) - visits to local towns and cities.
Ticket to Sunshine (1961/2) with Pearl Catlin and Michael Blythe.
This pair introduced TWW's last admag series Round and About, the final programme of which was on Thursday March 28th 1963, 6.13-6.28pm.

One surviving admag is Have A Warm Home, a one off from TWW's Bristol studios, devoted to Ryax Heating

.

.

.

.

.

.

.

.

.

.

TWW Talent Shows
New Airs and Faces on Thursdays starting in January 1958, was a talent show, resident compere Wyn Calvin introducing acts never seen on tv and songs and tunes never before published. Wyn also devised the series, "we have auditioned hundreds of youngsters and we reckon that in every programme at least one good solid entertainer could, given the right opportunities, make it." Producer was Jeff Inman. Originally planned for a six week run, it continued into the spring. Acts featured included comedy duo Geoff Morris and Pearl Shaw (Feb 15th 1958), Bernard Glover on the Hammond organ (March 13th), and John Wade (April 17th 1958). A March 1958 show included guest Dick Francis, the singer

A later local talent spotting programme was called Now's Your Chance, hosted by TWW's Programme Manager Bryan Michie. Over 3,000 applications to audition were received, auditions commencing on Dec 4th 1958 in Swansea, then moving round Wales, then into the west country. Among those successful in getting a spot on the show were: Barbara Walter (singer at the Astor Club London), and Doug Evans (a singer from Swansea). TWW expressed themselves very pleased with audience ratings, "well worth the hard work which went into the auditioning." The big names certainly were attracted, as for the first programme on January 12th 1959, the Lord Mayor and Lady Mayoress of Bristol were in the audience at the Cardiff studios, as well as their Town Clerk. The talents on this show were Lee Fallon (a ballad singer from Weston Super Mare), The Crackpots (a comedy miming group from Bristol), The Hot Rods (from Swansea), and Betty Hendra (a soprano from Neath). The final programme went out on June 15th 1959. However, the following week, Encore showcased artists who had already made an appearance on the show. Then on August 8th 1959 Michie launched a new series Double Chance, offering previous entrants in Now's Your Chance, a second turn, as well as offering opportunities for new faces.
In autumn 1961 Bryan Michie was again advertising for local talent, the only stipulation was that you had to be aged between 14 and 30. Selected singers who passed auditions were invited to appear in guest spots on Here Today.
By summer 1962 the talent spotting series was called Looking for the Stars, Bryan Michie still conducting his eternal quest for talent. The 'expert' judges varied from week to week but among them were Norrie Paramor and Philip Phillips. By June that year it was being screened in the peak slot around 9.35-10.05pm on Saturday evenings.

Miss Holiday Belle was TWW's beauty talent contest. The 1958 final was shown on August 30th, with winners from the ten heats. One heat had been held in Penarth, which had been won by Miss Eira Roberts of Barry, Shirley Escott of Cardiff came second, and Olive Romano of Swansea was third.
Miss Teledu Cymru was the 1965 version of the bathing beauty competition, the finals held on Sat Aug 14th with Alan Taylor as compere. Judges were Bryan Michie, Anne Lloyd (from EW10) and Jack Howarth (from Corrie).

.

.

.

.

.

.

.

.

.

.


was a show compered by Michael Palin in his tv debut, that began on Dec 22nd 1965. He was the compere along with Wendy Varnals, she also contributed tongue in cheek comment upon the teenage scene. Otherwise, the show was a mix of fashion and music and records.
"We are abandoning the all pop show," announced Bryan Michie in a clear reference to the demise of Discs A Gogo, "to give a wider view of young people today." Scripts: Michael Wale and Joe Steeples.
The first guests on Dec 22nd were PJ Proby and Tom Jones. On Jan 12th 1966, guests were The Walker Brothers. Jan 26th 1966: The Fortunes and Tracy Rogers were guests. Little Stevie Wonder appeared on Feb 9th. An unlikely combination of The Animals as well as Arthur Mullard were on the Feb 18th programme. Feb 25th: George Fame and Lulu. Mar 4th: The Yardbirds. Mar 11th: Herman's Hermits. March 18th 1966: Freddie and the Dreamers, Diane Ferraz and Nicky Scott. Billie Davis took over from Wendy Varnals as commere. Mar 25th: Tom Jones, Valerie Masters. Apr 15th: Frankie and Johnny, The Excitements, The Vibrations: Tom Jones also was one of the judges in the pop personality contest which began on this date. The edition on May 13th 1966 included the Alan Price Set. May 20th the Alan Price Set, The Everly Brothers, Patti Labelle and the Belles, and Bluesology Inc. June 3rd: The Animals, Neil Christian. June 10th: The Troggs, Wayne Fontana, Spencer Davis. June 24th 1966: The Hollies. A new talent contest was launched on the July 1st 1966 show: Popportunity Now (!). 153 local acts entered, 26 were auditioned, the best 10 made this show- The Next of Kin, The In Set, Sect Maniacs, The Sensational Sultans, The Vagrants, The Mountain Men, Mike Starr and The Citizens, Pentworths People, and The Silverstone Set. Judges included Tom Jones and Spencer Davis. The winners were announced a fortnight later. The final programme was on July 22nd 1966, featuring Dave Dee Dozy Beaky Mich and Tich, as well as Georgie Fame.

TWW's next pop music show was
Herd At The Scene, first edition Friday September 16th 1966 at 6.30pm. Introduced by The Small Faces and the St Louis Union. 30 minutes of pop, the idea was that the groups themselves introduced the music thus saving on paying a DJ! Producer: Terry Delaney.
The second show screened the following month included Herman's Hermits, while the third, and probably final edition included The Spencer Davis Group and Pussyfoot.

.

.

.

.

.

.

.

.

.

.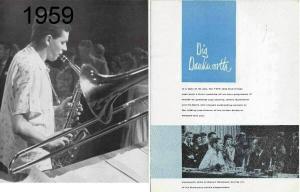 Jazz Club
began in June 1959. producer Michael Frostick claiming, "there will be no compromises- it will be a straight jazz series."
Four 45 minute Dig Dankworth were shown in the summer of 1959 to kick off the series. The first went out on June 9th from 10.45 to 11.30pm. TWW are said to have "paid their biggest fee to date" to secure Dankworth's signature. Such was the success of the programmes that Dankworth was re-engaged from the end of July for some more programmes. Bryan Michie announced "Dig Dankworth shows have been an outstanding success winning praise from jazz and non-jazz critics alike."
Jazz Club continued for 23 programmes, the last starring Chris Barber went out on November 17th 1959 and the producer was able to state, "we have kept our word. We have been true to the music and the thousands of viewer-jazz fans who have kept a weekly late night date at the club"

.

.

.

.
.
.
.
TWW Quizzes
One of TWW's most successful quizzes, which eventually received the accolade of networking, albeit when made by A-R, was
Abracadabra hosted by Roy Ward Dickson. It ran to several hundred shows (it was said that Roy's show on June 16th 1960 was his 200th TWW programme). Other quizzes he introduced were Pix and Think of a Number . In Abracadabra questions were asked having answers beginning with a letter of the alphabet, randomly selected. A correct response gave you that letter, the idea being to make a five letter word out of your winning letters. A reviewer of the 18 Aug 1960 show complained Dickson "insists on keeping up an intermittent badinage with his wife who is on hand to check the spellings." Sounds quite normal for these days! (See also Mr and Mrs)
Full House was another Roy Ward Dickson quiz, first shown on March 18th 1959. Engaged couples competed on the show, and before it even begun, over 700 applications to appear had been received. The last programme was three weeks earlier than planned, on June 29th 1959. The prizes were a room full of furniture, and if the winning couple won four weeks in a row, they'd end up with, as in the show's title, a "full house."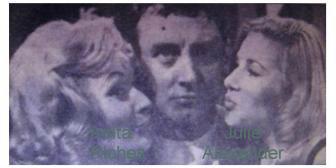 Vice Versa (1961) a comedy quiz series with Spike Milligan as questionmaster. Viewers attempted to win cash prizes of up to £50, but as you might expect the emphasis was on the unusual, "everything in the show is back to front or topsy turvy or plain zany," a spokesman stated. Assisting Spike was hostess 22 year old Julie Alexander, and Australian Anita Riches was the scorekeeper. They were aided and abetted by a musical act The Alberts, as well as Bob Todd
Answer Me This (TWW 1962) - A senior editon featured chairman Richard Murdoch, while a junior edition titled Live and Learn had host Geoffrey Stone. Producer: John Scriminger, assciate producer: Jonathan Stedall. 26 teams were selected from either side of the Bristol Channel, with top scoring teams meeting for a final. The prize was a donation to a local charity for the winning team, £100 for the winning seniors, £50 to the juniors. Programmes utilised TWW's OB unit, the first on May 28th 1962 from Taunton, next week from the Bath and West Show. Other venues included Weston-Super-Mare, Swansea, Carmarthen, Pontypool and Barnstaple. The final was recorded in Bristol on July 27th.
Try for Ten (1963) was another quiz devised by Roy Ward Dickson. The aim was to get a sequence of ten correct identifications of whether statements found on cards are true or false. The successful format was sold to some minor regions for their own (English) versions: including Anglia, Border and Grampian. David Hamilton hosted Anglia's version in 1967/8, which came from 26 different towns in the Anglia area.
A Welsh language version, Taro Deg (qv) was also made by TWW. Alan Taylor hosted TWW's English version in which the top prize was £500. One nice touch was that contestants were occasionally pictured in Television Weekly, these included a Mrs Vera Copley of Ely Cardiff on June 4th 1963, and Mrs A Evans of Glanamman on June 18th 1963.
.
.
.
.
.
.
.
TWW's local news magazine was
Here and There a traditional round up of local stories. One edition I would like to have watched was on December 10th 1959 as "Cardiff comedian" Stan Stennett and Harry Secombe came to talk about, quote, 'The Welsh Air Force', unquote, which was a project founded by Stan and since joined by no less than Stanley Baker. Guest on the January 7th 1960 edition was singer Shirley Sands, while on it was Jan 14th Don Rennie, who had his first TWW appearance in their very early days. Hereford born singer Diana Day was guest in the week commencing March 28th 1960.
Here Today was Here and There's long running successor. It started three days a week and included an inter schools quiz on Mondays, a nature corner on Wednesdays and dancing lessons on Fridays. From the start, host was celebrated pianist who became famous nationally on BBC's Face the Music, Joseph Cooper. Critic Alec McKinty found plenty to like in the 1960 programmes even though Cooper wasn't to his taste, "trouble is, he insists on hogging the conversation." He continued, "Cooper's long windedness typifies the programmes main failing. It lacks briskness, it ambles along." More pace was needed. He liked the pets section and "the Star Spot is a draw," though resident musicians the Dill Jones Trio were not his cup of tea.
Here is a contemporary account by AMcK of the hundredth programme in November 1960: "TWW had a birthday cake cooked, champagne laid on and a concerto written by composer Alun Hoddinott. It might have been a special occasion for the company, but for the viewer it was all rather DULL. Joseph Cooper, the compere, went round the small studio audience asking people what they thought of the previous 99 editions. Naturally they said they 'liked them very much,' statements which made Cooper glow. It wasn't exactly self praise, but it was so obvious that everyone would compliment the programme that it amounted to the same thing. And Cooper insisted on speaking to person after person... Brian Vesey Fitzgerald interviewed the owner of an 116 year old tortoise. Fitzgerald talked a lot, the owner little, and the tortoise not at all. The concerto was meant to be nonsense- and was. The cake took an interminable time to cut, a fact which could not have been appreciated by viewers, as they couldn't get a piece. It was a relief to see the end of the programme"
Guest singer on April 4th, 6th and 8th April 1960 was Tudor Evans. The resident accompanists were the Dave Lee Trio. On Wed Mar 27th 1963, guest was Don Rennie. On April 19th 1963 guest singer was Maud Damons. Cleo Laine was the singer on May 29th and May 31st 1963, Mel Gaynor on June 21st 1963, Eira Heath (end June 1963), Jim Dale (first week July 1963), Joy and Jennifer on July 31st and Aug 2nd 1963, Roberto Cardinale on Aug 21st 1963, Val Doonican Sept 20th 1963, Sheila Buxton Sept 23rd 1963, and Maureen Scott on Nov 22nd 1963. The singers' spot was on Mondays, Wednesday and Fridays, while Dave Lee also performed on Tuesdays and Thursdays.
On February 5th 1962 the programme started showing five times a week, but with its length reduced to 15 minutes, "I think most tv programmes are too long," suggested Bryan Michie. By 1965 Here Today was still hosted most days by Cooper. Guest on Easter Monday that year was Janie Marden, whilst Dilys Watling was the guest singer on April 22nd. After over 1,000 editions, the series finished on July 23rd 1965
.
.
.
.
.
.
.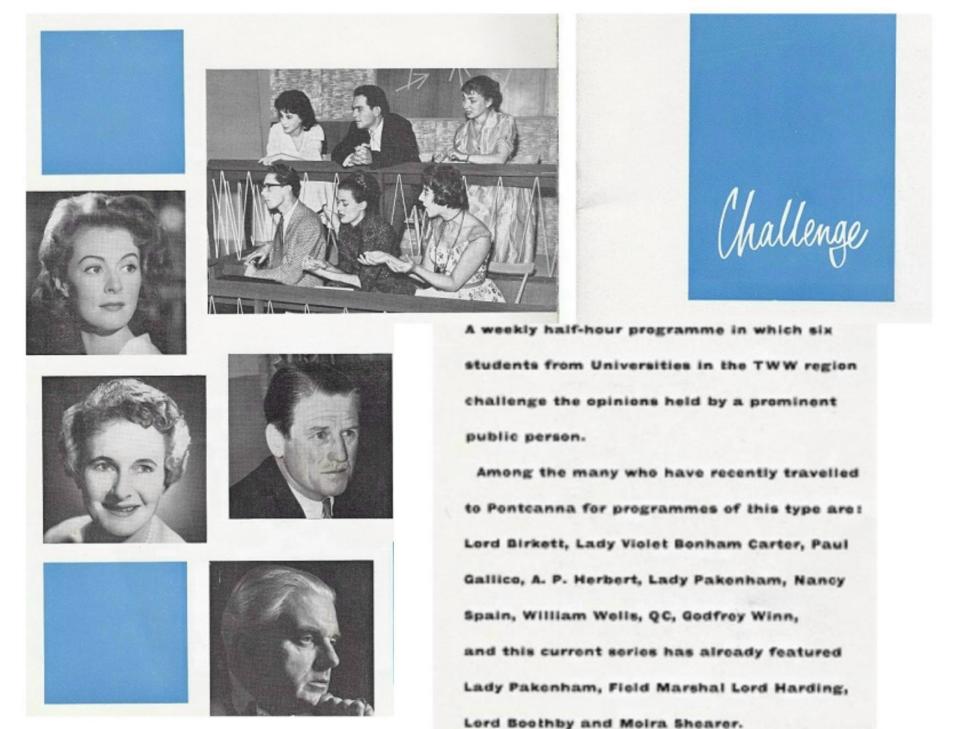 Challenge (from 1959)
described by TWW as their "most controversial programme," was a late night show that ran for 34 editions in its first series, many of the programmes chaired by Dennis Vance. Each week a well known personality was quizzed about his job or interest by a panel of six students from a local university. The format continued as the Welsh language programme Ar Brawf.
July 27th 1959 found Lord Harding answering questions from Cardiff University students on his views on nuclear disarmament. On August 24th the ubiquitous Lord Boothby was guest, while August 31st saw the appearance of Moira Shearer answering questions on The Cult of the Personality. On December 7th Alan Pryce-Jones was in the chair, with Daily Mirror columnist Mary Brown answering questions from students on Does Advice from Outsiders Really Help? The December 14th 1959 programme was hosted by Donald Houston with the subject Is Public Ownership Outdated, explored by Hon Patrick Maitland MP. On December 21st 1959, Father Joseph Christie SJ answered students' questions on Catholicism and Birth Control, it must have been lively for the priest's provocative programme produced a deluge of requests for a return visit. The Feb 1st 1960 discussion was Wales and the Next Ten Years with Lord Brecon. The final programme of the series (Feb 22nd 1960) had a reversal of roles as student Paul Wilkinson defended modern youth against an adult panel, Frank Cousins, Lord Harding, Moira Shearer, Lord Boothby, Lady Pakenham and Lord Brecon.
A second series began on October 3rd 1960, and it returned rather memorably with two programmes on the same evening. Interestingly this was accidental, as only one programme had been scheduled that evening, but someone muddled up the tapes, "a human error," explained a TWW spokesman. Thus the following programme, Sailor of Fortune, was postponed to enable the advertised discussion to be shown. The first programme actually screened was about chastity, hosted by regular contributor Lady Pakenham. Critic Alec McKinty described her as "firm but unexpansive," with the questions from the students lacking in "penetration... and sometimes clumsily worded." The advertised Challenge programme, which followed half an hour late, was chaired by another regular Frank Cousins. However it was all a bit of an embarrassment for TWW, since Frank and the students had been pictured on the front page of Television Weekly!
The programme continued during part of 1961 at 10.35pm on Mondays, the mediator being George Scott. A third series began on March 5th 1962 Lt General Sir Brian Horrocks was questioned on Where Does A General's Responsibility Lie? George Scott continued as the mediator. Producer was Anthony Hyland. Guests scheduled for this series included Lord Russell of Liverpool, Gerald Nabarro, and Vanessa Redgrave.
Others known to have been in the hot seat include Lord Hailsham, Father Joe Christie, and Moira Shearer.
A variation on the idea came in 1963 with Celtic Challenge, in which the usual group of students questioned a local personality on an item of topical interest. What was different however, was that it was a series made in conjunction with other lesser ITV regions. As well as TWW, WWN, Scottish, Grampian, Ulster, Border and Westward stations also contributed programmes. Telefis Eireann was also part of the project.
The aim was to make 16 half hour programmes featuring a prominent public personality with local associations. Four students (one Scots, one Irish, One Welsh, one English) challenge him.
TWW co-ordinated the programmes, travelling to each local station to work with staff.
Some of the programmes:
Sept 1963 Sir Leary Constantine, chairman George Scott
Sept 30th 1963 Gerald Nabarro on Morals in Public Life
Oct 1963 George Brown MP
Oct 21st 1963 Sir Hugh Foot on the role of white people in Africa
Oct 28th 1963 with Frank Cousins
Nov 4th 1963 Gwynfor Evans "Is Wales A Country or an Emotion?"
Nov 11th Brian Horrocks "What Freedom Means To Me"
Nov 18th 1963 Roy Thomson "Freedom of the Press" (no programme Nov 25th)
Dec 2nd 1963 Sean Lemass "Ireland In the Seventies"
Dec 16th 1963 Jo Grimond "Are the Liberals Necessary?"
Dec 23rd 1963 George Woodcock "Are Trade Unions Too Involved in Politics?"
.
.
.
.
.
.
.
The Bristol Old Vic

Early in their life, TWW formed an ambitious but doomed alliance with Bristol's Old Vic theatre. That this was not very fruitful, was due to TWW's inability to network any of the three plays that resulted from this collaboration.
First play shown on October 13th 1958 was Two By Two, a comedy directed by Stuart Latham. Cast included Jack Allan, Lally Bowers, Derek Godfrey, Valerie Gearon and Peggy Simpson. It was networked only to Granada.
The second on March 25th 1959 was The Taming of the Shrew starring Peter Wyngarde as Petruchio and Joan Heal as Katherine. Others in the 20 strong cast included Donald Pickering, Greville Hallam, David King, Valerie Gearon, Peter Jeffrey, Richard Davies, and John Woodvine. This was a 60 minute adaptation of the play performed by the Old Vic company, produced by Frank Dunlop, director John Wynn Jones..
Summer 1959 saw the taping in Cardiff of Rules of the Game with Stephen Murray as Leone, Adrienne Corri and Richard Gale. TV script by Robert Rietti. Produced by Douglas Seale, directed by John Wynn-Jones. Also in the cast were Rosalind Atkinson, Donald Pickering, Michael Danvers-Walker, John Barcroft, Peter Jeffrey, Gerald James and John Woodvine.
Originally the agreement had extended to six Old Vic plays, but I have found no evidence of any further productions. It's interesting to compare Southern Television's London Old Vic contract and note the similar networking problems encountered there.
One locally made play was a drama documentary on the life of local hero Isambard Brunel, which was taped during September 1959, written by Kem Bennett and directed by John Wynn-Jones. Not surprisingly Peter Wyngarde was given the lead. It was networked on November 18th that year. It wasn't until November 1961 that TWW contributed any drama to the network, in the Thirty Minute Theatre series, The Organ Blower. Then in the same slot in October 1963 came The Bearer of Bad News starring Kenneth Griffith, and The Dice with Harry Fowler

.

.

.

.

.

.

.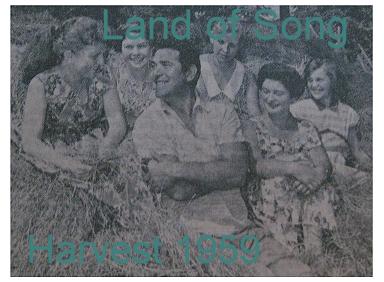 Land of Song (Gwlad y Gān)
This monthly programme filled the God Slot, normally from 6.15 to 7pm, and made a star of baritone Ivor Emmanuel. Each programme also featured the TWW Children's Choir, soon renamed the Pontcanna Choir. The Director was Christopher Mercer. From April 1959, the settings were in the mythical village of Llantelly(!).
Details of some programmes:
1 March 9th 1958- the first ever show with Ivor Emmanuel, Mary Thomas and Granville Jones (violin). The show included Some Enchanted Evening, sung in Welsh of course.
3 May 4th 1958: with Ivor Emmanuel, Mary Thomas, Pontcanna Children's Choir, Manselton and District Male Choir conductor Emrys Jones
5 June 29th 1958- with Ivor Emmanuel, Mary Thomas, Pontcanna Children's Choir, Norman Whitehead Singers. Bi-lingual announcements by Shan Phillips (sic)
8 September 21st 1958- with Ivor Emmanuel, Lucille Graham and Margaret Humphreys (harp). Tano Ferendinos sang from Act 3 of La Traviata, probably not in Welsh.
9 October 19th 1958- with Ivor Emmanuel, Louise Clarke, Anne Edwards and Edgar Evans. Compere Huw Thomas. The operatic scene was the trio from the final act of Gounod's Faust.
10 November 16th 1958- with Ivor Emmanuel, Lucille Graham who sang They Call Me Mimi, dancers: Louise Clarke and Philip Casson. Commere Sian Phillips. Ivor dressed as a schoolmaster to conduct the Pontcanna Choir, as well as singing with an adult choir in a farmyard, and taking a Rocket To The Moon.
11 December 14th 1958- with Ivor Emmanuel, Lucille Graham, Robert Thomas, Sian Phillips, dancers Louise Clarke and Peter Casson, Also, the Norman Whitehead Singers and Pontcanna Children's Choir. The opening sequence had Ivor Emmanuel as a psotmaster watching a pile of parcels tumbling down a chute. (Boy Scouts had packed these parcels at a bob a time, the money raised to send one scout to a jamboree in the Phillipines)
Happy Christmas - with Ivor Emmanuel. A special programme of seasonal music and song (30 minutes). Although not titled Land of Song, this was a sort of special edition on Christmas Day (Thursday) 1958, 5.30pm
12 January 11th 1959- songs from Ivor Novello's most popular shows (coincidentally TWW had just paid for a plaque on the Cardiff house where Novello had been born). With Ivor Emmanuel and Lucille Graham. Also, the Norman Whitehead Singers (Norman was the show's musical director). Compere Sian Phillips
13 Feb 8th 1959- With Ivor Emmanuel and Lucille Graham. Also, Louise Clark Compere Sian Phillips, who then left the series
14 March 8th 1959- With Ivor Emmanuel and Lucille Graham. Also, the Norman Whitehead Singers. Designed by John Hickson, who was praised by one reviewer for "one of the loveliest sets I have seen for a long time"- a waterful and swings.
16 May 3rd 1959- with Ivor Emmanuel, Lucille Graham, dancers included Gilbert Vernon and Pat Cassie. Also, the Norman Whitehead Singers. Compere Janet Evans, a last minute replacement for the advertised Sian Phillips.
18 June 28th 1959- with Ivor Emmanuel, Lucille Graham, The Norman Whitehead Singers, Pontcanna Children's Choir
20 August 23rd 1959- with Ivor Emmanuel, Lucille Graham, The Norman Whitehead Singers, Jackie Guise, and Richard Garner. Filming was done at Castell Coch near Cardiff
21 September 20th 1959, a show with a harvest setting- same cast as for Aug 23rd.
22 October 18th 1959- same cast.
23 November 15th 1959- same cast.
24 December 13th 1959- with Ivor Emmanuel, Eileen Price, Sian Hopkins, The Norman Whitehead Singers, Jackie Guise, and Richard Garner.
Happy Christmas was once again shown on Christmas Day 1959 from 5.30 to 6pm on TWW and Granada, while A-R in London screened the programme earlier at 4.15pm. It starred Ivor Emmanuel.
25 January 10th 1960 - with Ivor Emmanuel, Lucille Graham, Marion Davies, Sian Hopkins, The Norman Whitehead Singers, Jackie Guise, and Richard Garner.
26 February 7th 1960 - same cast as for Jan 10th. Chris Mercer filmed sequences at the Talyllyn Railway. Ivor Emmanuel played an engine driver at the mythical Llantelly station.
27 March 6th 1960 - with Ivor Emmanuel, Patricia Bredin (whom Ivor was later to marry), Marion Davies, Sian Hopkins, The Norman Whitehead Singers, Jackie Guise, and Richard Garner.
28 April 3rd 1960 - same cast as for Mar 6th.
29 May 1st 1960 - same cast as for Mar 6th.
30 May 29th 1960 - with Ivor Emmanuel, Patricia Bredin, Marion Davies, Sian Hopkins, The Norman Whitehead Singers, Monica Leigh, and Richard Garner. This edition included a 1,500 gallon 'lake' 30 ft by 12 ft, built in the studio by designer Alan Pleass. Ivor Emmanuel and Patricia Bredin glided across it in a punt. However it is said that stagehands and firemen from Cardiff City Fire Service stood close by with sandbags and sawdust, just in case there were any leaks.
31 June 26th 1960 - with Ivor Emmanuel, Patricia Bredin, Marion Davies, Sian Hopkins, The Norman Whitehead Singers, Doreen Cran, and Richard Garner.
32 July 24th 1960 - with Ivor Emmanuel, Patricia Bredin, Marian Davies, Sian Hopkins, The Norman Whitehead Singers, Johnny Greenland (the choreographer on the shows), Doreen Cran, and Richard Garner.
33 August 21st 1960 with Ivor Emmanuel, Patricia Bredin, Marion Davies, Sian Hopkins, Norman Whitehead Singers, Pontcanna Children's Choir, Johnny Greenland, Jackie Guise and Richard Garner
34 September 18th 1960 with Ivor Emmanuel, Patricia Bredin, Marion Davies, Sian Hopkins, Norman Whitehead Singers, Pontcanna Children's Choir, Johnny Greenland, Jackie Guise and Richard Garner
36 November 13th 1960 with Ivor Emmanuel, Lucille Graham, Marion Davies, Sian Hopkins, Norman Whitehead Singers, Pontcanna Children's Choir, Johnny Greenland, Mavis Ascott and Pat Cassy
37 December 11th 1960 with Ivor Emmanuel, Lucille Graham, Helen Watts, Sian Hopkins, Norman Whitehead Singers, Pontcanna Children's Choir, Johnny Greenland, and Doreen Cran
38 January 8th 1961 - with Ivor Emmanuel, Lucille Graham, Marion Davies, Sian Hopkins, Norman Whitehead Singers, Pontcanna Children's Choir, Johnny Greenland, Mavis Acott and Pat Cassie
39 February 5th 1961 - with Ivor Emmanuel, Patricia Bredin, Marion Davies, Sian Hopkins, Norman Whitehead Singers, Pontcanna Children's Choir, Johnny Greenland, Mavis Acott and Pat Cassie
43 May 28th 1961 - with Johnny Stewart, Tudor Evans, Sian Hopkins, Eileen Price, David Palmer, The Norman Whitehead Singers, Barbara Evans, and David Spurling.
44 June 25th 1961 - with Lucille Graham, Johnny Stewart, Tudor Evans, Sian Hopkins, Eileen Price, David Palmer, The Norman Whitehead Singers, Barbara Evans, and Ronnie Tye.
45 July 23rd 1961 - with Mary Thomas, Johnny Stewart, Tudor Evans, Sian Hopkins, David Palmer, lemmy Mabaso, The Norman Whitehead Singers, Barbara Evans, and David Spurling.
47 September 17th 1961 - with Johnny Stewart, Eileen Price, Sian Hopkins, Philip Potter, Meredydd Evans, The Norman Whitehead Singers.
48 October 15th 1961: with Johnny Stewart, Eileen Price, Sian Hopkins, Philip Potter and Meredydd Evans
49 November 12th 1961
50 December 10th 1961 This programme was titled Christmas Songs. With Pontypridd Boys' School Military Band
The January 7th / February 4th / March 4th 1962 / April 1st programmes (6.30-7pm) were titled simply Songs from Wales. Like #50, the retitling was due to the ITV Equity Dispute. A complaint was made by the Glamorgan Director of Education that it was "scandalous" to use children in a replacement programme, directly involving them in a dispute with ITV. No cast details for these shows were given in TV Times.
Songs from Wales was still the title for
55 April 29th 1962 with Johnny Stewart, Eileen Price, Delme Bryn Jones, Sian Hopkins, and Vivienne Lowbury, Pontypridd Madrigal Group..
56 May 27th 1962 (6.30pm) the cast was Johnny Stewart, Eileen Price, Delme Bryn Jones, Judith and Peter Thomas, and Doreen Cran.
As programmes 50-56 were essentially Land of Song, I am including these programmes as part of the series.
The 45 minute slot was revived after the ITV dispute was settled, as was the title Land of Song, for
57 June 24th 1962 with Johnny Stewart, Eileen Price, Delme Bryn Jones, Sian Hopkins, Philip Potter, Janice Thomas, and Doreen Cran. The TWW Singers were now featured alongside the children's choir.
58 July 22nd 1962: with Johnny Stewart, Delme Bryn Jones, Janice Thomas, John Williams and Patricia Routledge. Dancers: Patricia Cassie, Victor Duray and Patricia Spencer
59 August 19th 1962 with Johnny Stewart, Delme Bryn Jones, Sian Hopkins, Marian Davies, Janice Thomas, Doreen Cran and the Pontypridd Madrigal Group who also became regulars in the series.
60 September 16th 1962 with Johnny Stewart, Delme Bryn Jones, Kenneth Bowen, Sian Hopkins, Marian Davies, Janice Thomas, Jackie Guise, Doreen Cran and William Martin.
Ivor Emmanuel reurned to the series for the next edition:
61 October 14th 1962 also with Delme Bryn Jones, Sian Hopkins, Marian Davies, Janice Thomas, and Doreen Cran.
62 November 11th 1962 with Ivor Emmanuel, Marian Davies, Sian Hopkins, Janice Thomas.
63 December 16th 1962: Special Christmas edition with Ivor Emmanuel, Marian Davies, Janice Thomas, Sian Hopkins.
64 January 6th 1963 with Ivor Emmanuel, Marian Davies, Janice Thomas, Sian Hopkins.
65 February 3rd 1963 with Ivor Emmanuel, Marian Davies, Janice Thomas, Sian Hopkins.
68 April 28th 1963: Marian Davies, Sian Hopkins, Janice Thomas and Philip Potter.
69 May 26th 1963 with Marian Davies, Sian Hopkins, Janice Thomas, Philip Potter and Douglas Squires.
70 June 23rd 1963 with Ivor Emmanuel, Marian Davies, Janice Thomas, Philip Potter.
71 July 21st 1963 as for June 23rd 1963
72 August 18th 1963 as for June 23rd
73 September 15th 1963 as for June 23rd
74 October 13th 1963: as for June 23rd 1963
75 November 10th 1963 as for June 23rd
79 1st March 1964: Ivor Emmanuel, Marian Davies, Marian Evans, Philip Potter, Harry Price, plus Richard Burton reading The Death of St David (this was a repeat of his contribution to This World in Wales, first shown on St David's Day 1963).
80 April 5th 1964 with Ivor Emmanuel, Marian Davies, Sian Hopkins, Philip Potter and Harry Price.
81 April 26th 1964 with Ivor Emmanuel, Marian Davies, Janice Thomas, Philip Potter and Harry Price.
82 May 24th 1964 as for April 26th 1964
83 June 21st 1964 with Maureen Evans, Sian Hopkins, Philip Potter and Harry Price. A seaside edition with recordings made at Penarth, and film of the cast travelling there on a 30 year old open top bus
84 July 19th 1964 'Farewell Edition' - Bryan Michie explained, "we are sorry to lose Land of Song, but it is generally agreed that a new look is wanted for programmes between 6 and 7.25 on Sundays." Or perhaps the departure of Ivor had more to do with it. This programme had Ivor Emmanuel, Maureen Evans, Sian Hopkins, Philip Potter, Harry Price, Pontcanna Children's Choir, and the TWW Singers. Choreography: Denys Palmer. Music compiled and conducted by Leonard Morris

The autumn saw the programme reduced to a slot from 7.05 to 7.25pm and titled Voice of Melody. The programme was again monthly, other programmes in this weekly slot were made by ATV. Christopher Mercer again produced the programmes. Familiar faces in the first show on
October 25th 1964 were Lucille Graham, Marian Davies, Harry Price with Edward Evanko. The TWW Singers and Pontcanna Children's Choir completed the familiar line up.
November 21st 1964 with Mary Thomas (who had appeared in the first ever Land of Song), Marian Davies, Harry Price, Edward Evanko. However the series ended that year, never to return.
Altogether, Land of Song and its sister programmes had clocked up about 90 programmes.

So successful was Ivor Emmanuel (1927-2007), that he was given his own local series
Ivor Comes to Town. Making use of TWW's new £100,000 Outside Broadcast Unit , this 30 minute show featured Ivor talking to locals, but with a "strong musical flavour." "The series has been a qualified success," wrote critic Alec McKinty, "though it still appears to me that Emmanuel is getting himself too clearly identified with just one vehicle of entertainment, TWW."
Time Out for Songs in 1958 featured the ubiquitous Ivor Emmanuel. Chief guest on the Dec 16th 1958 programme was Rosalina Neri.
TWW start

.

.

.

.

TWW in Welsh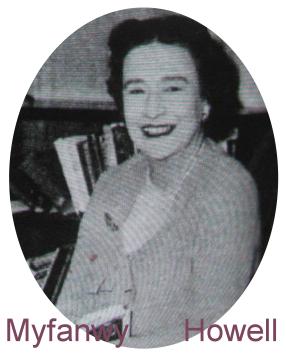 The enterprising TWW board even offered their own employees the opportunity to learn Welsh, a prize being offered to the person who made most progress in a year. In 1960, so great was the response, the prize had to be shared amongst four workers, announcer Christine Godwin, sound technician Garth Price, from the mailing department Tony Jones and maintenance engineer Mike Powell.
The first advertisement in Welsh by a Welsh firm was transmitted by TWW in October 1959- it was a 15 second ad for an ironmongers and furnishers in Barry.
One novel programme was screened on Monday May 18th 1964, an episode of the series Pony Express starring Grant Sullivan. The novelty was that TWW dubbed it into Welsh. It proved to be a one off experiment

Some TWW Welsh Language Programmes


For Land of Song, see main TWW programmes section

ENTERTAINMENT
DRAMA
MAGAZINES
SERIOUS
QUIZZES in WELSH

Picture- Myfanwy Howell, best known for presenting Amser Te

This listing covers as many TWW programmes in Welsh as I can find out about, if you can add, do email me!

.

.

.

.

.

.

.

.

.

.

.

DRAMA

TWW realised their early ambition to stage some local repertory companies performing plays in Welsh with a Festival of Welsh Drama.
Monday February 10th 1958 4.20-5pm:
Fy Mryniau Fy Nghartref (My Hills My Home) by Falmouth Road Drama Company London, directed by Meurig Jones.

Monday March 17th 1958:
Birds of a Feather by Llanilar Drama Company (ED Jones as Tom Tincer, Ithel Jones as Dici Bach Dwl, Alwyn Jones as Esgob Canolbarth Cymru, and Mostyn Dummer as Jenkins y Cipar). Produced by Alwyn Jones.

Sadly, it was a regular criticism of TWW that they produced little in the way of any Welsh drama.
The Bear (Dec 18th 1965), a translation into Welsh of the Chekhov story
Sinderela (Christmas 1965), a pantomime in Welsh

.

.

.

.

.

.

.

.

.

.

.


Amser Te (Tea Time)
This was the longest running of TWW's Welsh programmes, a tea time show "with something for everyone." Items included local talent, cookery, gardening, literary competitions.
First hosts in January 1958 were Myfanwy Howell and Osian Ellis. The programme was screened each Wednesday 4.20pm to 5pm and produced by Wyn Roberts, directed by Christopher Mercer.
Some individual programme details:
Feb 12th 1958: with Al Roberts (conjuror), Jean C Jones (soprano) and the Resolven Choir.
Oct 15th 1958: with the Duffryn Choir
May 27th 1959: June Smith and Cantorian Shelley, Pontypridd. Now directed by Hugh Munro.
Aug 19th 1959: Patricia Kern and JE Jones.
Aug 26th 1959: Kenneth Bowen and Triawd Arfon.
Sept 2nd 1959: Myfanwy had a fortnight's holiday. Arwyn Jones was host.
Sept 9th 1959: Joan Cohen was host.
Sept 16th 1959: Myfanwy Howell now back, talking to people by the seaside in Newquay.
For some programmes Myfanwy was assisted by Maria Eitler.
Oct 14th 1959: Euros Jones, Olga Hegedus
Oct 21st 1959: Myfanwy Howell with Elizabeth Vaughan, JE Jones, Triawd Arfon.
Nov 4th 1959: Myfanwy Howell with Jean Thomas.
Nov 11th 1959: Myfanwy Howell with Rachel Hywel Thomas, David Beddoe.
Nov 25th 1959: Myfanwy Howell with Cantorian Tafwys, Eirian Davies.
Dec 2nd 1959: Dorothy Adams with DJ Griffiths, Llew Phillips.
Dec 9th 1959: Yr Athro Idris Foster.
Dec 16th 1959: Iona Jones, Alan Rowlands.
Dec 23rd 1959: Special Christmas edition with Myfanwy Howell, Cor Plant Owmdwr, Garry Nicholas, Douglas Williams.
Dec 30th 1959: Guests: David Beddoe, Granville Morris.
Thurs Jan 7th 1960: Myfanwy Howell with JE Jones.
The programme continued each week, one slight change being that it moved to Tuesdays on and from March 29th 1960. One special show was on Tuesday May 30th 1961 when Myfanwy visted Oxford (this was repeated on Sept 28th 1961). Another venue was Brittany. The programme had a break from June 1961 returning on Thursday September 14th 1961.
Amser Te continued throughout the life of TWW.

Trysor O Gan (Treasury of Song)
began on Tuesday September 15th 1959 (4.25-5pm) all programmes introduced by Janet Davies. A musical programme of "gems from Wales' treasury of song."
Sept 15th 1959: with Trevor Anthony, Marion Davies, Gerald Davies, Mary Thomas.
Sept 22nd 1959: Mary Thomas, Brychan Powell, Marion Davies, Evan Thomas.
Oct 13th 1959: Sylvia Rowlands, Lorna Ellas, Ronald Lewis, Edgar Evans.
Oct 20th 1959: Ann Edwards, Diana Rees, Llewelyn John, Gerwyn Morgan.
Oct 27th 1959: Lucille Graham, Paul Manning, Gerwyn Morgan.
Nov 3rd 1959: Lorna Elias, Dilys Davies, Rowland Jones.
Nov 10th 1959: Glenys Dowdle, Pauline Faull, John Stoddart, Howell Glynne.
Nov 24th 1959: Eileen Price, Joan Davies, Phillip Talfryn, Ivor Jones.
Dec 1st 1959: Iona Jones, Sandra Jones, Brychan Powell, Trevor Anthony.
Dec 8th 1959: Lorna Elias, Pauline Paull, Phillip Talfryn, Howell Glynne.
Dec 15th 1959: Patricia Kern, Marion Lowe, David Parker, Harry Price, Anthony Pandall.
Dec 22nd 1959: Christmas edition with Lucille Graham, Eileen Price, Margaret Humphreys, Bryn Williams, Clifford Bunford, Pontcanna Children's Choir.
Dec 29th 1959: a "final bumper edition" with Helen Watts, Jennifer Wyvyan, William McAlpine, Trevor Anthony.

Special:

Hoff Alawon (Favourite Melodies)
Huw T Edwards talked to guests about their favourite melodies which were then played or sung. Director: Hugh Munro.
Gwyndaf Evans - Tuesday January 5th 1960 (4.25-5pm)
David Lloyd - January 12th 1960
Dora Herbert Jones - January 19th 1960
Gerallt Evans - January 26th 1960
Haydn Morris - February 2nd 1960
John Hughes - February 9th 1960
Janet Davies - February 16th 1960. Host David Lloyd
Gwynn Jones - February 23rd 1960. Host from now on: OT Williams
Emma Lewis - March 1st 1960. Special St David's Day edition
John Stoddart - March 8th 1960
Shan Emlyn - March 15th 1960
Rene Ellis - March 22nd 1960

Colegau Cerdd
Welsh Students at various colleges show their talents. Raymond Edwards was the host.
The series began on Thursday June 30th 1960 (4.25-5pm) with a programme from Cardiff College of Music and Drama. Future programmes came from such places as The Royal College of Music in London (July 7th 1960). In the July 28th 1960 programme were Lorna Elias and Marion Davies

Pnawn Da Blant (Hello Children)
Children's entertainment with Harriet Lewis and Shan Emlyn singing children's songs. 1958 Host Hywel D Roberts, then in 1959 Amy Parry-Williams introduced the programme.

Another Welsh programme on Thursday afternoons in early 1959 was Accent on Youth led by actress Joy Owen. AW McKinty described it thus: "a sort of magazine dealing with a wide range of interesting topics." Mark Lawton, Head of Production was considering an interesting idea: a translation of the programme for English viewers in an evening slot. I wonder if this ever came about?

Orig Yr Ifanc
A 1959 teenage show, everything from "poetry to rock n roll."
May 28th 1959: Host: Raymond Edwards. With Don and Glenys Walters, Graham Williams, Cliff Jones.
Aug 20th 1959: Host: Rhiannon Lloyd Williams. With Jane Bowen, Anita Williams, Georgina Jones.
Aug 27th 1959: Hosts: Rhiannon Lloyd Williams and Frank Price Jones. With Helena Davies, Gareth Davies and Gerwyn Morgan.
Sept 3rd 1959: Hosts: Rhiannon Lloyd Williams and Frank Price Jones. With Ceri Francis and Rhys Gwyn.
Sept 10th 1959: Host: Raymond Edwards. With Pamela Davies, Robin North.

Her Yr Ifanc
was another teenage programme in the autumn of 1960. Young people challenged Welsh institutions. Thus on November 30th 1960, AOH Jarman defended The University of Wales. The following week Rev T Ellis Jones defended The Evangelical Churches.

Llais y Llenor (Autumn 1960/Spring 1961)
Eminent guests introduced this light hearted discussion on literary quotations.

Ambell I Gan (Choice Music, Spring/Summer 1961)
A musical programme introduced by Meredydd Evans.
Ambell i gan a geidw fy mron,
Rhag suddo i lawr dan amal i don,
Mae'r awen mor siriol, mor heini, a glan,
Dioichaf a galon am gambell a gan.
One special programme in this series (Aug 17th 1961) was a children's edition.
The series ended with the programme on September 7th 1961.

Pwt O'r Papur (Newspaper Notes, or Titbits from the Papers, Spring/Summer 1961)
Rev Jacob Davies introduced this light hearted discussion about items in the papers. A panel dissected curiosities from the news. Despite the host, apparently "politics, religion and all contentious issues are taboo." In fact "seriousness is out." Among topics covered were such things as a campaign for a Welsh kilt, and an advertisement offering a £2 reward for a mssing cat.

Gair O Gyngor (A Word of Advice, started June 1961)
Auriol Watkins chaired a panel discussing queries from viewers who were invited to send their questions to TWW's Pontacanna Studio. Enid Watkin-Jones took over the role from the end of June. The series ran until mid September 1961.
Director: Owen Griffiths. Producer: Dorothy Williams.

Twmpath Dawns (Folk Dancing)
Band y Medelwyr Thursday June 28th 1962. Also on in 1963.

Ffein A Difyr (1963)
Light music and entertainment.
Sept 23rd 1963: with Marian Evans, also Reg Edwards, Triawd Aber, Steve Stevens, Pupi a Pupi, Pumawd Pontcanna
TWW Welsh programmes

.

.

.

.

.

.

.

.

.

.

.


MAGAZINE PROGRAMMES

Dewch I Mewn
A topical magazine "for Wales with news views and music." One viewer wrote to TV Times claiming it was the best Welsh language programme, "it has Welsh people, local news, Welsh ballads, harp, fashions and famous personalities in Wales... Producer Warren Jenkins is to be congratulated on his choice and selection of songs... only one word for Dewch I Mewn- ideal."
Hosts: Meredith Edwards and Janet Evans. Initially in 1958 it was shown each Tuesday, Thursday and Friday. Rhydwen Williams was a host of this now weekly show later that year, with Mona Griffiths while in 1959 Rhydwen was joined by Mair Williams. Two regular contributors at this period included Rhiannon Davies and Bobby Roberts. Monday editions were produced by Granada, the rest by TWW.
The programme returned in September 1959 with on Sept 14th Mair Williams, Rhiannon Davies, Hogiau'r Rhos, Rhona Thomas, Actorion Sir Fon, Huw T Edwards. On Sept 21st those taking part were Owen Edwards, Mair Williams, Tommy Eyton Jones, Hogiau Clwyd, Rhiannon Davies, Kate Roberts, Herbert Davis. This programme included a look at the ghost village of Trawsfynydd.
Oct 19th 1959: An unusual trip to Rome, meet "one of Wales' rarest characters" plus the usual mix of songs. With Owen Edwards, Mair Williams, Rhiannon Davies, Shan Emlyn, Eirwyn Ponsian, Huw Pritchard.
A special programme in this slot was titled Gwlad Beirdd a Chantorion transmitted on Monday October 26th 1959. "Meet a famous poet and his family, hear their views on drama and art, and listen to their homespun entertainment."With Owen Edwards, Mair Williams, Rhiannon Davies and JM Edwards and his family.
Nov 2nd 1959: Owen Edwards with Mair Williams, Rhiannon Davies, David Welch, Emyr Edwards, Chwaryddion Morfa Newfyn.
Nov 9th 1959: Owen Edwards with Mair Williams, Rhiannon Davies, and Colin Jones.
The programme continued weekly with the first two presenters until
Dec 21st 1959: A programme of songs and poetry about Christmas. Owen Edwards, Mair Williams with Lucille Graham, David Welsh, Rhiannon Davies, and organist Colin Jones.
The programme on January 25th 1960 again hosted by Owen Edwards and Mair Williams, came from the University College of Wales, Bangor, with Dr Charles Evans, Alun Llewelyn Williams and CR Williams.
From February 1960 Granada TV produced this programme. Perhaps it says it all that the final two programmes of this series in June 1960 were the culmination to find Miss Dewch I Mewn! Five finalists must have "beauty, intelligence and charm."
The series continued after a summer break in the autumn of that year, One new feature was a celebration of an event or personality with an anniversary on the date of the show. This was researched by Cyril Williams, lecturer in the University College of North Wales.
Once again the series rested during the summer of 1961. The programme finally finished in June 1962. Granada ceased production of Welsh programmes once WWN was on air.

.

.

.

.

.

.

.

.

.

.

.


DOCUMENTARY and SERIOUS PROGRAMMES


1959 Films showing aspects of industry, history and culture: Cipdrem Ar Fywyd
The Costa Brava (Aug 21st 1959) with Bob Danvers-Walker and Tony Impey. Introduced by Eirian Davies.

A special programme called Hynt A Helynt 1959 was transmitted on Thursday December 24th 1959. Introduced by Hywel D Roberts, this was a film review of the year.
Another special was on Good Friday 1960 (4.35-5pm). Y Groglith (The Crucifixion)- artists and craftsmen show portrayals of the Crucifixion in Wales and abroad. Introduced by Hywel D Roberts.
On Thursday December 21st 1961 (4.15pm) there was a special Nadolig I'w Gofio, a programme of Christmas songs and readings with Eirwen Davies.

O Fon Fynwy (Welsh Counties)
Made by the TWW Film Unit, this programme toured the Welsh counties with Emyr Edwards presenting the films, which included
Sir Aberteifi (Cardiganshire) Tues June 13th 1961,
Sir Feirionnydd (Merioneth) June 20th 1961,
Sir Faesyfed (Radnorshire) June 27th 1961,
Sir Forgannwg (Glamorgan) July 4th 1961,
Sir Fflint (Flintshire) July 11th 1961,
Sir Ddinbych (Denbighshire) August 1st 1961,
Sir Frycheiniog (Breconshire) August 15th 1961,
Sir Caernarfon (Carnarvonshire) August 29th 1961,
Sir Fynwy (Monmouthshire) September 5th 1961,
Sir Feirionnydd (Merioneth) Monday September 11th 1961 (repeat?).

Crwydro Iwerddon (A Journey in Ireland)
This series saw Emyr Edwards on a journey through the Celtic Countries starting on April 27th 1962 with Ireland. On May 25th 1962 it was Cornwall in Crwydro Cernyw. Another programme was shown on Sept 14th 1962 it was Scotland in Crwydro'r Alban.

Eisteddfod yr Urdd
Friday June 10th 1960 (4.25pm). Highlights from Dolgelly on film presented by Hywel D Roberts. Directed by Hugh Munro.
Friday May 26th 1961. Highlights from Aberdare presented by Hywel D Roberts. Directed by Owen Griffiths.
Tua'r Wyl
Friday June 17th/ 24th/ July 1st 1960 (4.25pm). The journeys of some to the National Eisteddfod in Cardiff, with Emyr Edwards. Film editor Dave Powell.
O Eisteddfod Genedlaethol Frenhinol Cymru
Four days of special outside broadcast programmes started On Tuesday August 8th 1961. From The Royal National Eisteddfod of Wales, Hywel D Roberts introduced a report on the day's events including the Crowning Ceremony, plus the chief competition winners.
On Wednesday August 9th 1961, Frank Price Jones presented the report which included the Prose Medal ceremony.
On Thursday August 10th 1961, Myfanwy Howell presented the report, and the main event Chairing of the Bard.
On Friday August 11th 1961, Meredydd Evans presented the report which included the official welcome to Welsh people from overseas.
All these four programmes were directed by Owen Griffiths.
The format was redone for the 1962 Eisteddfod:
On Tuesday August 7th 1962 at Llanelli, Hywel D Roberts introduced a report on the day's events including the Crowning Ceremony.
On Wednesday August 8th 1962, Frank Price Jones presented the report which included the Gold Medal ceremony.
On Thursday August 9th 1962, Myfanwy Howell presented the main event Chairing of the Bard.
On Friday August 10th 1962, Meredydd Evans presented the Welcoming of the Exiles.

Bro'r Eisteddfod
Emyr Edwards introduced a short film setting the scene in Ruithin on the eve of Urdd Eisteddfod. June 6th 1962.

Troeon Gyrfa
introduced by Raymond Edwards. A distinguised Welshman meets children from his old school.
Thursday Sept 17th 1959: Alderman Gwynfor Evans at Barry Grammar School.
Sept 24th 1959: Dr Emyr Wyn Jones at Caernarvon Grammar School.
Oct 8th 1959: Very Rev John Richards, Bishop of St David's, at Ardwyn School Aberystwyth.
Oct 15th 1959: Rev Prof Bleddyn J Roberts at Ruabon Grammar School.
Oct 22nd 1959: Ceris Jones at Bangor School for Girls.
Oct 29th 1959: Roderic Bowen QC MP at Cardigan Grammar School.
Nov 5th 1959: Sir Ben Bowen Thomas at Porth Grammar School for Boys
Nov 12th 1959: WS Gwynn Williams at Llangollen Grammar School.
Nov 26th 1959: Brynmor Jones at Ruabon Grammar School.
Dec 3rd 1959: D Myrddin Lloyd at Dynevor Boys' School and Glanmor Girls' School Swansea.
Dec 10th 1959: John Gwilym Jones at Nantile Valley Grammar School.
Dec 17th 1959: Goronwy Roberts MP at Bethesda Grammar School.
Dec 31st 1959: Dr T Ifor Rees at Ardwyn Grammar School, Aberystwyth.

Camau Cyntaf (Learning Welsh)
Lessons in Welsh with teacher Miss Cassie Davies. Directed by Hugh Munro/ Owen Griffiths. Producer: Wyn Roberts.
Apparently these programmes had short "atmosphere" breaks (presumably to allow the exhausted learner to recover) during which Welsh music was broadcast or an "appropriate" short film. Twelve programmes were announced, but eventually the fifteen listed below were screened.
Programme 1 Place Names (Sept 18th 1959 4.25-5pm)
2 Simple Phrases (Sept 25th 1959)
3 (Oct 2nd 1959)
4 In the Shop (Oct 9th 1959)
5 Songs (Oct 16th 1959)
6 In the City (Oct 23rd 1959)
7 Village Life (Oct 30th 1959)
8 Industry (Nov 6th 1959)
9 The Farm (Nov 13th 1959)
10 (Nov 20th 1959)
11 Crafts (Nov 27th 1959)
12 Travelling (Dec 4th 1959)
13 Revision (Dec 11th 1959)
14 Christmas (Dec 18th 1959)
15 The Seasons (Jan 1st 1960) - last lesson
Croseo Christine was a later series designed to teach Welsh. Wyn Roberts was again the producer. It was introduced by Christine Godwin, one of the winners of TWW employees competition to learn Welsh back in 1960. The first edition was on January 27th 1966

Pawb A'I Farn
Discussion on aspects of Welsh life with chairman John Eilian, editor of the Caernarvon Herald. Director was Owen Griffiths, one of his first assignments.
The Nation - Fri Jan 8th 1960 with Meic Parry, Kate Jones-Roberts, Gwilym O Roberts.
Religion - Jan 15th 1960 with Catrin Daniel, Y Prifathro Pennar Davies, L Deon Islwyn Davies.
Politics - Jan 22nd 1960 with Gwynfor Evans, Roderick Bowen AS, Goronwy Roberts AS.
The Press - Jan 29th 1960 with Gwilym R Jones, JC Griffith Jones, William Thomas.
Education - Feb 5th 1960 with Idris Foster, Hywel Jones, Deiniol Williams.
Local Government - Feb 12th 1960 with Loti Rees Hughes, Bob Owen, HR Thomas.
Drama - Feb 19th 1960 with Raymond Edwards, R Wallis Evans, John Ellis Williams.
Agriculture - Feb 26th 1960 with Hywel Evans, Moses Griffith, Verley Merchant.
Music - Mar 4th 1960 with Morgan Nicholas, Irwyn Walters, Dilys Wynne Williams.
The Arts - Mar 11th 1960 with John Elwyn, RL Gapper, Rhys Gwyn.
Industry and Commerce - Mar 18th 1960 with Leslie Jones, Tom Jones (not THE TJ of course), J Llewelyn Lewis.
Literature - Mar 25th 1960 with Syr Thomas Parry-Williams, Jennie Thomas, Tecwyn Lloyd.
The Law - April 1st 1960 with Llewelfryn Davies, Emry Currie Jones, P Hubert Lewis.
Science - April 8th 1960 with Gareth Evans, MR Hopkins, IC Jones. After a break for one week, the programme returned with
Social Services - April 22nd 1960 with Henllys Jones, William Thomas, Merfyn Turner.
Poetry - April 29th 1960 with Dilys Cadwaladr, Crwys Williams, Waldo Williams.
Health - May 6th 1960.
Television - May 13th 1960 with Jennie Eirian Davies, Wyn Roberts.
Youth Services - May 20th 1960 with Enid Wyn Jones, BJ Griffiths, RE Griffith.
The Eisteddfod - May 27th 1960 with William Morris, Wyn Morris, Caradog Pritchard.

Dewis Gyrfa
A programme to help young people choose a career with Jenkin Jones.
Hospital Work (Thursday March 31st 1960)
Television (April 7th 1960)
Veterinary Science (April 14th 1960)
Newspaper Work (April 21st 1960)
Domestic Science (April 28th 1960)
The Police Force (May 5th 1960)
Post Office and Telephone Exchange (May 12th 1960)
Music and Drama (May 19th 1960)
Agriculture (May 16th 1960)
Civil Flying (June 2nd 1960)
Art (June 9th 1960)
The Merchant Navy (June 16th 1960)
The Coal Board (June 23rd 1960)

Teithiau Tramor, a journey on film to some interesting countries. Hywel D Roberts introduced the films. The series began on Tuesday May 31st 1960, and continued weekly. Specific subjects were not mentioned in tv journals.

O Ddydd I Ddydd
A news magazine presented by Eirwen Davies was on Wednesday June 1st 1960 (4.45-5pm). It continued on Friday 3rd. The programme reappeared a year later on Wednesday May 30th and Friday June 1st 1961 again introduced by Eirwen Davies. Digwyddiadau was a similar programme on June 8th 1962, again with Eirwen Davies.
Note- TWW was the first TV company to produce a News in Welsh (Newyddion y Dydd), which was broadcast for five minutes at the start of each weekday starting in January 1959

Blas Ar Ddysgu (started early 1961)
A series of lectures arranged in conjunction with the Dept of Extra-Mural Studies of the University of Wales. There were a total of 16 lectures in this series.

Codi Testun (began September 1961)
A Biblical Discussion relating quotations from the bible to everyday life. Each week with Y Prifathro Gwilym Bowyer. However, on Dec 8th 1961 and on Feb 2nd, 9th and 16th 1962, Y Parch Walter John took temporary charge. The programme ran until early April 1962.

Gwyr Llen (Literary Discsussion, first programme: Tuesday February 20th 1962)
A discussion programme hosted by Yr Athro Thomas Jones on contemporary Welsh writers. It ran weekly until the summer.

Wrth eu Gwaith (At Work, first programme: June 1st 1962)
Raymond Edwards introduced a discussion of various aspects problems of jobs. These included
Gweinidogion - Ministers (June 1st 1962)
Penseiri - Architects (June 29th 1962)
Swyddogion yr Undebau' Llafur - Trade Union Officials (Aug 31st 1962)

Trin y Tir (On the Land, summer 1962)
James Thomas introduced a programme on Agriculture including
Cig Moch (June 26th 1962).
Tatws (Aug 28th 1962).
Gardening (Sept 11th 1962).

Swynol Sain (Musical recital)
by David Ffrancon Thomas and Kenneth Bowen. Thursday August 30th 1962.
by Helen Watt and Phedwarawd Wang. September 13th 1962.

Cewri'r Ganrif (1963)
Pictorial outline of some celebrated Welshmen of the century. A few of the programmes:
March 12th 1963- Aneurin Bevan with Ieuan Williams, Huw T Edwards, and Tudor Watkins
May 14th 1963- Dr John Williams

Wyt Ti'n Cofio (Do You Remember, 1966)
The March 11th programme featured Patricia Varley in a programme of Victorian music, including Sempre Libera from La Traviata

.

.

.

.

.

.

.

.

.

.

.


The first Quiz Series in Welsh that I can trace was
Am Y Gorau. Quizmaster: Hywel D Roberts, an inter county quiz for children, three on each team. Owen Griffiths directed.
First programme was on Wednesday January 6th 1960 Sir Benro a Sir Fon (Pembrokeshire v Anglesey)
2 Sir Gaernarfon a Siroedd (January 13th 1960)
3 Sir Ddinbych a Sir Gaerfyrddin (January 20th 1960)
4 Sir Ffflint a Sir Drefaldwyn (January 27th 1960)
5 Gorllewin Morganwg a Dwyrain Morgannwg (February 3rd 1960)
6 Sir Aberteifi a Sir Fynwy (February 10th 1960)
7 Sir Feirionnydd a Sir Forgannwg (February 17th 1960)
8 Sir Fon a Siroedd Brycheiniog (February 24th 1960)
9 Start of Second Round: Sir Gaerfyrddin a Sir Drefaldwyn (March 2nd 1960)
10 Sir Aberteifi a Sir Feirionnydd (March 9th 1960)
11 Y Drydedd Rownd, third round (March 16th 1960)
12 Y Rownd Derfynol, final round (March 23rd 1960) - anyone tell me the winners please?

TWW's next quiz-type programme in Welsh was for four students each week, who were quizzed by a panel of three experts, who then decided the best student, who won, don't faint, a £20 prize. It was the Welsh language version of TWW's 'Challenge' programme.
Ar Brawf-
The first programme was on Wednesday March 30th 1960 from 4.25-5pm. Y Panel: Cassie Davies, Richard Phillips, Stephen J Williams. The programme directed by Owen Griffiths.
2 April 6th 1960. Y Panel: William Thomas, Cassie Davies, RE Griffith.
3 April 13th 1960. Y Panel: William Thomas, Mati Rees, JO Jones.
4 April 20th 1960. Y Panel: William Thomas, Norah Isaac, John Ellis Williams.
5 April 27th 1960. Y Panel: William Thomas, Dyddgu Owen, Syr Thomas Parry-Williams.
6 May 4th 1960. Y Panel: William Thomas, ID Harry, Michael Parry.
7 May 11th 1960. Y Panel: William Thomas, Cassie Davies, TI Ellis.
8 May 18th 1960. Y Panel: William Thomas, Eirene Anthony Davies, Ieun M Williams.
9 May 25th 1960. Y Panel: William Thomas, DR Thomas, Amy Parry-Williams.
10 June 8th 1960. Y Panel: William Thomas, Aeres Evans, J Ellis Williams.Parry-Williams.
11 June 15th 1960. Y Panel: Frank Price Jones, Jennie Thomas, Ieuan M Williams
12 June 22nd 1960. Y Panel: William Thomas, Jennie Eirian Davies, Michael Parry.
13 June 29th 1960. Y Panel:Amy Parry-Williams, Llywarch Dodd, Leslie Jones.
14 July 6th 1960. Y Panel: William Thomas, Beti Lloyd Jones, John Morris.

Pwy Fase'n Meddwl (Would You Believe It)
Wyn Roberts hosted this panel game in which a panel had to try and guess the secret of each competitor. Those who kept their secret won the usual TWW prize, £20.
Quiz devised by Roy Ward Dickson. Researcher: Eirwen Davies. Owen Griffiths was the director, Dorothy Williams producer.
The programme began in Autumn 1960 and was so popular it continued for several years.

Gair Am Air (Word for Word) (started September 1961)
Host: Wyn Roberts (Dec 27th 1961 only, Raymond Edwards). A word game for married couples.
Arranged by Eirwen Davies and Eleanor Mathias.
Directed by Owen Griffiths. Produced by Dorothy Williams.
The programme on April 25th 1962 was a special children's edition. The final programme was on May 30th 1962.

Hwyl Ar Holi (Young Farmers Quiz, Autumn 1961)
The prize was the TWW Trophy in this quiz in which Young Farmers' Clubs from all parts of Wales competed. Quizmaster was Llew Phillips.

Holi'r Merched (Women's Quiz) (beginning late 1961 continuing until 1962)
An inter county quiz for WIs. Host: Jacob Davies. The final was held on February 13th 1962, with Myfanwy Howell presenting the trophy to the victors.
Arranged by Jean Parry-Jones. Directed by Owen Roberts. Produced by Dorothy Williams.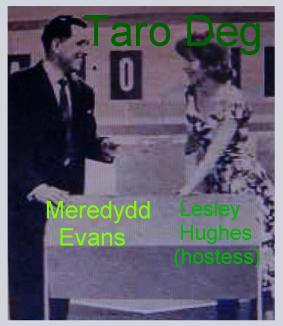 Taro Deg (Try for Ten) (from June 1962-1963)
One of many quizzes devised by TWW's Roy Ward Dickson.
The aim was to get a sequence of ten correct identifications of whether statements found on cards are true or false.
There was an English version, but in the Welsh edition, £25 prize per game was offered by host Meredydd Evans.
Arranged by Eirwen Davies and Eleanor Mathias. Directed by Owen Griffiths. Produced by Dorothy Williams.
Fase'n Meddwl (Claim to Fame) (1963)
Another Roy Ward Dixon quiz. Host Glyn Williams
Tel (Television Game) (1963)
host: Emyr Griffith
Tregampau (Inter Town Contest) (1963)
director: Own Roberts
TWW start
TWW Welsh programmes
.
.
.
.
.
.
.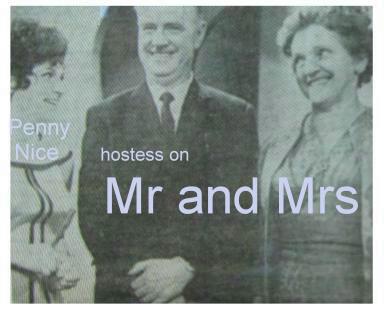 Mr and Mrs
Roy Ward Dickson devised this popular quiz in Canada, which was taken up by TWW. Later it was networked in Border TV's much better remembered version, hosted by Derek Batey.
However TWW's 1960's version introduced by Alan Taylor used the same format. As with all winning formulas, the idea was simple: "how much do husbands and wives really know about each other?" Thus ran the byline for Mr and Mrs, with the promise that (in 1965 at least) "if they know a lot they can win up to £200."
From 1964, there was also a Welsh language version, Sion a Sian hosted by Dewi Richards.
I wonder where the contestants in this photo are now. And what can they remember of the show?
If you appeared on the TWW programme, or can add anything about Mr and Mrs, I'd be very pleased to add your comments.
Three Little Words (1961) was another Roy Ward Dickson quiz, compered by Alan Taylor, involving married couples that was probably a precursor to Mr and Mrs.
.
.
.
.
.
.
.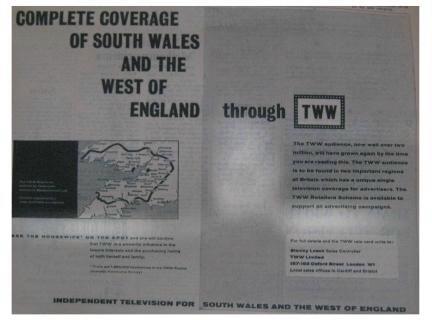 TWW Triumphs Over Set Backs


"Not before time, we have waited long enough," was the local sentiment when TWW finally went on air in 1958.
A starting date in the Spring of 1957 had originally been announced, thus TWW would have been the first of the ITV companies outside the Big Four to start transmissions. But the first problem came in November 1956, when TWW were refused to use Penyland House in Cardiff as offices and the site of their studio. Cardiff City Council refused permission to build the new studio in the grounds of the property. So permission was sought in respect of Cefn Coed House in Cyncoed. Not possible. Eventually permission was granted for purpose built studios on the site of Pontcanna Farm.
Problems with the mast at St Hilary began with objections from The Ministry of Transport and Civil Aviation, since the mast to be erected was near Rhoose Airport. A public inquiry was held on March 7th 1957, but went in favour of TWW and permission was granted on March 22nd that year. But although December 17th 1957 had originally been announced as the starting date for TWW, tests on the new St Hilary mast meant it had to come down!
Thus the opening date had to be postponed, to more disappointment from viewers and the company alike. However you could say that TWW did start on December 17th 1957, for the first tests with the new aerial were made on that date, with an hour long closed circuit broadcast from Pontcanna.
Transmissions did finally start on 14th January.
With main studios in Pontcanna, Cardiff, a second studio in Arno's Court Bristol went on air on Wed 16th Sept 1959, with the local news at 6.6pm read by no less than Ludovic Kennedy.
The main studio here measured 90ft by 65ft. TWW's Technical Controller Walter Kemp visited America to learn all the latest design features, which included a new type of lighting grid, with a system in the roof for suspending lamps, plus a lift installation serving many levels facilitating maintenance. Part of one wall held a specially designed screen enabling backgrounds to be projected.
Alfred Francis, Managing Director, added, "using a normal size stage there will be seating accommodation for 600 for the audience participation shows, these will be a regular feature of the work of the studios. We are also incorporating a large audience foyer."
TWW start

.

.

.

.

.

.

.


An October 1959 independent survey of TWW Viewers revealed that on Weekdays, on children's tv, between 5% and 8% of the adult population of Wales were watching. Between 6 and 8pm, the total percentage of possible viewers was between 12% and 17%. The peak viewing figure of 23% was achieved between 8-8.30pm. After that time, the figure gradually fell away, to 15% between 10 and 10.30pm and only 6% between 11 and 11.30pm. Interestingly those aged 65 and over returned the lowest percentage of any group viewing. Saturday's figures were slightly lower. Sunday the pattern was slightly different with 29% of the total adult population watching between 8.30 and 9pm. For the age group aged 25-34 this figure rose to 36%. Overall, up to 39% of the age group 35-44 watched TWW on Sunday night.

TAM ratings TWW area w/e 26 June 1960

1 No Hiding Place 58%
2 The Variety Show 56
3 Flag Fall (Armchair Mystery Theatre) 54
3= Delfont's Sunday Show 54
5 Ward 10 (June 21) 50
6 Maverick 48
6= Cannonball 48
8 Ward 10 (June 24) 47
8= Twenty Questions 47
10 Criss Cross Quiz 46

TAM ratings TWW area w/e 28 May 1961

1 No Hiding Place 74%
2 Bootsie and Snudge 65%
3 Knight Errant 64%
4= Ward Ten (Fri) 58%
4= Take Your Pick
6= Wagon Train 56%
6= Putting on the Donegan
6= Hancock (BBC)
9= The Army Game 54%
9= Any Other Business (AR play)

TAM ratings w/e 25 June 1961 (TWW)
1 Bootsie and Snudge 68%
2 No Hiding Place 64%
3 Rawhide 59%
4 Probation Officer 55%
5 Take Your Pick 53%
6 Boyd QC 52%
7 Three Live Wires 51%
8 Survival 50%
9= Ward 10 (June 20) 48%
9= The Army Game
9= Guilt (Southern play)
Top BBC: Hancock (39%)

TAM ratings w/e 16 June 1962 (TWW)
1 Coronation Street (June 13th) 61%
2 Naked City 57%
3 London Palladium 56%
4 Dickie Henderson Show 52%
5 Boxing (ATV) 51%
6= Bonanza 49%
6= Play: Some Other Love (AR)
6= The Pursuers
6= Drama 62
10= Gunsmoke 48%
10= The Odd Man

TAM ratings for TWW area w/e 18th Nov 1962
1 Coronation Street (Nov 12) 64%
2 Take Your Pick 62%
3 Bronco (BBC) 60%
4= Conservative Party Political (Nov 14) 58% (TWW 27%)
4= Double Your Money
5 Outlaws 54%
7 Coronation Street (Nov 14) 53%
8= Discs a Go-Go 52%
8= No Hiding Place
8= Bonanza

W/e 24 Feb 1963 (TWW)
1 Coronation Street 66% (Feb 20th)
2 Coronation Street 62% (Feb 18th)
3 The Lucy Show (BBC) 59%
4= Just Dennis 57%
4= Double Your Money
6 Take Your Pick 54%
7 Zero One (BBC) 51%
8 Take a Letter 50%
9= Here Today (TWW) 49%
also 9= No Hiding Place, Rin Tin Tin,
EW 10 (Feb 22nd), Drama 63, Wagon Train (BBC)

TAM TWW area ratings
w/e 1st Dec 1963
1 Coronation St (Nov 27) 68%
2 Coronation St (Nov 25) 66%
3 JFK Funeral (BBC/ITV) 64%
4 True (TWW presentation) 62%
5= No Hiding Place 60%
5= Take Your Pick
7= Burke's Law 59%
7= The Higher They Fly (ABC)
9= Discs a Go-Go (TWW) 54%
9= This Is Your Life
9= London Palladium

TAM ratings for TWW region w/e 28th June 1964
1 Coronation Street (June 22) 58%
2 No Hiding Place 55%
3 London Palladium Show 50%
4= Holiday Bandbox 48%
4= Cross Channel (ATV)
4= Morecambe and Wise Show
7= Ben Casey 46%
7= The Protectors
9= The Beatles On Tour 45%
9= Coronation Street (June 24)
Top BBC= East Side, West Side 40%

TAM ratings for TWW area w/e 27 Sept 1964
1= No Hiding Place 60%
1= Conservative Party Political
3 Coronation Street (Sept 21) 59%
4 Coronation Street (Sept 23) 57%
5 London Palladium 51%
6 The Detectives 50%
7= Double Your Money 49%
7= Armchair Theatre
9 Boyd QC 48%
10= Boxing (BBC) 47%
10= Love Story
10= Hong Kong

TWW area TAM ratings w/e 23 May 1965

1 Peyton Place (May 20th) 53%
2 Take Your Pick 50%
3 Peyton Place (May 22nd) 50%
4= Coronation Street (May 17th) 48%
4= Z Cars (BBC)
4= The Saint
7= Coronation Street (May 19th) 46%
7= This Week
9= No Hiding Place 44%
9= Mr and Mrs (TWW)

TAM TWW region w/e 16th Oct 1966
1 Peyton Place (Oct 13) 62%
2 Secombe and Friends 60%
3 The Saint 57%
4= Double Your Money/Take Your Pick 55%
6 Coronation Street (Oct 12) 54%
7 Hippodrome 53%
8 Peyton Place (Oct 11) 50%
9 Public Eye 47%
10= Mr and Mrs (TWW) 46%
10= Candid Camera
10= This Week
Top BBC= Wednesday Play 42%

TAM TWW area w/e 4 Feb 1968

1 Mr and Mrs (TWW) 54%
2 Coronation Street (Jan 31st) 50%
3 The Command (TWW) 49%
4= Double Your Money 48%
4= Peyton Place
6 Take Your Pick 47%
7 International Cover Girl 46%
8 Till Death us Do Part (BBC) 45%
9= Candid Camera 44%
9= The Avengers

As a footnote, just to show that TWW's loathed replacement, Harlech didn't fare any better against the BBC, here are the regional ratings for w/e 26th Oct 1968:
1 Portrait in Black (BBC) 47%, 2= Dixon of Dock Green (BBC) 46%, 2= The Forsyte Sage (BBC), 2+ Play: The Decks Ran Red (BBC), 5 Val Doonican Show (BBC) 45%, 6= Coronation Street Oct 23rd 41%, 6= Twenty Four Hours Oct 23rd (BBC), 8 Harry Worth (BBC) 39%, 9= Misleading Cases (BBC) 38%, 9= Softly Softly (BBC), 9= The New Lucy Show (BBC), 9= Dee Time (BBC). Only one ITV production! Other ITV companies were doing better than this, though not as well as the early glory days of ITV.
TWW start

.

.

.

.

.

.

.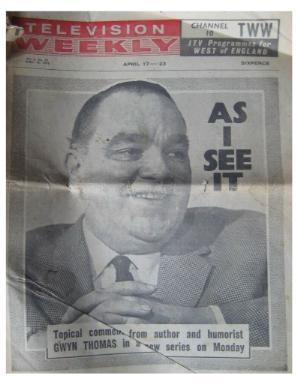 TWW's weekly programme magazine was
Television Weekly
a newspaper size listing of programmes.
Starting in January 1958, Television Weekly clocked up 557 editions until the last one appeared for the week September 14th-20th 1968. Of course by this time the listings were for Harlech TV.

Gwyn Thomas (1913-1981)
author and broadcaster and general all round Welsh buff, made many interesting programmes for TWW. He also hosted TWW's local news Here and Now on occasion.
An early 1962 contribution for the local Wales and the West included his observations on various Welsh towns, some can be viewed on YouTube. In one he recalls his former calling when he visits a school, and his comment includes this typically dry analogy, "a school is a mechanism as delicate and complicated as any master bomb. The bomb is death, the school is life."
Among his other TWW programmes were visits abroad in May 1964:
Gwyn Thomas in New York, his impressions of the American city, and
The Hot Spot, a visit to Cannes, "millionaire's playground."
The 1965 series pictured here, As I See It, reflected Gwyn's views on contemporary issues, in nominal discussion with his producer Mike Towers, who said, "my primary job will be to draw him out and examine his own personal and original view of life. It will hardly be a conversation piece, however- more like 90% Gwyn Thomas." The first programme was shown on Monday April 19th 1965 from 11-11.30pm.

.

.

.

.

.

.

.

.

.

.

.

.

.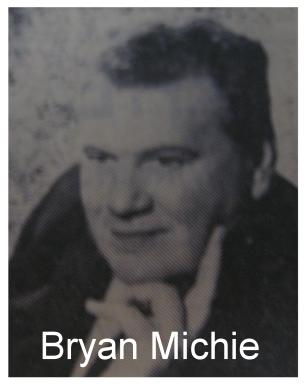 Some TWW programme schedules
I am most grateful to Elwyn Richards who kindly sent me copies of a number of 1963 TWW schedules.
TWW's scheduling had some idiosyncratic features, notably in their showing a number of (semi) serious American made programmes, not seen in (m)any other ITV regions, like Great Fights of the Century, Limelight, and Air Power.
Most amusing was their contempt for Granada's World in Action, which was not infrequently relegated to the last programme at night slot, though on one unbelievable occasion, it was screened on Wednesday July 31st 1963, at the extraordinary time of 5pm!
Sunday August 10th 1958
Monday November 24th 1958
Wednesday June 29th 1960
Sunday June 4th 1961
Sunday December 31st 1961
Monday January 1st 1962
Friday March 30th 1962
Thursday May 3rd 1962
Saturday October 20th 1962
Tuesday March 12th 1963
Monday July 29th 1963
Saturday August 10th 1963
Friday September 27th 1963
Wednesday December 25th 1963
Thursday April 22nd 1965
Tuesday October 12th 1965
Sunday January 23rd 1966
Monday April 17th 1967
Picture: Bryan Michie, first TWW programme controller. He took up his post on August 11th 1957

.

.

.

.

.

.

.

.

.

.

.

.

.

TWW programmes for Sunday August 10th 1958


(Interesting that this Sunday afternoon schedule commenced late!)

10.30am Lambeth Conference - concluding service from Westminster Abbey -12.30pm
3.45pm Sunday Matinee- Woman to Woman, a 1946 film starring Douglass Montgomery and Joyce Howard
5.15 Hawkeye and the Last of the Mohicans- The Contest
5.40 The Adventures of Robin Hood- Trial by Battle
6.05 ITN News
6.15 The Sunday Break - with Rev Max Magee
7.00 About Religion - A Home in London
7.25 ITN News
7.30 Wyatt Earp - Vengeance Trail
8.00 Highway Patrol - Steve Nailor has been watched since his release from jail
8.30 Bernard Delfont Presents- The Beverley Sisters Show also with Aileen Cochrane, Billy Dainty
9.30 ITN News
9.35 Mystery is My Business- Hugh Marlowe in The Moll
10.05 Armchair Cinema - No Escape starring Valerie Taylor (this was a screening of a 1956 play)
11.05 Look Ahead - with Ian Trethowan (ITN Production)
11.35 Weather
11.36 The Epilogue- Canon Fenton Morley (ATV) and Close down
TWW schedules

.

.

.

.

.

.

.

.

TWW programmes for Monday November 24th 1958

2.43 For Schools: Matter in Use- Kitchen Chemistry -3.10 (repeated at 3.23)
3.51 Looking Westward - introduced by Brian Vesey Fitzgerald, with Joan Hall, the Mayor of Hereford, EC Lewis, Pat Shuldham-Shaw
4.20 Dech I Mewn (Come In) (Granada TV Welsh production)
5.00 Seeing Sport - Equitation
5.25 Popeye
5.55 ITN News
6.05 TWW Reports and Local Weather Forecast
6.12 Mark Saber - Corpse in the Cellar
6.40 Soapbox - In the chair: Wally Reyburn. Panel: Sion Kester, Joy Owen, Margaret Shepherd
7.00 I Love Lucy - The Matchmaker
7.30 Shadow Squad - The Little Rebel part 1
8.00 Keep It In The Family - good relations kept by Bill Owen
8.30 Wagon Train - The Ruttledge Monroe Story
9.30 Jack Hylton Presents: Living It Up starring Arthur Askey
10.00 ITN News
10.15 Under Fire - northern folk fire questions by means of a 200 miles tv link at experts in London
10.45 Rainbow Room - with Jean Morton
11.00 Douglas Fairbanks Presents - The Thoroughbred
11.30 Bedtime Headlines ("up to the minute news from home and abroad")
Weather Forecast and Close down
TWW schedules

.

.

.

.

.

.

.

.

.

.

TWW programmes for Wednesday June 29th 1960

2.15 Racing from Redcar
4.20 Newyddion Y Dydd
4.20 Ar Brawf (On Trial) with Ugain Punt
5.00 Zoo Time - Harry Watt
5.25 Robin Hood - Hue and Cry
5.55 ITN News
6.05 TWW Reports and Local Weather Forecast
6.10 Roving Report
6.40 Here Today - with Joseph Cooper
6.54 Talking Shop
7.00 The Four Just Men - Jack Hawkins in The Man Who Wasn't There
7.30 Criss Cross Quiz- with Jeremy Hawk
8.00 Boyd QC - A Case of M'Shimba
8.30 Alfred Marks Time - guest Naunton Wayne
9.25 ITN News
9.35 Mid-Week Movie - What Every Woman Wants starring William Sylvester
11.05 News Headlines
11.07 Dick and the Duchess - The Brooch
11.35 Weather Forecast and The Epilogue
Close down

.

.

.

.

.

.

.

.

.

.

.

TWW schedule June 4th 1961
11am Charter Anniversary Service -12.05pm
2.30pm The Story of Ruth with Eryl Thomas discussing it with two atheists
2.45 Bath and West Show- show-jumping
3.15 The Other Man's Farm- at a farm in Tring
4.00 Bonanza- The Abduction
4.50 Suggestion of Sabotage - episode 1
5.20 Fury - Joey Saves the Day
5.50 Journey of a Lifetime - Faith of the Fisherman
6.05 News; Sunday Break; About Religion
7.25 News; Danger Man - The Leak
8.00 Moscow State Circus
9.00 News; Armchair Theatre- Man on the Mountaintop
10.10 Hawaiian Eye- Stamped for Danger
11.05 International Detectuve - The Madison Case
11.33 Eryl Thomas discusses the story of Ruth
11.38 Weather Forecast and close down

.

.

.

.

.

.

.

.

.

.

.

.

.

TWW programmes for December 31st 1961
11am Morning Service from St Mark's Enfield-12.15pm
1.20pm The Good Samaritan- Gwyn C Thomas discusses the story
1.35 Motor Cycle Scramble from Retford
2.15 ABC Farming Bulletin
2.20 Sunday Matinee- Fort Apache starring John Wayne
4.35 Fury- The Timber Walkers
5.05 The Roy Rogers Show- Tossup
5.35 The Animal Story with Desmond Morris
5.58 Ticket to Sunshine- TWW admag with Pearl Catlin & Michael Blythe
6.05 News; Journey of a Lifetime- Innocents of Bethlehem
6.30 The Sunday Break- Religion Under the Big Top
7.00 About Religion- Punishment with Sir John Wolfenden
7.25 News; 77 Sunset Strip - The Rice Estate
8.25 London Palladium starring Roy Castle, Cliff Richard
9.55 News; Armchair Theatre- The Rank and File with Kenneth J Warren
11.05 So Many Ways- networked anthology for the new year spoken by Huw Thomas
Midnight Meditation by Rev Joseph McCulloch
12.05am Weather Forecast and Close down

.

.

.

.

.

.

.

TWW programmes for January 1st 1962
4.10 Newyddion Y Dydd
4.15 Dewch I Mewn- with Ednyfed Davies
4.50 Popeye; Seeing Sport- Rugby from Richmond Athletic Ground
5.25 Richard the Lionheart- Dermot Walsh in the first of a new series
5.55 News; TWW Reports and local Weather Forecast
6.15 Here Today with Joseph Cooper, guest June Marlow
6.40 Home Today- TWW admag with Pearl Catlin & Michael Blythe
6.45 Here and Now with Huw Thomas
7.00 All Our Yesterdays with Brian Inglis
7.30 Coronation Street - Elsie puts Dennis under heavy cross-examination
8.00 Playdate- Nightmare starring Cec Linder
9.00 News; Rawhide- The Captain's Wife
10.10 Chan Canasta with Judy Grinham, Miss World 1961, Jewel and Warris
10.35 Mind Behind Murder- Gordon Lang: Evans and Christie part 1 (TWW)
11.05 News Headlines; Saber of London- Saber's Bow and Arrow
11.35 African Patrol- Heart of Gold
12 midnight A New Year's Thought from Gwyn C Thomas
12.05am Weather Forecast and Close down

.

.

.

.

.

.

.


1pm Schools -3.45
4.20 Newyddion y Dydd
4.25 Codi Testun (Biblical Discussion) with Gwilym Bowyer
5.00 Discover Your City
5.25 Tugboat Annie - Annie Meets a Texan
5.55 News
6.05 TWW Reports and Local Weather Forecast
6.13 Huckleberry Hound
6.43 Here Today- with Joseph Cooper, guest singer Julie Jones
7.00 Take Your Pick
7.30 Rawhide - The House of the Hunter
8.20 Escape by Night - film with Bonar Colleano (9.00-9.15 News)
10.00 All That Jazz - Billy Daniels and Chris Barber's Jazzband
10.30 At the Wheel - motoring magazine admag with Michael Blythe
10.35 In the News - with Guy Thomas
11.05 Dial 999 - Honeymoon
11.35 Weather Forecast and Close down

.

.

.

.

.

.

.

TWW programmes for Thursday May 3rd 1962


Schools
Racing from Newmarket
4.20 Newyddion y Dydd
4.25 Amser Te - with Myfanwy Howell
5.00 Junior Criss Cross Quiz - with Gordon Luck
5.25 The Roy Rogers Show- Uncle Steve's Finish
5.55 News
6.05 TWW Reports and Local Weather Forecast
6.13 The Fight Against Friction - Motoring admag with Michael Blythe and Chris Trace: Molyslip Products
6.20 Sports Preview - with Danny Blanchflower
6.43 Here Today- with Joseph Cooper, interviewers Jim Douglas Henry and Hugh Jones
7.00 Looking for the Stars -with Bryan Michie, and tonight: Margot Barrett, Steve Bowman Group, Ivor David Jones, Don Hanbury, The Rhythm acs and Doreen Wyatt
7.30 The Flintstones - Fred Flintstone Woos Again
8.00 Double Your Money
8.30 Bootsie and Snudge
9.00 News
9.15 This Week
9.45 Ben Casey - A Story to be Softly Told
10.40 What the Papers Say - with Jocelyn Stevens
10.55 Strange Experiences - The Hold-Up Man
11.00 Date with Mystery - featuring stories of mystery and adventure by your Mystery Host. The Man with the Ticking Head/ The Death Mask. These were from series not named, but actually The Cheaters, and The Vise. Each week episodes from different series were shown
12.00 Weather Forecast and Close down

.

.

.

.

.

.

.

TWW programmes for Saturday October 20th 1962

1.15 News
1.20 Snooker, Ten Pin Bowling, Horse Racing from Doncaster, Wrestling from Sheffield
5.00 The Wizard of Oz
5.15 Strange Concealments - Episode 4 Books in Running Brooks
5.45 News
5.50 Thank Your Lucky Stars - The Brook Brothers, Eric Delaney Band, Marty Wilde, Susan Maughan, Danny Williams
6.30 Cheyenne - West of the River
7.25 Man of the World - The Runaways
8.25 Bruce's Show - guests Roy Castle, Anita Lonsbrough
9.00 News
9.10 Ben Casey - An Uncommonly Innocent Killing
10.05 The Avengers - Bullseye
11.05 International Football, Wales v Scotland - highlights with Arthur Montfort
11.20 Adventures in Paradise Away from it All
Weather Forecast and Close down

.

.

.

.

.

.

.

.

TWW programmes for Tuesday March 12th 1963
11.40am Schools
4.25 Newyddion Y Dydd
4.30 Cewri'r Ganrif - this week Aneurin Bevan with Ieuan Williams, Huw T Edwards and Tudor Watkins
5.00 Tuesday Rendezvous with Howard Williams
5.55 ITN News
6.05 TWW Reports; Local Weather Forecast
6.13 Movie Magazine - Bruce Lewis with clips from Cape Fear, Live Now Pay Pater, The Bungala Boys
6.42 Here Today with Joseph Cooper. Music by the Dave Lee Trio
7.00 Try for Ten with Alan Taylor
7.30 Emergency - Ward 10 - Dr Griffiths' first day as Senior House Officer
8.00 No Hiding Place - Dead Certainty
9.00 ITN News
9.15 Play of the Week - I Can't Bear Violence (ATV)
10,45 Candid Camera with Peter Goodwright
11.15 News Headlines
11.17 World In Action - France, The Congo, Divided Germany, Britain
11.45 Greatest Headlines of the Century
followed by Weather Forecast and close down

.

.

.

.

.

.

.

.

.

.

TWW programmes for Monday July 29th 1963
4.24pm Newyddion Y Dydd
4.29 Cyfansoddwyr Y Byd (The Great Composers)- no 3 Brahms
5.00 Seeing Sport - Lawn Tennis
5.25 The Terrible Ten - Leave it to the Ten
5.55 ITN News
6.05 TWW Reports
6.13 The Beverly Hillbillies - The Servants
6.42 Here Today with Jim Douglas Henry and Gordon Wilkins. A song from Joy and Jennifer
7.00 Discs A Gogo with Kent Walton
7.30 Coronation Street - Dennis hides his embarrassment, and Elsie plans a campaign
8.00 Love Story starring Angela Baddeley in Just as you Are
9.00 News
9.15 The Roaring 20's - Judge Seward's Secret
10.10 University Challenge
10.30 Mind behind Power - Philip Snowden and Gordon Lang on famous statesmen of the century
11.00 The Cheaters- John Ireland in Washday SOS
11.30 Great Expectations? with William Clark (last of series)
Weather Forecast and Close down
TWW schedules

.

.

.

.

.

.

.

.

TWW schedule for Saturday August 10th 1963
2.10 News
2.15 Show Jumping from Hickstead, Cricket from Bramall Lane, Racing from Redcar, Motor Racing from Silverstone
5.00 Hawkeye- The Colonel and the Lady
5.30 Sword of Freedom- Alessandro
6.00 News
6.05 Lucky Stars Summer Spin- Peter Murray introduces the 100th show including Cliff and the Shadows
6.45 Cheyenne- The Empty Gun
7.40 Big Night Out- Mike and Bernie with Charlie Chester
8.30 Danger Man- The Trap
8.55 The Pursuers- The Husband
9.25 News
9.30 The Morecambe and Wise Show- with Shani Wallis, Mike Sammes Singers, Jill Curzon
10.00 Sergeant Cork- The Case of The Slithy Tove
11.00 Whiplash- Stage for Two
11.35 The Royal Visit- HM Queen and the Duke of Edinburgh in North Wales
11.50 News
11.55 The Summing Up. Let's Face Facts- with John Fitzsimons, Gwyn C Thomas, William Winton, and Frank George
followed by The Weather Forecast and close down
TWW schedules

.

.

.

.

.

.

.

.

TWW programmes for Friday September 27th 1963
2.35pm Schools
4.24 Newyddion Y Dydd; 4.29 Taro Deg (Try for Ten)
5.00 On the Trail- with Graham Dangerfield, Nicholas and Rachel Clay
5.25 African Patrol- A Witness to Murder
5.55 ITN News
6.05 TWW Reports
6.13 Movie Magazine- presented by Nick Barker: excerpts from The Running Man, and Tamahine
6.42 Here Today- with Joseph Cooper and a song from Sheila Buxton
7.00 Take Your Pick
7.30 Emergency Ward 10- "end-to-end anastomosis"
8.00 Checkmate- Jungle Castle; followed by Mahalia Jackson Sings
9.00 News
9.15 Maupassant- three tales of married couples
10.15 In the News- introduced by Guy Thomas (TWW production)
10.45 News Headlines
10.47 International Detective- The Dimitrios Case
11.17 Whiplash- Portrait in Gunpowder
11.45 The Summing Up - Let's Face Facts: Frederick Copleston, John Huxtable, David Jenkins with Frank George
Weather Forecast and Close down
TWW schedules

.

.

.

.

.

.

.

.

Christmas Day 1963 TWW schedule


10.30am The Christmas Tree- Muriel Young and Wally Whyton with a Christmas morning party
11.00 Christmas Morning Service- from Kingston Congregational Church Surrey
12.10pm Christmas in the Holy Land- a pilgrimage to Christ's birth and ministry with Art Linkletter (TWW presentation)
1.00 News
1.05 Christmas Box- Noele Gordon with Eula Parker, Roy Edwards and Peter Elliott, Jerry Allen
2.00 Christmas Swingtime- with Cliff, The Shadows, Edmund Hockridge, Joan Regan, The King Brothers
3.00 The Queen
3.05 The Lady Takes a Sailor- starring Jane Wyman (TWW presentation)
4.50 Zoo Time
5.15 Lassie- Happy (TWW presentation)
5.45 Don't Say a Word
6.10 News
6.20 Christmas Message- from the Archbishop of Canterbury
6.30 The Beverly Hillbillies The Clampetts and the Dodgers (TWW presentation- hardly Christmassy!)
7.00 Take a Letter
7.30 Coronation Street- some old inhabitants return to the street
8.00 Christmas Startime- with Richard Hearne, Bruce Forsyth, David Nixon, Charlie Cairoli, Bernard Braden and Barbara Kelly
9.00 News
9.10 Mr Pickwick- starring Arthur Lowe, also James Bolam, Patrick Newell, Jack May, Roy Kinnear
10.40 News Headlines
10.42 Joe and the Christmas Music- Joe Gordon with The Original Checkmates, The Countrymen, Eleanor Leith, Pat Stilwell and Bill Burnett (Grampian TV)
11.25 A Christmas Thought- from Rev Gordon Lang (TWW);
followed by The Weather Forecast and close down

.

.

.

.

.

TWW programmes for Tuesday October 12th 1965 (Bristol area)

11.30am Schools - 2.40pm
4.35pm Crossroads
5.00 Five O'Clock Funfair
5.25 Stage One
5.55 News
6.05 TWW Reports
6.30 The Beverly Hillbillies - The Clampetts Versus Automation
7.00 Double Your Money
7.30 Emergency- Ward 10
8.00 Fireside Cinema - I Was Monty's Double
(News 8.55-9.10)
10.05 The World Tonight
10.35 News Headlines, followed by
Public Eye - And A Very Fine Fiddle Has He
11.35 Dateline
11.45 The Summing Up with Frank George
11.50 Weather Forecast

.

.

.

.

.

.

.


10.43am Out of School - 12 noon
2.20pm Spring Out: Epsom Spring Meeting -4.30
4.35 Crossroads
5.00 Ollie and Fred's Five O'Clock Club
5.25 Three Go Round (Southern TV)
5.55 News, TWW Reports
6.13 Here Today - introduced by Guy Thomas, guest Dilys Watling
6.30 Father of the Bride - The Hammers
7.00 Meet Julie Felix (Border TV)
7.30 No Time for Sergeants - The Living End
8.00 The Saint - The Elusive Ellshaw
8.55 News
9.10 This Week
9.40 Peyton Place
10.10 The Human Jungle - Dual Control
11.05 What the Papers Say - Bill Grundy
11.20 News Headlines, Dateline
11.35 As In the Beginning - No.8 The Victory with Tony Bridge
Weather Forecast
TWW schedules

.

.

.

.

.

.

.


11am The Morning Service - from Cambridge Heath Salvation Army Centre Hackney
12.15 Sunday Session - New Industrial Revolution, Les Trois Coups, Say It In Russian, Plain Man's Guide to his Money, The Grammar of Cookery
2.10 News
2.15 Let's Face Facts - Hugh Jones, Kevin McDonnell, Stuart Mawson, interrogator: Frank George
2.35 FA Cup Special - Birmingham v Bristol City, Cardiff v Port Vale, Swindon v Coventry
3.20 Sunday Matinee - Crash Drive with Dermot Walsh
4.30 Lost in Space
5.30 Just Jimmy - It's Not Cricket
6.00 News; 6.15 Storytime - Gideon
6.35 About Religion - The Root of All Evil?
7.05 Hallelujah!
7.25 Time Bomb - film starring Glenn Ford
9.25 News
9.35 London Palladium Show - with Jimmy Tarbuck
10.35 The Eamonn Andrews Show
11.25 The Summing Up - Hugh Jones, Kevin McDonnell, Stuart Mawson, sum up their earlier discussion with Frank George (see 2.15)
11.30 Weather Forecast
TWW schedules

.

.

.

.

.

.

.

TWW programmes for Monday April 17th 1967 (with Teledu Cymru variations in italics)
11.35am Schools - 2.45pm
4.30pm Crossroads
4.55 And Now it's Nearly Five
5.00 Sport- You Are Tomorrow (Lost In Space -5.55)
5.25 Movie Magazine
5.55 News
6.05 TWW Reports (Y Dydd, 6.20 F Troop)
6.30 Tarzan (6.50 News of Wales, 7.00 Pethau Hen a Hen Bethau)
7.30 Coronation Street - David in the doghouse, Minnie in the money, Dennis in both
8.00 Market in Honey Lane - Twenty Two Carat
8.55 News
9.10 Amos Burke- Secret Agent
10.05 Tom Jones!
10.35 In The News (Insight)
11.07 News Headlines
11.09 Dateline
11.19 In The News part 2 (Great Houses)
11.34 Let's Face Facts
11.54 Weather
TWW schedules

.

.

.

.

.

.


Back in 1960, Sir Robert Fraser, DG of ITA had stated, "the company has done extraodinarily well and have been very bold in their development." So their subsequent demise on the altar of Lord Hill's New Broom policy and their unrelenting pique was fully justified. Suffice it to say that Harlech TV with the backing of the famous but flawed Richard Burton was always going to seem an attractive option to the beastly Hill. So who can blame TWW, which had been a loyal and enterprising ITV member, for throwing in their tainted towel early and marching back to the valleys before HTV were ready to take over?
Lord Derby, TWW chairman, when told of Lord Hill's decision, complained, "it comes as a shock to this company, and to a devoted staff, and we believe, our viewers who have supported us loyally."
TWW's final programmes were on March 3rd 1968, several months before their scheduled closure of July 1968. On March 1st 1968, Bruce Lewis, who had introduced the very first TWW programme, read the final TWW Reports. Then on the final Sunday night, TWW had a coup when they screened the world tv premiere of Only Two Can Play. Lord Derby gave a short farewell message, before at 10.35pm
All Good Things... hosted, rather oddly, by Canadian Bernard Braden.
This final show from TWW included Eric Morecambe and Ernie Wise, Clifford Evans, Ivor Emmanuel, Anita Harris, Manfred Mann, Danny Blachflower, Osian Ellis, Stanley Unwin, Stan Stennett and Billy Burdon, and Tessie O'Shea.
TWW went off air with John Betjeman reading a poem, Come To An End, notoriously cut off in his prime.

That's yer lot. But to return to TWW start