SABER of LONDON
Series 4 with Robert Arden as Bob Page, whom Saber describes thus, "Bob is an American, and a yard wide."
39 stories were made in 1958 and early 1959. By now Donald Gray had settled comfily into his role and arguably the series reached its zenith. I am grateful to the late Robert Arden for writing some happy memories of the series.
In the final story 4.39, Mark's girlfriend Ann asks him: "What happened to Bob (Page)?" Mark's reply is: "Well he suddenly decided to get married- went to America." This is suspiciously similar to why secretary Judy left (see series 2), and may hold a vital clue as to why the whole series eventually ended: perhaps Mark Saber 'got married'?? My favourite episode: 11 Uncle William- a nicely sinister tale. 39 Full Moon is pleasing also, perhaps they'd underspent on the budget for it shows some (almost) lavish (for the Danzigers) touches! 16 Dark Moments is a slightly more serious study in depression.
Best moment: In 10 The Lady Doesn't Scare, perhaps excited by Honor Blackman's appearance, the script gets in a right muddle over Bob Page's identity
Dud episode: 24 Come Out Fighting is an easy choice, a rambling story, cobbled together

Main Saber Menu . . . To Series 5

.

.

.

.

.

.

.

PAID OFF

This story takes place on (Thursday) 12th June 1958. It begins at Victoria Station, London.
Off the Paris-Londres boat train avec un small fortune in stolen diamonds arrives Pierre, who is met by Freddie Benson and promptly stabbed. Wounded, he nevertheless manages to hail a taxi, giving his destination, "9 'Obart Place". There he brandishes a gun at the owner but collapses and dies. He has come to the home of George Royston, an ex-embezzler, who never knew the man, or so he says. With his record, George decides to phone Saber, the man who sent him up "in 50," and who is now relaxing to the Moonlight Sonata on the radio.
Mark and Bob drive swiftly to Obart Place where George insists he's innocent, he had never seen the man before. All the stranger had said, a la James Cagney, was "you dirty rat!" But examination of his possessions shows he wasn't American at all, but French. Saber has to bring in the police, and, with George's record, how can Inspector Parker fail to arrest the unfortunate George for murder? Of course he can't!
Outside the house, Bob finds a ticket dated today, from Paris-Londres, first class. It must have been dropped by the dead man, for it is stained with blood. Charlie Mather (Hal Osmond) is the taxi driver who had driven Pierre, who had seemed sick or drunk and had a strong French accent. So the murder was done at Victoria. Saber tips off Parker who identifies a telephone booth complete with blood stains.
Mark tries out his theory, as George had only recently moved to this house, maybe the previous owner was the person Pierre had gone to visit. Mr King is in a wheelchair, so this proves a red herring, or a way of filling out the 25 minutes of the film! But eventually Mark spots the crucial clue, it's how French speak English. 'Obart Place is really Hobart Place! A brilliant piece of deduction(?) Or to put it technically as Saber does, the French can't pronounce their aspirates. At 9 Hobart Place Mark and Bob interrupt Freddie and his pal Henry Carter, who are awaiting payment for cutting up the diamonds.

Saber drives TGP668. Bob drives TNM286, but also uses a taxi (MLT232?). Parker's car is 894FPC.
For once the steam train seen at Victoria isn't incorrect, King Arthur class 30781 is glimpsed.
Uncredited speaking role: Mr King's assistant.
Quote: Mark tells his client that Inspector Parker, "he's a friend of mine"

To Series 4 of Saber of London
Main Saber Menu

.

.

.

.

.

.

.

TRAP FOR MURDER
On his beat on June 10th, Constable Prior spots a white cane by the side of the road, then a man with a fractured skull lying nearby on a construction site. What's he to do? Blow his police whistle of course! Inspector Parker decides that this licensed blind beggar, Jim Ferguson, had been accidentally killed. In tears, the beggar's daughter convinces a sympathetic Bob Page this was no accident. This is a role just made for Dorothy Gordon. In a touching scene with Bob Page, she tells how last night her dad had gone to The Retreat in Bayswater, to play checkers with his friend Fred. She's sure Inspector Parker is wrong in thinking her dad died accidentally, and of course we are sure too, as we know how dim Inspector Parker is!
When Mark has heard the story, he drives Bob to Bayswater to question blind Fred Bailey (Robert Dorning), the last man to have seen Jim alive. Mark hits on the vital clue: Jim was a tall chap but the cane by the corpse was much shorter. Just the size of cane Fred would carry! Bailey breaks down and confesses that he and Jim were being forced to take part in illegal street betting. Jim had tried to refuse this "tall heavy man who talks like a tough character wearing a tweed suit."
To entrap him, Bob is given the thankless task of posing as a blind beggar. But he needn't be afraid. Parker, who's now seen the error of his ways, provides the latest technology, giving Bob a tape recorder. "Don't waste it," he is warned, "it only records for 15 minutes." Bob gets punched in the groin by the villain, Ray Flanagan, but at least the recorder is OK and the gang is rounded up. Mark rewards Bob with a penny in his begging tin.
A nicely directed film by Godfrey Grayson, with good picture compositions, and some fine close-ups.
Location filming: 1 with Constable Prior. 2 TGP668 arriving at the Yard. 3 Leaving. 4 Driving along a terraced street in 'Bayswater.' Mark and Bob get out, pass two children sitting on a step and enter Bailey's house. 5 Leaving this house, reversing and driving away. 6 Big Ben shows 4.55 as they arrive back at the office. 7 Same sequence as number 3, but abbreviated. 8 TGP arriving at the Yard- different from earlier with a van also entering. 9 Back to the office, Big Ben now showing 1pm. 10 Long shot of TGP in London traffic by park. 11 TGP returning to office.
Uncredited on screen speaking part: Inspector Parker (Colin Tapley). Non speaking parts include PC Prior, Sgt Phillips, and there's one female customer who attracts'Blind' Bob's attention
Series 4 of Saber of London ... Main Saber Menu

.

.

.

.

.

.

.

Where There's A Will
An old lady, Mrs Kraft, chases after Alfred her cat. The naughty creature runs next door, behind a bush. There's a dead body there, that of Mrs Ridley, housekeeper to the late owner of the house, Mrs Verity.
This Mrs Kraft phones Mark Saber and he agrees to investigate. To start, it proves a trifle difficult since the corpse has vanished, but bloodstains suggest the old lady is not wandering in her mind. Indeed Mrs Kraft outthinks the great detective and finds the corpse buried in her own compost heap.
Scotland Yard are on the scene in the shape of good old Inspector Parker. Mrs Verity's two children have been staying in the neighbourhood, while they sort through their late mother's possessions. Peter Verity (Peter Reynolds) and his sister Celia Potter are expecting to inherit, though as yet the will has not yet been read. Celia's 25 year old son Lionel, a simpleton (a difficult role for Ian Whittaker), is the only other one expected to benefit from the will. All three claim they were together at the time Mrs Verity died. Lionel believes it's a good thing Mrs Ridley is dead, because she was only after her mistress' money. Out of the mouths....?
The corpse had clearly been dropped from the roof of the house. Saber spots a blood stained brick on the roof. The murder weapon. A half eaten pear is lying nearby. And some split matches. Now Lionel has an odd habit of splitting matches. Lionel admits he had been on the roof, but alone. It seems odd that Inspector Parker failed to spot either of these clues!
Analysis back at the Yard shows some silver nitrate on the half eaten pear, that suggests someone using a mouthwash. But who?
Bob checks at the Falmouth Arms where the three are staying. A bloodstained jacket belonging to Peter Verity had been sent for dry cleaning.
When Bob returns to Mrs Verity's home, there are Peter and Lionel fighting. Bob splits them. Mummy comforts her baby. Apparently Peter had accused Lionel of hiding Mrs Ridley's body in the compost heap. That's true, admits Lionel, for he was worried the corpse might delay the reading of the will- he wants his share of the inheritance as soon as possible.
Inspector Parker runs over the motives for each of the three killing Mrs Ridley. Saber soon chips in, indeed takes over. There was this brick. The edge of the roof. Then a clever trick. But can Saber prove his words? Yes, that pear is his evidence.
Parker steps in for the confession. It seems Mrs Ridley had been going to inherit everything. The story ends in tears.
Uncredited speaking part: John Martin, who plays 'Cecil,' the policeman in Parker's office- Mark asks him how his family is. Twice Peter calls his sister Cecilia, though she is Celia in the credits

.

.

.

.

.

.

.


Heiress Miss Sylvia Holloway's mother Christine (Noel Dyson) is a rich widow who has just married Prince Pancracio Dariani (Philip Saville), 20 years her junior. Even though she too "reeks with money," Sylvia (Kay Callard) is worried he's after her mother's fortune, and consults Mark Saber.
Bob checks up on the Prince, while Mark drives down to their country home in Buckingham. posing as Miss Holloway's fiance Lord Percy, "born," says Mark, "with a silver umbrella in my mouth!" The role gives Donald Gray the chance to play some comedy as he takes on the part of an upper class twit ("just call me Your Lordship"). "How do you do Prince?" is his opening gambit off-stage as he arrives at the luxury home. The Prince is rather put out since he's on his honeymoon! 'Lord Percy' enters complete with monocle, an inane grin, plus that upper crust accent. Just one goodnight kiss is allowed with his slightly reluctant fiancee before he retires to his room to recite from Romeo and Juliet. He sends a Cupid's dart to his beloved on which is inscribed asn invitation to join him in the kitchen at 2am.
At the appointed hour they have their tryst, "stop this idiotic comedy," she orders him. So, sobering up, Mark tells Sylvia she is right to suspect the Prince. Bob has uncovered the fact that his two previous wives both died suddenly, one in Luxor, the other in Karachi. He's a male Lucrezia Borgia. "Play along with me," Mark asks her, as the Prince enters the kitchen, suspicious. Mark reveals that he has in fact already married Sylvia. "Father!" he adds slyly.
They all enjoy a celebratory champagne. Mark proposes a toast....
"Turnips are white, Socks are green,
The king is all right, But God save the Queen."
Down goes the drink, but, in the words of the title, it's a Toast to Death. While the Prince drops his glass, undrunk, Percy collapses dying in Sylvia's arms. "Kiss me Sylvia," says the besotted Lord Percy. And good news. "That kiss has bought me back to life." The Prince is exposed but no thanks from Countess Dariani, "you brute!" she raves at Percy. But Mark explains, though she still finds it hard to swallow.
This is a mild comedy. One wonders just how much normally staid writer George St George actually contributed. Director Max Varnel too, doesn't normally have such a light touch. The set of Prince Dariani's sitting room with its central fire built round a luxury flue, is the same as that used in the Danziger film The Great Van Robbery, in which Philip Saville and Kay Callard also appear.
Postscript: Girl friend Ann gets a mention when Bob is requested to cancel their dinner date, but she does not appear- just as well!!
Mark drives TGP668
Series 4 of Saber of London ... Main Saber Menu

.

.

.

.

.

IT WALKS AT NIGHT
The title could suggest a horror tale, but in this you'd be disappointed.
A stormy night, rain lashing down, dogs howling, old Sir Thomas Winters (Ian Fleming) is so frightened he orders his loyal manservant Jaya (Francis Mathews) to take a note to Mark Saber begging his help.
Big Ben is at 10.10pm, as Saber is beating Bob Page at chess. Jaya reaches Saber's office. Observes Bob, "I didn't see anybody like that since Gary Cooper did Lives Of A Bengal Lancer."They hurry to Sir Thomas' mansion.
Winters believes The Curse of the Stone had been placed on him whilst out in India. It had been stolen from India and is now in the British Museum. 'Dmata Rhundi' was written on a mysterious note that Sir Thomas had received, then an audible warning to prepare for death. None of his family had heard such a threatening voice.
They are: Oscar, the brother who is gambling away the family fortune. Then there is "cold tomater" Toni, the daughter, engaged to John Allen, who lives beyond his means.
Toni is sure her father is losing his mind, sadly.
Inspector Parker is seen briefly, when he phones Mark to warn him that Sir Thomas is in arrears with his tax payments.
All these red herrings are unnecessary. Saber springs his trap, as he calls it, taking Sir Thomas' place in his favourite chair, Bob keeping watch behind an armchair. It's raining heavily yet again when footsteps approach. But they go not to scare Saber, but the real Sir Thomas. Someone had known of the plan. Who has been playing ghost?
Phosphorus helped the vision glow. Mark exposes the guilty party, who has it on their hands. "I don't believe it."
Minor Gaffe: As Mark talks about a maharajah, Donald Gray once says "Mayerajah." Little location shooting in this, apart from shots of the storm swept mansion. In the grounds of this house we do see Oscar carrying a rifle, meeting Mark and Bob.
Series 4 of Saber of London ... Main Saber Menu

.

.

.

.

.

Flying into London Airport is the star, like in any self respecting B film of the era. But this passenger is Sally Evans (Honor Blackman) from South Africa on Flight 421. The receptionist (Rolf Harris) informs her that journalist friend Bill Turner is unable to meet her, so could she go to the Penguin Club in Old Compton Street Soho.
Here, the time is 7.10pm and Mark and Bob are enjoying a quiet drink, served by Fredy (Hal Osmond) your friendly barman. But then two gunshots and another customer, Bill Turner, is dead. He'd flown in from Johannesburg two days ago and had been waiting eagerly for Sally with a bunch of flowers. Maybe all this excitement explains the confusion when Inspector Parker and Saber both call Bob "Larry," presumably the script had been intended for Series 3:
Parker (to Saber): "You and Larry were sitting at the bar all the time?"
Saber: "I went to the man who was shot and Larry had a look outside."
Seconds later however Parker asks "did Bob get a look at it (a passing car)?" I suppose it's only surprising that overall there were so few continuity gaffes, given the speed of production. Ironically, Parker continues by remarking to Fredy "I say, I want to get this story straight....!"
Sally had run off whilst all this was happening, so Mark and 'Bob' go to Miramar Hotel. She tells them Bill was working on a big diamond smuggling story. Sally was bringing him the last piece of evidence he needed. It read "Honey Meadow Morgan Light Bright Harvest." Sally goes to the florists from where the flowers had come, a Tom Moore-Gantry in Portwell Road London E2. She goes without Mark. In charge at the shop is Tom. Anyone with any sense would now realise it's best not to tell HIM too much as the owner is played by hefty Denis Shaw. But Sally does.
Saber however has been using his brains. A visit to the British Museum tells him the words on Bill's evidence are all roses, only issued by special firms. He races to the florists in time to rescue Sally from her fate.
The boss meanwhile has kindly told Sally all about his smuggling. The roses are refrigerated (!) in South Africa and sent in crates, the box with the underlined name contains the contraband diamonds.

Reused footage department: the shot of Mark and Bob driving up to The Penguin Club is exactly the same, since each time another car vacates a space for TGP668. Sally uses a taxi LYL914 no less than for four journeys. Airport bus MLL759 is seen in one sequence.
Uncredited speaking roles: Frank, a police photographer (Frank Hawkins). A police inspector with Inspector Parker. A clerk at the British Museum
Series 4 of Saber of London ... Main Saber Menu

.

.

.

.

.

.

.


Joe Kelly (Robert Ayres) draws up at a posh mansion. He wants to know why his fiancee Jane Grant had shot herself. Her Uncle William (Jack Melford) had written to Joe with the terrible news. He had brought up Jane and her older sister Kathleen (Silvia Francis) ever since their parents had been killed in a car crash.
She gives Joe the painful details. Apparently Jane had met a married man who had left her to go to Bermuda. Joe simply cannot accept it was suicide, or that she loved anyone else.
"Darling, I can't explain," that's what her suicide note had said, but it sounds phoney to Joe, not the kind of words Jane would ever use. Yet the police are satisfied with the suicide verdict.
Joe recounts the tragic story to Mark Saber, who advises him the case can't just be reopened simply because he feels something is wrong. But Mark agrees to take the case, and goes over the sad events with Kathleen. She explains that Uncle William looks after the sisters' trust fund of £50,000 each, until they marry. Jane had been working for her uncle, writing from a French book as she was fluent in that language.
Mark gets Kathleen to reconstruct that painful day when Jane died. Jane had been working in the study, when her uncle had returned home. Kathleen had been with him in the drawing room when the shot was fired. Uncle William had rushed into the study, but it was too late.
It is murder, decides Saber. He gets Joe to break this information to Kathleen. Joe quietly tells Kathleen her uncle murdered Jane, but she cannot accept it. "Mr Saber's a pretty good detective," is Joe's commercial. Saber has worked out that the fake 'suicide note' was really only her translation of a section of Racine that he had asked her to write down. All very high brow detection!
Kathleen clings to the hope that it is not so. Rashly, alone, she confronts her uncle with the evidence. The kind old gentleman abruptly changes character, though there is some sort of explanation, as he had been spending all the cash held in the trust fund. He tries to push her over a balcony, but Saber, with Bob Page and the inspector in the rear, rush in and it's Uncle William who somehow topples over the edge.
This is a neat story by Patricia Hill, with Silvia Francis giving a strong portrait of the vulnerable sister. The part of Uncle William is played sympathetically too, though it is a little hard to accept that the kindly old gentleman whom we met initially could be such a scheming villain. His elaborate method of murder is also unlikely, though not as tortuous as Saber's logic in solving the case. Neverthess, I found all characters sympathetically played, and the story hangs together well.

The film starts with a location sequence as Joe drives up to the impressive Caldecote Towers in Bushey. There is also a short sequence of TGP668 driving along a dual carriageway. And also at the Towers at the end, a body toppling over a parapet. In the cast list is Colin Tapley as 'Inspector' although he only shows up silently at the end to perform an arrest. Bob Page has one line in Saber's office and is briefly seen at the end. On one occasion Robert Ayres calls his fiancee Jean, and once also so does Silvia Francis! But otherwise she is always Jean. Saber drives TGP668. Joe drives UTM495. This film is dated 1959 and must be one of the last made in series 4
Series 4 of Saber of London ... Main Saber Menu

.

.

.

.

.

.

THE BLACK WIDOW
Dr Krile phones Mark, concerned about a patient (Geoffrey Hibbert) with amnesia who keeps talking of some criminal act he's just committed. The man mutters about warning Henry, and of something in Henry's bag. Who is he? Bob and Mark search the man but there's no clue as to his identity except, maybe, two theatre tickets. Bob learns from the agency that they had been sold to a James Tasker (John Martin). But he turns out to be the secretary of the Wapping Sporting Club and the tickets were used as a lottery prize. The lottery ticket stub yields an address, 8 Lewin Drive, Bayswater.
"Warn Henry about the Black Widows," mutters the odd man. More questioning reveals he had put three of these poisonous spiders in Henry's bag.
Bob goes to Lewin Drive and talks to Mrs Janet Hinton who lives there. Henry's her husband! The sick man proves to be her brother who lives with them, Freddy, a docker.
But Henry is an elusive man, a travelling salesman, and with no mobiles, he can't be warned about the deadly spiders in his bag. But his car can be traced, a "two tone Cresta saloon UTM 496." His employers Gladstone Novelty Candy Co (phone GRO 2925) provide a list of calls Henry (John McClaren) was due to make this day.
Inspector Parker is a very humble man. He plays second fiddle in the Saber office as Henry's car is searched for by every police car in London. They whizz round the deserted streets as Saber phones White's Supermarket in Pentonville Road. Henry was there fifteen minutes ago. He was off to Necto Industries, heading north there, but it's too late as he's missed by seconds. Some guessing about his next destination- it could be a children's orphanage. The phone rings there, but the children are too busy dipping their hands into Henry's bag for free samples! By the time Saber gets through, Henry's just left. Inspector Parker emerges from his reverie to obey Mark's suggestion of setting up road blocks.
Saber speculates with Janet Hinton on why Freddy has sought revenge. Bob returns from seeing the children with some good news, "none of the kids at the orphanage got bitten." But Henry has eluded those road blocks. Then as if by magic he walks into Saber's office! He'd learnt from neighbours his wife is here. He gets a slight surprise. "Careful Mark," warns Parker as Saber pokes around inside the bag.

The main police car in the search is 892 FPC, among others seen are MGF 287, NLN 820, 894 FPC and XPC898. Bob drives UTM495. Among other location scenes are: a stock shot of Taxi OGT344 arriving at Saber's office, Robert Arden is filmed walking on the pavement and entering a theatre. Adrian Cairns as Phillips walks from his office to see UTM496 driving away. Then this car is seen arrving at the orphanage, surrounded by children and two staff. Finally we see the car arriving at Saber's office. Bob drives TNM286 and Mark TGP668.
Big Ben is showing 1.55 when Dr Krile first phones Saber. However we had been informed it was early morning! Later inside the office Big Ben is stuck on 1.05 as Saber chats with Mrs Hinton. But at least it moves round to 2.35 when Parker arrives

To the Series 4 of Saber of London menu. ... Main Saber Menu

.

.

.

.

.

.

HOUR OF RECKONING
After 15 minutes introduction, we finally meet Mark Saber. Nancy Palmer (Jean Aubrey) asks him for help.
She's fallen for Frank Forbes (Brian Nissen), The Man who didn't Break the Bank at Monte Carlo. They'd both been staying at the Hotel Metropole on the Riviera. Losing heavily at the casino,Frank had been loaned £2,000 by a Mr Kaslow (Denis Shaw) who describes himself as an "investor." If Forbes agrees to marry the wealthy Nancy, they must share her fortune 50-50, otherwise he will have to pay a forfeit... his life!
Problems follow thick and fast for Frank. He does propose, but Nancy says that although she does love him, she has not been entirely honest with him: for she is not rich at all. He replies by admitting he is broke also.
Kaslow wants his forfeit. But what Kaslow wants most, is his revenge because, before Frank had met Nancy he had jilted Emily, Kaslow's own daughter who had then driven her car over a cliff. Though it was suicide, he knows Frank had caused her death. Frank claims he never loved the girl.
Hiding in that old favourite Danziger location, the Buckingham Hotel "Cromwell Road" (a free plug?), an increasingly nervous Frank awaits the arrival of Keska, the hired assassin.
It's then that Nancy wisely calls Saber in. It's a curious scene as Saber at one point seems to say he had already met Frank. As it is, Bob interviews the suave Kaslow, who denies all, and even claims he has no children.
Into Frank's room, Kaslow enters with a gun. He tells Frank, sitting deep in his armchair, that he is here to finish him off in person. But it is Saber sitting there, and he shoots Kaslow first. It transpires Frank really does love Nancy, so all ends happily.
Saber drives TGP668 in the final scene. Earlier Bob takes taxis round London, one is OGT344. One location scene is at Victoria Station, Ryck Rydon tails Brian Nissen.
Uncredited small speaking parts: at the casino, 1 the banker, and 2 the croupier
Series 4 of Saber of London ... Main Saber Menu

.

.

.

.

.

.

DARK MOMENTS
From a pawnbroker, Mrs Roberta Keel (Marion Mathie) buys a pistol and cartridges, the price a £25 bribe. She phones her husband (Arnold Bell) warning that she is going to shoot him. Harry Keel seeks help from Saber. He explains he allowed his wife to move to her own Mayfair flat, but today she returned outside the family home and pointed her gun at him.
"Your wife's a bit neurotic," observes the perceptive detective. They go to her flat (the location is "Chesil Court") but she's not been there for two days. A leaflet in her flat advertises treatment by a Dr Kirchway (Peter Elliot) Bob consults this "eminent doctor," pretending he's flipped it, but he doesn't fool the quack. The doc denies ever treating Mrs Keel, and tells Bob he is having hallucinations! However, investigation into her bank account proves she'd recently paid Kirchway some money.
Dr.Welsh, her first analyst, is shot and inured. In a flashback, he tells Mark that she had come back to him demanding medicine, wanting to be made better. She had grown impatient and wounded him. Inspector Parker arrives on the scene and of course wants to arrest her. But she still has to be found. Saber suggests Mr Keel declares his wife mentally incompetent.
"She'll come after me," argues a worried Harry. But that's what Saber wants, to flush her out. So Harry sits at his desk. The tortured Roberta comes in.
"I won't fail this time Harry," she tells him. A touching scene follows.
This is an interesting tale of mental breakdown with Saber concluding by pledging a war on "quack doctors."
Uncredited speaking role: a nurse. Saber drives TGP668 and is seen arriving at Chesil Court. Later it overtakes a taxi before stopping at the hospital. Taxi PXL887 is seen arriving in a street- Marion Mathie steps out, and later returns to it, alighting this time to walk to a phone box. Robert Arden is filmed walking along the pavement and entering the doctor's. Taxi OGT344 twice arrives at the office, another taxi used is TJJ676 shown stopping at the Yard.
Series 4 of Saber of London ... Main Saber Menu

.

.

.

.

.

.

By the Thames, the London Export Company is being robbed. Nightwatchman Dunphy throws a brick at an intruder to foil the crime. His boss Standish (John Longden) is puzzled why the criminal had been stealing only a very cheap light fitting. Inevitably it baffles Inspector Parker too, why would a thief risk being killed for such a petty haul? But Mark Saber of course is the man to solve this case. He's retained by the LEC. The crook, Albert Taft, later dies from that throw of the brick. Taft was a former bank guard, who, according to his boss Mr King, had left his employment suddenly two weeks ago, at the same time as King's secretary, Miss Thelma Stevens. She is now missing. He had been a keyholder for the bank's security vault.
Mark sends Bob Page to check out Thelma's flat. Thelma's room mate Marion Moore confirms Thelma had been friends with Albert, no more, but she hadn't returned to their flat in the past two weeks. This is a typical scene with Robert Arden as Bob, flirting, not for the first time, with a young lady. Bob leaves, with a list of phone numbers of Thelma's other friends, plus Marion adds her own home number! News that the safety box of a Mr Deeds has been robbed. It had contained platinum bars. The plot suddenly becomes clear, when a lab report reveals that those lighting fixtures were made of pure platinum.
Bob is interviewing the manager of a smelting factory where one Harry Brown worked as a senior supervisor. He is currently away on holiday, and is another friend of Thelma's. Her body now shows up in the Thames.
Via Bond, a passport photographer, Mark tracks down where this Harry is now staying (it's Chesil Court, a familiar location in the series). Harry claims he had been in love with Thelma. It was she who persuaded him to melt down the platinum, but too late he realised that she had been playing both him and Albert along. His rather long explanation ends the tale.

Extra: female customer at the photographers. In the first scene Taft is called "Alfred" by Inspector Parker.
Location shots include police cars (not always the same!) driving to the Export Company. Mr King makes two visits to Saber's office, each time arriving in taxi OGT344- and there are actually two different shots of this. Outside the office, Bob picks up this same taxi, but mysteriously alighting at Marion's in taxi KGW713. Later he goes off in TNM286, but alights at the workshop from UTM495. At least he returns in this same car! Mark drives TGP668 as usual, in several scenes, initially arriving alone at te Yard, then at the Immigration Department, driving past shops to Bonds, and reaching Brown's apartment, which is Chesil Court. Finally, with Bob, he returns to the office
Series 4 of Saber of London ... Main Saber Menu

.

.

.

.

.

.


On a cold foggy day, Fred Winchell visits his old friends Tom and Lillian Brent. Fred is out of jail after four years inside, and Tom (Neil Hallett) requires his help. He needs an alibi for when he kills his Aunt Mary. He'll inherit her £100,000, so it will be a profitable piece of work, and Fred seems assured by that famous line, "there's no possible way it can go wrong."
"Everything's going to be all right," he repeats as, disguised, he drives off in his Morris Minor with dummy plates. En route he is held up for a short time, when the road is blocked by an accident. A girl called Pat (Lorna Henderson) idly watches his car. But Tom is soon on his way to his aunt's lonely house, and he smothers her with a cushion. Soon, despite the fog, he's safe back home, his disguise removed.
He phones his aunt's nearest neighbours, the Beales, saying he's worried he can't reach his aunt by phone. It's they who find the dead body.
They inform the police inspector (John Stuart) that she didn't get on very well with her only relative, Tom, as he wasn't "the sober type." Goodness knows why this case baffles the inspector, but anyway, he asks Mark Saber for assistance.
Mark offers his condolences to the Brents but finds Tom over eager to give his alibi. Also his car is rather dirty considering it hadn't, according to Tom, been driven recently. So Mark asks assistant Bob to cancel their tennis match with Ann and Helen so he can take a closer look at that car. That's all Bob does in this story. Mark creeps through the shrubbery to the driveway where the Morris is parked. The words PAT SNOWDON are traced in the dirt on the boot of the vehicle. It's where the girl had written her name, when the car was held up briefly by the accident.
Tom Lillian and Fred are toasting their good fortune, but it's short lived. Pat has been located, and identifies the car as the one she saw on the road. "They always slip up in the end," smiles Saber.
Notes: Uncredited screaming role: Tom's aunt. Uncredited speaking roles: 1 Local police sergeant. 2 Mr Beale (once called 'Beales'). 3 Sergeant (John Martin).
Location scenes: 1 Fred walking up to Tom's house. Tom exits house and drives his Morris Minor, with dummy plate GUD604. (Though Fred is told to put the real plate back on the car, he must have forgotten for the same plates are on the car throughout.) Three shots of the Morris along roads, at the third it is stopped because of an accident: the familiar UTM496 is one of the vehicles at the scene. Then Tom drives on and parks his car, entering his aunt's house via the back door. After killing her, we see him exit and drive off. He removes his beard before entering his home. 894XPC is the police car pulling up at the aunt's house. Saber leaves his office in TGP668. He drives along Whitehall, then some country roads, driving into Tom's driveway. Tom drives away in his Morris, then Saber departs arriving back at his office. He leaves again, back to Tom's house, sneaking through bushes to inspect the Morris. Back to his car. he drives off. Shot of a police station. At the end TGP668 drives away from Tom's house and into the road, on the opposite side of the road the same lorry is travelling! Also when he gets back to his office, Big Ben shows the same time as it did before, 12.20!
A gaffe: The inspector says Tom's alibi is that he was playing "Canastra" when he means Canasta
Series 4 of Saber of London . . Main Saber Menu

.

.

.

.

.

.

.

DILEMMA FOR HARRY
Saber is enjoying a picnic with a one-off girlfriend, Carol (Shirley Cain in her screen debut). She says she's been trying to get Mark to come for a whole year! However Bob is chaperoning them. But when Bob stands up someone takes a pot shot at him. who chases after the rotter, and returns to find his boss kissing Carol! She never appears again. Must have been the end of the romance?
So who is after Bob? He says he's not "been around long enough" for anyone to nurse a grudge against him. In fact he can only remember "one or two cases." Inspector Parker himself finds four possible cases but only two men who are in current circulation:
a) Ben Roberts (Hal Osmond) - he'd been sent down last May for an insurance swindle, even though he protested his innocence.
b) Ed Blake (Arnold Yarrow) - a moneylender who had made threats on Bob's life.
However they are red herrings because while these suspects are being interrogated Bob gets a death threat from a man who calls him Harry and says he will get back at him for selling his friends out to the Nazis. A second call announces he's going to "get Harry real soon."
The potential killer is Mac, whose longsuffering wife is tired of Mac's obession with revenge, with the result that he strangles her. By tipping a taximan, Mac is able to slip past the police guard outside Saber's office. He prepares to shoot Bob. Saber calmly allows him to proceed- but that's a ruse to grab Mac's gun.
We never quite discover why Bob is erroneously confused for this Harry chappie.
Footnote: I can find no reference to Bob's involvement with 'Ben Roberts' or 'Ed Blake' in any other case. Does this mean there might be "missing" Saber episodes?!!

A lengthy location sequence at the start lasts just over four minutes: Mark and Bob are picnicking with actress Shirley Cain, the dialogue clearly added afterwards. A man shooting at Bob, drives off in one of the vehicles Saber's team uses, UTM495. He drives to a terrace house.
We see Mark and Bob arrive at the Yard in TGP668. Returning to his office Mark drives up in TGP 668 with Big Ben showing 11.50. (However inside the office Big Ben is indicating 11.40!) A familiar shot of the office shows Big Ben at 12.58. A sequence outside the office shows John McLaren as Mac lurking as a taxi driver draws up with his vehicle. Then we see him drive up again in JXU648(?) and fiddle with his engine outside the office entrance, distracting the police guard. At the end Mark drives away in TGP668.
There's rather a lot of poor acting in this story
Series 4 of Saber of London
Main Saber Menu

.

.

.

.

.

.

.

OPERATION ARSON

Antediluvian fire engines set the scene of arson. Over the past month four new houses of builder Mr Shaw (John Brooking) have burned down. Since Chief Fire Officer Denning (Ian Fleming) is unable to track down the arsonist, an angry Shaw, believing rivals are trying to ruin his thriving business, engages Mark Saber.
The great detective's first port of call is the bank to check on Shaw's financial situation. The Amalgamated Bank confirm Shaw's business is profitable, so it must be a matter of questioning employees and former employees who might have a grudge.
First Mark interrogates union agitator Rumson (Geoffrey Hibbert), bitter at his treatment by Shaw, "he's a giant octopus." Flirty Miss Meg Miles (Ann Lynn) is interviewed by Mark's assistant Bob Page. She is also bitter at being sacked by Shaw. He didn't like her flirting at work, she's clearly that sort since she advances on poor Bob. Exit Bob in some haste. It's the type of scene Robert Arden as Bob did several times in this series, and did it well. Dead ends. Mark Saber can only emulate Denning and wait for developments, not a stance that is welcomed by Mr Shaw.
They get their bit of luck when Harry Walston, a Cunard Line steward who had met the great detective on one of his cruises, turns to Mark Saber requesting help with his wayward son, Chester, allegedly sixteen but looking nearer twenty six. Harry's worried the lad is being indulged by his adoring mother Mary (Noel Dyson). He's going off the rails.
Bob Page is assigned to find out about Chester, while Mark focusss on the arsonist. Bob learns that Chester has had difficulty holding down any job. He'd worked as a delivery boy, but was sacked when he'd stolen money from pay packets he was supposed to deliver to Shaw's firm. Hurriedly Bob relays the news to his boss. So suddenly the arson case is solved. There's a distressing conclusion with Chester's mother receiving a sharp ticking off from Saber for not raising her son properly.

Location shooting: stock scenes to begin, with fire, engines and ambulances speeding to the scene. A shot of the entrance to Saber's office, Big Ben showing 12.58. It strikes one as Shaw meets Saber. TGP668 is shown leaving the office and arriving at a bank. We see it overtaking cars on a main road. Later several scenes on main roads. TNM286 is seen driving along and stopping at a house. Then along a main road- though it is UTM495 when it arrives back at the office! A taxi OGT344 arrives outside the office. Later it is seen arriving from a different camera angle. We see TGP arrive at flats. Finally, now with Bob as passenger, it returns to the office at 10 o'clock

Series 4 of Saber of London . . . Main Saber Menu

.

.

.

.

.

COME OUT FIGHTING
According to his manager 'Irish' Clancy, boxer Johnny French (Neil Hallett) is pure dynamite, the best he has ever managed. He's booked for a title fight showdown with Karminski.
In his Buckingham Hotel room, Johnny receives a surprise visitor. It is his opponent's beautiful sister, Tina (Vera Fusek), who gives him a sob story, in effect asking him to throw the fight so she can use the prize money (all 1,000 quid!) to rescue her dear Polish mother from behind the Iron Curtain. She uses moral blackmail too when she reveals her brother might go blind if he's hit too hard. Irish starts to get worried that his asset is cherchez la femme, so on the very day of the big fight he calls in Mark Saber to get the truth out of this girl: "dark, black hair, brown eyes, about 110 pounds."
So Saber rushes round London in his car as Johnny prepares to fight. As Johnny steps into the ring he bears all the marks of a loser. As Tina is there watching, quite why Mark is wasting his valuable time speeding through the city is a mystery.
The fight begins. Tina stares beseechingly at Johnny. Irish asks him after Round One why he seems to be throwing the fight away. Next round Johnny is really tottering.
But then Mark, having discovered the facts, shows up after his weary travels. Johnny has been all but counted out. Johnny is told that Tina's tale was "a fix," thus we know how the fight will end....

Brian Clemens script on back of envelope. Apart from several location shots with TGP668, Donald Gray has only two studio scenes which probably took an hour to shoot. Even so he stumbles uncharacteristically over some lines, suggesting it was all done in a hurry. Robert Arden is in the screen credits, but not the film! Tina calls Karminski Stan, though the MC introduces him in the ring as Julius. Uncredited speaking roles, all at the boxing match: a steward, a well wisher, the MC, and the ref
Series 4 of Saber of London . . . Main Saber Menu

.

.

.

.

.

.

OUT OF THE PAST
Amy Kubrick has come from Berlin to trace a man whose photo she had spotted in a paper. Pete Phillips, editor of the Daily Echo informs her that he is called Mason Crowder, vice president of Ervine Plastics. He got married last year to one of the main shareholders in the newspaper.
Amy confronts Crowder in his office. He had been her husband in Germany. Later she is found strangled in her digs in Moscow Road Bayswater.
Mark Saber "noses around" on behalf of the Echo. Her landlady, who had found the corpse, shows Mark a postcard that had just arrived for Amy. It's in German, Mark reads it half aloud, muttering in German. From Wilhelm Schultz. He says he's coming to London to see her.
At the airport, Mark meets him. In a difficult scene, his heartbroken figure explains that he loved her. She had gone to England to settle some mysterious business.
Mason learns about Amy's visit to the Echo, and complains to his father-in-law, owner of the newspaper. Mark discovers Mason's real name is Kubrick!
He asks Mason about it. The "boring, interesting" truth comes out as to why Amy was murdered. In the best Cluedo tradition, Mark gives out his line, "I am accusing you of the murder of Amy Kubrick."

Mark drives TGP668 in several sequences, the last driving and arriving at London Airport. Speaking parts not in the on screen credits: Amy's landlady in 2 scenes (Norah Gordon). Betty, Phillips' assistant in 4 scenes (Ann Lynn)
Series 4 of Saber of London . . . Main Saber Menu

.

.

.

.

.

INCIDENT IN SOHO
During the Soho Fair, a man is shot. Saber is called as a matter of urgency to the hospital where he enjoys some "flirting" with a nurse before Inspector Parker meets him and asks for his help. "I must be dreaming!" Mark exclaims.
Inspector Parker explains that the wounded man was an undercover policeman, David Sayers. He had been infiltrating a gang of bootleggers, "shades of Al Capone" (!) Miss Lila Longo (Jan Miller), a close friend of Sayers claims it was an accident and this is corroborated by her dad Nick (Arnold Bell) and her boyfriend Johnny (Raymond Young), "a pretty-boy hoodlum."
Bob, posing as an insurance adjuster, checks up on Sayers' fictitious life insurance. Mark has called on his girlfriend Ann in her dressing room, asking for her help in the case. Thus Ann (or as Bob calls her "Bo-Bo") accompanies Bob, since "big man" Johnny is one for the girls, to "captivate him with some feminine allure."
A drink of the illicit booze and Bo-bo makes up to Johnny. "How did I do?" she asks Bob afterwards: "You were magnificent!"
The plan works. Lila is aroused to jealousy and confesses all. She confesses that she had shot Sayers on Johnny's orders.

This story begins with 2 and a half minutes of footage of the Soho Carnival. Donald Gray's travelogue informs us that Soho is "famous for its good food," perhaps not what most people would list first in its claim to notoriety. The wounded man is seen being taken away by ambulance UNK310. Robert Arden is seen walking along a pavement, later driving UTM495. We also see TGP668 arriving at Ann's workplace. Robert Arden and Jennifer Jayne are seen alighting from a taxi enroute to Johnny. Uncredited speaking extras: the second nurse. The sergeant who poses as Sayers does not speak, but is played by John Martin

Series 4 of Saber of London
To the Main Saber Menu

.

.

.

.

.

Tim Caldwell, ace young rider of Angulaine for Berkley Stables, disappears after a win, sending a note of resignation to his employer, offering no explanation.
Miss Kate Berkley asks Mark to find their good luck charm, if only because the stables are facing financial ruin without Tim's winning ways.
Barney King, a horse racing reporter, informs Bob that the whisper is that Dave Merton (Denis Shaw), a "big time bookie," is trying to foreclose on the stables. Bob also learns from Tim's landlady that he left his digs in a hurry. Oddly, though he had booked a taxi, she noticed him taking a lift in a passing car.
Mark travels with Bob to Colchester Racecourse (the credits mention the racing scenes were shot at Lincoln). There they bump into Inspector Parker who has bad news, Caldwell has been found in the river, two bullet holes in his head.
So it's the end of the case. Or is it? Mr Berkley wants that "dirty conniving blackguard" Merton caught. Unfortunately he has no proof. So Saber resorts to his familiar trick of entrapment. An Irish jockey Sean Regan (Geoffrey Hibbert) is retained by Berkley, and he is soon visited by Mr Merton and his henchmen. Regan is warned that it's not healthy working for Berkley. He's reminded of Caldwell's fate, after he refused to throw two races. Regan won't succumb so Merton tries some softening up. Bursting in, Parker makes his arrests.
In the final scene, it's 6.30 as Mark listens with Ann to Aguliane's next race, She collects a £5 bet off Mark as Angulaine wins again.

Ann Sears as Miss Berkley and William Hodge as Mr Berkley enjoy one nicely acted confrontational scene with Donald Gray.
Mark drives TGP668 seen in several sequences. Bob drives the Vauxhall. Merton's car is seen arriving at Regan's hotel. Uncredited speaking roles: 1 The race commentator. 2 Tom Caldwell. 3 Barney King. 4 Mrs Adams, the landlady 5 Ann (Jennifer Jayne). Also appearing but not speaking: Richard Shaw as one of Merton's heavies. John Martin, who is sitting next to the race commentator. Gaffe- in a newspaper headline the spelling is Berkeley, unlike the credits

Series 4 of Saber of London . . . Main Saber Menu

.

.

.

.

.


Tommy Haines (Robert Dorning) is the manager of boxer Ray Gibbons, who's had an amazing 20 ko's in a row. But Ray's one desire is to get out of the fight game. But as he's partly owned by promoter Oscar Carno, he needs permission to pack it in.
As Mark knows Carno (they had allegedly met a year earlier), he agrees to act as a go-between. Oscar turns out to be a snob, even if his cockney accent is still much in evidence. Oscar curtly denies he owns Ray. For it would be illegal for him to own both him and the next boxer Ray is due to fight.
Bob finds out from Redell at the Boxing Board of Control who exactly does own the boxer. There are three people with a share in him, Tommy his manager, a woman called Marion Sitar, and Gunner Walsh.
Bob has the nicer job, he interviews Marion, who in a sparkling scene, flirts with Bob as he asks why she owns part of a boxer. She admits she's put up £500, and is happy to receive a tidy interest on the sum. She kisses Bob. "Will I see you again?" he asks hopefully. "I sincerely hope not," is her crushing reply.
Gunner Walsh is a lonely old man. Mark can't get anything out of him, but it turns out he is Tommy Haines' father-in-law. Haines admits all the funding to help promote Ray has come via Carno, indirectly. But Carno has been demanding exorbitant interest on these loans. Bob asks Carno why he is doing it. The pair lose their tempers.
"Strip him of his respectability," is Mark's ploy, for it's Carno Achilles Heel. Thus Mark persuades Marion to avoid prosecution for usury by giving up her loan. She informs Carno that he faces potential adverse publicity, and so the moneylender backs down.
Solemnly Mark warns Marion, "no woman should try to own a man."
This doesn't quite tie up all the loose ends, making the story rather unsatisfactory.

Uncredited speaking role: Carno's assistant (John Martin). Gene Anderson is incorrectly billed in the screen credits as Jean Anderson, and Ray Gibbons is in the credits as Ray Robbins. Location scenes: 1 Mark and Bob leaving at the office in TGP668 Big Ben showing 5.05. . Film of the boxing match. General film of traffic. Bob drives up to the Boxing Board (actually Left Court) in UTM495. He departs and we see TNM286 drive past Big Ben (showing 10.35). TGP668 draws up outside a terrace house, and Saber climbs the steps. Later to see Carno, Bob walks out of the office and hails a taxi OGT344, which also takes him back to the office, Bob exits and pays. TGP668 leaves the office again, with three street scenes of the car before he reaches Marion's flat

Series 4 of Saber of London . . . Main Saber Menu

.

.

.

.

.

THE OPPORTUNISTS
Leaving their fine detached house, Suzy Wilmot and her friend Betty bid mummy and daddy farewell, driving off to somewhere in the West Country, precise destination undecided, on a vacation.
They are followed. They stop off at a quiet inn ten miles outside Salisbury.
The man tailing them, Younger, tips off his accomplice Lloyd, who is back in London. Lloyd phones Old Man Wilmot. The butler Hughes (Adrian Cairns) takes the call and informs his master. Threats of harm to Suzy unless £10,000 is forthcoming. Mrs Wilmot is all for paying, but her husband Frank (Arnold Bell) is perceptive enough to realise that if they do so, more money might be demanded. No police, instead a private eye, Mark Saber, who awaits the next phone call from the blackmailer.
Wilmot does agree to the demand, Take the cash to Victoria Station at 11.30am next morning and wait by the news stand. Saber and Bob Page watch as Wilmot waits. 50 minutes later, with some of the 'extras' still wandering round the station, the station announcer asks Wilmot to call at the Information Desk.
He is ordered to catch the 12.35 to Brighton. Mark and Bob accompany him, and they speculate en route on what the kidnapper is planning next. A guard delivers a note, at Horsham Bridge the money must be thrown from the left window. At the appropriate place just after Horsham (actually we see a shot of Durham! Not that Horsham is on the line to Brighton anyway.) Lloyd collects his package.
Of course this is a golden goose for the crooks, and Younger follows the girls as they drive on to Seaford on the Devon coast (someone's geography is getting confused).
After pondering it all, Saber now decides on that old chesnut, the butler did it, Hughes that is, though according to Mrs Wilmot he is "such a nice man." So Bob, Mark and Wilmot follow the perfect butler as he takes his afternoon stroll. It leads him to a seedy house where he collects the cash from Lloyd. The gang are immediately arrested while the girls, oblivious of the threat, continue to enjoy their vacation.

Uncredited speaking extras: 1 Betty. 2 Ticket collector. Also, at HW Beumont (sic), the news vendors on Victoria Station, the man behind the counter is John Martin (in a non speaking part).
Lots of location shooting: Suzy's car is UTM 496, surely I've seen Saber's assistants driving this one! We see the boot being loaded before she drives off. The crooks follow in car UTM495, another series' regular. After some country road scenes the girls stop at the pub. Younger in the second car, goes to a phone box. Then we see Lloyd leave his house and cross the road to a phone box. He does this twice. There's also a standard shot of TGP668 on a main road. Shots of Victoria include the train departing and several scenes en route including one at Three Bridges. This electric train has route indicator 6 (except for one shot!). The girls' car is parked at a station. Bob, Mark and Wilmot tail Hughes as he emerges from the house and walks to where Lloyd lives. A final shot shows the girls out walking in the countryside

Series 4 of Saber of London . . . Main Saber Menu

.

.

.

.

.

DEATH AT HIS FINGERTIPS
Rex Verney is dubbed The Man with Death at His Fingertips (Francis Matthews). He is half of a knife throwing act with his wife Jill (Vera Fusek) the throwee, as it were.
When he receives anonymous phone calls claiming his wife is unfaithful, he gets "the jitters" and isn't exactly in the best frame of mind to throw knives at her on stage! He gets so angry, several witnesses at the theatre hear him threaten to kill her if she really is two-timing him. To their hotel room, someone sends flowers "to my darling Jill."
Verney is so worried he consults Saber. Talk it over with her, is the advice he receives.
But he cannot, for when he returns to their room, there she is, dead. Inspector Parker knows of course whodunnit, even though wise old Saber tells him he's making another mistake.
Saber delves back into Verney's past and travels to Liverpool's Alhambra Theatre to talk to Emma White, the wardrobe mistress. From her, he learns Jill had formerly been one half of a Apache dancing act, and Bert Miller her partner (Paul Stassino) went mad when they split up and sworn he'd "make her pay." Now why couldn't old Parker have found all that out?!
Saber tracks Miller stage name Sanchez down to the Hilton Apartments and bluffs a confession out of the glib blackmailer.

Notes- Location filming: stock shots of London at night and Victoria Palace Theatre. Inside a theatre, numerous audience shots. Several shots of Buckingham Hotel with Francis Matthews. Francis in the street by Anton's Coiffeur des Dames. Taxi OGT544 arriving at Saber's office. There's a stock shot of a railway guards carriage on the 2.30 London to Liverpool train, shown back to front. Two shots en route, one on return to Euston, with shot of Euston Arch. Saber arriving and departing his office in his Porsche.
Uncredited speaking roles: Customer at Anton's. Call Boy. Alhambra Stage doorkeeper. Saber's girl friend Ann is given a mention, but does not appear. Mark breezily asks Bob if he'd phone her to break their date.
On two occasions Jim the stage manager (John Stuart) introduces the act as "Rex VARNEY"
Main Saber Menu . . Series 4

.

.

.

.

.

MURDER FOR REVENGE (dated 1959)

Stella Adams (Marion Mathie) is a bitter twisted invalid, her husband John (Robert Raglan) a successful businessman. He gains his comfort from actress Betsy Lynton (Liz Fraser in an early role), their tryst on a park bench his only relief from his wife's complainings. The couple look an ill matched pair, but apparently they are in love. She is amazingly philosophical about the inadequacy of their relationship, since he can't leave Stella, but he has promised to leave her half his money should he die.
Frank Lynch is an engineer working in Adams' firm. But Lynch falls out with his boss over the percentage payment for one of his inventions. Frank needs more cash and attempts to blackmail Adams over his dalliance with Betsy.
John receives an urgent telegram from Betsy, asking to meet at their usual bench at 10.30am. While waiting for her here, Frank is shot dead.
Betsy consults Mark, knowing she is a prime suspect.
Inspector Parker is looking very smug, for he is about to make an arrest, he scoffs to Mark that Betsy has taken him in. His proof is the telegram sent to Adams.
Mrs Colby, Stella's housekeeper is certain that "hussy" is guilty too. Even Bob Page thinks this is a cut and dried case.
Stella does concede that she had just learned about Betsy from "a friend." This was Frank.
So Saber questions Frank, who has now ensconced himself in John's office. He does admit that he had blackmailed John, but never shot him.
The obvious clue is now followed up. Where was the telegram sent from? The unlikely truth exposes the killer, Mark does the business while Inspector Parker watches idly by.

This episode mostly uses studio scenes. At 11.40am, a taxi drives up to Mark Saber's office. We then see Betsy meeting Saber at 2.20- so she must have had a long wait! Saber drives TGP 668 which is seen arriving at Scotland Yard, Saber alighting. There are also shots of his car on a roundabout, and one of a police car speeding along a three lane highway.
Uncredited role, not speaking: John Martin plays a passer by in the park, arm in arm with a girl.
The telegram, dated 31st July 1958, is sent to 52 Oxford Street W1, the shot of Adams' office is not this address but is a little further along the road

Main Saber Menu . . Series 4

.

.

.

..

.

.

.

At the Rivera Export Company an exceptionally heavy case is accidentally dropped, to expose a corpse inside.
Mark Saber and Bob are relaxing at the Club Bolivar, perhaps being entertained is too strong a word, for they are listening to some pretty average singing and watching some pretty average Latin dancing. "Not bad," Mark comments, maybe tongue in cheek. Presumably it's a way of filling up the 25 minute storyline in which the group called Mantas receive tv exposure, which may not have helped their careers a lot.
Next day in his office, Mark is phoning his girlfriend Ann, admitting that he misses her. In walks Miss Marie Carmen Diaz (Marianne Benet), with a request to find her missing Argentinian fiance Antonio Giron. He was a guitarist at the club, but failed to turn up for work a week ago. The owner of the club says he went back to Argentina. But Miss Diaz is worried, and Mark promises to investigate.
When she leaves the office, she is followed by two rough men, and after an inordinately long time they pick a quiet street in which to kidnap her.
Checking at the Immigration office, Bob finds they know nothing of Antonio, nor does the Argentinian Embassy have any details about him.
The story of a mutilated body found at the docks on a boat bound for South America excites Mark's suspicions. But Bob can't identify the body when he examines it, since it is so disfigured.
Inspector Parker pays a call on the Club Bolivar. A Jamaican group plays Please Come Back to Jamiaca in the background. Parker asks Rivera about the crate with the corpse.
Carmen Diaz has been taken to a mews property to be questioned by Rivera's bullies. She is told Antonio had been part of this gang until he had attempted to go straight. From out of nowhere, Saber bursts in, with gun, to expose the drugs smugglers. A fight, Carmen gets minor revenge by biting Rivera before "nick of time" Parker swoops.

This is a weak story which doesn't hang together.
Uncredited speaking parts: 1 Bill (Howard Lang. 2 Frank. 3 Pearce, the immigration officer. 4 Waiter. 5 Male singer at club. Lots of location scenes, though no sign of Saber's Porsche. UTM495 is seen arriving at the office, then driving to the Immigration office. Then returning to the office. We see TNM286 driving past Buckingham Palace before it is UTM that returns to the office! There are numerous shots of Miss Diaz walking along streets pursued by 436AMY, eventually they snatch her and drive into a mews. Inaspector Parker's police car is MRK422
Saber Menu . . . Series 4 Menu

.

.

.

.

.

.


This is a superior example from the series with a script by James Eastwood.

Actress and singer Miss Dora Dane has been strangled during the night in The Gordon Hotel. The third such murder, one at Windsor last month, the first in Putney two months ago. The Full Moon Murders, the case becomes known as.
Mark Saber is discussing his current case with a (silent) blonde client, when he's approached about investigating this murder. He's rather short staffed as his assistant Bob has just left, so his girl friend Ann Fellowes (Jennifer Jayne) agrees to help.
Dora, it seems, had a shadowy boyfriend, "tall with black hair, a bit like a movie star." He had been seen with her around midnight. Dora worked at the Red Slipper Club, and Louella the barmaid and Harry the pianist recognise the man as John Smith. Saber cleverly draws a primitive identikit picture of his face.
The parent of one of the earlier murdered girls recognises him as Wing Commander Bertram, whilst the other as Charles Cuthbertson Tillotson. His latest alias is Captain Charles Brigham, though his real name is Andrew Bordon (Robert Raikes), and at present he's befriending a girl on the train to Brighton. She's Barbara, but she's accompanied by her parents who are holidaying in Brighton. Bordon is staying at the Metropole.
Tonight's a full moon. Back in London, Ann is disconsolate that all her work hasn't unearthed the killer. But she gets a break when a singer at the Red Slipper, identifies the picture as that of Andrew Bordon. She'd met him yesterday in Brighton.
Ann grabs Mark and they dash to Brighton.
"You've been rather strange," Barbara tells the murderer. "Charles, you're so different tonight." Now he takes her to his room. "Don't get excited, Charles." He starts to strangle her, but enter our one armed detective. Just in time.

There's the usual shot of the outside of Saber's office, TGP668 parked outside, Big Ben showing 12.58. The Brighton train is authentic, three shots including one near Three Bridges, though with third class carriages, it must be an old film! Four of the cast are filmed in Brighton, Andrew Bordon by Palace Pier where he meets Mr and Mrs Spencer and Barbara. They walk along the Esplanade, relaxing on Palace Pier and visit The Royal Pavilion.
There are a lot of uncredited parts on the film print (though cast lists have identified some) in order of appearance: 1 Miss Logan the maid (Jan Holden) in two scenes and one not speaking, 2 another maid, 3 the police doctor in two scenes (Frank Forsyth), 4 Wilson, Parker's assistant, 5 Bendix, manager of The Gordon Hotel, 6 Harry the pianist (Rolf Harris) in two scenes, 7 the dining car attendant, 8 a waiter at the Spencer's hotel, 9 actress Eileen, at The Red Slipper, and 10 a waiter at the Metropole (Hal Osmond) in two scenes
To Series 4 of Saber of London . . . Main Saber Menu

.

.

.

.

.

.

.

Saber of London - Series 5
13 stories were made during the first half of 1959. In the first Saber was helped by Jennifer Jayne, his girl friend/ assistant Ann Fellows (marked #), originally she had been introduced as a fashion model with the surname Chertsey (3.35 Beyond Fear), then mentioned as Ann Churchill (3.39), then as Ann Fellows in 4.26 Incident in Soho and 4.27 Jockey Missing (uncredited). In 4.24 Time Alibi for Murder, Mark fails to recognise her, mainly because she is playing Kathy, an entirely unrelated character!
Saber's principle assistant in these stories is played by by Garry Thorne as Eddie Wells (marked with an asterisk *). However, for the final stories, there was no assistant for the overworked Saber, even though Eddie is in the screen titles (marked ~). This final group of stories is rather a come-down after the generally very good previous season with Robert Arden. Thus Jennifer Jayne is used as a stop gap assistant in the first stories, before the arrival of Garry Thorne, who doesn't quite become the assistant befitting such an experienced detective.
Perhaps Donald Gray knew his fate was sealed, though he gives it his best shot still. None the less, some expense wasn't spared, as in at least one episode (5.6) we see Mark and Eddie in a new feature, a studio mock-up of Saber's Porsche.

My favourite episode: Perhaps #5.13 Sweetheart Beware, as the last of the long long series, has a certain nostalgic sadness.
Best moment: In #5:4 Garry Thorne tries to pretend he's a teddy boy. I also like the performance of Concepta Fennell as the scheming killer in #5.10 Kill and Run.
Dud story: #5:9 The Scream in the Night is poorly scripted

To Saber Menu . . . For the excellent site with detailed Saber of London cast lists

.

.

.

.

.

.

.

.

.

.

DAMAGES
In the Frazer Building, a faulty handrail breaks causing Sam Hawtrey (Jack Melford) to falls downstairs. He is paralysed.
Even though three doctors each state there is nothing wrong, Sam decides to claim compensation from his insurance firm. He says he will never walk again. The Acme Insurance Company only offers a pittance so Sam decides to sue.
George Robinson, Acme's claims manager, approaches Mark Saber who is taking a break at Puckeridge House with his girl friend Ann (uncredited, who is only seen on horseback). George believes Sam is a fraud.
Mark sets up surveillance in a room opposite Sam's flat in St Ann's Villas in Kensington, along with assistant Eddie, who does suggest inviting Ann along, though this never happens. Now we see Sam at home, and the hunch is correct, it's all an act. His crooked pal Mike Frazer (Robert Dorning) is confident the pair will net £50,000. Whenever Sam hobbles slowly out for a walk, Mark films him and Eddie follows, and for several days Sam makes no slip at all.
Day 5. As Sam staggers slowly away from his house on foot, a roller skater bumps into him and instinctively, angrily, Sam goes after him for an instant.
That's enough proof for Robinson. But Mark has spotted a flaw in Sam's account of the accident, which "smells to high heaven." He must have an accomplice, and that is Frazer, who works at the building where Sam had had his fall. To prove their connivance, Mark continues his watch. After 4 days, Mike Frazer's car draws up at the house. Moments later, Mark and Eddie call also, Sam can do no better than offer Mark a bribe, which he turns down of course. So that leaves a fight, during which Sam makes a miraculous recovery and slips quickly away. However it's a case of poetic justice since in his haste Sam trips down the stairs.
No police in this story. Saber drives TGP668. At the end Big Ben is showing 11.45.
Uncredited speaking roles: A passer by outside Sam's flat (John Martin). Frazer's secretary
To Main Saber Menu . . . Series 5: Saber of London

.

.

.

.

.


London, the opening narration informs us, is the Antique Collectors' Paradise. Into one such shop walks a suave well dressed man (Ferdy Mayne) to buy a present. He eyes a nest of Italian caskets but the shopkeeper tells him they have already been sold for £50. An offer of £100 is turned down, £150 no, £200 no, then £250 is rejected by the scrupulous antique dealer, Harold Jason.
He tells Mark Saber of this strange little episode and after posting the caskets, he returns to his shop to find it being ransacked by the smart customer. He is brutally killed.
Mark is playing bridge at his club when he receives a phone call from Inspector Parker to tell him of the murder.
From Chris, Jason's nephew, it is learnt that nothing has been stolen. However one page of a ledger had been torn out. This would record the sale of the mysterious casket (the set of 3 seems to have diminshed to one), and Chris knows the buyer was a Mr Venner of Hampstead. His daughter Julie has been given the boxes as a birthday present. Julia takes them to her home where she lives with her husband.
Clearly there is something in the casket, purchased from the house of the late Ken Spenser in Richmond. His wastrel son Roy had inherited the estate as there had been no will. Spenser's housekeeper clearly dislikes Roy, and who can blame her, for he is the well dressed customer!
Roy has found out from Venner where Julie lives- in Finchstone Heights. He tracks her down at the shops. He asks for the casket, and she very kindly gives him a lift to her home.
Mark has found out Julie's car registration- KBY660 and he and Eddie spot her car and follow her home. There Roy is admiring the casket for which he offers £250. To reinforce his offer he draws a gun when Mark walks in. Off he goes with the casket but Eddie is waiting, and overpowers him.
The box is closely examined. A false bottom. A missing will.
A nice final twist follows, in this Brian Clemens story.

Uncredited speaking parts: 1 A customer at Jason's shop. 2 The waiter at Saber's club. 3 Saber's bridge partner. 4 Mrs Barlow, Spenser's housekeeper (Norah Gordon).
Location scenes include: Ferdy Mayne walking along street and entering the antique shop. The much used shot of Big Ben at 12.58 and TGP668 outside Saber's office. Saber arrives in his car with Eddie at Spenser's house. Then seen driving along road, entering Venner's house, and later departing. Though KBY660 is stated as the number of Julie's car, in fact she is driving that old Danziger favourite, UTM495. Surely Saber should have spotted his old car?! Several shots of this car and Saber following

Main Saber Menu
Series 5

.

.

.

.

.

THE BIG STONE
Along a quiet street, a lady is walking. In broad daylight, out of a passing car leaps a masked man, snatching her bag before jumping back into his car and away.
Secretary Jessica Roberts returns to G Ross and Son to report the theft of the diamond she was carrying, worth £50,000. She had been taking it to the cutters, Jonathan French & Co.
Saber gives the case his urgent attention. One puzzling matter is that French had suffered the loss of a small diamond three months ago, never traced. Miss Roberts admits she had gone to pieces and can't describe her assailants. But Mark notices her flat is expensively furnished.
Mark's first break comes with Jimmy Willis, French's assistant. He is pally with dancer Carlotta (Ann Lynn), who is seen wearing a diamond engagement ring like the one French said was missing. Mark and assistant Eddie enjoy a nice time watching her dance before chatting to her. She admits she is engaged, albeit secretly, to Jimmy. They are to fly to Rio to get married.
Mark returns the stolen ring, and the engagement is at a sudden end! The poor Scotland Yard inspector is also upbraided by French, for not solving this simple case himself.
But the Yard are making another gaffe in arresting Jimmy for both thefts, because Mark is certain that stealing the Ross' diamond is out of Jimmy's league. Also he has an alibi.
Mark and Eddie return to the route Jessica walked, along Farm Street to Bruton Street, the scene of the crime (in the Mayfair district of London). This road is currently closed to vehicles. So Jessica's story is clearly false, although it certainly wasn't according to what we saw of the crime!
She gets jittery and before she can talk, is silenced by the man pretending to be her admirer. It's easy enough to work out who shoots her, even though we never see his face.
Thus when Saber comes to question her, all they find is her dead body. Mark spots something, it's a match broken in two. Now who has a habit like that? The clue was there...
Location filming: Diana Chesney as Jessica walks along Bruton Street, where she is attacked. A setting scene of St Paul's doesn't fit the location. The vrooks' car is OUU275. Big Ben is at the familiar time of 12.58, when we first see Saber's office. Mark drives TGP668 with Eddie as passenger, driving to Lancaster Gate where they alight at Jessica's home, Barrie House. We then see Saber driving along 'Bruton Street.' Eddie drives 675LMY. At the end Saber escorts the murderer to the police car 894FPC.
Uncredited speaking roles: 1 A waiter at the club. 2 George, another waiter. 3 Ross' male secretary. 4 Jimmy Willis who is played by John Blythe who is not in the on screen credits, though he is in the tv listings.

To Main Saber Menu
Series 5: Saber of London

.

.

.

.

.

.

.

THE SCREAM IN THE NIGHT
Head Accountant William Pelham, working late in the offices of the Inter Dominion Builders, falls out of the window to his death. An incomplete note to his wife Ethel, and his remarks to Carter the nightwatchman point to suicide. Only puzzle for the police is why did he leave his letter unfinished? His wife Ethel is heartbroken, as is his daughter Susan (Wendy Williams) and nephew George Rye. His insurance is invalid because he killed himself.
He had heavy gambling debts. Charles Hooper, a squash partner of Saber's and friend of Susan's, asks for the great man's help. The main mystery is why did Pelham scream as he fell to his death? Not usual suicide behaviour.
Mark talks it over with the president of the company, Sir Basil (Ian Fleming). He says Pelham was an invaluable employee in charge of accounts. So Mark's theory is that someone had had a hand in the till, and Pelham found out.
For Pelham's replacement, Mark arranges for actor Henry Elliott (Jack Melford) to take the post, first task examine the books. As Henry J Ashwood, he's introduced to staff.
To relax, he takes out Helen, previously Pelham's secretary and now his. He tells her that he knows the books have been doctored, so she phones her boyfriend, worried the swindle is about to be exposed. The killer confronts Henry in his office, but of course Mark is waiting, "the game's over!" But not before Henry is pushed, as usual, out of the window. But luckily firemen were waiting with a net to break his fall.

Saber drives TGP668. Big Ben shows 9.35 at the start of the story. Later it's at 1.50. There are stock shots if it arriving and departing the office, as well as driving to the Inter Dominon office.
A large number of uncredited speaking parts: 1 Pelham (John Stuart). 2 Carter the nightwatchman (Hal Osmond). 3 Police Inspector (Howard Lang). 4 His assistant. 5 Mr Shortwood the solicitor. 6 Charles Hooper (Hugh Cross). 7 A waiter at a restaurant. 8 and 9 Two firemen
Main Saber Menu . . Series 5: Saber of London

.

.

.

.

.

.

.
BIOGRAPHIES
DONALD GRAY (1914 -1978) - Born in South Africa, he was overall winner of a Paramount talent competition but after appearing in some minor roles as El(d)red Tidbury he moved to England. He lost an arm in the war. In the 50's he became a BBC announcer for a while, before starring as Mark Saber. He had few further starring roles, though he does do a voiceover for the Captain Scarlet puppet TV series. Trevor Jordan has written his biography "Colonel White meets Mark Saber."
COLIN TAPLEY (1909-1995) - He was the usual police inspector at Scotland Yard. It's likely he obtained the part as a result of his friendship with Donald Gray. In series one he appears irregularly, sharing the part with others but by the concluding stories of series two he is the regular inspector. Born in Dunedin, New Zealand, he, like Gray, was a winner in the Paramount competition. He made some films in Hollywood, before coming to England. Unlike Gray, Tapley continued working for the Danzigers, appearing, uncredited more often than not, in their later series Man from Interpol and The Cheaters. He made films until 1969. He was married to a titled lady.
Series 1: MICHAEL BALFOUR (1918-1997) 'Barney'- Born in America, he became one of the most commonly seen bit-players in British cinema. He moved to England before the war and served with the RAF Eagle Squadron. In one Danziger programme, the character he plays is described like this: "with a face like yours, you'd scare 'em to death." But in real life he was a gent with quite sophisticated tastes.
Series 1: THERESA THORNE 'Judy' - I have found little information on her. Can you help? She appeared in the 1955 film Joe Macbeth, made the same year as her role in the Saber series. She also played a photographer called Mary, in the 1957 Charlie Chan story "The Noble Art of Murder".
Series 2: DIANA DECKER (1924-2019) 'Stevie' - As a yougster, she moved to England and made her film debut in 1943. She appeared with Donald Gray in the 1952 Saturday Island. She is best known as a recording artist with the hit "Poppa Piccolino" and also appeared on the London stage and as a cabaret singer.
Series 3: NEIL McCALLUM (1929-1976) 'Pete'- born in Canada. After his role in Saber of London he starred in one film for the Danzigers 'On the Run' which also features Gordon Tanner. On the strength of his performances, ABC signed him as a contract artist, enabling him to appear in Armchair Theatre, as well as stock series like "International Detective" (he's in "The Prescott Case"). He also appeared on the London stage. In 1965 he hosted A-R's "A Swinging Scene". By the 70's he was a producer, notably for BBC Scotland's "Sutherland's Law". He died tragically of a brain haemorrhage.
Series 3: GORDON TANNER (1918-1983) 'Larry'- also Canadian. Also appears in a Series 2 story "Find Harry Clay". Earlier he had appeared in The Vise story "Never let me die". Later he's in Man from Interpol, International Detective and Interpol Calling.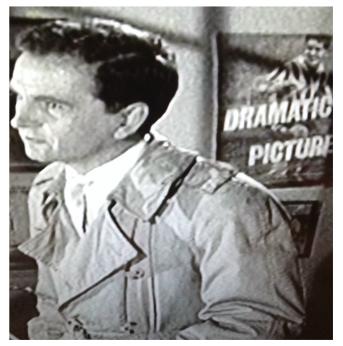 Series 4: ROBERT ARDEN (1922-2004) 'Bob Page'- first English born asistant for Saber, even if he grew up in the States! A dance band vocalist with the likes of Joe Loss, he made his film debut in 1944 in 2,000 Women. He became prominent on television in the ITV panel game "What's it All About?"A prolific actor, he told me his favourite role was in "Flight Into Danger" a BBC live drama.
Series 5: GARRY THORNE 'Eddie Wells'- Was he related to Theresa above? He appears in one Danziger film ('The Depraved' 1956) and in at least one story from each of the earlier series of Mark Saber, often as a criminal! His mother was Lenore Coffee (1896-1984) - a Hollywood screen writer from the silent days to the 50's.She also provided the script outline for one Invisible Man episode. Apart from this series, Garry's only regular TV role was as "guard" in Sir Lancelot.
All series: PICTURED Actor John Martin undoubtedly had the most roles of any supporting actor. He is in the on screen credits five times in series four: 4.10 The Lady Doesn't Scare, 4.12 The Black Widow, 4.23 Come Out Fighting, 4.25 Out of the Past, 4.38 Fire. But he has numerous more uncredited small parts, including 1.4*, 1.5, 1.6, 1.7*, 1.9*, 1.10, 1.13, 1.19*, 1.21, 1.24, 1.25*, 2.4, 2.15, 2.18, 2.22, 2.28, 2.29*, 2.33, 2.38, 3.1?, 3.6, 3.8?, 3.11, 3.14, 3.15, 3.27, 3.36, 3.37*, 3.38*, 3.39, 4.7, 4.18, 4.19, 4.26, 4.27*, 4.31, 4.33*, 4.35*, 5.2*, 5.3, 5.7*, 5.8, and 5.13. (* in this list means his part is non speaking)
To Saber Menu