.
.
.
.
.
.
.
.
.
.
.
.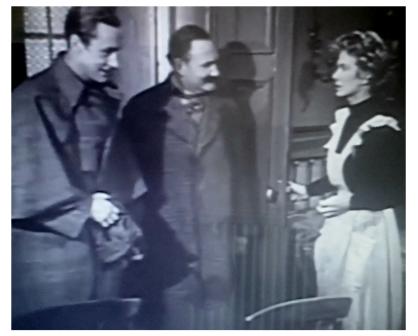 This series of 39 films was shot in Paris studios under the aegis of executive producer Sheldon Reynolds and Nicole Milinaire. Although many actors based in France were used, such as Eugene Deckers, a number of British actors made the journey across the Channel to appear, which for me is really the fascination of the series.
These were new and rather mundane adventures of Conan Doyle's hero, Ronald Howard in the title role trying his best. Also featured were H Marion Crawford as Dr Watson ("now really Holmes, you've gone too far"), and Archie Duncan, who makes an entertaining idiot out of Inspector Lestrade
My favourite episode: #20 The Careless Suffragette with Dawn Addams as a liberated female; #9 is also entertaining.
Best moment: Perhaps the crazed Michael Gough in #27, calmly telling his wife he 's going to murder her.
Moment of Glory: Paulette Goddard guest stars in #2- how on earth did they manage to obtain her services?
Dud episode: #34 The Case of the Royal Murder
Note- This series was premiered on British TV as late as 2006, on the 'Bonanza' Channel.
To Sheldon Reynolds' 1979 Sherlock Holmes series . . . . Euro Crime Series Menu . . . Main UK Crime Menu

.

.

.

.

.

.

.

.

.

"The Case of the Cunningham Heritage"
In which Dr John Watson, returning to London from Afghanistan, first meets the "rather strange" Holmes, but "one never thinks to question him." At his club, an old friend Lord Stamford (Rowland Bartrop) had mentioned to Dr W that SH is also seeking lodgings. So, with the possibility for sharing a flat, Dr W goes to SH's chemical laboratory, amazed that SH somehow knows so much about him.
221B Baker Street is the flat they rent, and Dr W soons becomes amazed at "the man's fantastic powers of perception. But his knowledge of literature- nothing... politics- disinterested. Botany- he knows everything there was to know about poison and absolutely nothing about practical garden. Chemistry- profound. Sensational literature"... oh yes he's well versed in that.

After this long but interesting introduction to the main characters, the first case begins when we encounter a baffled Inspector Lestrade who is typically "completely stuck," not for the last time, as a mother finds the corpse of her rich son Peter. Standing by his corpse is his fiance Joan (Ursula Howells) clutching the knife that killed him. "You're completely stymied," observes SH to poor Inspector L, though frankly, it needs no deduction to notice that! The problem is L can find no motive for Joan killing him. But when it's shown the couple had recently married and that she inherits everything, L makes a swift arrest.
In a simple case, at 10.30 that night, SH breaks into the house with a sceptical Dr W. Ralph, Peter's brother, oddly boasts about his blackmailing Peter because he knew Joan was a "jailbird." It's Dr W who stops Ralph in his tracks, and Inspector L has to admit he had arrested the wrong person.
Later Dr W is fuming over the newspapers who are lauding the "brilliant" Inspector L, but SH is too absorbed in his fingerprint research to care.
Uncredited speaking parts: 1 Club member. 2 Butler. 3 Retired marine sergeant

.

.

.

.

.

.

.

4 "The Case of the Texas Cowgirl"

Arriving in a covered wagon with her pal Slim, is Minnie O'Malley (Lucille Vines) "a-lookin' Mr Sherlock Holmes." (Must be made for the American market!)
"Howdy doc," is her firm greeting to Dr Watson. She wants SH's help 'cos there's a body dead in her hotel room, killed with a tomahawk (what else?!) that belongs to Minnie. The hombre must be got out of her room "pronto."
"Is that his name?" queries the green DrW, one of several jokes on Anglo-American language differences. Minnie don't want her fiance, the Earl of Warcesster (Worcester) to hear of any possible scandal.
The corpse is a 30 year old man, according to DrW, a vengeance killing it seems. Skeleton keys on his person suggest he was a burglar. Using the keys to good advantage, and despite Dr W's protestations, SH hides the body in a neighbouring room. "Relax, doc, leave it to Sherlock," Minnie advises.
Bellboy Tommy tells SH that he'd seen a hand in the room turning a knob on a bedpost.
Enter Inspector Lestrade, baffled by the tomahawk. The body is of Sly Sam and it's now in the room of Mr Honeywell, a salesman. What DrW can't understand is why SH has planted the tomahawk by the dead man, when it might well lead L to Minnie. "Grab air," shouts Minnie when the pair return to Baker Street, which being translated is, Hands Up. She too's annoyed, that the tomahawk has been put by the corpse. "Any last wishes Sherlock?"
SH is able to reassure her that the tomahwak in question isn't hers, but another, hidden away by the murderer. "Someone's tryin' to frame me," she realises.
Chief Running Water is the owner of this second tomahawk. "How," is his corny line. But he no speak English, or even American, though he takes an uncanny interest in L's bald pate. But I don't know how Sgt Wilkins is able to translate the chief's words- the tomahawk really belongs to the owner of Minnie's wild west show, Bison Jack.
"Ain't mine," is his terse response.
SH is able to solve the case when he proves the motive for the killing was the theft of jewellery in the hotel. It's now hidden in the bedpost. The killer makes a run for it, but the alert DrW rounds him up with a neat swing of Minnie's lasso, "yippee!"

Uncredited speaking parts: 1 Slim. 2 Tommy. 3 Elderly lady guest. 4 Honeywell. 5 Running Water. 6 Bison Jack
To Holmes Menu

.

.

.

.

.

.

.

.

9 "The Case of The Harry Crocker"

Escape artist Harry is in "dead trouble," accused of murdering stage-struck chorus girl Sally King. The case against him is strong enough to convince Inspector Lestrade, since he had had an argument with her and her locket is found in his possession.
"Poor Harry, why did you murder her?" is the common view. But SH proves he didn't, thanks to some dubious evidence against the doorman Charlie Willis (Harry Towb, here as Harris Towb).
Here's a story full of entertaining moments, with Eugene Deckers who, on the music hall bills is "Harry Croker," seriously overacting, and as a true escapologist persistently eluding Lestrade's handcuffs who thus becomes more and more Lestradish.
At the music hall Dr Watson enjoys a few winks with the chorus girls in a characterisation and plot that would surely have given Conan Doyle a heart attack had he lived to see it. Nevertheless it's somehow outrageously fun and ends with SH successful in emulating Crocker's baffling vanishing act.
To add to the mystery, the opening and closing music is slightly different to that used for the remainder of the series.

Uncredited speaking roles: 1 Policeman. 2 Bessie. 3 Morgue man

.

.

.

.

.

.

.


This is a "complex" case, for he is the eighth man to have "evaporated from the face of London" recently. He was Richard Trevor, and his fiancee Margaret and her father ask SH to find her intended. Only clue, a note he had sent her stating he had been "detained because he'd run into a little girl that was lost."
Last seen at his gentleman's club, SH traces the carriage that had picked him and the girl up. They had been dropped off at an empty house. Despite Dr W's protestations ("I'm sure it's unethical"), SH breaks in, in quest of a clue. He certainly finds one, in the shape of Trevor's corpse. He had died from an overdose of strychnine and had been robbed.
Now they travel to Brighton to meet RJ Cookson (Billy Beck), owner of the empty house. Who knew he was away from town and had a key? Mrs Enid, the old charwoman (Amy Dalby), but "she wouldn't hurt a fly." 322 Radcliffe Way is where she lives with her granddaughter. By an amazing stroke of good fortune, SH and DrW overhear her rehearsing her ward for their next job.
Thus SH is able to pose as their next victim. Frances takes him to another empty home, where he is thanked by her grateful grandmother, who offers SH a glass of milk and some fudge. SH smiles at her, "smells very good." But before she can poison him also, Inspector Lestrade marches in to arrest her.
"I needed the money for the child," is her too simple explanation.
Uncredited speaking roles: 1 Frances. 2 Trevor. 3 Club barman. 4 Sgt Wilkins
To Holmes Menu

.

.

.

.

.

.

.

.

13 "The Case of The Split Ticket"

"Desperate. Will be back in an hour. Brian O'Casey," reads a note shoved under SH's door.
Brian (Harris Towb) asks SH to find a Mr Albert Snow. £8,000 is at stake. Snow holds numbers 3 and 4 of their sweepstake ticket. If it is not claimed by midnight tonight, any claim will be invalid.
Brian relates his whole sorry tale. He'd been approached by Belle Rogers in a baker's shop. Her friend Albert had persuaded him to take a third share in a £24,000 sweep, with their number 16634. They had torn their ticket in three and now Snow has disappeared! (They'd also invested in a horse race, but this subplot isn't mentioned further.)
SH is unable to talk to Miss Rogers as she has "gone" from her baker's shop, taking a white cake with her. SH had expected all this, naturally.
But then she comes to Brian, with the sorry news that Arthur has been drowned in the river. His ticket is lost at the bottom of the river. She sadly tears up her portion of the ticket, and asks Brian to give her his part, to throw into the fire.
SH however has been practising legerdemain and has swapped her portion and Brian's for duplicates. He explains the white cake had been for her wedding to Snow. By their trickery they had planned in this "neat" plot to get hold of the complete sweepstake ticket, only to be outswindled by SH's palming the pieces himself.

Note- Though Inspector Lestrade gets a passing mention, he is not in this odd story. Uncredtied speaking parts: 1 Man whose wallet is stolen. 2 News vendor. 3 Man in pub. 4 Baker
To Holmes Menu

.

.

.

.

.

.

15 "The Case of the Singing Violin"
Betty is getting these nightmares, a violinist keeps playing his wretched violin in her bedroom. She is engaged to Jimmy though her "austere" stepfather Guy warns the "heartbroken" man that he can never marry Betty because the doctor says she "is losing her mind."
Back at the Yard, with a lull in crime, Inspector Lestrade decides to call on SH, to see if he has anything on the go. But right outside 221B he stumbles on a murder. It's poor Jimmy who had come to consult the eminent detective, Holmes that is. Inspector L is astounded when SH tells him he's just off to interview the man's murderer!
SH's conversation is with Johnny's employee, Guy Durham (Arnold Bell), a tea and spice merchant. It's a fairly brief chat, because Guy is rather brusque. But he is the killer SH tells the bemused Dr W afterwards. The motive is clear- 15 years previously Durham's business partner had died in "mysterious circumstances." Durham had then married his late partner's wife, Betty becoming his stepdaughter. She is the inheritor of the family tea fortune as her mother has now died.
By a stroke of amazing good fortune, SH overhears Durham plotting with a charlatan doctor, who is refusing to declare Betty insane. However he agrees to sign any death certificate ("an overdose of morphine") after Durham has killed her. Quickly SH carries the drugged girl to behind a screen in her bedroom and awaits the attempted murder. However the great man blunders for once, getting locked in a cupboard, leaving Durham free to commit his foul deed. But fortunately Dr W comes to the rescue!
Thus is exposed this "fiend with a diabolical mind." Asks a baffled L, "will somebody please tell me what this is all about?" I'd tell him, it's nothing like any Conan Doyle story I ever read.

Uncredited speaking parts: 1 Jimmy. 2 First housekeeper. 3 Sgt Wilkins. 4 Cabby. 5 PC Towser. 6 Mrs Ferguson the 2nd housekeeper. 7 John Murdoch. 8 Dr Moreno
To Holmes Menu

.

.

.

.

.

.

17 "The Case of The Laughing Mummy"

An extrordinary case, in that Holmes accuses a man of murder, without anyone knowing a murder has taken place.
Travelling down on the train to Witchingham with SH, 'Blinko' Watson bumps into old school pal 'Sardine' Taunton (film star Barry MacKay in a rare tv appearance). Reggie Taunton asks SH's advice about an Egyptian mummy he has been sent by his uncle, which has the odd but intriguing habit of occasionally laughing. It's even threatening to ruin his engagement to Rowena Featheringstone (June Crawford).
Interested, SH examines the mummy in its "exceptionally fine sarcophagus," stored in Taunton's Egyptian room, which is full of artefacts sent from Uncle Joseph whom Reggie has never even met.
Dining with them at Taunton's ancient pile are Rowena's battleaxe Aunt Agatha, and Professor von Gaulkins, an expert in Egyptology. Trout is on the menu, but it has to be admitted that Rowena's cooking is "unchewable rubber." The sound of laughing, more like wailing really, interrupts the meal.
An examination of the chimney by SH traces the weird noise to a weather vane, creaking in the wind. Mystery solved. However poor DrW slips off the roof and lands in the rhododendron bush. Luckily not badly injured.
"My compliments, Mr Holmes," proffers the prof, though in fact the mystery is not over. SH has spotted, what the prof seemingly hasn't, that the mummy is of much more recent vintage than its box. On examination, the prof agrees with SH. Then SH adds an astounding accusation- the prof has murdered Reggie's uncle.
"How do you know?" gasps an astounded DrW. The mummy, it transpires, is that of Uncle Joseph. The prof admits it, relating how he and Joseph had found this ancient tomb in Egypt, and when Joseph had opened it, he had been struck down dead.
SH now amends his accusation. The prof can be reassured that Joseph had died from touching the sarcophagus, which is full of needles containing the poison of asps. A worried DrW waits anxiously to see if the same fate will befall himself, as he has touched that box too!

Uncredited speaking role: Aunt Agatha
To Sherlock Holmes Menu

.

.

.

.

.

.

18 "The Case of The Thistle Killer"

A policeman in a forced accent warns a woman pedestrian to beware of The Thistle Killer, who has killed one woman a night for the past five nights. She is the sixth! "The man's a maniac," is Dr W's belief. But SH perceives a pattern.
Inspector Lestrade however believes it's all "haphazard." He's frantic, "where will it be tonight?" he muses. So ineffective is he that the Superintendant (William Smith) orders him to consult the "amateur" SH, who advises L to spot the pattern. The locations of the killings are:
Portland Lane
Harris Street
Ovington Square
Evans Lane
Napier Street
Ingram Square
It's an acrostic, explains SH to the baffled L, and the next murder must be at X- Xerxes Park. "Then we have him," beams L.
Yard men are to be posted all around the park and a decoy policewoman is required. "Ever done any amateur theatricals?" the bemused L is asked. But in the end, a real woman is chosen, Miss Colley.
Unfortunately it is a very foggy night, as L keeps watch at one gate, SH and Dr W at the other. Unfortunately noone has yet realised the murderer disguises himself as a policeman.
11pm and after several false alarms, with Dr W jumping on two lovers, a policeman enters the park, right under SH's nose, accompanying a young woman. But at last SH's mighty brain realises how the murderer has not been spotted before. Whistles a-blowing, the net closes. The false policeman runs into Inspector L, who is punched on the nose for his pains. However L gets his own back and rather improbably, shoots him, "he's dead." He is recognised as a frustrated policeman who had failed to make the force through "inefficiency."

Uncredited speaking roles: 1 News vendor, 2 Lady on the street. 3 Policeman, 4 Herbert Brown. 5 Maggie Brown. 6 PC Connors. 7 Lady in the park
To Sherlock Holmes Menu

.

.

.

.

.

.

.

19 "The Case of The Vanished Detective"
DrW is at the Yard to report his terrible news- SH has disappeared! Inspector Lestrade looks dubious, hard to be convinced.
Using the great detective's methods, the pair try and deduce where SH might possibly be. After an unsuccessful search, DrW eventually finds a clue- Ye Quaint Old Curiosity Shop: one John Smithson had recently written to SH asking for his help.
"We've come to inquire about Sherlock Holmes," DrW informs the owner, not recognising that it is SH in disguise! "Never met the gentleman," they are informed.
DrW purchases a book and after leaving, confides in L "there's something about that Smithson I don't like!" Using a trick DrW had learned in the Red Headed League case, he returns to the shop, where the blood-stained clothing of SH is found. In the ensuing melee, a customer runs off with the book, which brings about despair from SH- it had contained a secret message to escaped convict John Carson. He once worked in Smithson's shop, and had threatened Smithson, who had sought SH's protection.
But at least DrW has been of some use, for he knows where to find Carson's contact, Helene, as she is a model in a dress shop. She doesn't know of Carson's whereabouts, but is sure he wants revenge on old Jeremiah Westlake (Colin Drake), the judge who had pronounced a life sentence on him.
The eccentric judge is now retired, and lives in his world of puppets. In a curious scene, SH converses with the puppets. Strangely unperturbed is the judge, about any threat on his life.
Carson does attack him and his wife, but he is thwarted in his foul deed. Despite a struggle, the puppets are fine, that's the main thing. The judge has forgotten his ordeal already.

Uncredited speaking extras: 1 Pierre. 2 Judge's maid. 3 Mrs Westlake. 4 Police constable
To Holmes Menu

.

.

.

.

.

.

21 "The Case of The Reluctant Carpenter" -
A Stepney warehouse fire two causes several deaths, and a passer-by is stabbed. Inspector Lestrade approaches SH as the Yard lab is so useless, but finds 221B empty. Sgt Wilkins suggests the policemen use SH's equipment to analyse the sample of mud found on the murdered man's shoes. That they know nothing of such scientific investigation is evident in a nicely comic scene when they follow SH's instruction manual, "just like following a cookery book." As they chat, reference is made to the Lady Beryl case (#2).
"Those two idiots'll blow up the place," warns Dr W who is watching the flat with SH from across the road, as SH is expecting "a thief" to drop in. The 'thief' duly calls and, mistaking L for SH, warns that he has started another fire in Covent Garden. He demands £50,000, or more arson attacks will follow. As he departs, Dr W, following SH's preconceived plan, tails him, while SH listens to L's tale of woe.
43 Chester Street Bayswater is the thief's destination, where he is shot dead, leaving a legacy of a bomb that "somewhere will go off in three hours," ie 6pm.
Analysis of the mud shows it contained traces of explosive nitrate. The Yard lab advises the only source in London is the "Army Warehouse Knightsbridge." (Ah- so they aren't utterly useless.) Yet the Yard lab are wrong even on this one, for it's to the Army Barracks that SH and L repair, to confront three carpenters working there. In their shed they are made to wait until six o'clock. With time running out, one decides he must leave. He is forced into revealing where he has hidden the incendiary that will trigger the fire- in the nick of time!

Notes- This conclusion with carpenters and bombs is used also in the Foreign Intrigue Story #94 Fire Bombs.
Uncredited speaking parts: 1 Police constable. 2 Lab worker. 3 Barracks guard. 4 First carpenter

.

.

.

.

.

.

.

.

23 "The Case of The Christmas Pudding"
Snow outside, inside "in the season of goodwill," a courtroom hears the unseasonal sentence on prisoner John Henry Norton (Eugene Deckers). He is to be hanged, "I'll kill you before I die" he yells at SH.
In Newgate Prison, where the governor's office but not the cells have festive decorations, SH checks that Norton is secure in his cell, "I said 'soon' Holmes, "Norton repeats, "your neck between these two hands."
No wonder an "ominous cloud," as Dr W tells us, hangs over Baker Street. SH has an intuition that Norton will escape....
Mrs Norton (June Rodney) brings her Christmas present for her husband, a very nice Christmas pud. The governor (Richard Watson) inspects it carefully, but finding nothing dangerous, takes it with Mrs Norton down to the prisoner's cell. The inmate looks pleased.
Whistling Good King Wenceslas, he makes a long cord of blankets and saws through the bars of his prison and exits into the foggy night. SH and Dr W are awoken by the governor's knocking- he breaks the bad news of Norton's escape. Police constable Smith is set to guard 221B whilst SH sends Dr W off to see Mrs Norton, but really it's to get him off the scene. Soon Norton, disguised as a policeman, is climbing the stairs to SH's rooms. It is dark. He fires his gun at SH (he seems to have forgotten about the strangling he'd promised earlier). "I told you I'd get you." But as he runs away, gallant Dr W is fortuitously returning from his "fool's errand" and apprehends the villain. And SH is fine, Norton had been shooting at a dummy!
The minor mystery of how Norton sawed his way out of his cell is revealed by SH. The "fancy string" used to tie his parcel has been coated with diamond dust, he explains to the bewildered governor, "and you gave it to Norton yourself.... merry Christmas governor!"
Inspector Lestrade not in this one (on his Xmas break??) Those with uncredited speaking parts: 1 Judge. 2 Usher. 3 Prison Guard Simmonds. 4 Cabby. 5 PC Smith
Holmes Menu

.

.

.

.

.

.

.

.

.

.

.

.

.

.

"The Case of The Jolly Hangman"
SH is discussing with DrW the future, or otherwise, of moving pictures, when to romantic music a sad woman calls to consult the great detective.
She is Mrs Jessie Hooper (Alvys Maben) whose husband Billy has hanged himself in a hotel bedroom in Glasgow. A travelling salesman, he was faced with the sack, and was on his last job. He was so depressed his wife had accompanied him part of the way by train as far as Doncaster, and they had been cheered up on their journey by a very amusing passenger with a jolly laugh.
SH puzzles over the death which has been made to look like suicide. Inspector MacDougal, cousin of Lestrade, and who looks just like him except for his thick moustache and even thicker sideburns, isn't convinced, just like his cousin, that SH is correct. However with the aid of some rope, SH convinces the Scottish detective that a murderer is what he is after. SH even tells him the killer's name, another guest staying in the hotel, one Henry Hampton. But as this name is fictitious, where to find him?
After visiting Billy's birthplace in Cornwall, SH is able to tell Jessie something she didn't know, that Billy's grandfather had also been murdered many years ago when Billy was 7 years old. Billy had a dim recollection of seeing the killer and had recognised him that fateful night. His jolly laugh had betrayed him.
After a long search, SH traces this man, now calling himself Baxter (Philip Leaver), sales manager of a rope manufacturing firm. He denies ever having been in Glasgow. But he does go to "console" Mrs Hooper, or to be more precise, try to poison her. She realises who he must really be, and just in time SH and DrW prevent another hanging, a gruesome melodramatic scene enacted in front of Mrs Hooper's staring baby. In trying to get away by leaping out of the window, Baxter is caught by his tie, and meets his own poetic fate.
Uncredited speaking parts: 1 Flower seller. 2 Butler. 3 Man in bed. 4 Hotel receptionist. 5 Typist
To Holmes Menu

.

.

.

.

.

33 "The Case of The Baker Street Bachelors"

'Jeffrey Bourne for Parliament' reads a poster. But his career is potentially in ruins when a woman accuses him of attacking her. However for £2,000 she's prepared to keep her silence.
Consulting SH, Bourne recounts how he'd met the girl through a marriage bureau. Unlike many episodes, where SH is regaled with his client's life history, this time SH leaps straight into action. With a reluctant Dr W, who declares himself frightened of such establishments, SH files his application with Cupid's Bow, proprietor J Oliver (Duncan Oliver).
He's very welcoming once he learns SH is rich! He can match them "immediately:" Miss Pamela for the fawning SH, and Miss Edna for the nervous Dr W.
The couples arrange for tea together, but 'Charlie' interrupts them and a brawl ends in SH's arrest. But whilst Dr W looks aghast, SH assures him "we've fallen very neatly into their trap."
Inspector Mason (Seymour Grene) effects the arrest but soon Inspector Lestrade is on the spot. He seems rather bucked at the sight of SH behind bars. Dr W brings news that the girl will drop the case if £4,000 is forthcoming.
Even L's pleading can't persuade Mason to release the illustrious detective, so Dr W is instructed to "break in" to Oliver's office to find evidence of blackmail- "that's against the law!" interrupts the alert L.
It's not exactly Dr W's forte, burglary. But whilst he fumbles, SH deduces where the blackmail material will be hidden- behind a painting. He persuades a reluctant L to go after Dr W and tell him. Of course, the pair are interrupted by Oliver.
This could be most embarrassing for L, but Inspector Mason is prevailed upon by SH to rescue them from the office, and thus the blackmailers are arrested.
However L is fuming, and to pay SH out, he refuses to let him out of the cell!

.

.

.

.

.

35 "The Case of The Haunted Gainsborough"
Malcolm MacGregan needs SH's help- he looks and sounds exactly like Archie Duncan (alias Inspector Lestrade), only with a native kilt and thick beard. Indeed he is Archie!
A painting of a lassie named Heather which he is trying to sell is haunted! "She's a very pretty ghost," smiles Dr W. Will SH come to MacGregan's castle to prevent Heather from scaring off her final potential buyer, Mr Samuel Scott, an American? The cash is sorely needed as otherwise Mr Archibald Ross is going to foreclose the mortgage on the castle.
On their very first night at the castle SH and Dr W see the ethereal Heather (Cleo Rose) descending the staircase, before warning off our detective. Rather cheekily too, for she asks SH if he'd like to kiss her! Before he can do so, she disappears.
SH's "brilliant" scheme is to hide at the top of the staircase when the ghost next manifests itself to the American. It's a simple plan, if hardly worthy of SH, but anyway the ghost vanishes into thin air: "it's impossible!" But Scott isn't put off and offers £1,000 for the picture, But the bad news is that this is now missing from its frame. "You will not sell it, Malcolm MacGregan," moans the ghost before evaporating again. "You can't catch a ghost," sighs the dispirited MacGregan.
He has until midnight to pay off his mortgage so all SH has to do is quickly find that "genooine Gainsbo" for Mr Scott. Down the stairs drifts the ghost once more. But behind her this time is another ghost! The ghost of Heather sees the apparition and screams an unghostlike scream. Ghost number two is only SH who reveals a secret passage half way up the stairway, leading to the missing painting plus a hidden treasure. "Thank you for finding the treasure and saving the castle."
As the great detective departs, it looks as though Heather is staying!
Holmes Menu

.

.

.

.

.

36 "The Case of The Neurotic Detective"

1896 and "the greatest criminal of all" first makes his mark. Even the ceremonial jewels of Queen Elizabeth I are not safe from his clutches, "absolutely fantastic," gurgles Watson, "what in thunder is Scotland Yard doing?"
Poor Inspector Lestrade almost grovels to SH, "I need your help!" The only advice he's given is Capture the Criminal. In a huff L storms out. DrW is puzzled why the "erratic" SH is so disinterested in this major outbreak of crime. But then DrW thinks he spots a diamond necklace in SH's possession. What is he up to? DrW determines to find out and follows the great detective, but awfully amateurishly, "I realised," DrW confides to us, "that if one were to match wits with Holmes, one could not employ ordinary methods."
His solution is to disguise himself as a cabbie, but naturally SH penetrates his bearded features, "the corners of your beard are in dire need of repair." But then DrW has a stroke of luck when a man who appears to be chasing after SH hires the cab to take him after SH. DrW bravely breaks in to the house and is horrified to overhear SH planning a robbery with his confederates.
Professor A Fishblack is consulted to see if he can throw any light on SH's out-of-character actions. But SH ends up analysing the analyst. "Professor, where are you going?" groans DrW.
So it's the inspector that DrW has to confide in, "I know who London's master thief is." A glimmer of hope dawns on L's harassed face. But when he's told he can only utter "Holmes? I don't believe it." The two actors milk this scene brilliantly.
DrW and L puzzle what to do. SH, however, is off to a reception at the Ministry of Foreign Affairs with a young lady, Miss Ames. It takes his followers quite a time before they realise he must be planning another robbery. They conceal themselves in the room which contains the minister's safe. After dancing the evening away, SH creeps into the room, immediately, of course, spotting W's shoes hidden behind the curtains. Is SH under arrest? The Commissioner at the Yard also steps in to explain SH had been employed by him to test out the Yard's security measures. SH, in mock sorrow, delivers a Parthian shot to poor Dr Watson, "To think you didn't trust me."

Uncredited speaking parts: 1 Miss Ames 2 Eloping man 3 Another man trying to hire a cab 4 Professor A Fishblack (Eugene Deckers) 5 Yard Commissioner

.

.

.

.

.

.

.

.

37 "The Case of The Unlucky Gambler"

An "unusual client" for SH- young Andrew Fenwick (Richard O'Sullivan), who stares hard at the great detective, "I thought you'd be much stronger looking." He wants SH to find his father Herbert, "the happiest most wonderful man in the world," since he has disappeared from his family home. Andrew blames a Jack Driscoll, "I don't like him." His sickly mother had been told to "have faith" and not get the police on Herbert's tracks. SH takes on the case, having agreed a fee of £1.
He already knows what to look for! A gambling den. DrW stands amazed. The clues were there, explains SH- Andrew's speech and his clothing. And he surmises that his mother's pleurisy has driven Herbert Fenwick to gambling.
Inspector Lestrade may be "just the chap to help us." That's right: he can't. But his sergeant, Sgt Wilkins, has a better recall of underworld villains and fills SH in on Driscoll, believed involved in "illegal bookmaking practice," currently prizefights.
At a boxing ring, SH and DrW meet fighter Percy and his manager Finnegan. When they ask about Driscoll, everyone gets very jumpy there. Soon two unpleasant characters have picked them up and taken them straight to Driscoll, who says he is also searching for "that welsher" Fenwick, who owes him £1,000.
Various barmen know nothing of him, until one tells SH that Fenwick had recently committed suicide, thrown himself into the Thames. Inspector Lestrade confirms the story, producing Fenwick's new hat with his name in. But no body has been washed up and SH doesn't agree that Fenwick is dead. The suicide note is a fake, declares SH. Fenwick is now so desperate for cash, SH explains, that he is bound to resort to robbery to clear his debts. He is going to rob a pub.
"I don't know why I let you talk me into these things," sighs poor L, as he sets a police watch on three local pubs. SH himself is keeping an eye on The King's Head.
In bursts a man with a very suspicious looking beard. "Put your hands up!" But the robbery is interrupted by DrW who has brought Andrew with him. It stops the thief right in his tracks.
By an extraordinary masquerade, SH exonerates Fenwick in his son's eyes. He resolves to sort out his affairs and never leave his family again. So presumably they all lived happily ever after, though I'm not sure about Inspector L.

Uncredited speaking extras: 1 Finnegan. 2 Gambler. 3 Driscoll. 4 Customer

.

.

.

.

.