Talent Competitions
Local beauty contests were hugely popular in the 1960's, and local tv stations cashed in.

Anglia TV started in 1961 with Showdate a 13 week series that also included a talent contest, which over a thousand local acts entered. After auditions at the Theatre Royal Lowestoft, the best featured in the show, the winner receiving £100. Showdate also gave beauty queens the chance to become Miss Anglia 1961, in the final filmed on Sept 17th at the Britannia Theatre Great Yarmouth, with a prize of £100. It was transmitted on Tuesday Sept 19th from 8 to 9pm. Sheila Buxton hosted, and each week introduced a guest singer, these included Tony Brent, Billy Fury, Humphrey Lyttelton, and Russ Hamilton. For the final show Sheila was joined by Marty Wilde and Derek Roy.
The success of this series led in 1962 to Glamour '62, a 60 minute show with the winner Joan Ward from Scunthorpe receiving that magnificent prize, plus the title Miss Anglia. Anna Neagle made an appearance. The format became a yearly fixture after this, with the winner also going on to compete in the national finals for the title of Miss TV Times. In 1963 Shaw Taylor was the host, with Joan Ward the 62 winner as hostess. The Aug 22nd 1963 show came from Skegness where Joan had been crowned Miss Skegness 1962. In 1964 the programmes were introduced by McDonald Hobley, assisted by Susan Denny. The prize gradually improved in the 1970s to £1,000.
Some contestants did achieve a wider fame, including two who went on to become hostesses on Sale of the Century, Jennifer Cresswell and Angela Daniels.
The series became an annual event. Glamour '64 was hosted by McDonald Hobley, assisted by Susan Denny. They visited Clacton (June 11th, transmitted June 18th), Dovercourt, Bury St Edmunds, Huntingdon, March, Norwich, Lowestoft, Skegness, Yarmouth, West Runton, Cambridge, and Felixtowe.
Glamour '65 was hosted by Pete Murray, and stars appearing included Helen Shapiro, Anita Harris, Jenny Johnson, Valerie Masters, and The Raindrops. Hostess was Anglia announcer Elizabeth Fox.
Glamour '66 was compered by Dennis Lotis, assisted by Elizabeth Fox, again. The first of the 13 heats was on June 10th 1966 from Stevenage.
The 1968 Grand Final featured winners from the twelve heats, introduced by the regular Bob Wellings. Also in this final were Joe Brown, Madeline Bell and the announcer Earle Bailey. The judges were The Marchioness of Tavistock, Danny Blanchflower, Clifford Davis, Tania Mallet, and Dick Joice. The producer for this final was Bill Perry. The heats to produce the contestants were held at: Cleethorpes (22nd Aug), Colchester (Aug 29th), Corby, Great Yarmouth, Hull, Lavenham (July 18th), Lincoln (June 27th - the first contest in the series, held in the cathedral precincts), Newmarket, Northampton, Scunthorpe, Skegness and Stevenage. One star appearing in a heat was Janie Marden (July 18th).
Data on Anglia's most ambitious 1960s series, the 1967 Carnival Time
Anglia TV Menu

.

.

.

.

.

.

.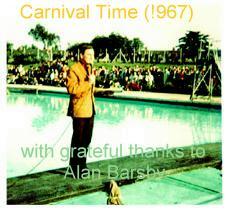 Carnival Time


In 1967 Anglia made this Saturday night 45 minute programme with Bob Monkhouse and Peter Murray as hosts. When asked if such a show might harm his career, Monkhouse is alleged to have commented that it wouldn't, because noone was watching it!
Guest judges in individual shows made a pretty impressive line up also. Veteran film director John Paddy Carstairs was the series producer, programmes directed by Peter Joy.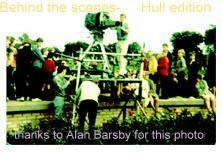 First prize in the final was a mere £200, plus a silver cup and more importantly an entry into the Miss ITV competition in October 1967. The runner up also was eligible for this competition.
Some of the programmes were:
2- July 15th 1967: Great Yarmouth, with Arthur Askey, Susan Maughan, Ivor Emmanuel, Rolf Harris, Joe Baker, Miss Romper Room.
3- July 22nd 1967: Skegness
5- August 5th 1967: Cleethorpes, with Barbara Law, Alan Smethurst, Cardew Robinson.
6- August 12th 1967: Corby
7- August 19th 1967: Peterborough, with Colin Crompton
10- September 2nd 1967: Lincoln, with Jennifer Burch, Helen James, Phil Kelly, Jay Martel, Jack Rigby and Michael Partington.
11- September 9th 1967: Scunthorpe.
The other venues were: Felixtowe, Hunstanton, Northampton, and Hull.

.

.

.

.

.

.

.

.

.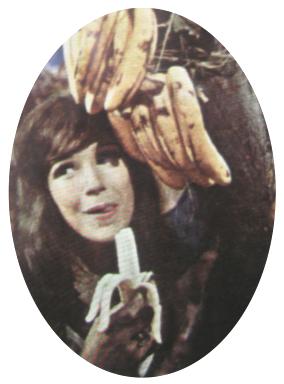 Izeena ('The Zany')

An Anglia TV series from 1966, that was a perfect vehicle for Fenella Fielding's unique persona.
She's a scatterbrain who lives in a tree in the midst of a forest, her neighbours and scene stealers are the forest's inhabitants, everything from chimps to parrots. Of course she has names for each, Bertram Baboon to Speedy Skunk. All these animals would talk to her. Publicity stated that "Izeena is a zany subtle character. She can't do anything well, and does it with terrific enthusiasm that doesn't get her very far." She is reputedly 200 years old, but getting younger every day!
Programmes were directed by John Jacobs, though later ones were directed by Jean Hamilton or June Howson. Scripts were by Robert Gould. The set designed by Robert Fuest. Limited filming (of animals) was also done in Africa.


The series began, in the Anglia region only, on Sunday January 9th 1966, 5.45-6pm.
One programme was about the mysterious disappearance of nuts, given to Izeena by Charlie and Charlotte the Chimps. With her telescope, she spots an armadillo is the culprit. The programme on March 6th showed Izeena swimming. Then on March 20th the theme was Ambromel (whatever that is). April 3rd saw Izeena writing a play to enter a competition. The series finished that month.

.

.

.

.

.

.

.


Anglia Television won the contract for the Eastern Region ahead of seven other applicants.
1959: Chairman: Lord Townsend of Raynham. Directors: Robert Bignold, Aubrey Buxton, Glyn Daniel, Sir Peter Greenwell, Audrey Richards, Donald Albery, Lawrence Scott, John Woolf.
First Chief Executive- Donald Stephenson, formerly with the BBC for 21 years. From 1960 he was replaced by Michael Norman. Programme Controller- Stephen McCormack (formerly at A-R)- he resigned in January 1962: "I thought I was here for life!" Head of Drama- George More O'Ferrall (who had started with BBC Television at its inception in 1936). Musical Director- Norman Hackforth (specially well known as the 'voice' on radio's 20 Questions). The first Chief Announcer was Drew Russell, who claimed to be the only British announcer at the time to have a Fan Club.
A Press Reception was held on Tuesday 21st April 1959 at the Royal Hotel Norwich, attended by Laurence Harvey, the star of the first play to be made by Anglia (The Violent Years) and transmitted on Opening night. A cocktail party at the end of that August welcomed Sir Robert Fraser, Director-General of ITV. Shareholders didn't miss out either, on Thursday 22nd October there was a reception in the new studios, whilst on the eve of opening there was another press reception this time with luncheon. London visitors were transported to Norwich station on a special coach attached to The Norfolkman.
Ever eager, the company had even contributed to the network before Opening Day! In July 1959, a dance sequence was filmed by Anglia at Winterton which was included in A-R's Summersong. A review of another dance for the second in the series was glowing: "For Charm, I found the dancing at Hall Farm, East Raynham, delightful. If this is a foretaste of Anglia TV's contributions it augurs well for the new company."

To Anglia TV Menu

.

.

.

.

.

.

.