Main Menu

.

.

.

.

.

.

.

Talent Competitions
Local beauty contests were hugely popular in the 1960's, and local tv stations cashed in.

Anglia TV started in 1961 with Showdate a 13 week series that also included a talent contest, which over a thousand local acts entered. After auditions at the Theatre Royal Lowestoft, the best featured in the show, the winner receiving £100. Showdate also gave beauty queens the chance to become Miss Anglia 1961, in the final filmed at the Britannia Theatre Great Yarmouth, with a prize of £100. Sheila Buxton hosted, and each week introduced a guest singer, these included Tony Brent, Billy Fury, Humphrey Lyttelton, and Russ Hamilton.
The success of this series led in 1962 to Glamour '62, a 60 minute show with the winner Joan Ward from Scunthorpe receiving that magnificent prize, plus the title Miss Anglia. Anna Neagle made an appearance. The format became a yearly fixture after this, with the winner also going on to compete in the national finals for the title of Miss TV Times. In 1963 Shaw Taylor was the host, with Joan Ward the 62 winner as hostess. The Aug 22nd 1963 show came from Skegness where Joan had been crowned Miss Skegness 1962. In 1964 the programmes were introduced by McDonald Hobley, assisted by Susan Denny. The prize gradually improved in the 1970s to £1,000.
Some contestants did achieve a wider fame, including two who went on to become hostesses on Sale of the Century, Jennifer Cresswell and Angela Daniels.
The series became an annual event. Glamour '64 visited Clacton (June 11th, transmitted June 18th), Dovercourt, Bury St Edmunds, Huntingdon, March, Norwich, Lowestoft, Skegness, Yarmouth, West Runton, Cambridge, and Felixtowe.
Glamour '65 was hosted by Pete Murray, and stars appearing included Helen Shapiro, Anita Harris, Jenny Johnson, Valerie Masters, and The Raindrops. Hostess was Anglia announcer Elizabeth Fox.
Glamour '66 was compered by Dennis Lotis, assisted by Elizabeth Fox, again. The first of the 13 heats was on June 10th 1966 from Stevenage.
The 1968 Grand Final featured winners from the twelve heats, introduced by the regular Bob Wellings. Also in this final were Joe Brown, Madeline Bell and the announcer Earle Bailey. The judges were The Marchioness of Tavistock, Danny Blanchflower, Clifford Davis, Tania Mallet, and Dick Joice. The producer for this final was Bill Perry. The heats to produce the contestants were held at: Cleethorpes (22nd Aug), Colchester (Aug 29th), Corby, Great Yarmouth, Hull, Lavenham (July 18th), Lincoln (June 27th - the first contest in the series, held in the cathedral precincts), Newmarket, Northampton, Scunthorpe, Skegness and Stevenage. One star appearing in a heat was Janie Marden (July 18th).
Data on Anglia's most ambitious 1960s series, the 1967 Carnival Time
Anglia TV Menu

.

.

.

.

.

.

.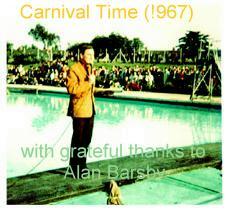 Carnival Time


In 1967 Anglia made this Saturday night 45 minute programme with Bob Monkhouse and Peter Murray as hosts. When asked if such a show might harm his career, Monkhouse is alleged to have commented that it wouldn't, because noone was watching it!
Guest judges in individual shows made a pretty impressive line up also. Veteran film director John Paddy Carstairs was the series producer, programmes directed by Peter Joy.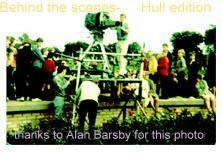 First prize in the final was a mere £200, plus a silver cup and more importantly an entry into the Miss ITV competition in October 1967. The runner up also was eligible for this competition.
Some of the programmes were:
2- July 15th 1967: Great Yarmouth, with Arthur Askey, Susan Maughan, Ivor Emmanuel, Rolf Harris, Joe Baker, Miss Romper Room.
3- July 22nd 1967: Skegness
5- August 5th 1967: Cleethorpes, with Barbara Law, Alan Smethurst, Cardew Robinson.
6- August 12th 1967: Corby
7- August 19th 1967: Peterborough, with Colin Crompton
10- September 2nd 1967: Lincoln, with Jennifer Burch, Helen James, Phil Kelly, Jay Martel, Jack Rigby and Michael Partington.
11- September 9th 1967: Scunthorpe.
The other venues were: Felixtowe, Hunstanton, Northampton, and Hull.

.

.

.

.

.

.

.

.

.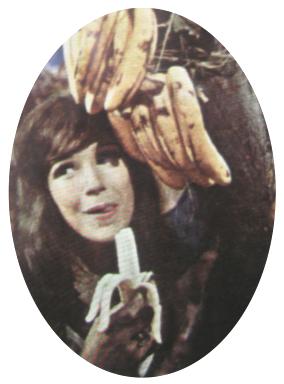 Izeena ('The Zany')

An Anglia TV series from 1966, that was a perfect vehicle for Fenella Fielding's unique persona.
She's a scatterbrain who lives in a tree in the midst of a forest, her neighbours and scene stealers are the forest's inhabitants, everything from chimps to parrots. Of course she has names for each, Bertram Baboon to Speedy Skunk. All these animals would talk to her. Publicity stated that "Izeena is a zany subtle character. She can't do anything well, and does it with terrific enthusiasm that doesn't get her very far." She is reputedly 200 years old, but getting younger every day!
Programmes were directed by John Jacobs, though later ones were directed by Jean Hamilton or June Howson. Scripts were by Robert Gould. The set designed by Robert Fuest. Limited filming (of animals) was also done in Africa.


The series began, in the Anglia region only, on Sunday January 9th 1966, 5.45-6pm.
One programme was about the mysterious disappearance of nuts, given to Izeena by Charlie and Charlotte the Chimps. With her telescope, she spots an armadillo is the culprit. The programme on March 6th showed Izeena swimming. Then on March 20th the theme was Ambromel (whatever that is). April 3rd saw Izeena writing a play to enter a competition. The series finished that month.

.

.

.

.

.

.

.


Anglia Television won the contract for the Eastern Region ahead of seven other applicants.
First Chief Executive- Donald Stephenson, formerly with the BBC for 21 years. From 1960 he was replaced by Michael Norman. Programme Controller- Stephen McCormack (formerly at A-R). Head of Drama- George More O'Ferrall (who had started with BBC Television at its inception in 1936). Musical Director- Norman Hackforth (specially well known as the 'voice' on radio's 20 Questions). The first Chief Announcer was Drew Russell, who claimed to be the only British announcer at the time to have a Fan Club.
A Press Reception was held on Tuesday 21st April 1959 at the Royal Hotel Norwich, attended by Laurence Harvey, the star of the first play to be made by Anglia (The Violent Years) and transmitted on Opening night. A cocktail party at the end of that August welcomed Sir Robert Fraser, Director-General of ITV. Shareholders didn't miss out either, on Thursday 22nd October there was a reception in the new studios, whilst on the eve of opening there was another press reception this time with luncheon. London visitors were transported to Norwich station on a special coach attached to The Norfolkman.
Ever eager, the company had even contributed to the network before Opening Day! In July 1959, a dance sequence was filmed by Anglia at Winterton which was included in A-R's Summersong. A review of another dance for the second in the series was glowing: "For Charm, I found the dancing at Hall Farm, East Raynham, delightful. If this is a foretaste of Anglia TV's contributions it augurs well for the new company."

To Anglia TV Menu

.

.

.

.

.

.

.
The picture above is a scene from the very first programme shown on Anglia, Introducing Anglia. Producer Philip Bray is very cosily introducing one of the stars who is to be on Anglia's lunchtime shows. In case you haven't spotted her, it's no less than Susan Hampshire.

Anglia's main production on this special day was
The Violent Years, fully networked,
starring Laurence Harvey, Hildegarde Neff, and Gwen ffrangcon-Davies. With Rene Ray, Marie Ney, Newton Blick, Anthony Newlands, and Alan Gifford. The rest of the cast were Robert Henderson, Jerold Wells, Joss Ackland, Carl Conway, Alan Scott, Paul Castaldini, Brian McDermott, Marianne Brauns, Richard Cuthbert, Anthony Jacobs, Harry Lane, Gordon Phillott, Murray Kash, and Estelle Brody. Script: Ladislas Fodor. Director: Peter Graham Scott.
The story of Chris Adams who is on trial for his life. He recalls the events that have led to his being in the dock. This romantic, tragic tale began in Austria in the fateful summer of 1914.

October 1959: Sir Robert Fraser, Director General of ITA, said, "Anglia has firm roots in the area it serves, and we are sure that it will bring not only pleasure to East Anglian viewers, but real and increasing benefits to those who live there." He was right, at least Anglia served us very well for about forty years. But when Anglia TV was subsumed into the new and dreadful ITV1, its archive was taken away from Norwich, local pride was destroyed and some of Anglia's historic artefacts sold off.
Anglia TV Menu

.

.

.

.

.

.

.

Opening of Channel Six

The Sandy Heath transmitter in Bedfordshire was opened on
Tuesday July 13th 1965
with a special programme from 7 to 7.30pm from
the new Civic Hall Dunstable.

The host was Rupert Davies, and the show starred
Ron Moody, Janie Marden, conjuror-illusionist Johnny Hart and The Douglas Squires Dancers.
With Elizabeth Fox, and also Mavis Acott, Pat Goh, Lazy Maggie Vieler, Ron Allen, and Ricardo Romero.
Peter Fenn conducted the Glamour '65 Orchestra, and the first heat of the Miss Anglia and Amateur Ballroom Dancing Comepetitions also were part of the show.
Director: Peter Joy.

In fact, that evening's About Anglia at 6.05pm also came live from Dunstable. A little like the first Opening in 1959, a helicopter showed pictures of the whole region, from Dunstable in the south, Northampton in the west, and Spalding in the north. Local weather was provided by Michael Hunt who apparently only received the latest weather charts from RAF Met Office at Bovingdon, half an hour beforehand. He had to drive the sixteen miles to the Dunstable studio to give his forecast, "if I happen to be a bit puffed..." Hope the police didn't stop him

.

.

.

.

.

.

.

.

.

.

.

.

Anglia TV Thursday December 3rd 1959
1.00 News
1.02 The Midday Show - audience from Honington
2.43 Schools
4.45 Small Time
5.00 Zoo Time
5.25 The Cisco Kid
5.55 News; Anglia News
6.15 Close Up
6.45 See For Yourself - advertising magazine
7.00 Rawhide
8.00 Dotto
8.25 This Week
8.55 Boxing
9.25 News
9.35 Hippodrome
10.30 What the Papers Say
10.45 Dan Farson's Guide to the British
11.00 News and
The Epilogue
Anglia TV Menu

.

.

.

.

.

Anglia TV Monday April 4th 1960
This schedule must offer about the earliest ever ITV closing down time- anyone know of an earlier one?

1.00 News Headlines; Anglia News and Weather
1.09 The Midday Show - with Philip Bray, Norman Hackforth, Helen Cotterill, Roger Gage, Betty Base and Her Bachelors, audience from Old and New Buckenham-1.50
3.45 Amateur Football Clapton v Maori
4.45 Small Time: Oaktree Kitchen
5.00 Seeing Sport- Athletics
5.25 The Cisco Kid - the first telephone in the West falls into the hands of a group of bandits
5.55 News; Anglia News
6.10 The Root of All Evil- Roger Warren Evans on money
6.30 Dial for Music- with Dennis Lotis, compere Cardew Robinson
7.00 Mark Saber - Kill Me, My Love
7.30 Double Your Money
8.00 The Arthur Haynes Show
8.30 Wagon Train - The Amos Gibbon Story
9.25 Budget News from ITN; 9.30 The Budget The Chancellor of the Exchequer is questioned by Kenneth Harris
9.45 Probation Officer - with Iris Russell and Maureen Beck
10.40 The News from ITN followed by The Epilogue and Close-down
Anglia TV Menu

.

.

.

.

.

.

.

.

.

.

.

.

.

.

Anglia TV Wednesday December 16th 1959
1.00 News Headline
1.02 The Midday Show - with Philip Bray, Susan Hampshire, audience from Kessingland
1.40 Anglia News and Weather-1.50
4.45 Small Time: The Musical Box
5.00 Junior Criss Cross Quiz
5.25 The Adventures of Rin-Tin-Tin - The Swedish Cook
5.55 News; Anglia News
6.10 Roving Report
6.30 Ivanhoe - Lyman the Pieman
7.00 77 Sunset Strip - A Nice Social Evening
8.00 Spot The Tune
8.30 No Hiding Place- Black Fashion
9.25 News
9.35 Battle Formation - the story of RAF Coltishall Anglia Production
10.05 Douglas Fairbanks Presents- Fool Notions starring Barbara Mullen
10.50 Let's Put Out The Lights- Norman Hackforth with Margaret Clews and David Kernan
11.05 News Headlines and
The Epilogue
Note: These timings from TV Times omit details of any programme between 10.35 and 10.50pm!
Anglia TV Menu

.

.

.

.

.

.

.

.

.

Anglia TV Wednesday January 1961
1.40 Racing from Plumpton-3.45
4.15 Sir Lancelot - The Ugly Duckling
4.40 Afternoon Club - Valerie Oldfield with Magic Time Story with Uncle Gee
4.45 Small Time: The Musical Box
5.00 Zoo Time - Harry Watt with M for Myths
5.25 The Buccaneers - Flip and Jenny
5.55 News
6.05 Anglia News; 6.20 About Anglia - presented by Dick Joice
7.00 Coronation Street
7.30 Dial 999 - The Killing Job
8.00 The Citadel - episode 8
8.30 Val Parnell's Startime- The Eartha Kitt Show
9.25 News
9.35 Private Angelo - film starring Peter Ustinov
11.32 ITN News Headlines
The Epilogue and
Close-down
Anglia TV Menu

.

.

.

.

.

Anglia TV programmes for Monday August 14th 1961

5.00 Seeing Sport
5.25 Sword of Freedom
5.55 News; Local News
6.15 Arena
6.35 Summertime
7.00 The Flintstones
7.30 Coronation Street
8.00 Three Live Wires
8.30 Wagon Train
9.25 News
9.35 Harpers West One
10.30 Another World
11.00 News Headlines
11.02 Saber of London
11.32 Epilogue

.

.

.

.

.

.

.

Anglia TV Schedule for Friday December 7th 1962
4.40 Afternoon Club - with Thelma Mills and Man Alive! with John Seymour
4.45 Small Time - The Pingwings
5.00 Street of Adventure - The Conquest of Everest
5.25 Mister Ed - The Contest
5.55 News
6.05 About Anglia - introduced by Dick Joice
6.45 The Sign of the Times - Anglia advertising mag with Kenneth Horne and Richard Murdoch
7.00 Take Your Pick
7.30 Emergency Ward 10 - RSO Shaw delivers a pep talk
8.00 Bonanza - The Deadly Ones
9.00 News
9.15 Television Playhouse - The Pinkness of it All with Sam Kydd, Ronnie Barker and Avril Elgar
10.15 The Sword in the Web - The Railway Job
10.55 Now You're Talking!- Dick Joice talks to Jack Rumsby
11.10 News Headlines
11.12 Anglia News Headlines and Weather
11.15 Broadway Goes Latin - Edmundo Ros with Haydee and The Mambo Aces
11.43 The Epilogue - Rev Howard Whyntie, Rector of Beeston St Lawrence
To Anglia TV Menu

.

.

.

.

.

.

.

Anglia TV Schedule for Wednesday June 19th 1963
2.35 For Schools: French from France No 26 Chantons!, Groundwork of History 6 The Impact of Rome-3.22

4.45 Small Time - The Musical Box
5.00 Zoo Time -Desmond Morris sees Peter the alligator, the hedgehog family, and the ferret badger
5.25 The Junior Angle Club- host Sandy Sandford, with Cavendish Morton, John Seymour, and The Voodoos "a new guitar group"
5.55 News
6.05 Summertime About Anglia - with Bob Wellings and John McGregor, and guest Mark Wynter
6.45 Here and Now - from Bedales School Petersfield (Southern TV)
7.00 Air Power - Vertijets narrated by Walter Cronkite
7.30 Coronation Street - The Barlows are caught between two fires
8.00 Big G - Ballard Number One
8.53 Police Call - with Norman Sanders
9.00 News
9.15 Here Come The Girls - Alma Cogan with Alan Freeman
9.30 Party Political Broadcast - Conservatives
9.40 Glamour '63 - introduced by Shaw Taylor from Peterborough
10.10 The Adventures of Seahawk- John Howard in Port of Missing Ships
10.40 Success Story - with Daniel Farson
10.50 News Headlines
10.55 Dateline - with Ian Trethowan
11.05 Professional Wrestling - from Wembley Town Hall
11.48 Anglia News Headlines and Weather
11.50 The Epilogue - Rev Hugh Reid, of London Road Baptist Church Lowestoft

.

.

.

.

.

.

.

Anglia TV Schedule for Saturday September 28th 1963
1.15 News
1.20 Saturday Sportstime
5.15 The Terrible Ten
5.30 The Wizard of Oz
5.43 Weather; News
5.50 Thank Your Lucky Stars - with John Leyton, The Tornados, Mike Berry, Bo Diddley
6.35 Comedy Bandbox - with Terry Scott and Hugh Lloyd, host: Ted Durante
7.15 The Sentimental Agent - first of series: All that Jazz
8.10 The Charlie Drake Show
8.50 News
8.55 Michael Shayne - Four Lethal Ladies
9.50 The Avengers- Brief for Murder
10.50 King Leonardo - more adventures in Bongo Land
11.05 On the Braden Beat
11.25 African Patrol - Knave of Diamonds
11.50 News Headlines; Late Weather Summary
11.55 The Epilogue - Rev Raymond Rowland, Minister of New England Methodist Church Peterborough
Anglia TV Menu

.

.

.

.

.

.

.

Anglia TV Schedule for Saturday December 15th 1963

1.15 News
1.20 Saturday Sportstime
5.15 Emerald Soup - final episode
5.43 Weather; News
5.50 Thank Your Lucky Stars - with The Beatles
6.35 Comedy Bandbox - with Ted Ray, Mike Yarwood
7.15 The Sentimental Agent - A Box of Tricks
8.10 The Larkins - Strained Relations
8.50 News
8.55 The Avengers - Death A La Carte
9.55 Espionage - The Whistling Shrimp
10.50 Ben Casey - Little Drops of Water, Little Grains of Sand
11.45 Animaland - light hearted fantasy with birds and animals
11.50 News Headlines; Weather
11.55 The Epilogue - Rev Alan Coldwells, Vicar of Sprowston
Anglia TV Menu

.

.

.

.

.

.

.

Anglia TV Schedule for Thursday October 29th 1964
11.15 Schools -2.58
4.35 The Romper Room
5.00 Junior Criss Cross Quiz
5.25 Three Go Round Britt Allcroft, Fred Dinenage, Carol Binsted
5.55 News
6.05 About Anglia including Kenneth Robinson Reports
6.45 Arena- with Brian Connell
7.00 Double Your Money
7.30 That Show Sid Green and Dick Hills
8.00 The Detectives Hit and Miss
8.55 News
9.10 This Week
9.40 Comedy Hour: The Beverly Hillbillies - The Clampetts Go Hollywood
followed by: Car 54 Where Are You? The Sacrifice
10.35 What the Papers Say
10.50 News Headlines
10.52 Late Date Morgan James Duo
11.05 Towards 2000 New Towns Old Cities
11.35 Anglia News
11.38 Postcript Rev Sydney G Myers
Anglia TV Menu

.

.

.

.

.

.

.

Anglia TV Schedule for Monday January 25th 1965


4.35 Crossroads
5.00 Seeing Sport
5.25 Movie Magazine
5.55 News; About Anglia
6.30 Portrait of a Village
7 All Our Yesterdays
7.30 Coronation Street
8 Crane- Man in the Gold Waistcoat
8.55 News; Weather
9.10 The Image, play with Dinsdale Landen
10.30 In Search of a Holiday
11 News; Dateline
11.15 Local News, Weather
11.18 Reflection, Close.
Note- Anglia TV's Romper Room was, at this stage, being shown twice weekly, each Tuesday and Friday at 5pm
Anglia TV Menu

.

.

.

.

.

.

.

Anglia TV Schedule for Friday July 2nd 1965
1.45 Wimbledon 1965 - Men's Singles Final
4.35 The Romper Room
5.00 Criss Cross Quiz - with Danny Blanchflower
5.25 Mister Ed - Horse Party
5.55 News
6.05 About Anglia
6.35 Crossroads
7.00 Contest - Chris Kelly with Haverhill versus Ramsey
7.30 Emergency- Ward 10 - Mrs Charles' future continues to cause anxiety
8.00 Voyage to the Bottom of the Sea - The Magnus Beam
8.55 News
9.10 Peyton Place - Betty makes a decision that alters the lives of her relatives
9.40 The Man in Room 17 - Confidential Report
10.35 News Headlines
10.38 Cinema
11.05 Dateline Westminster
11.20 Anglia News Headlines and Weather
11.25 Reflection- Rev Dr John O'Neill, Westminster College Cambridge
To Anglia TV Menu

.

.

.

.

.

Anglia TV Schedule for Sunday December 6th 1965
11.00 Holy Mass from Sacred Heart, Moreton, Wirral
12.15 Science in the Garden
12.35 Les Trois Coups -12.55
1.50 Weather Trends
1.52 Farming Diary - John Jenkins with Factory Farming in the Future
2.20 The Best Years of Our Lives - film with Frederic March
5.10 Match of the Week - Ipswich Town v Rotherham Utd
5.40 Mr Piper
6.00 Weather Forecast; News
6.15 Ring a Bell - No 10 Love and Serve, the story of the Earl of Shaftesbury
6.35 About Religion - Rev Who?
7.05 In Our Time - Rev L Johansen Berg- Anglia TV Production
7.10 A Date With Music - Steve Race with the New English Singers
7.25 Danger Man - Are You Going to be More Permanent?
8.25 The New London Palladium Show - Jimmy Tarbuck with Richard Hearne, The Honeycombs
9.25 News
9.35 Redcap - A Question of Initiative
10.35 The Eamonn Andrews Show, followed by Late Weather Summary
11.25 Postscript- Rev Alan Robson, Chaplain of Norwich College of Education
Note- One feature of some of Anglia's schedules in the 1960's was of the inclusion of an extra long film on Sunday afternoons.
Anglia TV Menu

.

.

.

.

.

Anglia TV Schedule for Friday March 25th 1966

11.07 Schools
4.35 The Romper Room
5.00 Lost in Space - The Keeper, part 2
5.55 News
6.05 About Anglia
6.35 Crossroads
7.00 Country Style with Cy Grant , Bill Clifton, Paddy Bell
7.30 Emergency- Ward 10
8.00 The Fugitive - The White Knight
8.55 News
9.10 Election Broadcast (another bore no doubt)
9.20 Cinema
9.50 The Liars
10.45 Late Night Final
11.00 Election '66
11.25 The Full Man - The Novel: Landscape and Background with Kenneth Haigh, Avice Landon
11.53 Reflection - Rev Quentin Jackson, St Mary's Friary
Anglia TV Menu

.

.

.

.

.

.

.

Anglia TV Schedule for Sunday August 14th 1966
11.00 Holiday Service -12.15
2.50 Weather Trends
2.52 Farming Diary
3.20 Opportunity Knocks!
4.10 The Dickie Valentine Show
4.40 The Magic Boomerang My Friend Higgins
5.05 Man of the World - The Bandit rpt
5.59 Weather; News
6.15 Tingha and Tucker
6.35 What Do You Say? Religious Quiz, Grampian TV versus Southern TV
6.55 In View guest Kenny Lynch
7.25 Whisky Galore! film starring Basil Radford
9.00 The Alfred Hitchcock Hour Franchot Tone in The Final Performance
9.55 News
10.05 The Bruce Forsyth Show - with Douglas Fairbanks Jr, Tom Jones
11.05 Crisis A Lion Amongst Men starring James Whitmore, Tommy Sands
followed by Weather
11.55 Postscript Rev Alfred Bull, of St Mary Magdalene Ipswich
Anglia TV Menu

.

.

.

.

.

.

.

Anglia TV Schedule for Wednesday July 5th 1967
1.00 The Royal Show with Raymond Brooks-Ward, Lionel Hampden
1.45 Wimbledon 1967
4.33 Anglia Newsroom
4.35 The Romper Room
4.55 The Adventures of Robin Hood Six Strings to his Bow rpt
5.25 Country Boy Jack Hargreaves
5.55 News
6.05 About Anglia
6.35 Sixth Form Challenge Bradford Grammar School versus Roedean School
7.00 All Our Yesterdays
7.30 Coronation Street
8.00 Danger Man No Marks for Servility
9.00 Half Hour Story Maxine Audley in Between Men
9.30 Cinema
10.00 Andrew Gardner with the News at Ten
10.30 Professional Wrestling
11.15 The Music People with Ronnie Hilton (Scottish TV Production)
followed by Weather
11.45 Reflection Rev D Melville-Jones, Organiser of Religious Instruction Norfolk Education Committee
Anglia TV Menu

.

.

.

.

.

.

.

.

.

.

Anglia TV Schedule for Boxing Day 1967 (this was a Tuesday)
10.40 The Romper Room
11.05 Return to Oz
11.55 Robin Hood - The Prisoner rpt
12.20 The Lady is a Square - film with Frankie Vaughan
1.55 News
2.00 World of Sport
4.45 Popeye
4.55 Do Not Adjust Your Set
5.20 Zoo Time
5.50 Results Round Up
5.55 News
6.05 About Anglia
6.35 Crossroads
7.00 The Benny Hill Show
8.00 Great Expectations film with John Mills rpt
10.00 News at Ten
10.30 Down At the Old Bull and Bush - with The Bachelors, Bud Flanagan
11.30 Reflection - Rev Quentin Jackson of St Mary's Friary
Anglia TV Menu

.

.

.

.

.

.

.

.

.

.

.

.

.

.

Anglia TV Schedule for Tuesday March 19th 1968

11.05 Schools
3.03 Anglia Newsroom
3.05 The Romper Room
3.30 The Budget
5.25 Come Here Often
5.55 News
6.05 The Price to Pay - About Anglia special on the budget
6.35 Crossroads
7.00 Carry On Constable (film)
8.35 Geordie Girl - Susan Maughan with Alan Price
9.05 The Budget- Roy Jenkins for the Government
9.20 Cinema - Hepburn and Tracy
10.00 News at Ten
10.30 Market in Honey Lane - Balance of Payment
11.30 Reflection - Rev George Reed, Rector of Barking with Damsden
Anglia TV Menu

.

.

.

.

.

.

.

.

.

.

Anglia TV Schedule for Friday November 1st 1968

11 Schools
4.05 Anglia Newsroom
4.10 The Romper Room
4.30 Crossroads
4.55 Bugs Bunny
5.20 The Discotheque
5.50 News
6.00 About Anglia
6.30 University Challenge
7.00 Time for Blackburn
7.30 Custer
8.30 Never a Cross Word
9.15 Frost on Friday
10.00 News
10.30 Cinema
11.00 Probe
11.30 NYPD
11.55 Reflection

.

.

.

.

.

.

.

.

.

.

Anglia TV Schedule for Sunday November 16th 1969

11 Holy Communion
12.15 Sunday Session-1.30
1.55 Weather; Farming Diary - with John Slater
2.30 The Baron - smugglers are using the Baron's Paris office
3.25 University Challenge
3.55 Match of the Day
4.45 The Golden Shot - guest Bruce Forsyth
5.30 The Forest Rangers - The Wolf
followed by The Weather
6.00 News
6.15 All Creatures Great and Small - The Ant & The Dove/ Kaaman
6.35 Tomorrow's Child - Whose?
7.00 Stars on Sunday with James Mason, Moira Anderson
7.25 Royal Variety Performance
10.25 News and Weather
10.35 The Avengers - My Wildest Dream
11.30 Tonight - with David Nixon
12.05 Reflection - YMCA Week of Prayer and World Fellowship

.

.

.

.

.

.

.

.

.

.

.

.

Anglia TV Local TAM ratings

w/e 14th August 1960
1 Ward 10 (Aug 12th) 67%
2 Rawhide 57
3 The Queen's Peace (Granada) 56
4= No Hiding Place 55
4= Delfont's Sunday Show 55
6= Movietime 52
6= Bonanza 52
8= Ward 10 (Aug 9th) 51
8= Wagon Train 51
10= African Patrol 46
10= About Anglia 46
w/e 3rd March 1961
1 Ward 10 (Tues) 74
2 Ward 10 (Fri) 72
3 Take Your Pick 68
4 Bootsie and Snudge 67
5 No Hiding Place 66
6 Rawhide 63
7= Wagon Train 62
7= Dixon of Dock Green (BBC)
7= Double Your Money
7= Coronation Street (2 editions)
7= Palladium Show
w/e 11th February 1962
1 and 2 Coronation Street (Feb 5/7) 75/73
3 Double Your Money 70
4 Perry Mason (BBC) 69
5 Bootsie and Snudge 62
6 Laramie (BBC) 61
7 Black and White Minstrel Show (BBC) 58
8 Take Your Pick 57
9 The Invisible Man 56
10= Cheyenne/ Eric Sykes (BBC) 54
10= One Step Beyond/ Palladium w/e 5th April 1964
1 Coronation Street (April 1) 68
2 Double Your Money 67
3 Take Your Pick 62
4 Sykes and a Log Cabin (BBC) 59
5= EW10 (April 3) 58
5= Bonanza
7= Dick Powell Theatre (BBC) 57
7= Discs A Go-Go
9 This Is Your Life (BBC) 56
10= Top of the Pops (BBC) 54
10= GS5

w/e 5th June 1966
1 Secret of the Incas (Anglia) 45%
2 About Anglia (May 30th) 43%
3 Double Your Money 40%
4= About Anglia (June 1st) 39%
4= Coronation Street (June 1st)
4= No Hiding Place
4= The Frost Report (BBC)
4= The Man In Room 17
9= Crossroads (May 31st) 38%
9= Millicent
9= Cinema

w/e 4th Feb 1968
1 Coronation Street (Jan 31st) 80%
2= Coronation Street (Jan 29th) 66%
2= London Palladium Show
4= Double Your Money 64%
4= Bootsie and Snudge
6 Take Your Pick 60%
7 Cheyenne 58%
8= Sailor of Fortune 56%
8= Gunsmoke
10 Billy Cotton Show (BBC) 55%

.

.

.

.

.

.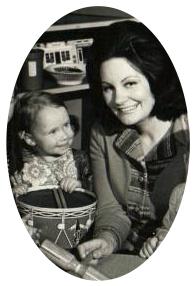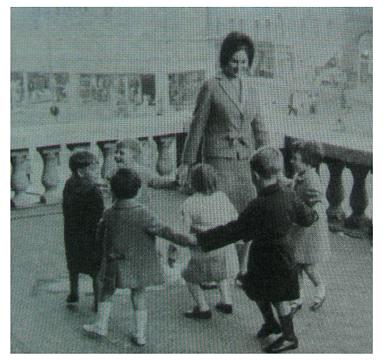 Anglia TV's The Romper Room
began in February 1964 and ran for 13 years, intially shown twice weekly at 5pm, but soon screened from 4.35pm to 5pm every weekday. Except for the last year it was introduced by Rosalyn Thompson (Miss Rosalyn), who had worked as a Nursery Nurse at the Norfolk and Norwich Hospital before getting this job, for which Esther Ranzten also auditioned. The format was American, licensed by Talbot Television Ltd, and aimed at under 7's. I think the only other ITV regions to run their own versions were Grampian TV (Miss Lesley), Ulster TV and possibly Border TV - a Miss Ann was host on one of these.
The programme celebrated 200 shows in September 1965, among contestants that month were children from as far afield as Spilsby (Lincs), Braintree (Essex), Peterborough (Northants), St Ives (Huntingdonshire), Ampthill (Beds) and Bures (Suffolk). Normally the programme came from Anglia's Norwich studios, but to show the extent of their 'empire,' the 500th programme in 1966 was made at The City Hall, Hull, Yorkshire (left picture). Miss Rosalyn explained, "This is the first time The Romper Room has been out of the studio in Norwich."
Thanks to William Spinks, you can see on the left a general picture of the studio in 1970. Margaret Palmer describes the day: "You were allowed one parent per child. We all waited in a small room together, then an assistant came and took the children downstairs to the studio,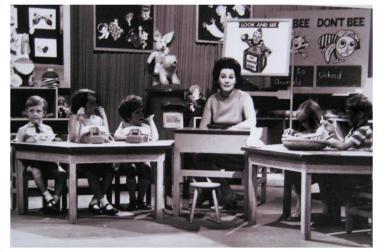 we watched on a monitor. The children were brought back at 'half-time' for the toilet and a break" When they had recorded the shows, the parents were taken down to the studio to have a look around, being warned about all the cables everywhere. Lunch was provided in the studio canteen. Sally Bailey-Young explained it was her mum's job to take them to "the wee-wee chair," and on more than one occasion, according to production assistant Sylvia Barsby (Raffles), there was a cry 'please miss - I need a wee.' Recording had to be stopped until their return, though of course they didn't always make it to the cloakroom! Normally three programmes were filmed on Monday (later two), and two on Tuesday, to cover the week's shows. Some who were involved with both days were put up at the Bell Hotel, Anglia TV paying for accommodation for the child and one parent.
Everyone, it seemed wanted to be on the programme, the waiting list was around a thousand children, and I would like to thank the many who wrote to me, recounting their happy memories. Of course working with young children is a recipe for troubles, and the programme had its fair share. Miss Rosalyn recounted how one game of Follow my Leader, with some jolly accompanying music, became a dirge as one boy did a slow step, wearing a very mournful expression. So the next child copies him, and so do all the others. "I was desperately making bright suggestions about clapping, skipping... it looked like a funeral procession." But the parents watching thought it very funny!
On the right, above, is a 1971 photo kindly sent by Cathie Mayhew of her gazing adoringly at Miss Rosalyn. She writes, "My twin sister Lisa spilt her drink and Miss Rosalyn said she would get a cloth. Lisa said, 'don't worry' and promptly used her sleeve." Mrs Dye told how her daughter Christine in a 1967 programme was asked by Miss Rosalyn to fetch a chair, but a boy promptly obliged- Christine was having none of it and pushed her rival out of the way! Pauline Coe recounted, "I can always remember my daughter lifting her dress in front of the cameras- quite unaware of what she was doing."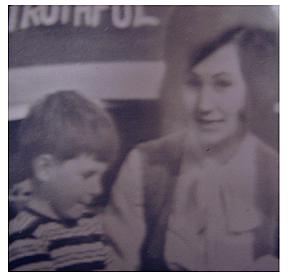 On the left, we are grateful for this photo of Clive Rounce in an early show from 1966. It was taken by the simple method of photgraphing the tv screen.
A special guest on the sixth birthday, 23rd February 1970, was a "secret," but proved to be a mischievous little pony called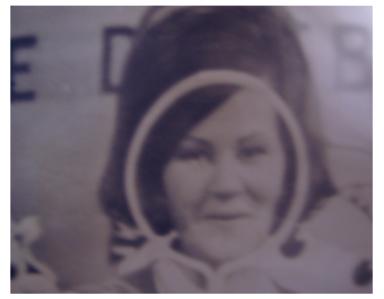 Threepence. Pictured below was Helen Youngman who was allowed to sit on Threepence, "she has never forgotten that thrill," said her mother in 2008.
Sadly Miss Rosalyn left in 1976, and by all accounts the show was never the same. It went off air in 1977.
The Magic Mirror (right) seems to have been the best remembered game. Sylvia Barsby wrote, "I remember that when Rosalyn didn't have enough viewer names to 'see in her magic mirror', she simply read out the names of the crew on the studio floor and in the control room. We used to get quite upset if our name wasn't read out!"
Nicola describes her fortunate appearance in the mid/late 1960's:
"Vic a neighbour of my family, was, I believe, a lighting engineer at Anglia TV. My dad always told me that there was a long waiting list for the programme, so Vic said we could go along and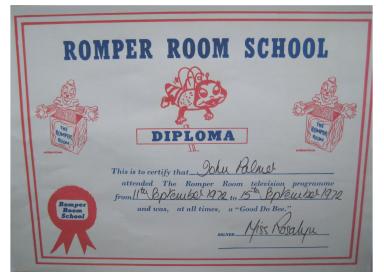 watch from behind the scenes, which we duly did. I remember standing amid huge lights and cables with Dad and Vic and seeing Miss Rosalyn and the six children on the set.
Well, somehow or other I then took part in that programme, maybe one of the other children was sick? I don't know, but Dad took my coat off and I went to sit next to Miss Rosalyn on her righthand side. I do know that I really wanted to ride the hobby horses from the 'stable' but instead we trotted around the desks in the hold-up cardboard police cars! My clearest memory is at the end of the programme during the 'romper bomper stomper doo' bit. I was horrified to see that Miss Rosalyn 'cheated' by changing over the 'looking glass' from a filled in one to a clear one from under her desk! I had always thought that it was magic when I used to sit at home willing her to 'see me' and say my name!!"
Kathleen Register tried to recall the whole rhyme:
"Romper Domper Stomper Doo,
Tell me, tell me, tell me do.
Magic Mirror, tell me today,
Have all my friends had fun at play?"
She remembers her daughter Karen, under four years old, in an early show in summer 1964, saying prayers, "the camera zoomed in on Karen as she was the only one with her hands together and her eyes closed. Oh how I would love to watch it now."

.

.

.

.

.

.

.

.

.

.