The Anatomist
(February 6th 1956, repeated on Jan 7th 1959 on A-R)
Script by James Bridie, adapted for tv by Denis Webb.
Made at National Studios, Elstree. Produced and directed by Dennis Vance for Towers of London.
It was reported that Adrienne Corri fell spraining her wrists during filming, but her long sleeved costume enabled her to carry on.

The year is 1829, groundbreaking scientist Dr Robert Knox is lecturing on human anatomy in Edinburgh. "The barnstorming fellow" is played with a grim but bearable humour as only Alastair Sim can, the play happily reuniting him with his protege George Cole as his "enthusiastic" assistant Walter Anderson. Less enamoured of Knox's experiments, indeed "horribly worried" is the perceptive Mary Belle (Jill Bennett), Walter's intended.
Conscience is not something that impacts on Knox, though he stands aloof from the activities of janitor Davy Paterson who pays seven or eight pounds to the body snatchers, Sack Em Up Men, Burke and Hare (Diarmuid Kelly and Michael Ripper).
But Walter cannot but be concerned with the morality of it. He has a conscience, a heavy one it is, and after disputing with his fiancee about Knox's experiments, he goes to get drunk at The Three Tuns. There he is consoled by "bonny" Mary Paterson (Adrienne Corri), but as the gravediggers are short of a "good fresh juicy young corpse," they resort to disposing of bonny Mary.
She is deposited at the mortuary in the dim half light of dawn, when "dead men stirred." Her limp body has a striking effect on Walter, "she was so beautiful," and he dares to shout at his master, Dr Knox, "I believe she has had foul play." This is the best confrontation in the play, as Knox shows himself a man who is able to suppress his conscience.
The final act, six months on, sees public rioting after Burke has been hanged on Hare's testimony, men baying for Knox's blood. Defiantly, Knox vows to continue his lectures, "exhilarating," he describes it. But in a frank admission, it is clear that in his heart of hearts he recognises what has been going on is evil. Bravely he vows to lecture his students, even on the steps of St Giles.
Don't ask how, but somehow the play ends on a happy note, with Sim's mood reminiscent of his famous jovial portrait at the end of the film Scrooge, as Walter is reunited with his Mary Belle.
The play nearly falls into too much philosophising about whether the study of anatomy is a proper Christian act, an important issue at the time. But not quite, though the claim seems just a little too fanciful that "Knox will be remembered when Bonaparte and Wellington are forgotten." Above all, this is a forceful study of a pioneer, "the comparative anatomist has curiosity... he institutes a divine search for facts." Yes facts. Divine facts. You know, maybe some of our current men of science would do well to recheck their evolutionary theories, and base them more on the actual facts
ITV Play menu

.

.

.

.

.

.

.

.

The Policeman and The Cook
Anglia Television, December 1970. (On YouTube)

Adapted from a Wilkie Collins short story, the central character is Police Constable Gough, played by Michael Crawford. He is none too happy with his lot under Inspector Pennyquick (Reginald Marsh). His big chance could come when Priscilla a cook ("very nice too, eh?") bursts into the police station to report a murder at 14 Rider Street.
Newly married servant Zebedee is the dead man, and his wife has confessed. However Gough is not so green as to be swayed, and asks his own questions. Dr Macleish, a drunken Scot, also places no credence on the confession.
Mrs Zebedee walks in her sleep, the doctor confirms to the inspector who has now arrived and is in charge. All the inhabitants of the boarding house are questioned, yet it seems there is one further unseen presence.
From A Dear Friend is inscribed on the murder knife, the identity of that friend however is unresolved. Gough role now is to question the domestics. Miss Priscilla Smith is not your steroetyped cook, young and attractive, "you afraid of something, miss?" asks the young Gough who is clearly smitten with her.
Act 2 takes places after the inquest. The police inquiry seems to have made no progress. Mrs Zebedee is cleared of the crime. Gough is assigned to re-examine the house to find the missing person, but there is no sign, though his suspicions are drawn towards one of his own colleagues, Sgt Gribble. Sounding a bit more like Frank Spencer, he enthusiastically chats to the cook. "I loved yer," he declares, from when he first saw her, but what has she to fear?
The truth is revealed when Gough unearths an army deserter and facts about Zebedee's dubious past. The denouement isn't entirely satisfactory, though it is pure Victoriana. Most absorbing is the study of divided loyalties with a little poor acting compensated for by a lot of good especially from Gwen ffrangcon-Davies. This is a curious diet of melodrama, "you're imagining things!"

.

.

.

.

.

.

.

.


Women In Love
A two hour collection of six international playlets to mark Associated Rediffusion's third anniversary, shown on Wednesday 24th September 1958.
Here's one viewer's barbed comment (TV Times no 155), "such tepid, milk-and-water women wouldn't have raised the eyebrows of our strictest Sunday School teachers."
The stories were linked by George Saunders, who describes himself rather charmingly as the "masculine dreamer."

Here are reviews of the stories I have seen-
Story 1, After So Long. This is about Henry's longwinded encounter with "a jewel of a girl" called Topazzia (Scilla Gabel). It starts as a happy reunion, but "there's something you didn't tell me-" she now has children. Not that as Henry, Terence Morgan's character's reaction rings at all true. (Script: Bridget Boland. Director: Julian Amyes)

Story 4, Song Without Words, includes location shooting in Stockholm. On a boat tour, tourist Robert (John Fraser) attempts to beat the language barrier and pick up a Swedish blonde called Karin (Ann-Marie Gyllenspetz). It's all done in the style of a latter day silent film, a gallant but failed attempt to show a love story with little verbal communication. (Script: Michael Meyer. Director: Peter Graham Scott who was also in charge of overall production)

The final Story, 6 The Stowaway, is set on a boat off the south of France where eligible bachelor David (Daniel Massey) is sleeping in the Honeymooners' Cabin: "such a pity" but there's no woman on board to share it. But as it happens, there is a stowaway hiding in his cabin, Felice (Yvonne Monlaur), and a romance that teeters on farce develops, and then dies, in a nicely constructed finish. Also appearing were Henry Kendall as Ashley, Andre Maranne as the steward and Guy Deghy as Mr Morand. (Script: Charles Terrot. Director: Ronald Marriott)

.

.

.

.

.

.

.

.

.

.


(ATV Drama 61, #6, May 28th 1961)
A calypso singer introduces "Sutlej and Dowling, a man burning with a big pride." Three black convicts "decked out in misery."
Their leader, Sutlej (William Marshall) is an intellectual with a chip, brought on by years of humiliation at his unjust lot: "when you are a slave, you can only breed slaves."
Smallboy Dowling (Johnny Sekka) is still the apple of his mother's eye, even though "I've finished with prayin'."
The third of the trio is Van Kruze, a less well drawn character, only useful to further the plot.
This day, they are to break out. They tie up their guard. Van Kruze, unknown to the other two, throttles him. It seems to be a simple task escaping.
Van Kruze wants to go it alone and is soon caught. Dowling needs to keep with the experienced Sutlej, who has a scheme. The pair enter the head office of boss man on the island, Randall. For his half brother has provided Sutlej with the lowdown on "first black tycoon" Randall's illegal activities.
"How much?" asks Randall. "I'm after much more than money," replies Sutlej, for it's freedom and a leg up in society that he craves.
"Impossible," Randall tells him, but he has to concede. The convicts are thus put up in a posh hotel, the very building where Dowling's mother slaves in the kitchen.
"All this is like a dream," smiles Smallboy, but their smugness is wiped away when they hear the guard has been killed. "Sit tight, wait till de shooting die down."
This good advice however turns out to be impossible when Sutlej learns his girlfriend Dolly is to marry a white: "I don't want my child growing up as any white man's boy."
He has to meet Dolly, but this is one complication of the plot too many. The racial issues are relevant to the 1960's, but they cannot be explored fully in this 55 minute play. The best character is Dowling's mother (Nadia Cattouse) who can see the futility of her son's actions. "Oh Absalom," she screams rather absurdly, but this futility isn't conveyed to the viewer.
As Sutlej and Dowling trudge through a swamp to elude the police dogs, it seems hopeless. Sutlej takes his bottle of poison, though Dowling tries to dissuade his hero from doing so. Too late. Sutlej grovels in the mud, and with his dying breath attempts to nerve Dowling to face his grim future

.

.

.

.

.

.

.

.

The Crossfire
(screened 9th February 1967, recorded 26 Jan 1967)
Script: Anthony Saven. Director John Jacobs (Anglia TV).

In Algiers, Dr Sorel and his team tend the sick on both sides of the war, white settlers and muslims. Sorel (Eric Portman looking a little frail) has spent his whole life in this country, and despairs of the fighting. Now death threats have been received from whites objecting to his treating the enemy, even for humanitarian reasons: "we're not going to stand for any more of your communications with monkeys," is how the offensive threat reads. But Sorel cannot renounce his beliefs, and particularly not when he is asked to treat a paraplegic eight year old boy who has been badly injured in a bomb blast.
The play would have been much improved if it had focussed on the doctor's dilemma, rather than pursue the parallel stories which are :
1. His daughter is unhappily married to Hugo (Peter Wyngarde). He is treasurer of the white band planning a "major clash;" they are lead with military precision by Palice (Patrick Barr), though the younger faction, typified by the embittered Vedoni (Philip Locke), "the ideal revolutionary," is the one who has threatened Sorel.
2. Sorel's daughter meets an old friend Paul Dupre (Ian Hendry) who is working on behalf of the French government to bring to book perpetrators of the atrocities.
To link these themes, Hugo is asked what he would do if his wife went off with another man. "that would be simple," responds Hugo, "I'd kill him."
A long scene with Dupre interrogating a suspect raises questions of the ethics of the rebels, but doesn't really further the action.
Hugo attempts to persuade Sorel to leave Algiers "before it's too late," but he will not, he's committed to foster cooperation between both the warring sides. "You are in serious trouble," Hugo warns, and he knows.
Operation Sunset is the rebel's elimination of those whom they see as traitors. It should not start until Palice orders it, but Vedoni is over eager. Sorel is top of the hit list. He's rounded up, punched and kidnapped. He is facing trial by a court he cannot recognise. The charge: he's a traitor. His defence: "there's no duty or even right as a doctor to pass moral judgement." He is philosophical about his fate. He protests against all the barbarism.
The trial is interrupted by a crisis in the rebel cause. Sorel is returned to treat his patients, but Vedoni arranges a firing squad to end his life. Dupre has got wind of it all, but reaches Sorel too late.
Hugo is arrested and Paul comforts Sorel's daughter

On YouTube

.

.

.

.

.

.

.

.

Person Unknown
Play of the Week 12:28 (recorded March 15th 1967, screened 23rd March 1967, Anglia TV)
Adapted by David Butler. Director: John Jacobs.

The opening scene, a new women's residential hall, sets the scene of mystery well.
The warden Jane Canning (Elizabeth Sellars) has returned after a night out with Ian Conway (John Gregson) and her younger brother Gilbert (John Wood). He's a detective, and she'd marry him, if she did not feel responsible for Gil, a brilliant but rather erratic and self-centred character.
News is given Jane that one of the first year students Kay Ramsey is missing. She is later found dead in a quarry.
Insp Conway investigates with the aid of Sgt Brandon (Michael Coles). We watch their systematic sifting of the facts.
Beth (Felicity Kendal) and Margo shared a room, but weren't very close to the dead student. They know she had a boy friend called Paul and had recently been seeing a sailor cousin named Andrew.
The tragic news is broken to Kay's mother. Part two begins as mysteriously as the opening act. A half seen figure is searching the warden's office. Enter Jane, to be "startled" by Gil. We hear he had been Kay's maths tutor. The pair comment on her similarity to Anne, whoever she might be.
You always feel he is the obvious, too obvious suspect, for he has no alibi, he was alone when Kay died, preparing for an important conference speech to mathematicians.
The motive for murder becomes clear, for the girl was pregnant. Jane is upset by Ian's questioning, but it's his job to probe. Yet Gilbert is not the only suspect, Andrew seems to have loved Kay, though he denies being the child's father.
The final act begins with Jane burning a photo. Gil is running off to his conference abroad. The photo is of Anne, Gil's wife, who had destroyed his career. Gil blames himself for her fatal car crash. He knew Kay quite well, she had been starting to act like Anne. Gil admits "taking her to the quarry," because she had to meet someone there, who he doesn't know. She had been going to run away with this person.
"No evidence of another man," is Inspector Conway's verdict, which increases the tension in his dealing with Jane. Gil is stopped as he is about to leave, and faces arrest. His clever response is to try and show that Conway himself could equally be the guilty man. "What Gilbert said, it sounded so convincing," sighs the worried warden.
The writer has used the old trick of making everyone suspicious, for now we learn that even Sgt Brandon knew Kay. Thus it is almost farcical, I was just waiting for the only one not to fall under suspicion, the warden herself, to be denounced as a serial killer. I suppose it's a change from the butler doing it, but it made for an unsatisfactory ending
ITV Play menu

.

.

.

.

.

.

.

The Lover (A-R, March 1963- networked except to STV and Border, who refused to transmit this, though eventually they did show it at 11.04pm on June 24th 1963)
Introduced as "Harold Pinter's latest play," TV Times described it thus, "This is not a story about the eternal triangle, but one might call it an eternal quadrangle." My own benighted comments:
Pretentious silhouetted hand movements drum irritatingly to start off this drama.
Scene 1 proper- a husband inquires of his wife if her lover is calling today.
Scene 2- slightly gratuitous. She prepares for his arrival. The camera lingers on her legs.
Scene 3- Return of husband. Matter-of-fact conversation about her lover. He's a cold fish. They discuss her lover and he describes his own whore.
Next day, same again. Today the milkman calls, fresh just like the stereotyped purveyor of milk. Then her lover arrives, Max, no surprise it's actually her husband.
The couple play around, he's under the table now, caressing her legs. She rolls under to join him. Whatever turns you on, that's the expression. He departs, rather unfulfilled today. Apparently she's not his ideal woman.
The last act- his return as man of the house. He suggests quietly she does not entertain her lover in the house any more. "I'll knock his teeth out," he threatens. And he has finished with his whore too. She is baffled at his change. Perhaps the viewer who is still watching is too.
That drum returns, with some questions as to its function. Goaded, she reveals she has other lovers, that's what she says. He attempts to be another, tantalising her. Back to under the table. I was there ahead of them. Whatever Pinter intended by this, I can only assume he was paid well by furniture manufacturers, probably MFI, for the story was about as robust as anything that firm ever made
ITV Play menu

.

.

.

.

.

.

.

A Midsummer Night's Dream - June 24th 1964, 9.10-11.10pm.
"Beauteous" Hermia (Maureen Beck) and her love for Lysander (John Fraser) never grabbed me, but Jill Bennett as the "transparent" Helena was much more idiosyncratic, wistful and indeed appealing. Patrick Allen was Patrick Allen, ditto Peter Wyngarde who came across as almost a panto demon.
At Quince's Cottage were assembled the more popular commercial attractions, led by Benny Hill as Bottom, who gave the role his own occasional cheeky little laugh. I liked his scene when he manipulated poor Arthur Hewlett as Snug's face. But old stager Miles Malleson as Quince seemed the most seeped in his part, uttering his line "he's a very paramour," as only Malleson can. Alfie Bass as Flute and specially Bernard Bresslaw as Snout must have disappointed the popular audience, as they never uttered even one of their catchphrases.
Directed by Joan Kemp-Welch with some fine close-ups, and one striking visual moment when a match was lit, superimposed on the scene as Snug and Snout are scared off by Puck. That of course, could never have been done on stage, and this was only one example which showed some care had been taken to make the play into a televisual one.
Perhaps the best done comedy moment was when Bottom as a "monster" is wooed by the spirited Titania (Anna Massey). You just longed to see Benny Hill's face, but that of course was impossible, hid behind the mask of an ass.
So there was much to admire, my favourite scene was the stunning effect, despite the cramped studio, of the fairies' ballet, to the accompaniment, naturally, of Mendelssohn's enchanting music.
TAM recorded 3,855,000 viewers for this, the largest ever for a Shakespeare play on tv (29%)

.

.

.

.

.

.

A Choice of Coward (Play of the Week 9.51 to 54)
The pompous introductions from the author himself nearly lost this viewer before we ever get going, as I am by no means a Noel Coward fan. Four plays were transmitted in this Granada series shown in August 1964. 1 Present Laughter- After expounding his thoughts on the star system, NC kicks off his own star vehicle with Peter Wyngarde in NC's role, perhaps not sporting the "thinning hair," but otherwise ideal as "God", who has not quite grown up. His ex-wife's accusation prompts the undeniably erroneous response, "I have never overacted in my life," his many failings show up, for me, in his overindulgent seduction by his leading lady (Barbara Murray), the remainder of the play revealing its consequences, "I wish I were dead." I liked the contrast Joan Benham provided as his so efficient secretary, James Bolam was excellent as an over enthusiastic junior writer, and Ruth Porcher had a lovely little part as the inscrutable daily. But it has to be that "the unmitigated cad" steals the play
2 Blithe Spirit - NC commences with a rant against those "verbose, ill-constructed" modern plays of no substance. He was right there!
Then I started to warm to this condensed 72 minute version which moves at a cracking pace under the direction of Joan Kemp-Welch. Hattie Jacques' bulky presence is of course wildly eccentric as Madame Arcati, but also amazingly balletic whilst Griffith Jones is simply marvellous darlings in the master's role. I had to keep reminding myself that I was watching Griffith Jones as the "astral bigamist," who plays the role so much better than Rex Harrison. Only Joanna Dunham as the "earthy, ethereal" Elvira is a trifle disappointing, acting rather woodenly, even if she does make a sensuous ghost. Maybe this really ought to have been Fenella Fielding's role? For those brought up on the film version, this is a pleasant surprise. Quite stagey, but so well edited from the original play that it really is an improvement! I wonder what NC made of it all? Yes it was certainly "one of the most enjoyable five minutes I've ever spent"
3 The Vortex - "It established me both as a playwright and actor," NC tells us, rather self centred, but he does then puncture his own ego.
Tony Bateman is in NC's role, while the "whacking good part" of the "flaunting" Florence is by Margaret Johnston. She sprawls elegantly on the sofa, married to David but besotted with young Tom who enters after 25 minutes, too long time character setting, to sweep Bunty off her feet, up till now she's engaged in a perfunctory way to Florence's son. Act 2 moves to a country house party, the atmosphere of 1925 superbly authentic except for an anachronistic reference to a Charlie Kunz record, but once again the plot is too verbose, maybe this is what the idle rich of those days enjoyed. The resulting hysteria when the shallow relationships are shattered is well done, with Florence providing an acting tour de force as she is faced with the reality of ageing, "but you can't see it." The gaiety of the opening dies away in despair, at least for the viewer if not quite for the characters, for I never found I cared enough about these toffs. As it is, the jolly closing music and credits of the cast in Charleston mood are dreadfully out of place
4 Design for Living - a play about "moths in the pool of life," unconventional Gilda (Jill Bennett), in love with penniless artist Otto (John Wood), but now drawn to successful writer Leo (Daniel Massey). All three are jolly good pals, and jolly shallow. Otto leaves in disgust when she has it off with Leo. After a year with Leo, Gilda feels "something's missing," and that of course is Otto, now a success. Though both men love her she feels they no longer need her, so she goes off with Ernest who is already a success. Finally a boring two years on, with the smart set and her prim husband she's reunited with her former lovers for some half hearted home truths in an "equivocal" ending that's how Coward describes it, though it's no ending, to me he's taken the coward's way out and given us a Kop Out
ITV Play menu

.

.

.

.

.

.

.

.

.

.

The Death of Bessie Smith
(Granada, TV Playhouse 10:43, June 28th 1965)

It's 1937 in Memphis. "Goddam nxxxxr records" give father (Robert Ayres) a headache. Playing them is his daughter, a frothy nurse (Patricia English) who works in a "secondrate" white hospital with the fewest patients you ever did see, a model for NHS practice surely. Forgotten legend Bessie Smith ("is she still singing?") is admitted after a car smash. This is two thirds of the way through the play, the first act of which is used to define the deadbeat staff who are to 'treat' her. The final act has yet more inconsequential talk whilst the "nxxxxr" has to wait.
Personally, I can't take this static type of play, an actor's play perhaps, but shouldn't the author Edward Albee be sued under the Trades Descriptions Act for saying he's putting an incidental historical context to a play which is really examining Southern racist attitudes? A true historical analysis would rather have started with the excellent final scene when black driver (Earl Cameron) confronts our white nurse, "I never heard of such a thing."
Donald Sutherland as the distracted intern gives it all a veneer of credibility, but only a veneer.

Note: Pat English's part was originally to have been played by Gene Anderson who said of the role: "it's a horrible part- I play the nurse who refuses coloured Bessie entry to a white hospital- and a great challenge." Sadly Gene died suddenly before the programme was recorded.

.

.

.

.

.

.

The Human Voice
(Rediffusion, November 1966)
Script: Jean Cocteau, adapted by Clive Exton
Director: Ted Kotcheff. Set designed by Michael Yates
TV Times summary: "A virtuoso part... the voice of her caller is never heard... but a good actress can make the audience imagine every word he is saying to her."

Flaxman 4924. This is Hampstead 1507. That sums up this Jean Cocteau play with the one character, a lady in turmoil, played by Ingrid Bergman. Torn photos lie on the floor when we first encounter her, lying on her bed uttering inexpressible groans. Her only companion an alsatian with a terrifying growl, no comfort.
One solution only to her woes... light a cigarette. Jilted, she is about to leave the flat when the phone rings. Hope renewed, she embarks on the first of several lengthy telephone chats in which we ever only hear her side. Someone must be well off to afford such long calls. For her there is now still hope, "you're not to blame," as the conversation centres on such profundities as searching for his driving gloves, I am sure they must be symbolic of something profound, can't tell you what.
The problems of phone calls in those days are realistically portrayed with party line interruptions, being cut off, so frustrating for her, and for incomprehending viewers. Finally the line goes dead. She has an interminable wait for him to dial again. To pass the time, another fag, despite her statement to him she hardly touches the things (though that's not quite how the author expresses it). She bathes in tears of nostalgia until she grasps the nettle and phones him. Engaged.
Another attempt gets through, but it's only someone called Henry who answers. Tears, increasingly hysterical.
But after a while, a long long while, he rings again. She is more frosty at first, but gradually sinks into her deepest woe. "I couldn't feel my heart beating any more." Perking up a mite, she recalls the good times. Back to the depths and she chucks the phone down. Talk of suicide, mood swings, dreams, "I would only love you all the more..." He rings off. Can't really blame him. She is back on her bed of woe where it had begun. She is praying he will somehow ring again. Good Lord, he does!
"We shall sit here for ever," she fantasises to him, the phone lead threateningly twisted round her neck. "I love you," is her last contribution, repeated and repeated.
I am sure this can be described as a brilliant solo performance, there are impressive camera shots directed by Ted Kotcheff proving this must be tv at its most mature, yet I must say I found it exceptionally hard going. Patrick McGoohan could have done the sequel, Human Voice 2, if the author cared to write the story from the other end of the line. This is a play for intellectuals to argue over, for benighted students to have to study for their university degrees, for ITV to claim it was a patron of the Arts, oh but is it enjoyable?

.

.

.

.

.

.

.

.

.

.


Your Name's Not God, It's Edgar
Screened December 9th 1968 (ITV Playhouse 2:17)
Script: Jack Rosenthal. Director: Michael Apted

What an awful start to this northern play, as scenes of t'north are accompanied by an irritatingly jokey rendition of Jerusalem. Followed by Lily's reflection of what this song means, if anything.
Edgar (Alfred Lynch) is under t'thumb o' his dad (Jimmy Jewel). Flashbacks to his youth reveal his deep seated awareness of original sin, especially (this was the sixties) in relation to the female form. When his mam had got "a bug in her belly," it's connected in the lad's mind with his original sin. Now she's died, but was it because he'd watched a rude film?
Left alone, "great white Buddha," his malingering bedridden dad is the bane of Edgar's life, spoiling his romance with the plain Phoebe (Yootha Joyce), or is it an excuse? His friend's nickname Blessed Art Thou, from t'Bible, might give us a clue as to the attraction to the opposite sex that Edgar longs after, maybe lusts after, though his veneer is a respectable religiosity.
Perhaps this nonsense is summed up best by one long scene in which Edgar converses with a beast of the field. The latter talked more sense to me. Matters with Phoebe reach crisis point, and Edgar adopts his dad's "childish" ploy of feigning illness. But after eight long years, Phoebe is remarkably persistent, "I'll wait for yer," she promises. Why, she must be desperate.
A weekend away from dad in London's fleshpots may "drown his conscience." However it seems uneventful, though back oop North, Phoebe seems to be hitting it off with dad, "would you like a sherbert fountain?"
But Edgar has discovered Phoebe's more attractive double in the big city. "There's other things in life besides sex," and though it's mostly talk, she does seduce him.
Returning home, Edgar finds dad up and about, "nothing wrong with yer." Truth downs on t'lad, it had dawned on us before we fell asleep a long while ago, truth regards his dad and his own guilty inner feelings. "Round the twist he always was," and you'd be too after suffering this pseudo comic sixties twaddle. But I canna give yer a fair review, as I never liked this play one bit

.

.

.

.

.

.

.

.

.

.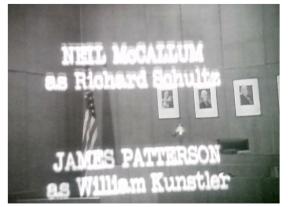 BBC Plays
It is Midnight Dr Schweitzer (1953)
A Man from the Sun (1956)
Without Love
The Government Inspector (1958)
This Day in Fear (1958)
Brand (1959)
Soldier Soldier (1960)
Whistle and I'll Come to You (1968)
The Interview
Chicago Conspiracy Trial (1970) (pictured: end credits)
The Wednesday Play
12 Fable (1965)
64 Way off Beat (1966)
84 In Two Minds (1967)
117 The Golden Vision (1968)
122 The Gorge
132 On the Eve of Publication
146 Last Train Through Harecastle Tunnel (1969)
148 Mark II Wife
The drama department at the BBC earned a top class reputation for producing quality tv plays. The genre culminated in the gritty realism of the Wednesday Play, this was sixties television at its most dour. I have to confess that this is not what I enjoy on my television screen, and ironically it was only because the BBC recruited top ABC man Sydney Newman, that their dramas really descended from stagey theatrical plays to the kitchen sink abyss. Critics of course will love anything they don't understand, and a lot of the Wednesday Play output was just that, down to earth language with down to earth situations, that dragged the nation down into its pit. Television reflects life, was the excuse, but television also moulds life, and mould be the word.
Having ranted against it, let's conclude on a positive note, and recommend the excellence of some modern day classics, from which I single out John Hopkins' Fable, hard going, depressing even, but almost prophetic.
To TV Drama menu

.

.

.

.

The Chicago Conspiracy Trial
(Sunday October 4th 1970, 20.15-22.50, BBC-1: with one break for The News)

Eight leaders of a riot are brought to trial, "the most important political trial of the century."
Narrated by Tony Church.
Judge Hoffman: Morris Carnovsky
Prosecution lawyer Schultz: Neil McCallum
Defence lawyer Patterson: William Kunstler
Defence lawyer Weinglass: Robert Loggia

An ambitious lengthy production.
140 minutes of courtroom drama might have been over optimistic in peak viewing time. Yet the drama is sustained, due to the near violence that is always present in the courtroom, and which occasionally overspills into unseemly scenes, quickly scotched by the judge, who remains a key figure in his inability to understand. In the end the defence and one defendant even admit they feel sorry for him!

My review: Part 1, Part 2. Part 3

.

.

.

.

.

Part 1
The 74 year old judge reads the charges against eight defendants, relating to treason, and causing a riot. All are on bail, except a black man, Seale, who is additionally charged with murder.
The government attorney presents his opening statement, then the defence, a noted civil rights lawyer representing all of them except Seale, who requests to conduct his own case. The judge quickly shows his weakness by refusing the petition. "Free speech denied." The jury have to retire to decide if Seale's case should be heard.
The background: a Festival of Life had been planned. An undercover policeman describes hearing a defendant say, "tomorrow we are going to storm the Hilton." A key witness, Pearson, testifies also, then undergoes a tense cross examination.
A dispute arrives over whether the Vietnam Protest Day should be recognised in court. Amid ill feeling, the judge rules against the defendants' request.
An FBI agent offers his account of the rally. Seale complains loudly, demanding to make a statement. Denied. It is Seale's birthday, and his co-defenders disrupt proceedings, and Seale labels the judge "a racist."
A police cadet's testimony about the riot is disputed, since a key report written at the time has disappeared. Seale wants to question him, but is not permitted so to do. "The court has the right to gag you," threatens the judge, as Seale vociferously objects.
At the end of the session, the defendants refuse to rise as the judge leaves. The dispute escalates next morning, when the prosecution attorney objects to proceedings even before the court is in session. After a slanging match, Seale is forced to sit down. He is eventually ejected from the court, which recesses. When the trial resumes, the judge has been as good, or bad, as his word, and Seale is now in court gagged and tied to his seat

To part 2

.

.

.

.

.

Part 2
The gagged Seale makes protesting noises. As intransigent as ever, the judge demands he be silent. Seale writes a note repeating his demand to be given his rights. "He has a right to defend himself," the defence lawyer objects. Recess.
After an interval, proceedings resume, Seale, ungagged, is silent. Lawyers argue the issue, and finally Seale is permitted to speak, "a special occasion." However the judge insists Seale stands while addressing the court. As Seale refuses, the judge declares him in contempt and sentences him to prison for four years. Seale is removed from the court.
A police witness relates profanities which he had heard from the defendants. This had been the catalyst for the fighting. Various other witnesses testify, including a nurse who states that the police threw rocks.
The background to the youth movement behind the demonstration is given: it is against decadent American values. It is explained why the Vietnam war is a racist war. The judge declares all this "irrelevant." Another leader of the group explains how they had peacefully tried to "exorcise the Pentagon," and begun Yippie, the festival in question. There had been no plan to incite violence, though the prosecution insist that it was just that, "you want to wreck our society."
A bomb deployed in Vietnam is shown, but the judge dismisses this propaganda. This leads to more shouting with cries that the judge is "chief prosecutor."
The defence want to call Abernethy, a prominent civil rights activist, but as he is not yet present, the judge orders the trial to continue. "This is not a fair trial," protests the defence, but after applause, the judge confirms that he will not wait for Abernethy, who later supplies a written statement.
A description of the march is interrupted by defendant Dellinger. The judge reprimands him for his vile language, and terminates his bail. Fighting breaks out, and the court has to be cleared

To part 3

.

.

.

.

.

Part 3
It's more of the same, as another defendant refuses to be quiet, "I won't be silenced." Personal comments are made about the judge.
After five months, we reach the final statements. The prosecution dispute the claim that the convention was ever intended to be peaceful, a riot was "created," like "a people's uprising." In reply, the defence state that everyone has a constitutional right to dissent. The lawyer points to the turmoil among young people. It's a moving speech. Then the final word from the government side, "they don't have the stomach to struggle for the ultimate good... violent opposition to law falls beyond legitimate dissent."
The judge addresses the jury, ironically warning them against bias.
After they retire, the judge deals with the serious contempt of court which all defendants are guilty of. Ditto the two defence lawyers, one of whom highlights the "repressive conduct" of the judge, who sentences them all to varying lengths in prison.
Some days later the jury deliver their verdict. Only some of the seven are found guilty of causing a riot. Then in the most sombre part of the hearing, defendants make speeches quietly. They focus on politics and the unjust war. Perhaps the revolution they aspired to never fully occurred, as this section becomes cerebral, and perhaps overlong, nevertheless, emphasising the importance of this trial. "The machines are sending human beings to jail."
Case closed. An appeal is lodged. This account of events was made prior to the outcome of those appeals. I felt that the programme brings over the appalling narrowness of the judge, and suggests the FBI, as the defence maintained, were making scapegoats of a bunch of way out hippies. I suspect the programme makers intended that to be so, what the actual evidence suggested is harder to determine

.

.

.

.

.

.

.

.

.

.

.

.

.

.

.

.

.

.

.

.

.

It is Midnight Dr Schweitzer (Feb 22nd 1953, second performance Feb 26th 1953)


This is primitive tv drama, based on one set, the story in real time, with dialogue and little action, nevertheless an interesting historical document. Indeed unlike modern historical reconstructions, this is acceptably close enough to reality. However there is never any very probing analysis of Schweitzer's motives, as the various sub-plots, even though they are all drawn together by the end, detract from a proper focus on the main man.

Midnight on a fateful night in 1914 in an African hospital. Dr Schweitzer (Andre Morell) plays Bach, as his nurse, Sister Marie (Greta Gynt) stands by, looking discontented. "It seems to me some people just give the money, whereas others give themselves." She's restless over her vocation and the doctor, maybe for the viewer's benefit too, goes over the reasons why he himself has given up a great career, even leaving behind his family.
But the philosophising is interrupted by a sick child who has been rescued by the priest Father Charles (Douglas Wilmer) from having her throat cut by superstitious natives. So the doctor attends the girl whilst Marie and the priest discuss the meaning of life, until I rather echoed Schweitzer's own comment "I grew impatient of talk."
Marie's lack of happiness may be related to the Commandant who now enters with the governor to spout politics. The latter is clearly antagonistic towards the doctor, possibly as he's German, and war seems imminent. "I hate war," is Schweitzer's stance, especially of course, if it means an interruption of his medical supplies from Europe.
There's more work, even at this late hour, when seven "monsters covered in enormous tumours" are brought in for treatment. This brings on a religious argument about suffering and God's existence, before Father Charles makes his farewell, possibly for the last time with war so near: "God be with you."
After 50 minutes we have an Interval, with a record of Schweitzer himself at the organ.
The next evening, the governor declares his love for the nurse "with the great heart." But she still isn't happy. The governor is here to give the pacifist doctor protection, but the offer is rejected, unwisely as it turns out, for natives break in and steal the medicines. There's unrest on account of war being declared: "the white men of Europe have started a great palaver. The tribe of the commandant is fighting the tribe of the great doctor." It drives the doctor to despair, and suddenly it's Marie who needs to bolster Him. Some Bach soothes them.
The commandant shares his love for Marie, who happily responds: "one single moment of happiness,".... but then "happiness is not thinking of others." They both have a higher duty. This becomes evident as Father Charles staggers in, a native sword in his back. All reflect on his death.
It's sufficent to make the commandant see that he must return to Europe, and for Marie to realise that her life is with the doctor: "I shall put my joy aside."
However there will be no joy at all, for the governor will be closing the hospital, for he has orders to intern Schweitzer at midnight. The doctor bemoans, not his own fate, but the fact that leprosy and all he has striven to fight, will now return to the peoples. There's a last tour of his hospital, and a soliloquy. He prays.
But Marie pledges herself to running the hospital alone. Schweitzer plays Bach until he is taken away at midnight
Play menu

.

.

.

.

The Government Inspector (February 1958)
A fine study of corrupt Russian country town officials, awaiting the arrival of a government inspector from St Petersberg. Or is he already here? The worry is that their numerous indiscretions may be revealed. The preparation for the arrival of this visitor is very well executed.
Mild hysteria follows when it seems that the visitor is indeed already in town, residing in a seedy hotel. In fact he is a "sponger, a scoundrel," but mistaken for the genuine article. Tony Hancock plays the impoverished junior clerk, who is believed erroneously to be the inspector, and he is invited to transfer his lodgings to the mayor's own house. John Phillips plays the mayor, with Helen Christie as his hopeful wife.
The gossip has it that this inspector is "grave and dignified," though in fact he is trying to get his head round why everyone is treating him with so much generosity. All the local dignitaries seek to impress the inspector, who starts to luxuriate in his own fantasies of grandeur, and maybe a little the worse off for drink he's been plied with. He wins a conquest in the mayor's wife too, not to mention her daughter.
A bribe from the judge, a loan from the schools superintendent, a gift from the health commissioner, leads him to expect numerous other little donations, and even the favours of the daughter, to whom he proposes.
"It's got to end sometime," his servant advises, so they leave before obsequiousness can end.
The mayor's dreams of high society come crashing down when the postmaster reveals, "he isn't an important man." This, discovered by opening his mail. A splended tale of the swindlers swindled. "Some jackanapes will make a play about it!"

.

.

.

.

.

.

.

.

.

.

.

.

.

.

.

.

.

.

Soldier Soldier (February 1960)

A Caledonian Fuselier (Andrew Keir), 200 miles from barracks, is stranded in a northen town. In a pub he boasts to the locals of his regiment's glorious victories, and after they all become tiddly, police are called.
Joe 'Nosey' Parker (Maurice Denham) helps him elude the law- Joe is ever hopeful of getting a seat on the local council, and in this soldier he can see a way. For his friends Charlie (Frank Finlay) and wife Ida, have a son called Tommy in the same regiment- they haven't heard from him for two years since he came home on leave bringing to stay his new Irish bride Mary.
Here is Coronation Street, before its birth, only with Southerners acting, throwing in the odd "eeee" for good measure. The soldier spins a tale that Tommy has been sent to jail- for murder. False evidence of course, and he promises he will fight for justice for Tommy if the family hand over "the shekels."
For the next few days they wait on him hand and foot. The play explores the shaky foundation to his yarn, and characters' reactions to it. Joe sees it as his chance for the council, demanding to know why the authorities hadn't informed Tommy's family. All Mary wants is someone to cherish her, and once the soldier has been given "all their savings," she runs off with him.
After a night together she comes back, alone. Like a bad penny he returns too. His smooth talking squeezes more cash from the family. Mary has seen through him (at last!) but needs him, "I'm comin' with yer." But he has no more time for her, though he leaves her some of the money and disappears. She leaves separately.
Finally Mrs Parker uncovers the truth about the lies. What the point of the play was, only the author knows. I think it were supposed to make you laugh, by gum. How the soldier could stay awol for so long, who knows? Perhaps this was a pilot for the Wednesday Play, it certainly wasn't for Coronation Street!

.

.

.

.


A play written and produced by John Elliot shown on Thursday November 8th 1956 (BBC).

An early study of the tension surrounding black immigrants into England. Rather predictable responses, "I don't want a crowd of blacks living round me," but with some interesting insights, "here there is no colour bar, but in people's hearts."
The tale mainly revolves round Cleve (Errol John) newly arrived to join his cousin Alvin (Cy Grant), his wandering round the docks conveys well his loneliness. Here we meet the sympathetic and supportive Brent (the excellent Earl Cameron), already settled in his new land, who helps one lost young beauty queen Ethlyn whose thin clothing has already given her a cold. She nearly comes a cropper at the hands of a prostitution racket, but is rescued by one of the few sympathetic white characters, Church Army worker Miss Prior (the ever reliable but prim Beatrice Varley).
Cleve is given a calypso welcome by Alvin and his extended family, plus a few home truths about life in England. Getting a job, that's his first task, and he is lucky to get one on a council building site. However here he meets opposition from a traditional union leader Bale (Colin Douglas) whose cronies believe "the borough is going downhill with the influx of migrants." His daughter Maggie has an "unfortunate liaison" with a black man.
Embroiled in a rather poorly done racial argument, Cleve and his opponent are given their cards. Like Ethlyn, he's offered a chance of easy money by Prince and his prostitutes, but Brent is on hand to save him, and Maggie even helps him, perhaps a little patronising it might seem, with English pronounciation lessons.
Ethlyn too finds happiness at a revival meeting and a council meeting throws out a proposal by residents to segregate white and black on a new estate.The solution seems to brush the problem under the carpet, but the play ends on a happy upbeat note with a calypso wedding and speeches from all and sundry.
This was a most interesting play, perhaps too many characters to develop them in sufficient depth, and too complex issues to cover properly, such as Alvin's own morals, but I liked the positive characters of Brent and Miss Prior and the West Indian music contrasted well with some drab and grey London streets

.

.

.

.

.

.

.

.

.


This Day in Fear (July 1st 1958)
starring Patrick McGoohan (James Coogan) with Billie Whitelaw (Mrs Coogan), Donal Donnelly, Hugh Moxey, Harold Berens.

Police believe "law abiding" citizen James Coogan needs protection as The Movement is after him. But Jim hasn't told his family or colleagues at work about his IRA past, which he has now put well behind him. But when it seems he is really going to be "live bait," he accepts the police offer.
Spasmodically the tension is notched up, but in between there's too much flagging. At last the climax, as Jimmy calmly accepts his fate. He explains his previous philosophy to his uncomprehending wife, before the priest, present to hear Jim's last confession, coaxes the truth out of him.
A neat conclusion leaves his political assassins baffled and the way of the gun is exposed for what it is

.

.

.

.

Patrick McGoohan won plaudits for his powerful portrayal in this pseudo religious drama, but for me, even The Prisoner is more comprehensible than this drama which lacks a storyline. Be a martyr if you want to sit through it all.

St John Roberts under the headline 'Magnificent McGoohan' gave this glowing account- "'If you do not give all, you give nothing,' says Brand. This is the rule by which he lives and which he mistakenly serves God. The Doctor, tending his dying son replies, 'Your love account is as white as a virgin sheet.' These two lines provide the background of a play that is powerful, passionate and moving. Beautifully produced by Michael Elliott, it starred Patrick McGoohan in the greatest role he has yet appeared in on tv. He gave a truly magnificent, monumental performance as Brand, a performance of granite, strong and solid- until he discovers humanity glimmering within him- a discovery which is made too late. McGoohan was more than ably supported by Patrick Wymark as the scheming mayor, Dilys Hamlett as his pitiful wife and Peter Sallis in two clever cameos. Neither must one forget striking Olive McFarland as Gerd"

.

.

.

.


Whistle and I'll Come to You (1968, Omnibus)

Michael Hordern plays a Cambridge professor staying in an isolated hotel. Finding an ancient whistle, he blows it and lo, a treatise on survival of death, before some slightly spooky occurrences in his bedroom.
Lovely scenery with a fine solo from Hordern (who else could utter "Rumpled" like him?) but forty minutes is way too long for this MR James short story and, despite Jonathan Miller's pompous introduction which purports to be a serious analysis, I think I believe I experienced no "terror"

.

.

.

.

.

.

.

.

.


The Interview
(Feb 28th 1968, Thirty Minute Theatre) by Barry Bermange. Directed by Donald McWhinnie

More specifically this should be titled The Interview Waiting Room.
Inconsequentially and intermittently, candidates chat until one gets down to the subject at hand: "were they all as boring as this one, all those other interviews you've had?" Thankfully, half way through the boring wait, we learn that one interviewee, Dennis Gray, had a wife who died "in a boating accident."
After this is established the others decide to teach him to speak German. Why?- you might well ask, that is if you are still interested. For the author is determined to inflict his own mundane experience on us, but as each interview lasts but a few minutes, it's not very true to life.
At last, it's Dennis' turn! His fellow candidates greet him in the most improbable conclusion to any interview.
Nothing is made explicit which is a cheat, even though we know what we know, I hope. It is quite a clever end, but not worth 29 minutes wait
Play menu

.

.

.

.

.

.

.

.

.

Without Love (December 13th 1956)


Script: Colin Morris, Producer: Gilchrist Calder.
Scene 1 plunges straight into the original postwar generation clash. Working class dad Jim (Alfred Burke) of 14 Paradise Street argues with an "out of control" 17 year-old who lives "in a different world" to her father and stepmother.
The upshot is that Jacky (Clare Austin) leaves home to join friend Betty (a fuller Billie Whitelaw), hostess at a club. According to the barmaid there, Jacky's "just a baby, the first man that shows her affection, she falls for it." A Yank- and she's pregnant, and he's gone.
Now she's in the dock, charged with being drunk. Mrs Hammond, her probation officer (Barbara Couper), hears her sorry tale of how lonely she is now she has had her child fostered. But she can only offer advice and it's Betty who's more likely to help Jacky solve her financial crisis.
Thus it is that she's picked up by the smooth talking Tony (Paul Stassino) whom she naively falls for. He persuades her to earn cash by being a prostitute. To the courtroom again, in her finery, and a second interview with Mrs Hammond. More heart to heart with the probation officer echoing the writer's purpose: "a girl will give anything to get a man to stay with her. Oh, the clients have nothing, just pound notes." Observes her counsellor: "you obviously don't know anything," for the youngster cannot see through Tony's facade. Mrs Hammond's prediction of the future is not what Jacky wants to hear: "he's a parasite who won't stand on his own."
There's no happy ending to a play that doesn't offer much, except a touching performance from the rarely cheerful Jacky. But the ending is quite effective as she fades from the courtroom, leaving others to reflect on her fate, and the rounded probation officer to offer a gleam of light with her own settled existence
Play menu

.

.

.

.

Fable (1965)

A kind of 1984 state where apartheid in reverse is in operation.
White man Len (Ronald Lacey) is a government employed driver, in the service of his black boss Mark Fellowes (Thomas Baptiste), a famous writer, "the authentic voice of protest." But Fellowes is under house arrest and Len, now unemployed, is forcibly transferred from his family in London to a work reservation in remote Scotland. His wife Joan appeals to Len's former boss to take up his case, but Mark's campaigning work is rendered ineffective by his wife Francesca, who, to ensure her husband does not incur further official wrath, secretly burns his current writings which are pressing for social justice.
In Scotland, Len finds his new master harsher, and his master's wife enigmatic, pumping him about Fellowes. Len is accused of raping her, but he succeeds in escaping and flees back to the despairing Joan who has been forcibly rehoused. Rather improbably, Len is able to shoot the head of state, as the story becomes too extreme, losing its main and most absorbing emphasis on the morality of the new order. There's civil unrest. The media are manipulated. News of the president's death is kept quiet, until the proper moment. Greater segregation of black and white.
A key scene is when Joan, now a necessary prostitute, gets to see Mark Fellowes and almost opens his eyes. Television pictures expose the late Joan's "sordid" life, slanted for political ends. It leaves a bleak and depressing ending, the only ray of hope being in campaigners like the sadly toothless Mark. "What battle are you fighting?" Francesca demands of him. He's the frail reed for the future.
Play menu

.

.

.

.

.

.

.

.


64 Way off Beat (1966)

This is really Sydney Tafler's play. He dominates the action as "The Mr Bradshaw," upper crust hairdresser in a regional kingdom of thee own. But Gordon Reid as "innocent, impecunious yet talented" Norman has the most sympathetic part, of a working class lad who's groomed by Bradshaw to partner his innocent daughter Linda (Helen Fraser) in Come Dancing style events. But Norman's only being used by the ruthless Bradshaw to enable his daughter to leap out of the Novice Ballroom class. "Where would you be without me, Norman?" But when the pair actually kiss, the tale becomes what it has always threatened to be, the usual Sixties Clash of Culture and Class Differences. On the night of the Big Competition, a touch of bribery to the adjudicator (Jimmy Hanley- "it's in the bag") fails to help the overbearing Bradshaw achieve his goal

.

.

.

.

.

.

.

.


Script: David Mercer. Director: Ken Loach.
Anna Cropper was made for this role with her sad melancholic looks, as the Schizophrenic Kate. "She's sick isn't she?" is how her dad Joe explains it in a nutshell. But of course he can only see his side, for this is yet another generation gap study. "She's brought shame on this house," cries her mum Dolly.
The characters are seen through the eyes of a psychiatrist, in the manner of those invisible tv interviewers a la Esther Rantzen. The trouble with this sort of drama is that it can be so predictable, like this. The characters must have their moments of self truth during chats with the shrink, who never does more than probe with more and more questions.
"Sometimes I want to go, but I feel that I can't," is how Kate feels guilty, trapped at home. She can't make that break.
And that is only the first third of this play! Katie's sister Mary is added to the recipe, she is one who has made that break, so no wonder her answer is, "get her out the way from these lot." Thus there are plenty more heartaches for the family, revelations of abortion, "nuclear war," even, allegedly.
Off to hospital for Kate. There mum's drone never cheered me up, I think it was supposed to have that effect on Kate. I think I am going round the twist too. Dolly tried to kill her. "I don't exist." And other such dreary angst.
The next section of the play is seen through Kate's clouded eyes. She pals up in the madhouse with Paul (George Innes) who advises her to play the game if she wants to be free. She doesn't and her treatment is like that of a child. Another parental visit ends in even more crying and tantrums as Kate can't fast forward (unlike myself) their grumblings and mutterings. Mum and dad keep repeating their viewpoint, and this play could, heaven help us, go on for ever and ever and ever. You just write the same words, maybe in a different order, dad saying his line, mum hers, no understanding.
Result- for Kate that is (me, I was beyond saving), she withdraws yet more into herself as Chief Shrink (Patrick Barr) ends the torture with a lecture to students whom the author portrays as maybe as wise as their master, or indeed as unwise as their master. She is "childish," explains Mr Expert. Plus a lot more technical jargon. It's the recycled plot all over again! What's the treatment? The students proffer their ideas. The doc demonstrates his own brutal method- "it does work." Well he thinks so. "The outlook is not very good," declares a more perceptive student." Who needs electric shock treatment? Just show this.

This is a play that deserved to be junked, instead of which my favourite programmes have been wantonly destroyed, now isn't that real madness?
Play menu

.

.

.

.

A unique footballing docu-drama directed by John Boorman.

Jeff is a single-minded Everton supporter, his mates ditto.
I'm a footer fan too, but this is a turn-off unless you like airy-fairy realism. Even the fanaticism is somehow muted, perhaps as Everton aren't doing that well, and dead characters lead to dead drama. Gratuitous night club scenes to spice it up, it's only for nostalgia, for the back to back terraces I mean, that you could view this.
I'm only sorry Ken Jones whom I think a fine comedy actor, got roped into this glimpse of 'reality.' "Golden?"- no, the old days weren't always so

.

.

.

.

.

.

.

.

Script: Peter Nichols. Director: Christopher Morahan.
The tedium of home movies as seen by sixth former Mike, the main characters introduced in this novel way, silent film accompanied by the family's own commentary. Mike is "fed up to the back teeth," reliving the day his mum and dad showed Uncle Jack round the Bristol area. It has been meticulously organised by dad, Wells Cathedral on film, then to Cheddar Gorge. If Mike watches bored, why shouldn't we? The place is jam packed with tourists as we gradually see less on film, more 'live'- perhaps the BBC were running out of film? Mike finds most interest in trying to date 15 year old Christine, and that's the main interest for us also. There's a mysterious religious motif as the family move off to lunch, singing Rock of Ages, absolutely ghastly. That's how Mike looks, and us. Far from the madding etc, picnic is in a quiet field al fresco, to a long jazzy soundtrack, which seemed to me more like padding than anything. But then the whole story is full of mundane inanities.
Conversation is inane too, the goaded Mike at last crying out, "shut your damn face" to his dad, though this outburst is politely ignored as the picnic drones on. Actually, Mike, I'd been shouting the same thing in my mind for some while. However Christine's family, of a different social status, have also pulled into the field, at a discreet distance from the "vulgar" family, they have their meal too. An annoying bee drives the two families together, though Mike and Christine have both sneaked off separately for a walk. The mix of some film continues as we see them meet up and then it's live as they talk at length, slagging off their respective parents. I think the suggestion might be that they'll be the same as their parents in later years.
The two sets of parents are now making friends, when a religious nut comes along spouting mumbo jumbo. I couldn't see the relevance, probably the preacher couldn't either, but it's not on the lines of your sins will find you out. For now Mike and Christine are sunbathing in the bushes, she is clearly more forward, asking Mike if she is "nubile."
An invasion of more tourists into the field, many Hell's Angels who start snogging, what time Christine has stripepd off to soak up the sun, or something.
"Time we were pushing on," Dad suggests and both sets of parents go for a walk as well. You can anticipate what's next. Well, not quite. That's why Mike is looking so gloomy, he can't do what she clearly wants and half naked dashes away, only to stumble upon his own mum and dad in an almost compromising situation.
Another long jazzy sequence depicts packing up time. Then the long trail home, cars nose to tail. Dad's car conks out, Christine's dad crashes into him, lots of significant looks and one long traffic jam. Only one lone cyclist can get through, that's the religious nut, perhaps there's a message there, God knows.
But as for humble me, I haven't a clue what the writer was trying to get across, if he was trying to say anything he was a very clever man. But more probably he just wrote it to earn a bit of cash. Manfred Mann must have been paid a little for that music too. Looking at it today, this is the very worst face of 1960s tv, an attempt at the radical, maybe the titillating, that reflects the pointlessness of life that afflicted so many
Play menu

.

.

.

.

.

.

.

.

.

.

132 On The Eve of Publication
Script: David Mercer. Director: Alan Bridge.
Leo McKern shares with himself, and us, his morbid thoughts as only McKern can, that is Rumpole-like. These are his dying thoughts as his new novel is about to be published, while he sits at a sumptuous banquet with people he mostly despises, in a kind of Alzheimer hazy flashback recalling his murky past, through his mumblings hoping to convince of something or rather the person he cares for, daughter Emma, one souvenir from his many relationships.
This is not a likeable man, outspoken for sure, his memories are perhaps intended to lure us into his repellent world as he explains his mind to Emma, at least in his own mind. No doubt this yields an actor's tour de force, but for this viewer it was a cacophony of meaningless words and bitter unpleasantry.
Then we should admire the director who rather cleverly uses silence as the camera swings on the other characters in his thoughts, seen to speak yet we hear not. Lots of close-ups, just an occasional glimpse of the impressive dining table round which the ghastly guests are gathered.
His ramblings and reminiscences grow ever more tedious, I think we're meant to sympathise with his mental angst and physical pains, "I shall burst."That reminds me, there are the urinals too, as you'd expect in The Wednesday Play, and Mr McKern's long trek down bland corridors to and fro frequently. His turmoil is all about his marxist past, now there's a good old 60s chesnut, "where am I going?" Thankfully he does go, not the loo, but off this mortal coil, and everyone's out their misery.
I suppose the era was one of searching for answers which never came, and this play certainly doesn't offer any, or any hope, or any pleasure, or anything
Play menu

.

.

.

.

.

.

.

.

146 Last Train Through Harecastle Tunnel (1969)

A study of that spotty phenomenon, the train spotter, young man Benjamin Fowler (Richard O'Callaghan), whose conversation only comes alive when discussing railways, otherwise he's a non entity. Rather like those dull Great Railway Journeys programmes, this is a montage showing his uninteresting encounters with disparate humans.
It starts at work, full of annoying camera angles, smutty talk of the lads' weekend activities. Next on a train with more man-talk from army men, a contrast to Fowler's nerdity. In the buffet car, he chats with a married couple whose daughter is disinterested, Benjamin is more at home with the mother figure (Noel Dyson).
He puts up at a boarding house, which happens to be run by an ancient railwayman of the old school (Joe Gladwin). The two hit it off with talk of the North Staffordshire, whether viewers are hooked, there's room for doubt. The old man takes to Benjamin like a son, his own son the effete Jacky is entirely bored with railways. But dad persuades him to go on the last train with Benjamin, but then Jacky disappears. On the train to Kidsgrove is an acknowledged expert on signalling Judge Grayson (John le Mesurier), who represents what Benjamin is likely to grow into, inhabiting his own world. Conversation is enthusiastically and entirely along railway lines.
Next day Fowler calls at Grayson's home, a shrine to signalling, and they play at trains, Benjamin's attention is distracted by lovemaking in the garden, though the Judge is utterly oblivious. Over tea with the family it is time for reminiscences and revelations about a young lover. The significance of it was lost on Benjamin, and me.
Back in London, Benjamin hands a precious Last Ticket to Grayson's dear old friend, a violinist, the significance of all this lost on me. The final scene is back at work, for tedious chat about the past weekend. It is as dull as the start, and indeed the middle. Benjamin has but one word to contribute to the small talk, "he'll never know complications, whether emotional or social." This final line appears to be the message of this play, which has gradually run out of any puff it offered, shunted into an exceptionally rusty siding

.

.

.

.

.

.

.

.

.

148 The Mark II Wife (1969)
directed by Philip Saville and written by William Trevor


"A piece of cheap rubbish," that's one line from this play that sums it up for me.
What is Hell? Perhaps being isolated at a party of "damned half wits" as neurotic Anna MacKintosh discovers. This is a tough part for Faith Brook who conveys well her "escape into madness," driven by her knowledge that Edward her husband is having it off with a 19 year old.
She has this half felt intuition that has brought her to this party where she knows she will find him come in with her, while other guests puzzle over who this stranger is, for she is "completely out of it." Someone will go mad here tonight she darkly explains, though it is her that's going round the twist, "I shall escape into madness," she mutters to herself. She certainly drove me there.
The other guests don't help. Flirtatious Bodanski (Philip Madoc at his best) might help her forget her jinxed marriage. It's the General and Daphne Ritchie in whom Anna eventually confides. She gets it out: Edward is leaving her for his Mark II wife, the telling makes her crack up, hedgehogs on her wedding day, that sort of thing. A wild dance half naked with Bodanski, she is escorted upstairs. Now alone in a bedroom, she phones her shrink Dr Abbot that rather modern phenomenon, an on-line counsellor.
Downstairs stunned silence reigns, "most embarrassing, some kind of Scott Fitzgerald." According to Mrs Ritchie, their host's daughter Elsie Engelfield is the one Edward is running off with. Gossip abounds. But then Anna, after her reassuring phone call, makes herself up watched by the peephole eyes of Bodanski, and announces to all and sundry that it had all been in her mind.
She makes her prolonged goodbye to the other guests, apologising for her behaviour, "the mark II wife is something entirely in my imagination," all that intuition stuff had been "phoney."
Angry guests watch her departure, "let's forget it all." Yes, let's. But no, here comes Elsie, daughter of the host, subject of all that gossip (Joanna Lumley), and she tells mummy and daddy she has brought "her gorgeous Edward MacKintosh" with her.
So Anna wasn't imagining it all, she was wrong, it wasn't all in her mind, it was real all that madness, This play has driven me round the bend, that's real enough, and anyway I have changed my mind also, for this one thing I do know, and it's not a phoney intuition, Hell was surely The Wednesday Play.

.

.

.

.

BBC Serials

The very essence of Lord Reith's vision for the BBC.

Our Mutual Friend (1958/9)

Bleak House (1959)

Barnaby Rudge (1960)

Oliver Twist (1962)

Dombey and Son (1969)
.

Count of Monte Cristo (1964)

Long Way Home (1960)

see also The Railway Children (1968)

.

.

.

.

.

.

.

.

.

.

.

.

.

.

.

.

.

.

.

.

Taxi! (1963/4)
These two series, each of thirteen 45 minute stories, starred Sid James in a rare dramatic role. The tales of a London taxi driver, Sid Stone, his cab is RYK 424: "Right mate, 'op in!" The series was created by the ubiquitous Ted Willis.
1.5 The Villain (August 7th 1963)
Sid has backed another loser, and to vent his frustration, pulls his mate Fred's leg, who responds with some bad news- their taxi's clutch is slipping. About to phone the garage, Sid learrns this is another joke.
Now Sid is off to work, his first fare, an Indian (Peter Elliott) challenges the £2 price to London Airport, "you are all robbers."
Then Sid shops rogue cabbie Jack Melia (Alan Curtis), who's touting illegally for fares by pushing to the front of the rank at Paddington Station. However calling in the police makes Sid unpopular in some quarters as The Villain, although admittedly Jack has always been a villain himself, though now as he is set to lose his licence, he has some sympathy from his fellow drivers. Others however fully support Sid's stance.
When Sid is out, Jack's wife Julie (Jennifer Jayne) calls to give Fred such a sob story about her children suffering because of her husband's stupidity, that the smitten Fred promises to persuade Sid to let Jack off. She bids a fond farewell with a kiss.
"All I want is a bit of peace," cries Sid as Fred drives him personal like, to Albany Street police station. Yet it's all a bit odd, as Fred phones to tell Julie the good news, Brixton 9621, yet Sid knows Jack lives in Forest Gate. "Something a bit dodgy going on 'ere mate."
So mate Terry drives Sid and Fred round to Brixton. They seem to come to an amicable arrangement with Jack and Julie, until the talk turns to their poor children. Terry has now brought the real Mrs Melia from her Forest Gate home and the potential bigamist is exposed, "'e deserves all 'e gets." Sid and Co exit to the sounds of a marital bust up, "you dirty rotten liar."
But one person seems happy, that's Fred, for it all means Julie must be available
Drama menu . . . For Sid in Citizen James

.

.

.

.

.

.

.

.

.

.

.

Love Story (ATV)
One off plays. The series ran for eleven series between January 1963 and January 1974, 128 hour long stories were shown.

I have:
10.13 My Brother's House (March 28th 1973)
starring Sydney Tafler and
Mary Kerridge,
with Freda Knorr as Sandra Miller and
Leonard Whiting as Nicholas Miller.

.

.

.

.

.

.

.

.

DR FINLAY'S CASEBOOK (BBC)
One of the BBC's most popular 1960s drama series, it started in August 1962 and ended after nearly 200 stories, now in colour, in early 1971. I must confess that a few of the stories are more grimly akin to the Wednesday Play than good light drama.
The young Bill Simpson was in the title role, and held his own with established stars Andrew Cruickshank as the senior and irascible Dr. Cameron, and Barbara Mullen as Janet MacPherson, perhaps almost too twee, but a huge hit at the time.
In 1967 a Radio Times reporter visited the location where Dr Finlay's Casebook was being filmed. In the best BBC tradition he starts his article with the disappointing news "Tannochbrae doesn't exist," and then continuing "until recently the location of the Finlay filming was an official - but widely known - secret." The town of Callander, 36 miles from Glasgow, was the setting. Apparently until the railway station suffered the indignity of the Beeching axe in 1965, porters would allegedly shout "Tannochbrae... Tannochbrae," as trains pulled in. "If you follow the directions to Dr Finlay's house you'll find yourself outside a rather austere guest house which overlooks the town. Inside you'll be welcomed by a kindly efficient Scotswoman Mrs MacIntyre... during the last few years she has noticed that stones keep disappearing from her drive- taken by eager souvenir hunters."