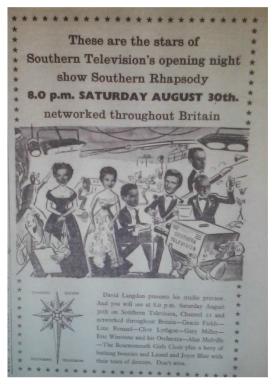 Southern Television
Southampton (Channel 11)/ Dover (Channel 10).
Transmissions started on the planned date of 30th August 1958, and only ended in 1981 when TVS snatched their franchise.

Opening Preparations, Southern after one year, Many Southern TV Programmes,
1960 Southern TV summer schedules, Southern TV TAM ratings, A Southern TV Film Unit, a few Southern personnel
Southern programme schedules:
August 30th 1958 . . Sept 4th 1958 . . Oct 28th 1958 . . March 21st 1959 . . July 9th 1959 . . August 19th 1959 . . September 1st 1959 . . March 23rd 1961 . . August 14th 1961 . . June 18th 1962 . . April 10th 1963 . . September 14th 1963 . . July 6th 1964 . . August 19th 1965 . . September 19th 1965 . . September 18th 1966 . . October 13th 1966 . . October 5th 1968 . . May 30th 1969


The Southern ITV area was a sprawling mass along the south coast from Weymouth along to Southend, a town which was a mecca for the TV enthusiast as London ITV, Southern and Anglia could all be picked up there. In fact Southern could be received as far away as Newbury, Lyme Regis and The Channel Isles also! Main studios were at Northam Southampton in a converted cinema, with a separate newsroom at Dover eventually increasing local news coverage.
Programme Controller- Roy Rich. First General Manager- CD Wilson. Head of Outside Broadcasts- Berkeley Smith. Head of Films- Roy Nevill. Head of Presentation- Michael Crawford. Chairman- John H Davies. Deputy Chairman- DFS McClean.
THAT BERYL MARSTON (1981) starring Julia McKenzie, with Gareth Hunt
This Southern TV swansong was set in Brighton. Swansongs are often emotional things, but this series was obviously a farewell V sign at ITV. Unfortunately, it is the viewer who suffers. I imagine the cast must also squirm seeing this today. Perhaps it was young Phil who nicely occasionally narrates the story to camera, who had the best part.
1. Say it with Flowers - Georgie's first day after her divorce from Gerry, not really a subject for humour: "there's been enough tears shed over that wretched man." Her son Phil tries to get them together again, just as she's been dated by a "rather divine man"
2. Pax - A "friendly dinner" with Georgie's ex-husband is more a bickering match refereed by a bemused waiter (Tim Barrett)
3. Rondo - Georgie's son Phil tells us "how the whole Beryl can-of-beans was opened" when "the balloon went up" at Gerry's Reunion. Tears as possessions were divided up, but more from any viewer still awake when Harvey is "kissed by Judas." Georgie's date with Alan turns into a threesome with the cunning Gerry. "You can't help liking him?" concludes Phil. I won't answer that
4. Nocturne - As he has a bad cold, dad has to stay the night. It's a very disturbed night
5. Live and Let Live - After several tedious phone calls, both Gerry and Georgie go on business dates- Gerry's with 'Edith' (Terence Alexander), whilst young Phil falls for Georgie's, the bubbly Kay (Millicent Martin). As Kay goes off with 'Edith,' Georgie and Gerry collapse in a drunken melancholy, squandering a promising situation
6. Noel- Oh 'Ell - Having Uncle Fred (Reginald Marsh) and Auntie Vera (Hilary Mason) for Christmas is as excrutiating as this script by Jan Butlin, but they are as nothing compared with a drunken neighbour with every cardboard joke in the book. Gareth Hunt impersonating both Groucho Marx and WC Fields as Santa Claus, only proves he is no comedian
Main TV Menu

.

.

.

.

.

.

.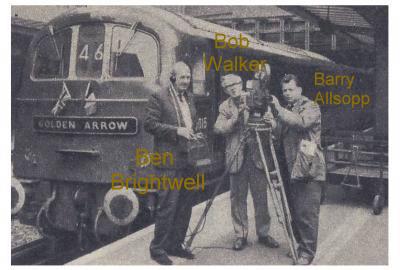 Southern Television Film Unit (1962)
Seen in this picture is the three man team based at Dover: Bob Walker (senior cameraman), Ben Brightwell (sound recordist, who'd previously worked on the series Tugboat Annie), and Barry Allsopp (assistant cameraman).
The team began work in May 1960, after the opening of Southern's new Kent studios. Initially they were involved with news assignments for locally made programmes, but their workload increased with the launch in 1961 of the Day by Day local news feature. They were a familiar sight locally, travelling in a blue Morris Oxford, with the Southern TV logo on it. Their patch went as far afield as Reading and Oxford for the Farm in The South programme, the Channel Isles to visit Jersey Zoo, and even the Isle of Wight- surely much nearer to Southern's Southampton hq.
Their assignment shown on the June 18th 1962 Day by Day was the journey of The Golden Arrow from Victoria to Dover, with Lester Clark introducing the feature.
Famous names the trio filmed included Mr Pastry at his Kent home, and Rab Butler at the Eastbourne Tory conference

Southern TV main menu

.

.

.

.

.

Terry Yarwood, aged 27 came from the Aston ITV Studios where he had been a stage manager. He started in Southern as a floor manager and quickly rose to director. He eventually moved to Thames, involved with series like This Week, and This is Your Life.

Richard Clark was Southern's first Head of News Department. He came from South Africa and worked as a reporter on the Daily Telegraph, before joining ITN in 1955, helping to pioneer a new kind of news presentation.

AF Jackman was Programme Planner. He had worked for the BBC at Shepherd's Bush since before the war. He was recruited from ABC.

Anna Lett joined Southern via ATV and Scottish Television.However her career had begun working in Canada- more details. In Feb 1959 married Chris Chataway. She directed programmes like Farm in the South.

Barry Westwood a lecturer from Southampton College- he chaired Southern's weekly "Southern Affairs" and went on to host The Sunday Break.

On the local news team in these early days were Meryl O'Keefe, Martin Muncaster and Mel Oxley. Julian Pettifer was the first to be appointed in June 1958.

Southern TV main menu

.

.

.

.

.

.

.

Day By Day was Southern's weekday regional news programme.
Special guests boosted viewing figures. These included The Beatles on November 12th 1963. However they never showed up! Illness was cited as the reason, a disappointment to all the waiting fans, plus the four Southern announcers who were wearing Beatle haircuts and had donned Beatles style clothing, Richard Davies, Lester Clark, Ian Rose and Trevor Baker.
Other guests: Ella Fitzgerald appeared on March 7th 1962. Other visitors: Ronnie Carroll (May 14th 1962), Ray Ellington (May 15th), Eden Kane (May 16th), Judith Silver (May 17th), Jerry Lordan (May 18th), Joe Harriott (May 21st), Suan Maughan (May 22nd), John Leyton (May 23rd), Margaret Bond (May 25th), and Clive Lythgoe (May 30th 1962), Clyde Valley Stompers (July 2nd), Anita Harris (July 3), Antonio Navarro (July 4), Carmita (July 5), Liza Page (July 6), Rosemary Squires (July 9), Sheila Mathews (July 10), Ray Ellington (July 11), Tubby Hayes (July 12), June Marlow (July 13), The Springfields (July 31), Mike Preston (Aug 1), Marion Keene (Aug 2), Mike London (Aug 3), The Countrymen (Aug 6th), Elaine Delmar (Aug 7th), Brook Brothers (Aug 8th), Beryl Bryden (Aug 9th), Eric Delaney (Aug 10th), Judith Silver (Aug 27th), Dorothy Squires (Aug 28th), Matt Monro (Aug 29th), Lita Roza (Aug 30th), Forrie Cairns and The Clansmen (Aug 31st), Anita Harris (Nov 5th 1962), Andy Cole (Nov 6), Sheila Matthews (Nov 7), Joyce Blair (Nov 8), Valerie Masters (Nov 9), Dany Clare (Nov 19), Denis Lotis (Nov 20), Ketty Lester (Nov 21), Janie Marden (Nov 22), Marion Williams (Nov 23 1962), Kenny Lynch (Dec 13th, singing Up On The Roof). A Christmas Day 1962 special presentation included Adam Faith, the Beverley Sisters, Humphrey Lyttleton, Tommy Fields, Beryl Bryden and Tommy Loughran. Fenella Fielding made several appearances in early 1963, while other visitors included Alma Cogan (Jan 10th and 16th 1963), Kenny Ball (Feb 19th 1963), Sheila Southern (Feb 21st) and Lita Roza (Feb 22nd), Danny Williams (Feb 25th), Johnny Pearson Trio (Feb 26th), Duffy Power (Feb 27th). Jean Hart (Feb 28th), Ronnie Carroll (Mar 1st), Fenella Fielding (Mar 11th 1963), The Springfields (Mar 12th), Millicent Martin (Mar 13th), Lucille Mapp (Mar 14th), and Dany Clare (Mar 15th 1963). Carol Deene (Apr 19th 1963), Johnny Preston (Apr 22nd), Cleo Laine (Apr 23rd), Kenny Lynch (Apr 24th), The Springfields (Apr 25th) and Mark Wynter (Apr 26th 1963). Don Rennie (May 1st 1963), Eric Delaney (May 2nd), Tubby Hayes (May 3rd), Paddy Roberts (May 4th), Viera (May 7th), Joe Harriott (May 8th), Mike Preston (May 9th), Rosemary Squires (May 10th), Margaret Bond (May 11th), Alma Cogan (May 13th), The Springfields (May 14th), Lucille Mapp (May 15th), Johnny Pearson (May 16th) and Annie Ross (May 17th), Lena Martell (May 20th 1963), The Countrymen (May 21st), Alastair Graham (May 22nd), Joy Marshall (May 23rd) and Cleo Laine (May 24th), Diana Dors (June 18th 1963- she sang Crazy He Calls Me), Lucille Mapp (June 24th- she sang Little Girl Blue), Brook Brothers (June 25th), Danny Williams (June 26th), Diana Dors (June 26th), Cleo Laine (June 27th), Stirling Moss (Aug 23rd), Frankie Vaughan (Oct 15th 1963). Cilla Black (May 19th 1964).

Southern TV main menu

.

.

.

.

.

.

.

Southern Progammes in the b/w era


Old Vic plays
Mary Britten MD
Farm in the South
Lunch Shows
Admags
Talent Shows
Beauty Competitions
Pop programmes
Quizzes
Day By Day- some guests
Children's Serials, also Freewheelers
Brief details of some other Southern programmes
Jack Hargreaves rose to national prominence with his weekly confidential chat Out of Town. It used to send me to sleep. After being curator of the Piscatorial Museum in London (!) he was invited to present the fortnightly Gone Fishing directed by George Egan, first seen on 8th May 1959. "Such was the interest" that from August it became a weekly feature on Fridays at 6.35pm. Surprise surprise, Barbara Hargreaves, wife of JH, then joined.
Other Southern Programmes on Opening week that lasted at least the first two years were-
Southern Heritage introduced by George Egan with script and narration by Willoughby Gray.
Sports Club produced by Terry Yarwood. Danny Blachflower was one resident compere. Colin Ingleby-Mackenzie (captain of the Hampshire cricket team) took over in the autumn of 1960, by which time the programme had celebrated 100 editions.
Another long runner was Come Gardening.
On Sunday afternoons Southern Affairs covered theatre news. Among those interviewed were Frankie Howerd, Gerald Campion, JB Priestley, Frankie Vaughan, and on Jan 25th 1959 Sarah Churchill. Feb 8th 1959 included compere Wyman Baker with his Horror Show.
Other shows with familiar faces were ex-BBC Marguerite Patten who hosted the Thursday Your Ideal Home. And well known comedy writer Alan Melville had his own nicely titled show Melvillainy late on Sunday evenings. And celebrated radio man Leslie Mitchell also appeared in Southern programmes.
Clive Lythgoe appeared on the opening night, introducing the station's theme music, Southern Rhapsody. His series The Lythgoe Touch was for a while the longest running musical series of its type, perhaps its most famous producer being Peter Frazer-Jones
Southern TV Menu

.

.

.

Lunchtime Shows
The first show at lunchtime in 1958 was directed by Helen Standage, with assistant director Jean Watson, Flotsam's Follies, a mix of music, song and light comedy "doodled" together by Flotsam himself (BC Hilliam). Another regular was Dennis Castle. First show was on September 1st and it went out every Monday, Tuesday, and Wednesday at 1pm until 1.45pm. Each week guests appeared, in the first week it was Fayne and Evans, baritone John Harvey and soprano Doreen Lane. Week commencing Sept 8th guests were soprano Helen Clare, Steve Arlen, and Eddie and Petronella. In the week of Sept 15th guests were soprano Joy Holman, magician Jeffrey Aitkins, and Billy Mayerl. The Sept 29th week included accordionist Gerald Young. Oct 6th included Barry Johns. In mid/late October Ronnie Carroll guested. From Nov 10th to 12th, guests were Bill Elliott and Lynn Crawford. Other guests included Clifford Henry, Leslie Sarony, Barry Johns, Cardew Robinson.
Take Forty was the next series, which included 19 year old Judy Carne from Dec 1st for a fortnight. Singer John Harvey also appeared this month along with rising star Craig Douglas.

From the end of 1958, the new Three's Company featured John Harvey. The Malcolm Mitchell Trio provided the music, with singer Bill Elliott included for the first part of 1959. Another regular, after two guest spots, was Billie Anthony from February 1959. Guests included Terry Burton (last two weeks of January 1959), and Ronnie Carroll (March 16th for a fortnight's stint). June 22nd 1959 saw the start of rehearsals for a replacement show, Take it Easy. The series introduced Jim Dale as host, and also included the ubiquitous Malcolm Mitchell Trio. Director Helen Standage left the station and the new director was Canadian Lorne Freed (fresh from STV's One o'Clock Gang). The first show went out on July 6th 1959 at 12.47pm, shown thrice weekly (Mons-Weds, ATV's Lunch Box was screened Thurs/Fris). With a script by Dick Vosburgh, singers featured included Janie Marden and Joyce Clark. Other regulars in this series which ran for eight months in 1959/60 were the Malcolm Mitchell Trio, and Dany Clare, who took over from Janie Marden during December 1959. The Liddell Triplets also made several spots in 1959. The final programme was on Wednesday 16th March 1960.

Jim moved on to The Lunchtime Show which began on Wednesday March 30th 1960 and then ran thrice weekly, on Wednesday, Thursday and Friday at 1.05pm. It included regularly weekly items by Julie Harris on fashion, Roy Rich as a DJ in an On Record spot, and the ubiquitous Gerald Campion, on food of course. Musical backing was provided by The Art Jones Quartet. Special guests included Max Geldray (March 30th), Shirley Sands (April 6th and 13th), Victor Soverell (April 20th), puppeteers Joan and Paul Sharratt (April 27th), Russ Conway with his new recording Lucky Fives (May 4th) while Nat Gonella also appeared this week, Rosemary Squires (May 11th), Ray Allen (May 18th) and Terry Burton (May 25th), Mike Preston (June 15th-17th), Tim Field and Dean O'Brien (June 22nd-24th), Allan Bruce (June 29th week). July 1960 guests included Valerie Masters, Victor Feldman, Eddie Falcon and Shirley Norman. Dec 23rd 1960 week had guest Marion Williams.

Lunchtime programmes on Southern were scrapped from April 1st 1961. Interestingly no commercial breaks had interrupted these programmes. A disappointed producer Peter Frazer Jones said, "we had hoped a programme similar to the show would be transmitted in the evenings, but the programme has been completely dropped."
Southern TV programmes menu

.

.

.


Like most stations, Southern had their own talent spotting show. Easy to produce, the butt of complaints from professionals, theirs was Home Grown. Eric Winstone was the first compere, music came from the Ted Taylor Quartet. 2000 acts were auditioned, whittled down to 64 for six eliminating heats, in which winners were adjudged by viewers' votes, the finalists were faced by a panel of judges, including Roy Rich, Southern's Programme Controller and Eric Winstone, Musical Director. Directed by their stalwart Terry Yarwood, winners of the first series were The Brooks Brothers, who subsequently obtained a record contract (New Century Artists). They made a return appearance in the series on November 3rd 1960. The finals of the second series were judged by four distinguished tv producers: Dicky Leeman, Joan Kemp-Welch, Brian Tesler and Russell Turner. Peter Haigh was presenter of the next Home Grown series which started on April 12th 1961. Winners of the six eliminating heats won the princely sum of £25, and a place in the finals, top prize £100. The show made some sort of history when it became the first regionally produced programme to make it into the Regional TAM Top Ten ratings. Home Grown continued into the 1960s, the host for series 3 commencing on November 6th 1961 was Jerry Desmonde, but the Equity dispute soon resulted in his quitting, the show continuing for a while without any links. For the summer 1962 series, left the studios- Richard Davies (later well known as Dickie Davies in ITV's World of Sport) hosted programmes from as far afield as Weymouth (June 19th 1962), Bournemouth, Brighton, Hastings and Herne Bay, with the final held in Margate. A celebrity panel introduced for series 7 was dropped in favour of the previous 'viewer vote' system until the finals. Series 8 had a seven week run beginning on Nov 1st 1962 at 7.30pm again with Richard Davies, and produced by Peter Fraser-Jones, now confined to the studio. However it quickly moved to a Monday night slot at 10.10pm. Richard Davies was again compere for the summer 1963 series: the fifth heat on Tues July 30th 1963 included The Vampires, Linda Bumpstead, Christopher Wattle an illusionist, singer David Topham, singer Josephine Baker (sic), six pupils of the Freda Shepherd Dancing School Ramsgate, guitarist Karl Lawson, singer George Clift, singer Pamela Godden, banjoist Alan Young, and Joan Bigwood's Rainham Ladies Choir. The show came from the familiar Winter Gardens Margate, judges were Reginald Foster (Thanet Gazette), Sally Ford actress, and Jack Green (Margate Entertainments Manager).
Encore commenced on January 5th 1960, this weekly feature reintroduced some acts from the first Home Grown series.

Southern programmes menu

.

.

.

.

.

.

QUIZZES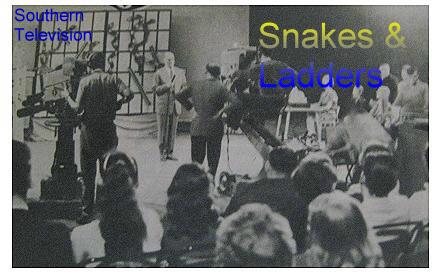 included Snakes and Ladders
The ancient board game became one of Southern Television's first regional quizzes, commencing on Monday September 22nd 1958 at 8pm.
Question master was Kenneth Horne, on the Hammond Organ was Robin Richmond, with assistant Dorothea Hodgson, the cashier who handed out the winnings. These were £1, yes £1, for each correct answer, with the jackpot which was £25. If not won this was increased by this amount each week. Another assistant for seven weeks was Julie Shearing.
The basis of the game was a giant snakes and ladders board that can be seen in this photo, taken at rehearsals. A box titled The Brain Box (a little like a mini Criss Cross Quiz board) offered a choice of three subjects, Films, Art, Golf, etc etc. The Brain Box then calculated the value of the question, and the contestant moved along the snakes and ladders board that amount. The first player to reach home, the 50th square had a chance at the jackpot. Scriptwriter was Larry Forrester. Director Bill Perry. Kenneth Horne was ill during part of December 1959 so Robin Richmond took on the quizmaster's role for a couple of weeks, while George Blackmore provided the musical backing.
The programmes were made at various locations around the Southern TV area, this first show was made at Hove Town Hall. Among the many other venues were Newbury Corn Exchange, Esplanade Theatre Bognor Regis (Nov 1st 1958), Alexandra Gardens Theatre Weymouth, Worthing Assembly Hall and St Peter's Hall Bournemouth. As from January 26th 1959 the quiz moved to Mondays at 7pm, this first show in the new slot was from Devizes. April 1959 included shows from Hastings (4th), and Jersey. Final show May 4th 1959 came from Guildhall Theatre Southampton, with celebrity contestants donating winnings to charity- Elizabeth Allen, Brenda Bruce, the Duke of Bedford, plus Southern's Berkeley Smith and Robin Richmond.
Two failed attempts were made to screen an edition from Blandford Forum. Apparently adverse weather conditions twice thwarted transmissions, Highway Patrol being the replacement programme, while Robin Richmond offered the assembled audience an impromptu entertainment. More information on this quiz welcome- if you appeared on it, I'd love to hear from you!

Kenneth Horne chaired several other offerings from Southern TV, including the children's quiz Full Marks.

Beat Your Neighbour was a 1961 inter town quiz. Excitement surrounded a November show in which Sohtampton beat Salisbury by a single point. But the latter team complained that their opponents had been awarded two points incorrectly, for a wrong answer. Southern TV had to uphold the objection, and the heat had to be played off again

Three Go Round began in February 1964, and was a children's pop competition. Viewers were invited to write a pop song, the best of which would be submitted to record companies. It was hosted by Mitch Murray, who explained how to write a lyric, then in week two, how to compose a tune. Then on March 18th 1964, the best entry was announced and played by a group. The series also marked the tv debut of Southern's very own icon Fred Dinenage

Seven Year Flitch - a 1965 panel game that went on the road as an outside broadcast. Resident Chairman was Don Moss. The panel on the first show on October 13th was Eleranor Summerfield, Cyril Fletcher, and Russell Braddon

What Do You Say? (1966) claimed to be a 'first,' a religious quiz. Ten ITV regional stations (the Big Companies didn't participate or screen it) competed. Each twenty minute programme consisted of three rounds. 1 Straightforward questions, 2 a poser without marks for a general discussion, and 3 a choice of hard or easy questions, with corresponding differences in marks. Quizmaster was Rev Bill Todd, Southern TV's Religious Adviser, and Bill Eagen originated and produced the series.
1 (July 10th 1966) Scottish TV v Grampian TV, 2 (July 17th 1966) Southern TV v Tyne Tees TV. Programme 6 (August 14th 1966) saw Round Two commence with the two winners in competition, Grampian TV v Southern TV. The Grand Final on September 4th 1966 was between Ulster TV and Westward TV. Anyone know which of these regional stations won?

Happy Families - a 1967 quiz. Chairman Kenneth Horne.
A variation was the one-off Show Biz Quiz on May 18th 1967 again with Horne as chairman. The teams were Richard Murdoch with his son Tim and daughter Belinda, competing against Jack Watling, his wife Pat and daughter Deborah

Southern TV programmes menu

.

.

.

BEAUTY COMPETITIONS
In common with other regional tv companies, Southern ran their own glamour conpetitions.
In August 1958, when Southern began, as there was no time to show any heats, an alternative competition was shown, the finals of the Bournemouth Holiday Queen Competition. Variety Matinee was screened on Saturday November 8th 1958 from 3.55 to 4.40pm, an outside broadcast from the Royal Ballrooms Bournemouth.
22 girls competed, having battled their way through fifteen heats. They included Joan Marsh a shop assistant, Marilyn Mursell a fashion model, Diana French Miss Brighton (she had also appeared on Southern's opening night), Pamela Simpson a civil servant, Joan Bedson an aircraft factory worker, Margaret Hall a shorthand typist, Pamela Lonnen a worker in a cosmetics factory, Valerie Abbott an office telephonist and Diana Judd.
Directed by Bill Perry, the programme was compered by Ralph Barber and introduced by Kenneth MacLeod. Also appearing were the Harold Webb Formation Dancers, The Betty Raymont Rock 'n' Rollers, The Olivers with Lorna Lee, The TV Spotlights, Desmond Ellison and Brenda Winslade, and Haydn Powell and His Orchestra.
The winner won a trip to Paris and a silver cup. Second place received a holiday in Paris. Third place won a week in Bournemouth.
The 1960 show was titled Southern Belle. The final was shown on September 21st, made at Butlin's in Bognor Regis. MacDonald Hobley was the host (the automatic choice for the job) and also appearing in this show were Alfred Marks, The Jones Boys, Roger Carne, and The Brooks Brothers, with music supplied by Eric Winstone and his Band. TV direction was by Bill Perry. The 1961 final was shown on September 20th 1961, again from Butlin's Gaiety Theatre Bognor Regis. Judges included Roy Rich and Jerry Desmond. The 1963 final on October 31st was again from Butlins and included cabaret by Ronnie Carroll with the Al Fried Orchestra. The 14 resort winners were judged by Roy Rich, Muriel Young, Kathy Kirby, and James Green of the Evening News
Miss ITV 1966 was recorded on Oct 19th 1966 at the Top Rank Suite Southampton, networked to nine regions. Compere was Shaw Taylor, with Brian Nissen as commentator. The judges were Susan Hampshire, Judith Chalmers, the well worn Bob Monkhouse and Tony Brooks. While they deliberated, a cabaret was provided by Nicholas Parsons and Lynda Baron. Third was Jackie Kelk (Miss Southern), second Nanette Slack (Miss Anglia), and the winner was.... Marion Jenkins (Miss TWW). Bob Monkouse later did a cabaret turn with Lynda Baron at midnight- this was not televised. Among the audience were Gerald Flood, Sam Kydd, Joe Cornelius, William Roache, Johnny Briggs, Michael McStay, Anna Cropper, Gordon Honeycombe, Muriel Young, Richard Davies, Don Moss, Kenneth Kendall, Neil Hallett, Billy Wright, Marjorie Proops, Trevor Baker, and Peter Clark of Day by Day,
The title for the 1967 competition was, to fit in with the national TV Times event, the more prosaic Miss Southern Television. The finals were screened from Margate Queen's Hall. Now for the results... Third Place- Miss Hastings, Miss Diane Grey of Brighton. Runner Up- Miss Southend, Mrs Lynn Taylor. And the Winner- Mrs Valerie Appleby representing Dover.

Southern programmes menu

.

.

.

.

.

.

POP SHOWS included the quiz Dad, You're A Square, described hopefully by Roy Rich as "a disc show with a difference." No difference in that the ubiquitous Peter Haigh was chairman from Dec 18th 1963. A panel of six- three teenagers opposed by three adult relatives- commented on a record, casting votes whether to 'buy' or 'break' the disc. If the latter vote was recorded, a machine instantly caused the unfortunate record to shatter. Director: Angus Wright. Scheduled starting date was June 13th 1963, with the panel including 19 year old pop singer Garry Mills. However, a couple of test programmes were made before this. The first two series in 1963 were studio based, networked to Tyne Tees, Border and Grampian. A third series in 1964 saw the show becoming an outside broadcast. The Feb 26th 1964 edition came from Salisbury, and featured Rosemary Squires, on April 29th 1964 from Petersfield Town Hall with Paddy Roberts, director Bill Perry, and on May 6th 1964 from Chatham Town Hall.
Discwizz commenced on Wed June 24th 1964, compered by Muriel Young and Tony Hall, director Mike Mansfield. Questions were put to a panel of two teams, made up of three girls versus three boys, all aged between 15 and 25. Questions ranged from artists and composers to pop songs. The teams changed each week, the prize... some LP records.
Pop the Question began on October 12th 1965 hosted by Muriel Young with Shaw Taylor. This first programme featured Dusty Springfield, Johnny Gustafson and Madeleine Bell. The show toured the region, on Dec 7th 1965 it was from the Marlowe Theatre Canterbury, and included Mark Wynter. It ended during 1966.
Countdown in 1966 was another pop quiz hosted by Muriel Young, with DJ Don Wardell. Two pilots were made in the spring of that year, before it was networked in the autumn schedules.
Answering questions and performing on Oct 8th were Una Stubbs, Julie Rogers and Susan Maughan, along with The Spencer Davis Group, Paul Jones and Kenny Everett. Oct 29th featured Salena Jones, Marion Montgomery, Manfred Mann, Alan Freeman, and Cat Stevens. Nov 12th: Sandie Shaw, Eve Taylor, Chris Farlowe, Jonathan King, and The Troggs. Nov 26th: Beryl Marsden, Beverley, Chris Andrews, Barry Chambers, Dave Berry. Dec 3rd: Marianne Faithfull, Mia Lewis, Susan Hanson, Tommy Vance, Mark Wynter. Dec 10th: Helen Shapiro, Cliff Bennett, The Small Faces, Joan Turner. Dec 17th: Lulu, Anita Harris, Alan Price Set, Long John Baldry, Chris Rayburn.
Next pop show was As You Like It that began on Tuesday May 9th 1967. Don Moss was resident host, and each week a pop star interviewed viewers. Adam Faith did this job on the first show. He had to fly to Amsterdam, gathering requests from people on his trip. The co-pilot requested Sandie Shaw's Puppet on a String. The air hostess wanted "something folky," while a passenger asked for Manfred Mann's Ha ha Said The Clown. (Presumably if someone requested The Beatles, their interview might be cut out of the show!) So appearing in this show were Sandie Shaw, and Manfred Mann, as well as Dave Clark and The Singing Postman. Lined up as interviewers in subsequent shows were Lulu (May 16th with Georgie Fame, Cat Stevens, The Tremeloes and The Herd), Paul Jones (May 23rd with Julie Felix, PP Arnold, The Move, The Kinks and The Warm Sounds), and Petula Clark (May 30th with Peter and Gordon, Anita Harris, Zoot Money and Gerry Marsden), Cilla Black (June 13th with The Small Faces, The Spectrum, The Bee Gees, Billie Davis), and on June 20th The New Vaudeville Band, Jackie Trent, Procol Harum, The Hollies, The Young Idea, Lynn Holland). An interesting comtemporary comment: "As You Like It succeeds in its format where Top of the Pops fails"!

Ladybirds (1965) - top girl singers sing and are interviewed. The second series in the summer of 1965 included Marianne Faithfull, Sandie Shaw, Dana Valery, Annie Ross, Julie Rogers, Dakota Staton, and Jackie Trent. Interviewers: Shaw Taylor and Terence Carroll

Southern programmes menu

.

.

.

Details of some other Southern TV black.white programmes in chronological order

Probe chaired by Fenton Bresler, and directed by Berkeley Smith, "gives local residents the opportunity to vent their feelings on the way they are governed." The first programme aired on Monday May 25th 1959 at 6.25pm, and was from Bournemouth asking the vital question, "Does Bournemouth give a square deal to its visitors- and to its residents?" Southampton and Yeovil were the next locations, and Portsmouth hosted the programme on July 7th 1959 at the new time of 10.15, then Rex Ballroom Bognor Regis on August 18th. The first series ended on Sept 1st 1959 with a programme from Town Hall Ryde. Most towns queued up to get some publicity, however Shaftesbury, Dorset, Town Council took a stand and in December 1959 voted against allowing cameras near them, "these programmes are not an advertisement but are just a means of taking the rise out of a town." Berkeley Smith defended the series, stating, "this is a debate in public rather than a public debate, which we believe will produce a controversial, lively and entertaining programme." Canterbury Council's General Purposes Committee in 1960 recommended this city should not participate either, but an offer from Southern Television of £500 to the municipal controlled Marlowe Theatre seems to have swayed the council's debate and on a majority vote, the proposal that they take part in Probe was agreed. The programme was popular and returned for a second series in early April 1960, Berkeley Smith again defending Probe dispelling completely "the idea that the programme puts members of Councils on the fence as pigeons to be shot at."

Swap Shop (1959) made a celebrity of the Duke of Bedford. He ran it with Elizabeth Allan. Drawings by Ronald Searle. The format was first tried out by ABC from whom Southern bought the idea, which was that if viewers saw goods in the shop and they could offer something of equal value, Swap Shop arranged a swap. From Autumn 1959, Helen Standage, returning to Southern TV, directed the series.

Sea War was an acclaimed 13 part documentary made in conjunction with Rank, detailing the role of the Royal Navy in the war. It was not networled, but shown in some regions, including ATV London. Ulster, Tyne Tees and STV also bought it up.

Strictly for the Birds was a jazz series that commenced on May 15th 1961 and ran throughout that summer. This was a late night 30 minute series directed by Peter Frazer-Jones, of special interest because the Dudley Moore Trio were resident guests, along with Bobby Sansom. Alex Orgar, the roving jazz reporter, linked the series. Special guest on the first programme was Cleo Laine.

Don't Look Now- an intimate revue series that started on Sunday July 9th 1961 at 11pm, with Eric Merriman, Bill Pertwee and Dany Clare, the Art Jones Quartet providing musical backing. Director: Peter Frazer-Jones

The Young Elizabethans began in 1962, and ran until 1964. Young people from grammar and public schools offered their opinions under the chairmanship of Elaine Grand

Background- a series of three documentary programmes. The first Under or Over (April 30th 1962) was also shown by Anglia and dealt with the merits of a Channel Tunnel or Bridge. The second programme on May 7th was about the probation service. Presented by Barry Westwood and directed by Terry Yarwood. The success of the series led to its continuation in a Tuesday slot through the year, George Egan taking over direction on and from the Dec 11th edition

Three of a Kind (June 18th 1962) marked the debut of Jon Pertwee's long running association with Southern TV. This was a guitar series, and apparently on this show Pertwee played the guitar. Resident hosts were Dorita y Pepe and Wout Steenhuis. Director: Peter Frazer-Jones. The series did well in the Southern TAM ratings, and was also networked to Grampian TV

Sweet 'n' Sour was an "intimate late night revue" introduced and scripted by Clement Freud, with Pip Hinton and Art Jones and his Quartet. Director was George Egan. The weekly programme began on Monday June 25th 1962.

First Night at Chichester (Tues July 3rd 1962, 11.17pm, networked to A-R, TWW, Anglia, Westward, and Grampian)- a one off programme on the opening of the Chichester Festival Theatre. Roy Rich interviewed Sir Laurence Olivier, while Peter Haigh and MacDonald Hobley gave viewers a tour of the building, whose history was traced on film

A Handful of Songs - a 30 minute late night (11.10pm) series of six shows in autumn 1962 starring Rosemary Squires

The Beating Heart was an acclaimed documentary networked to A-R London and Grampian only on Dec 13th 1962. ATV Midlands also showed it in that month, while Granada screened it on January 10th 1963 at 11.10pm. It pictured the physical and emotional build-up of the human heart, during an operation on a 11 year old girl for a defective valve in her heart at Southampton Chest Hospital. It was written by Robert Hounsome and narrated by Barry Westwood. Directed and produced by Berkeley Smith and Terry Yarwood

Absolutely Barkers began on March 25th 1963 and starred the inimitable Eric Barker, who also scripted the series. His co-star was his wife Pearl Hackney. Director: Peter Frazer-Jones

Going Up- in the June 11th 1963 edition, Kenny Lynch appeared.

The ABC of Jazz (thirteen week series starting on Nov 5th 1963)- host Steve Race, producer: Peter Frazer-Jones. Taking the alphabet, two letters per week, personalities of the jazz world were showcased.

The Bilbow Report (May 18th 1965) Tony Bilbow as Willie Shakespeare's Agent, with Ronald Baddiley and Ivor Mills, director: Peter Fraser Jones. "A friendly get together" for the tv, no studio audience

This Show was hosted by Sid Green and Dick Hills and ran in early 1965. Guest on the last of the series on Feb 26th 1965 was Ivor Emmanuel.

Play-back- one of this series on August 31st 1965 starred Bill Pertwee who also wrote the script with Charles Hart. Also featured were Jackie Lee and Harry Littlewood

Take It From Us (August 7th 1967, 8.40-9.30pm)
Hidden cameras show public apathy towards crimes being committed. It was made with the co-operation of Hampshire Police, and showed specially staged crimes. Reporter: Peter Clark. Producer: Terry Johnston.
The programme won the Egon Erwin Kish Prize for Reportage at the tenth International Festival of Documentary Films at Leipzig, beating over 200 entries.

A Tale of Two Rivers (1968)
Set on board the Southerner, which Southern TV claimed was the world's only permanent marine outside broadcast vessel!
Against a changing backdrop of famous landmarks on the Thames and The Seine, stars performed songs to match- Petula Clark, Lulu, Sandie Shaw, Masrianne Faithfull, Richard Anthony, Claude Francois, Adam Faith, Mark Wynter, and The Unit Four Plus Two. The Gojos performed dance sequences. Director: Mike Mansfield.
The series of four was shown weekly at 9.30pm commencing April 22nd 1986 on Southern, partially networked to STV, Harlech, Ulster, Border and Grampian. Rediffusion however showed it at 11pm commencing April 15th. Apparently on the first show Lulu sang a Gallic ditty on a Paris bridge, while Adam Faith sang about Paris in between slurping ice cream

Programmes menu
To Southern TV main menu

.

.

.

.

.

.

.

.

Farm in the South
Just a few details:
The series began in September 1958 on Tuesdays, 6.10-6.30pm with first host AG Street, director Anna Lett.
December 16th 1958, 6.10pm: Flowers for Christmas with AG Street. From nursery to market, how is the demand for flowers at Christmas met? Also Romsey Fat Stock Market. Director: Anna Lett
July 5th 1959, 3-3.30pm: The Soil introduced by AG Street. Director: Anna Lett.
August 16th 1959, 3.10-3.40pm: introduced by John Leese with Alan Exley. Director: Philip Dale. Street Corner with Arthur Street
August 30th 1959, 3.10-3.40pm: introduced by John Leese with Alan Exley. Director: Philip Dale. Charles Coles demonstrates game preservation, Stephen Williams demonstrates creep grazing, plus a feature on training a show jumper
Dec 25th 1960: with George Bryant and family at Court Farm
June 17th 1962, 2.15-2.45pm: FMC Ltd introduced by Jack Hargreaves. Interview with FJ Stratton of the Fatstock Marketing Corporation
April 7th 1963, 2.17-2.47pm: The Soil introduced by Jack Hargeaves. With Basil Furmeaux. Director: Angus Wright.
September 8th 1963, 2.40-3.10pm: The House Mouse introduced by Jack Hargeaves with Frederick Rowe. Director: Angus Wright.
December 20th 1964, 2.43-3.08pm: introduced by Jack Hargeaves returning to Buckskin Farm Worting with Mark Jenner to talk to tenant Cecil Gibbons. Director: Angus Wright. (It is now completely swallowed up by Basingstoke overspill)
August 15th 1965, 2.45-3.15pm: introduced by Mark Jenner. A visit to Dedswell Manor Farm, West Clandon with Maurice Claydon. Director: Angus Wright.
September 19th 1965: introduced by Mark Jenner. A visit to Bank Farm, Tudely with Harry Veall. Director: Anthony Howard.
Farm Progress in 1966 was a series in which Mark Jenner examined with examples from specific farms, how British agriculture is meeting its current problems. Director: Anthony Howard.
1 Structure: Machinery Syndicate (April 16th 1966) at Old Yates Farm Abberley, with Geoffrey Ballard
2 Structure: Amalgamation (April 23rd 1966) on beaulieu Estate, with Peter Harper and Brian Hubbard
7 Marketing No 2 (May 28th 1966) A traditional Co-operative (May 28th 1966) with Michael Smith of Monkton Court Farm Minster, HG Wright and Theo Dampney (Dover Studio). New director: Neil Potter
8 Marketing No 3 (June 4th 1966) Direct Selling (June 4th 1966) at Buxted Farmer's Market. In the studio: Mrs Sarah Lloyd Jones, John Nix, Richard Denny
Number 10 Grain Drying on September 18th 1966, 1.20-1.50pm. Visit to Bussey Stool Farm, Tarant Gunville, with the farmer Ronald Farquharson in the studio. Director: Anthony Howard.
Number 13 Mechanical Calf Rearing on October 9th 1966 visited Upton Bridge Farm Long Sutton Langport, with farmer Bill Wallford, Theo Dampney and Dr JB Roy
Southern TV main menu

.

.

.

.

.

.

.

.

Southern TV Plays - from The Old Vic
In January 1959 Southern announced an exciting new project - a collaboration to screen twelve full length plays from the Old Vic. In those heady days the problems of networking weren't fully appreciated, and Southern were to find to their bitter cost that The Big Four were far too powerful for them. Publicity from The Old Vic stated, "no arrangements have been made to network... although naturally it is hoped that this will be achieved." A Southern spokesman said "at the very beginning we said if we didn't get the plays networked we would screen them ourselves." Twelve months on - and with the third play completed, no networking had been forthcoming.
The first play was The Empty Chair- with Joss Ackland as Danton, and Derek Godfrey as Robespierre. Others in the cast included Donald Pickering (St Just), Manning Wilson (Barras), Gerald Cross (Mouche, "a spy with a soul"), John Woodvine (Hebert) and Phyllida Law (Mme Danton). A story of the French Revolution by Peter Ustinov and directed by Philip Dale. The tension lay in the question of which members of the Revolutionary Committee will sit in the chair stolen from the Royal Palace. Edna Morris, who played Mme Gaffe enthused, "it's terribly exciting to be in the first of a series like this. The atmosphere in the studio is wonderful- it's heaven to be associated with this production."
But Southern TV bosses might have disagreed, for though the play had started rehearsals in August 1959, and was recorded on Ampex over three days, September 30th to October 2nd 1959, it wasn't until Easter Sunday 1960 that this first play was transmitted over the ITV network. Even then, there was a bit of a sting - it went out in the afternoon slot at 2.30pm, which had recently been filled by ATV and ABC dramas and which had failed to attract even as big an audience as the BBC who showed vintage feature films as competition. It achieved "really ghastly ratings." But Southern seemed to be so chuffed they announced plans for a £1,000 Play Competition. Such optimism was short lived. In fact, a preview of the play had been shown to the Commercial Television Circle at their Park Lane hotel dinner in December 1959.
The second Southern TV play was Guilt - with Donald Houston, Barbara Jefford, Fay Compton and Laurence Hardy. It was an adaptation of Zola's Therese Raquin. The third play was Clash of Arms by Howard Clews. These had been made even before the first play of this series had been transmitted. And indeed five plays were made in total, all directed by Philip Dale. The fourth was The Old Gentleman. The fifth, taped on June 3rd 1960, was titled Mary Stuart with Gwen Watford in the title role. Valerie Taylor played Queen Elizabeth, George Baker was the Earl of Leicester.
Guilt was screened on Southern on Sat June 24th 1961, partially networked to ATV London, TTT, Anglia and Ulster. Mary Stuart was eventually shown on Southern and some regional stations on Sat Aug 12th 1961, 9.50-11.20pm.
However, a projected sixth play was "postponed" allegedly because Studio 'A' had to be closed for repairs during July 1960.
Failure to obtain networking for any apart from the first play, meant that Roy Rich, Southern's Controller of Programmes finally cancelled the series in the autumn of 1960, saying "Lew (Grade) has categorically said, 'don't push me and I'll probably use them next year.'" How kind! USA snubbed it, although CBC in Canada did buy 'Mary Stuart' for networking coast-to-coast.
However a Southern play Clash of Arms was networked on Saturday April 1st 1961, starring John Gregson with Jack Gwillim and Yvonne Romain. Also appearing: Harry Tardios. Script: Howard Clewes. Director: Philip Dale. Producer: Michael Benthall.
Southern TV menu

.

.

.

.

.

.

.

.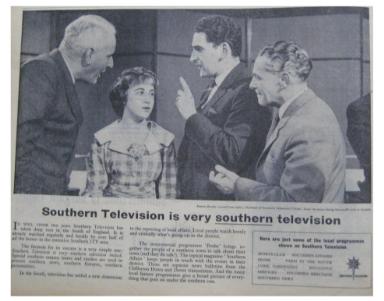 First test transmissions began on April 28th 1958, beamed from the Isle of Wight.

Mid April 1958 saw the commencement of local advertising: direct mailing to the 900 tv dealers in the region. The Radio and Television Retail Traders' Association held their conference in Bournemouth on April 27th 1958, and SH Benson Ltd, Southern's advertising agents, had on display here a large quantity of counter display cards, folding displays, window stickers, stickers to put on tv screens, window streamers, and consumer leaflets in display boxes.

Benson also created a character to promote the new station- a shirtsleeved man running with an aerial over one shoulder and under his other arm, a placard plugging Southern Television.

Exhibitons were held in all the largest towns. Part of the shows included auditions for station announcers, and indeed any local talent that Southern felt they could employ. This under the slogan, "See Yourself on Television." The auditions were overseen by Roy Rich, others by Anna Lett.
Southern achieved a coup when former BBC announcer Sylvia Peters begans work for the station on January 5th 1961.
Southern TV main menu

.

.

.

.

.

.

.

.

Southern Landmarks in their first year

Opening Night August 30th 1958... 181,000 homes viewing.

After one month in 1958... 211,000 homes.

After six months to early 1959... 376,000 homes.

After nine months... 392,000 homes.

After one year... 404,000 homes.
By this period 53% of all possible homes in the region were equipped to receive Southern Television, with possible viewing figures of 1,340,000.

Southern TV main menu

.

.

.

.

.

.

.

Summer Schedules for June 1960.

Southern Heritage, directed by George Egan, was moved from its Saturday slot to a weekday time of 5.45pm.
Melvillainy with Alan Melville continued its Sunday late night placing until July 24th after which the long running The Lythgoe Touch would replace it, this moving from its Wednesday night 11.07pm to make way for the filmed series Saber of London.
Photography was the rather ordinary title of a new home produced series on Thursdays at 6.15.
The third series of the talent show Home Grown (qv) would commence on July 7th, now with Peter Haigh in charge, directed by Terry Yarwood. This producer's Sports Club continued in its weekly Tuesday slot, ever present in Southern's schedules since opening week. He also directs Swap Shop with new comperes Leslie Mitchell and Elizabeth Allen.
The new Southern Affairs magazine was on Mondays at 10.35, now under the direction of John Boorman, and chaired by Berkeley Smith.
The Lunchtime Show continued each Wednesday, Thursday and Friday, with newly appointed director Peter Frazer-Jones taking over from Lorne Freed

To Southern TV main menu

.

.

.

.

.

.

.

.

Top Southern programmes at the end of November 1958
1= Spot The Tune / The Army Game 75%.
3= Take Your Pick / The Invisible Man 73%
5= Wagon Train / Double Your Money 69%

TAM ratings for South of England w/e 24 July 1960
1 Riverboat 58
2 No Hiding Place 56
3 Ward 10 (July 19) 53
4 Delfont's Sunday Show 51
5 The Love of Mike 50
6 Night School A-R 49
7 Ward 10 (July 22) 47
8 Twenty Questions 46
9= Rawhide 44
9= Summer Fair A-R 44

TAM viewing figures for some Southern TV 1960 Serious programmes
Right to Reply (2.323 million)
For some other serious programmes shown on Southern in 1960.
This Week (2.989 million), About Religion (2.499 million), Sunday Break (2.403 million), What the Papers Say (1.906 million).

TAM ratings for South of England w/e 13th Aug 1961
1 Route 66 59%
2 Coronation Street Aug 9th 57
3 Emergency Ward 10 (Aug 8th) 56
4 Boyd QC 55
5 The Pursuers 54
6 Top Secret 53
7 Loretta Young Show 51
8 Emergency Ward 10 (Aug 11th) 49
9 Twenty Questions 48
10= Three Live Wires 47
10= Family Solicitor
Top BBC rated programme was Fun and Fancy Free (34%)

TAM ratings for South of England w/e 31st Dec 1961
1 The Queen 68% (ITV 39%, BBC 29%)
2= Coronation Street Dec 27th 66
2= Bootsie and Snudge
4 Double Your Money 64
5 Rawhide 62
6 Playdate (Exchange Teacher) 61
7 Not Wanted On Voyage (film) 60
8 Legends of the West 59
9 Day by Day (Dec 29th) 58
10 London Palladium Show 57

TAM ratings for South of England w/e Feb 25th 1962
1 Coronation Street Feb 21st 69
2 Take Your Pick 64
3 Coronation Street Feb 19th 63
4 Rawhide 60
5= Naked City 59
5= Double Your Money
7= Take a Letter 57
7= Bootsie and Snudge
7= Out of Town (Southern)
10 One Step Beyond 56
Top BBC: Compact (Feb 20th) 52%

TAM ratings for South of England w/e Dec 16th 1962
1 Coronation Street (Dec 10) 62
2 Coronation Street (Dec 12) 61
3 Bootsie and Snudge 56
4= Boxing (ATV) 52
4= No Hiding Place
4= Play of the Week
4= Bronco (BBC)
8 Ward 10 (Dec 11) 50
9 Sportsview (BBC) 49
10= Take a Letter 48
10= Double Your Money
10= The Saint

TAM ratings for South of England w/e Jan 26th 1963
1 Steptoe and Son (BBC) 60
2 Dixon of Dock Green (BBC) 55
3 Coronation Street (Jan 21st) 54
4= Arthur Haynes Show 53
4= London Palladium Show
6 Dial Rix (BBC) 52
7 Coronation Street (Jan 23rd) 51
8 Wagon Train (BBC) 50
9 87th Precinct 49
10 Drama '63 - This is Not King's Cross 48

TAM ratings for South of England w/e June 23rd 1963
1 Conservative Party Broadcast 60% (Southern 21%)
2 Coronation Street (June 19th) 54
3= Coronation Street (June 17th) 48
3= Sportsview (BBC)
5 Emergency Ward 10 (June 21st) 42
6= This Week 41
6= The Victorians
8= Crane 40
8= Zero One (BBC)
8= Dad You're A Square (Southern)
8= London Palladium Show

TAM ratings for South of England w/e Oct 6th 1963
1 Z Cars (BBC Oct 2nd) 62%
2= Coronation Street (Sept 30th) 54
2= London Palladium Show
4 Coronation Street (Oct 2nd) 52
5 No Hiding Place 51
6 The Saint 49
7 Dickie Henderson Show 47
8= Espionage 46
8= The Double Doll, ATV play
9= Follow the Sun (Southern) 45
9= Ward Ten (Oct 1st)

TAM ratings for South of England w/e Jan 5th 1964
1 Stars and Garters 53%
2 Foreign Affairs 52
3= Coronation Street (Dec 30th) 51
3= London Palladium Show
5= Coronation Street (Jan 1st) 50
5= A King's Revolution (A-R)
5= Double Your Money
8 No Hiding Place 47
9 Take Your Pick 46
10= It's Dark Outside 43
10= A Touch of the Norman Vaughans
Top BBC: This is Your Life 41%

TAM ratings for Southern TV area w/e May 23rd 1965
1 Peyton Place (May 21) 50%
2= Coronation Street (May 17) 49%
2= No Hiding Place
4 Z Cars (BBC May 19) 47%
5= The Human Jungle 44%
5= Peyton Place (May 22)
7= Our Man at St Marks 42%
7= Compact (BBC May 18)
7= Six Shades of Black
10= Football (BBC) 41%
10= Gideon's Way
10= The Fugitive

TAM ratings for South of England w/e June 27th 1965
1 Our Man At St Marks 56%
2 No Hiding Place 55
3 Coronation Street (June 23) 51
4 Coronation Street (June 21) 50
5 Des O'Connor Show 44
6 Ward 10 (June 25) 43
7 Peyton Place (June 26) 42
8 Play of the Week 41
9= Ladybirds 40
9= Gilligan's Island
Top BBC: Top of the Pops (37%)

TAM ratings for South of England w/e Aug 8th 1965
1 Riviera Police 55%
2 Our Man At St Marks 54
3 Coronation Street (Aug 2nd) 48
4 Best of Morecambe and Wise (ATV) 43
5 Peyton Place (Aug 6th) 42
6 That Show (Southern) 41
7 Peyton Place (Aug 7th) 40
8= Play of the Week 39
8= The Saint
10= Day by Day (Southern Aug 2nd) 38
10= Blackpool Night Out
Top BBC: Wednesday Play, and Comedy Playhouse (35%)

TAM ratings for South of England w/e Dec 5th 1965
1 No Hiding Place 57%
2= Day by Day (Dec 1) 50
2= Coronation Street (Dec 1)
4= In Kite's Country (Southern) 48
4= Double Your Money
4= Take Your Pick
7= Day by Day (Nov 29) 47
7= Meet the Wife (BBC)
7= Hello Hello Dolly
7= The Big Valley

TAM ratings for South of England w/e April 24th 1966
1 Mrs Thursday 58
2 The Man from UNCLE (BBC) 50
3 Double Your Money 49
4= Coronation Street (Apr 20th) 47
4= The Frost Report (BBC)
6= Pardon the Expression 46
8= Lone Star (Southern)
8 Amos Burke 44
9 Coronation Street (Apr 18th) 42
10= Day by Day (Southern Apr 18th) 41
10= Pop the Question (Southern)
10= EW10 (April 19th)
10= Day by Day (Apr 20th)
10= Me and My Dog (Southern)
10= Des O'Connor Show
10= Weavers Green (Apr 21st)
10= Scene South East (Southern Apr 22nd)
10= Out of Town (Southern)

TAM ratings for Southern TV area w/e Sept 4th 1966
1= For Better For Worse (Southern) 46%
1= Sergeant Cork
3 This Week 45%
4= Good Old Summertime (BBC) 43%
4= Bataan film Southern
6 Coronation Street (Aug 31) 42%
7 The Informer 40%
8= Conspiracy of Hearts film Southern 39%
8= Bruce Forsyth Show
10 Steptoe and Son (BBC) 38%

TAM ratings for Southern TV area w/e Oct 2nd 1966
1= Miss Southern TV 1966 (Southern) 56%
2 Honey West 51%
3 The Saint 50%
4 Steptoe and Son (BBC) 49%
5= Alfred Hitchcock Presents 48%
5= Coronation Street
7 London Palladium Show 46%
8= Cinema 45%
8= Sergeant Cork
10 Hippodrome 44%

TAM ratings for South of England w/e June 11th 1967
1 The Frost Report (BBC1) 46
2 No Hiding Place 44
3= The Untouchables 40
3= The Gun Runner (Southern)
5 Peyton Place 39
6 World In Action Special 38
7= Coronation Street (June 5th) 37
7= Day by Day (Southern June 7th)
7= Coronation Street (June 7th)
10= Day by Day (Southern June 5th) 36
10= George and the Dragon

TAM ratings for South of England w/e Aug 20th 1967
1 Miss United Kingdom (BBC1) 43
2= Whicker's World (BBC) 42
2= The Mystery of Cader Ifan (BBC)
4 Black and White Minstrels (BBC) 40
5 Coronation Street (Aug 16th) 39
6= Boy Meets Girl (BBC) 37
6= Dusty (BBC)
8= Coronation Street (Aug 14th) 35
8= Don't Panic Chaps film
8= Peyton Place
Southern TV main menu

.

.

.

.

.

.

.

.

.

.

Southern TV Programmes for their Opening Night
Saturday August 30th 1958

5.30 Station Identification Music - Southern Rhapsody
5.35 Welcome Again - Roy Rich talks to Alan Melville on the deck of RMS Caronia
5.40 ITN News
6.00 Filmed Playhouse - The Last Reunion starring Eric Portman, and Michael Gough
7.00 Coming Shortly- excerpts introduced by station hosts Meryl O'Keeffe and Julian Pettifer
7.30 Highway Patrol - with Broderick Crawford
8.00 Southern Rhapsody - host Alan Melville, with Gracie Fields, Line Renaud, Clive Lythgoe and guest star Gary Miller. Choreography: Lionel Blair. Producer: Albert Locke
9.00 Cheyenne- Hired Gun
10.00 ITN News from Southern's Southampton Studios
10.05 Great Movies of Our Time - Lady Hamilton starring Laurence Olivier
12.00 The Epilogue
Close-Down

Southern TV main menu

.

.

.

.

.

.

.

.

.

.

Thursday September 4th 1958
12.47 Lunch Box -with Noele Gordon
1.30 Southern News-1.35
5.15 The Living Sea - Life in the Sand
5.45 Fury
6.15 ITN News; Southern News
6.30 Sea Hunt -Mike finds a pilot alive in a submerged jet plane
7.00 Cool for Cats - with Kent Walton
7.30 Twenty-One - with Chris Howland
8.00 This Week
8.30 Gun Law- Matt Gets It (about time too!)
9.00 Val Parnell's Startime - starring Gracie Fields
10.00 ITN News
10.15 The Verdict is Yours - the verdict
10.45 People in Trouble - Poverty
11.00 Dream Girl '58 - with Lou Preager Orchestra and the Dream Girl Contest
11.30 The Epilogue - by Canon HA Blair of Southbroom Devizes, on Peace of Mind Southern TV main menu

.

.

.

.

.

.

.

.

.

.

Southern TV Programmes for Tuesday October 28th 1958
10.20am State Opening of Parliament- "A relay of the BBC Broadcast, with Commentator for ITV Robin Day" -11.15approx
12.47pm Flotsam's Follies - a lunch-time revue
1.25 Southern News -1.30
5.00 Lucky Dip - The Junior Newspaper with Nevil Whiting. Also Fanny and Johnny Cradock
5.25 Miniature Music-Hall - MC Nevil Whiting, with Dorita and Pepe, Clive Dunn, Saveen, Tollefsen
5.55 News; Southern News
6.10 Farm in the South - introduced by AG Street
6.30 Sports Club - with Berkeley Smith, and John Graydon (soccer) and John Rickman (horse racing)
7.00 Twenty One- quiz with Chris Howland
7.30 Emergency- Ward 10
8.00 Dragnet - The Big Quack
8.30 Overseas Press Club- The Millionth Frenchman
9.00 Professional Boxing- Farewell to Harringay
10.00 News
10.15 New Horizon - with Dr J Bronowski: The Prospect Before Us
10.45 People in Trouble - with Dan Farson, followed by The Weather Forecast
11.00 The Epilogue and Close-down

Southern TV main menu

.

.

.

.

.

.

.

.

.

.

.

.

.

.

.

.

.

.

.

.

Southern TV Programmes for
Saturday March 21st 1959

1.05 Afternoon Out- Motor Cycle Scramble, Racing from Hurst Park, Boxing
4.40 The Adventures of Noddy - Snow Goblin
4.55 Southern Heritage - King That Was, King That Shall Be
5.10 Robin Hood - Trial by Battle
5.40 Sports Results and News
6.00 Oh Boy! - introduced by Tony Hall
6.30 Highway Patrol - with Broderick Crawford
7.00 Maverick- War of the Silver Kings
7.55 Saturday Spectacular - The Dave King Show
8.55 ITN News
9.00 Charlie Chan- Charlie's Highland Fling
9.30 Great Movies of Our Time - Flamingo Road with Joan Crawford
11.15 A Man Called X, followed by The Weather Forecast
11.45 Night Light and
Close down

Southern TV main menu

.

.

.

.

.

.

.

.

.

.

Southern TV Programmes for Tuesday September 1st 1959
12.47 Take It Easy - with Malcolm Mitchell, Jim Dale, Janie Marden
1.25 Southern News - 1.30
5.05 Small Time - Colonel Crock's Boat Race, introduced by Muriel Young
5.15 Lucky Dip
5.45 The Secret of Carrick House - 1 Hot Water
6.15 News; Southern News
6.35 Sports Club - Julian Pettifer introduces John Graydon and John Rickman
7.05 Roving Report - A Day in Stockholm with Elizabeth Kenrick
7.30 Concentration - with David Gell
8.00 Emergency- Ward 10 - amongst the cast: Colin Douglas, Dandy Nichols
8.30 Play of the Week - The Younger Generation with John Barrie, Rene Ray, Dinsdale Landen, Prunella Scales
10.00 News
10.15 Probe - Fenton Bresler from the Town Hall, Ryde
10.45 M Squad - The Hard Case
11.15 The Lythgoe Touch; Weather Forecast
11.27 Night Light - Rev Canon Sir Percy Maryon-Wilson, Christ Church, St Leonard's-on-Sea

To Southern TV main menu

.

.

.

.

.

.

.

.

.

.

.

Southern TV Programmes for Thursday July 9th 1959
12.47 Lunch Box (ATV)
1.25 Southern News - 1.30
1.45 Racing from Salisbury: races at 2pm 2.30, 3pm, 3.30, and 4pm. (Not networked)
4.15 The Royal Agricultural Show- from Oxford with Tom Glazer and David Calcutt (A-R)
5.05 Small Time - Plonk with Jean Ford
5.15 Animal Parade
5.45 Hawkeye- Revenge
6.15 News; Southern News
6.35 Count of Monte Cristo - The Texas Affair
7.05 Farson's Guide to the British
7.30 Full House - with Roy Ward Dickson
8.00 Skyport- starring George Moon
8.30 Thursday Movie - Four Mothers starring Priscilla Lane
10.00 News
10.15 Swap Shop - with the Duke of Bedford and Elizabeth Allan. Evaluator: George Gray
10.48 What the Papers Say - with Jocelyn Stevens
11.00 Late Extra - with Derek Waring and the Steve Race Six (A-R)
The Weather Forecast
11.30 Night Light - Rt Rev Monsgr DP Wall
To Southern TV main menu

.

.

.

.

.

.

.

.

Southern TV Programmes for Wednesday August 19th 1959
12.47 Take It Easy - with Malcolm Mitchell, Jim Dale, Janie Marden and with Joyce Clark
1.25 Southern News - 1.30
2.15 Racing from York: races at 2.30, 3pm, 3.40, 4.15 and 4.45
5.05 Small Time - The Musical Box with Wally Whyton
5.15 Junior Criss Cross Quiz- with Bill Grundy
5.45 The Buccaneers- The Aztec Treasure
6.15 News; Southern News
6.35 Gay Cavalier - Springtime for Julia
7.05 Close Up- on Bette Davis
7.30 Concentration - with David Gell
8.00 Summersong - produced live by A-R, with contributions from all regional companies including Southern
9.00 This Week- with Ludovic Kennedy
9.30 Crime Sheet - Lockhart Visits a Laundry
10.00 News
10.15 Martin Kane - Bank Robbery
10.45 Celebrity - Lord Brabazon of Tara (A-R)
11.00 Have Gun- Will Travel - The Long Night
The Weather Forecast
11.27 Night Light - Rev WA Smith

Notes: Programmes from 7.05pm to 10.15 were all fully networked. However at 10.15 Southern opted out of the networked Granada programme The Verdict is Yours to show The New Adventures of Martin Kane, which had been screened in the other ITV regions when it was made, before Southern had commenced.
To Southern TV main menu

.

.

.

.

.

.

Southern TV Programmes for Thursday March 23rd 1961
1.00 Southern News
1.05 The Lunchtime Show - with Jim Dale, guest Lynnette Rae -1.40
2.43 For Schools: The World Around Us, Chez les Dupre, The British Isles-3.45
5.00 It's Wizard- with Gordon Luck
5.25 Popeye
5.55 News; Southern News
6.15 Close Up- with Neville Barker. An interview with Tony Hancock
6.45 Buy Lines - admag introduced by Sylvia Peters
7.00 Lawman- Lady in Question
7.30 Double Your Money
8.00 Cliff! - Cliff Richard with guests Jill Browne and Cherry Wainer
8.30 Knight Errant Limited- Double Identity
9.25 News
9.35 Television Playhouse - The Widowing of Mrs Holroyd starring Jennifer Wilson
10.35 At Home with Max Jaffa
11.05 News Headlines; M Squad - The Man With Frank's Face
The Weather Forecast; 11.35 The Key - What Did Christ Claim? with Rev Gerard Dwyer (Corpus Christi Portsmouth)

Southern TV main menu

.

.

.

.

.

Southern TV Programmes for Monday August 14th 1961

4.45 Small Time
5.00 Seeing Sport
5.25 Fury
5.55 ITN News
6.10 Day by Day
6.40 All Our Yesterdays
7.00 Criss Cross Quiz
7.30 Coronation St
8.00 Three Live Wires
8.30 Wagon Train
9.25 News
9.35 Harpers W1
10.30 Another World
11.00 News Headlines
11.2 Strictly For the Birds- with Dudley Moore
11.32 Christian Compass
To Southern TV main menu

.

.

.

.

.

.

.

.

Southern TV Programmes for Monday June 18th 1962
2.35 For Schools - The World Around Us, Ici La France, Science in Industry-3.45

4.45 Small Time - Music Fairy with Sheila Mossman. Also Penny Singleton talks to Pussy Cat Willum
5.00 Seeing Sport - Athletics
5.25 The Adventures of the Scarlet Pimpernel - Antoine and Antoinette
5.55 News; Southern News
6.10 Day by Day - introduced by Julian Pettifer, with today Dorothy Squires and Leslie Welch
6.40 Southern Heritage - Room Number Two. Willoughby Gray at The Pheasant Inn
7.00 All Our Yesterdays
7.30 Coronation Street
8.00 Playdate - A Call on the Widow starring Jean Kent (amazingly this was a repeat)
8.55 Strange Experiences - Identical Twins
9.00 News
9.15 Dickie Henderson Show - The Voyage
9.45 Probation Officer- with Windsor Davies
10.40 Dinner Party - with Lord Boothby, John Betjeman, Dilys Powell and Sir Alan Herbert
11.10 News Headlines
11.12 Three of a Kind - Wout Steenhuis with Dorita y Pepe. Guest Jon Pertwee
11.42 The Weather Forecast, followed by
Crossroads - Rt Rev David Jenkins, St Luke's Salisbury Southern Rhodesia
Close-down
To Southern TV main menu

.

.

.

.

.

.

.

.

Southern TV Programmes for Wednesday April 10th 1963
4.45 Small Time
5.00 Zoo Time
5.25 Full Marks - Grand Final: Glenmoor School for Girls Bournemouth v Pewsey Vale School
5.55 ITN News
6.05 Day by Day
6.45 Here and Now - Terence Carroll with Uffa Fox
7.00 Take A Letter
7.30 Coronation Street
8.00 Rawhide - Incident of the Black Ace
8.55 Take Four
9.00 News
9.15 Dickie Henderson Show - The Playwright
9.45 Intertel presents- Tahiti- Pacific Cocktail
10.45 Absolutely Barkers - with Eric Barker
11.15 News Headlines
11.17 The Deputy - The Lesson
11.45 Weather; The Living Word - Rt Rev TS Holland

Southern TV main menu

.

.

.

.

.

.

.

.

Southern TV Programmes for Saturday September 14th 1963
10.15 Liberal Party Assembly -11.15
1.12 Regional Weather Forecast by Graham West Jones
1.15 News; Saturday Sportstime
5.15 Huckleberry Hound
5.30 Sir Francis Drake - Gentleman of Spain rpt
6.00 News
6.05 Lucky Stars Craig Douglas, The Searchers, Brian Poole
6.45 The Flintstones Foxy Grandma
7.10 The Beverly Hillbillies Trick or Treat
7.40 Big Night Out - Joan Regan, The Springfields, Bill Maynard
8.30 Checkmate The Paper Killer
9.25 News
9.30 Morecambe and Wise Show, rpt
10.00 Sergeant Cork The Case of Ella Barnes
11.05 Best of Friends Foreign Policy
11.34 News Headlines, and Liberal Party Conference
11.49 Silver Wheel - Television's Motoring Club (ABC)
12.04 Weather; The Living Word - Rt Rev Michael Vonberg
To Southern TV main menu

.

.

.

.

.

.

.

.

Southern TV Programmes for Monday July 6th 1964
4.45 Small Time
5.00 Seeing Sport - Riding with Peter Lloyd and Robert Hall
5.25 The Littlest Hobo - Blue Water Sailor
5.55 ITN News
6.05 Day by Day with John Bilbow, and including Weather Report by Cyril Ockenden
6.45 Sports Desk (Southern TV Production)
7.00 All Our Yesterdays - Brian Inglis
7.30 Coronation Street
8.00 No Hiding Place - The Break Out
8.55 News
9.10 Play of the Week - Samson by Moonshine starring Paul Curran
10.30 Up the Poll - Fenton Bressler introduces Are Modern Parents Responsible Enough?
11.00 News Headlines
11.02 Ready Steady Win! - with Keith Fordyce
11.50 Weather Forecast, followed by
The Power of the Word
Close down
To Southern TV main menu

.

.

.

.

.

.

.

.

.

.

Southern TV Programmes for Thursday August 19th 1965
2.15 Racing from York
4.20 Crossroads
4.45 Small Time
5.00 Stubby's Silver Star Show
5.25 Stingray rpt
5.55 ITN News
6.05 Day by Day
6.35 The Beverly Hilbillies - The Big Bank Battle
7.00 That Show - guests Glen Mason and Joyce Howard
7.30 Branded - The First Kill
8.00 The Saint - The Spanish Cow
8.55 News
9.10 This Week
9.40 The Sullavan Brothers- The Salvation Man
10.35 What the Papers Say
10.50 News Headlines; Southern News Extra
11.2 No Time for Sergeants - Do Me a Favour and Don't Do Me Any
11.30 Weather; Belief - London Street Congregational Church Basingstoke
To Southern TV main menu

.

.

.

.

.

.

.

.

Southern TV Programmes for Sunday September 19th 1965
10.45 The Peaceful Sky 25th Anniversary of the Battle of Britain-12.50
2.42 Regional Weather Forecast by Cyril Ockenden
2.45 Farm in the South with Mark Jenner from Bank Farm Tudely
3.15 The Sentimental Agent Not Quite Fully Covered rpt
4.15 Voyage to the Bottom of the Sea The Sky is Falling
5.05 Ready Steady Go Dusty Springfield, The Hollies
5.35 The Adventures of Robin Hood Errand of Mercy rpt
6.05 News
6.15 Storytime guest Cy Grant
6.35 Religion in Britain An ABC poll The TV Audience and Religion
7.25 News Headlines
7.30 The Anniversary Show Gracie Fields, Arthur Askey (10th Anniversary of ITV)
8.55 Attack! a film starring Jack Palance
(9.55 to 10.05 News)
10.45 Armchair Mystery Theatre - Ask Any Neighbour with Jack Hedley
11.45 Weather; Sacred Song Rev Michael Saunders
To Southern TV main menu

.

.

.

.

.

.

.

.

Southern TV Programmes for Sunday September 18th 1966
11.00 Harvest Thanksgiving Breachwood Green Baptist Church-12.05
1.20 Farm Progress No 10 Grain Drying at Bussey Stool Farm Tarant Gunville Blandford, introduced by Mark Jenner-1.50
2.45 Regional Weather Forecast by Graham West-Jones
2.50 The Saint The Hi-Jackers rpt
3.45 Racket Busters film starring Humphrey Bogart
5.00 Mad Movies with Bob Monkhouse
5.30 Weavers Green Dottie returns from hospital to find Mick in love
6.00 News
6.15 Tingha and Tucker with Jean Morton
6.35 Hallelujah Sydney Carter talks about Lust and Charity. With Nadia Cattouse, Isla Cameron, Martin Carthy, Leon Rosselson
6.55 East of Canturbury Judaism with Rabbi Dr Louis Jacobs and Rabbi A Melinek. Commentary Norman Tozer
7.25 Batman The Cat and the Fiddle part 2
7.55 The Sunday Film: My Brother Jonathan starring Michael Denison
9.55 ITN News
10.05 The Bruce Forsyth Show - with guest Roy Castle
11.05 A Date With . . . - Janie Marden
11.20 Weather Forecast; Question Time Rev Patrick Mitchell St James Church Portsmouth with some young members
To Southern TV main menu

.

.

.

.

.

.

.

.

.

.

Southern TV Programmes for Thursday October 13th 1966
9.30am Conservative Party Conference
11.10 Schools: Primary Mathemtics; Drama
11.55 Conservative Party Conference (-12.30pm)
2.05pm Schools: Finding Out; Afternoon Edition
2.55 Conservative Party Conference
4.20 Crossroads- "It was a swell idea of yours to hire this boat Kevin"
4.45 Playtime - with Gwyneth Surdivall and Jennifer Naden
5.00 Junior Criss Cross Quiz- with Peter Wheeler
5.25 The New Forest Rustlers- 3 Enter the Law
5.55 ITN News
6.05 Day by Day
6.35 The Name Game - a battle of wits between Harry Fowler and Sid Green. In the chair Steve Race
7.00 Emergency- Ward 10- Shadow of a Clown
7.55 The Saint - The Russian Prisoner
8.55 News and Conference Report
9.15 This Week
9.45 Sergeant Cork- The Case of the Silent Policeman
10.40 Lawman- The Second Son
11.10 News Headlines and Conference Report
11.22 Southern News Extra
11.32 Say it in Russian- Lesson 27
12.00 Weather Forecast; Belief - members of Richmond Hill Congregational Church Bournemouth discuss their belief with Ian Curry

Southern TV main menu

.

.

.

.

.

.

.

.

Southern TV Programmes for Saturday October 5th 1968
1.17 Weather
1.20 News
1.25 World of Sport
5.08 Southern News
5.15 Gentle Ben
5.40 Time for Blackburn!
6.10 News
6.15 Tarzan
7.10 Startime
8.00 Film - File on Thelma Jordan
9.45 News
9.55 Saturday Special - Georgia Brown
10.55 Southern News Extra
11.00 Seaway
11.55 Weather; New Approach
To Southern TV main menu

.

.

.

.

.

.

.

.

.

.

.

.

.

.

.

.

Southern TV Programmes for Friday May 30th 1969
2.30 Cricket - Yorkshire v West Indies
4.00 Houseparty - women's magazine
4.15 News Headlines; Pinky and Perky
4.30 Crossroads
4.55 Tarzan - A Life for Life
5.50 ITN News
6.00 Day by Day
6.35 The Beverly Hilbillies - The Gorilla
7.00 The Champions - - The Night People
8.00 The Liberace Show
9.00 Court Martial - Flight of a Tiger
10.00 News
10.30 Peyton Place- Susan suggests to her husband that Jill move into their spare bedroom
11.25 Weekend
11.30 Southern News Extra
11.40 One Step Beyond - Signal Received starring Mark Eden
12.05 Weather Forecast; Team Ministry and Closedown
To Southern TV main menu
Dinosaur TV Main Menu