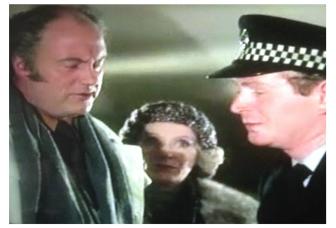 Some of My Favourite more recent Programmes
From the 1970s: Norman (1970), Nobody Is Norman Wisdom (1973) and A Little Bit of Wisdom (1976)- with the unique Norman Wisdom- surely we deserve to see these again!
From the 1980s: Hi de Hi! Jimmy Perry and David Croft, how we miss you!
From the 1990s: The Peter Principle is sadly neglected.
From the 2000s: Lead Balloon with Jack Dee showing off his dry wit at its best. Odd that it is not shown ad infinitum on satellite channels, unlike many a much less enjoyable comedy series.
CONTEMPORARY PROGRAMMES:
Quizzes: Countdown 40 years old, or even young, now that Mr Murray is in charge!
Only Connect makes University Challenge look like child's play! VC, you've taken on the crown Thinking Man's Crumpet.
Drama Series: Father Brown bears little relation to the original novels, but is still enjoyable.
Picture Question: Identify the series Answer
Main Dinosaur tv menu

.

.

.

.


Simply the best comedy series ever!
Simon Cadell as Geoffrey Fairbrother a university professor in charge of a holiday camp. A wonderful anachronism! Some outstanding support from old timers. All the cast are excellent, but we specially love Leslie Dwyer as the Punch and Judy Man who hates kids, and Barry Howard as the whingeing ballroom champion. When Simon Cadell left, David Griffin made a brave effort in the antithesis of the professor role, but the loss of Dwyer and Howard deprived the still superb series of that extra special magic.

Pilot (Jan 1st 1980)- A beautifully executed portrait of Cambridge professor Geoffrey Fairbrother, "in a rut," but seeking a new life as Entertainments Manager at Maplin's Holiday Camp. "A fish out of water," he does at least try and join in the fun ("pies, pies, who wants a custard pie"), a stark contrast to the ebullient camp comic Ted Bovis. Briefly introduced are the host of characters that are to make up this sparkling cast, only rock star Gary Storm being inexplicably axed. Surprising, as his evocative guitar provides background to a lovely montage of the week's fun, before Geoffrey decides to pack it all in. A grateful camper changes his mind, and the series is born....
1.1 Desire in the Mickey Mouse Grotto (Feb 26th 1981)- Geoffrey outlines to staff his plans for "broadening the camper's horizons." Blank faces. However his limitations in the nostalgic ballroom, as he tries to mix with campers are obvious, even more so when Ted fixes for him to be "respectable" escort to flirty Rose (Gillian Taylforth): "what lovely smooth hands you've got!"
1.2 The Beauty Queen Affair - "There are no limits to the spiritual heights...." claims Geoffrey, though perhaps his stumbling introduction to the holiday princess competition doesn't quite reach them. Indeed he's unfairly dragged down when he's given a large bottle of champagne for "fixing" the winner, which gets Ted off the hook for his birthday present fiddle
1.3 The Partridge Season - What a "berk" Mr Fairbrother is! Kindly, he has rescinded Mr Partridge's sacking, but he then hands the drunkard £10, enabling him to go on a "bender" singing Jerusalem, not the clean version either, whilst locked inside his chalet. Thus Geoffrey is obliged to perform Partridge's Punch and Judy Show, with willing assistant Sylvia cuddled up to him inside the booth- "give me a kiss Mr Punch;" it's a classic scene
1.4 The Day of Reckoning - It's 6am on a deserted promenade, as Geoff sends Spike on the long walk to Big Mac with a £200 pay-off. As Geoff's negotiating skills with the underworld are more than a little suspect, Big Mac is coming to Spike with £200 of hush money
1.5 Charity Begins At Home - The Campers' Amenity Fund it's called, another Ted Bovis fiddle. But when Geoff finds out Ted has used the proceeds in gambling, Ted is manouevred into donating the £400 winnings to an old couple who have been robbed
1.6 No Dogs Allowed - Bubbles is Geoffrey's dog, he has to hide in his chalet, against all regulations. The noises from within cause staff to think he is secretly keeping a woman...
2.1 If Wet, In the Ballroom - a "little perisher" spoils Whimsical Willie's magic show and receives his just desserts when Mr Partridge ties him up on stage. Geoffrey tries to placate the "nauseous" kid, unsuccessfully of course, as he persuades honest Spike to rig the dodgy clapometer in the talent contest to make the child win. But Ted's already rigged it and there's an unseemly brawl behind the clapometer to thwart Geoffrey's scheme. So it's left to Ted to properly fix the kid with a reward he can really appreciate
2.2 Peggy's Big Chance- a pool wheeze sees Peggy as a shark attacking a blonde bombshell, Spike actually. Sharkfighters dive in to rescue the blonde, but soon it's Peggy the shark who needs saving
2.3 Lift Up Your Minds - Perhaps the pick of the lot! Starting at breakfast, Ted loafing in bed, Barry preparing a bite for Yvonne: "we all eat a peck of dirt before we die." But Geoffrey wants the day to begin in a less "sepulchral" atmosphere and insists everyone attends the "frolics and games" in the breakfast hall. But with 80 extra meals a day, is Joe Maplin pleased? Encouraged however, Geoff decides to widen the campers' horizons and in imitation of his university days plans a musical recital, Discovering Shostakovich. Yvonne is pleased for this "ray of culture in this moronic wilderness." Ted however knows "it's bound to end in disaster." And he's right, there's a low turn out anyway, and we are given some lovely shots of mystified listeners. Geoff has to eat humble pie but Ted persuades him to run a second concert "with a bit of tune in it." Success!- which pleases Geoff, "a vulture for culture," though naturally it's all part of yet another Ted Bovis fiddle
2.4 On with the Motley - "low comedian" Ted Bovis is booked for the "toffee-nosed" Clacton Golf Club do in this bitter-sweet study of dashed aspirations: "it's all so glamorous," declares Peggy. The act is not a success: "hit 'em with a big un, Ted, so I did the one about the tarts and the sailor." Thus Ted ends up "back among the dead beats and has beens"
3.1 Nice People with Nice Manners - Formal invitations to Barry and Yvonne's for a midnight party in their "crummy" chalet. 'Tis to be "a little statement of gracious living." All ruined when Ted & Co gatecrash, and that's after the depths have already been plumbed with the That's Your Bum competition
3.2 Carnival Time - John le Mesurier was an inspired choice to play the Cambridge Dean who travels down to Maplin's looking completely at sea, in his best style, as Peggy greets him with a torrent of words. His bemused look continues throughout, as he stares on, watching Geoffrey, late of Cambridge University, organising the chaos surrounding a carnival float of the Wild West. Dressed in his dude's outfit he finally has to rescue Gladys from a real fire on the float. It's a brilliant muddle of an extravaganza
3.11 Sing You Sinners - A serious note as the chaplin to Maplins has to stop doing the Sunday Half Hour so Geoffrey takes on the task in his usual sombre style. Naturally Ted's effort the following week is rather more lively, the highlight perhaps being Barry and Yvonne's dance as Samson and Delilah, before the collection is taken, money to you-know-who. That's right, the vicar, who returns to take the money right out of Ted's clutches
To Menu

.

.

.

.

.

Harry Worth
Harry revived his career on ITV in the 1970's, first with Thames and later with a less successful YTV series.
"Having a conversation with that fellow is like trying to knit fog!"
Thirty Minutes Worth (Thames, first series October - December 1972)
My name is Harry Worth (Thames, 1974)
1 There's No Place Like It - "I'm sorry you're getting a little confused," Harry tells Mrs Maybury at their first meeting. He tries to rescue her cat from the roof, and ends up at the police station in drag
2 The Referee - George (Reginald Marsh) is Mrs Maybury's brother, a policeman too. He insists Harry provide some sort of reference, so Harry gets one from his doctor, though it's "quite a surprise" as it's not actually his own reference
3 The Go Between - Almost touching, as Harry asks Mr Bunting (Peter Jones) at the Marriage Bureau for a partner: "you want to marry a man?" But it's for Mrs Maybury to whom, confusion over, Harry introduces Arnold (Derek Francis)
4 Don't Bank On It - A classic as Harry attempts to open a bank account "with everything I have........ 85p." Two dumb bankrobbers kidnap Harry thinking he's the manager. They soon realise they've taken on far more than they can cope with. A ransom of £20,000 for the supposed manager dwindles each succeeding hour, whilst Harry develops a nice rapport with the hapless Arthur and Mick. Finally the sad "nutcase" Harry realises noone is prepared to pay for his release. He decides to stay with the crooks! "Don't you want to go then?" they ask him pathetically. Finally Harry returns home, with a nice punchline
5 Normal Service Will be Resumed - Worst of the series. Mr Jones from Coopers Television Service takes away Mrs Maybury's perfectly good tv, and Harry tries to recover it
6 Just a Roll of Lino Please - Tim Barrett is the unlucky carpet salesman who has to deal with Harry- several times he licks his lips in frustration. More firm is Glyn Houston, the constable who patiently has to deal with Harry's problem over a stolen car. He shows all the skill of an old hand in dealing with this sort of confusion
7 The Family Reunion - "He doesn't talk sense," complains George (see story 2), about Harry of course. He soon proves this for himself. For Harry has been asked to look after George's daughter Sandra for the afternoon, so he buys the seven year old a teddy, amid much confusion by the shop assistant (John Clegg). But Sandra (Sally Geeson) is actually seventeen, so they go to the Freak Out Disco, where Harry gets into a bit of a fracas and ends up at the police station, and interrogation by George. Harry winds up in court, defending himself in a long scene that fails to ever get going
8 High Pitched Buzzing - A baffled Mr Veryl (Tony Melody) tries to deal with Harry's request for a telephone in his bedroom, but as he mistakes him for another customer, he nearly ends up demented, thinking Harry is the mad one. When the phone is ready to be installed, Mrs Maybury's new washing machine happens to be delivered, and the installers are puzzled by Harry's requirement "I want it right beside the bed." A phone call to Veryl to sort it out ends with him a broken man
To Menu of 1970's-1990's programmes . . . To Harry's BBC series

.

.

.

.

.

.

.

.

.


Three series (1972-3) For his first series "on the other side," perhaps it was wise that Harry attempted to change his format into a series of sketches, linked by his talking to camera. It works occasionally but ideas expired and the show quickly went downhill. Whatever, the idea was dropped for his next Thames outing in 1974.
1.1 (October 31st 1972). I liked the introduction with David Hamilton apologising that Harry isn't here: we discover why, he's gone to the BBC Centre, "old habits die hard." In his chat to the audience he even asks, "are we on the right channel?" He relates his interview with Philip Jones, Head of Thames Light Entertainment. Then the first scene, at King's Cross Left Luggage Office. In a fine touch it's Joyce Carey who is nicely scattier than Harry. It's a fantasy about lost sausages, and satire on Mr Heath losing same. The other main sketch with Paula Wilcox sees Harry locked out of his house. Soon she is too, and so is his other neighbour
1.2 Harry wants to know why his Premium Bond never wins, Mr Bradshaw (John Savident) deals with a very flat script as best he can. Sam Kydd is a flu victim, will good neighbour Harry cheer him up? Not a cheerful subject though the doctor's arrival does cheer things up, but poor Sam's only hope is to get Harry to go, in a touch of pathos
1.3 Poor intro, Harry has forgotten what he was to talk about. Also poor is the sketch with a commissionaire (Derek Francis) explaining to Harry about multiplex cinemas. A drinks machine confuses Harry, the mechanic (Roger Brierley) listens to his complaint. Much better is the 'Stair Trek' sketch, Mr Worth is beamed aboard to be greeted by Cpt Quirk (Anthony Jackson), Spotty (Richard Wilson), and Mr Speck, "I bought my nephew a pair of ears for Christmas," Harry informs him. There's a good bit of fun with the space age meal, "my compliments to the chemist," and more when the spaceship goes out of time control. But Harry is "a genius" and knows just the right spot to bash in order to correct the machine. A good punchline too
1.4 Harry tells a policeman (Glyn Edwards) that he's knocked down twenty four horses on Westminster Bridge. "We've got a right one here." Then there was this horse pulling a golden carriage, as the fantasy develops really well. Only mildly amusing is the sketch with Harry as a waiter in an Italian Restaurant with a Chinese chef and a customer (Richard Caldicot) who demands Italian cuisine. Even worse is the sketch with Fred (Tony Selby) Harry's dustman who falls victim to Harry's DIY, he's not the only one
1.5 This was awful. Harry talks about dieting. A sketch in Casualty after "a chapter of accidents" is related to the doctor (Meredith Edwards). Harry then plays a police inspector who bats ne'er an eyelid at the carnage caused by plenty of corpses, shot by a suave killer (Bryan Pringle), seriously overacted, with a punchline that lives up to the worth of the sketch. Harry is then a customer at a bank with an odd accounting system all his own. He talks at cross purposes with the manager (Geoffrey Lumsden) about a clerk absent in court. Laurel and Hardy had to reprise their gags in their film flops of the 1940s, and it's painful to compare this sketch with Harry's earlier The Overdraft, in which even the manager is named Osborne as here, also the clerks Wilkins and Penrose, oh dear, this was L&H mark two
1.6 Harry's double booked into Room 5, already occupied by a couple- guess what's next, Harry hides. He also has something to hide at Customs, a suspicious officer (Bob Todd) ponders Harry's explanation. An amateur production of a costume drama needs a new leading man, who is really a music hall ventiloquist. Chance for Harry to revive his old act
1.7 Harry makes an appeal for his football team Twittington Wanderers, though later it's Twittering Wanderers. At Euston Station he deals with three phone calls simultaneously. In parliament Harry pesters his MP Sir George, who cracks up. Then another old chesnut (see To be Called For), Harry joins the AA (with Robert Keegan) then immediately phones the breakdown service
1.8 Harry carries a handbag at an identity parade, is picked out and questioned by a despairing policeman. Sir Francis Drake (Philip Madoc) prepares for the Armada with one incompetent captain, Horatio Worth, but this is not a funny historical sketch, in fact it's absolutely dreadful. Harry ends the series with a long, long monologue
To Harry Worth Menu
To Menu

.

.

.

.

.

.

.

.

.


1.1 The Older Woman (1979) - "Is it Audrey he's with?" Young Martin is "sussing the field," with a woman (Lynda Baron) who Harry soon sees is "old enough to be his mother." So Harry has "to sort her out" in a meandering story with just glimpses of Harry's old genius
1.2 Trouble With Shirley - With Shirley staying at her godmother's, Harry, in the best scene with Judy Buxton, attempts to purchase some wallpaper to redecorate Shirley's room
1.3 The Dress - Harry enters a boutique in an attempt to buy a dress for Shirley
1.4 Harry Gets Out More - Harry attends evening classes where he has an all too brief skirmish with the art master (a bearded Robert Gillespie)
1.5 Who Wants To Move? - Tim Barrett is wasted as an estate agent when Harry thinks he wants to move. 'Wasted' also describes this script
2.1 The Disco - Harry is volunteered as a bouncer at the PTA disco but Martin soon proves Harry's not quite up for it. But "fuddy duddy" Harry enjoys some jiving at the disco before it's he who is bounced out, the fate that ought to have befallen this script
2.2 Help - Harry's been advertising for a cleaning lady for three weeks, and at last there's an applicant: "whatever she's like, she'll be better than nothing." That prophecy nearly proves fatal when Gretchen Franklin, who lives the part, steps in. There's also a nice mime sequence with Harry communicating with a newsagent through his shop window
2.4 Rag Week - Reporting to the police a planned student kidnapping of the mayor, Harry enjoys sparring with that fine pro Glynn Edwards. Of course, Harry is kidnapped by mistake
2.5 Fantasy Time - Harry's helping out in the hospital canteen when he somehow is mistaken for a patient (Sam Kydd) and is seen by a mystified doctor. Good in parts, the theme is not, sadly, properly followed through
2.6 The Promotion - Mr Withers has already considered four "broken men" for possible promotion and Harry might be the fifth! Withers and his wife are coming to supper! Joan Sanderson adds some fun to the meal
2.7 Every Picture Tells A Story - this final story has Harry, appropriately perhaps, rummaging through his attic where he finds- can it be?- a genuine Joshua Reynolds. He consults his solicitor (Arthur Hewlett) and the family plan a spending spree

.

.

.


An underrated series by Eric Chappell starring Peter Davison as Ralph West. Paula Wilcox plays his adoring wife, Ros, whilst Charles Kay has the best part as "JJ" the boss. Although some stories were weak, once the series got going it provided some of the best laughs anywhere! (It's a reworking of The Squirrels)

2 NORMA DOVE (Feb 26th 1991)- Since new secretary Norma arrived there's been nothing but chaos. But Ralph doesn't behave like the other "schoolboys". To Norma, he seems like a friendly dolphin in shark infested waters. But who's keeping HIM at bay?
3 THE DARK HORSE - The Office Conference Weekend in the Executive Suite. A party in Ralph's room sees the new boss (Tom Adams) bring Norma whilst unknowingly JJ brings the boss's wife (Sarah Badel) (cp The Squirrels 1.2) .
4 The WHIZ KID - Fed up with only having a temporary promotion, ageing-failure Ralph applies secretly for another job. Interviewed, he describes his boss as a "meddling unstable geriatric", so JJ isn't likely to be pleased when it transpires Ralph's been up for his own job
5 The VELVET GLOVE - Alec Prescott (Paul Chapman) is from Head Office, the "iron hand capable of squeezing the juice out of a man, and the pips as well." He takes Ralph out to the Moulin Rouge, and Ralph's a snitch when he's had a few
6 DETECTIVE STORY - A groper is in the staff car park. At an identification parade, Ralph is picked out as the villain, and has to fabricate an alibi
7 TIME OUT - A new directive on staff promptness has to be enforced by Ralph, which is slightly difficult when he's expected to slope off to help choose a new bed
8 THE SECRET FILE - If Ralph's a success, why's he wearing his grandfather's suit? As it is, he can't even buy his kids a pile of sand. The panic is because it's the Staff Annual Review, and Ralph wants to know what's in his secret dossier. Finding it, he resolves to be a new tougher man
9 THE MAN MOST LIKELY - great story with Paul Darrow as Reggie, an old schoolfriend who dated Ros and bullied Ralph. Now he has a top executive job, so Ralph started boasting about his achievements. Fortunately JJ is called away so Ralph really can put on some swank ("Paris calling you, R.W.") - till, unfortunately, JJ unexpectedly returns. This has all the best elements of farce, the cast showing perfect timing (cp The Squirrels 1.3)
10/11 WE DON'T WANT TO LOSE YOU (in two parts).- "That could be Bob Crachit there"; actually it's office junior Osborne, whose name 'll be written on JJ's grave. Ralph's got to tell him he's sacked, but in an overlong story it's Ralph who gets the boot (different version in The Squirrels 1.1)
12 THE FIDDLE - the funniest story with Ralph unwisely purchasing 112 bags of crisps from Harvey. Keep them hidden, he's told- good advice as there's been a lot of "petty pilfering." The arrival of Hawke (Philip Stone), the auditor has a further deteriorating effect on poor Ralph, who's unable to find the key to the petty cash. Everyone, it turns out, has been borrowing from company funds.... (cp The Squirrels 1.9)
13 UNDUE INFLUENCE - Crawling's the order of the day, with promotion on the cards for somebody. Ralph throws a party but finally proves his integrity.

.

.

.

.

.

The Peter Principle (1997) with Jim Broadbent as Peter Duffley, dinosaur bank manager. Along with Father Ted, I rate this as the best comedy of the 1990s.
Very odd how it fell out of favour, the final programmes being screened on BBC1 after 10.30pm.
1.1 - On Valentine's Day the bank is "out of money" according to Peter Duffley, at least as far as a gay couple are concerned. Peter receives a card from "your special love" which he takes to be Susan. "This woman's been chasing me all round the bank," he complains. His approaches are misdirected to the gay and he tries to cover his tracks by getting Bradley to recreate the video evidence. Yes, "Peter can be a bit eccentric"
1.2 - Cleaner Mrs Moss' £60 cash for her leaving present is blown by Peter on a business lunch, so her hastily concocted gift is one dead plant, plus, unfortunately, "a bag of vomit." Now Peter's health is in doubt during Banking for Fitness Week, but when the nurse finally comes for his medical, it's actually the new cleaner, who expresses mild surprise when he strips off
1.3 - Peter must win some new accounts, so he rashly promises to take on a new business which is handling £100,000 cash a day, and requires a 24-hour banking hotline. Counting the cash is soon stretching the staff, and phone calls at dead of night are wearing Duffley down. He's so exhausted at Lady Howard's piano recital, where he nicely falls asleep and is awoken by his mobile, that he sees he's "made a terrible mistake"
1.4 - Iris has won £250 on the lottery, but Peter forgets to buy her ticket. He persuades her to spend her non-existent winnings on shares which double in value! A gamble on a horse means she now has £10,000, or thinks she has. So Peter dabbles in insider dealing, and gets "tied up" with Susan and the case with all Iris' money in (nothing that is) in a great scene in a restaurant
1.5 - "Imbecilic" Peter has to pay £300 compensation which he borrows from petty cash. To cover his tracks, he has to shred the notes! In a fun complex storyline, he ends up with a pile of kid's furniture at the bank, and the bank's furniture in his home
1.6 - Peter is locked in the bank entrance foyer over the holiday. How will he survive? Something of a horror masterpiece. Prior to this Duffley declares he's "a very serious candidate" for the top Reading managership, after Susan's invited to apply. Lovely study as he tries to fill out his Proposal. The only way he can come up with anything, is to filch Susan's copy. Result - the interview, immediately after his "lock-in," finds him unshaven, starving, smelly! The only authoritative answer he can give is always from Page Seven, as this was the only sheet he'd had to read in his incarceration. "I've got to get that Reading job, I'm ideal for it."
2.1 - Peter's emasculated by Susan's promotion: just like a customer Peter assumes has had a sex change operation, leading to a ghastly error...
2.2 - Networking in the sauna, Peter learns he is Peter the Doomed. Already manager Victor has had the chop, and he has gone mad, tying Peter up
2.3 - Peter's lost a will but discovers he's in charge of a champion greyhound until the will is proved.
2.4 - Geoffrey is retiring, so it's open house with Peter. Interviews for his replacement are cancelled when Peter finds "the breast candidate." A royal visit means "smarten the place up a bit" which results in Peter getting glued to the spot and having to lean at 45 degrees to greet his royal visitor
2.5 - After the Christmas festivities, Peter has to make a cut in staff. Bradley's the obvious choice but he becomes convinced Bradley is his son - crazy scenes as he reminisces on his lost childhood, bouncing Bradley on his knee.
2.6 - Peter has trouble with the alarm system and police, Rita Davies having a lovely cameo as a customer who is set alight and then has to endure, stonefaced, Susan's slanging match with lover David. Susan decides to emigrate but Bradley finds out his dream girl is being diddled by Peter and has to be locked in the vaults to prevent him from snitching. Poor Evelyn ends up claustrophobically with him. At the eleventh hour, Peter repents and fetches Susan back Casablanca-style from the airport.
To Menu

.

.

.

.

.

Bachelor Father (1970/1)
Ian Carmichael starred in a storyline based on real life. Also appearing in series 1 were Gerald Flood as Harry, Rona Anderson, and Joan Hickson as the housekeeper Mrs Pugsley. Of the children, Ian Johnson as first fosterchild Ben, made his tv debut but went on to little else. Ditto Byony Roberts as Anna. Ronald Pickering as Donald had a little more success, he was replaced by Andrew Bowen. Twins Ginny and Jo (Jackie Cowper and Gerry Cowper) also played in other series, especially the latter.
1.1 Family Feelings - In which Peter's latest girlfriend Margaret leaves him, so it's "back to the monastery." Neighbour Harry sympathises, until Peter resolves to start a family, a foster family. The best scene is his interview with the children's officer (Colin Gordon), as two fine actors go through "the nice red tape." Peter interviews helpers, buys a new home and is introduced to his first child, Johnny. Not hilarious, but in the hands of seasoned pros, it's pleasantly watchable.
1.2 All in the Family
1.5 Birthday Boys - the undoing of most comedies with children is the difficulty of finding good young actors. Ian Carmichael tries to carry them through, but maybe the script too was lacking a buzz. It's Uncle Peter's birthday, though he doesn't realise it is also young Donald's. All hands to the pump, even baking the cake when Mrs P is called away. The party with a bevy of Donald's girl friends is ruined by the dialogue and acting, but neither does the script exploit several potentially amusing situations
2.1 Pet Ideas
2.2 House Guest - A study in snobbery, for Ronnie's dad is a famous cricketer, and his pending visit draws out all Uncle Peter's sporting memorabilia. Unfortunately Ronnie is Ben's friend, but now they have fallen out, so Uncle Peter is introduced to 'Ronnie' who is really swot Simon. Such young actors attempting farce fall flat, but things pick up with the arrival of Donald Hewlett as Simon's dad, who's an MP, cue Uncle Peter's library of political biographies. And Simon's mum (Barbara Shelley) is a famous film star, time to get out more memorabilia
2.3 Partners in Crime - New lad Christopher is known to "appropriate" things. The jokes are too obvious as he eyes Uncle Peter's goods, then even more trite when his dad emerges, fresh from prison. Peter warns his charges to be law abiding, but a visit to Peter's sister Nora (Diana King) sees Peter red-faced, the wrong side of the law, and it's worse for him when Nora tells the kids a few tales of Peter's naughty childhood. Back home, they are locked out, and Peter has to climb through a window, inevitably spotted by eagle-eyed police
2.4 Economy Class
2.5 Not In Front of the Children
2.6 Name This Child
2.7 Gently Does It
2.8 Woman About the House
2.9 Peter Lamb, This is Your Anniversary
Menu

.

.

.

.

.