. . . . . . . . . . . ABC Television
To lost ABC Comedy and Variety programmes.
Sunday Afternoon Experiments. Tempo. ABC At Large. Details of ABC's most successful quiz; For Love or Money A few ABC Personalities
ABC Schedules: 28th April 1956, 5th August 1956, 2nd March 1957, 4th May 1958, 10th May 1958, 16th May 1959, 11th July 1959, 19th July 1959, 17th April 1960, 12th March 1961, 31st March 1962, 6th January 1963, 27th April 1963, 7th June 1964, 20th March 1965, 4th March 1966, 9th July 1967, 11th November 1967, 6th July 1968. TAM 1956 ratings in ABC areas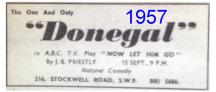 To the Main Dinosaur TV page

1955 Headquarters- Film House Wardour Street London W1 telephone GERrard 7808. Studios: Astoria Cinema (Television Theatre), Aston, Birmingham. Initially ABC was just one branch of the giant ABPC Film Corporation.
Chairman: Sir Philip Warter. Managing Director (also in charge of Production): Howard Thomas. Chief of Light Entertainment: Eric Fawcett. Presentation Manager: RT Rowson. Director of Outside Broadcasts: David Southwood. Advertisement Controller: George Cooper.
1959 Headquarters- 1 Hanover Square, London W1 telephone HYDe Park 7222. Managing Director: Howard Thomas. Programme Controller: RT Rowson. Birmingham Office City Centre House Union Street. Midlands Executive: EG Harris, Midlands Sales Manager: K Bowen-Bravery. Manchester Office Television House Mount Street, Northern Sales Manager: David Burry. Press Officer: Maldwyn Griffiths. Leeds Office Permanent House The Headrow. Sales Executive: DJ Conway. Press Officer: Arthur Jones.
1963 Headquarters- 1 Hanover Square, London. Studios: Television Theatre, Aston Road North Aston (tel Aston Cross 3091). Teddington Studios Broom Road Teddington (tel Teddington 3252). Didsbury Studios Manchester 20 (tel Didsbury 6565).
Chairman: Sir Philip Warter. Deputy Chairman: Eric Fletcher. Managing Director: Howard Thomas. Company Secretary: CJ Orr. General Manager (Iris Productions Ltd): BR Greenhead. Programme Controller: Brian Tesler. Director of Outside Broadcasts and Northern Executive: David Southwood. Midlands Executive: EG Harris. Advertisement Controller: RH Norris. Publicity Manager: B Wynne.


ABC's first ever transmission on Saturday February 18th 1956 was presented by Janette Scott. First programme was This Day, a film about the Midlands area.
ABC were specially proud of their Outside Broadcast Unit which was first used officially on 5th May 1956 when Home Town was brought from Liverpool.
The Other Man's Farm was "the first outside broadcast farming series in the world!" Please help my pointless research. The April 22nd 1962 programme was awarded the Fison Trophy for "the outstanding contribution to agriculural knowledge," The trophy presented that October to Geoffrey Gilbert, producer, at the Waldorf Hotel.
An interesting 1959 enterprise was ABC's 'School for Parsons', a course training clergymen in the art and technique in appearing on telly. Did the epilogues need improving?

.

.

.

.

.

.

.

A Few ABC Personalities

Perhaps ABC's most celebrated announcer was Diddy David Hamilton.
One of ABC's weather girls was Colette Wilde (born Sutton Coldfield) who says she started acting at the age of eight playing a fairy at the Shakespeare Memorial Theatre. She went on to feature in a number of TV programmes, unsurprisingly many for ABC. When she was promoted, she was replaced by
ABC's new weather girl from April 1959, Miss Britain for 1957 Leila Williams.

Dennis Vance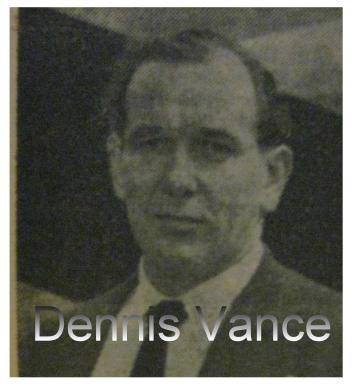 part of an interview given by him in 1957 when he was Head of ABC Drama.
I start work at 9am, go to the rehearsal room at 10.30, get back to the office about 5, and leave for home about 8.30. I'm perpetually travelling between our Manchester and Birmingham studios, and always read scripts in the train on the way. You have to read at least ten before you find one you could use.
At present Vance is working on Escape to Happiness with Ronald Howard, and is wearing no less than three hats. He bought the story with the idea of putting Howard in his father's part. He also took on the role of casting. Also he is directing the play himself which means rehearsals, arranging camera plans and so on.
ABC are currently working to develop television films to sell internationally. Working with Vance are Douglas Neill, Drama Adminstrator, Janice Willett, Programme Assistant, two producers: John Nelson Burton and Stuart Latham, and Dodo Watts, Casting Director.
ABC have recently taken on a number of trainee directors, though the company are also keen to promote studio managers.

William 'Ted' Kotcheff avant garde director
Philip Saville another fine Armchair Theatre director
Voytek their great set designer.
Julie Stevens (The Avengers).
Eddie Kebbell ABC producer.
Janice Willett ABC producer.
John Nelson Burton producer
Jack Dixon
David Greene


To ABC Television Menu

.

.

.

.

.

.

.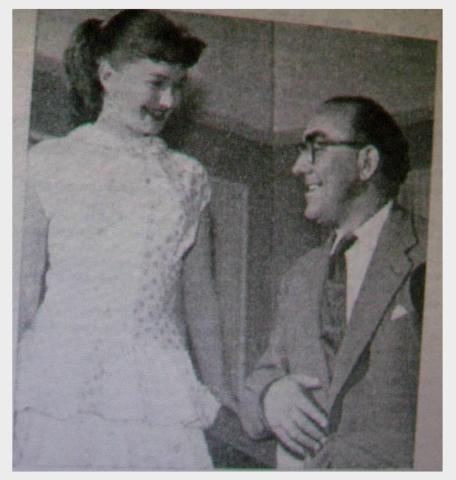 Julie Stevens'
starring role, albeit briefly, in The Avengers, dominated her career, which had begun back in 1957 with an appearance on ABC's talent show Bid for Fame.
She caught the eye of ABC's managing director Howard Thomas, pictured right, who gave her a camera test, "they gave me a piece to announce without letting me see it first."
That summer she learned the ropes behind the scenes in Holiday Town Parade, before she went on to gain wider experience, introducing Family Hour and working in advertising magazines. Her first big chance came in The Sunday Break.
After The Avengers, perhaps her best known tv role was quite different, hosting Play School in the late 1960s
.
.
.
.
.
.
.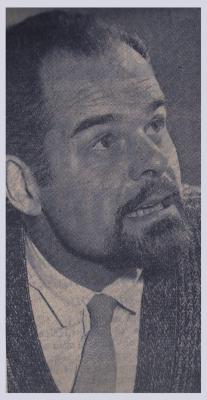 David Greene (1921-2003)

Though born in Britain, he made his name in Canada and America, but returned to England in 1960 to direct 3 Armchair Theatre productions, starting with A Phone Call for Matthew Quade (May 1960), his next was to have been The Ninth Day, though I can find no trace of this.
He also directed a number of the Sir Francis Drake series.
He went on to direct many other ITC series, and many more films, though his marriages did not quite outnumber these

.

.

.

.

.

.

.

.

.

.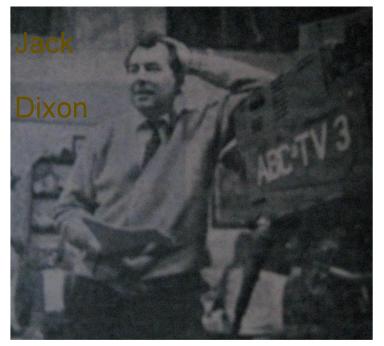 Sydney Newman
fostered much new tv talent in Armchair Theatre. One was director

Jack Dixon
seen in this photo at Teddington Studios.
He directed about five Armchair Theatre plays for ABC, but was more influential in his home country of Holland, where he worked as head of drama in Amsterdam.
His most acclaimed production came in 1964, Major Barbara. For ABC, productions included the Mystery Theatre play, Madeleine (July 1960).

.

.

.

.

.

.

.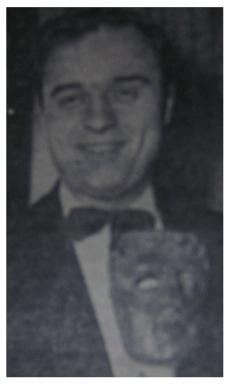 William 'Ted' Kotcheff
(born 1931)

He introduced new and startling ideas into tv drama.
His first play Spare Your Pity, was followed by many more, one of the most highly praised being The Emperor Jones (1958) in which, said Derek Hoddinott, he "used cameras like pendulums swinging from scene to scene... the viewer felt transported right into the very heart of the play... nothing like this had ever been seen on British tv."
Other memorable plays were
The Greatest Man in the World,
No Trams to Lime Street (1959),
Lena O My Lena (1960)
and the controversial Trial of Dr Fancy (made 1962).

He was born in Toronto of Bulgarian parents, studied nuclear physics, but after several casual jobs, met Sydney Newman, and the rest, as they say...

.

.

.

.

.

.

.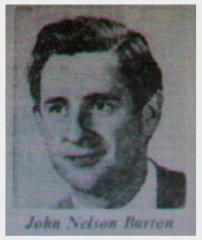 John Nelson Burton (born c1925)
Originally a university lecturer, he became director of productions for the Arts Council in South West England. He was a BBC tv producer before moving to ABC in 1956, producing the Saturday Serial, The Man Who Was Two, before the more ambitious 1957 series Hour of Mystery. He directed a number of Armchair Theatre plays in 1958, before moving to ATV in 1959. He continued in tv production until the 1970s.
.
.
.
.
.
.
.
.
.
.
.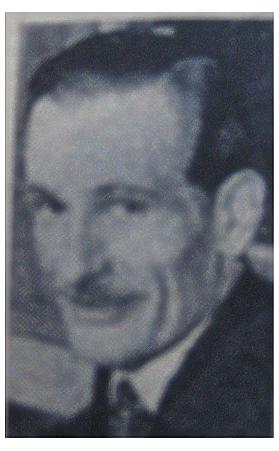 Eddie Kebbell

As a youngster, his ambition was to become another Jackie Coogan. He even advertised his speciality act, jumping off Tower Bridge!
After a spell at the Italia Conti School, he joined a dancing act, the Eight Lancashire Lads. He toured Europe with them, before landing a part in the chorus at Drury Lane.
After the war, in his late twenties, he became assistant to producer Henry Cadwell for five years, before joining the new Associated Rediffusion in 1955. His showbiz experience was invaluable as he worked on the short programmes Friday's Girl and Melody Maid.
Then on to ABC, for whom he produced shows such as
Bid for Fame, Top Numbers, and For Love or Money, as well as The Sunday Break

Bryony (Eddie's daughter) told me that after leaving ABC, he joined Ulster Television. She has a letter thanking him for also his hard work at Havelock House, for the programme "for the very young," signed by R.B Henderson.
Eddie was also instrumental in setting up the new Channel Television station, as witness this letter sent to him:
27th September 1962
"Dear Eddie,
If ever a month has passed rapidly, surely it is September of 1962 and I feel the occasion must not pass without a special word of appreciation to you for your tremendous help and co-operation in getting Channel Television started.
It would be foolish to pretend that these opening weeks had passed without the occasional show of temperament, but I must say that your handling of these odd troubles has been masterly, particularly as I doubt whether any self respecting director has ever been faced with such a raw crew of inexperienced personnel as you have here.
I know that I am voicing the feelings of every member of our staff when I thank you sincerely for a job well done.
Yours sincerely
K.A Killip."

Eddie went on to do a playschool type programme in Australia, in which his wife bathed their son in one of the programmes.....
Many thanks to Bryony for this detail on Eddie's later career, and the loan of the most interesting letter

.

.

.

.

.

.

.


12.50 Cricket -The Duke of Norfolk's XI v Australia (to 1.30, then 2.30-3.00)
3.00 Show Jumping - Olympic Trial from Woolwich
3.45 The Music Shop - host Gerry Wilmot introduces Anne Shelton, Margaret Rose and Brian Clark
4.15 Cricket - Vincent Ball interviews members of the teams at Arundel
4.25 Telemag
4.40 ABC Minors' Club introduced by Hazel Court
4.45 Open Jumping - return visit to Woolwich
5.00 Fury - The 4-H Story
5.30 ABC Minors' Club a host of sparkling features
5.50 Cricket - a final visit to Arundel - ends 6.30pm

7.00 News from ITN, newscaster Robin Day
7.05 Weather
7.07 Sports Desk - with Hugh McDermott
7.30 Hometown Saturday Night - with McDonald Hobley from Ashby-de-la-Zouche
8.15 Bernard Delfont Presents - The Winifred Atwell Show, also with Morecambe and Wise, Teddy Johnson and Pearl Carr, Jennifer Jayne
9.00 ABC Playhouse - I Passed By Your Window with Marie Ney
10.00 On the Town - with Bernard Braden and Barbara Kelly, from the Embassy Club
10.45 News from ITN newscaster Robin Day
10.59 The Epilogue

To ABC Television Menu

.

.

.

.

.

.

.

.

.

4.00 Beside the Seaside - from the Town Hall Rhyl, Roy Barbour presents Highlights
4.30 What's Cooking - Philip Harben with ideas for brightening up High Tea
4.45 ABC Family Hour introduced by Hazel Court
4.47 Fury - Pirate's Treasure
5.15 The Adventures of Noddy
5.30 Adventures of Rin-Tin-Tin - The Education of Corporal Rusty - ends 6pm

7.00 About Religion - Religion on Holiday
7.30 News - with Ludovic Kennedy
7.35 I Love Lucy - Lucy Becomes a Sculptress
8.00 Sunday Night at Blackpool - including Beat the Clock with Tommy Trinder
9.00 The Weather - "The ABC Weather Girls model clothes to suit the weather" (!)
9.05 The Concert - play starring Bernard Braden and Barbara Kelly (ITP)
10.00 Number Please - with Paul Carpenter and Your Kind of Music
10.30 Portrait of a Star - John Fitzgerald on John Mills
10.45 News from ITN newscaster Ludovic Kennedy
The Epilogue and Close-down

To ABC Television Menu

.

.

.

.

.


9am Housewives Call the Tune - with Joan Edwards (ends 9.25am)
4.58pm Programme Preview
5.00 ABC FAMILY HOUR - introduced by John Edmunds
ABC's Cliffhanger Serial - Daredevils of the Red Circle, episode 2
The Adventures of Rin-Tin-Tin -Rin-Tin-Tin and the Flaming Forest
5.43 Rugby League Results
5.45 Sports Results and News - sportscaster: Tom St John Barry, newscaster: Huw Thomas
6.00 Your Pets and You - with John Yates and Sheila Mathews
6.20 Bid for Fame - introduced by Paul Carpenter from Stoke-on-Trent
7.00 The Adventures of Sir Lancelot - The Bridge
7.30 Errol Flynn Theatre - Strange Auction
8.00 The Man Who Was Two - final episode: Upon the Midnight
8.30 The 64,000 Question
9.00 Michael Mills presents The Girl Friend with Lita Roza and Dennis Lotis
10.00 David Southwood presents Round the Ring. Wresting from Hanley
10.30 Sunday Paper - an advertising fetaure brought to you by News of the World
10.45 State Your Case - with McDonald Hobley
11.15 Assignment Foreign Legion - Merle Oberon introduces All We Forgive
11.45 News from ITN newscaster Ludovic Kennedy
Epilogue

To ABC Television Menu

.

.

.

.

.

.

.

.

.

.

.


11.15 Church - Sung Mass from St Cuthbert's Church Withington- 12.30
2.30 The Book Man -introduced by Simon Kester
3.00 The Film Show -Mr Frog starring Gordon Harker
4.05 Time Out for Peggy - 6 The Robot
4.35 Disneyland - The Best Doggoned Dog in the World
5.35 What's In Store - ABC admag with Doris Rogers
6.09 News from ITN
6.15 Land of Song - with Ivor Emmanuel and Mary Thomas
7.00 Living Your Life - Cliff College with Rev Thomas Meadley
7.25 News
7.30 Martin Kane Private Investigator- William Gargan in Race Track
8.00 Sunday Night at the London Palladium - starring Ella Fitzgerald, introduced by Tommy Trinder
9.00 The Sunday Serial - George Baker in The Truth About Melandrinos, part 1
9.30 News from ITN
9.35 Armchair Theatre - Breach of Marriage with Neil McCallum, Sarah Lawson and Roddy McMillan
10.50 Top Numbers - with Dennis Lotis, Rosemary Squires
11.30 The Epilogue - Rev Eric Geddes
Close-down

To ABC Television Menu

.

.

.

.

.

.

.

.

.

2pm Afternoon Out with
Racing from Worcester races at 2.15, 3.45 and 4.15 and
Athletics -from Chiswick
4.30 The Adventures of Robin Hood -The Intruders
5.00 Let's Go Shopping - ad mag with Elizabeth London
5.25 Son of Zorro - episode 9
5.38 Rugby League Results
5.40 Sports Results and News from ITN
6.00 The Jack Jackson Show - with Lonnie Donegan, Ronnie Hilton, Marty Wilde, Glen Mason, Joan Savage, Paddie O'Neil
6.30 Highway Patrol
7.00 Maverick
8.00 African Patrol - Lost
8.30 Saturday Spectacular - The Dickie Valentine Show, also with Arthur Haynes and Yana
9.30 M Squad
10.00 News from ITN
10.05 Great Movies of Our Time - - The Man Who Could Work Miracles
11.45 The Epilogue - Rev Eric Geddes

To ABC Television Menu

.

.

.

.

.

.

.

.

.

.

.

.

1.40 News from ITN
1.45 Afternoon Out
4.50 Disneyland
5.39 Weather Forecast - from ABC
5.40 Sports Results and News from ITN
6.00 Oh Boy
6.30 All Aboard - The SS Adriana is in Gibraltar
7.00 Lawman - The Runaway
7.27 Dial 999 - Motor Bike Bandits
7.55 Saturday Spectacular - The Hughie Green Show with guest star Sophie Tucker
8.55 News from ITN
9.00 Medic - My Child's Keeper
9.30 Great Movies of Our Time - - Night in Paradise starring Merle Oberon
11.03 OSS - Operation Newsboy
11.30 The Epilogue - Rev Eric Geddes St Mark's Church West Gorton
Close-down

ABC Television Menu

.

.

.

.

.

.

.

.

.

.

1.40 News from ITN
1.45 Motor Racing -from Silverstone (and at 4.15)
2.45 Racing from Sandown Park
5.00 Flash Gordon - Tree Men of Mars
5.15 The Adventures of Robin Hood - The Ghost that Failed
5.45 News from ITN
6.00 Holiday Town Parade - from New Brighton, guest Vic Oliver
7.00 Cheyenne - Iron Trail
8.00 Saturday Spectacular - The Jo Stafford Show
9.00 News from ITN
9.05 The Invisible Man - Picnic with Death
9.35 Great Movies of Our Time - - Four's a Crowd starring Errol Flynn
11.15 Drive In - admag with Dave Morrell
11.30 The Francis Linel Show - with Georgina Brown (ABC)
11.45 The Epilogue - Rev Donald Tyler, Director of Religious Education, Diocese of Birmingham

ABC Television Menu

.

.

.

.

.

.

.

.

.

.


11.15am Church - Sung Eucharist from St Asaph Cathedral (ABC)- 12.15pm
3pm The Other Man's Farm - Brinham Lodge Hartwith near Ripon
3.50 The Film Show - The Halfway House with Francoise Rosay
5.10 Torchy - Torchy and the Strange Animal
5.15 Sunday's Child - Care and Protection
5.50 What's in Store - admag introduced by Doris Rogers
6.05 News from ITN
6.15 The Sunday Break - with Rev Simon Phipps, Acker Bilk
7.00 About Religion - For Ever and Ever, dramatised account of the Lord's Prayer
7.25 News from ITN
7.30 Cannonball - Mark Time
8.00 M Squad - The Executioner
8.30 Bernard Delfont's Sunday Show - The Dickie Henderson Show with guest star Ruby Murray Stevens
9.30 News from ITN
9.35 ABC Armchair Theatre - The Grandma Bandit with Ronald Lewis
11.10 OSS - Operation Yodel
11.35 The Epilogue - Rev Howard Marlow Rural Dean of Bordesley
Close-down
ABC Television Menu

.

.

.

.

.


11.15am Church - from Wharf Road Baptist Church Grantham (ABC)- 12.30pm
1pm International Sunday Soccer - from Henry Barrass Stadium Edmonton, commentator Peter Lloyd
2.05 The Other Man's Farm - Pillaton Hall Farm Penkridge
2.30 The Old Vic - The Empty Chair by Peter Ustinov (Southern Television)
4.00 Disneyland - I Captured the King of the Leprechauns
5.00 Torchy
5.15 Formula for Danger - 7: An Experiment with Danger
5.45 What's in Store - ABC admag introduced by Doris Rogers
6.05 News from ITN
6.15 The Sunday Break - with Dr William Neil
7.00 About Religion - Talking to the Archbishop of Canterbury
7.25 News from ITN
7.30 International Detective The Daniels Case
8.00 Val Parnell's Sunday Night at the London Palladium with Adam Faith and Rise Stevens
9.00 News from ITN
9.05 ABC Armchair Theatre - Hold My Hand, Soldier starring Gordon Jackson
10.05 Lawman - The Big Hat
10.35 Cannonball - The Big Ambulance
11.05 The Book Man - with JW Lambert
11.30 The Epilogue - Rev Leslie Guy of Birmingham Central Mission
Close-down

ABC Television Menu

.

.

.

.

.


11am High Mass - from the Roman Catholic Abbey of St Michael the Archangel Belmont Hereford (ABC)- 12.05pm
1.15pm Indoor Soccer - from Barton Street Baths Gloucester with Emlyn Jones
2.00 The Other Man's Farm - Barlby Farm Selby
2.30 Cheyenne - Savage Breed
3.25 Comedy Matinee - Salisbury Arts Theatre Company present Master of Arts with David Garth. Also David Hemmings
4.20 Sing Along with Joe - including Miss Industry 1961
4.50 FAMILY HOUR
Pathfinders to Venus - 2: Into the Poison Cloud
5.20 Journey of a Lifetime - Miracles at Capernaum
5.35 Once Upon a Time - with Mai Zetterling
5.50 What's in Store - ABC admag introduced by Doris Rogers
6.05 News from ITN
6.15 The Sunday Break - introduced by Neville Barker
7.00 About Religion - Ways and Means
7.25 News from ITN
7.30 The Dora Bryan Show - Dora persuades Peter to copy her favourite Italian film star
8.00 Val Parnell's Sunday Night at the London Palladium with Connie Francis, Max Jaffa
9.00 News from ITN
9.05Armchair Theatre - The Man Out There
10.10 Hawaiian Eye - Waikiki Widow
11.00 ABC of the North - with David Mahlowe
Tomorrow's Weather
The Epilogue - Rev Eric Mercer, St Bridget's Church Chester

ABC Television Menu

.

.

.

.

.

.

.

.

.


1.15 News from ITN
1.20 Steeplechasing -from Worcester (and at 3.35)
2.45 Motor-Cycle Scramble -Worcester Auto Club from Noak Farm Martley, commentator Murray Walker
4.00 Professional Wrestling - from Tottenham Municipal Hall, commentator Peter Cockburn
5.00 Full Soccer Results from ITN
5.05 ABC's Motorway - first of a new series of admags
5.15 The Adventures of a Jungle Boy - Boy and Diamonds rpt
5.45 News from ITN
5.50 Thank Your Lucky Stars - with Lonnie Donegan, Gary Miller, The Springfields, Susan Terry, Gary Edwards Combo, Danny Davis, Tony Rocco and Chubby Checker
6.30 Cheyenne - The Idol
7.25 Our House - First Night
8.05 The Big Film - Nurse Edith Cavell starring Anna Neagle rpt
9.45 News from ITN
9.50 Candid Camera - with Don Arrol and Jonathan Routh
10.20 ABC DETECTIVE HOUR
The Pursuers - Louis Hayward in The Runaway
10.50 The Cheaters - John Ireland in A Hood from Canada
11.20 ABC At Large - with David Mahlowe
11.50 News from ITN, followed by
Tomorrow's Weather
The Epilogue - Rev Canon Fenton Morley, Leeds Parish Church
Close-down

ABC Television Menu

.

.

.

.

.

.

.

.

ABC schedule for Sunday 7th June 1964
11am The Morning Service - from St Andrew's Presbyterian Church Walton-on-Thames
12.15pm A Box of Birds with Oscar Quitak-12.45
2.00 Motor Cycle Scramble -from Chatterley Hall Circuit nr Tunstall. Commentator Murray Walker
2.45 ABC Farming Bulletin
2.50 Danger Man - Vacation rpt
3.20 Impact - war film. John Clements introduces his film Convoy rpt
4.35 Best of Friends - first of a new series: Incognito
5.05 Where Shall We Go? - admag No 3
5.25 Snip and Snap - introduced by Ma Ying-Ping. The Hungry Dog
5.40 Tempo - No 1 Making a Modern Opera - King Priam
6.05 News from ITN
6.15 Land of Song - starring Ivor Emmanuel
6.55 Give at Seven - Oxfam
7.00 Living Your Life - Christmas Under the Red Star, Geoffrey Johnson Smith with Father Serge Hackel and John Lawrence
7.25 News Headlines followed by
77 Sunset Strip - Nightmare
8.25 Sunday Night at the London Palladium - introduced by Norman Vaughan, starring Cliff Richard and The Shadows
9.25 News from ITN
9.35 ABC Armchair Theatre - Blue and White with James Villiers, Frances White and David Saire
10.35 Dimension of Fear - episode 1 Thoughts of Death
11.20 Salute to the Shorts - David Robinson with the second in the series on modern pioneers in the film industry followed by
Tomorrow's Weather
The Epilogue - Rev Gilbert Cope- Flight into Egypt, meditation on the sculpture by Giselbertus and the music of JS Bach and Close-down

ABC Television Menu

.

.

.

.

.

.

.

.

.

.

.

.

.

.


1.15 News from ITN
1.20 Saturday Sportstime, with Show Jumping from Hickstead, Racing from Sandown, Wrestling and Schoolboy Soccer
5.10 Full Soccer Results
5.15 Sir Francis Drake - Bold Enterprise rpt
5.45 News from ITN
5.50 Thank Your Lucky Stars - Brian Matthew with Dickie Valentine and Jet Harris
6.30 Jezebel ex UK - Slow Boat to Niniveh
7.25 Ghost Squad - The Golden Silence
8.25 The Arthur Haynes Show - guest Kenny Ball
9.00 News from ITN
9.10 The Dakotas - Trial at Grand Forks
10.05 The Human Jungle - The Lost Hours
11.00 ABC at Large - with David Mahlowe
11.30 ABC News Desk
11.35 Silver Wheel - Gordon Wilkins with Television's Motor Club: this week: Advanced Driving- The Motorways
11.50 ITN News followed by
Tomorrow's Weather
The Epilogue - Rev John Fitzsimons, St Timothy's Roman Catholic Church, Liverpool
and Close-down

ABC Television Menu

.

.

.

.

.

.

.

.

ABC schedule for Sunday 7th June 1964
10am Sunday Session Science in the Garden, Citizenship, Mesdames Messieurs... No34
11.00 The Morning Service - from Golders Green Crematorium- 12.05pm
2.05 Headway -No.8 Things Made with Flour-2 with Philip Harben
2.25 ABC Farming Comment, followed by
The Flying Doctor - Blackout rpt
3.05 African Patrol - The Sickness rpt
3.35 Room At the Bottom - A Show for Monty
4.05 Film Premiere - Against the Wind starring Robert Beatty
5.35 The Littlest Hobo - A Fortune in Mink
6.05 News from ITN
6.15 In Search of St Paul - Michael Aldridge in Earthquake at Philippi
6.40 Hallelujah
6.55 Give at Seven - Freedom from Hunger Campaign with David Mahlowe
7.00 About Religion - Hath Faith Will Travel
7.25 News Headlines followed by
Blowing Wild starring Gary Cooper, first showing on British tv
8.55 Sunday Night at the London Palladium - introduced by Bruce Forsyth
9.55 News from ITN
10.05 ABC Armchair Theatre - That's Where the Town's Going! starring Margaret Johnston
11.05 Here's Magic - with Johnny Hart
11.10 The Enemies Within - with James Mossman. Final programme is on the day hospital, followed by
Tomorrow's Weather
The Epilogue - Rt Rev Edward Easson, Bishop of Aberdeen and Orkney and Close-down

ABC Television Menu

.

.

.

.

.

ABC schedule for Saturday 20th March 1965


12.45 News from ITN
12.50 WORLD OF SPORT with Eamonn Andrews:
Snooker -from National Liberal Club London
Racing -from Sandown Park
Rugby League -Castleford v Workington Town
Professional Wrestling -Civic Hall Wolverhampton, commentator Kent Walton
5.05 Sports Results Service
5.15 The Littlest Hobo - The Good Provider
5.45 News from ITN
5.50 Thank Your Lucky Stars - with Cliff Richard, Petula Clark, Del Shannon, Francoise Hardy, Laurie Jay Combo, The Fairies, The Temptations, Katie Boyle
6.35 Big Night Out - special guest Dusty Springfield
7.30 Voyage to the Bottom of the Sea - The Saboteur
8.25 The Worker - No Automation without Representation
9.00 News from ITN
9.10 Public Eye - My Life- That's a Marriage
10.05 The Human Jungle - Ring of Hate
11.05 On the Braden Beat
11.30 Sir Francis Drake - Escape rpt
11.55 News from ITN, followed by
Tomorrow's Weather
The Epilogue - Rev L Paxton, Gt George Street Congregational Church Liverpool
Close-down

ABC Television Menu

.

.

.

.

.

.

ABC schedule for Saturday 4th March 1966

12noon Say it in Russian - lesson 31
12.25pm Farm Progress - Marketing: No 3 Direct Selling
12.55 News from ITN
1.00 WORLD OF SPORT with Eamonn Andrews:
Show Jumping, -TWW Championship from Shepton Mallet, Racing -from Lingfield and Catterick, Athletics -from Wolverhampton
Wrestling -from Bedford, commentator Kent Walton, followed by Sports Results Service
5.15 Mad Movies - with Bob Monkhouse
5.45 News from ITN
5.50 Thank Your Lucky Stars - with Ken Dodd, Freddie and the Dreamers, Chris Andrews, Shirley Abicair, The Luvvers, Tony Hazzard, Toni Caroll, Don Spencer
6.35 Batman - The Joker is Wild part 1
7.05 Flying Scot - film starring Lee Patterson
8.25 The Frankie Vaughan Show - with guest stars The Kaye Sisters, Calum Kennedy, and Derek Dene
9.00 News from ITN
9.10 Redcap - An Ambush Among Friends
10.05 Knock on Any Door - The Dear Ones
11.05 Fighting Talk! - Britain is No Longer a First Class Power, from the University of Lancaster
11.35 On the Braden Beat
Tomorrow's Weather
The Epilogue - Rev Canon Bryan Green, Birmingham Parish Church

ABC Television Menu

.

.

.

.

.

.

.

.

.

.

.

.

.

ABC schedule for Sunday 9th July 1967
11.00am Morning Prayer - from St Mary the Virgin Bowdon Cheshire
12.15pm Sunday Session Plain Sailing, En Route No39, Your Sunday Paper, The Food You Eat -1.35
1.55 Douglas Fairbanks Presents -The Outpost
2.25 News from ITN
2.30 The Unknown War rpt
3.00 Roller Derby - with the Australian Thunderbirds
3.35 Wagon Train - with guest stars Laraine Day and Richard Carlson
5.05 All Square - starring Michael Bentine
5.35 The Lone Rangers - A cartoon
6.00 News from ITN
6.15 The Lion The Witch and The Wardrobe - episode 1
6.35 Looking for an Answer - with Billy Graham and Cliff Richard
7.00 The Wallace Collection - with Ian Wallace (Scottish Television)
7.25 The Struggle for Peace An Armed World narrated by Robert Beatty
7.55 Strangers on a Train - film starring Farley Granger
9.55 News from ITN
10.05 The Blackpool Show - Dickie Henderson introduces Nancy Wilson and special guest Bob Monkhouse
11.05 Tonight with Dave Allen followed by
Tomorrow's Weather
The Epilogue - Dean Patey, Dean of Liverpool Anglican Cathedral and
Close-down

ABC Television Menu

.

.

.

.

.

.

.

.

ABC schedule for Saturday 11th November 1967

Adult Education programmes

1.35 News from ITN
1.40 WORLD OF SPORT with Eamonn Andrews:
Table Tennis -England v W Germany, Racing -from Sandown Park, Swimming -from Connah's Quay, Wrestling -from Sheffield
5.00 Results Round-up
5.15 Just Jimmy _ His Casanova Cousin
5.40 News from ITN
5.50 Sat'day While Sunday - Seminar on Communication with Roger McGough, Malcolm McDowell
6.20 Opportunity Knocks
7.00 Des O'Connor Show - with guest star Kenneth McKellar
7.30 Cimarron Strip - Whitey
8.55 News from ITN
9.05 The Avengers - Murdersville
10.05 Sergeant Cork - The Case of The Unpopular Judge
11.00 Peter Maloney On... - Parade rpt
11.30 In Search of St Paul - After the Vision rpt
Tomorrow's Weather
The Epilogue - Rev Robert Duce, Castlegate Congregational Church Nottingham

ABC Television Menu

.

.

.

.

.

.

.

.

ABC schedule for Saturday 6th July 1968
12.50 Power in Britain rpt
1.15 Fit for Life - No 6 rpt
1.40 News from ITN
1.45 WORLD OF SPORT with Richard Davies:
Wimbledon -tennis: women's singles final
Racing -from Sandown
5.15 Arthur! - cartoon
5.40 News from ITN
5.45 Just Jimmy - Clinic a Goo-Goo rpt
6.15 Opportunity Knocks
7.00 Life with Cooper rpt
7.30 Carry On Nurse - film
9.10 The FBI - The Man Who Went Mad By Mistake
10.05 News from ITN
10.15 Horne A'Plenty - starring Kenneth Horne with Sheila Steafel and Graham Stark
10.45 The Gamblers - Thirty Stretch (Rediffusion TV)
11.45 Journey of a Lifetime - Gates of Jerusalem rpt
Tomorrow's Weather
The Epilogue - Rev Vincent Whelan, St Boniface's Salford

ABC Television Menu

.

.

.

.

.

.

.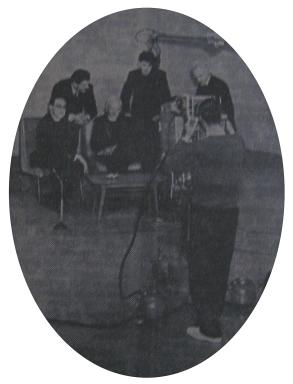 ABC Television's Commitment to Religious Broadcasting
Unlike their non religious stable mate Granada Television, as they broadcast on Sundays, ABC took a keen interest in the quality of religious programmes. Not only did ABC start some of ITV's earliest efforts like Living Your Life and The Sunday Break, but they also set up a school for parsons.
The first 4 day course in Manchester, for Anglicans, commenced on Thursday May 7th 1959, those attending included eleven clergymen plus the Bishops of Aberdeen and Middleton. The Bishop of Manchester attended the opening, but caused some controversy by suggesting that the courses should be interdenominational. (There seems to have been a bit of television rivalry since the BBC ran its own course for 14 ministers in Birmingham the previous day! Maybe not however, since one of the lecturers on ABC's course was Canon R McKay, Head of BBC Religious Broadcasting).
ABC's course for Free Church ministers ran from May 28th to June 1st 1959, and for Roman Catholic priests from June 18th to 22nd 1959.
The course included techniques listed below, as well as students planning and participating in "dummy religious programmes." ABC's Midlands Executive Ted Harris said, "we want our religious programmes to be as professionally presented as any other."

Here is a list of extant ABC religious training material for this school:
Religious Training Course
1 Inaugural Ceremony
2 TV audiences
3 TV advertising
4 TV lighting
5 Sound techniques
6 Design techniques
7 Camera techniques

To ABC Television Menu

.

.

.

.

.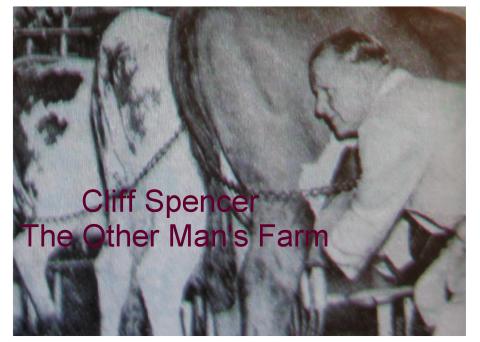 The Other Man's Farm
The series began in 1958, aimed at farmers, but because of the screening time on Sunday afternoons, inevitably attracted a wider interest, and that was indeed part of the remit of the producers: "the cameras are going to look into one or two farm kitchens." Howard Thomas wrote, "when we started, we made the mistake of trying to hold the city man while we informed the country man. This did not work. The farmer found the programme too elementary. So we concentrated on the technical side of farming... as a result The Other Man's Farm seems to be accepted as the most effective programme of its kind." Programme 1.5 was the first in this new regime.
This series was initially screened fortnightly 'live' "as far as possible," and aimed to show every aspect of farming, from dairying and beef to arable cropping and hill sheep.
Series 2 to 6 were shown weekly, on spring/summer Sunday afternoons, the final series was in 1963.
For a period the series was networked to TWW and Ulster TV, while Scottish TV took the series starting with 3.16 (June 26th 1960), and Tyne Tees TV commenced showing it from 3.17 (July 3rd 1960).
Almost incredibly, eleven of this series are still in existence! (Any dvd Reissue imminent???)
This data may seem very trivial, but it does illustrate the range of ABC's commitment and use of their Outside Broadcast Unit.
IF THEY CAME TO YOUR FARM, I'D BE PLEASED TO HEAR FROM YOU ABOUT YOUR EXPERIENCE. email me
Programme Details
First director was Andy Gullen, with a script by Geoffrey Gilbert.
Programme 1: Sunday July 6th 1958 3-3.30pm. This first ever Other Man's Farm was from "a farm near Liverpool. " With Cliff Spencer, Jim Hall and John Critchley.
4: August 17th, now at 3.5-3.35pm, preceded at 3pm by Weather for Farmers. "A farm in Yorkshire." With Jim Hall, George Jobson, and Cliff Spencer. Franklin Englemann was now the "commentator."
5: August 31st 1958 theme: beef rearing on another Yorskshire farm With Cliff Spencer, Jim Hall and Franklin Englemann
6: September 14th, now at 2.30-3pm, preceded at 2.28pm by Weather Forecast. "A hill farm in North Cheshire." With Jim Hall, Cliff Spencer, Stewart Seaton and Franklin Englemann.
7: September 28th "A farm in Worcestereshire." With Jim Hall, Cliff Spencer, Franklin Englemann and Richard Martyr of Pershore Horticultural Institute.
8: October 12th 1958 "A Farm in the North Riding of Yorkshire." With Jim Hall, Cliff Spencer, Franklin Englemann and Stuart Seaton.
A new series of weekly broadcasts began in 1959. Unless indicated the team consisted of Jim Hall, Cliff Spencer and Franklin Englemann. The editor continued to be Geoffrey Gilbert, and the director Andy Gullen. Many of these spring programmes came from farms in Northamptonshire, for the very good reason, ABC cameras were at Silverstone on Saturdays for the race meetings. Thus one programme at this time came from
Roade, the farm of Tom Turney- with his day old chicks, and grain drying, all complicated by the new M1 having been built through his land.
Brackley was visited twice, and Mears Abbey once. Among the other programmes were
May 24th 1959, 2.35-3.05pm "A Farm in the Northamptonshire."
The cloak of mystery surrounding the location of the programme in TV Times had been dropping, and gradually disappeared.
June 7th 1959 Tickhill nr Doncaster
June 21st 1959 Grendon
June 28th 1959, 3.00-3.30pm from a farm in Fleetwood
July 5th 1959 Lanjagham Farm, Abbey Lane, Onchan, Isle of Man
July 19th 1959, Brinham Lodge, Hartwith, nr Ripon.
Aug 16th 1959. A Farm at Bilsdale, Stokesley, Yorks
Aug 23rd 1959. Blois Hall Farm Ripon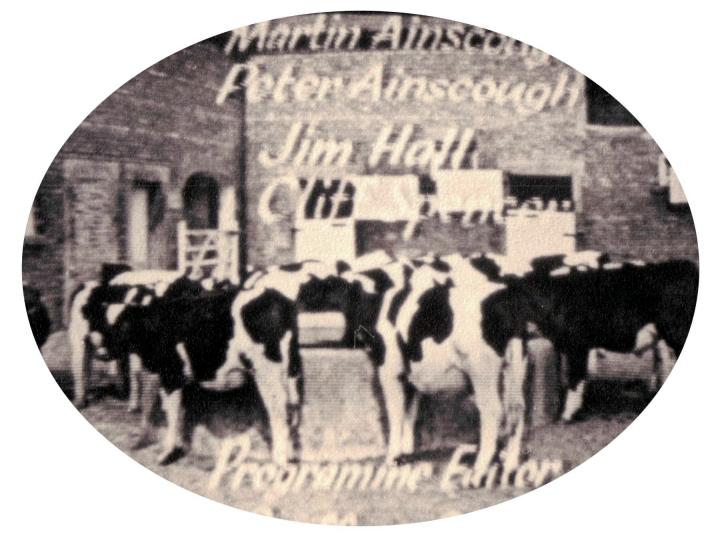 Aug 30th 1959. "A farm at Darrington, nr Pontefract, Yorks"
Sept 6th 1959. A visit to the Norhamptonshire Institute of Agriculture
Sept 13th 1959, now 1.55-2.20pm. Fairhurst Farm, Parbold, Liverpool (see photo)
Sept 20th 1959.Corngrave Farm, Upleatham, Redcar
Sept 27th 1959. Castle Fields Farm, Buckingham
Oct 4th 1959. The Ashes, Barton, Richmond, Yorks
Oct 11th 1959. Howsham Stables, Barton-le-Willows, near York
Oct 18th 1959. Pyewipe House Farm, Waddingham, Gainsborough, Lincs. With only Cliff Spencer and Franklin Englemann
Oct 25th 1959. The Hermitage, Kingswood, nr Frodsham, Cheshire
Nov 1st 1959. A visit to a modern hatchery near Halifax, Yorks.
Nov 8th 1959. Rybeck, Thirsk, Yorks
Nov 15th 1959. A modern bacon curing factory at Leeming Bar, Northallerton. This was the last of series 2.
There was a Christmas Special "Christmas On the Other Man's Farm" on December 27th 1959 from 12.15. In the heart of the British countryside, young farmers are celebrating Christmas in the old fashioned way, with barn dancing and square dancing- in between attending to the new born lambs.
Janice Spencer, daughter of Cliff Spencer, kindly wrote to me about one of these specials, "As a small child I had great excitement at appearing with my sister in a picture and article on the programme. Also all the "Carry On" film actors I remember arriving on our own farm to appear on the programme - Barbara Windsor and Bernard Bresslaw come to mind as being in our farmhouse lounge."
On January 24th 1960 at 2pm a weekly five minute ABC Farmers' News and Weather Forecast began. The last of these was on March 6th 1960, since the following week series 3 began. Same personnel, ie Jim Hall, Cliff Spencer and Franklin Englemann.
3.1 March 13th 1960, 1.35-2.05pm. The Milk Marketing Board at Newcastle-under-Lyme.
3.2 March 20th 1960, 2.00-2.30pm. The farm of Stephen Williams at Thurgarton, nr Nottingham.
3.3 March 27th 1960. The farm of FH Knapton at Raventhorpe, Scunthorpe, Lincs. The programme examined the planting of main crop potatoes, also beef rearing and management.
3.4 April 3rd 1960. The Animal Breeding Research Organisation, Cold Norton Farm, nr Stone, Staffs.
3.5 April 10th 1960. Longley Farm, Holmfirth, nr Huddersfield, Yorks. "Something new in 'bed and breakfast' arrangements for cows."
3.6 April 17th 1960. With JT Stanford "who has taken over" Pillaton Hall Farm, Penkridge, Staffs. "The team inspect rebuilding operations and see Bulk Milk handling allied to the yard and parlour system."
3.7 April 24th 1960. The National Pig Progeny Testing Board, Sealand Road, Chester.
3.8 May 1st 1960. Manor Farm, Speeton, nr Filey, Yorks.
3.9 May 8th 1960. Home Farm, Puddington, The Wirral, Cheshire. "To inspect a pedigree Ayrshire herd with five stock bulls. The output of this herd is devoted to making Cheshire Cheese."
3.10 May 15th 1960. High Mowthorpe Experimental Husbandry Farm, nr Duggleby, Malton, East Yorks, run by the Ministry of Agriculture. "The famring team looks into the long term experiments being carried out on progeny testing of hereford and friesian cattle and cross-bred lambs."
3.11 May 22nd 1960. Lea Hall, Harmer Hill, Shrewsbury, Salop, "run according to compost fertilising theories. This is a farm of exceptional interest, with a 17th century farmhouse."
3.12 May 29th 1960. Nutrition Research Farm, Weatherstones Neston, The Wirral, Cheshire. "Modern research and management of sows in litter, feeding, and general care."
3.13 June 5th 1960. The Poplars, Eathorpe, nr Leamington Spa. "If scientists are right in saying we are now entering a 20-year phase of hot summers, the need for more land irrigation is urgent. On this farm, modern artificial irrigation methods are inspected."
3.14 June 12th 1960. The Elms, Bitteswell, Lutterworth, nr Rugby. "Modern battery methods of egg production have meant the end of the use of pultry on free range as in improving pasture quality. On this farm, viewers see how hens kept on open range not only improve the soil but also help to solve irrigation problems in dry seasons."
3.15 June 19th 1960. Wilson Hall Farm, Melbourne, Derbyshire.
3.16 June 26th 1960, 3.00-3.30pm. Drayton Experimental Husbandry Farm, Stratford-on-Avon, Warwickshire, "to examine some of the experiments in creep-grazing of sheep and inquire whether it is suitable for all areas."
3.17 July 3rd 1960. Ridgeway Farm, Peel, nr Blackpool.
3.19 July 17th 1960. Bickerstaffe Hall Farm near Ormskirk
3.20 July 24th 1960. Oxen-le-Field, Croft, nr Darlington, Co Durham. With John Fell, on the importance of Irrigation
3.21 July 31st 1960. The Royal Lancashire Show, Blackpool.
3.22 Aug 7th 1960. Tern Hill House, Market Drayton, Shropshire.
3.23 Aug 14th 1960. Mere House, Weaverham Yorkshire
3.24 Aug 21st 1960. The Hall, Sinnington, nr Pickering, Yorkshire, with owner Michael Ringer.
3.25 Aug 28th 1960. Marton-Le-Moor nr Ripon with farmer Richard Chester who grows barley and potatoes and is extending his land by reclaiming a disused aerodrome.
3.26 Sept 4th 1960. Heath House Farm Beckbury nr Shifnal. Large scale pedigree pig breeding in houses designed and built by farmer Philip Solari. This was the last in this series.
As in the previous year there was a Christmas Special "Christmas On the Other Man's Farm" on Christmas Day 1960 at 2.15pm. It came from the Staffordshire Farm Institute and included Craig Douglas singing Mary's Boy child. Also appearing: Elizabeth Shaw, the Kentish Travellers Folk Dancing Team, and the Loftus Sword Dancers.
The fourth series saw Franklin Englemann return but with a rota of experts.
4.1 March 12th 1961, 2.00-2.30pm. Barlby Farm, Selby, Yorkshire. Experiments in dairy bull progeny testing. With Peter Bichan, and the Prince of Wales' bull called Climsland Fabricator. With Franklin Englemann, Jim Hall, and Ernest Milner.
4.3 March 26th 1961. Lower Hope Farm, Ullingswick nr Hereford. With NDO Capper discussing farm mechanisation. Also with Franklin Englemann, Jim Hall, and Ernest Milner. Director: Andy Gullen.
4.8 April 30th 1961, 2.45-3.20pm: mechanisation and safety
4.9 May 7th 1961, 2.45-3.20pm. Creskheld Hall, Arthington, Yorks. Pedigree Fresian farming with Colonel Sir Malcolm Stoddart-Scott. With Franklin Englemann, Cliff Spencer, and Ernest Milner. New director of series: Joe McGrath.
4.11 May 21st 1961, 3.15-3.50pm. Brough Hall Farm, Gnosall, Staffs. Bulk milk handling with AF Bourne. With Franklin Englemann, Jim Hall, and Ernest Milner.
4.12 May 28th 1961. Settrington House, Settrington, Yorks. Haylage feeding of dairy cattle with Sir Samuel Storey MP. With Franklin Englemann, Cliff Spencer, and Ernest Milner.
4.13 June 4th 1961. Bulbourne Farm, Tring, Herts. Management and economics of a 70 acre farm with Gordon Roxburgh. With Franklin Englemann, Jim Hall, and Ernest Milner.
4.14 June 11th 1961. Dalton, nr Thirsk. Looking at a chicken packers with modern methods of pre-packing, and discussing the critical economics of broiler production with Guy and Eric Reed. With Franklin Englemann, and Cliff Spencer.
4.15 June 18th 1961. Hans Hall Farm, Willaston in Wirral, Cheshire. The future of poultry rearing. With Franklin Englemann, Cliff Spencer and Ernest Milner.
4.16 June 25th 1961, 3.15-4pm. Mosswood Hall Farm, Stretton, Cheshire. Pedigree Large White breeding and rearing pigs for bacon with William Hankey. With Franklin Englemann, Jim Hall, and Ernest Milner.
4.17 July 2nd 1961. Moor Farm, Bishopthorpe, York. Pedigree Fresian breeding and the rearing of baby beef with Frank Chapman. With Jim Hall, and Ernest Milner (no Franklin Englemann).
4.18 July 9th 1961. Newton Rigg Farm Insititute, Penrith, Cumberland. Hill sheep rearing and the story of wool with Jim Hall on his own farm, and Franklin Englemann, and Ernest Milner.
4.19 July 16th 1961. Luddington Experimental Horticulture Station, Stratford-on-Avon. Experiments taking place are shown by Tom Laflin and his staff, who also discuss problems of the horticulture industry. With Franklin Englemann, Cliff Spencer and Ernest Milner. Andy Gullen now returns as director.
4.20 July 23rd 1961.Harper Adams Agricultural College, Edgmond, nr Newport, Shropshire. The management of cross-bred dairy cattle and pig housing and management with William T Price CBE. With Franklin Englemann, Cliff Spencer and Ernest Milner.
4.21 July 30th 1961. Driffield, Yorkshire, the farm of Sir William Prince-Smith, to look at recent inventions developed by Northern farmers.
4.22 Aug 6th 1961. Glebe Farm, Cubbington, Warwickshire. A Prize winning design of a milk parlour with Basil Thwaites. With Franklin Englemann, Jim Hall and Ernest Milner.
4.23 Aug 13th 1961. Penyrwrfodd Farm, Llanigon, Hay-on-Wye, Breconshire. Penatok herd of pedigree Herefords with Stacey Jones. With Cliff Spencer and Ernest Milner (no Franklin Englemann).
4.25 Aug 27th 1961. A discussion of some of the problems of the European Common Market. With Franklin Englemann, Cliff Spencer and Ernest Milner and "international experts."
4.26 Sept 3rd 1961. Haywold Farm, Driffield, Yorkshire, up-t-date grain storage, modern piggeries and Hampshire and Leicester sheep with Sir William Prince-Smith. With Cliff Spencer and Ernest Milner (no Franklin Englemann).
4.27 Sept 10th 1961. Copgrove Hall, Burton Leonard, Harrogate, Yorkshire. Beef cattle, the race stud and farm maintenance with Major Lionel Holliday. With Jim Hall and Ernest Milner (no Franklin Englemann).
4.28 Sept 17th 1961 (last of series). Hall Leys Farm, Whitwell, Nottinghamshire- and Fred Salmon. Also- the winners of the Royal Lancs Agricultural Society Showground Competition are presented with their prizes. With Franklin Englemann, Jim Hall and Ernest Milner.
A weekly five minute ABC Farming Bulletin began on Sundays at 2.10pm from Sept 24th 1961, presented by Ernest Milner. Stuart Seaton soon took over presentation of these short programmes, which continued until The Other Man's Farm returned.
The third and final "Christmas On the Other Man's Farm" was shown on Christmas Eve 1961, 1.30-2.15pm. This was the most ambitious programme ever, being a Christmas Eve party with guests Terry Lightfoot and His New Orleans Jazzmen, Clinton Ford, and Carole Simpson. It was introduced by ITN's Tim Brinton, rather than the usual team, but the setting was authentic enough, Mossborough Hall Farm, Rainford, Lancashire. The lucky hosts were Mr and Mrs James Heyes.
Series 5. Stuart Seaton now introduced the programmes, "assisted by" Jim Hall (except where stated). Andy Gullen continued as director, with Geoffrey Gilbert still as producer.
5.1 March 18th 1962, 2.15-2.45pm. Houghton-on-the-Hill, Leics, Tony Pallett's farm with guest Peter Attfield
5.2 March 25th 1962: return visit to Tony Pallett's 71 acre farm with guest John Hodgson of NAAS.
5.3 April 1st 1962: Lower Oversley Lodge, Alcester, Warwickshire with David Rees: bulk milk handling- is it the only future for the dairy farmer? Guest John Madge of the Milk Marketing Board.
5.4 April 8th 1962. This was the 100th edition of the series.
5.5 April 15th 1962: Yew Tree Hill Farm, Droitwich, Worcestershire with Charles W Jordan: the threat of fragmentation. Is the answer intensive stocking, or the acquisition of larger acreage?
It's likely that Roy Battersby took over from Andy Gullen as producer on and from this next programme.
5.6 April 22nd 1962, 2.45-3.15pm: Hunday Herd of Pedigree British Friesians, Peepy Farm, Northumberland with Edward and John Moffitt and Norman Trinder of the National Agricultural Advisory Council. An entirely new system of press-button feeding: how does mechanisation affect dairy feed quality? Can a tenant farmer justify equipment costing £5,000? Also with David Bright, British Fresian Society. (This programme was repeated "by popular demand" on Sept 16th 1962, somehow filling out to a 45 minute slot!)
5.8 May 6th 1962, 2.45-3.30pm: Hewell Herd of Pedigree British Friesans, Redditch. Host JC Beckett, guests John Moffitt and Alastair Macdonald of the Milk Marketing Board, with Stuart Seaton and Jim Hall
5.9 May 13th 1962, 2.45-3.30pm: Wormleighton, Warwickshire, the farm of Maurice Passmore, 950 acres linked together by one road, where a policy of achieving four corn crops in seven years is followed. Also with Gerald Bodman of NAAS. "Is the day of the small farmer coming to an end? Is the large agricultural unit or co-operation the answer to the Common Market's modern production and marketing problems?"
5.10 May 20th 1962: Spalding Bulb Company with Horace Braybrooks and PJ Moss of the Horticultural Marketing Council. Behind the scenes of the intensive Little Holland bulb and flower industry, which uses land valued at £500 per acre, and which has no fear of the European Common Market. With Stuart Seaton, Henry Noblett and Jack Cox.
5.11 May 27th 1962: East Riding Institute of Agriculture, Bishop Burton, Yorkshire with Ken Riley, the principal, assisted by Dennis Hurst. Beef production: should one stay in it? Is barley feeding the answer to rising costs and the new grading problems? Regulars Stuart Seaton and Jim Hall front the programme.
5.12 June 3rd 1962: Bulkington nr Coventry, with Philip Weatherall who is running a 103 acre dairy animals and pigs farm, and Tony Pallet of Leicestershire (subject of an earlier programme in series five). What is the right path for the young farmer, or a small farmer, to follow in these changing times?
5.13 June 10th 1962: Ministry of Agriculture Experimental Husbandry Farm, Drayton, Warwickshire, with Stanley Culpin, director of the farm. The latest techniques of cutting, crimping, and drying of hay. New machines are shown, with a discussion on their merits.
5.15 June 24th 1962: Newton-upon-Rawcliffe, Yorkshire, the farm of Ernest and Peter Aconley, who in 1950 began a programme of up-breeding their Newcliffe Herd of pedigree Friesians. He won the Royal Dairy Show. A visit to his 200-acre farm, and a discussion on the future for the small farmer in pedigree breeding.
5.17 July 8th 1962, 3.00-3.45pm: Hill Top Farm, Staunton Harold, Leicestershire, with Joscelyn Wood. We look at his system with Shropshire sheep. The team also looks at the Portland sheep. Have our sheep farmers tended to overlook the importance of wool production?
5.18 July 15th 1962: Lancashire County Institute of Agriculture, Winmarleigh Hall, nr Blackpool, with JC Blossom, Frank Peregrine, Bill Steele, and Bob Dodsworth. The value of agricultural education, is it over-rated?
5.20 July 29th 1962: Oliver Barraclough's Pennine Farm, Thornton, nr Bradford, also with Glyn Williams. The profitabilty claims made for the farm's grassland policy, ley farming, fertiliser policy and milk production.
5.21 Aug 5th 1962: East Riding Institute of Agriculture, Bishop Burton, Yorkshire with Kenneth Riley, principal, and Dennis Hurst, vice-principal. A second visit, looking at home lamb production, an examination of market requirements. Consumer preference is discussed with George Squires, of the Vale of Mowbray Meat Company. Also a vet discusses the vasectomy of rams: is this useful in getting early lambs?
5.24 Aug 26th 1962: Christopher Norbury's farm at Leigh Sinton, Worcestershire. How the Common Market could affect farming. Development in the mechanisation of fruit handling and packing, leading to the need for improved marketing methods are also investigated. Guests include Lynn Hinton, and Leonard Pike OBE.
5.25 Sept 2nd 1962: An abattoir and bacon factory at Leeming Bar, Northallerton. (Previously visited in November 1959.) Moidern developments with guest expert Ronald Little, with Peter Rider, George Squires, and Stuart Atkins.
5.26 Sept 9th 1962: Owlett Hurst Farm, Liversedge, Yorkshire, with George Kenworthy. Methods of counteracting soil pollution to obtain high milk yields from silage in the industrial West Riding, with guests JW Patterson, and Harry Mudd.
Sept 16th 1962: repeat from Easter Sunday April 22nd 1962.
With the series ended, the weekly five minute ABC Farming Bulletin returned on Sundays at 2.35pm, presented by Stuart Seaton.
There was no Christmas Special, though a special programme was shown on December 23rd 11.05-11.35pm, titled "Surge on the Land." The Other Man's Farm team and The Farmers Weekly reviewed "the exceptional agricultural progress" during the year. Then at the same time on December 30th 1962 "Springboard" looked at problems that 1963 will bring. Director: Roy Battersby. Producer: Geoffrey Gilbert.
ABC Farming Comment was a new ten minute series on Sundays at 2.15pm that began in April 1963 with Stuart Seaton and others. Geoffrey Gilbert was again the producer, director Mike Vardy. It ran until the end of May.
Then series 6 began with Stuart Seaton, described as editor of The Farmers Guardian, and Jim Hall Principal of Newton Rigg Farm Institute, who'd been with the series from its inception. The latter had contributed to some of the Farming Comment programmes. Director was Mike Vardy.
6.1 June 2nd 1963, 2.20-2.50pm. Ministry of Agriculture Experimental Farm, Drayton, Warwicks. Winter feeding of beef cattle. The relative merits of barn-dried hay, chopped hay and silage feeding and making. With Stanley Culpin.
6.2 June 9th 1963, 2.15-2.55pm. The Guernsey Tomato Board with JA Le Garff.
6.3 June 16th 1963. Sewborwens Farm, Newton Rigg, Penrith, Cumberland. The latest developments in the modern housing of dairy cattle, with cow cubicles, self-feed solage systems and yard and parlour milking.
6.4 June 23rd 1963. Trevor Moss at his Castlefarms Ltd, Mawleytown Farm, Cleobury Mortimer, Worcestershire. A west Midlands farm that has been completely changed from normal dairy production to intensive pig and sheep rearing.
6.5 June 30th 1963, 2.30-3.00pm. Milk Marketing Board, Northern Stud Unit, Whenby Lodge, Whenby, Yorkshire. With Dr Joseph Edwards and Bill Hunter, North Regional Veterinary Officer. The progress of the Northen Pilot Scheme for providing A1 sires. "168 bulls grazing together on one farm! Apart from the spectacle of all this, and the management problems involved."
6.6 July 7th 1963. The French markets. The new efficiency and streamlining of marketing as encouraged by General de Gaulle. Plans for a national network of markets, plus the reclaiming and irrigation of land in the Carmargue. The implications of this with regard to our own system are discussed with Eric Gardener, Secretary NFU.
6.7 July 14th 1963. Great Yorkshire Show. A talk with FM Baldwin MBE BSc Secretary to the Yorkshire Agricultural Society, A MacDonald BSc Milk Marketing Board, NF McCann and FC Reid Ministry of Agriculture, J White Pig Industries Development Officer, and AB Coleman.
6.9 July 28th 1963. Pembroke Farm, Penrith, Cumberland. The famous Dalton herd of pedigree Friesians, investigating the work of John E Moffitt, winner of the Supreme Friesian Championship at the Great Yorkshire Show.
6.11 Aug 11th 1963. Agriculture in a Changing World- a discussion with Rt Hon Christopher Soames, Minister of Agriculture.
With the series over, the ten minute ABC Farming Comment returned in the autumn on Sundays at either 1.30 or at 2.25pm. Stuart Seaton was the usual presenter. A fourth series of Farming Comment following straight on from the end of this third series, began on September 26th 1964, but The Other Man's Farm itself never returned again. Farming Comment finally disappeared in the Autumn 1965 schedules.
Footnotes:
1 Some regions took The Other Man's Farm, for at least some programmes. These included Tyne Tees TV and Border TV. Other regional companies who produced their own farming series included Southern Television, Anglia Television and also Westward Television.
2 Stuart Seaton went on to make Farming Outlook for Tyne Tees TV in 1966, joined by Mark Jenner who was also hosting Southern Television's Farm Progress series.
3 With the demise of The Other Man's Farm, ATV provided for Midlands viewers Midland Farming introduced by Leslie Thomas.
ABC Television Menu
.
.
.
.
.
.
.
.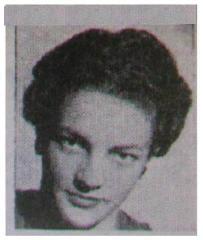 Janice Willett (born c1932)
She joined the BBC in 1950 and became to Michael Barrie, head of BBC Drama. In 1955 Janice became personal assistant to Dennis Vance, working on new ITV series Theatre Royal and TV Playhouse.
In early 1956 she joined ABC as production assistant on the talent series Moment of Fame. She worked on some children's programmes, then helped Vance organise the ABC drama department. She became a producer in her own right later that year in the series State Your Case.
In August 1959 and through 1960 she produced The Sunday Break, but after the March 5th 1961 edition she was at the centre of a storm surrounding a modern presentation of the crucifixion. Incredibly, Dennis Vance was accused of stabbing her with a knife at Teddington Studios on April 12th 1961.
There must be more to this sensational case, waiting to be uncovered.
The following year Janice joined Border Television, directing local programmes, her first being Focus on March 6th 1962

.

.

.

.

.

.

.

.

Philip Saville (1930-2016)
A ubiquitous television man, he first appears as an actor making some memorable appearances for the Danzigers. In addition, I specially like his dual acting role, his first major part, in the film Murder at 3am in 1953.

However he turned to producing and then directing and made a name for himself as one of Sydney Newman's forward-thinking directors for Armchair Theatre. One impressive production was Machinal (1960), others included Death of Satan (1958), and Afternoon of a Nymph (1962).
He was involved with Diana Rigg in the 60's, and then directed plays for the BBC's Wednesday Play.
Perhaps best known today for his 1997 Metroland, he returned to TV in 2001 directing episodes of My Uncle Silas, and then directed The Gospel of John in 2003. His final directing role was in the documentary Pinter's Progress (2009). That's a long way from Murder at 3am over 50 years earlier!

.

.

.

.

.

.

.

.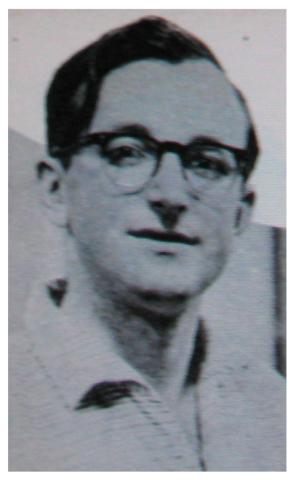 ABC Designers:
Voytek (1925-)
Thus was Wojciech Roman Szendzikowski always known as. He was born in Poland and during the war was made to attend agricultural school. But secretly he studied architecture. After working in war camp theatricals in wartime Italy, he came to England and worked for the Old Vic School of Design.
When he joined ABC Television, he quickly gained a reputation as the best set designer in the business. Many an Armchair Theatre production was enhanced by his striking sets, surviving examples include I Can Destroy the Sun (1958), and No Trams to Lime Street (1959). He continued working, sometimes as director, up until the 1990s.

In 1956 he was living in Nottingham.

.

.

.

.

.

.

.

.

ABC of the Midlands - "For the Midlands, about the Midlands."
ABC of the North - First editions of both programmes Sunday February 28th 1960 11-11.20pm. Initial run: 8 weeks.
Howard Thomas described these programmes thus: "we attempt to take subjects of serious interest in these regions and present them in the most arresting way."

Subjects: Arts, business, and current affairs. The initial letters of these three were abc, hence the title. "Top level subjects only will be discussed by top level people. It will be a serious programme and trivial subjects will be OUT," said an ABC spokesman, "the first purely regional programme to aim so high." Editions for both ABC areas, Midlands and the North, were transmitted simultaneously. First director of the Northern edition was Ronnie Taylor, and as his forte was light entertainment, perhaps this indicates there would also be, as Howard Thomas promised, "wit and human interest."
From April 2nd, it moved to last programme Saturday before The Epilogue. Still twenty minutes in length, starting time varied anything from 10.50 to 11.20 as a feature film preceded it. The last programme was on June 18th 1960. It returned in the autumn 1960 schedules, back in its Sunday 11pm slot. Northern director now Reginald Collin, Midlands director was Helen Standage.
David Mahlowe presented the Northern edition. Early in 1961 the two editions were combined into ABC at Large with David Mahlowe as host. Sundays 11.30pm. Scripts were by Roy Bottomley and Tom Brennand, Margery Baker/ and normally Reginald Collin were directors. The format was similar for the programme "reports on events in the Midlands and the North that make the nation's news." The final programme was on June 18th 1961.
ABC at Large returned on September 9th 1961, in a new Saturday 11.30pm slot. Pamela Lonsdale now producer. Apart from a short break over the festive season, the programme ran until the end of July 1962. Viewing figures were surprisingly good for a late night series: in March 1962 an average of 1,137,000 homes watched each of the four programmes in the Northern area, while 508,000 watched in the Midlands. In 1962 the length was increased to thirty minutes, with an 11.20 start. Indeed, for the summer it was lengthened further to 35 minutes. Geoff Ramsey was the new director. After a short break it returned on Saturday nights, 11.20-11.50pm from Sept 1st 1962. However it moved to a Sunday 11.05pm slot next month, but transported back to Saturdays in November for a 45 minute programme starting at 11pm, with new director Laurence Bourne. By 1963 the length varied from 30 to up to 50 minutes long. The Midlands edition on May 11th 1963 achieved its highest ever viewing figures of 744,000. Despite this, the final programme ever was on June 22nd 1963, introduced as ever by David Mahlowe, with Geoff Ramsey once again the director. The series had finally fallen victim to pop ABC shows, Rave, and then Hullaballoo! Frankly, Saturday night was not the time for serious programmes.

Footnote: The ABC of ABC on Saturday April 29th 1966 was a special documentary celebrating ten years of the company's broadcasting in the North. Produced by Reginald Collin, extracts were shown of some Armchair Theatre successes

.

.

.

.

.

.

.

.

.

.

.

.

.

ABC TAM Ratings over the whole of 1956.

The most popular programmes were not produced by ABC!

Midland Area:
1st Dragnet.
2nd Robin Hood (screened on Sundays by ABC).
3rd London Palladium.

Northern Area:
1st London Palladium.
2nd Dragnet (Fridays).
3rd Spot the Tune (Granada).

ABC Television Menu

.

.

.

.

.

.

.

.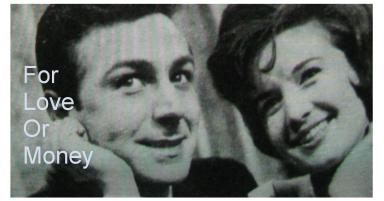 For Love or Money

'The show where contestants can win from £'s to pennies or take away wonderful prizes.' The Money Machine was perhaps the secret of the show's success. Contestants answered a question correctly, and were then given the choice Do You Want To Go For Love Or Money? In this case For Love meant Love of the prize, which could be anything from a fur coat to furniture or something of lesser value. For Money meant relying on The Money Machine. This fiendish contraption displayed to the viewer, though not the contestant or the studio audience, the amount to be won, based on the value of the actual prize. Thus £50 was displayed by the complicated process of converting to shillings, ie 1000 then multiplying by ten. Thus ten thousand would be displayed. The fiendish bit was a floating decimal point kept bobbing between the digits changing the value. When the contestant pressed a button the machine stopped and the prize was indicated. Thus it could show anything from 0.10000 ie about one penny, to 10000. ie £500. Initially, ABC advertised that up to £5,000 could be won, though the ITA introduced a £1,000 ceiling for all quiz shows.
First shown June 7th 1959 with comperes Jewel and Warriss, soon replaced by Keith Fordyce. Hostess- Sara Leighton. Starting 13th September 1959, it was hosted by Bob Monkhouse with hostess Ann Taylor, who'd also acted in a similar role on Spot the Tune and appeared in The Army Game for Granada.
For the final few shows in January 1960, Dickie Henderson introduced the quiz. Assisted in the final show of the series by hostess Ann Parson on 24 January. Directed by Marjorie Ruse.
The series returned on June 26th 1960 in the prime time 7.30pm slot on Sunday evenings. Bob Monkhouse returned as host, with hostess Joy Webster and Prize Girls Nicky Allen and Janette Buckingham. The Voice, previously anonymous was now identified as Barry Faber. Eddie Kebbell directed this series. 65 shows had been made when the series was rested.
A third series began that November with a new host, Des O'Connor, though Joy Webster continued as hostess, and Nicky Allen was the Prize Girl. Barry Faber continued as The Voice, and Marjorie Ruse directed the shows. From about Easter, Julie Stevens became the new hostess, also with Peter Hoy (who was never given a credit in TV Times). After a 5 week break the show continued for a ten week run from 25th June 1961, back in its Sunday evening slot of 7.30pm.
In a feature in June 1961, Des O'Connor claimed his favourite prize was a cine camera and projector: "I admired them so much that after the show I bought a set." Nicky Allen liked "a lovely beaver lamb coat.. I had to got through the torment of modelling it, then hand it back. It was won by a man from Liverpool." And Peter Hoy liked "a collapsible boat." Julie Stevens, however, was more of a gambler: "I love mysteries and go for the surprise packet. This to me is the highlight of every programme"

To ABC Television Menu

.

.

.

.

.

.

.

.

ABC Variety and Comedy Shows


Managing director of ABC, Howard Thomas, was for ever trying to compete with the more powerful ATV, and occasionally he won a national victory with his comedy and variety offerings, as with Mike and Bernie Winters in Big Night Out. But quite often these ABC shows failed to achieve full networking, and maybe anyway ABC were at their best when they concentrated on Northern humour with which ATV couldn't compete, and with which the other local ITV company Granada, initially proved generally inept at doing so, until they had seen off their local rival.
. . . . . . . . . . . . . . . . . . . . . . . . COMEDY . . . . . . . . . . . . . . . . . . . . . . . . . . . . . . . . . . . . . . . . . . . . . . . . VARIETY SHOWS
Brief details of some other ABC series. For surviving Variety Shows To ABC Menu

.

.

.

.

.

.

.

.

.

.

.

.

.

.

Time for Rhythm
Autumn 1956.
On Saturdays from 4.02pm to 4.30, Jerry Dawson hosted this series produced by David Southwood.
Live outside broadcasts from a different venue each week. On Sept 29th the show came from Borough Hall Stafford, whilst on October 20th, it was Queen's Hall Preston. The venue on October 27th was the Town Hall Walsall.

Rendezvous / Saturday Carousel (from June 6th 1959)
ABC publicity: "A meeting place of music talents and faces in and behind the news, capturing the surprise of the unexpected and the excitement of the unusual." Francis Linel was flown from Paris each week to act as compere. With him was Jacqueline MacKenzie, who introduced someone in the weekend news. Music came from George Clouston and his Orchestra. The producer was Paul Kimberley. Guest on the first show was Millicent Martin. Others appearing in the series included Monty Landis, Barnet and Del Rio.

On April 16th 1960 at the odd time of 9.47pm, ABC offered viewers in The Midlands and The North a one-off special titled Clubland Saturday Night. Top of the bill was Ronnie Hilton, ahead of rising stars Morecambe and Wise. Jimmy Gay and The Littlewood Songsters also featured with the Harry Hayward Quartet and Lloyd Lewis at the electronic organ. This outside broadcast was recorded at the British Legion Club in Leigh, Lancashire by producer Ronnie Taylor.

Buckaroo! starting in April 1961 was a wild west-type show with a resident cast of Tessie O'Shea, Michael Holliday, Sheila Buxton and Gordon Boyd. Also regularly featured were The Vernons Girls. Here's an account of the April 8th 1961 show: a boisterous sharp shooting western style musical show in the pattern of a tv Oklahoma. In rolled the stagecoach with Gordon Boyd. Tessie O'Shea offered a sustained freshness that blended well with the high spirited routines of the Lionel Blair dancers. The Country Style number with Michael Holliday was sheer delight! Sheila Buxton added the romantic touch with her The More I See You number. Hugh O'Brian as Wyatt Earp sang two songs, with a camp fire for background, That sent a fresh breeze through this zestful frolic. The Barney Gilbraith singers, the Morton Fraser Harmonica Gang, the youthful storm of The Vernons Girls, the Tony Osborne orchestra were one grand harmonious team. The show was directed by Ben Churchill, produced by Ronnie Taylor, with choreography by Lionel Blair, with an effective setting by James Goddard, and presented under the supervision of Brian Tesler.
Jim Dale and Joyce Blair were in the programme shown on June 10th 1961 (7.40-8.30pm). A critic wrote, "a fresh vital touch rippled through the show as Joyce sang and danced her way... Joyce notched herself a winning spot in the show and should be roped into the posse of regular Buckaroo artistes." Another guest on this show was Max Wall, singing a cowboy lament
The series appeared irregularly- on July 1st 1961 (7.55-8.45pm) the same cast were joined by Stubby Kaye. The next show on July 22nd again included Stubby and came from "the Golden Horse Ranch" in Sussex.

Spin-A-Disc (ABC, 1961)
This was a pilot screened on June 17th at 5.45pm to gauge audience reaction. A contemporary report stated, "it is doubtful if this jaded type record jury will have even the beat loving teenagers leaping from their seats and screaming for more.
There was a panel of teenagers, introduced by Jimmy Young, sat on stools, giving points to discs that they might be tempted to add to their own collections. One youngster Melvin Sims, took an instant dislike to every record played ... of the other three only one, Gloria Johnson, appeared to enjoy it. Before they gave their opinions, Alan Freeman commented on the platters played. It might have been better if Freeman had added his comments after that of the panel. Then they would not appear to have been influenced by his words... The Kirby Stone Four with their Kids disc was the only one acclaimed as a likely success.. But in awarding points to this show, it could only be given a very low score indeed." Needless to add, this show was a one-off

On Saturday June 2nd 1962, ABC had something of a coup, with the hour long This is Sinatra! Introduced by David Jacobs, this was his first ever personal appearance on British TV. The show was recorded at The Royal Festival Hall.

The Dave King Show
starred this hugely popular comedian, running for six shows in 1963 and lasting 34 minutes starting at 8.30pm, produced by Ernest Maxin. Patsy Ann Noble was a regular.
Starting on May 4th the first guest star was Dennis Price.
On May 11th and May 25th guest star was Bernard Bresslaw whilst on May 18th it was Patrick MacNee, and June 1st Martin Benson.
There was no special guest advertised for the final show on June 8th, though initial publicity for the series stated Jack Solomons would be a guest in the series. Life and Al Read (ABC)
Musical director- Bob Sharples. Produced by Ronnie Taylor.
The series started on Sunday 29th September 1963 at 4.5pm.
Guests- Shani Wallis & The King Brothers. Directed by Helen Standage.
On 20th October 1963, Guests- Susan Maughan, The Temperance Seven. Directed by David Main.
On 27th October 1963, Guest- Annie Ross.
On 3rd November 1963, Guests- Don Riddell Four, Dalmour Trio.
A second series followed in the autumn of 1964, now at 5.10pm.
Ronnie Taylor was again the producer.
On October 13th 1964, Guests were Susan Maughan, and The Temperance Seven. Director: David Main
On 1st November 1964, Guest was Susan Maughan. Director: Ronnie Baxter

The David Nixon Show
an ABC series of 6 shows in 1965, with the first programme on April 17th from 8.25-9pm. It was only shown in a few ITV regions. Each week included a guest magician, whilst others appearing weekly were Barbara Evans and Billy Dainty. In the first show it was Al Koran, then on May 8th Johnny Hart and Dennis Lotis joined Nixon. Billy Dainty wasn't in any further shows, but on the May 15th show Ted Ray was, along with Clinton Ford and Claudine. Next week for the final programme on May 22nd Stanley Unwin, Ronnie Hilton, van Buren and Greta joined David Nixon.
(The five minute Here's David Nixon programmes, which were shown by ABC on Sunday nights in 1963 at 10.35pm, were possibly edited highlights of some earlier shows featuring Nixon. Of course for many years before this, he had been a stalwart of BBC Television.)
Details of David Nixon's Comedy Bandbox (1966) will be found in the Saturday Bandbox section

The Bruce Forsyth Show
Christmas Day 1965 fell on a Saturday, and ABC managed to network a show with ATV's big star, Bruce Forsyth!
He starred in the hour long The Bruce Forsyth Show with guest Cilla Black. Also appearing were Miriam Karlin, Francis Matthews, Jack Douglas, Ann Hamilton, Josephine Blake, Aleta Morrison, John Black and the Morgan-James Duo. Sid Green and Dick Hill wrote the script, and the producer was Philip Jones.
Frankie and Bruce's Show
Christmas 1966, (repeated in ABC region only on Sunday April 2nd 1967 4pm).
Frankie Howerd and Bruce Forsyth starred.
A 90 minute spectacular, with guests Cilla Black, Tommy Cooper, Tom Jones, The Kaye Sisters, Aleta Morrison, with the Malcolm Goddard Dancers and Bob Sharples and the ABC TV Showband. Sid Green and Dick Hills scripted and Peter Frazer-Jones directed.
The Bruce Forsyth Show returned on Sunday August 20th 1967 with guests Harry Secombe and Julie Rogers. Aug 27th: Tommy Cooper and Adele Leigh. Sept 3rd: Jimmy Logan and The Kaye Sisters. Sept 10th: Dudley Moore and Anita Harris. Sept 17th: Roy Castle and Edmund Hockridge. Sept 24th: Beryl Reid, Engelbert Humperdinck and The King Brothers

Strictly for Laughs - two pilots were recorded on August 6th 1967. Kenneth Horne was chairman. Two teams competed, one with two members of the public, the other with three comedians. Contestants told their own anecdotes and were awarded up to ten points, according to the amount of audience applause. £1 was awarded for each point won. Then one comic told an off-the-cuff story on a similar theme. The six week series began on August 27th 1967. Comics on the Sept 24th edition were Johnny Hackett, Billy Dainty and Ted Rogers.

Just Good Friends
(ABC, made May 1967, shown Nov 25th 1967)
This was one of a number of comedy pilots that ABC made towards the end of their existence. It starred Derek Nimmo and Amanda Barrie. He played a boy who is saving up to get married with his girl friend, so takes a night job at what he tells her is a garage, to make extra cash. Also appearing were Lynn Ashley, Tony Hilton, Noel Dyson, Garry Marsh and Claire Davenport. The script was by John Esmonde and Bob Larbey, the director John Paddy Carstairs.

Where There's Hope There's Keen
In March 1968 comedians Hope and Keen recorded this pilot at ABC's Didsbury Studios. Also appearing were Deryck Guyler and Fiona Fisher Green, with Bob Sharples with the ABC Showband. Script: George Evans, Derek Collyer, Michael Craig, and Lawrie Kinsley. Albie Keen described the show, "it is a type of fantasy with transcendental meditation taking us wherever we want to go. A logical start leads us into an illogical story"
ABC Menu

.

.

.

.

.

.

.

Top Numbers (ABC)

This pop series was the most accomplished forerunner of more illustrious ABC pop series like Oh Boy! But it wasn't ABC's first attempt at a pop show, for in summer 1956 they had run two pilots Bring A Record, "a gay teenage disc-party show." These had gone well, so began a fortnightly run from September 2nd 1956 with host Douglas Squires and "Linda and Duggie," made in ABC's Manchester Studios.
Top Numbers was produced by Arthur Lane in ABC's Birmingham Studios, began with a trial run of four programmes, commencing on Sunday October 13th 1957 at 4.15pm, it was shown fortnightly, and after the four openers, moved to Saturdays at 6.30pm.
"A non-stop selection from the hit tunes of the day." Among those making 1957 appearances were Alma Cogan, Dorothy Squires, and the Vipers Skiffle Group. Ross Taylor was the first arranger of the dancing. Music was by Dennis Ringrowe and His Orchestra. The unseen, and unadvertised, announcer on the show was John Benson.
The show was noted for the humour in its presentation. One example, the song Island in the Sun was sung by a singer dressed as a policeman, from a traffic island. Then Wee Willie Harris sang from a barber's chair. Ronnie Carroll sang Remember You're Mine, and in the last chorus it was revealed it was being sung to his dog.

Some of the autumn programmes included Joan Manning, singing to her own guitar.
Programme 1 featured Terry Dene, Glen Mason, and Maxine Daniels, and also included Pip Hinton.
On December 7th 1957 the stars were Lita Roza, Edna Savage, Group One, Penny Nicholls, Joe Mr Piano Henderson and Neville Wortman.
Saturday January 4th 1958 featured Dennis Lotis, Cleo Laine, Group One, Colin Hicks and His Cabin Boys
From Sunday January 12th 1958 it was networked fortnightly, with a different host each show. On the first show at 11.05pm this was Petula Clark, while also in this show were Lonnie Donegan, Earle and Vaughan, Malcolm Vaughan, Pearl Carr, Group One, and Steve Martin. Kenneth More was also in this programme according to one source. A bleary eyed review by DEH of this show is difficult to reconcile with what I've written above: "presented in such a dull way as to make you yawn instead of toe tap. Sets are severe though sometimes effective. There is no central personality in vision to hold the whole thing together and the camerawork is extremely dull. Most of the programme was shot in long shot with hardly any variation in angle. Arthur Lane, who produces this show is experienced enough to know that to present a succesion of acts as if he was photographing a stage show is not the method to adopt for a tv programme. If the camerawork was more exciting, the programme would seem exciting too- even if it isn't."
Next programme in the series came on January 26th 1958 10.50pm-11.30pm starring Shani Wallis, Sabrina, Michael Holliday, Maureen Kershaw, the Barney Gilbraith Singers, Group One and Steve Martin. Shani sang numbers from Finian's Rainbow, the show in which she was appearing in Liverpool.
February 9th 1958 11.05pm-11.30pm starred Jill Day, The Tanner Sisters, Wee Willie Harirs, Maureen Kershaw, the Barney Gilbraith Singers, Group One and Steve Martin.
February 23rd 1958 10.50pm-11.30pm starred Lita Roza, Elizabeth Larner, Terry Dene, Maureen Kershaw, the Barney Gilbraith Singers, and Group One.
March 9th 1958 10.50pm-11.30pm starred The Southlanders, Pip Hinton, Rosemary Squires, Maureen Kershaw, the Barney Gilbraith Singers, and Group One.
March 23rd 1958 10.50-11.30pm starred Malcolm Vaughan, Pip Hinton, Wee Willie Harris, Maureen Kershaw, Bertice Reading, the Barney Gilbraith Singers, and Group One. Tommy Linden was dance arranger.
April 6th 1958 starred Lita Roza, Ronnie Carroll, Tony Brent, Pip Hinton, the Barney Gilbraith Singers, and Group One. Lionel Blair was the new dancer and dance arranger. Director: Helen Standage.
April 20th 1958 10.50pm-11.30pm starred Fredye Marshall, Lisa Noble, Valerie Kleiner, Matt Munro, and the George Mitchell Singers. Music by Malcolm Lockyer Orchestra. Director: Eddie Kebbell.
May 4th 1958 10.50pm-11.30pm starred Dennis Lotis, Rosemary Squires, The Polka Dots, and the Barney Gilbraith Singers. Music by Geoff Love and His Orchestra. Director: Kenenth Carter.
May 18th 1958 10.50pm-11.30pm starred Dennis Lotis, Rosemary Squires, Des O'Connor, Jackie Lee, Jimmy Lloyd, and The Polka Dots. Music by Geoff Love and His Orchestra. Director: Kenneth Carter.
The final show was on June 15th 1958.
A one-off special was shown on Dec 28th 1958, 11.10-11.35pm Top Numbers of 1958. Introduced by Jimmy Henney with Bernard Bresslaw (singing Mad Passionate Love), Marion Ryan, Gary Miller, Malcolm Vaughan, The Tanner Sisters, Pipe Major TK Marshall (Hoots Mon), Marty Wilde, Rikki Price, Eric Flynn, Maureen Kershaw, The Gibson Girls, Salvatore Pantanole. Music by Joe Loss and His Orchestra. Director: Arthur Lane
A new series started the following month, this not networked. Jan 25th 1959 featuring Dickie Valentine, David Whitfield, Alma Cogan, Shirley Bassey, Eve Boswell, Marty Wilde, The Big Bopper, Russ Conway, Maureen Kershaw, Eric Flynn. Introduced by Jimmy Henney. Music by Joe Loss
ABC Variety Menu

.

.

.

.

.

.

.

Hometown Saturday Night (1956)
A 'Meet the People' show on Saturdays at 7.30pm on ABC Midlands who had announced that Ken Platt was to be the compere of the first four shows, though he decided not to do the job. George Elrick stepped in until McDonald Hobley became the regular compere. The first series was produced by David Southwood. The resident band was that of Joe Loss.
The first show came from the Leofric Hotel, Coventry on February 18th 1956. Coventry-born John Hanson was an appropriate choice as one of the stars. Another local to feature, albeit on film, was local lad made good Reg Dixon who'd once been in the Sunshine Serenaders Concert Party in town. His patter concluded with a song specially written for the programme You Can't Send Me To Coventry. Then there was Reg Matthews of Coventry Football Club and 18 year old Graham Symonds, currently training to represent Britain in the forthcoming Olympics. Coventry born Billie Whitelaw, as well as Phyllis Calvert were scheduled to put in an appearance, but didn't make it.
Some other venues were: Woverhampton (Feb 25th), Leamington Spa (Mar 3rd), Leicester (Mar 10th), Derby (Mar 17th), Rugby (Mar 24th), West Bromwich (Mar 31st)- this included Ken Rattenbury, Stafford (Apr 7th), Tamworth (Apr 14th). Veteran Dorothy Ward appeared on this April 14th show, she also judged the Top Town on three occasions that spring/summer.
Dudley (Apr 21st), Ashby-de-la Zouche (Apr 28th).
The first show from the North region came with the opening of the North of England service on May 5th 1956, from the Crane Theatre Liverpool: Frankie Vaughan starred, alongside Robb Wilton, and Deryck Guyler.
Stoke-on-Trent (May 19th), finally Warrington (May 26th) with Channel swimmer Sunny Lowry.
In summer 1956, the programme was renamed and revamped as Holiday Town Saturday Night.
ABC Variety Menu

.

.

.

.

.

.

.

Those Kids (ABC)
Starring Peter Butterworth as Mr Oddy, also with Totti Truman Taylor as Agatha in series 2.

The first seven part series began on Saturday June 9th 1956, 5.30-6pm.
A second nine part series started on Saturday September 15th 1956, 4.30-5pm. The first story introduced Mr Oddy's bossy elderly sister Agatha. Her efforts to clean up his cottage have unexpected consequences.
Finally there were two special holiday editions on December 15th and 22nd 1956 at 5pm (series 3).
Other regulars were George Howell as Henry, Lynn Grant as Maisie, Terry Cooke as Jackie (series 1), Christopher Sandford as Robert (series 2), Shandra Walden as Sally, David Higson as Mike (series 2 and 3), and Peter Soule as Al (series 2 and 3).
Another 'star' was the goat named Lucy, who was boarded at the home of a Miss Pat Harrison in Sutton Coldfield, nearish ABC's Aston Cross studios.
All programmes written and produced by Patricia Latham. Directed by Vivian Milroy.

Note- Jan Bussell made a guest appearance in 1.3 (June 23rd).

.

.

.

.

.

.

.

.

.

.

.

Best Of Friends (ABC, 1963)
A fine comedy starring Charles Hawtrey and Hylda Baker with Sheena Marshe and Henry Longhurst (as Uncle Sidney).
Hylda played a cafe proprietress, which is next door to an insurance office in which Charles Hawtrey works as a clerk. She joins him on some of his insurance assignments.
Scripts: Brad Ashton, Bob Block and Gerry Maxin.

There were 13 stories (dates for ABC Midlands and North except as stated):
1 Incognito (6th January 1963, 26th May 1963 London) with Richard Beale, Mark Singleton, Ronnie Brodie and Dorothy Darke (no Sheena Marshe).
2 The Noble Art of Self Destruction (April 28th 1963, London) with Arnold Diamond, Gerry Elboz, Gerry Colleano, Derek Royal and Eric Boon (No HL).
3 Stars and Strife (20th January 1963, 12th May 1963 London) with David Healy, Robert Arden, John Bluthal, Roland Brand and Keith Goodman.
4 No Policy
5 Ghost of a Chance
6 Double Trouble (10th February 1963) with Fred and Frank Cox, Benn Simons.
7 Star Struck (17th February 1963) with Steve Plytas, Alexandra Dane.
8 Foreign Policy ( 24th February 1963, 14th September 1963, Southern) with Robert Rietty, Ted Carson, Lisa Page, Claire Ruane, Len Russell, Keith Goodman, Frank Peters.
9 The Painting
10 Jack in the Box (10th March 1963, shown in London June 30th 1963) with John Blythe. Also Gabrielle Daye, Natalie Kent.
11 All of a Zither (17th March 1963) with guest Shirley Abicair.
12 Desert Island Risks (24th March 1963) with Freddie Mills.
13 This Is Your Wife (31st March 1963) with Richard Caldicot and Tenniel Evans

To ABC Menu

.

.

.

.

.

.

.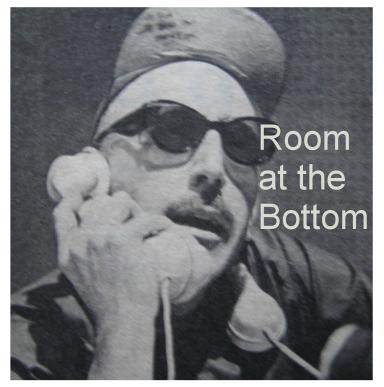 Room at the Bottom


A comedy of television errors starring Lionel Jeffries as Nesbitt Gunn, "recently nominated as Television Producer Least Likely To." Allegedly, he once produced Hamlet with great success with a very important minority. The trouble is, he ought to have been fired years ago, because he's such a dreadful tv producer. But somehow he has always survived, perhaps because of his outrageous audacity. "He's a delightful character," confessed Jeffries, wisely adding, "though very daffy." Or an alternative title was Confessions of a Television Producer, it was written by John Antrobus and directed by Dick Lester.

1 A Show for Monty (7th June 1964, 3.35-4.05pm) with Wendy Craig, Arnold Diamond, Monty Landis, Betty Mowle, Patrick Newell, Johnny Vyvyan, John Wood, and Dick Emery. Also "a gentleman who left without giving his name." Music by Reg Owen and His Orchestra.
2 It Came From Outer Hollywood (14th June 1964, 3.35pm) with guest stars John le Mesurier, Patience Collier and Clive Dunn. With Wendy Craig, Monty Landis and John Wood. Victor Platt as the Superintendant from Scotland Yard.
4 A Job With the Other Lot (28th June 1964) with guest stars Dick Emery, Pamela Harrington, Ellen Pollock and John Wood. Valentine Dyall as the BBC doctor.
ABC Menu

.

.

.

.

.

.

.

.

.

.

.

.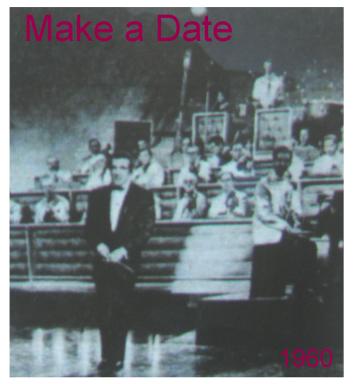 On 12th March 1960 at 6.30pm, ABC began their own the half hour variety series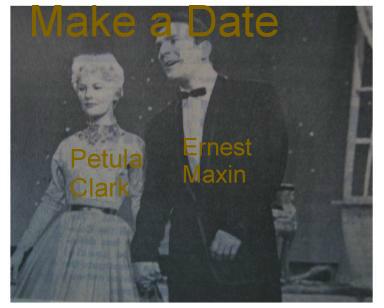 Make A Date
made by their top producer Ernest Maxin (pictured), who also fronted the show. Scripts were by Denis Goodwin. Newcomer Cedrik Monarch appeared each week as the resident comedian, though a critic found him the only weak link: "apart from starring in the show, Maxin does almost everything else. He produces it, he dances in it and conducts a splendidly arrayed orchestra. He also sings and plays comic feed...the result is a delightful show, spectacular.. and presented as if a showman had something to do with it."
The first programme scored something of a coup with guest star Anna Neagle. Naturally her picture graced the front of TV Times. Other guests were Toni Dalli and Maria Pavlou. This programme was ampexed on February 7th 1960.
On March 19th Dave King, ironically "by permission of Associated TeleVision," was top guest, with The Kaye Sisters.
Show 3 on March 26th starred Jill Day and included an interview with Charlie Drake, "by permission of the BBC!"
April 2nd saw Petula Clark and Craig Douglas starring.
The following week on April 9th, the guests were Yana and Adam Faith.
The sixth and final show on April 16th had Michael Holliday as guest star with ABC's own Julie Stevens.

The press reported that Maxin had been offered by ABC to make fourteen in this series, but his response was, "it's great fun working on the programme, but I have so many other commitments"

.

.

.

.

.

.

.

First programme: April 28th 1962.
The show on May 26th 1962 was a new variation on a Big Night Out of April 1961 again starring Richard Hearne. This edition also included Norman Evans, Adele Leigh, Beryl Reid and Ken Platt.
The June 2nd 1962 show again included Norman Evans, Adele Leigh and Ken Platt, with Jimmy James Top of the Bill.
On June 9th 1962, appearing with Norman Evans were Albert Modley and Max Wall, whilst the following week he was joined by Jimmy Clitheroe, Tessie O'Shea, and, bottom of the bill, Les Dawson.
Now called Comedy Bandbox, on Dec 1st 1962 Jimmy Clitheroe starred with Stubby Kaye, Joan Turner, Billy Russell, Ted Lune, Barbara Law, Tommy Elliott and Don Arroll.
On January 4th 1963 Charlie Chester starred with Arthur Worsley, Mrs Shufflewick, Bobby Dennis, Les Girls and the Thanks for The Memory Company (Hetty King, Randolph Sutton, Billy Danvers and Marie Lloyd (Jr)). Host: Don Arrol.
Another weekly series began on Saturdays in October 1963, 6.35pm to 7.15pm. Host for this series was Ted Durante.
2.1 Sept 28th 1963 Terry Scott and Hugh Lloyd, with Lena Martell, The Southlanders, Ted Durante, Jimmy Casanova and The Lynton Boys
2.2 October 5th 1963 starring Vera Lynn, with Clive Dunn, The Dallas Boys, Joan Turner, Hope and Keen, and The Lynton Boys.
2.5 October 26th 1963 included Hylda Baker, Charlie Chester, Clinton Ford, Ken Wilson, Moya Moray and Bobby Pattinson.
2.5 November 2nd starring Terry Scott and Hugh Lloyd, and Ruby Murray with Bernard Burgess. Also appearing were impressionist Ray Fell in his ITV debut, Charlie Cairoli, Joe Church, and The Lynton Boys.
2.6 November 9th starring Arthur Askey with the Raindrops, Billy Tasker, Audrey Jeans, Ken and Anna Alexis, and Bretton Woods.
2.7 November 16th 1963 starred Adam Faith with The Roulettes, The King Brothers, Billy Dainty, Harry Bailey, Willie Heckle, and Mack and Kirk.
2.8 November 23rd 1963 with Gerry and the Pacemakers, Clive Dunn, Des Lane, Syd and Max Harrison, Neville King, and Les Dawson. Clive's sketch was with 12 year old Julie Booth
2.9 November 30th 1963 starred Jimmy Jewel and ben Warriss, Jackie Trent, Freddie Frinton, The Viscounts, Terry O'Neill, and Jo Jac and Joni.
2.12 December 21st 1963 with Ted Ray, Monica Fraser's Harmonica Gang, Susan Lane, Frank Berry and "making a first impression" Mike Yarwood.
2.13 December 28th 1963. Alfred Marks was top of the bill, with The Kaye Sisters, Ken Platt, Betty Jumel and Terry Kaye.
When the show returned in 1964 it had yet another new title Holiday Bandbox!
New hosts were Hope and Keen, though the line up showed a lot of familiar names from earlier ABC shows! The length was again 40 minutes.
One show on May 16th 1964 found Arthur Askey as the top name, with Joe Brown and the Bruvvers, Dennis Spicer, Barbara Law and Ray Fell. On June 27th 1964, David Nixon starred with Joyce Blair, who danced a Gypsy Rose Lee number, Miki and Griff, Billy Dainty, Austin Steele, Colin Prince and Terry Hall.
Back to Comedy Bandbox for a weekly series that autumn with 55 minute shows. David Nixon, who had recently made some five minute magic shows for ABC, was the host.
October 17th 1964 introduced the well known face of Arthur Askey. Ronnie Carroll also starred, along with George Chisholm, Hope and Keen, Julie Rogers and The Perrards.
Des O'Connor starred on October 24th 1964 with Susan Maughan, Billy Dainty, Daly and Wayne, and The Herculeans.
Back yet again on October 31st was Bob Monkhouse, with Rolf Harris, The Viscounts, Debbie Lee and Ronnie C Smith.
Next week, on November 7th 1964, Alfred Marks and The King Brothers starred with Billy Burden, Peter Goodwright, Charlie Chester, Joan Regan, Janie Marden, Ray Alan, Hall Norman and Ladd were booked on November 14th. November 21st: Ken Platt, The Vernons Girls, Saveen, and Morton Fraser's Harmonica Gang. Nov 28th: Don Arrol, Peter Cavanagh, Teddy Johnson and Pearl Carr, Leonardo. Monkhouse was back on December 5th with the Dallas Boys and Jackie Trent. Dec 12th: Val Doonican, Charlie Cairoli, with Paul King. Star on December 19th was Tommy Trinder, with The Clark Brothers, Susan Lane and Freddie Davies, Chic Murray and Maidie, Nina Frediani and Partner, and Freddy Davies. Dec 26th: Mike Newman. January 2nd 1965: Patsy Ann Noble, Mike Burton, John Richards, Arthur Worsley, Gordon Peters and Jack Haig. Jan 9th 1965: Barbara Law, Dick Emery, Joan Turner, The Barron Knights, and Johnny Hackett. Jan 16th 1965: Mike Newman, Alma Cogan, Hylda Baker, Sid Millward, and Wally Stewart.
In 1966 the new title was David Nixon's Comedy Bandbox and shown in the Sunday teatime slot. Bob Sharples provided the music, and one new feature was 'Your Crazy Wish.' Viewers were asked to "come clean, and tell us about your wildest wish, just for sheer devilment." Peter Dulay, of Candid Camera was producer, Ronnie Baxter directing.
On February 6th 1966 David Nixon introduced Will Gaines, The Dallas Boys, Dave Allen, Audrey Jeans and Don Saunders.
On February 20th the guests were Jack Douglas and Jack Haigh, Ray Alan, Freddy Davies, The Headliners and Patton Brothers.
The guests on the last of the series on March 27th 1966 were Norman Vaughan, Norman Collier (he'd also featured on March 13th and March 20th), Carol Deene, Don Saunders, Ken Wood and Los Escudos

.

.

.

.

.

.

.

Those Two Fellers (ABC, 1967)

Scriptwriters Sid Green and Dick Hills present one of their friends from the stars.
Music by Ted Brennan. Directed by Keith Beckett.
Diane Rachelle played Dick's girl friend whom Sid thinks is absolutely dreadful because she sings and dances so badly. "This show will either make me or break me," she commented in TV Times.

May 9th 1967- Frankie Howerd, with Diane Rachelle, Sheridan Grant, Alan Downer and the Mike Sammes Singers.
May 16th- Bob Monkhouse, with Diane Rachelle, Angela Ryder, Peter Brace and the Mike Sammes Singers.
May 23rd- Morecambe and Wise, with Diane Rachelle, Paula Levens, Bridget Verrinder and the Mike Sammes Singers.
May 29th- Bruce Forsyth, with Diane Rachelle, and the Mike Sammes Singers.
June 2nd: Ted Ray, with Diane Rachelle, Ann Hamilton, Lynne Carol, Jimmy Lee, Clive Drummon, Frank Maher, and the Mike Sammes Singers.
June 9th (final programme): with Arthur Askey, with Diane Rachelle, Enid Heard, Ross Gilmore, Gordon Peters, and the Mike Sammes Singers.

.

.

.

.

.

.

.

.

.

.

.

.

.

.

Bid For Fame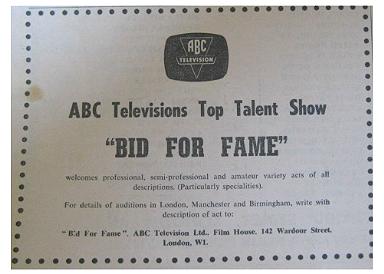 Jimmy Hanley introduced one of tv's many local talent contests in the autumn of 1956.
Joe Loss provided the musical accompaniment, David Southwood was director, and it was produced by Alick Hayes, who said, "I am prepared to audition any act or actor who might be of interest to everybody. But they must be good!"
The biggest 'discoveries' made by this series included Pinky and Perky, Toni Dalli, Bob Hatch and Eric Flynn, who won a seven year ABC contract, on the strength of his Bid For Fame success.
The series began on Sunday September 16th 1956 from Wallasley Town Hall (originally announced as from the Tower Theatre New Brighton). The glamorous location for the second show on September 23rd was the Moseley and Balsall Heath Institute! September 30th visited Borough Hall Stafford, and October 7th Central Hall Derby. On October 21st the programme came from Queen's Hall Preston, whilst on November 18th cameras were at the Hotel Leofric in Coventry. December 9th saw the team searching for talent at the Palais de Danse in Bury, with special host Dickie Henderson.
Jan 13th 1957 from Coventry included Jill and Jose Stewart songs at the piano glamour duo. Jan 20th included the Bluenotes (Gordon Mailer, Mike Morton and Pete Probert). Jan 27th included Lorna Brown, 16 year old table tennis champion playing with Benny Casofsky, at the Casino Ballroom Leigh. Feb 3rd's show included Margaret Joyce tap dancing as she played the xylophone. The line-up on Feb 10th: The O'Neil Irish Dancers, Valerie Masterson, Susan and Valerie, Ronnie Smith comedian, and David Conway electric guitarist. Feb 17th included dancers Ann and Margaret Smith, 16 year old sisters from Fleetwood. With the 'filling in' of the blank slot from 6-7pm, the show's run of 13 programmes was extended, now screened on Saturday nights at 6.20pm. New host was Paul Carpenter. March 2nd saw cameras at King's Hall Stoke on Trent, with these contestants: The Acromites, Barry Brookes and Julie, The two Tomassos, Wilf and Ted Cousins, and Shelley Marshall. March 9th included Anne Metcalfe, a pianist. March 16th included Margaret Joyce who played xylo, vibraphone and accordeon, as well as tap dancing. The quarter finals commenced on March 23rd from ABC's Didsbury Studios, and featured singer Carl Neilsen, the Marcile Trio a balancing act, singer Jackie Rae, vocal trio The Homesteaders, comedian Bob Hatch, and Anne Metcalfe from a fortnight earlier. Others qualifying included The Skylarks, Barry Anthony, also singer Barry Brooks (April 6th edition), and Al Rogers (April 13th edition). Lionel Baker sang Pedro the Fisherman in one of these shows. The Grand Final was held on April 20th 1957. Margaret Joyce was one of the finalists, but the overall series winner was Bob Hatch, whose prize was a seven week tv contract. However an unfortunate car accident stalled his career. One other programme winner was patter comedian Alan Field.
The second series started in autumn 1957 on Sunday September 15th, shown from 4.15pm to 4.45pm. McDonald Hobley, fresh from Holiday Parade, was the host, alongside Joan Edwards, with Joe Loss and His Orchestra supplying the music. Producer was Eddie Kebball. The ABC studios were used for this new series.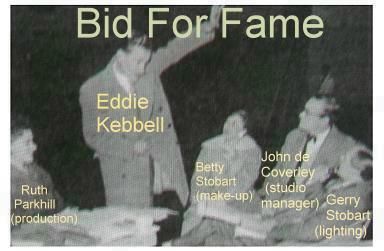 The third show on September 29th included pianist Rena Baillie, though the winner that show was 25 year old singer George Walton. The October 6th Show (4.35pm) also included Kathryn Greenaway, and the talent on display was: Ann Coppen, the Basil Kirchin Group, Olive Dewhurst and Clive Willis, Pat Howard, Syd Walton, John Padbury, Brenda Vickers. A fortnight later on October 20th (4.15pm) the artists were Scot and A'scot, the Cordonian Trio, The Bernies, Scott Campbell, Johnny Stevens, Jackie White. The next week, October 27th included ventriloquist Len Belmont, then Johnny Warner and his Hells Angels appeared on the November 3rd show, and versatile Lancashire comedian Colin Norman, "the chattering whistler," was on the November 10th show. December 1st 1957 welcomed these acts: The Bombshells, Denby and Grant, Jo Peters, Brian Budge (a heat winner), Lee Cardi, Roy Gibbs and his Live Jive Five. The first show of 1958 on January 5th included these: Lyndy Lou, Susan Sorrell, Tino Christidi, Roberts and Knight, The Alley Cats Skiffle Group, Sujata Jayawardena.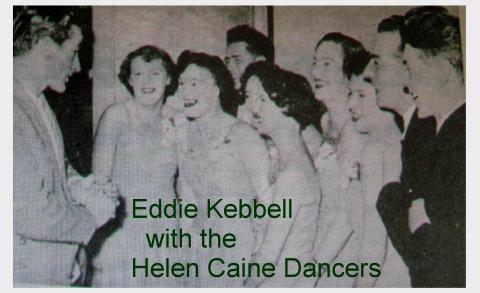 From the next week the artists are not mentioned in TV Times, though regulars The Helen Caine Bid For Fame Singers appeared in the last few months of 1957 and up to the January 12th 1958 show. Sadly Helen was killed in a road accident the next week.
In mid February 1958, the show was on the road again, ABC stating that this was due to "pressure on studio space." On February 23rd, one contestant was 19 year old Betty Fox. On March 2nd the show came from Hotel Leofric Coventry. Artists are also noted, viz Val and Laurie Ashley, Valerie Kleiner (an ex Windmill girl who appeared in April 1958 in ABC's Top Numbers), Bernard Glover on the Hammond organ (March 13th), and Fred Shaw, Pat Dawson and Arnold Crowther, Colin and Christine Campbell. Next week on March 9th, the outside broadcast came from the Adelphi Ballroom West Bromwich, March 16th from Town Hall Leeds, it included singing clown Ron Martin. The March 22nd show moved back to Saturday, and included top acts from previous oprogrammes, amongst whom were Charles Bartle and Dennis Parkes a comedy duo from Nottinghamshire, Margaret Barry an opera singer from Hounslow, singer Pat Howard from West Bromwich, fire eater The Great Zomba from Westcliffe-on-Sea, and Brian Budge the eventual winner.
The third and final series began in September 1958 with McDonald Hobley again the host. Joe Loss and his Orchestra were joined by the George Mitchell Singers. Eddie Kebbell was again in charge behind the scenes. 6,000 auditions were made for this series! The prize fund was announced at £1,000, while viewers could win £5 for voting "and appear on the programme." Hostess Marilyn Davis had the task of escorting the winning viewer.
Details of some programmes. September 14th 1958 (4.30pm)- Eileen Higgins, Jimmy Nolan, Kit Lassett, Leslie Lynes, Pat Laurence. September 21st- Charles Arnold, David Anthony, Carol Jenner, John Adams, Eric Granville, The Ferisons, Deirdre Pleydell, Leon Maure. September 28th- Anne Lorraine, Roger and Coward, Lee Kenton, Pauline Mee, Ken and Dolly Noble, Charles Arnold, The Foo Foo Fuseliers. October 19th- Bill Crompton, Roberta Kirkwood, Alan Bruce, Morgan Jones, Michel and Vivienne, Ann Field.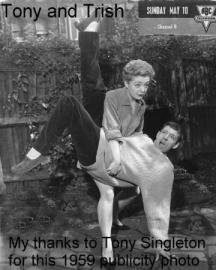 November 16th- The Glyn Thomas Trio, Tommy Wright, Tommy Thompson, Barbara Walter, Harry Benet, Michael Skinner. The George Mitchell Singers are no longer participating now. On Dec 7th 1958, Rosalie Dawn appeared. December 28th 1958- Jeffrey Taylor, Julie Castell, Bob Hart, The Apex Six, Maria Sala, The Romany Sisters. January 4th 1959 (not billed in TV Times)- The Monograms, The Avon Sisters, Sylvia Rowlands, Robert Guard. February 8th 1959- Georgina Pearce, Paul Chapman, Leon Green, Tony and Trish, Roy Price, and Elfrida Kerby. Director: Paul Kimberley. In this show Tony and Trish performed a 1920's song and dance number which was voted in second place. Tony Singleton tells me that the winner was "a very good tenor singing on a set with a lot of candles." Feb 22nd 1959- included Julie Michaels, a musical comedy soprano. Early March 1959- Kish and Valaire, equilibrists, won. March 15th 1959- Gloria Gale, Pamela Bean, Eduardo Asquez, Glen Wilcox, The Planets, Pat Ross.
Among the hostesses on these programmes were Rosalie Ashley and, latterly, Leila Williams (Miss Great Britain 1957).
May 10th 1959- Tony and Trish (picture), Alberto Remedios, The Vocalads, Ronnie Hall, The Wise Guys. Introduced by Pete Murray. Tony and Trish (see Feb 8th) received a panic phone call when one of the heat winners was unable to make it. They performed a Bob Fosse number coming up out of a couple of dustbins. Again they came second. The victor, Tony seems to recall was a dog act, "that's Variety!"
The semi-finals took place on May 17th and 24th, among those seeking your vote were Pat Howard, Eileen Higgins, Jack and Eddie Swan, Claudius Powell, George Walton, Doreen Beales.
The Grand Final was shown on May 31st 1959, with the Prize Giving Ceremony on June 7th 1959. Judges were Jimmy Jewel and Ben Warris, Norrie Paramor, Jack Good and Dick Richards. The winner of the £1,000 first prize was Allan Bruce from Glasgow, second were Birmingham's Second City Jazzmen, while in third place was Liverpudlian Tommy Wright, who had appeared three times in the programme.
Note: One programme winner was Chris Langford (date unknown) who on the strength of her victory, won a contract to appear on Tyne Tees' lunchtime show

.

.

.

.

.

.

.

.

Hancock's (ABC)
began in June 1967, but of course is tinged with sadness, Tony Hancock's last UK series.
The 'lad himself' ran this night club, the "fulcrum" of Swinging London.
Regulars were June Whitfield and Joe Ritchie. Resident band was Nat Temple, and the script was by John Muir and Eric Green. Producer was Mark Stuart.

1 (June 16th 1967)- with Edward Evans, Bernadette Milnes, Bob Todd and Harry Davis. Guest star Vikki Car.
2 (June 23rd 1967)- with Harry Davis, Michael Lomax, Nicholas Brent, Jerry Holmes, Joan Crane and Margot Maxine. Guest- Carmen McRae, special guest- Kenneth J Warren. A visiting film producer uses the club as his location, Tony giving a 'star' performance- a brief clip of this is on YouTube.
3 (June 30th 1967)- Guest: Dick Haymes
4 (July 4th 1967)
5 (July 11th 1967) - with Richard Caldicot, Jack Allen, Totti Truman Taylor, Robert Cawdron, Amy Dalby, Barry Kennington and Janet Webb. Guest Marian Montomery.
6 (July 18th 1967)- with Arthur Mullard, Totti Truman Taylor, Robin Hunter, Carmel Cryan, Frank Littlewood, Anthony Dawes, Walter Horsbrugh, Robert Raglan, Claire Davenport, Dickie Martyn and Parnell McGarry. Guest star Frankie Randall

.

.

.

.

.

.

.

.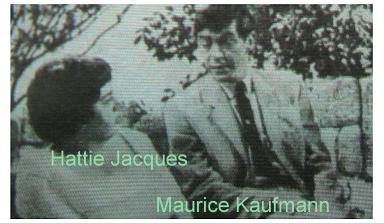 Miss Adventure
A comedy thriller with Hattie Jacques as confidential investigator Stacey Smith. The theme music was titled 'Stacey' written by Ernest Maxin.

The first adventure in six parts was: Strangers in Paradise, which started July 5th 1964, in six parts ending 16th August.
With Maurice Kaufmann as Andreas, Bill Kerr as Max Parrish, Yvonne Romain as Sophia and Jameson Clark as Henry Stanton.
Synopsis- Stacey boards a number 22 London bus and ends up stranded on a Greek island. But what of the man who paid her fare? An unsolved jewel robbery is complicated by murder. Stacey enjoys a cocktail party where she meets the corpse!
Others appearing in one of the episodes included Michael Griffiths, Steve Plytas, Simon Lack, Ann Sears and Arthur Gomez. George Coulouris was in some stories as Sgt Papas.

The Velvet Touch in four parts began on 23rd August 1964 and featured Tony Britton, John Arnatt, Jennifer Jayne and Tom Bowman. Jameson Clark continued as Henry Stratton.
In small parts in one of the stories were Robert Raglan as Insp Reid, John Stone, Alan Browning and Raymond Young appeared as Rex in the final story.
Brief synopsis- Stacey seeks a handsome chaperone and is hired by a man who has a motive for murder.

Journey to Copenhagen in three parts began on 20th September 1964 and featured Paul Whitsun Jones as Alexei Adamov, with faces from the previous stories returning- John Stone as Philip Costain, Alan Browning as Roberts and Jameson Clark.
Basil Henson, Frederick Farley, Sheila Barker and Barry Wilsher also appeared. Others in one episode included Diana Hope, Eric Flynn and David Davies.
Synopsis- A new assignment sees Stacey all at sea en route to Denmark.

.

.

.

.

.

.

.

.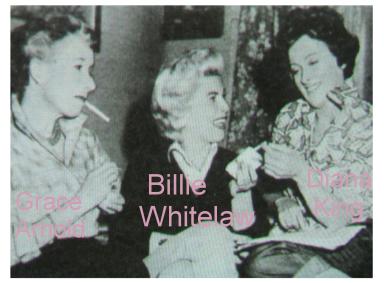 Time Out for Peggy (1958 ABC)
A Sunday afternoon comedy series, not networked, created by Budd Grossman and starring Billie Whitelaw, with Diana King as Norma. Others to appear in more than one episode were Christopher Steele as Mr Kirby and Grace Arnold as Mrs Johnson. Anthony Howard played Mr Brothers, replaced in series 2 by Bethell Horton.
The series was about a blonde landlady and set in "Britain's craziest boarding house." ABC returned to the same theme in 1960 for 'Our House.'
Directors of the second series included Geoffrey Nethercott and Philip Bray. Producer: Philip Dale. The theme was written by the accomplished Eric Spear.
1.1 The Investor (30th March 1958) Peggy Spencer inherits a broken down boarding house.
1.4 The Painting (20th April 1958) Writer: Budd Grossman. With Billy Milton as Mr Preston, art dealer. An unsuspecting Frenchman asks Peggy to help sell a famous painting. But when it's all over, it looks as if neither the Frenchman nor the painting will ever be the same again.
1.6 The Robot (4th May 1958) Writer: Budd Grossman, Peggy meets the Mechanical Man. Guess which has a nervous breakdown
1.7 The Courtship (11th May 1958). Guest star Desmond Walter-Ellis. Writer: Budd Grossman. When Peggy tries to help Norma sell her matrimonial agency, anything is bound to happen- and does!
2.1 The Soldier (14th September 1958) Written by Budd Grossman. Peggy and Norma break into an army camp.
2.2 The Greetings Cards (21st September 1958). Guest star Kenneth Williams. Written by Diana Noel from a story by Budd Grossman. Peggy's poetic efforts are not appreciated by Mr Simms- foreign customers only.
2.3 The Grosvenor Four (28th September 1958) Written by Budd Grossman. Peggy turns her talents to launching the Grosvenor Four, to prove she is no square.
2.5 The Dress Contest (12th October 1958) Written by Budd Grossman. Peggy's attempt to win a dress competition falls apart at the seams.
2.6 The Gambler (19th October 1958) Written by Diana Noel. Peggy tries to prove the evils of gambling- and it is not the bank that is broken.
2.8 The Birdnapping (16th November 1958) Written by Budd Grossman. Polly tries a new seed, and Peggy and Norma get the bird in a big way.
2.11 The Bank Robbery (28th December 1958) Guest star Leslie Phillips. Written by Diana Noel. Peggy's new boarders are not what they seem, and she becomes an accessory before during and after the fact.
2.13 The Efficency Expert (25th January 1959) Guest star Kenneth Williams. Mr Simms is installed to make the boarding house pay. He is determined to make somebody pay, even Peggy and Norma.
In all there were eleven stories in series one, and 13 in series two.
ABC Menu

.

.

.

.

The Sound of Laughter (1967) - ABC's version of Comedy Playhouse.
1 No Strings (January 29th 1967) Script: Fred Robinson. Starring Arthur Askey as Arthur Anders, a happy-go-lucky piano tuner (taped on Dec 7th 1966).
2 Mister Misfit (Feb 5th 67) with Jim Dale (recorded on Nov 30th 1966)
3 That's Showbusiness (Feb 12th 67) Producer: John Paddy Carstairs. Script: Vince Powell and Harry Driver. With Billy Dainty as a comedian working the club circuit, also with Kenneth Connor, June Whitfield. This was the first of the series to be recorded, on Nov 23rd 1966.
4 Gentleman Jim (Feb 19th 67 (shown on March 30th Anglia) Script: Jimmy Grafton and David Climie. With Jimmy Edwards as Squire Jim and Clive Dunn. Special guest Richard Wattis. The exploits of Squire Jim of Rookham Hall and his not so faithful retainer Bules. This, along with the next had already been recorded the previous year, before this series was planned.
5 Stiff Upper Lip (Feb 26th 67) Starring Robert Coote and Donald Churchill. The story of diplomats in a British Embassy in the Iron Curtain country of Vulgaria.
6 Around With Allen (Mar 5th 67, Mar 23rd Anglia) Starring Dave Allen with Patrick Cargill, Ronnie Stevens, Victor Maddern, Arthur Mullard, and Marian Montgomery
7 Hooray for Laughter (Mar 12th 67 5pm, April 20th Anglia) Producer: Peter Frazer-Jones. Starring Ted Ray With Reg Varney, Rosemary Squires, Ray Alan and John Junkin
8 Did You See Una? (Mar 19th 67) an unknown episode of the STV series
9 Hicks and Stokes (Mar 26th 67, April 26th Anglia) with Norman Rossington and Rodney Bewes. At Gibb Street Garage Norman cooks the books
ABC Menu

.

.

.

.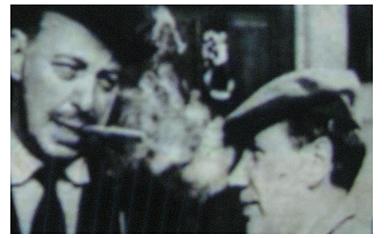 Vacant Lot (ABC)
was a series of seven comedies starting on April 1st 1967.
It was written by Jeremy Lloyd and Jimmy Grafton/ David Climie and produced by Milo Lewis.
Bill Fraser starred as William Bendlove head of the building firm of Bendlove and Bochum Ltd, cabinet makers to the gentry, funeral directors and taxi hire specialists. Alfie Bass co-starred as Alf Grimble, his foreman. This series briefly reunited the two stars of Bootsie and Snudge and Alfie Bass admitted they enjoyed "the same sort of relationship. The old love-hate." Sadly the series failed to get networked.
Other regulars were Jack Haig as Stoker, Nicky Henson as Rock, and Arthur Mullard as Chippy.

1. (1st April 1967) - With Laurie Lee (a semi-regular), Nora Nicholson, Patsy Smart, Joe Ritchie, Judy Kenny, Gordon Waine, and David Rowlands.
3. Hats Off to the Guv'nor (15th April)- Alf overhears Mr Bendlove is suffering from Merulis Lacrymans Anobium Punctatum. That it is also contagious, has the workmen of Bendlove and Bodium Ltd in a state of melancholia- and the rot sets in. With Peter Bathurst.
4 Partnership Bid (22nd April)- Alf aspires to become a partner in the firm. With his brother-in-law as managing director, the plan seems obvious. With Guy Deghy and guest star Joan Hickson.
5 Room for Improvement (29th April)- Work is slack at Bendlove and Bodium Ltd. when Alf decides to get his bedroom decorated at the firm's expense, Mr Bendlove has other plans. With Laurie Lee and guest star Joan Hickson.
6 The Golfers (6th May 1967) - The local town hall requests building contractors submit tenders to erect 350 homes on a new estate. Mr Bendlove applies his own method of approach, and with Alf, Stoker, Rock and Chippy, a result is achieved. With Laurie Lee, Geoffrey Hibbert, Sheridan Grant, George Webb, Michael Beint and Robert Lankesheer.

.

.

.

.

.

.

.

.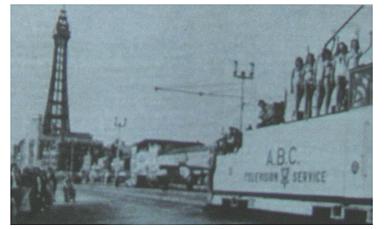 Early ABC Outside Broadcasts -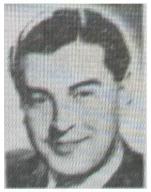 (the Midlands and the North).
The scene of ABC's first ever outside broadcast on their opening night, February 18th 1956, was the Hotel Leofric in Coventry. Local talent was featured.
This show was the first in the series Hometown Saturday Night produced by the Head of OB's, David Southwood (1919-2010, pictured left).
That summer, the show was transformed into Holiday Town Saturday Night, now in essence a beauty contest.
In 1965, David Southwood reflected on producing a thousand programmes:
"The very first in February 1956 was Hometown Saturday Night from the Leofric Hotel Coventry." David recalled one of Robb Wilton's last tv appearance in Hometown Saturday Night in May 1956 to mark the opening of ABC in the North. Robb had told him, " I somehow think that this is going to be my last tv programme. I have a feeling for it."
David recalled the opening of the Emley Moors transmitter in a ceremony in Leeds Town Hall: "Janette Scott was there to press the switch."
He recalled the first final of the Holiday Town Parade bathing beauty competition in Blackpool. Errol Flynn was to be judge, "five minutes before the show went on the air we could not find him anywhere. I found him at the last minute in the dressing room of one of the lady artists, missing his shoes and socks." He did the show minus these, David adds, "I was careful only to show him from the waist upwards."
Of course David refers to his acclaimed service from Liverpool, Cathedral, and from the first OB from the Isle of Man. He also claimed as a first, ABC's coverage of Rugby League.
A "chilling" experience came at Dudley Zoo in an OB called Snakes Alive: with assistant Andy Gullen, they were confronted by killer ratlesnakes: "we both dashed for the door and did a Laurel and Hardy as we both tried to get through it."
Most alarming experience: at St Cuthberts RC Church Withington, when things were interrupted by a bomb scare: "policemen started to search pew by pew... the problem was that the service was reaching the climax of the mass, and we had to decide whether to continue or stop and empty the church." Nowadays you know what would happen, but in those days, "I warned all the camermen to concentrate their shots on the sanctuary to avoid seeing the policemen searching among the congregation, and I think most of us said an extra prayer!" It transpired it was a hoax.

Some ABC OBs: Beside the Seaside (1956)
Another ABC Outside Broadcast, shown live on summer Sunday afternoons, directed by David Southwood. Details of a few shows:
Programme 1 (July 15th 1956) from Berengaria Theatre at Middleton Tower Holiday Camp with 12 Florence Whiteley Zio Angels and Celia Nicholls, plus guest artist Jon Pertwee.
2 July 22nd from Pier Pavilion St Annes-on-Sea: The Creole Fashion Plate
August 5th 4-4.30pm, 'Highlights' starring veteran Roy Barbour from Rhyl.
August 19th 4pm, from Cambridge Hall Southport, with The Four Southlanders singing Hush a bye Rock, In an Old Shanty Town, and We'll Keep a Welcome. Others in the show: Reg Daponte 'the Sporting Ventriloquist,' Eddie Morrell with cricket on the brain, on the organ Harold Graham, Jimmy Hampson xylophone, the Horler Twins and Jack and Joan Cooper's Starlight Lovelies dancing the Marche Militaire.
August 26th 'Buoys and Gulls,' from the Palladium Theatre Llandudno, with Max and Maisie Norris, Jack Storey, Jean Ward, The Denis Brothers and June, and Betty Emery, with George Mitchell Quartette and Harold Graham at the organ.

David Southwood Presents
In February 1957, ABC's head of outside broadcasts, David Southwood, received top billing when on Feb 2nd David Southwood Presents Snakes Alive was shown at 4.02pm, live from the Reptile House in Dudley Zoo. Southwood had been producing ABC OB's since the station opened, everything from wrestling to pantos, but this was the first time I have noted he received an equal billing with the name of the programme. After this there followed on March 2nd at 10pm: David Southwood presents Round the Ring, ie wrestling, from The Victoria Hall Hanley.
Mar 16th at 4pm David Southwood presents The White Rose Parade of Fashion, "live" from the Queen's Hotel Leeds. Then a quick shift to later that night at 9.30pm for another David Southwood presents Round the Ring, from Cambridge Road Baths Huddersfield.
On April 13th 1957 there was a two and a half hour David Southwood presents Motor Cycle Scramble from Bentley Springs, Emley, whilst on May 4th, there was something completely different for ninety minutes, David Southwood presents Variety Showtime from the NCO's Club Ballroom, USAF Base, Burtonwood. Regrettably, the acts appearing were not identified in TV Times.
At 2pm on June 1st 1957 was another marathon two and a half hour show, entitled Festival of Stars presented by David Southwood, the Variety Club of Great Britain at the Festival Gardens in Battersea Park. Only the hosts were named, McDonald Hobley, Peter Lloyd and Jacqueline Mackenzie.
Though Holiday Town Saturday Night was keeping David busy during the summer, he still had time on July 13th whilst in Scarborough for this show, to present in the afternoon Tennis Tournament presented by David Southwood, though his name was now in slightly smaller print. The matches shown were part of the Red and White Rose Inter-County Match.
With the summer over, he returned for Round the Rings presented by David Southwood though by now his name, as noted, was no longer 'top of the bill.'
Two O'Clock Trip saw a further downgrading, as it were, as the byline stated "David Southwood and the Outside broadcast Unit invite viewers to join people who are out and about." This 45 minute Sunday afternoon programme came from Sheffield on October 6th 1957. David continued to directed numerous OB's, everything from horse racing to church services, but 1957 was the only year which saw him with this top billing. By the time The White Rose Parade of Fashion for 1958 came round again, on January 18th 1958, his name was down at the foot of the credits again.

It was a hectic schedule, dashing from one venue to another, sometimes two shows to be made on one day! For example on August 16th 1958, after Holiday Town Parade ended at 6.30pm in Rhyl, there was a rush along the coast to Craigside Hydro in Llandudno for Wrestling starting at 9pm. Next year, after Steeplechasing at Market Rasen on October 17th 1959, with the final race at 4.30pm, cameras moved swiftly to the Corn Exchange Doncaster for the 9pm Wrestling, David Southwood producing both programmes.

The weekend of July 4th and 5th 1959 saw the unit on its most ambitious operation, a visit to the Isle of Man.
The first OB from the island had been in 1957, but this was a much bigger occasion. 110 technicians, production staff and artists with apparatus sailed to the island for the Holiday Town Parade programme from Douglas on July 4th 1959, and a church service from St Ninian's Church the next day. An edition of The Other Man's Farm from Lanjagham Farm was also squeezed in.
The operation began on Monday June 29th with the equipment transported to Liverpool Docks. Next day the mobile control centre was loaded on board, as well as other equipment. A "microwave" link to the island was establish on a Cumberland mountain.
Wednesday July 1st: technicians depart from Liverpool, and equipment unloaded at Douglas pierhead.
Thursday July 2nd: scenery leaves from Fleetwood. First tests of the microwave signal. Evening rehearsal of the church service.
Friday July 3rd: equipment taken from church to the ballroom for Saturday's broadcast. At 11pm the Palace ballroom is converted to a tv studio.
Saturday July 4th: no dancing at the ballroom for the public. 3.30pm dress rehearsal. The programme goes out at 6pm, then at 7pm the ballroom is converted back for dancing which begins amazingly at 7.30! The equipment returns to the church.
Sunday July 5th: after a 7am start, the church is ready for Morning Service. By the afternoon, the outside broadcast equipment is ready to be shipped back to England.

One of David Southwood's most acclaimed programmes was a communion service from Liverpool Cathdral in September 1959. "The film is considered so important that arrangements are being made for it to be shown to interested people in this country and overseas." It is preserved in the ABC archive
ABC Menu

.

.

.

.

.

.

.

.

Holiday Town Parade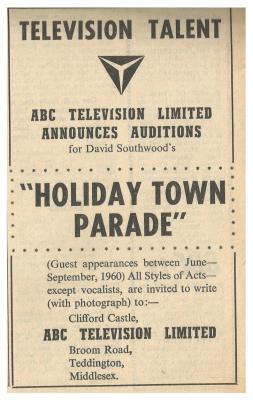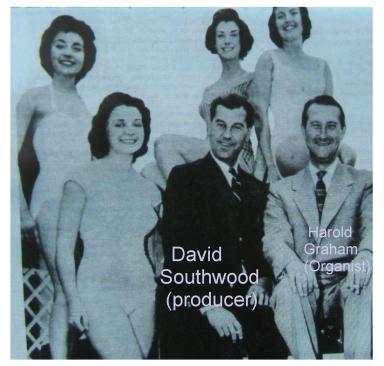 (original title: Holiday Town Saturday Night, 1956-1962)
was a regular summer attraction attracting audiences of up to 20 million, even though it was not fully networked. It started in ABC's first year of broadcasting in 1956, and was hosted from the outset by McDonald Hobley.
The theme Holiday Town Parade march was composed by Danny Miller and Bill Oliver. The show was, don't laugh, "the contest for Great Britain's Television Bathing Beauty Queen, Fashion Queen and Adonis."

Avril Angers and Billy Ternent were also part of the team for this 1956 season.
In 1956, 'bloopers' included a contestant at the Colwyn Bay heat fainting on screen on August 11th. An ABC official was seen to carry her off. At the New Brighton heat, a strap of a bathing costume snapped... Other venues for the show in this first season were Central Pier Ballroom Morecambe (first programe on July 14th), New Central Concert Hall Blackpool (July 21st), Tower Theatre New Brighton (July 28th), Town Hall Rhyl (August 4th), Pier Pavilion Colwyn Bay (August 11th), Cambridge Hall Southport (Auguest 18th), also Llandudno . Though McDonald Hobley was the regular host, he was temporarily replaced by Eddie Morrell (manager of Morecambe's Central Pier) for the show from Southport, and the following week's programme also.
Winner of the 1956 series, with chief judge being Errol Flynn, was Marion Lewis who came from Douglas IOM, winner of the Llandudno heat.

The winning 1957 Beauty Queen won a Morris car, the Adonis an auto scooter and the Fashion Queen a holiday wardrobe from Dorville's. All three also received a return flight to Bermuda plus £100 spending money.
The 1957 series began on June 15th at the same venue as 1956, coming from Central Pier Ballroom Morecambe. Future venues included Floral Hall Southport (June 22nd 1957), Tower Theatre New Brighton (June 29th), Norbreck Hydro Ballroom Blackpool (July 6th), Olympia Ballroom Scarborough (July 13th 1957- even though BBC tv engineers had claimed the town presented "immense technical difficulties for a live transmission"), Town Hall Rhyl (Aug 3rd), Pier Pavilion Colwyn Bay (Aug 10th), Palladium Theatre Llandudno (Aug 17th), Marine Hall Fleetwood (Aug 24th), Palace Ballroom Douglas Isle Of Man (Aug 31st- ABC's first ever broadcast from the island), before the Grand Final in Blackpool (Sept 7th). The 1957 winner was Christine Gregg.

The 1958 series included a prize fund of £5,000 and followed the successful format of the previous season. McDonald Hobley was again the host, with the Joe Loss orchestra providing the musical backing. The first show on June 14th 1958 from Morecambe included the Taylor Maids virgo act. Southport was the venue on June 21st with Group One special guests, while June 28th it came from the Isle of Man. On July 5th the show came from New Brighton with guest Denis Lotis. During this month, ABC announced that Nicholas Parsons was to host some of the shows. Other dates: July 12th Blackpool, July 19th Scarborough, July 26th Bridlington, August 2nd Filey, August 9th Rhyl, August 16th Colwyn Bay, August 23rd Llandudno, August 30th Fleetwood. The final on September 6th was from The Floral Hall Southport, the 1958 winner being Caroline Thomas.

For the fourth series of fourteen shows in 1959, a theme tune was specially composed for the series called Coastride, the incidental music when the OB camera travels down the prom - the composer was Brian Fahey.
It was this season that the prize Fund was raised to the highest ever, £5,500, including £1,000 for the Beauty Queen £250 for runner up and £100 for third. Fashion Queen won £350, runners up £200 and £100. Ditto for the TV Adonis. £250 was given out in prizes in the heats. Derek Roy, and singer Carmita ("singing beat, blues and opera,") joined the team for 14 shows, while harpist Carl Ames appeared in most if not all programmes. Here are details of some of the shows: June 13th 1959 Norbreck Hydro Blackpool guest Bernard Bresslaw, June 27th 1959 Marine Pavilion Fleetwood (Joyce Blair performed a Gypsy Rose Lee number), July 4th 1959 Douglas Palace Ballroom (with Jack Storey and Group One), July 11th 1959 Tower Ballroom New Brighton guest Vic Oliver, July 18th 1959 Town Hall Rhyl, July 25th Pier Pavilion Colwyn Bay guest star Mr Pastry dancing The Lancers, Aug 1st 1959 from Majestic Ballroom Llandudno, Aug 8th Spa Grand Hall Scarborough, April 15th Butlin's Filey, Aug 22nd 1959 from Spa Royal Hall Bridlington, Aug 29th 1959 from Embassy Ballroom Skegness- guest spot was the return visit of Mr Pastry. Then the final on Sept 5th 1959 which was from the Spa Grand Hotel Scarborough. Barbara Smith was crowned Queen, whilst Jean Barber was declared Fashion Queen and Earl Maynard was Adonis.

For the fifth series in 1960 the prize fund was set at £5,160. However the top prize was actually the maximum £1,000 for the Beauty Queen with £250 each for the other prizes. In each heat, the three winners received a humble £25 each! Second got £20, third £15 and a consolation of £10 was handed to disappointed runners-up.
The Larry Gordon Dancers were also regulars in this series which was directed by ABC's Chief of Outside Broadcasts, David Southwood.
Details of each show: 1 (June 25th 1960) at the Floral Hall Morecambe with Stromboli (the sword swallower). 2 (July 2nd) from the Norbreck Hydro Blackpool, 3 (July 9th) from the Floral Hall Southport, 4 (July 16th) from the Tower Ballroom New Brighton, 5 (July 23rd) from Town Hall Rhyl with Jacko the monkey and Rosita, 6 (July 30th) from the Pier Pavilion Colwyn Bay with Henry Zeisal and his violin, 7 (August 6th) at the Winter Gardens Ballroom Llandudno, 8 (August 13th) the production moved across to the Spa Grand Hall Scarborough, 9 (August 20th) at Butlin's Filey, 10 (August 27th) at the Embassy Ballroom Skegness with Watter Li, Chinese novelty sensation, and 11 (September 3rd)- The 1960 finals from the Floral Hall Southport, a special hour long edition with Shirley Eaton, Henry Zeisal, Harry Smith-Hampshire and Doreen Casey. The winners were Marny Birchall, Joan Boardman and Maureen Hayden.

Series 6 in 1961 started on June 24th at Morecambe's Central Pier Shrimpway again with Hobley hosting, and resident band Joe Loss. David Southwood was the producer once more. Peter Lloyd introduced a new 'live' feature, Out and About, meeting local characters and holidyamakers. A review of this first show ran, "there is the line-up of muscular males, the fashion girls, and the glamour of the bathing beauties all doing their best to impress the judges who themselves appear decidedly uncomfortable before the cameras... to link the contests there is a speciality act, for the first of this series The Skating Meteors, and The Dillionaires dance team... To close the show there is the parade of dancers and contestants joined by the audience who full of the holiday spirit march around bouncing balloons... must this trite form of entertainment reach out to us via the tv screen? As a series it should take a long, long holiday itself."
Other venues included The Floral Hall Southport (July 1st), the Norbreck Hydro Blackpool (July 8th), The Tower Ballroom New Brighton (July 15th), the Town Hall Rhyl (July 22nd), the Winter Gardens Ballroom Llandudno (July 29th), Butlin's Pwllheli (August 5th), over to the Spa Grand Hall Scarborough (August 12th) with Max Jaffa, and the Spa Royal Hall Bridlington (August 19th).
The 1961 finals returned to Morecambe on September 2nd with Patrick MacNee as chief judge. The contenders for the main title included Joyce Kay, Jackie White, Dorothy Hazeldine, and Lynda Dickman (Llandudno winner). The overall winner was Sue Burgess.

The 1962 prize fund was actually lowered to £4,000 and the Adonis section dropped. Keith Fordyce, fresh from Thank Your Lucky Stars, was the new compere, and formation dancers replaced the famous line of dancing girls. Coastride continued with Peter Lloyd. Resident band was directed by ABC's Bob Sharples.
The series started at Morecambe on June 30th 1962, with the remaining heats at Blackpool (July 7th), Prestatyn (July 14th), Colwyn Bay (July 21st), Butlin's Pwllheli (July 28th), Southport, Embassy Ballroom Skegness (Aug 11th), Great Yarmouth, Filey, Bridlington (Sept 1st), Marine Hall Fleetwood (Sept 8th) and Olympia Ballroom Scarborough (Sept 15th). The 1962 final, the last ever, with 24 entrants on September 22nd was judged by Norman Hartnell and Richard Todd and came from The Norbreck Hydro Blackpool. If you can supply the name of the winner, or make any corrections, do please email me.
Footnote: Nicholas Parsons also appeared sometime in the series (according to TV Times edition #268).

.

.

.

.

.

.

.

.

Sentimental Journey (ABC)

This half hour series of six programmes which was described as "Musical Memories of Holidays Abroad," went out at the discouraging time of 11pm on Sunday nights in 1959.
It was introduced by 25 year old Noel Harrison (son of Rex), and featured Janie Marden and Pepe Jaramillo a pianist from Mexico. Each week there was also a weekly "continental" guest artist, not announced in advance.
Geoff Love and His Orchestra provided the music.
Director was Kenneth Carter.

Programme 1 October 25th 1959. Designer: James Goddard.
2 November 1st 1959.
3 November 8th 1959. Guest Tony Sandler.
4 November 15th 1959.
5 November 22nd 1959.
6 November 29th 1959.

.

.

.

.

.

.

.

.

After Hours
ABC's 25 minute late Sunday night entertainment in 1958 hosted by Michael Bentine with Dick Emery, Benny Lee and Clive Dunn.
Bentine wrote the script with Dick Lester who also produced the programmes. Music was by Reg Owen. It was described as "a late night mixture of comedy, music, personalities and sports." Today, After Hours can be seen as a pioneer for many of the later better remembered late night weekend shows.
The series had a curious following: since it was intially not shown in the London area, a group of enthusiasts met in Film House London, to watch a private live screening of the show on November 16th 1958. They included Avril Angers, Shirley Anne Field, Max Geldray, Wallas Eaton, David Lodge, Irene Handl, Donald Houston, Johnny Dankworth and Cleo Laine. They were joined by George Baker, Stanley Baker, Benny Hill and Anthony Newley. Quite a crowd! Some of the cast of the Savoy A Day in the Life Of, also attended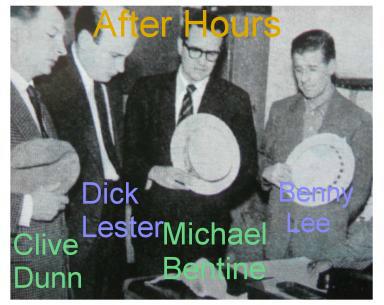 Some of the 1958 series, which began on 5th October 1958 and ran for 15 weeks, were:
Programme 2- 12th Oct 1958 with guest star Brian Hewson. Plus Shirley Bassey, June Cunningham and David Lodge.
3- 19th Oct 1958 with guest stars Brian London and Mike Hawthorn. Plus Shirley Bassey June Cunningham and David Lodge.
5- 2nd Nov 1958 with guest stars Shirley Bassey, Bernard Braden and Stirling Moss, plus Dave Lodge (no Dick Emery).
6- 9th Nov 1958 with guest stars Shirley Bassey, Sabrina, Colin Grainger, plus Dave Lodge, Reg Owen Septet (no Dick Emery).
7- 16th Nov 1958 with guest stars Alfred Marks and Humphrey Lyttelton. Also with Rosemary Squires.
12- 21st Dec 1958 with guest stars Dave King, Rose Hill and Judy Grinham. Also with Rosemary Squires.
13- 4th Jan 1959 with guest stars Michael Craig and Eric Bedser. Also with Rosemary Squires.
A second series followed in 1959, now on Saturday nights late, and lasting 30 minutes. Here are details of all thirteen shows:
Programme 1 Sept 12th 1959 at 11pm with Mel Charles and Sir Donald Wolfit.
2 Sept 19th 1959 at 11.30pm with Tommy Cooper, Godfrey Evans and Cleo Laine.
(No shows on Sept 26th/Oct 3rd due to election coverage.)
3 Oct 10th 1959 at 11pm with John Bentley, Henry Cooper, Monty Babson and Janet Waters.
4 Oct 17th 1959 at 11.10pm with Lonnie Donegan, Joan Greenwood and Cleo Laine.
5 Oct 24th 1959 at 10.50pm with Ann Todd.
6 Oct 31st 1959 at 11.30pm with Brian Hewson, Shane Rimmer and Cleo Laine.
7 Nov 7th 1959 at 10.50pm with Ronnie Clayton and Janet Waters.
8 Nov 14th 1959 at 10.50pm with Dora Bryan, Jack Brabham and Cleo Laine.
9 Nov 21st 1959 at 11.5pm with Lonnie Donegan, John Surtees and Janet Waters.
10 Nov 28th 1959 at 10.50pm with Sylvia Sims, Ronald Howard, Shane Rimmer and Cleo Laine.
11 Dec 5th 1959 11pm with Christine Truman, Frankie Howerd and Janet Waters.
12 Dec 12th 1959 10.50pm with Judy Grinham, Bernard Bresslaw, Cleo Laine, Shane Rimmer.
13 Dec 19th 1959 11pm with Jayne Mansfield, Jimmy Greaves, Janet Waters, Cleo Laine, Shane Rimmer. (Last programme).
Note uncredited in six of these 1959 shows was Heidi Erich
ABC Menu

.

.

.

.

.

.

.

.


Summer 1956, State Your Case proved a big hit and turned into a successful series.
The Summer Silly Seaon of 1957 saw more experimental programmes. One programme that actually passed approval was Top Numbers.
In August 1958, ABC screened more pilot programmes for possible future series. Oh Boy! was a big hit.
Less of a success was Win A Mink on Sunday August 10th 1958, 3-3.30pm
an experimental quiz "with a view to a possible autumn series," hosted by Anton Diffring with singing from Gary Miller, based on an idea by Susan Franks. Music: George Clouston. Director: Paul Kimberley. "In association with Ross Television."
Total prizes on offer were worth £7,000, with the top prize of a mink coat. This was modelled by Jean Clark, on stair 6, while below her on stair 5 stood a model in an evenng gown, and on stair 4 a cocktail dress.
A couple play the game: the man answers general knowledge questions, based on a tableau with a fashion slant. If he is correct, his partner ascends one stair at a time. At any time the pair can stop and claim the prize on that stair. But once they reach stair 6, they win all the prizes. But not if they get one question wrong!
This pilot was all that was screened, but did anyone see it and remember if the top prize was won?

August 1959 saw a repeat of the experiment, this time under the umbrella title
Preview, and two new drama series were on offer. It was shown on Sunday afternoons at the off peak time of 2.30pm, "brand new programmes, relying largely on audience reaction to dictate whether or not they are placed permanently in the ABC schedules." First up were two stories in a series titled
Mortarboard starring Mary Peach and directed by Janice Willett. The story of young men whose rooms lead on to Staircase 13 in their distingushed college. First story (Aug 2nd) also featured James Kenney as Capper Collins, David Horne as The Dean Professor Utch-Roper, Gerald Lawson as Trubshaw, Peter Myers as Honourable Cholomondely, James Culliford as Sykes, Shaym Bahadur, Derek Nimmo as George Dougall McDougall, and Bill Edwards. Episode 2 on Aug 9th as Riot in Room 12.
The other group of two stories was
Marriage Bureau starring Helen Cherry as Mrs Johnson, scripts by John Marriott, directed by Anthony Finigan.
Aug 16th 1959: Two for the Price of One. Introduced by Mrs Johnson of the West End Marriage Bureau, Angela Harlow and George Manton fall in love. But if they marry, what should become of Angela's mother, widow of an Indian Army colonel, cheerful and willing, but used to having everything done for her?
Aug 23rd 1959: The Blue Parrot. With Juliet Cooke as Sally, Graham Armitage as Arthur Green, Margaret Denyer as Betty, Hilda Barry as Mrs Maddigan, Josephine Tewson as Joan Garnett, Vilma Ann Leslie as Mavis, Bertha Russell as Mrs Rudgewick, Monica Moore as Mrs Simpson, Richard Scott as Mr Simpson, and Karl Lanchbury as Bobby Simpson. Mrs Johnson tries to place a desperately shy client.


Another pilot (failed) was Spin-A-Disc shown on Saturday June 17th 1961. It was hosted by Jimmy Young
ABC Menu